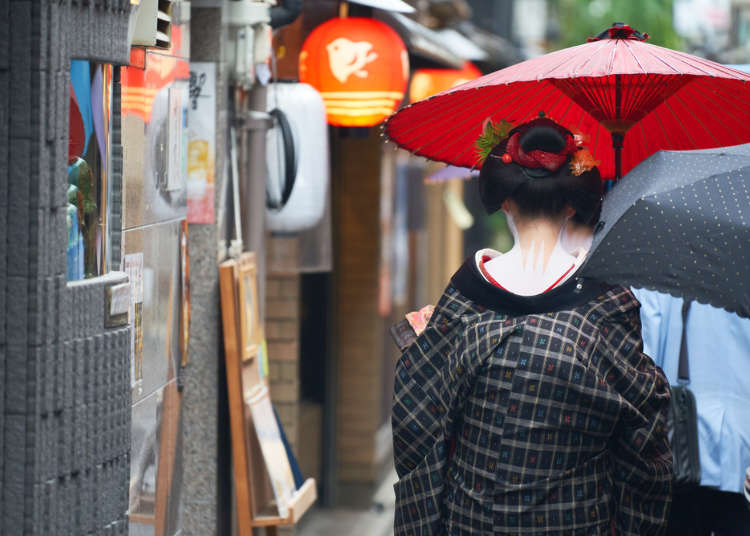 It's finally here...the day you've been planning for months. The day of your epic Kyoto adventure! Or, it would have been, had it not started raining in Kyoto like cats and dogs.

Is this the end of your perfectly planned day in Japan's beautiful ancient capital?!

It doesn't have to be! Just load up your knowledge store in advance on sightseeing places that are well-protected from bad weather, and you'll be all set! A few examples would be places like covered shrines, popular indoor activity facilities, and shopping arcades.

To kickstart your research, we've compiled a list of 10 fun places to visit and things to do in Kyoto when it's raining!
1) Nanzen-Ji: Great for leisurely walks even in the rain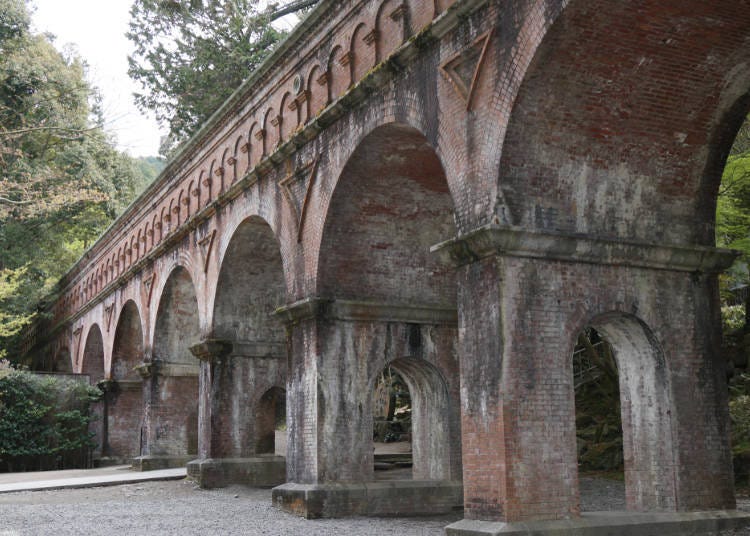 Nanzen-Ji is a shrine located in Kyoto, known for its massive compound and wide pathways. Even if one were to walk around with an open umbrella to fend off the elements, there's no need to worry about space constraints and the experience will be every bit as relaxing and enjoyable as it would be in good weather.

Counted among the larger structures on temple premises is the impressive Suirokaku. This water bridge was built from bricks about 100 years ago during the Meiji era (1868 to 1912 C.E.) and stands at a length of 93 meters (about 305 feet) and width of 4 meters (about 13 feet). Its beautiful arched bridge columns are a popular spot for photographs, and many seek shelter beneath them on rainy days.

Another popular structure is the 22 meters (about 72 feet) Sanmon Gate. Visitors can also go on a learning tour of the garden and partition wall art in Hojo, the residence of the chief priest. This is a relaxing place to take it easy and stroll around at your own leisure even on rainy days.
Address

Nanzenjifukuchicho, Sakyo-ku, Kyoto-shi, Kyoto, 606-8435
View Map

Nearest Station

Keage Station (Tozai Line)
10 minutes on foot


Phone Number

075-771-0365
2) Arashiyama Bamboo Forest: Enjoy clean air in a pristine natural environment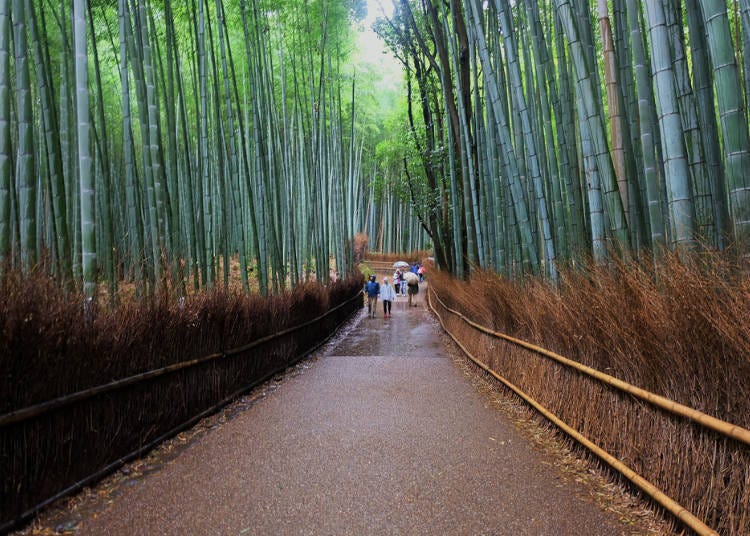 The bamboo forest of Arashiyama is a regular hotspot visited by many for its natural beauty. Surrounded on all sides by countless bamboo stalks between five to 10 meters tall (about 16 to 33 feet), you can't help but feel like you're being drawn into a fantasy world with each step you take.

The path that cuts through this forest is about 400 meters (1,312 feet) long and perfect for a refreshing stroll. Or you could also hop onto a rickshaw for a graceful and breezy ride through the scenery instead. Since the tall bamboo stalks blocks out quite a bit of rain and wind, raindrops are unlikely to stump anyone here!

As this is a scenic place that often appears in commercials and drama episodes, it's usually packed with visitors virtually all hours of the day. To enjoy the sights with slightly lesser people around, therefore, it may be better to make arrangements to drop by slightly earlier in the morning.
Address

Saga Ogurayama Tabuchiyama Town, Ukyo Ward, Kyoto City, Kyoto Prefecture, 616-8394
View Map

Nearest Station

Torokkoarashiyama Station (Sagano Sight-seeing Tram)
1 minute on foot


Phone Number

075-213-1717
3) Sanneizaka: Picturesque views that define Japan with every step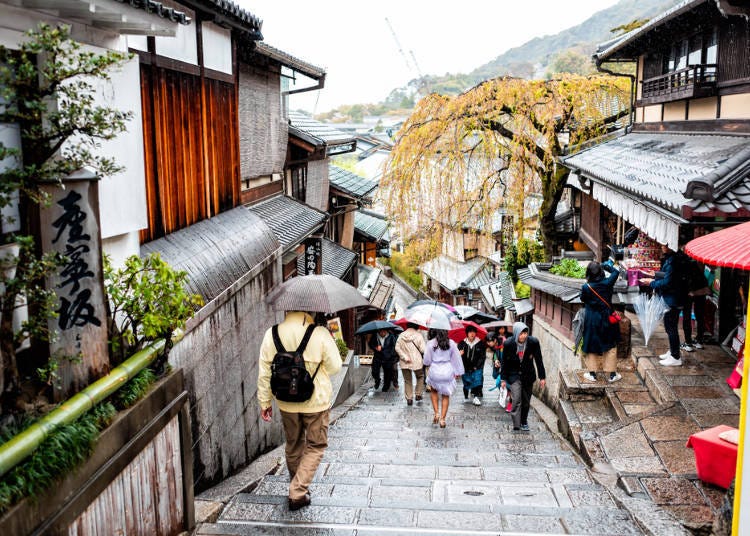 Kristi Blokhin / Shutterstock.com
The sloping path that leads to the internationally well-known Kiyomizudera Temple is chock-full of sights and sounds that are uniquely Kyoto.

A particularly famous one is the Sanneizaka stone steps path. The name Sanneizaka, which literally means "slope of peaceful births" was so-named because visitors used to head up this path to Kiyomizudera to pray for the safe delivery of their unborn child.

On rainy days, we recommend hopping into one of the dessert shops or souvenir stores by the side of the pavement to enjoy some food and shopping at leisure as you wait for the weather to clear up.

Sanneizaka is also known as Sannenzaka (three-year slope), and tradition has it that anyone who slips and falls on the slope will have their lifespans shortened... Even more reason to quickly make your way into the shops on the side when it starts raining, then!
産寧坂

Address

Kiyomizu, Kyoto Shi Higashiyama Ku, Kyoto Fu, 605-0862, Japan
4) Hanamikoji Street: A perennial favorite of tourists no matter the weather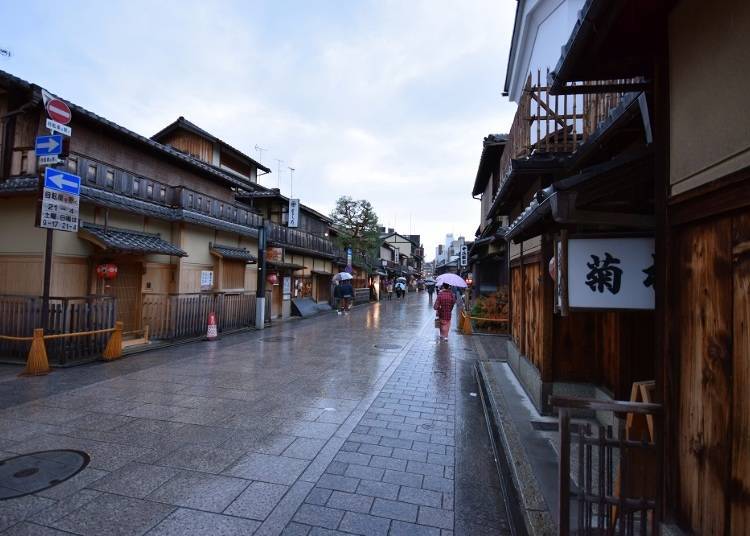 Aiden Park / Shutterstock.com
This refers to the main street that cuts through central Gion Area in the north-south direction. Built with cobblestones and surrounded on both sides by olden townhouses, it creates a scene that will certainly make you go, "Now that's what I came to Kyoto to see!"

The southern part of Shijō Street features rows of teahouses and Japanese restaurants packed against each other and is especially popular for its quaint charm.

When the rain-drenched path glistens under the light of an overcast sky, the street becomes more charming and photogenic than before.

Because there's always a welcoming Japanese restaurant or teahouse just one step away, the street is an excellent place to take a relaxing walk in without needing to be overly worried about possible bad weather.

And if you're lucky, you may even meet a beautiful geisha, or traditional Japanese entertainer walking down the same street as you!
Address

Gionmachiminamigawa, Higashiyama-ku, Kyoto-shi, Kyoto, 605-0074
View Map

Nearest Station

Gionshijo Station (Keihan Line)
5 minutes on foot

5) Mimuroto Temple: Hydrangeas galore!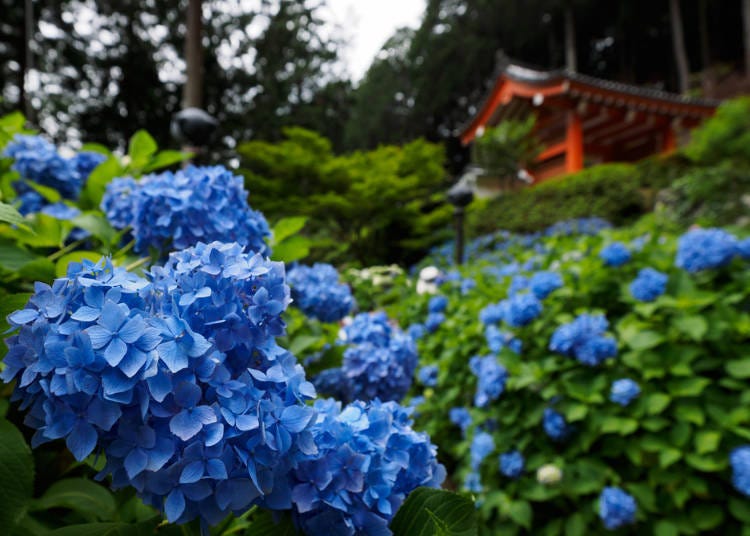 Rain is plentiful in Japan during June, which is coincidentally also the blooming season for beautiful hydrangea flowers, so why not make some time to do some hydrangea viewing at what many claim is Kansai's top hydrangea temple spot, Uji City's Mimuroto Temple?

It features a large and spacious garden planted at the foot of a mountain with about 10,000 stalks of hydrangeas blooming for as far as the eye can see.

The colorful sight will be a treat for the eyes. In between spots of deep green leaves are luxuriant bundles of blue and purple flowers in full bloom. The contrast between the pastel-colored flower petals and the red gate farther inside the garden creates an impressive scene that's likely to stay in the mind for a long while to come.

Some hydrangeas here sport unique heart-shaped petals, and it's definitely worth the time to search out for them to take photographs with! The best time to admire these pretty petals is between early June to early July. Night illuminations will be installed for a certain period of time during this season as well.
Address

21, TodoShigatani, Uji-shi, Kyoto, 611-0013
View Map

Nearest Station

Mimurodo Station (Keihan-uji Line)
15 minutes on foot


Phone Number

0774-21-2067
6) Kyoto Tower: Directly connected to Kyoto Station on the JR Lines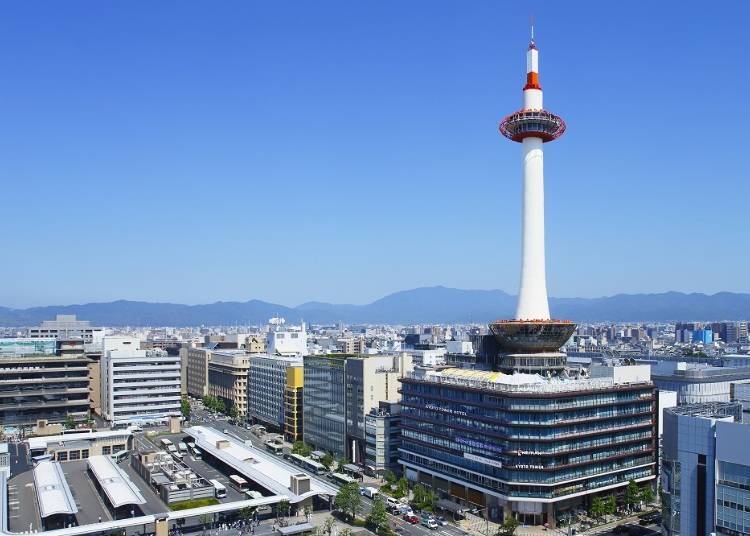 One of Kyoto's most recognizable landmarks is Kyoto Tower, and this place of interest is directly connected to Kyoto Station on the JR Lines. What this means is you can amble there at your own pace even on rainy days because the journey to the tower from the station is fully sheltered!

The observatory deck of Kyoto Tower is about 100 meters, or 328 feet above ground, offering you a different perspective of the ancient city's World Heritage Sites and historic temples from a vantage point of view.

After enjoying the stunning vista, head down to Kyoto Tower Sando on the lower floors, a commercial complex with a collection of representative Kyoto souvenir stores on the first floor for some sophisticated shopping for items that loved ones back home will delight to receive.

Down underground at basement one is the food hall that offers good food and alcoholic beverages in a stylish space. At night, the tower is lighted up with attractive illuminations.

During the rainy season, the tower glows with a different type of beauty that's definitely worth another look, even if you've already seen the building before in regular weather.
京都タワー

Address

721-1, Higashishiokojicho, Kyoto Shi Shimogyo Ku, Kyoto Fu, 600-8216, Japan

Hours: 9:00 – 9:00 p.m. (last entry for observatory) *Hours may differ depending on facility
Price: Observatory - 800 yen for adults
Closed: Open daily
7) Kyoto Aquarium: A relaxing spot to meet aquatic creatures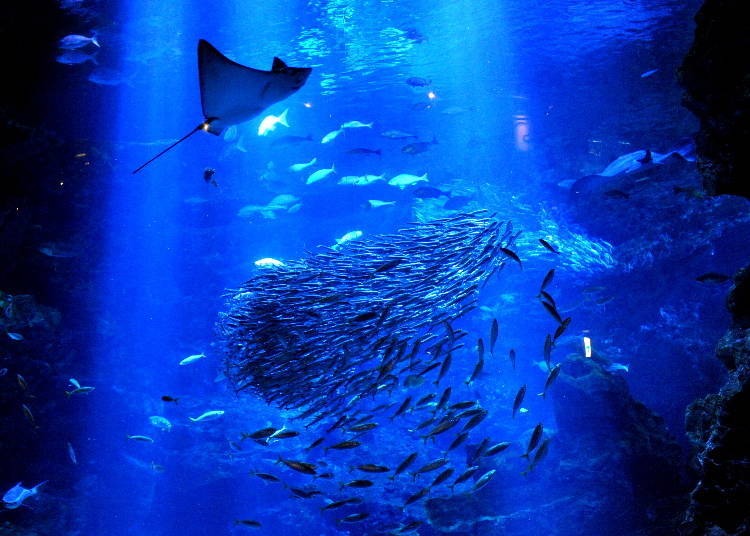 Despite being a space for marine creatures, Kyoto Aquarium also features a garden and grass lawns, making it a popular little spot in Umekōji for families with young children and travel groups alike. The aquarium is divided into zones representing the sea, rivers, and Kyoto waterside.

The photograph depicts the large Kyo no Umi aquarium, which reproduces the sea around Kyoto. Within this tank containing about 500 tonnes of artificial seawater, you can look forward to a stunning sight of fish of all sizes swimming about freely.

There are plenty of designated corners that allow you to personally come into contact with popular aquatic creatures such as the giant salamander, the largest amphibian in the world, penguins, or seals. Let these adorable sea creatures cheer you up while you wait for the storm raging outside to subside!

Umekoji-Kyotonishi Station on the JR Sagano Line officially opened in March 2019, and this is the station closest to the aquarium, only one stop away from Kyoto Station itself. Their newfound accessibility is definitely something to be happy about!
京都水族館

Address

35-1, Kankijicho, Kyoto Shi Shimogyo Ku, Kyoto Fu, 600-8835, Japan (Located in Umekoji Park)

Phone Number

075-354-3130

Hours: 10:00 a.m. – 6:00 p.m. (last entry 5:00 p.m.) *May differ depending on season
Price: Adults 2,050 yen
Closed: Open daily (may be closed for maintenance without notification)
8) Kyoto International Manga Museum: Read all the manga you want!
Japan's manga (comics) culture has taken flight and is now a well-known international entertainment medium. The Kyoto International Manga Museum is a center built to feature this artform.

Modern masterpieces and olden classics are displayed together alongside international productions. All in all, there are about 300,000 pieces of manga material being stored here for posterity.

The first to third floors of the building contains a Manga Wall bookshelf, which is made up of about 50,000 works of manga, and visitors are free to browse through the shelf and read any volume found there.

This manga library is a certainly place to spend meaningful time in during rainy days, rummaging through the books available to see what treasures you can find. The museum is in a renovated elementary schoolhouse. The structure and design of the building will certainly bring back some good old school time memories!

Anyone who is the slightest bit interested in the cooler side of Japan and its intriguing manga culture is encouraged to visit this center for more insights and more importantly, to have a good time!
Address

Karasuma-dori Oike-agaru, Nakagyo-ku, Kyoto-shi, Kyoto, 604-0846
View Map

Nearest Station

Karasumaoike Station (Karasuma Line / Tozai Line)


Phone Number

075-254-7414
9) Kyoto Modern Terrace: A lovely place to admire building aesthetics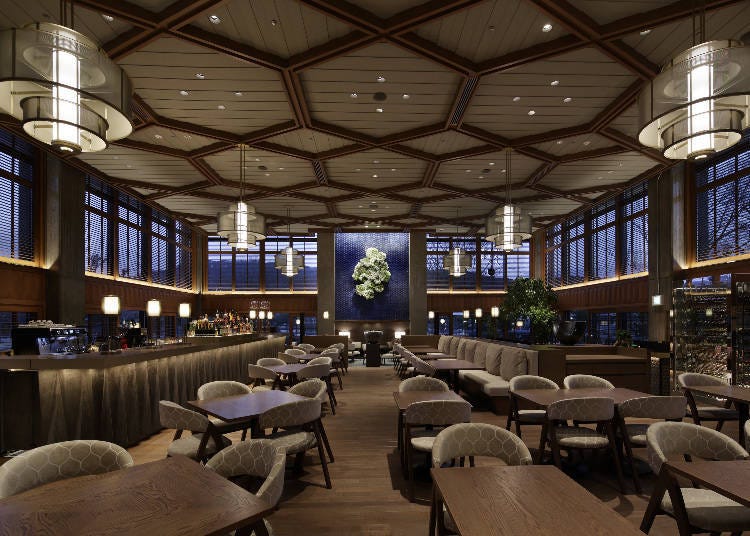 This is a popular cafe and restaurant in Kyoto's Okazaki Area, a gathering place of unique artwork and art enthusiasts.

It's located inside ROHM Theatre Kyoto, a modern building that Kunio Maekawa, a famous Japanese architect had a hand in for its design and renovation. Opulence is the name of the game here, which is why you'll find the both the shop space and food menu to be carefully designed for maximum luxurious enjoyment.

Because the shop is open from 8:00 a.m. to 11:00 p.m., customers can come in at any time and be greeted with a hearty breakfast, lunch, cafe, or dinner menu.

Whatever the case, this is a wonderful place to wait the rain out, since there will be plenty of cuisine prepared with local ingredients to occupy your attention with and make time fly as you wait. Places of interest nearby include the Heian Shrine, art galleries, and other equally appealing structures.
京都モダンテラス

Address

13 (Rohm Theatre Kyoto 2F), Okazaki Saishojicho, Kyoto Shi Sakyo Ku, Kyoto Fu, 606-8342, Japan

Phone Number

075-754-0234

Hours: 8:00 a.m. – 11:00 p.m.
Closed: Not fixed
10) A shopping street that fears no rain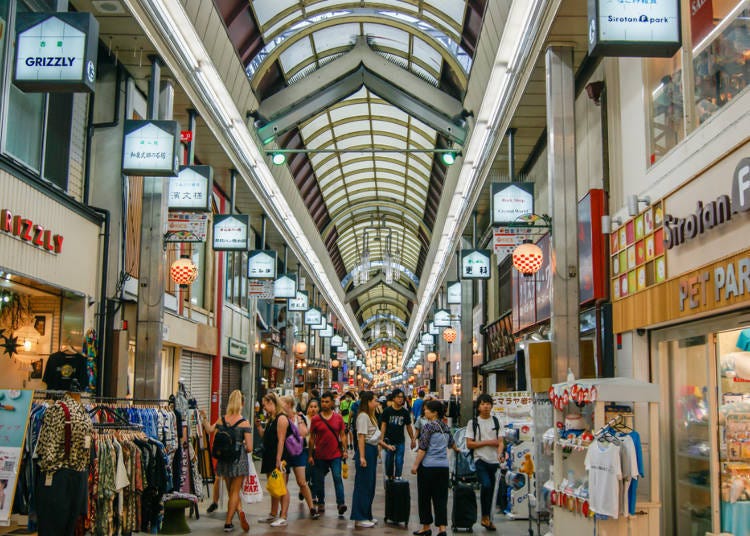 Shinkyogoku Shopping Street (joelpapalini / Shutterstock.com)
In Kyoto City itself, there are plenty of shopping streets with arcades that block out bad weather. This allows visitors to take their time and wander around exploring different shops without worrying too much about having to find shelter every other step.

Shijō Kawaramachi is a bustling downtown area of Kyoto that contains the large-scale Shinkyogoku and Teramachi Shopping Streets as well as Nishiki Market, a marketplace packed with shops specializing in food ingredients.

Nearer to Nijō Castle is the Sanjō-kai Shopping Street, which has been getting more popular in recent years due to a new crop of notable and trendy shops. Going from shop to shop all day long to sift out the best deals would certainly be a fun and entertaining activity to add to your trip.

And there you have our list of 10 things to do in Kyoto on those pesky, rainy days when sightseeing out in the open may not be possible. Other things to try out are visiting temples, shrines, or pathways that take on an entirely different atmosphere after a drizzle, compared to what they're usually like on clear days.

Don't let any rain in Kyoto ruin your plans! Instead, turn it into an opportunity to enjoy Kyoto's in a different light - one that can only be seen because it just so happens to be raining!

Text by: Miku Kobo Co., Ltd. / English translation by: Huimin Pan.
*This information is from the time of this article's publication.
*Prices and options mentioned are subject to change.
*Unless stated otherwise, all prices include tax.