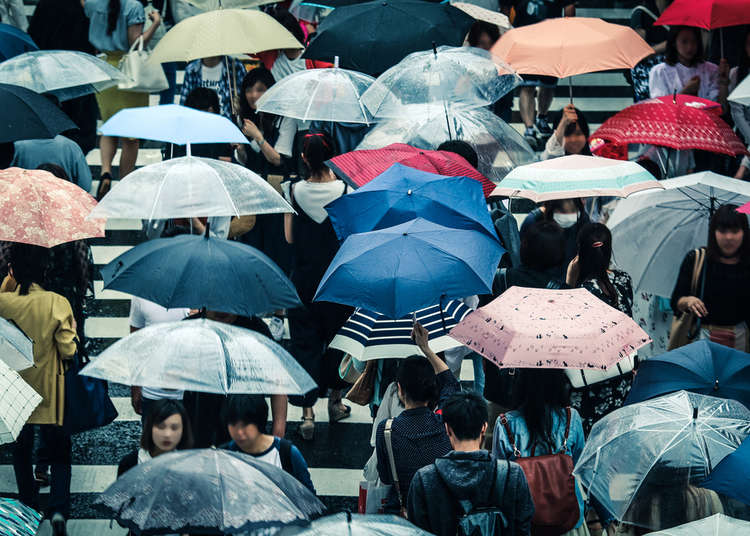 Rainy season in Japan is something else. As spring rolled around in April and May and the cherry blossoms began to bloom, you may have found yourself breathing a sigh of relief over having escaped Japan's bone-dry winter air.

But be careful what you wish for, as Japan stands poised to over-deliver some much-needed moisture in the next few weeks with the start of what the locals commonly refer to as "Tsuyu" - the Japanese rainy season.

In 2022, Tokyo's rainy season arrived on June 6. Find out what this means for you below!
What is Rainy Season in Tokyo?
Typically, the rainy season is from early June to mid-July. According to the Japan Meteorological Agency, since 1951 the average rainy season has been from around June 7 until July 19.

Like an annual rite of passage, summer in Japan is ushered in by humid days accented by the occasional downpour.

This happens when two bodies of warm air – one from the North Pacific and the other from Southeast Asia – collide with two bodies of colder air from China and the Sea of Okhotsk in early spring.

This rather unfortunate meeting results in a period of consistently damp weather for everyone caught in its path as June arrives.
When is Rainy Season in Japan 2023?
The rainy season varies depending on places in Japan but typically ranges from early June to mid-July. Luckily, meteorologists can more or less predict when the rainy season will begin and end across each region.

Tokyo entered its rainy season on June 6, 2022. The rainy season is expected to finish around July 19.

Take a look at the chart below from the Japan Meteorological Agency to see when your area can expect it to start.
You may have noticed one region, Hokkaido, is missing from this list. Yes, not only do they have some of the best food and skiing in all of Japan, they are also fortunate enough to avoid the rainy season altogether. Some people have all the luck.
What to Expect During Japan's Rainy Season
By now, you're probably wondering just how bad this rainy season will be. After all, Japan has been known to have rather extreme weather. As the name implies, you can expect a fair amount of rain.

Thankfully, it's not an everyday occurrence. You can also plan on consistently gray, overcast skies and the occasional bout of intense wind.

Overall, the good news is that temperatures are mostly comfortable during this time, around 25°C (77°F) on average. The bad news is that the humidity is far less forgiving.

Spend any amount of time outside, and you will begin to feel as though you are swimming on land. Simply put, there is no way to avoid feeling like a damp, sticky mess during this time of year. That being said, Japan has many solutions to make the rainy season at least somewhat bearable.
How to Deal with Japan's Rainy Season
Those of us not fortunate enough to live in Hokkaido must prepare for the many discomforts that the rainy season will throw our way. However, with a little bit of planning and the right tools for the job, you can get through the season with relative ease as the locals do.
Before marching into battle with Mother Nature, you are going to need the appropriate equipment. There is certainly no shortage of rain gear on the Japanese market.

In fact, the sheer number and variations of available products are enough to overwhelm anyone. So, to make things a bit easier, your basic rainy season survival kit should look something like this: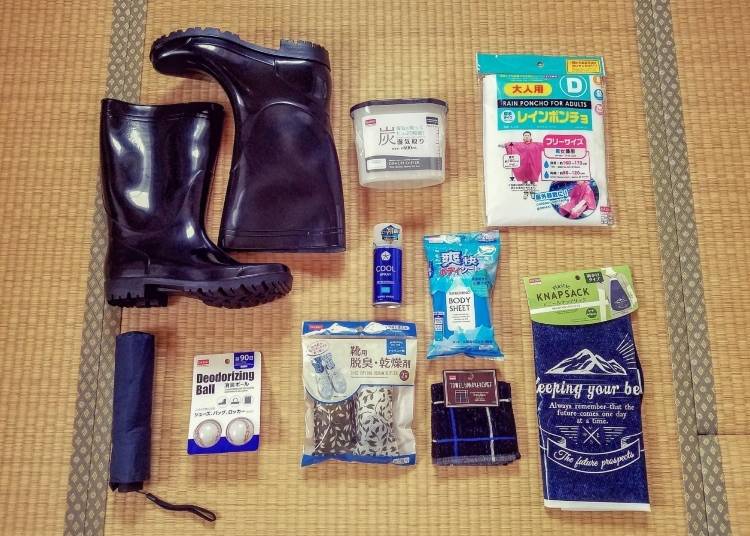 Most of what you see here can be purchased at 100 yen shops, drug stores, or your local konbini (convenience store). Let's walk through the items that will be keeping you (mostly) dry this rainy season.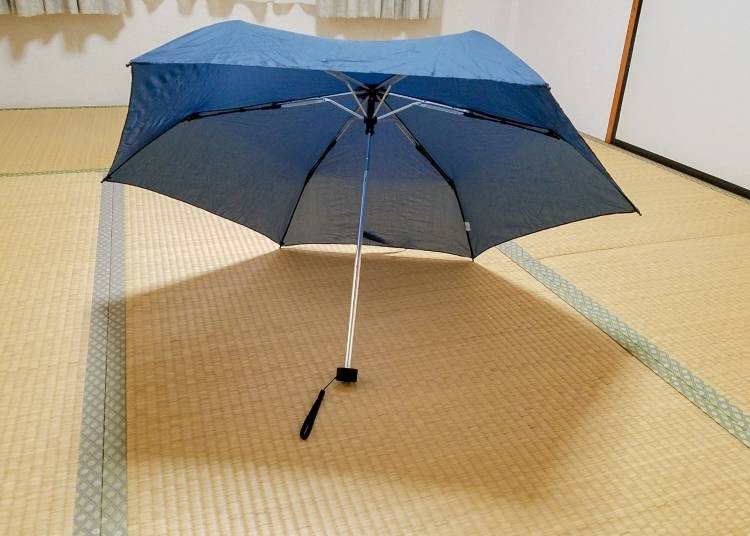 1. Umbrella

Any good rainy season survival kit should start with this most basic of defenders – the umbrella. As rain is a fairly common occurrence in Japan, umbrellas can be purchased at pretty much any shop you are likely to visit. While there is a wide variety of styles and designs available, a compact umbrella is a safe bet, as it's easy to carry with you at all times. The last thing you want to happen is to leave your large umbrella at home because the weather seemed clear in the morning, only to be caught in a sudden downpour later in the day.

Where to Buy (For vinyl umbrellas): 100 yen shops, or convenience stores such as 7-Eleven, Lawson, Family Mart, etc. Folding umbrellas are available primarily at department stores.

Average Cost: ¥100-600 depending on how sturdy of an umbrella you need. If high winds are a factor, you are better off paying a couple hundred yen more for something durable.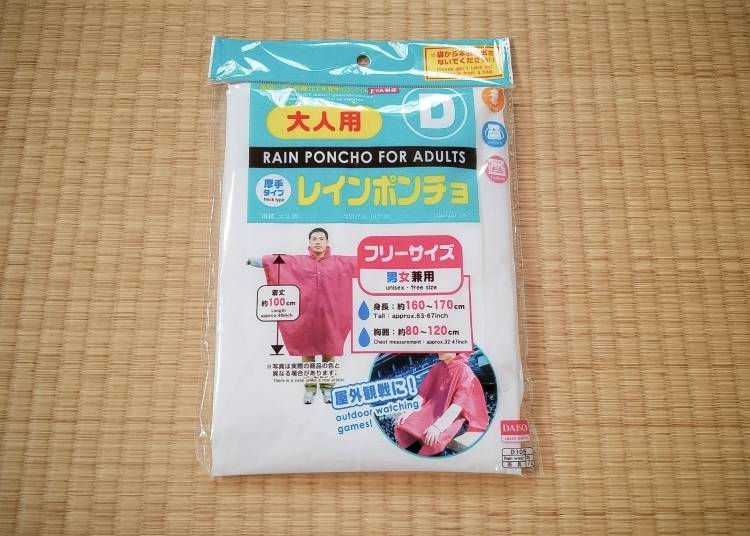 2. Poncho or Rain Jacket

As if rain wasn't already annoying enough, it has occasionally been known to blow sideways, rendering your umbrella useless. Rather than accepting your fate and spending the day in wet clothes, cover up with a rain jacket or poncho. While it may not be the most fashionable option, inexpensive versions can be bought for just a couple hundred yen. If staying dry is more important than looking good, opt for the poncho, as it will help to keep your pants and belongings out of the rain as well.

Where to Buy: 100 yen shops, drug stores, or convenience stores such as 7-Eleven, Lawson, Family Mart, etc.

Average Cost: ¥100-500. Unless color and design options are important to you, the 100 yen shop versions will keep you just as dry at a fraction of the price.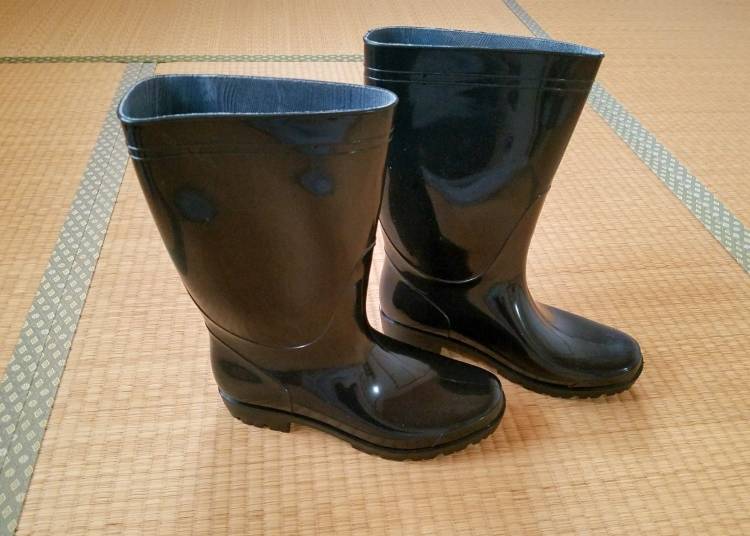 3. Rain Boots

A wet shirt is one thing, but few situations are more miserable than spending the day walking around in soaking wet shoes. So come prepared with rain boots or waterproof shoes and fearlessly conquer puddles like a true rainy season warrior.

Where to Buy: Shoe stores, department stores, or used clothing shops.

Average Cost: ¥1000-5000. How much you will pay for boots really comes down to how fashionable you want them to look. If price is your primary concern, you can find a basic, no-frills pair of boots like the one in the photo for around ¥1000 in budget shoe stores.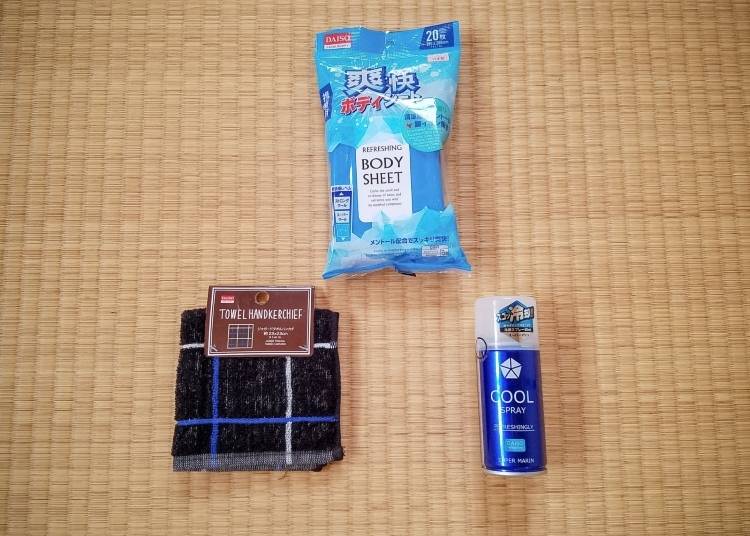 4. Wet Wipes/Hand Towels

Spend more than a few moments out in the humidity, and you will inevitably end up sweating. If you're finding your morning application of deodorant to be short-lived, pick up a pack of cooling wet wipes. There are many different brands to choose from, but almost all are divided into the body or face variety. While both will wipe away sweat and leave you feeling refreshed, the body wipes are more heavily mentholated for a lasting cool feeling. Many locals also opt to carry a small, dry hand towel with them to dab away the occasional bit of sweat when a full wet wipe might not be necessary.

Where to buy: 100 yen shops, drug stores, grocery stores, or convenience stores such as 7-Eleven, Lawson, Family Mart, etc.

Average Cost: ¥100-300. If brand and scent aren't important to you, you can find these at any 100 yen shop; otherwise, you'll find many options available at drug stores and convenience stores.
5. Cooling/Deodorizing Spray

If you expect to find yourself in crowded areas where cleaning your underarms with wet wipes isn't the most socially acceptable activity, try a cooling spray instead. Available in small, easy to carry cans, these sprays, applied to the outside of your clothing, have an instant cooling effect and a refreshing scent to mask any offensive body odors.

Where to buy: 100 yen shops, drug stores, grocery stores, or convenience stores such as 7-Eleven, Lawson, Family Mart, etc.

Average Cost: ¥100-500. Again, if you're not particular about the brand or scent, you can find these at any 100 yen shop; otherwise, you'll find many options available at most stores.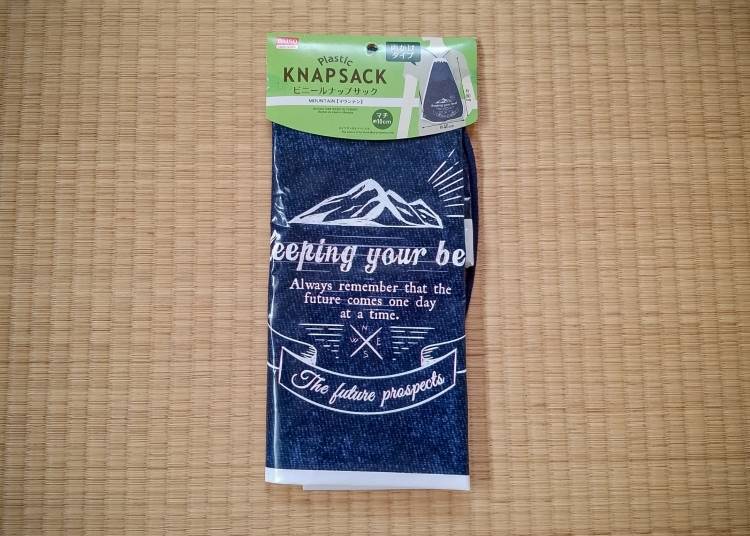 6. Waterproof Bag

If you're a student or working professional who needs to carry books or a laptop with them to the classroom or office, you can most likely imagine the fear of an unexpected rainstorm destroying your important belongings. Rather than take the chance, use a waterproof bag or pick up a waterproof cover to protect your current bag for a little extra peace of mind.

Where to Buy: 100 yen shops or home goods stores.

Average Cost: ¥100-1000. A basic plastic knapsack like the one in the photo can be bought for around ¥100 and will protect your belongings from the rain just fine. If you're looking for something a bit more durable, expect to pay closer to ¥1000 or beyond for a more rugged waterproof backpack.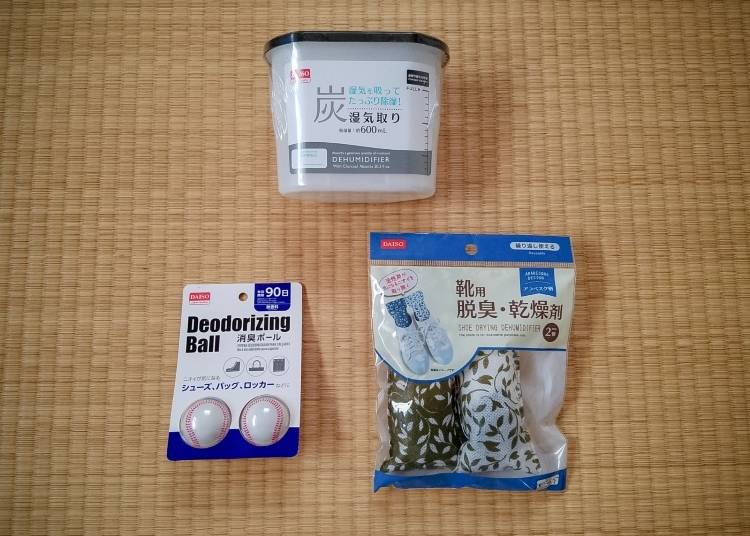 7. Moisture/Odor Absorbers

Now that we've covered keeping you dry, what about your home? Once the humidity starts to creep inside, the dreaded smell of mildew and mold will come with it. So before it reaches your towels, bedding, and worse yet, clothes, take preventive measures to ensure your living space stays comfortably dry. One of the easiest ways to do this is by placing moisture absorbers around your home.

Typically containing activated charcoal, these will draw out and trap excess moisture from the air. They come in all shapes and sizes, so they are easy to place in various mold-prone areas, such as closets and shower rooms. For a free alternative, you can save the silica desiccant pouches that are often included with electronics. While this may not be effective for a whole room, they will work just fine in a sock drawer or similar small area.

Where to Buy: 100 yen shops, drug stores, and home goods stores

Average Cost: ¥100-400 depending on size.
Step 2: Prepare Your Defenses
Now that you have the equipment needed to weather the storms, let's look at how you can make your day-to-day life more comfortable. Assuming you'll be taking shelter from the rain indoors, your primary concern will be dealing with the oppressive humidity.

Moisture absorbers are great for closets and a small shower room, but bigger living areas are going to need something a bit more heavy-duty. For this, we turn to some basic appliances you most likely already have on hand.
1. Exhaust Fans

The most humid areas of your home/room are likely to be the shower room, toilet room, and kitchen. As moisture and heat are already prevalent in these three locations, the rainy season weather will only exacerbate the issue. Luckily, they most likely come equipped with exhaust fans.

Rather than simply circulating the air like a traditional fan, exhaust fans spin in reverse, pulling humid air from inside your home and blowing it outside. During the summer, it is not uncommon for locals to leave their exhaust fans running all day.

As an added measure, oscillating fans can increase airflow throughout your home, helping exhaust fans do their jobs more effectively.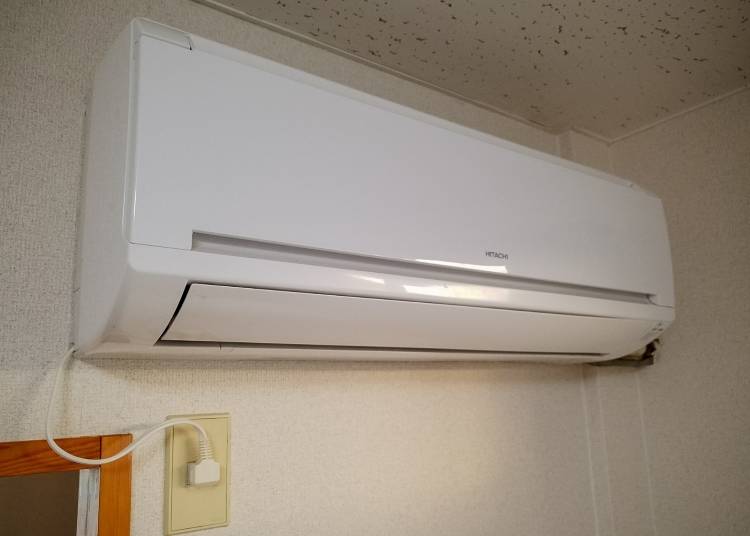 2. Air Conditioner on Dry Mode

If you have never looked closely at your air conditioner unit, you may not be aware that it can do so much more than just blow cold air. In addition, most Japanese air conditioners have a dehumidifier function, often labeled as "dry mode." Just like a traditional dehumidifier, this will quickly pull humidity out of the air and leave you feeling much cooler. Check your remote control for ドライ or this kanji:
Running the air conditioner all day would be pretty pricey, but even just an hour or two can make a world of difference. Like with the exhaust fans, oscillating fans in other rooms can help to circulate the air and make the whole process much more effective.
Despite all the hassles that come with the rainy season, one fact remains true through it all - daily life in Japan carries on regardless of the weather. You can't avoid it entirely, but you can make the experience much more tolerable with a little planning and forethought. So if your vacation to Japan happens to fall within this window of time, don't cancel that flight just yet.

You may hear the words "rainy season" and picture a never-ending torrential downpour, but that's simply not the case. In fact, many days will see no rain at all. At worst, the weather during this time of year can be described as inconvenient. Negative aspects aside, there is actually a silver lining to these rain clouds.

1. Fewer Crowds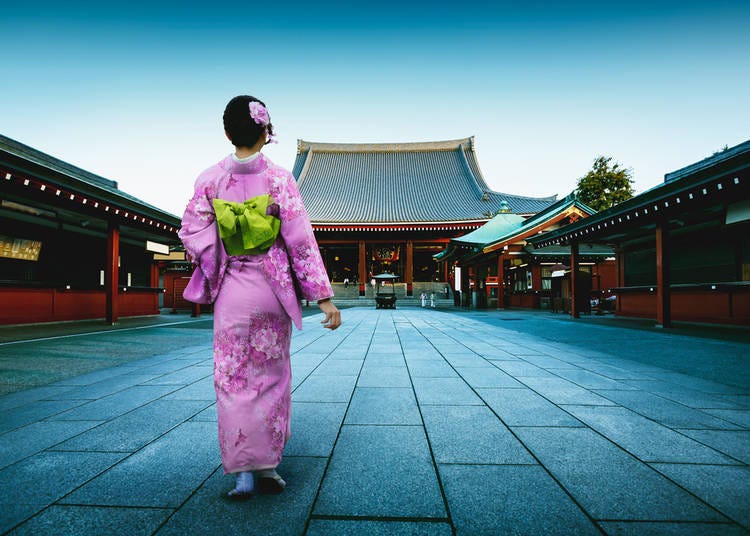 Travel activity in Japan is much lower on average during June and early July. This benefits you in a couple of ways. First, you can expect accommodations in popular areas to be less expensive and more widely available.

That means you can stay closer to the sights and cut down on travel time without having to break the bank. Second, when visiting said sights, you will most likely avoid any long lines. The fewer tourists there are, the less waiting you'll do, and the more you can see during your vacation.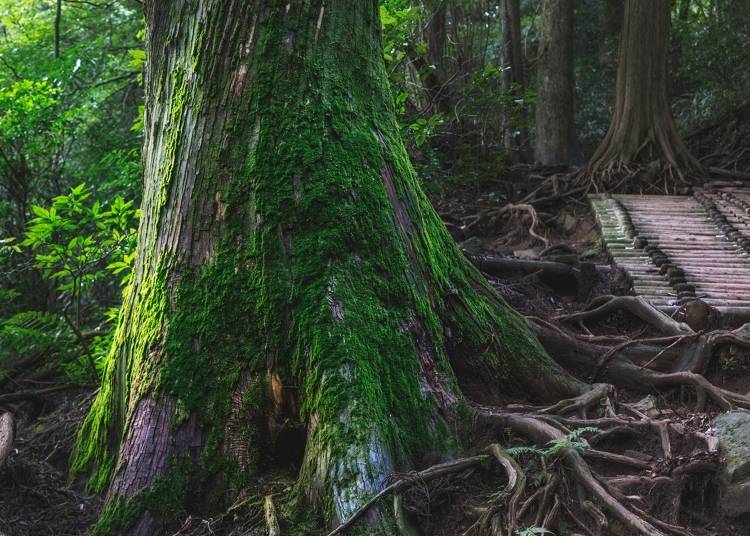 2. Better Visuals

If your trip to Japan includes a visit to scenic areas like Kamakura, Nagano, or Wakayama, you would be hard-pressed to find a better time to go. The iconic tree-covered mountains of Japan's countryside are made only lusher by the extra rain. Even if you intend to spend all of your time in Tokyo, the city boasts an impressive amount of parks that are transformed into urban oases this time of year. The deep green hues will make for some amazing vacation photos.

If nature isn't exactly your thing, you're still in luck. Tokyo's dazzling city lights look even more impressive when reflected by the wet streets after it rains.

So embrace the cloudy days, the frizzy hair, and the "never quite clean" feeling. If nothing else, you'll be in good company.
Written by: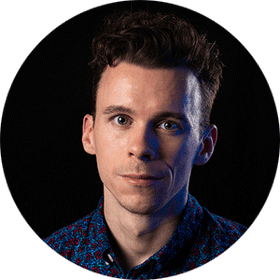 *This information is from the time of this article's publication.
*Prices and options mentioned are subject to change.
*Unless stated otherwise, all prices include tax.