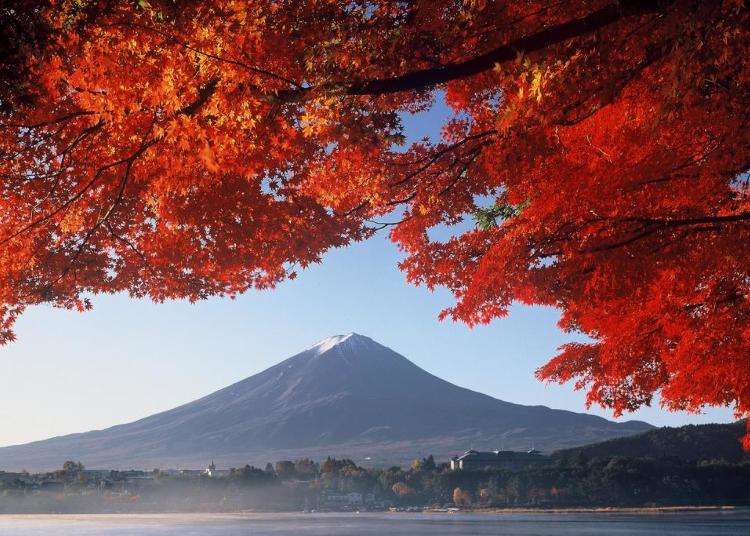 Japanese autumn is comfortable and mild in climate. The autumn leaves are beautiful during this time. It is also called "autumn of appetite". It is a season when you can enjoy various seasonal food from the sea and the mountains.
Autumn leaves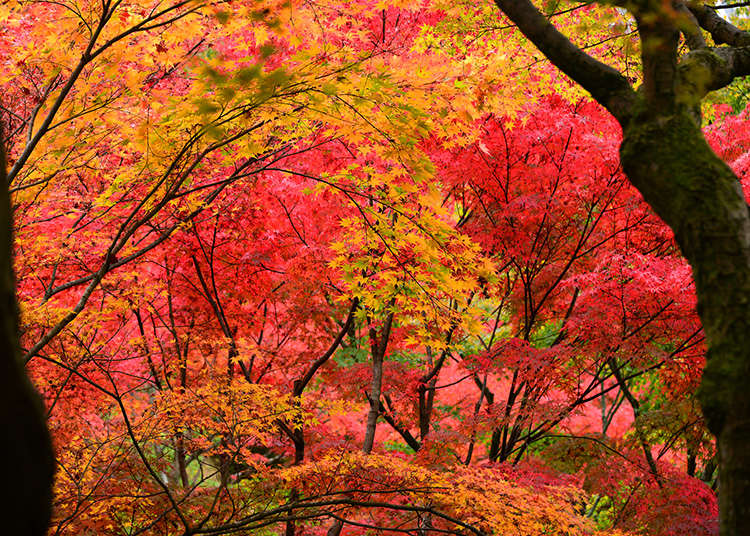 The autumn foliage of Japan starts from around September in Hokkaido and can be enjoyed until the end of November in Kyushu. Shrines and temples in autumnal colors are pleasing to the eye. As for autumn foliage viewing spots, Arashiyama and Higashiyama in Kyoto, and the outer garden of the Meiji-jingu Shrine and Shouwakinen Park in Tokyo are a few. There are other countries where autumnal leaves can be seen, but it is said that there is no place with autumn foliage as bright and colorful as Japan's.
Moon-viewing
In Japan, the custom of having a banquet while appreciating the beautiful full moon of autumn has been around for more than 1000 years. A room is decorated with pampas grass, tsukimi dango (dumplings offered to the moon) are served, and fresh taros are placed as offerings. From ancient times, the pattern on the moon has made Japanese people think of a rabbit pounding mochi.
Higan (equinoctial weeks)
Buddhist services are held in the vernal and the autumnal equinox weeks for the purpose of expressing gratitude to your ancestors. Higan fall on the change of seasons from winter to spring and summer to autumn. Red cluster-amaryllises (higanbana, meaning higan flowers) herald the coming of Higan. Many Japanese people visit their ancestors' graves to clean them and offer flowers and ohagi. Ohagi is a Japanese sweet of pounded cooked rice rolled into small balls and then coated with bean-jam.
Sports days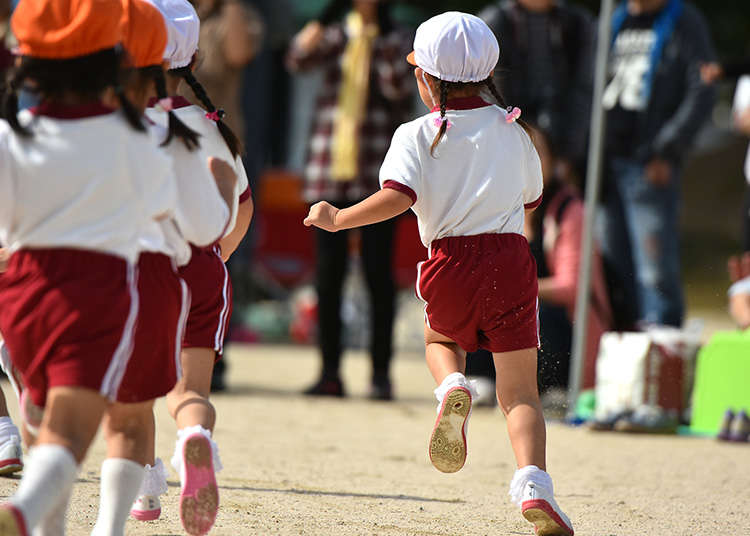 When the hot summer passes and cooler autumn begins, Japanese schools hold sports days. October 10th is a national holiday designated as Taiku no Hi (Health and Sports Day). Many sport days are held around this time. During the sports day, they split into a red team and a white team and compete against each other in various events.
Cultural festivals
Autumn is also said to be a season for art. Cultural festivals are held mainly at universities and high schools. At a cultural festival, students perform plays and musical performances that they have spent time preparing for. There are stalls at festivals which provide food and dessert made by students. Outsiders can also visit and enjoy the festival together.
Koromogae (seasonal change of clothing)
In the shift from summer to winter, thin summer clothes are stored and thicker winter clothes are brought out. This custom of changing clothes is called Koromogae. It is also an annual custom for school uniforms to be changed all at once on October 1st, the standard date for it. Koromogae used to be just an event, but in schools, a transition period of two weeks is set for students to change their uniform. Ordinary households swap out clothes in their drawers in preparation for winter.
To enjoy autumn leaves and Japanese food, autumn is recommended
The beautiful harmony of autumn leaves with historic buildings and famous tourist spots is fantastic scenery you cannot see anywhere else but in Japan. Japanese cuisine, which is world-famous as being delicious, becomes even better in autumn. There is food you can enjoy only at this time of the year when lots of ingredients from the sea and the mountains come into season.
*This information is from the time of this article's publication.