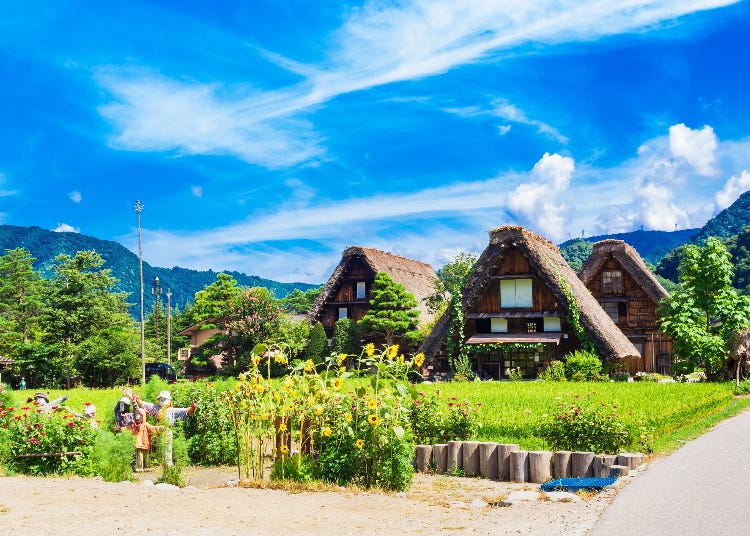 Located in Gifu Prefecture's Ono District is Shirakawa-go, a beautiful traditional Japanese village and tourist attraction. Its historical value was recognized in 1976 when it was classified as an Important Preservation District for Groups of Traditional Buildings in Japan.

This recognition reached a global scale in 1995 when it was designated as a UNESCO World Heritage Site along with the area of Gokayama. Collectively, they are known as the Historic Villages of Shirakawa-go and Gokayama.

It therefore comes as no surprise that visitors from all over Japan and around the world travel to Shirakawa-go to enjoy the pure and beautiful landscape of Japan in its primitive days. What are some must-visit places of interest in and around Shirakawa-go, and how easy is it to actually get there? Let's find out!
Gassho-Zukuri: Shirakawa-Go's Most Distinct Architectural Features
Now, we can't talk about Shirakawa-go without first mentioning its iconic gassho-zukuri houses.

Gassho-zukuri means "made like clasped hands," It was so coined because the wooden houses of Shirakawa have thatched roofs shaped like hands clasped as if in prayer. Since there is a lot of snowfall in Shirakawa-go during winter, this clever architectural style allows the roofs to maintain enough flexibility to withstand the snow's weight without using metallic materials like nails.

Although the village is located in a mountainous region that gets very cold overnight, the multiple layers of dried grass stacked on the roof are good at keeping heat in the house. The slanted walls also provide a windbreak effect, and the steep incline of the roof allows the home to shed snow easily. The ancients who lived in this area certainly demonstrated a deep understanding of how to coexist with a snowy hinterland deep in the mountains in relative comfort!

The villagers also work together to rethatch the roofs once every 30 years or so. The strength of their spirit of mutual assistance and bond of unity is what helps them to overcome the region's harsh winters year after year. You could even say that this strength that is passed down through the generations is also part of the heritage being preserved here at Shirakawa-go.

We briefly touched on what gassho-zukuri is, but there's so much more to this ancient architecture style that simply cannot be described by words alone. So, swing by the village to admire the skillful handiwork of the forerunners who built this place and carefully consider how the houses' intelligent design allowed them to blend perfectly well into the surroundings to form the iconic landscape we are so familiar with now.
How to Get to Shirakawa-Go From Tokyo or Nagoya
Most tourists will have to drive or take a highway bus to get to Shirakawa-go from their accommodations.

There is a direct bus to the village from Nagoya's Meitetsu Bus Center. The journey takes about 2 hours and 40 minutes and costs 4,000 yen for a one-way ticket or 7,200 yen for a round trip ticket.
Unfortunately, there are no direct buses to Shirakawa-go from Tokyo, so you'll have to go through Hida Takayama, a nearby tourist attraction. First, take a highway bus from Tokyo or Shinjuku, or board a Shinkansen bullet train and head for Takayama Station on the JR Lines.

After reaching, go over to the Takayama Nohi Bus Center which is connected to the station, and hop on the special express bus that goes to Shirakawa-go. There are 22 buses scheduled each day, and the trip will take around 40 minutes in smooth traffic. A one-way trip fare is 2,600 yen, whereas a round trip fare is 4,600 yen.
Buses are expected to be fully packed during annual long vacations like the Golden Week in late May, Obon in mid-August, Silver Week in late September, and the year-end and start of year season.

Since the buses do not take reservations and the highway may be congested during these periods as well, be sure to plan a lot of leeway into your schedule if you'll be visiting then.

Weekends are usually more crowded than weekdays as well, so to fully savor one of Japan's most olden landscapes without distractions, consider dropping by during a weekday if possible!
A Leisurely Stroll Along Ogimachi Gassho-Zukuri Village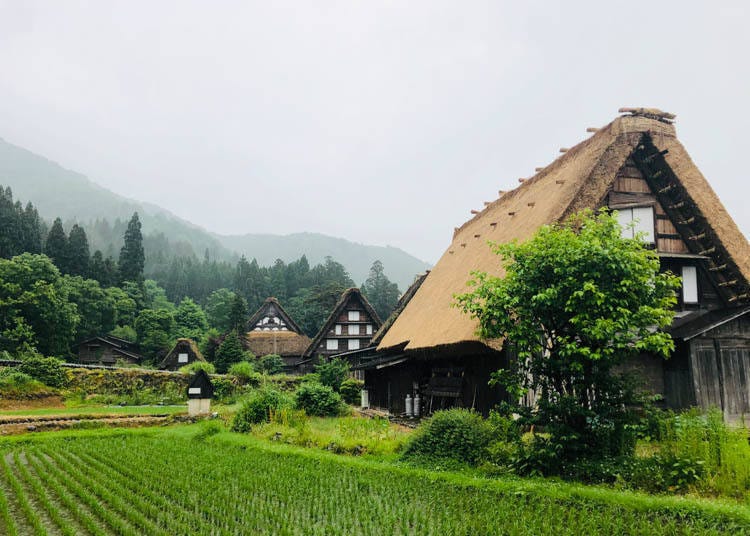 Shirakawa-go's appealing and picturesque views can be said to be consolidated in the main village of the area, the Ogimachi Gassho-Zukuri Village.

That being said, the village is a rather small one in terms of size, as you could probably walk around the entire place in about an hour. There are 60 gassho-zukuri houses (main buildings) here, alongside rows of cafes, eateries, and souvenir shops.

The Shirakawa-Go Ogimachi Village Natural Environment Preservation Association was established in 1971 to uphold three simple principles of the residents' charter: Gassho-zukuri houses were not to be sold, rented out, or destroyed.

The association has promoted preservation activities to that end. That is why many of the gassho-zukuri houses are still inhabited by local residents who live normal lives. The homely atmosphere this creates in the village can be said to be one of its biggest attractions too!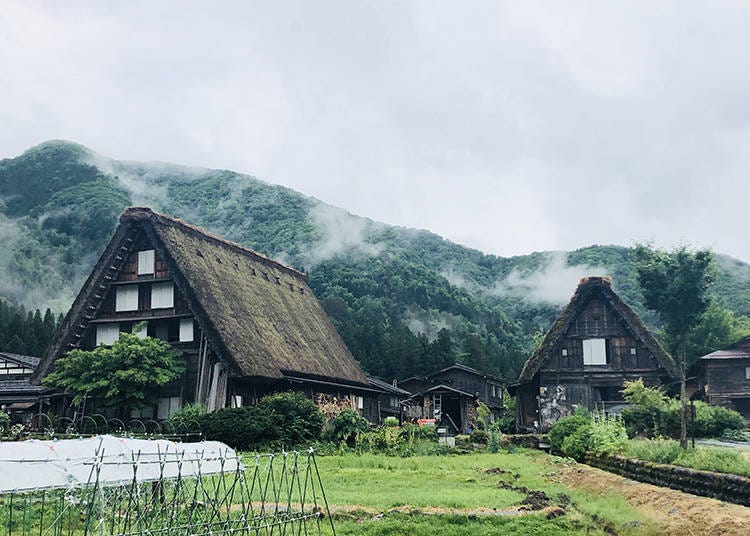 Wada House: Shirakawa-Go's Largest Gassho-Zukuri Building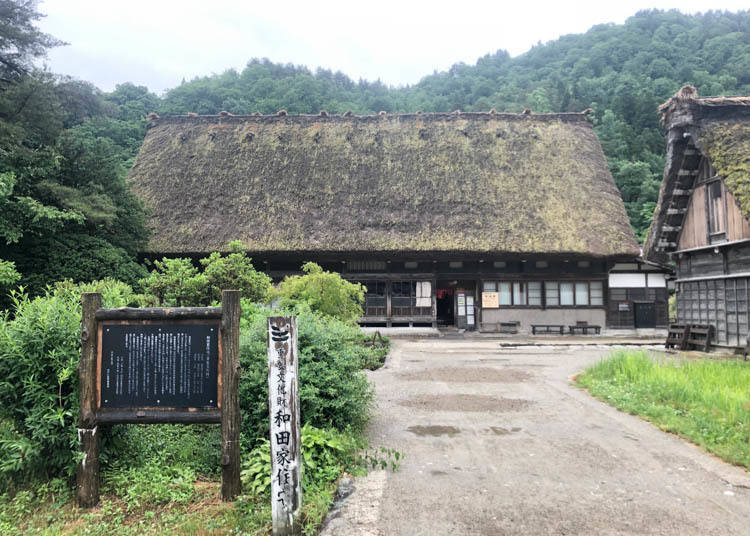 In the northern part of the Ogimachi village is Wada House, a gassho-zukuri building that's listed as one of Japan's important cultural properties.

This impressive structure - an architectural remnant from the early Edo era (1603 to 1868) - is also the largest gassho-zukuri house in Shirakawa-go. Besides the main building, the compound is also home to separated latrines and storehouses with windbreak elements such as mud walls and dry-stone walls. Clearly, the house was initially built for someone of high status in the village.

For a fee, visitors are allowed to tour the buildings' interior, which includes a large hall with a traditional open hearth, a beautifully decorated Buddhist prayer room, and even the attic space!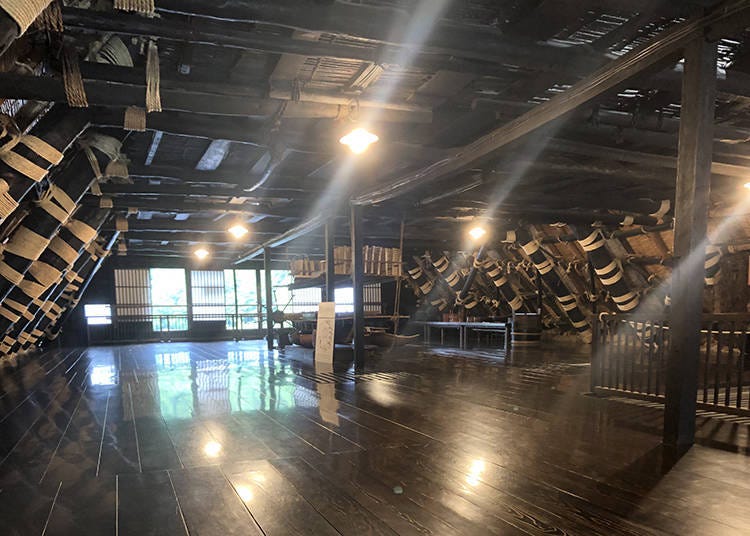 和田家

Address

997 Ogi-machi, Shirakawa-mura, Ono-gun, Gifu-ken

Phone Number

05769-6-1058

Hours: 9:00 a.m. – 5:00 p.m.
Admission: 300 yen (Adults) / 150 yen (Minors)
Closed: Not fixed
Shiroyama Park Observation Deck (Ogimachi Castle Observation Deck): The Best Spot for a Panoramic View of Shirakawa-Go From Above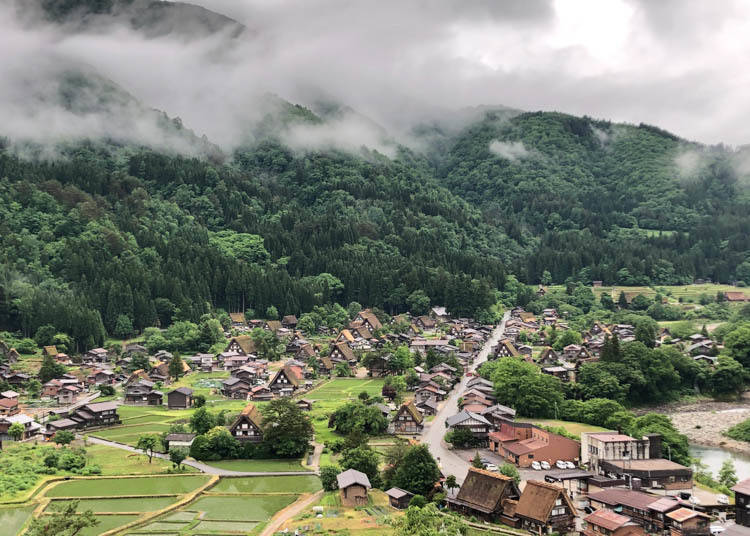 To the east of the Wada House mentioned earlier is a gentle sloping pathway that leads to Shiroyama Park Observation Deck (Ogimachi Castle Observation Deck).

Here is where you'll find breathtaking panoramic views of Shirakawa-go's gassho-zukuri houses from a vantage point - the very same picture often depicted on pamphlets and brochures advertising the village. Why not catch this exhilarating view in the flesh while you're here?

There is a road from Japan National Route 360 leading to the observation deck as well, but this is a rugged and long pathway for pedestrians scale, so consider going around from the back of Wada House if you'll be walking, or utilizing the shuttle bus that travels between Wada House and the observation deck. This bus departs once every 20 minutes and the fare is 200 yen each way.
Shirakawa Hachiman Shrine: Host of the Quirky Doburoku Festival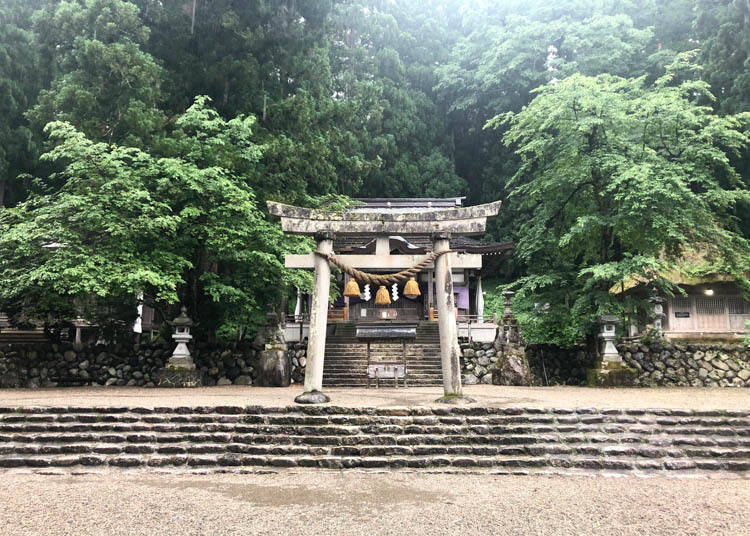 Tucked away in a southern corner of the village is the Shirakawa Hachiman Shrine.

You may be surprised to learn that this stately-looking shrine, surrounded by a solemn air, hosts a quirky festival known as Doburoku Festival every year on October 14 and 15. This is a festival where visitors are treated with fermented doburoku (cloudy sacred alcohol) and lion dances and folk music are performed in dedication to the temple.

The festival is a popular activity that many Japanese flock to from different parts of the country, and we think you'll enjoy the alcohol being offered in this quirky festival that's very uniquely Japanese as well!

Remember, however, that this is still a reputable shrine with a long and honorable history, so try not to let yourself too loose on its premises!
Shirakawa Hachiman Shrine

白川八幡宮

Address

559 Ogi-machi, Shirakawa-mura, Ono-gun, Gifu-ken

Hours: 9:00 a.m. – 5:00 p.m.
Admission: Free
Closed: Open daily
Crossing the Sho River that Flows Through Shirakawa on Deai Bridge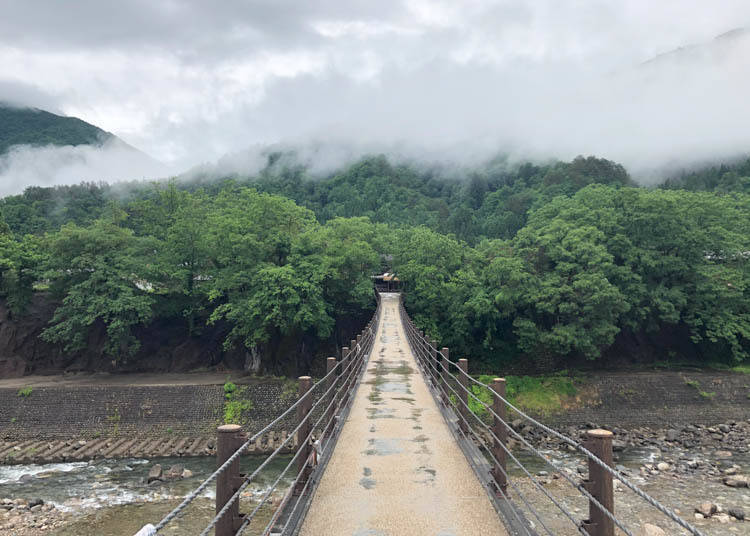 Deai Bridge spans 107 meters (351 feet) in length and connects Sonei Seseragi Carpark to the Ogimachi Gassho-Zukuri Village. This tough, concrete bridge stretches over the Sho River that cuts through Shirakawa and has an interesting feature: When a large group of people stop in the middle of the bridge, the bridge will sway a little, adding a little bit of excitement to an otherwise mundane bridge-crossing!

Even those afraid of heights can cross with peace of mind because the bridge's pathway is very wide and sturdily built. Deai Bridge a little out of the way from the bus terminal, but an excellent spot to enjoy nature's beautiful paintings while gazing at the cool and gentle stream flowing beneath.
The Former Toyama House Museum Once Accommodated a Large Family of 45!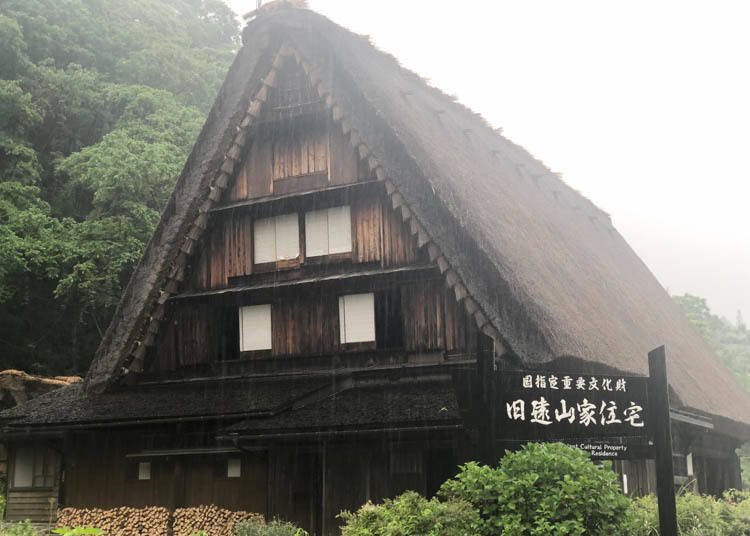 A 15-minute drive away from Ogimachi Gassho-Zukuri Village and located along Japan National Route 156 is the Former Toyama House Museum, a gassho-zukuri resource center that has been listed as a national important cultural property.

Unlike the village in Ogimachi, this house was built in a region where large families were the norm, so the museum premises once housed up to 45 people at once as they pursued their livelihoods in sericulture and potassium nitrate production!

Exhibits describing the lives these big families led back then are available for perusal in the very same building that housed them, and this includes information on Shirakawa's industrial structure back in the day. It's an excellent place to visit for anyone with even a passing interest in social anthropology.
Former Toyama House Museum

旧遠山家住宅

Address

125 Oaza Miboro, Shirakawa-mura, Ono-gun, Gifu-ken

Phone Number

05769-5-2062

Hours: 10:00 a.m. – 4:00 p.m.
Admission: 300 yen (Adults) / 150 yen (Minors)
Closed: Wednesdays (preceding day if Wednesday falls on a public holiday)
The Beauty of Shirakawa-Go Throughout the Seasons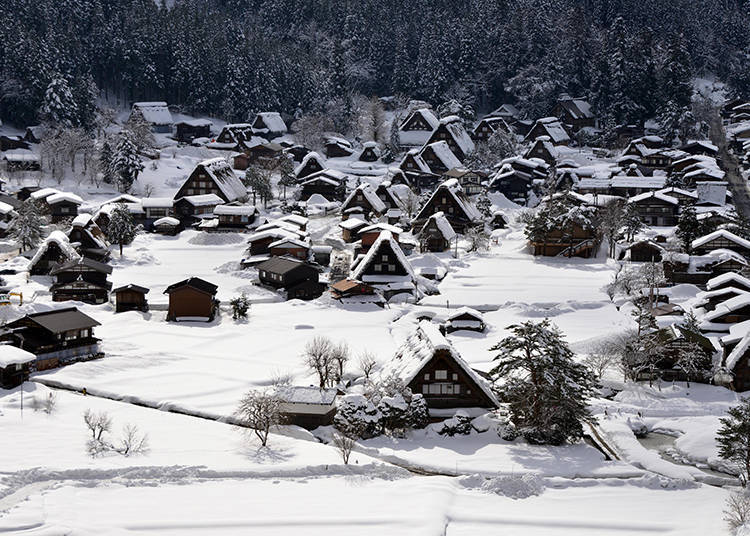 Shirakawa-go painted white by fallen snow (Photo credit: Gifu Shirakawa Town Hall)
Japan's seasons are strikingly prominent. This distinction is made even clearer in mountainous regions where temperature differences fluctuate wildly, or in deep forests with a higher percentage of broadleaf trees - both geographical attributes Shirakawa-go fall under. Seasonal changes in the area are therefore very discernible.

Watching the sakura bloom after the snow thaws in spring, enjoying a refreshing summer breeze while gazing at new green growth in summer, or admiring the warm hues of autumn leaves - these are all great ways to enjoy Shirakawa-go's lovely nature. We believe, however, that winter is the season to really watch here.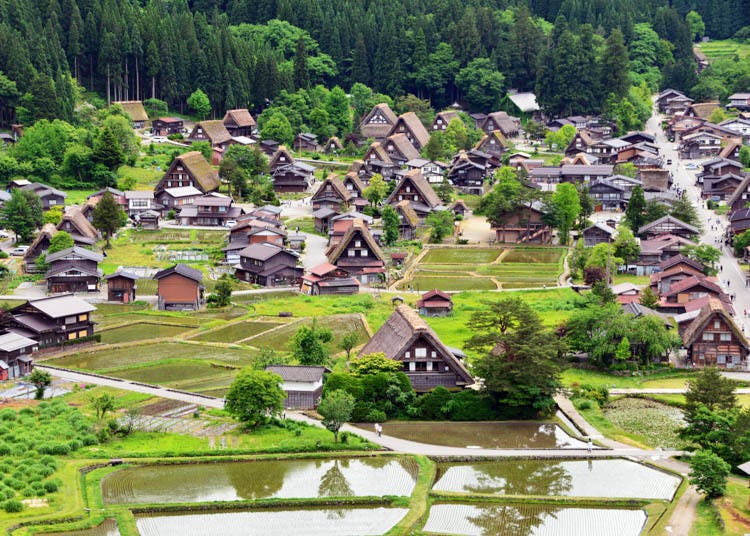 Caption: Rice paddies in spring (Photo credit: Gifu Shirakawa Town Hall)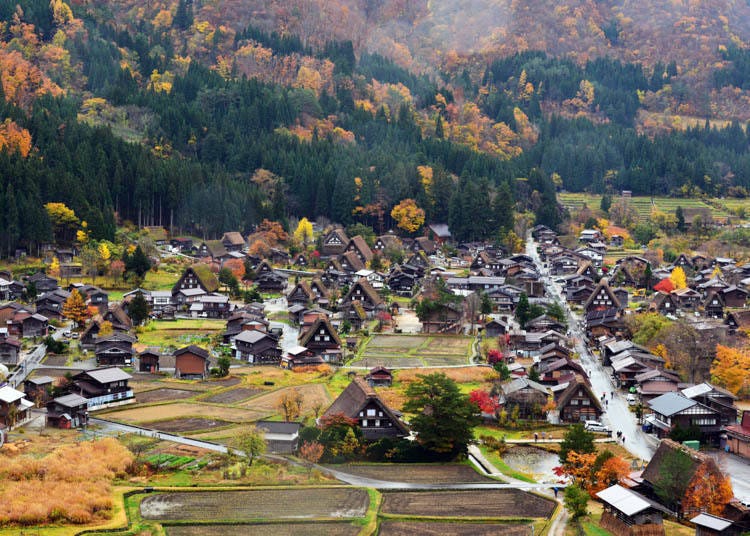 The warm glow of leaves putting on their autumn shades (Photo credit: Gifu Shirakawa Town Hall)
Before Shirakawa-go had access to reliable public transportation, its harsh winters with heavy snowfall saw only a sparse few brave souls daring to make the journey to visit during the winter season. In an attempt to improve this situation, the village installed winter illuminations to attract visitors.

Now, the sight of snow-covered gassho-zukuri houses being lighted up by these illuminations at night have become one of Japan's must-see sights in winter. (Reservation is required!)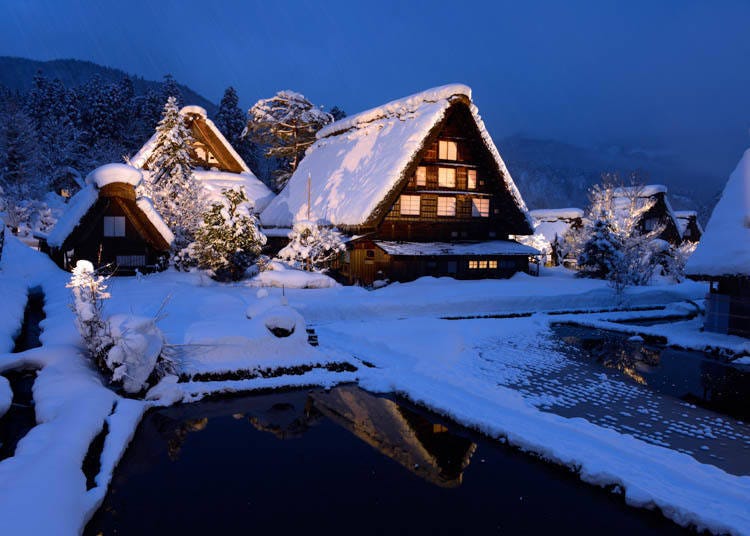 Winter illuminations (Photo credit: Gifu Shirakawa Town Hall)
However, due to Covid-19, the dates for viewing the illuminations in 2021 have not been set yet. There's a high chance the dates will be quite far apart from their usual range, so be sure to keep checking official sources for more information closer to the season.
Important Things to Note When Exploring Shirakawa-Go
During your visit, the most important thing to remember is that the people living in the gassho-zukuri houses are private citizens. Therefore, be careful that you do not accidentally trespass on private property while sightseeing. keep your volume down when talking, and do not litter. When taking photographs, try to keep rice paddies, fields being cultivated, or local residents out of shot.

There's a Shirakawa-go guided tour that lasts for about two hours (7,000 yen) if you prefer a more structured way to explore the area. However, not many guided tours here offer English or other language options, so you'll have to bring along your own interpreter if you cannot speak Japanese yourself.
World Heritage Site Gokayama and How It Compares With Shirakawa-Go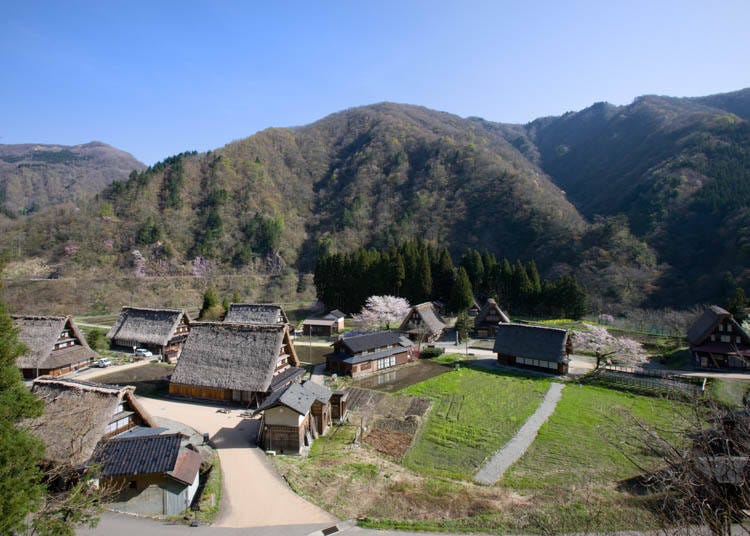 © Public Corporation Toyama Tourism Promotion Board
Complete your gassho-zukuri tour by visiting Gokayama's gassho-zukuri village, located in the southwestern corner of Toyama Prefecture. Gokayama's Ainokura and Suganuma villages were both registered as World Heritage Sites in 1995, alongside Shirakawa-go.

From the mounting surfaces at building entrances to the steeper roofs, subtle differences in Gokayama's gassho-zukuri surround the area with a different mood than the one Shirakawa-go is clad in. Production of Gokayama Japanese paper, listed by the country as a traditional craft is still going strong here to this day.

Excursion buses that take visitors to, fro, and between Shirakawa-go and Gokayama cost as low as just 2,600 yen, depending on the itinerary. It takes only about 40 minutes to reach Gokayama's Ainokura village from Shirakawa-go by bus, so it's entirely possible to tour both places in a day if you plan ahead!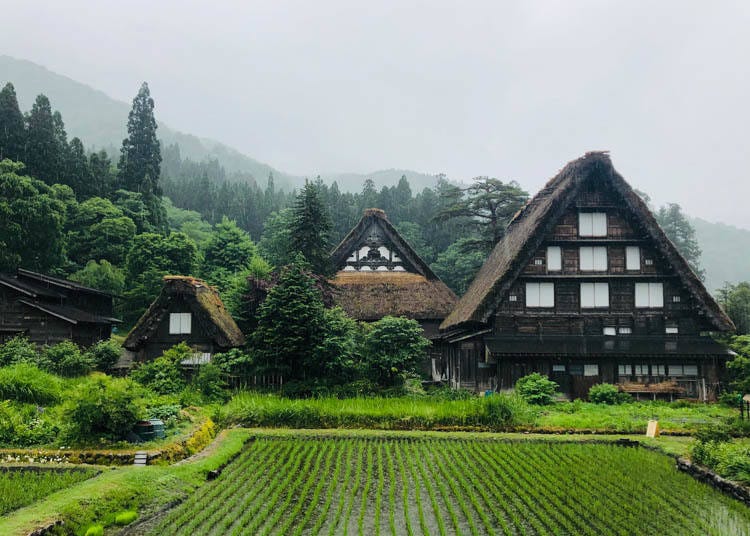 Shirakawa-go is a hidden scenic spot that few have traveled to. However, the sights and experiences awaiting those who make the long trip are worth every effort put in. We hope we've convinced you to move Shirakawa-go's place on your bucket list just that little bit higher, and when you do eventually arrive at this beautiful village, we know you'll enjoy it to the fullest!

Text by: Junpei Maruyama. English translation by: Huimin Pan.
Book an unforgettable experience in Shirakawa-go!
Make your trip extra memorable by booking one of these recommended experiences on our partner site, Voyagin!
Recommended Hotels in Shirakawa-go
白川郷 ゲストハウスKEI

Address

329-1 Hatotani, Shirakawa, Ono District, Gifu 501-5629

Phone Number

05769-6-1177

Vacancy search, reservation

from

9,900JPY

1room, 2adults

Check with our partner site as the latest rates, rate details, and guest room requirements may vary.
御宿 結の庄

Address

908-2 Iijima, Shirakawa, Ono District, Gifu 501-5625

Phone Number

05769-6-2005

Vacancy search, reservation

from

45,760JPY

1room, 2adults

Check with our partner site as the latest rates, rate details, and guest room requirements may vary.
城山館

Address

1168-1 Ogimachi, Shirakawa, Ono District, Gifu 501-5627

Phone Number

05769-6-1007
Shirakawa-go Terrace Hostel

白川郷テラス

Address

331-1 Hatotani, Shirakawa, Ono District, Gifu 501-5629

Phone Number

05769-6-1223
*This information is from the time of this article's publication.
*Prices and options mentioned are subject to change.
*Unless stated otherwise, all prices include tax.
Search for International flights