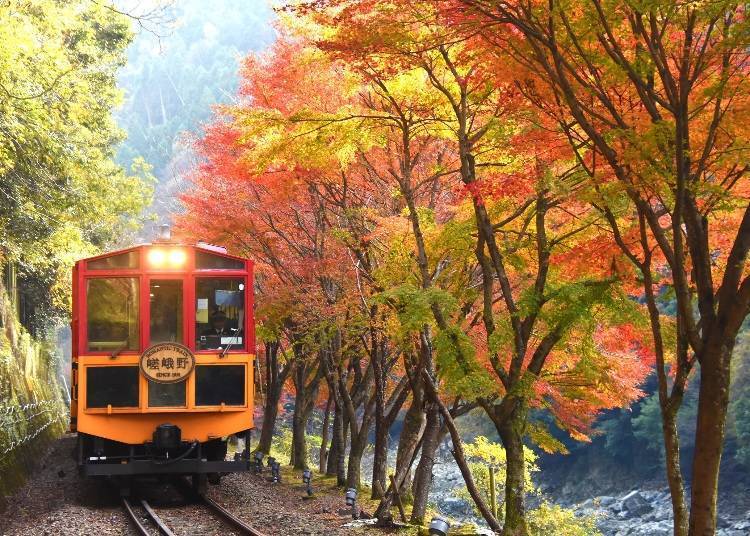 Japan has some of the most scenic train journeys you'll encounter. Japanese sightseeing trains are a specially designed experience letting passengers enjoy views, often while taking in some of the local cuisine.

Whether you are on a locomotive or a retro train, both inside and outside, you won't have to go far to enjoy the experience. Especially during the autumn foliage season, you can feel the rumble of the train while watching the colorful trees slip past.

Here are six of the most scenic train journeys in Japan's Kansai region and how to book them.
1. SL Kita-Biwako: Raises steam running along the track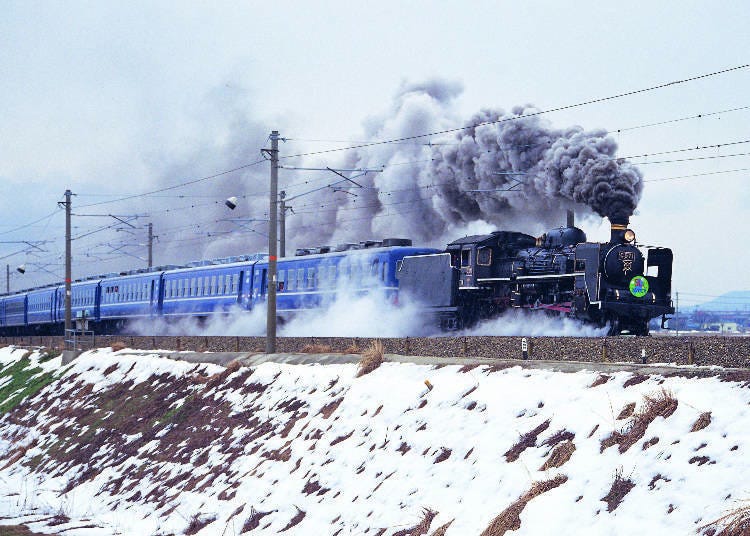 The "SL Kita-Biwako" started operation in 1995 by JR West. The steam locomotive pulls the passenger cars from Maibara Station on the Hokuriku Main Line to Kinomoto Station. Stops include Maibara Station, Nagahama Station, Torahime Station, Kawage Station, Takatsuki Station, and Kinomoto Station. The ride time from start to finish is about 43 minutes.

The route shows off the Nagahama Castle historical museum that is from the warring states period in Japan as well as the beautiful scenery of Kohoku. The staff will assist you in taking photos or any other needs and is a perfect place to make memories. There are even a number of events are held at the terminal Kinomoto Station!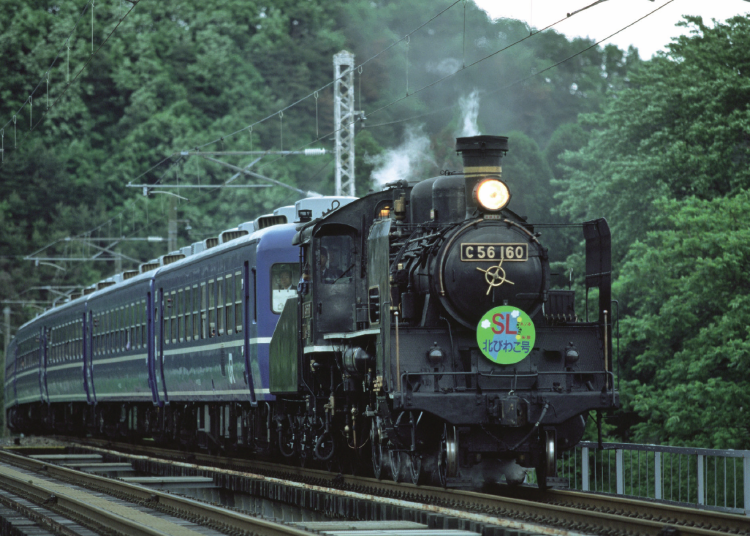 Image: C56-Type Locomotive
This steam locomotive tows five 12-series passenger cars. It is a retro passenger car that has remained in its original form and is a valuable vehicle with very few remaining. You can feel the nostalgic atmosphere of the train where more than 30 years have passed since the privatization of the JNR (Japanese National Railways). Check out this steam locomotive along with the inside of the 12 series passenger car.

From the start of operation until 2018, the C56 type 160 was towed, and in the spring of 2019, the D51 type 200, nicknamed "Degoichi," was towed. Many fans were waiting with cameras at the terminal station, Kinomoto.

"SL Kita Biwako" is operated on Sundays during the tourist season, with summer operation of 2019 on September 8, 15, and 22. The C57 type No. 1 (nicknamed "Lady") will tow five No. 12 cars. Autumn operations are on October 13, 20, and 27, and November 3 and 10, with the locomotive format still undecided.
JR West "SL Kita-Biwako"
Fee:

Normal fare + assigned seat reserved ticket (additional fee). All reserved seats
* Tickets purchasable from 10:00 one month in advance of the reservation at the main station "Midori no Mado" and major travel agencies
Website:
West Japan Railway Company

JR西日本

Address

475 Maibara, Shiga 521-0012
2. Kyo-train Garaku: A Japanese sightseeing train that'll fill you with the spirit of Kyoto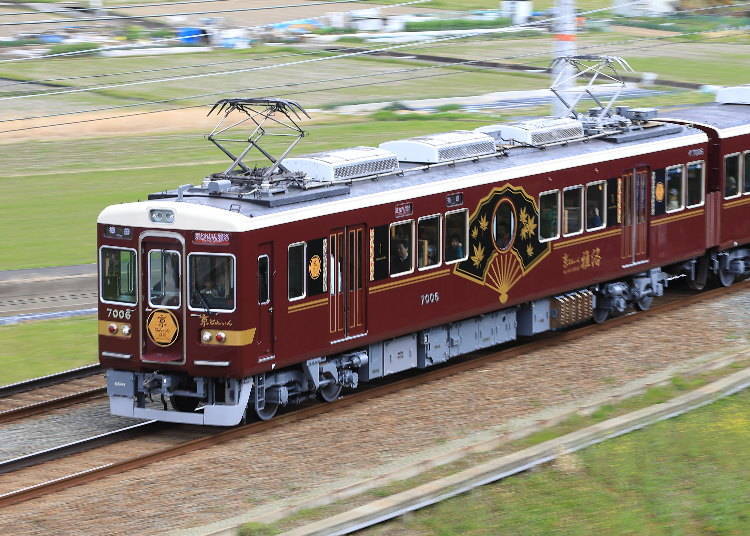 The limited express "Kyo-train" runs between Umeda and Kawaramachi on the Hankyu Kyoto Line.

In March 2019, the second train, "Kyo-train Garaku," was introduced. With the catchphrase "Feeling Kyoto from the moment you board," the season is set for each vehicle, with the exterior and interior of each car different. For example, Car No. 1 is a vehicle that has the feel of autumn in Kyoto with the symbolic pattern of "Ryusui ni Aoi," representative of the autumn leaves. Each car has its own taste.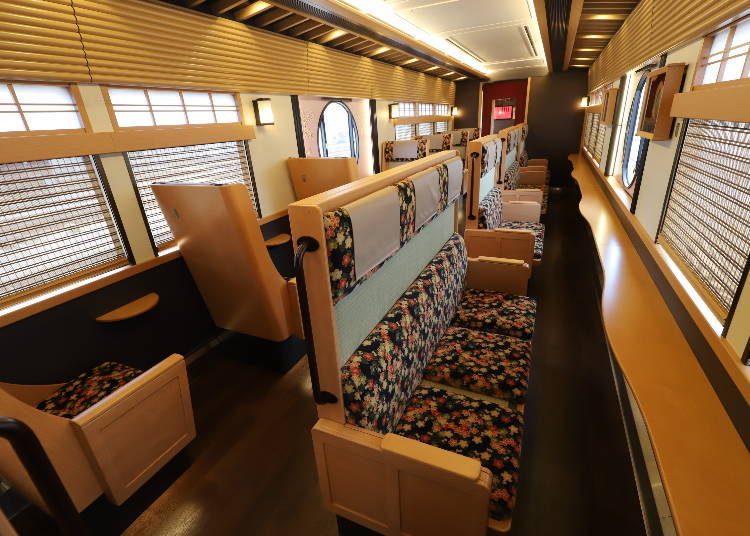 If you enjoy window seats, cars 3 and 4 are for you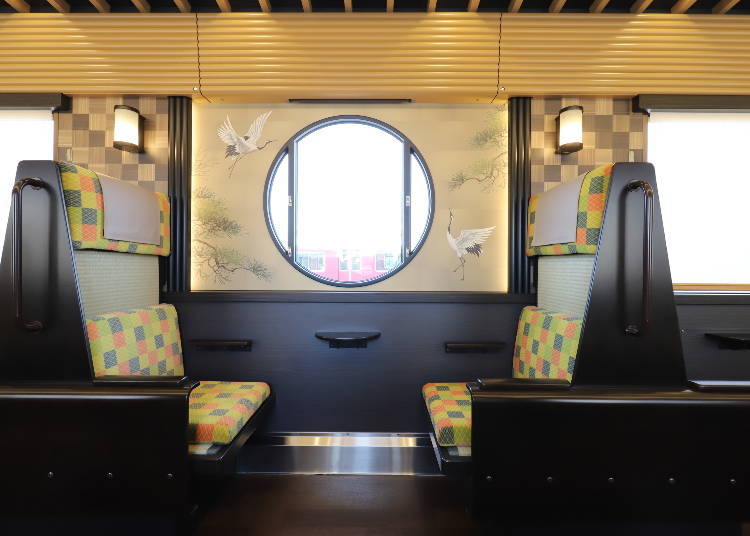 Cars 3 and 4 have window seats and counter tables where you can enjoy the scenery along the railway. The cars have a seasonal feel with the No. 3 car that feels like spring in Kyoto and the No. 4 car that feels like summer in Kyoto with Japanese iris. You can enjoy the uniqueness of Kyoto inside the car, along with the beautiful scenery that can be seen outside as well. Also, the cars are equipped with many one-seat selections so you can enjoy some alone time.

Make sure to pay attention to the in-car network services. Through the access point server in each car, you can access the camera installed in the crew room in real-time and view it with your smartphone or PC. Of course, each car is equipped with free Wi-Fi, and the communication environment inside the car is perfect.

"Kyo-train Garaku" and "Kyo-train" operate seven times each on Saturdays, Sundays, and public holidays that stop at Umeda, Juso (only a Garaku stop), Awaji, Katsura, Karasuma, and Kawaramachi. You're in luck as you can get on with only paying the standard fare.
Hankyu Corporation "Kyo-train Garaku"
Fee:

Normal fare
阪急電鉄

Address

1-chōme-1-2 Shibata Kita-ku, Osaka, 530-0012
3. Tenku: Head to Mt. Koya with The Nankai Electric Railway's sightseeing train!
The sightseeing train "Tenku" heads to the World Heritage site, Mt. Koya, which celebrated its 10th anniversary in July 2019. The 19.8km from Hashimoto Station to Gokurakubashi Station is a mountainous region with steep slopes, sharp curves, and 24 tunnels.

When you leave Hashimoto Station, you will head to Kamuro Station, where the Kamuro Tenmangu Shrine praises the academic scholar Sugawara no Michizane. Next, Kudoyama Station is the home of Sanada Yukimura, a samurai warrior during the Sengoku period.

There is the "Kudoyama Sanada Flower Bed" at the station that entertains the users. The train continues on to Koyashita Station, and the Fudodani River can be viewed while crossing the Nyukawa Bridge, a registered modern industrial heritage (of popular tourism). This sightseeing train further enhances the feeling of traveling to the sacred Mt. Koya.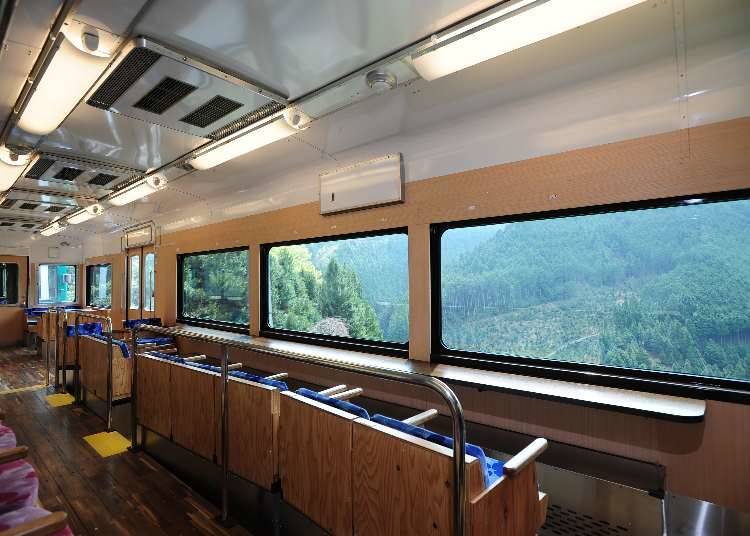 A dark green vehicle inspired by the forest
This colored vehicle is reminiscent of the forest and blends into the mountainous scenery. The vermilion line is inspired by the Konpon Daito of Mt. Koya. Inside the vehicle, there are windows that nearly cover the entire side so you can enjoy the scenery while travelling in the mountains.

The front car has a special top view seat where you can feel as if you are in the driver's seat. From the observation deck in the second car on the Hashimoto side, you can feel the nature of the foothills of Mt. Koya. In-car announcements are also made to introduce the history and culture of the land that can be seen from windows.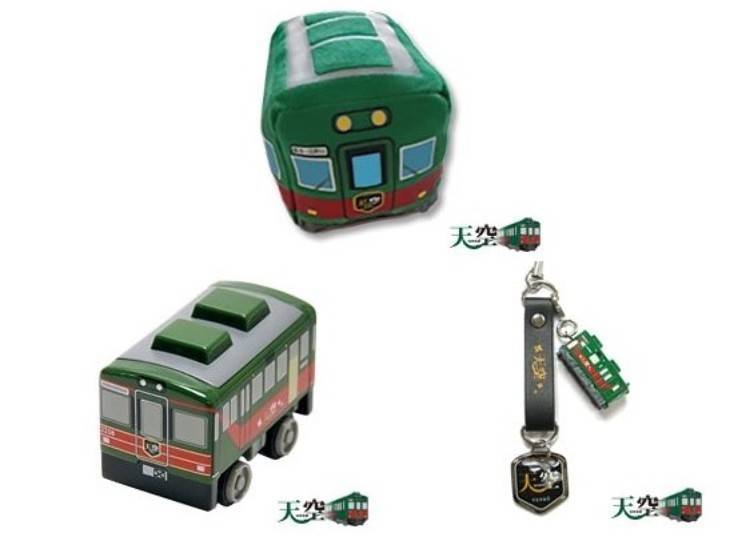 Adorable original items too!
Various goods such as "Packed Tenku Tokotoko Train" or "Tenku Choro Q" that runs on the mainspring mechanism, straps, branded folders, and towels are sold. The "Tenku" train runs every day except Wednesdays and Thursdays from March to November.

Note that there are only two round trips per day on public holidays. There are set plans that include meals, accommodations, or even their free plan, the "Burari Tabi" of Nankai Electric Railway.
Koya-san Hana (Flower) Railway "Tenku"
Fee:

Normal fare + Assigned seat reservation ticket 510 yen (260 yen for children)
* Fees as of August 2019
Website:
Nankai Electric Railway Co., Ltd.

南海電鉄

Address

Osaka, Naniwa Ward, Shikitsuhigashi, 2 Chome−1−41, 556-8503

Website: http://www.nankai.co.jp/
4. Kyoto Tango Railway: Three Japanese sightseeing trains overlooking the sea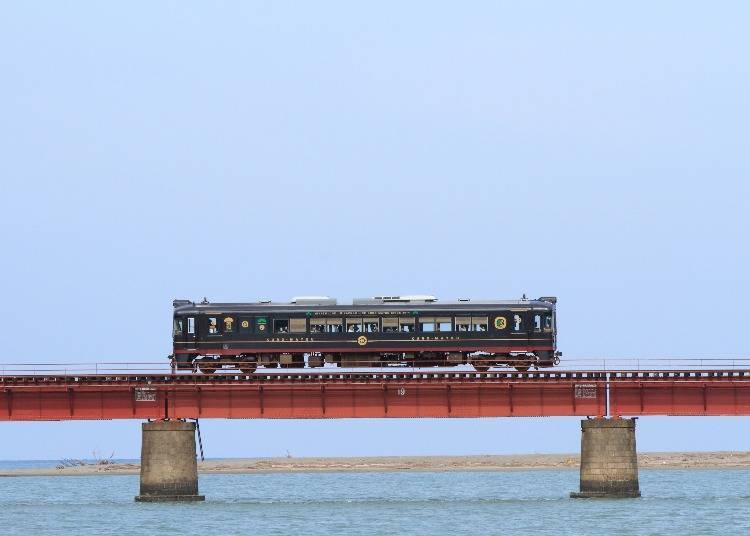 Tango Kuromatsu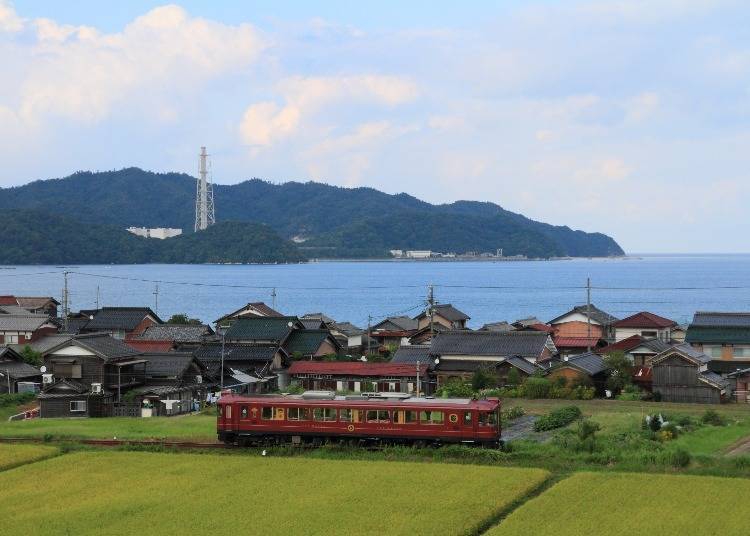 Tango Akamatsu
Tango Aomatsu
The Kyoto Tango Railway runs through the Tamba and Tango areas in the northern part of Kyoto Prefecture and the Tajima area in the northeastern part of Hyogo Prefecture, and operates three types of sightseeing trains.

The "Kuromatsu-go" runs on weekends on a reservation-based dining train that runs between Amanohashidate and Nishi-Maizuru, and between Fukuchiyama and Amanohashidate.

"Tango Akamatsu" is a reservation-free (free seating) café train that runs between Amanohashidate and Nishi-Maizuru and between Fukuchiyama and Amanohashidate. Please ride this sightseeing train at least once to experience "The Sea of Kyoto."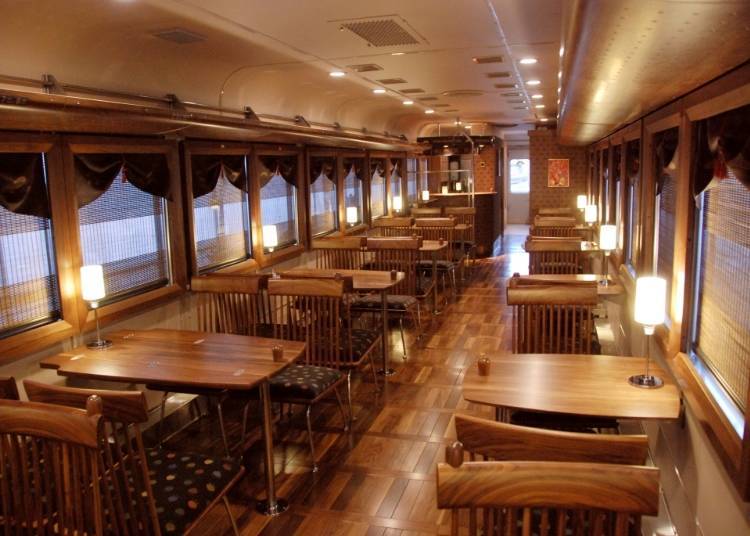 Tango Kuromatsu: A beautiful classic interior
The "Tango Kuromatsu" is especially popular and known as the 'dining room running in the Sea of Kyoto.' The interior has a classic and calm atmosphere with plenty of natural wood. You can enjoy all 4 courses, including lunch courses or sweets that use local ingredients.

In addition, all three trains sell Tantetsu coffee, local beer, local wine, and original goods that are popular with foreign tourists. Check the website for details on reservations, operating dates, and operating routes.
Kyoto Tango Railway "Tango Kuromatsu" "Tango Akamatsu" "Tango Aomatsu"
Fees:

Varies based on the "Tango Kuromatsu" plan. "Tango Akamatsu" normal fee + boarding ticket 540 yen (550 yen after October 1), "Tango Aomatsu" normal fee only
Website:
TEL:

0570-200-770(10:00~19:00)
京都丹後鉄道

Address

2065-4 Tsuruga Miyazu, Kyoto 626-0041
5. Sagano Romantic Train: Enjoy the beauty of the valley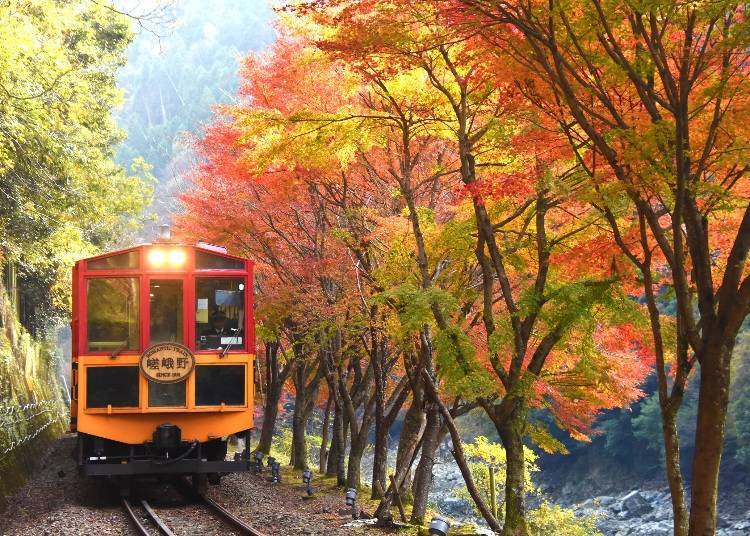 Minecarts are small freight cars used for freight transportation, which are box-type vehicles that run in places where ordinary trains cannot pass. The Sagano Scenic Railway's Sagano Torokko Romantic Train runs slowly with an average speed of about 25km.

You can fully enjoy the scenery along the line because of the slow pace. Cherry blossoms in spring, fresh greenery in summer, foliage in autumn, and snow scenes in winter can be seen. This seasonal nature spreads out right in front of you!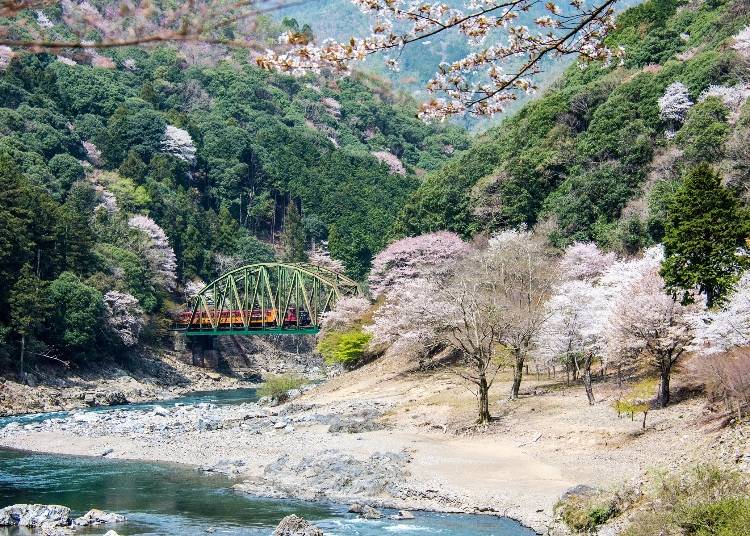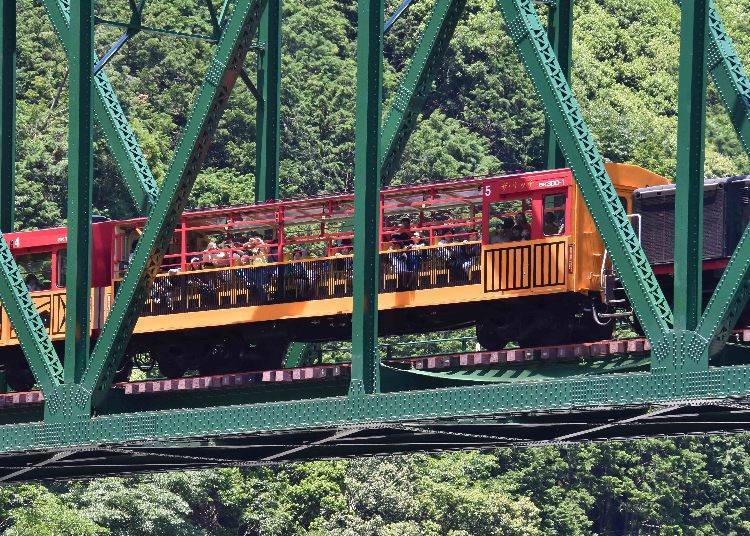 "The Rich" (carriage No. 5 car) which is open air and without window panes, is particularly popular. You can directly feel the wind blowing, the sparkling light, and the various sounds that nature plays. During the cold season, a stove train with a coal stove is also used. You can look at winter scenery while enjoying a warm fire. There are many sightseeing spots along the railway line, and there are lots of highlights especially in the vicinity of Torokko Arashiyama Station. You can also download leaflets in English, Chinese and Korean.
Sagano Scenic Railway "Sagano Romantic Torokko Train"
Fee:

One way 620 yen (regular charge regardless of boarding area) * 630 yen after October 1
Website:
TEL:

075-861-7444
Open:

March 1-December 29
嵯峨野観光鉄道

Address

Sagatenryuji Kurumamichicho, Ukyo Ward, Kyoto, 616-8373
6. Blue Symphony: A sightseeing express that seeks historical romance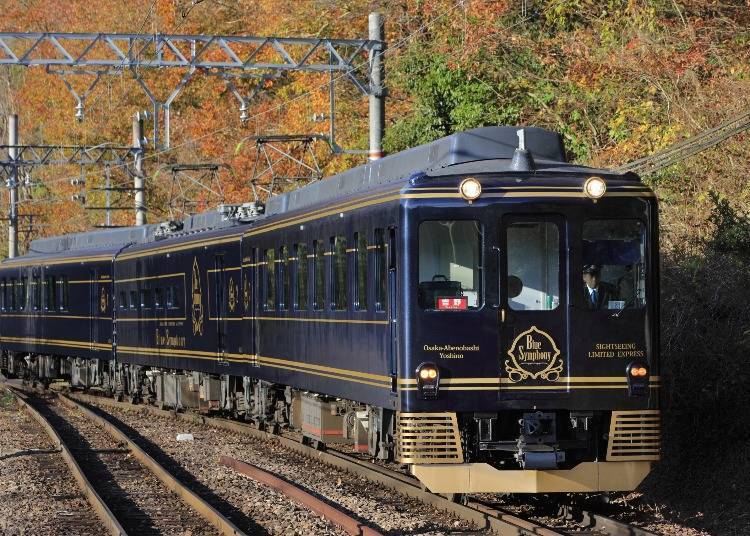 A special sightseeing express called "Blue Symphony" is a sightseeing express of Kintetsu Railway Co., Ltd. that transports from Osaka Abenobashi Station to Nara and Yoshino.

The car body is a high-quality design with a dark blue body color and gold lines, with the interior of the car classical and calm. Departing from Osaka Abenobashi Station, you can enjoy a train trip that touches history. The vehicle is a three-car train, and the seats of cars 1 and 3 are all 2 rows with 1 row of deluxe seats. Car 2 is a lounge vehicle.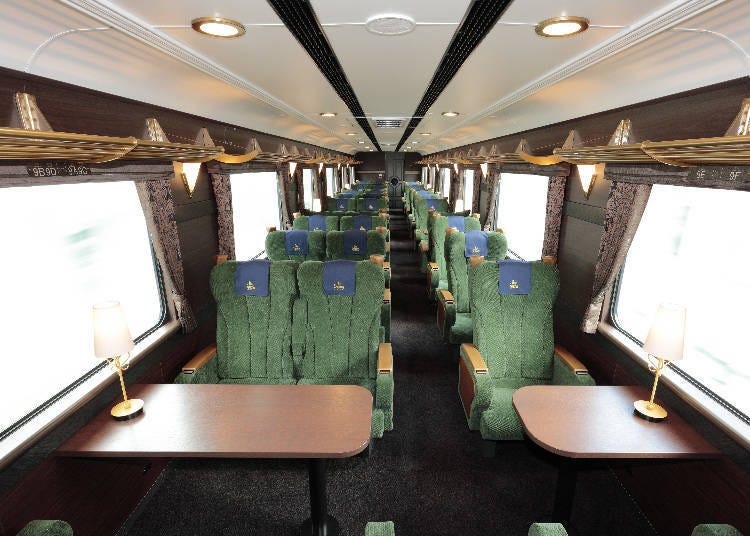 Sightseeing while aboard the train
The tourist express "Blue Symphony" runs twice a day every day (except Wednesday). The website introduces one-day and one-night model courses. In the car, local dishes such as Yoshino Kaoru sweets and Kakinoha sushi are sold as well as Nara local sake comparison sets and other original goods. In September 2019, the 3rd anniversary of the line will be celebrated, with various commemorative campaigns such as events and tours to be held. Please check the website for details.
Kintetsu Railway Limited Express "Blue Symphony"
Fee:

Normal fare + 720 yen (Express charge 510 yen + Special vehicle charge 210 yen)
Phone number:

050-3536-3957 (Kintetsu Railway Telephone Center 8:00-21:00)
Enjoy a special trip on a sightseeing train where you can experience the changing seasons, from trains that can be easily boarded from the center of the city to trains that enjoy nature such as mountains, seas, and rivers.

Text by:WEST PLAN
*This information is from the time of this article's publication.
*Prices and options mentioned are subject to change.
*Unless stated otherwise, all prices include tax.