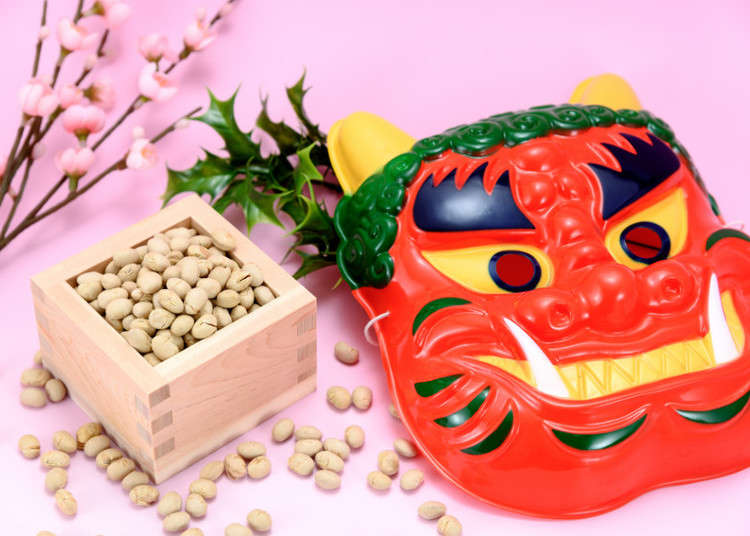 Each year, on February 3rd, the celebration known as Setsubun takes place across Japan. This celebration, literally meaning "seasonal division," marks the end of winter and the beginning of spring, formally known as 'risshun,' according to the traditional calendar used in Japan many years ago.

While there are technically four such seasonal divisions in a year, the one in February is the one most associated with the word "setsubun."

Through lively rituals that include chasing away symbolic demons, eating special sushi, and scattering soybeans, the evils of the previous year are believed to be driven out, as fortune is welcomed in–traditions unique to the Setsubun of this particular season.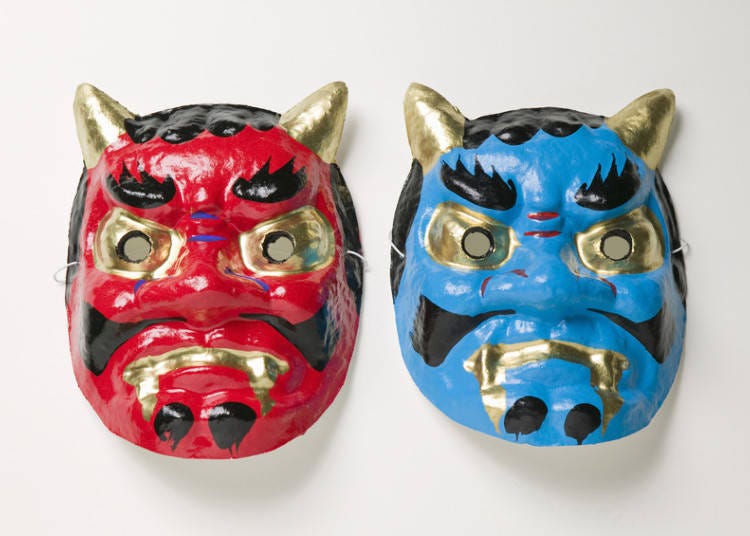 Even though it technically takes place during the winter, Setsubun is considered a part of the Spring Festival, called 'haru matsuri.'

In Japan, a great deal of cleaning needs to be done before and during the period one greets the coming year, be it physically by cleaning one's own home or spiritually by visiting a shrine or temple (a custom called hatsumode).

Cleaning and purification are important aspects of how people celebrate the New Year, and Setsubun is the final act of preparation before spring finally ends the New Year's celebrations.
Driving Away Demons with Beans
In keeping in line with other traditions that are practiced around this time of year, the purpose of celebrating Setsubun is also one of cleaning and purification.

The day is used to drive demons and evil spirits out of one's home with the help of roasted soybeans. These beans are known as 'fuku-mame,' meaning "lucky beans," as they are supposed to be a tool that rids the home of evil and invites fortune in.

Traditionally, the oldest male family member, whose Chinese zodiac sign is the same as the coming year, or just the male head of the household, dresses up as an oni, which is a kind of demon or ogre in Japanese folklore.

The other family members then throw the roasted soybeans (sometimes peanuts) at the 'oni' to drive it out of the home by chanting: "Oni wa soto! Fuku wa uchi!"

This chant translates to "Demons out! Fortune in!" and represents the act of cleaning one's home from any evil or harmful spirits.

However, there are some temples, shrines, and regions where the phrase "Oni wa soto" is not spoken.

For example, at Sensoji in Asakusa, it is believed that oni do not appear before the temple's enshrined deity Kannon, and as such, the chant is unnecessary.

Instead, the phrase "Senshu banzai fuku wa uchi!" is recited, meaning "Long life and good fortune, come in!"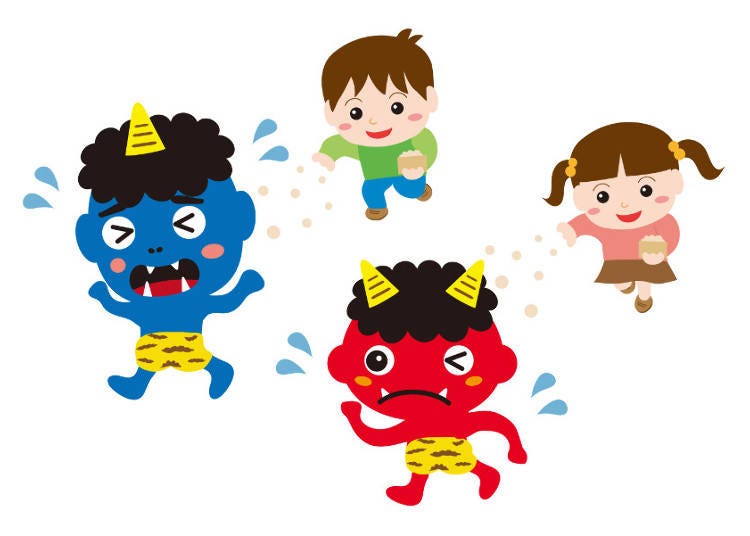 The way to scatter the beans is as follows: First, roasted soybeans are placed in a bowl and offered before the household shrine. If a household has no such shrine, the beans are offered in a location that is higher than eye level.

In the evening, windows are opened, and the phrase "Oni wa soto" is recited while facing out of the house and scattering the beans twice.

Immediately after, the windows are to be closed while reciting "Fuku wa uchi" twice and scattering beans in the middle of the room two times.

This ritual is performed starting from the innermost room of the house, with the last area being the entrance. When scattering beans, the palm of the hand should be facing upwards.

Because it represents a prayer for a bountiful harvest and thus mimics the gesture of sowing seeds on a field, the beans should not be scattered by using an overthrow.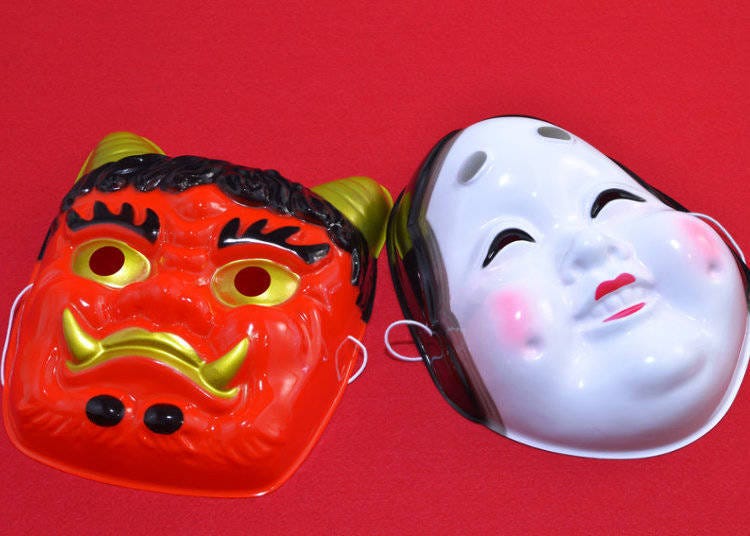 In addition to the oni mask worn during Setsubun, those who throw the beans often don the face of the deity Okame.

She is the kami of luck, good fortune, and kindness, portrayed with a white friendly face, chubby cheeks, and a warm smile. She acts as the defender against misfortune, scaring off oni and other wicked creatures with the help of the soybeans.
Welcoming More Luck During Setsubun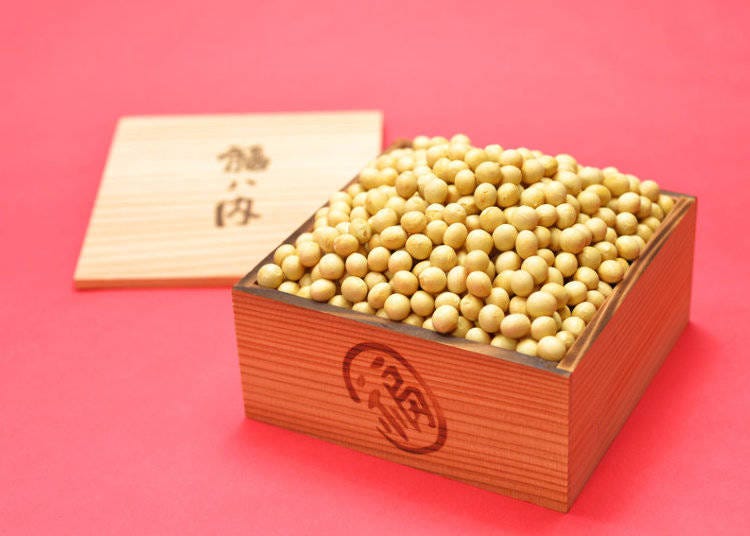 While the beans are usually thrown directly at the oni, they are also scattered around and in front of one's home, to make sure to scare away any demons in hiding.

The chanting may vary; sometimes, "oni wa soto!" is only shouted when scattering beans outside, and the counterpart "fuku wa uchi!" when taking care of the interior of one's home.

Afterward, people often eat the number of roasted soybeans corresponding to their current age - plus one more - to make the coming year an especially lucky one.
Eho-maki: A Long and Lucky Sushi Roll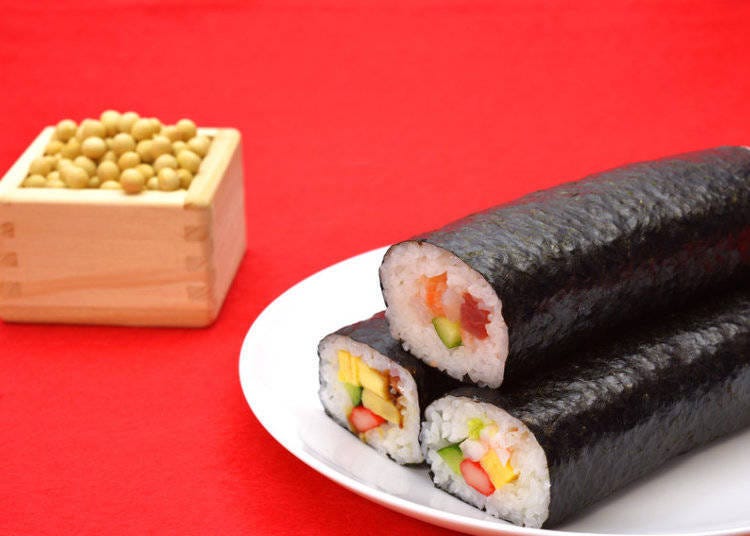 It is also customary to eat a type of sushi roll (makizushi) called eho-maki. Though makizushi is usually cut into pieces for convenient eating, eho-maki is kept as one long roll.

The exact meaning of the word eho-maki translates to "lucky direction roll," as it is said that eating these in complete silence, while facing the lucky direction of the given year, will bring good luck in the coming year.

Each eho-maki is filled with seven ingredients, as seven is considered one of the luckiest numbers in Japan.

This custom originates in the Kansai region, specifically from around the area of Osaka, but it has become popular in many parts of Japan. At the beginning of February, these uncut, fat maki rolls can be found in supermarkets, convenience stores, and sushi restaurants as a part of Setsubun celebrations.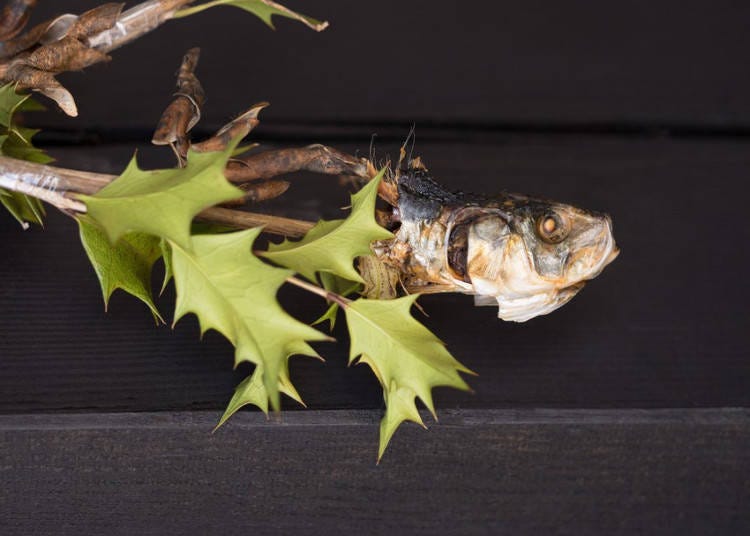 However, there is one traditional Setsubun custom that fell out of fashion with time. A decoration made from cooked sardine heads and holly tree leaves, called 'hiiragi iwashi,' was placed by the entrance to one's house.

It is said that demons have an aversion to the smell of sardines, so this peculiar decoration was used to keep demons from entering the home, acting as additional protection against bad luck for the upcoming year.

Today, hiiragi iwashi has become relatively rare but can sometimes still be spotted at the front doors of Japanese houses around the beginning of February, particularly in certain regions.
Celebrating Setsubun in Tokyo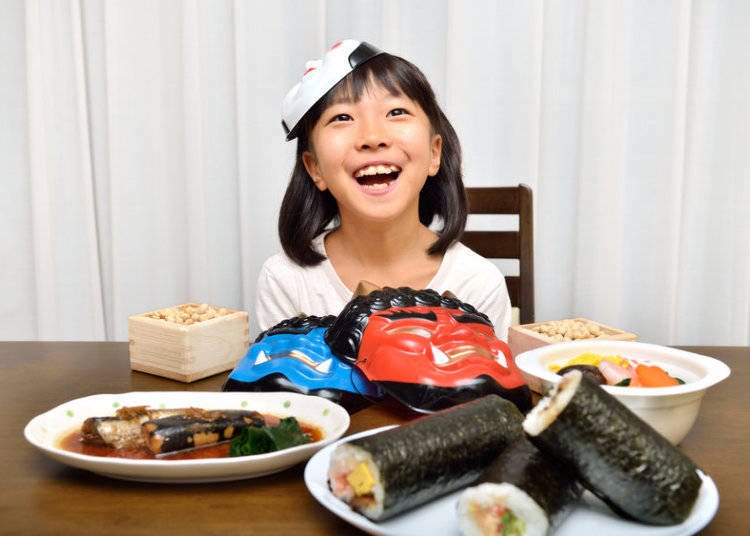 Temples and shrines all over Japan celebrate Setsubun as well. Many celebrations feature people dressed up as demons, the bean-throwing performed by both the priests of the location and guests.

In addition to throwing the roasted soybeans, temple and shrine celebrations include throwing small gifts such as envelopes with money or a variety of sweets and candy. Some of these events are so popular that they are broadcast on local and national TV programs.
Sensoji Temple: Setsubun Festival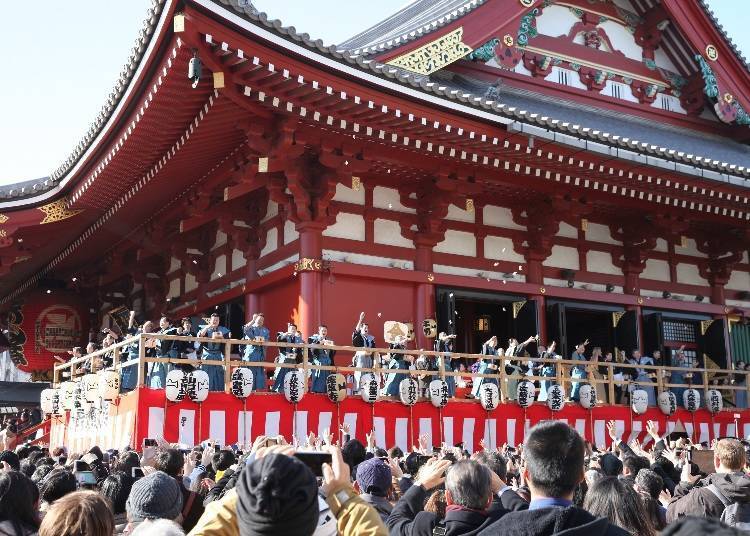 (C) Sensoji Temple
Sensoji Temple was the first place to hold a large-scale Setsubun festival in Edo. Bean-sowing events are held by the 'toshi-otoko' in the main hall, as well as by the children of Sensoji Kindergarten in front of the hall and on the special stage on the east side.

Traditionally, when scattering the beans, one must say the special chant, "Welcome fortune and demons begone!" (観音さまの前には鬼はいないこと)."

However, because there are believed to be no demons in the presence of Kannon at Sensoji Temple, the chant has been slightly altered to "Long life and good fortune, come in! (千秋万歳福は内)"

There will also be performances of Fukuju no Mai (Dance of the Seven Lucky Gods), one of Sensoji Temple's three major dances, and bean sowing by Asuka entertainers. From New Year's Day until Setsubun, those who wish can also receive special Setsubun/Risshun paper amulets to ward off calamity and Fukumame (lucky beans).

・Fee: Free
・Period: February 3 at 12:00 PM and 2:00 PM (only 2:00 PM this year)
*Entry to the hall may be limited.
*2022 event details may vary from previous years.
Address

2-3-1, Asakusa, Taitou-ku, Tokyo, 111-0032
View Map

Nearest Station

Asakusa Station (Tokyo Metro Ginza Line / Toei Asakusa Line / Tobu Isesaki Line (Tobu Sky Tree Line) / Tsukuba Express)
5 minutes on foot


Phone Number

03-3842-0181
Takao-san Yakuou-in Temple: Setsubunkai Tsuinashiki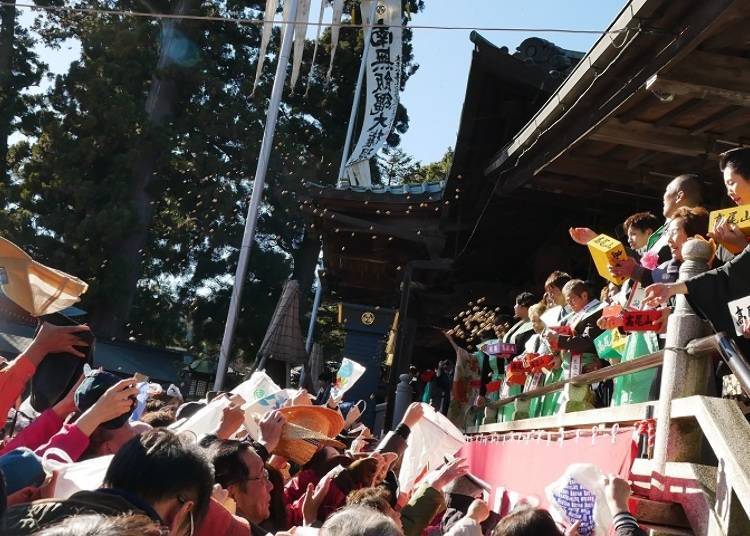 Takao-san Yakuou-in Temple holds the Setsubunkai Tsuinashiki every year. At this special Setsubun ceremony, everyone prays for good fortune, happiness, and protection from disaster.

They say if you catch any lucky beans that have been blessed at Mount Takao and present them as offerings at sacred places such as Buddhist altars and Kamidana, or sprinkle them all over your house, you'll be blessed with a year of happiness and freedom from disaster.

People pray for a happy year before Izuna Daigongen, the principal deity of Takao-san Yakuo-in, by reciting the chant, 'Fortune enter,' silently in their hearts.

You can join during Setsubun as a 'toshi-otoko' or 'toshi-onna' (literally 'year-man'/'year-woman'; refers to people who share the same lunar calendar birth year animal as the current year).

The participation fee is 30,000 yen and includes a costume, amulet, souvenirs, a round-trip cable ride, and the bean-sowing ceremony fee. General visitors who are not participating can still purchase fukumame (lucky beans) and fukumasu (wooden dish to hold the beans) as souvenirs.

・Fee: 30,000 yen (includes bean-sowing ceremony participation fee, costume fee (kamishimo), bills, souvenirs, banquet, round-trip cable ride, and a commemorative photo)
・Period: February 3 (9:00 AM, 10:30 AM, 12:00 PM, 1:30 PM, 2:30 PM)
*Sales end 30 minutes before each session, or when max capacity is reached. In such cases, you may participate in the following lesson.
Address

2177, Takaomachi, Hachioji-shi, Tokyo, 193-8686
View Map

Nearest Station

Takaosanguchi Station (Keio Takao Line)


Phone Number

042-661-1115
Asakusa Otori Shrine: Setsubun Festival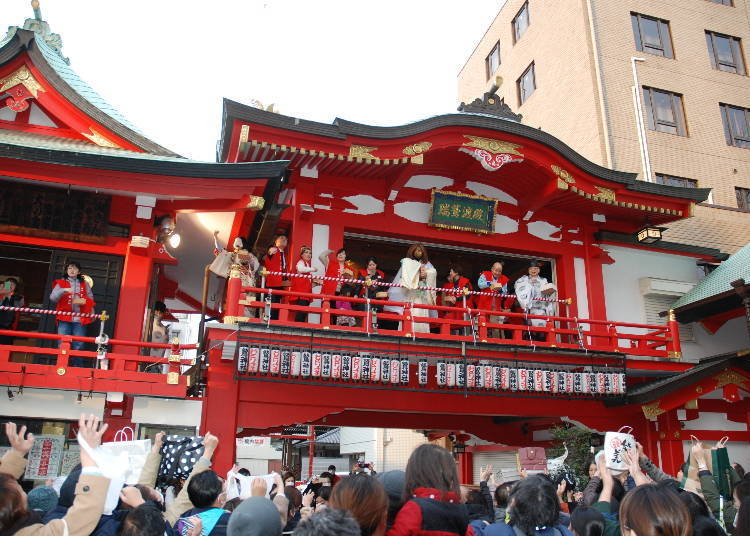 Otori Shrine, or 'Otori-sama,' as it's lovingly called by visitors, is a popular shrine in Asakusa, Tokyo.

During their Setsubun Festival, the shrine holds two bean-sowing ceremonies, Setsubun Tsuinashiki and Meigen no Gi, at the Kagura-den and Watari-den, at 3:00 PM and 4:00 PM.

You'll also enjoy the Otori-mai performance - an original dance of Otori Shrine, and one of the event's highlights!

For 10,000 yen, you can participate in the 'kito,' a special prayer ritual, which includes amulets, bento lunches, and free gifts. There is also a free lottery you can participate in. Even if you don't win, you can still enjoy the juice and sweets!

・Fee: 10,000 yen (includes amulets and bento lunch)
・Period: February 3 (3:00PM, 4:00PM) *Reception ends January 25
*Limited to 25 participants as a measure against coronavirus
*2022 bean-sowing at Kagura-den and Watari-den have been canceled.
Address

3-18-7, Senzoku, Taitou-ku, Tokyo, 111-0031
View Map

Nearest Station

Iriya Station (Tokyo Metro Hibiya Line)


Phone Number

03-3876-1515
Enjoy Setsubun 2022 At Home! 3 Recommended Products
Denroku Oni Face Bean Confectionery

Since 1972, Fujio Productions (beginning with the late Fujio Akatsuka) has designed a new oni, or demon, face for Denroku's Setsubun campaign.

Denroku, famous for their bean confectioneries, sells demon-face bean treats every year for Setsubun, which many people have come to love. The 2022 design is called the 'Try Oni.' This year, we hope we will finally be able to break free from all the obstacles brought about by the long-lasting pandemic.

Link: Denroku Website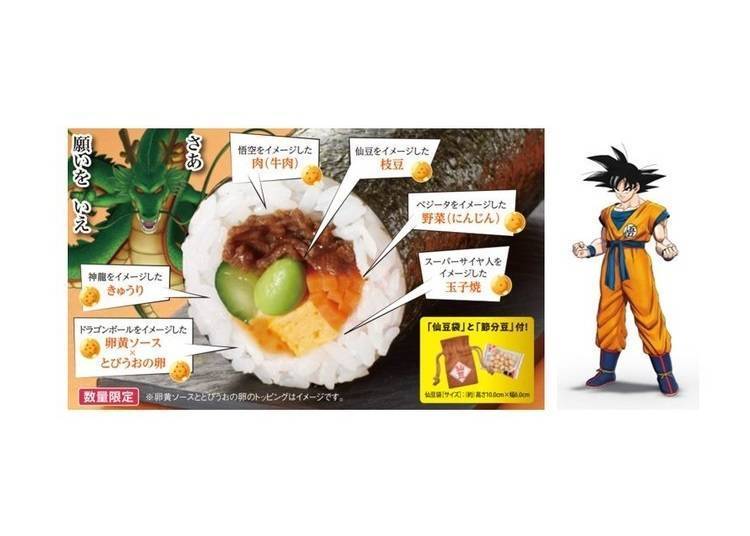 FamilyMart's Dragon Ball Ehomaki

From the FamilyMart convenience store comes the limited-quantity Dragon Ball Ehomaki, to be released on Setsubun 2022 in collaboration with the movie Dragon Ball Super Super Hero.

This ehomaki is packed with Dragon Ball references! The tobiuo roe and egg yolk sauce are made in the image of a dragon ball, the beef represents the main character, Goku, and the edamame represents senzu beans. It also includes a Senzu bag and Setsubun beans.

The price is 990 yen (including tax). Reservations are available in-store, online, or by phone from January 14-28, 2022, starting at 9:00 AM. Pick-up between February 1-3.

Official Website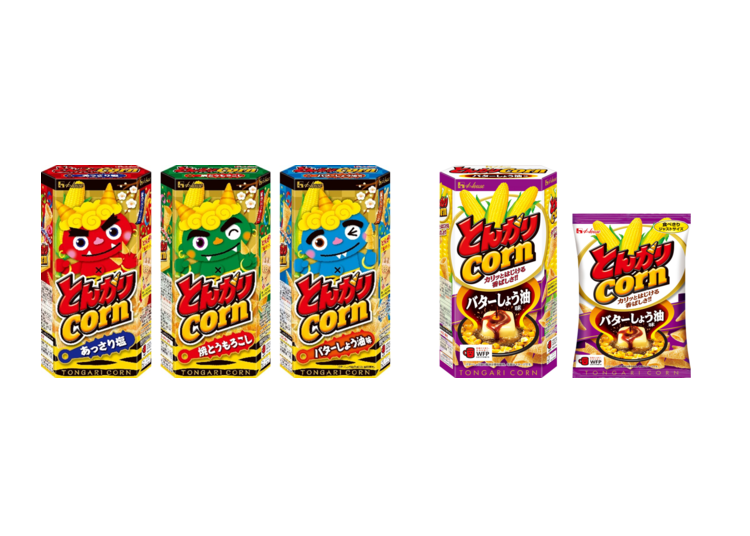 Tongari Corn with Setsubun Packaging

Tongari Corn is a light, crispy, and aromatic corn snack beloved by adults and children alike since its launch in 1978.

For Setsubun 2022, limited quantities of the snack will available in special Setsubun-themed packaging. The design lets you cut out the back of the box to make an Oni Box, which you can use to hold your beans for bean-sowing!

Setsubun packaging is available nationwide from December 20, 2021 for a limited time. Available in three flavors: salt, grilled corn, and butter soy sauce.
Whether at home or at a temple, Setsubun uniquely heralds spring.

While the customs may differ depending on the region, demons and ogres all around the country are being chased out of homes and off grounds on the 3rd of February.

Why not throw a handful of roasted soybeans for yourself this year and take care of your good fortune?
Written by: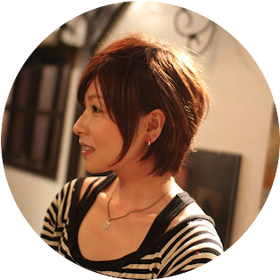 *This information is from the time of this article's publication.
*Prices and options mentioned are subject to change.
*Unless stated otherwise, all prices include tax.