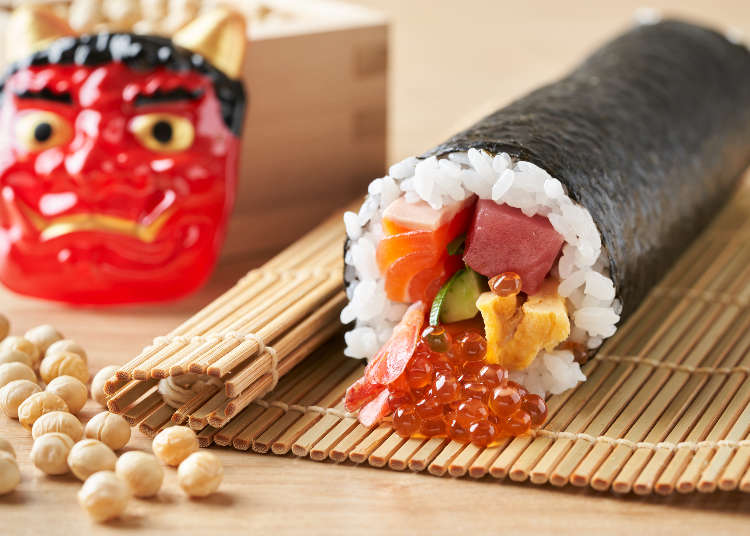 Ehomaki is a thick, rolled sushi that is traditionally enjoyed during the Japanese holiday, Setsubun (February 2, 2021). This unique custom involves eating the entire roll as a whole, in silence. Doing so is believed to bring good luck for the year.

Let's take a closer look at ehomaki: what kind of food it is, its origin and history, and where you can buy it. Enjoy celebrating Setsubun!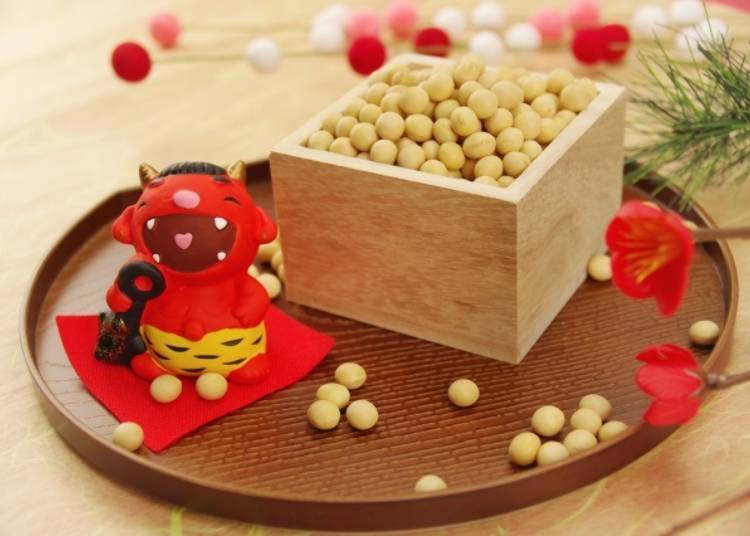 Setsubun marks the point in which the seasons change from winter into spring.
Setsubun falls on the day before "Risshun," the first day of spring, and marks the end of winter. The holiday maintains the ancient tradition of driving away demons and welcoming the New Year (Lunar New Year). The custom of throwing beans is said to scare demons away at Setsubun.

In addition to bean throwing, there are several other customs, such as decorating with Hiiragi Iwashi (a holly branch with a sardine head attached) to protect from evil. Another custom is eating ehomaki for good luck, which has recently picked up in popularity throughout Japan.
Ehomaki is said to have originated in Kansai.
In this rather unique custom, you eat a thick, rolled sushi called ehomaki whole, while facing the direction that is said to be lucky for the year. The custom is said to have begun as a way to pray for prosperous business. However, there are various other theories about its origin, and it is not clear which one is true.

Recently, this custom has spread all throughout Japan. Around 1960, a huge campaign in Osaka established ehomaki as an Osakan tradition. After that, it was picked up by a major convenience store, which further expanded sales nationwide, making it more well-known.
What Kind of Sushi is Ehomaki?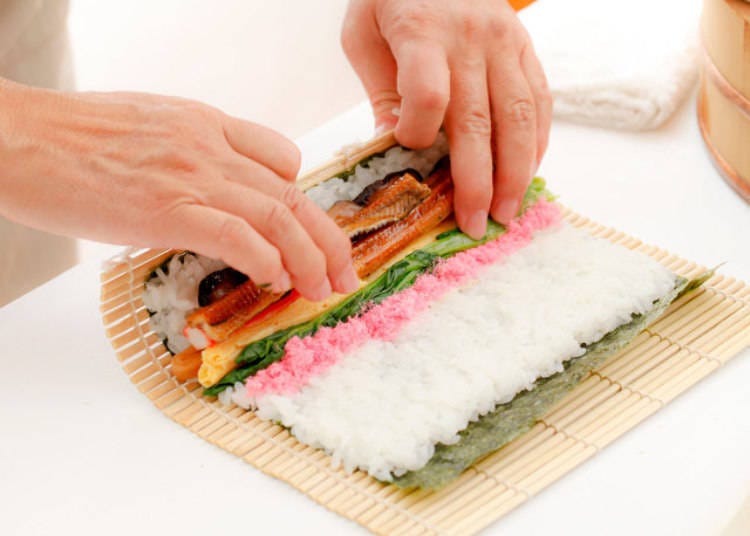 One of the great things about ehomaki is that you can make it using your favorite ingredients!
There are Seven Gods of Fortune that symbolize wealth and happiness in Japan. This sushi roll is prepared using seven different ingredients, representing these Seven Gods of Fortune. There are no set rules on what kind of ingredients one can use, however, anago and eel kabayaki, egg, and boiled shiitake mushrooms are popular choices. Ehomaki is made by wrapping the ingredients into a thick roll with rice and seaweed.
Setsubun 2021 falls on February 2, and the Lucky Direction is South-Southeast!
The lucky direction to face when eating your ehomaki in 2021 is south-southeast!
Setsubun normally falls on February 3 in Japan. However, this is the first time in 37 years that it will fall on February 2, as the first day of spring lands on a different date this year.

Eho (which means "lucky direction" in English) refers to the direction in which Toshitokujin, the God of Fortune for the year, is facing. Basically anything you do while facing that direction is considered lucky for the year.

That is also why you eat ehomaki facing that direction as you wish for prosperity and health. The lucky direction changes every year. For 2021, the direction is south-southeast.
Learn how to eat ehomaki for good luck!
The most important thing about ehomaki is the unique way in which you eat it.

1. Never cut off the edges of ehomaki, or you may cut off your fortune! It is customary to eat it whole.
2. When eating your ehomaki, face in the direction of the deity Toshitokujin, and don't look away!
3. Eat in silence! It is believed that speaking while eating could let your luck escape. For the best luck, eat in complete silence until you are done.

Keep the three guidelines above in mind, and enjoy your ehomaki!
Order All Kinds of Ehomaki as Take-out!
Thanks to the spread of ehomaki across Japan, you can now find it at a number of stores. From major kaiten-zushi chains such as Sushiro and Kappa Sushi, to convenience stores like FamilyMart, you can find a variety of ehomaki to enjoy on Setsubun!
Sushiro: Four Delicious Varieties!
Four types of thick sushi rolls, including seafood
Sushiro's ehomaki is particularly popular, and is sold every year on Setsubun. This year, there are four types: Tokujo Seafood Futomaki, Jo-Futomaki, Kimbap- Futomaki, and Small Sushi Roll Set.

The Tokujo Seafood Futomaki (580 yen, tax not included) is an indulgent sushi roll stuffed with Sushiro's most popular ingredients, such as yellowtail, tai, tuna, and domestic salmon.

Ehomaki is available at all Sushiro stores. You can make reservations in-store, by phone, or online. (*Reservations accepted until the limit is reached.)
Kappa Sushi: All Kinds of Ehomaki, from Standard to Unique!
Welcoming fortune with three types of ehomaki
Kappa Sushi is a place that allows you to enjoy authentic ehomaki in the comfort of your home. This year they continue the tradition of preparing special, individually-rolled ehomaki rolls one by one at the shop.

This year, they have three types of ehomaki: the Seven-Ingredient Special Ehomaki (390 yen, tax not included); the indulgent, seafood-stuffed 11-Ingredient Sengoku Ehomaki (980 yen, tax not included); and the deliciously juicy Roast Beef Ehomaki (680 yen, tax not included).

You can fill out an order form at all Kappa Sushi stores, or download it online and bring it to the shop.
FamilyMart: Introducing 10 Setsubun Dishes, Including Ehomaki!
New lineup of mini ehomaki rolls
FamilyMart offers a wide variety of products. There are six types of ehomaki, including the classic Ehomaki (450 yen, tax included), the popular Seafood Ehomaki (450 yen, tax included), and the meat-based Black Beef Ehomaki (650 yen, tax included).

There are also four types of desserts, such as the Setsubun Chocolate Banana Crepe (250 yen, tax included).

They are also releasing a new kid-friendly product this year, the brand-new Mini Ehomaki 2-piece Set (700 yen, tax included).
Setsubun Chocolate Banana Crepe: delicious chocolate and banana cream wrapped in a crepe dough
You can order in-store, or via FamiPay WEB (available 24/7). In addition, if you order two or more specified items at the same time and receive them together at time of checkout, you may qualify for a 10% set discount (tax included)!
Ehomaki is a fun tradition to enjoy with your family and friends as you face the lucky direction together and eat sushi rolls in silence. Learn the history and customs of this tradition, and make a wish for good luck in 2021! Whether you make it yourself, or order it ready-made, ehomaki is a fun Japanese tradition you can experience for yourself!

Text by: Efeel
*This information is from the time of this article's publication.
*Prices and options mentioned are subject to change.
*Unless stated otherwise, all prices include tax.