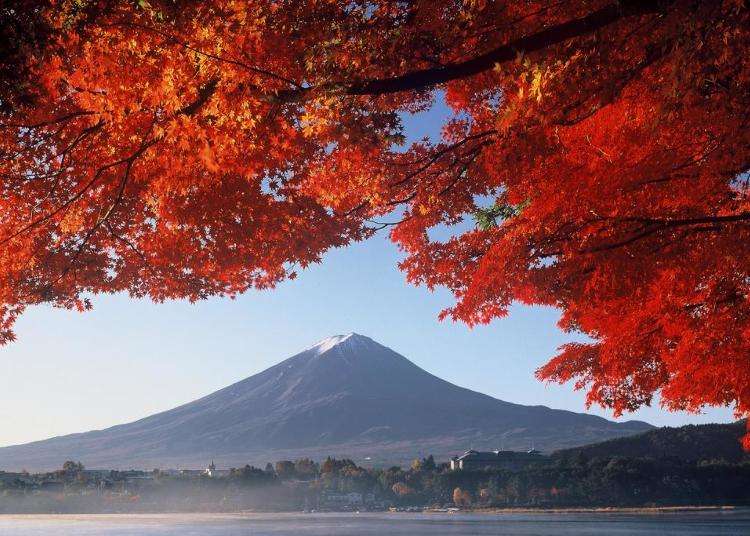 The hot summer is followed by incredibly pleasant and refreshing temperatures in autumn.

The season is particularly known for two things: the beautiful vivid colors that dye Japan's nature, as well as the so-called autumnal appetite. This refers to both seafood as well as the fruits of the land, which are both available plentifully and are particularly tasty around autumn.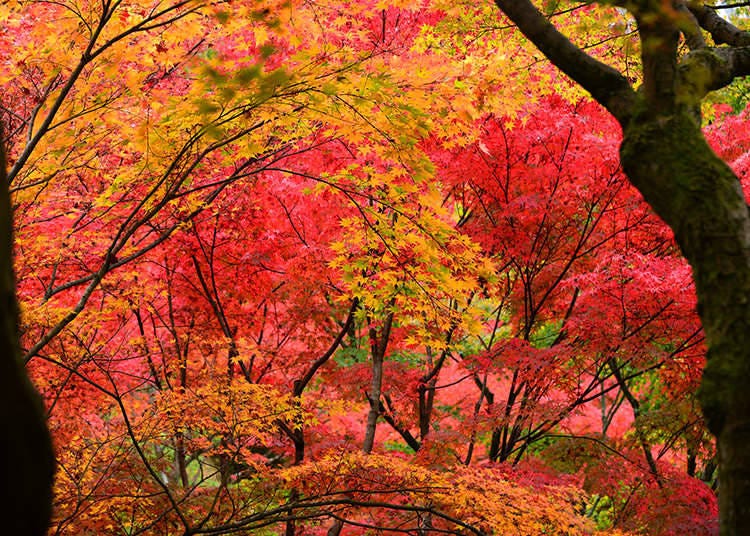 Japan's vivid autumn colors start to dye the leaves in northern Hokkaido around September, spreading towards the south over time until they finally reach Kyushu in late November. Especially shrines and temples, which are usually surrounded by a lot of green, are a magical sight during momiji or koyo season, the Japanese terms for autumn foliage. Especially famous viewing spots are Arashiyama and Higashiyama in Kyoto, as well as the Meiji Shrine Outer Gardens and the Showa Memorial Park in Tokyo. A lot of countries have amazing autumn leaf sceneries to offer – Japan, however, can hardly be compared to any other place in terms of uniqueness.
Higan: The Equinoctial Weeks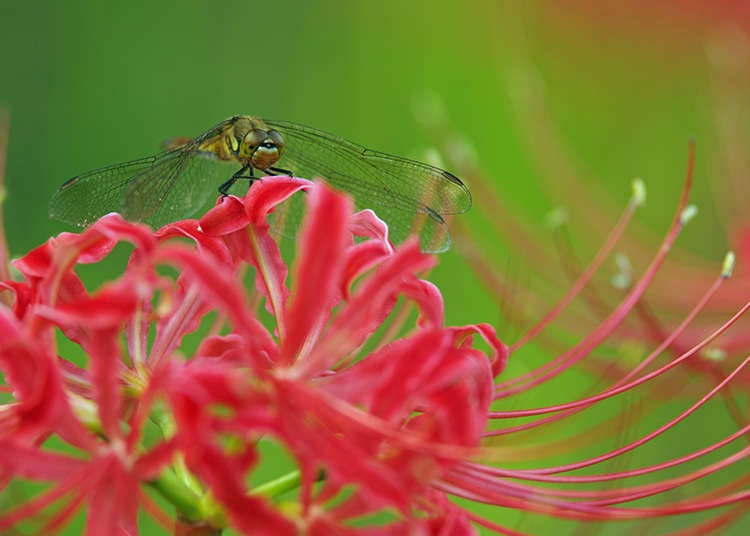 Higan describes the week around both the vernal and the autumnal equinox, which respectively mark the days when winter transitions to spring and summer turns into autumn. During the autumnal equinox, one of the most beautiful sights is the vivid red amaryllis, and it is a custom for people to visit the graves of their ancestors. After their final resting places have been cleaned properly, people leave behind flowers and bean cakes called ohagi. Made from boiled rice and formed into small dumplings, the cakes are then covered with sweet bean paste, making for a delicious and traditional Japanese treat.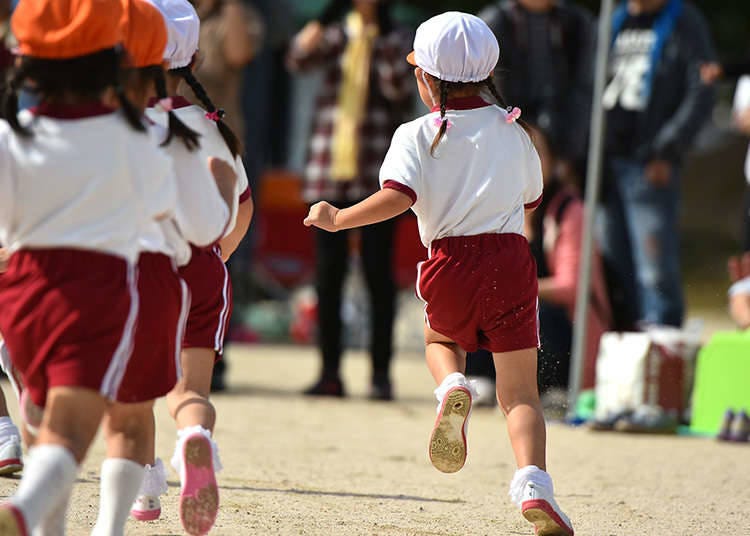 The pleasant temperatures of autumn have many school hold so-called undokai, which are sports festivals. The pupils are usually divided into the "red team" and the "white team," competing against each other in various sports and other fun activities, such as racing and dancing. This is why the second Monday in October also is the national Sports Day, a national holiday on which a lot of athletic events are being held before and after.
Apart from beautiful colors, delicious food, and pleasant temperatures, autumn is also called the "season of art." Next to athletic events, a lot of cultural festivals are taking place at schools and universities, showcasing various performances and artworks done by the students. Catering to hungry visitors are various food stalls offering delicious snacks such as chow mein or crepes, everything prepared and sold by students themselves. These kind of festivals are always a highlight for the respective neighborhood or town, attracting alumni, locals, and tourists alike.
Koromogae: the Seasonal Change of Clothing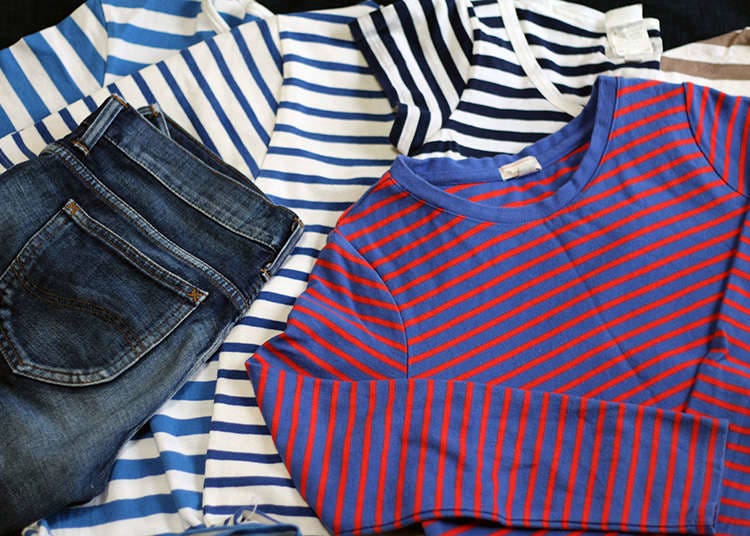 The changing seasons play such a huge role in people's lives, Japan even does have a special word for the changing of clothes in accordance with the beginning of autumn: "koromogae." This custom is actually centuries old and dates back to the Heian period, when the Japanese aristocracy would switch from summer dresses to winter garments. This habit is especially evident when looking at school and police uniforms: every year on June 1st, students and officers start wearing summer uniforms while going back to winter uniforms on October 1st. In Japanese homes, the closets usually undergo the biggest changes, with the airy summer garments being stowed away to make room for comfy sweatshirts and warm jackets.
Abundant Variety of Viands in Autumn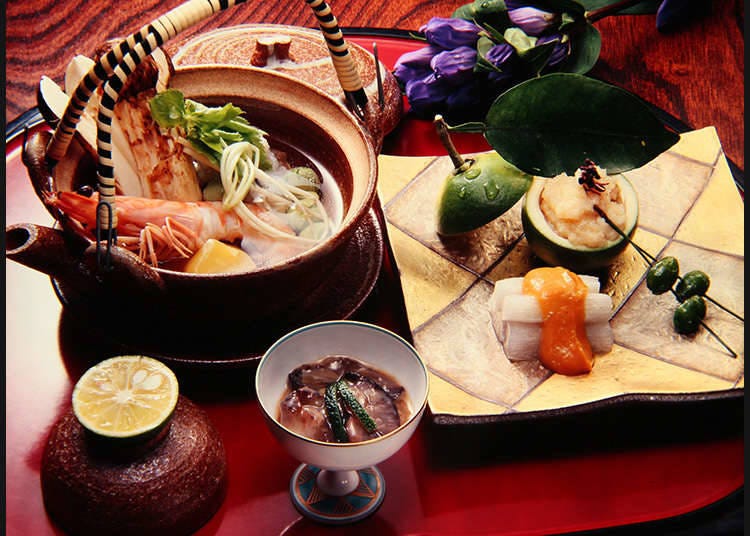 Let's take a closer look at the aforementioned autumnal appetite. This expression derives from the many ingredients that are harvested and caught during the season, referring to both fruits of the sea and fruits of the land. Chestnuts, grapes, and mushrooms, as well as salmon, saury, rice and buckwheat are just some of autumn's most famous treats. Japanese kaiseki cuisine is all about such seasonal ingredients, with entire courses being designed around one particular season, and some say that autumn is the best time to try kaiseki for the first time.
*This information is from the time of this article's publication.
*Prices and options mentioned are subject to change.
*Unless stated otherwise, all prices include tax.