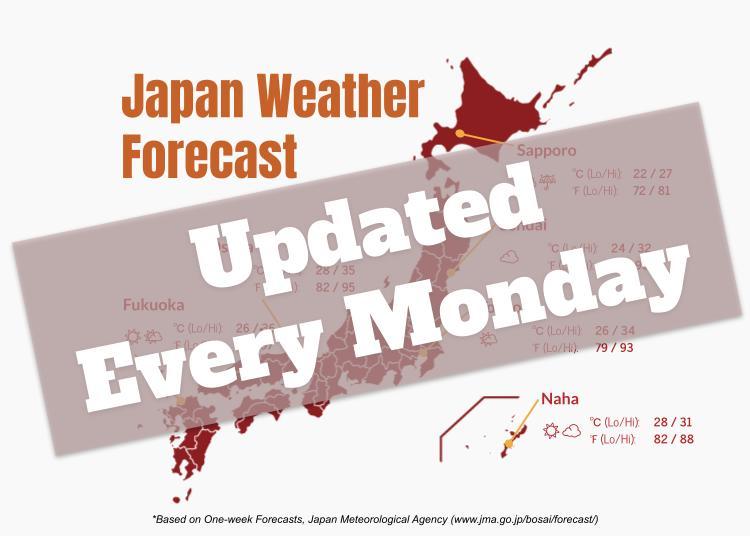 Last week's scorching hot spell has broken, with Tokyo seeing some reprieve as daytime highs settle around 30℃ (86℉). Meanwhile a pair of typhoons – Soulik and Cimaron – are bearing down on the western portion of Japan, bringing rain to much of the nation around midweek. Check out this week's weather and trends below!
Tokyo's Forecast: Plan for rain until mid-week – when summer's heat returns!
Two typhoons – Soulik and Cimaron – are making their way toward Japan's western side, with Soulik projected to reach Kyushu around August 21 before Cimaron pushes through around August 21. While neither is projected to have a direct impact on the greater Tokyo area, expect wind and frequent showers until mid-week – and possible air delays especially in the western portion of the country. If you will be visiting Tokyo during this time, consider purchasing a rain cover for your suitcases (or large plastic bag that will fit over them) as well as a waterproof carry bag. Keep in mind that you can also purchase certain rain gear, such as ponchos and umbrellas, at convenience stores when you arrive.
If you will be staying for the week, be sure to pack lighter clothes that can wick away sweat, with shorts and t-shirts preferable. As the weather clears toward the weekend, sunblock, summer hat and sunglasses are also highly recommended items to bring or buy, and staying hydrated with water or sports drinks is vital. Keep in mind that the sun in Japan might be more aggressive than to what you're used to, and wearing clothing that blocks UV rays is highly recommended.
Japan Weather Forecast for August 20-26, 2018
Looking at the weather forecast for the rest of Japan, cooler temperatures are expected everywhere from Okinawa to Tokyo. In the north Hokkaido will be seeing mostly rain, with daytime temperatures in the upper 20s℃ (high 70s℉) predicted for the coming week, as the typhoon ultimately advances in that direction. Meanwhile, the greater Osaka and Kyoto area as well as Fukuoka and northern Kyushu are expected to see a mixture of clouds and rain as well, with highs in the lower 30s℃ (mid 80s℉). As for Okinawa (Naha), hazy skies are expected, with daytime highs also in the lower 30s℃ (mid 80s℉).
Festival Season Arrives in Japan
Last week saw Japan's summer holiday season in full swing, as many companies held long holidays – many from Monday through Wednesday. Popular areas were all the more crowded as a result, with beaches being a popular destination for locals. Various neighborhood Bon Odori festivals will continue to be held, where community members come together to enjoy traditional dances. Some kind of festivities around town will be held practically each weekend now through early September, so be sure to keep your eyes out when you're visiting!
If you are concerned about what to do on a rainy day in Tokyo, worry not: the city has a wide variety of indoor events and things to do.
With the official 2018 climbing season for Mt. Fuji starting to come to its close, human traffic jams are making passage up Japan's most revered mountain somewhat sluggish. If you're planning to do the climb this year, don't miss our series on how to prep for the hike below!
Source for forecast and images: Japan Meteorological Agency website / http://www.jma.go.jp/jma/indexe.html
Area

Category

Articles Genre
*This information is from the time of this article's publication.