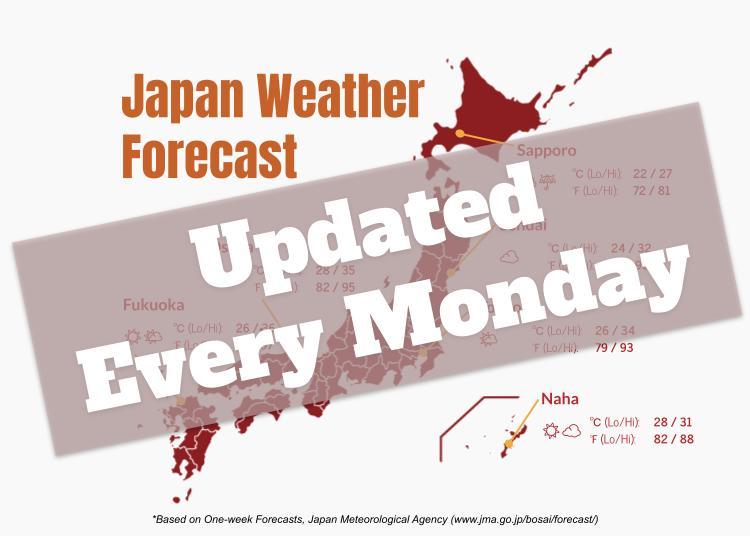 With the cooler temperatures, autumn is making its appearance around Tokyo! The week ahead will see chillier evenings, which will start nudging the leaves into color quite soon. Read on as we cover the upcoming forecast as well as some of the sights and trends now happening around Tokyo!
What's the weather like in Tokyo? Forecast for October 15-21: Cool autumn temperatures!
For Tokyo, the week ahead will see cloudy skies and daytime highs in the high teens/low 20s℃ (mid 60s/low 70s℉). Meanwhile, expect evening lows in the mid-upper 10s℃ (upper 50s/low 60s℉). There is a chance for localized sprinkles toward mid-week, however showers are not expected in the forecast.

What to pack for Tokyo?
Although it's not quite yet sweater weather, bringing a light jacket or cardigan for the evenings might be a good idea, particularly if you'll be traveling into the higher elevations. Be sure to bring long-sleeved shirts and jeans, with warmer sneakers or shoes.
What's the weather like in Japan? Weather Forecast for October 15-21, 2018
Japan nationwide
Looking at the weather forecast for the rest of Japan, most areas will be seeing partially cloudy skies for much of the week, with showers around Wednesday/Thursday.

Northern Japan
In the north, showers are expected for the beginning of the week, with partially cloudy skies toward the weekend. Hokkaido will be seeing cooler daytime temperatures in the upper teens℃ (upper 50s/low 60s℉). Evening temperatures will be chillier, so be sure to bring warmer clothes.

Central Japan
Meanwhile, the greater Osaka and Kyoto area as well as Fukuoka and northern Kyushu are expected to see a mixture of clouds, with highs in the low/mid 20s℃ (mid 60s/low 70s℉).

Okinawa
As for Okinawa (Naha), scattered showers are expected for the beginning of the week, clearing up somewhat from Thursday through the weekend, with daytime highs in the low 20s℃ (low 70s℉).
Special: Autumn leaves in Japan!
While autumn colors typically come to Tokyo more toward November, in the surrounding cooler mountain areas, leaves are beginning to turn into reds and yellows. North of Tokyo in Nikko, this is the season to start seeing gorgeous landscapes, particularly in the areas around Lake Chuzenji. When planning your Tokyo stay, be sure to consider adding a day trip around Nikko or Okutama in!
Source for forecast and images: Japan Meteorological Agency website / http://www.jma.go.jp/jma/indexe.html
Area

Category

Articles Genre
*This information is from the time of this article's publication.
Recommended places for first-time visitors to Tokyo