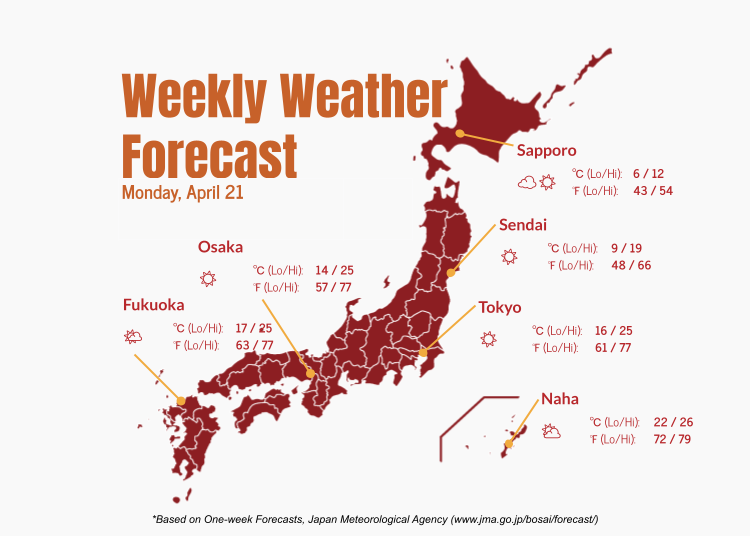 Tokyo is in the midst of a cold spell! And while much of the autumn foliage in the greater Tokyo area is now past-peak, there are still a number of spots around town where you can enjoy the fall colors. Read on as we cover the upcoming forecast as well as some of the sights and trends now happening around Tokyo!
What's the weather like in Tokyo? Forecast for December 10-16: Wintery temperatures!
The week ahead in Tokyo will generally be cool and cloudy, with scattered showers toward Tuesday and Wednesday. Daytime highs will be in the low to mid teens℃ (upper 40s/low 50s℉), while evening lows will be in the high single digits (upper 30s/low 40s℉).

If you'll be in town for the week, be sure to bring a portable umbrella.

What to pack for Tokyo?
・It's colder, winter weather.
・Bringing a winter jacket and sweater is recommended; you will want thermals and warmer wear in layers particularly if you'll be traveling into the higher elevations.
・Be sure to bring long-sleeved shirts and jeans, with warmer socks and sneakers or shoes. Hat and gloves are recommended too.
What's the weather like in Japan? Weather Forecast for December 10-16, 2018
Japan nationwide
Looking at the weather forecast for the rest of Japan, most areas will be seeing a mix of rain and clouds for the week ahead, with snow in the higher elevations and northern territory.

Northern Japan
Flurries are expected in Hokkaido for much of this week. Daytime highs will be in the low single digits, with evening temperatures dipping below freezing. If you will be heading to Hokkaido or to the Tohoku region, be sure to pack warm clothes fit for winter. Winter boots and a windproof jacket would be useful as well.

Central Japan
Meanwhile, the greater Osaka and Kyoto area as well as Fukuoka and northern Kyushu are expected to see scattered showers in the beginning of the week, clearing toward the weekend. Daytime highs will be cool, in the mid to high teens. However as daily lows will be cool in the single digits, dressing for winter is advised.

Okinawa
As for Okinawa (Naha), scattered showers are expected early in the week, with partly cloudy skies expected for the remainder. Daytime temperatures will be comfortably in the mid 20s℃.
Special: Tokyo's Autumn Leaves
Top row: Maples at Koishikawa Korakuen garden. Bottom row: Gingko trees and leaves in Hibiya Park.
The maple trees around Tokyo are turning color this week, with outlying areas in higher elevations already just past peak. Expect that the fall foliage will remain for this coming week or so.

If you'll be in town during this time, don't miss a chance to check out the foliage at places like Hibiya Park, Shinjuku Gyoen, and Rikugien Garden. For convenience, we've listed helpful links below.
Left: Lights in Tokyo's Nihonbashi neighborhood. Right: Jingu Gaien Ginkgo Avenue at night.
Autumn is one of the best times for sightseeing around Japan! The autumn leaves are utterly spectacular, being lit up in many areas; also, many trees are being decorated with lights in many areas as well. Below are some of our top recommendations on what to do and where to go this season!
Source for forecast and images: Japan Meteorological Agency website / http://www.jma.go.jp/jma/indexe.html
Area

Category

Articles Genre
*This information is from the time of this article's publication.
*Prices and options mentioned are subject to change.
*Unless stated otherwise, all prices include tax.
Recommended places for first-time visitors to Tokyo