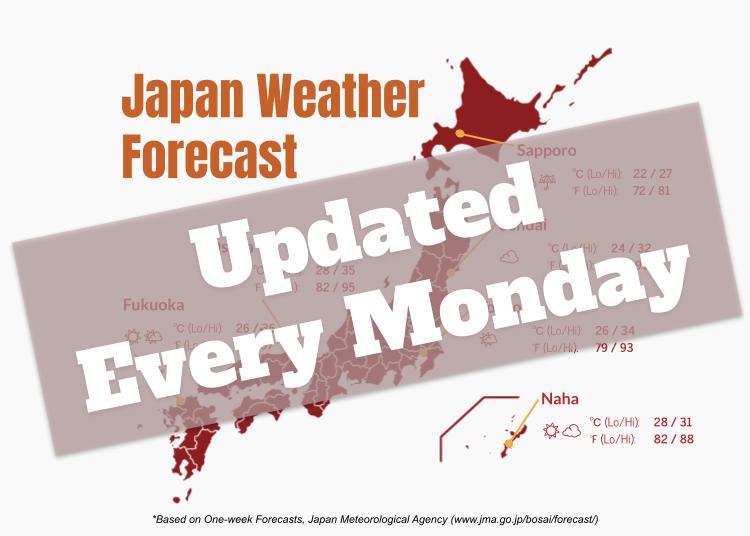 Tokyo officially entered its rainy season on June 7! Showers are expected later this week, but not every day will be seeing rain. Read on as we cover this week's forecast and more!
What's the weather like in Tokyo? Forecast for June 10-16: Summer temperatures ahead
For the greater Tokyo area, the week ahead will be a mix of weather. Early in the week, it will be rainy and cooler, with daytime highs around 18-24°C (64-75°F). Evening lows will be in the mid to upper teens Celsius (60s Fahrenheit).

From Thursday into the weekend, mostly cloudy skies are expected, with daytime highs in the upper 20s°C (80s°F).

What clothes to pack for Tokyo in June?
・It's warm but still cool in evenings. Packing for early spring weather is advised.
・Bringing a light spring jacket is recommended. Sunblock and/or a hat is suggested, especially if you have sensitive skin.
・Short-sleeved shirts and jeans, with breathable socks and comfortable sneakers or walking shoes are recommended.
・Foldable umbrella, rain covers for suitcases, waterproof shoes, poncho.
Rainy season begins in Tokyo!
Hydrangeas coming into bloom bring a mixture of emotions. On one hand, their brilliant hues bring puffs of color to Japan's landscapes. On the other hand, however, these flowers tend to bloom around the rainy season - and their colors also signify that wet days are ahead!

On June 7, 2019 the Japan Meteorological Agency announced that the rainy season had officially arrived in the Kanto (greater Tokyo) area. On average years, this season ended around July 21.

Now it being rainy season does not mean it will rain every day, however there is an elevated probability of rain in the forecast. Check out the link below for what to expect and some easy ways you can prepare!
Volcanic alert level still elevated for Mount Hakone
From May 19, Japan's Meteorological Agency decided to raise the volcanic alert level for Mt. Hakone, to a level of 2 on a scale of 5. This decision comes after the number of volcanic earthquakes increased. It is advising that people not approach the crater.

To place this in context: the last time the alert status had been raised was in 2015, when the alert level was raised to 3, warning people not to approach a larger area around the volcano due to small eruptions. Prior to this, geological evidence suggests the mountain last erupted some 800 years ago.

Hakone Ropeway services have been suspended between Sounzan and Togendai stations and a temporary bus service is running instead. At present, services outside this area are unaffected and are running on regular schedules. If you are visiting the Hakone area, however, you may experience some transportation delays due to congestion. Note that the warnings currently are only for the Mount Hakone area and there are no warnings related to the Lake Ashi (Ashinoko) area.

For updated information on the Hakone Ropeway, refer to the official website at: www.hakoneropeway.co.jp.
What's the weather like in Japan? Weather Forecast for June 10-16
Japan nationwide
Looking at the weather forecast for the rest of Japan, most areas will also be seeing warm, comfortable temperatures. Showers are expected for much of Japan toward the beginning of the week, with partly cloudy weather for the remainder of the week.

Northern Japan
Hokkaido and the north country are expected to see mostly clear weather. Daytime highs will be warm, in the lower 20s°C, and gradually rising to the mid 20s°C into the weekend. Evening temperatures will be cool, in the low teens.

Central Japan
The greater Osaka and Kyoto area are also expected to see showers in the beginning of the week, with clearer skies for the rest of the week. Temperatures will be very warm, in the mid to upper 20s°C with lows in the lower 20s°C.

Okinawa
Okinawa is currently experiencing its rainy season. Rain is expected for much of the week in Naha. Temperatures are expected to be hot, with highs in the upper 20s℃ for much of the week.
Other recommended articles for summer 2019
See the links below for more on upcoming fun events and festivals!
Source for forecast and images: Japan Meteorological Agency website / http://www.jma.go.jp/jma/indexe.html
*This information is from the time of this article's publication.
*Prices and options mentioned are subject to change.
*Unless stated otherwise, all prices include tax.
Recommended places for first-time visitors to Tokyo