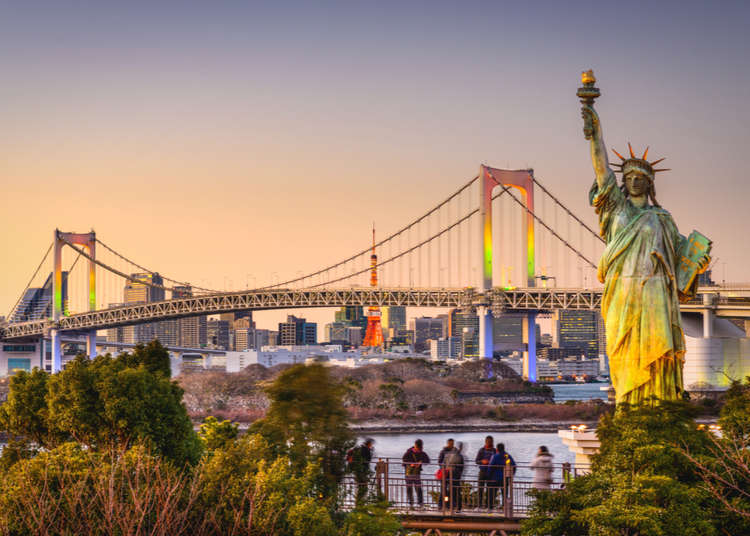 Odaiba, also called 'Daiba' for short, has become increasingly popular with foreign tourists. Originally built from reclaimed land in defense of Tokyo (then called Edo) in 1853, it has become a hotspot for both young people and those young at heart. There is shopping, a Ferris wheel, otaku meccas, onsen and beautiful views--something for everyone to enjoy.

In this article, we will take you through the top 10 things to do in Odaiba to help you make the most out of your visit. From a visit to the symbolic Fuji TV station and character spots to a relaxing bay cruise, experience the best of Odaiba in one day... or more... whichever suits your fancy!
1. See a Panoramic View of the Port of Tokyo from the Observatory Sphere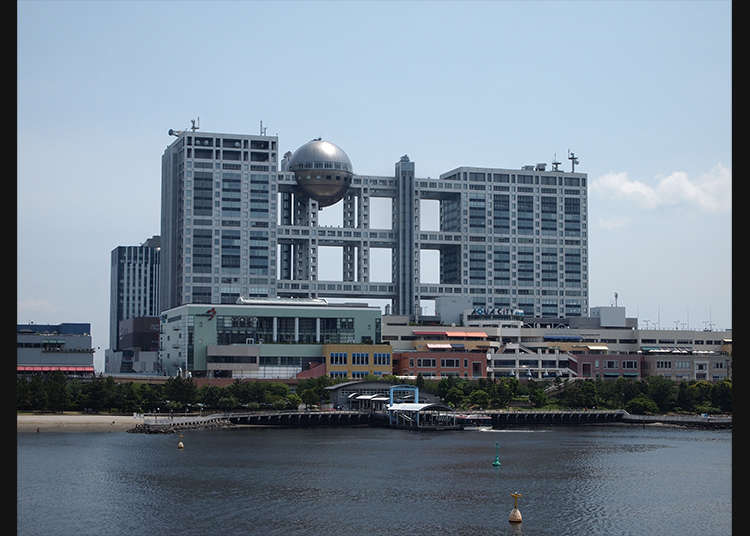 One of Japan's most popular TV stations is Fuji Television and its headquarters is undoubtedly a symbol of Odaiba. A part of the building is open to the public for a small entrance fee, including the Odaiba Tourist Center at its core, where you can find more information about things to do in Odaiba.

After getting a ticket on the ground level, ride the elevator to the 25th floor to the observatory sphere called Hachitama. From there, you overlook the entire Odaiba area and other symbols of Tokyo in the background, such as the Tokyo Tower. On a clear day, you can even see Mount Fuji in the distance.
Address

2-4-8, Daiba, Minato-ku, Tokyo, 137-8088
View Map

Nearest Station

Daiba Station (Yurikamome)

2. Ride the Palette Town Ferris Wheel!
Climb in the Palette Town Ferris wheel which is one of Japan's highest, towering about 115 meters in the sky. On a sunny day, you can marvel at Tokyo's cityscape sprawling out in front of you, including the famous Tokyo Tower.

A special recommendation is riding a see-through gondola – there are only four out of 64 Ferris wheel gondolas in total. Choose your favorite gondola and hop in! At night, the giant ride is lit up in different colors according to the current season, making for a mesmerizing and beautiful night view.
Address

Palette town, 1-3-15, Aomi, Koutou-ku, Tokyo, 135-0064
View Map

Nearest Station

Tokyo Teleport Station (Rinkai Line)
1 minute on foot


Phone Number

03-3529-1821
3. Make Your Hot Spring Debut at Oedo-Onsen Monogatari
Travel back in time to Edo's downtown area at this indoor hot spring amusement facility! Men as well as women can borrow yukata for free and enjoy the relaxing hot springs in a day trip or while staying overnight. Oedo Onsen Monogatari boasts hot spring water that is pumped up from 1,400 meters below the ground and 13 different types of baths, including natural springs.

The facility also features a foot bath that men and women can enjoy together, as well as the biggest Japanese garden in the whole Tokyo metropolitan area, spanning 50 meters long with around 2,300 square meters in total. It is covered in small pebbles to stimulate the soles and to get rid of tiredness and exhaustion. This is just one more thing you can add on your list of amazing, and relaxing, things to do in Odaiba!
Address

2-6-3, Aomi, Koutou-ku, Tokyo, 135-0064
View Map

Nearest Station

Telecom Center Station (Yurikamome)
2 minutes on foot


Phone Number

03-5500-1126
4. Try Out Futuristic Technology at the Miraikan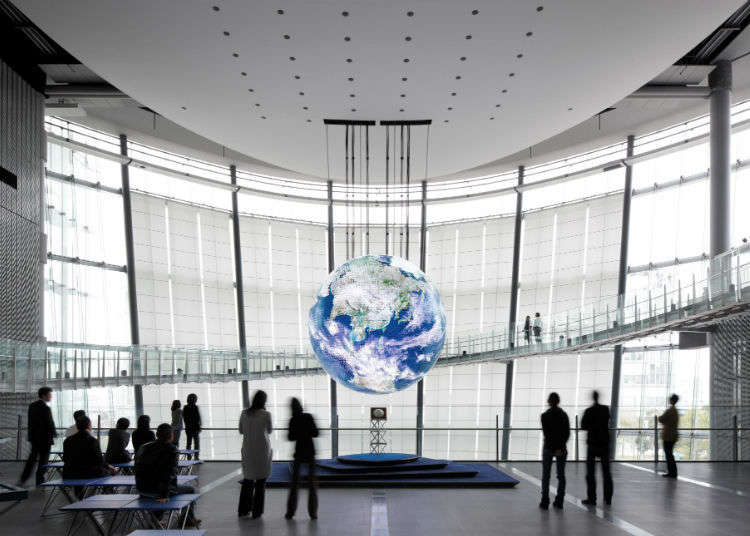 The director of the National Museum of Science and Innovation, that is often simply called the Miraikan, is the astronaut Mamoru Mori himself. In various exhibitions and events within the museum, you can learn about and experience state-of-the-art technology from a scientific point of view. In April, the museum's permanent exhibition is renewed.

The "Forming the Future" exhibition on the third floor showcases therapy robots such as Paro and offers many opportunities to actually touch and try the various exhibits. Children as well as grown-ups can get a deeper impression and understand of our planet, the universe, and what a future society might look like. Experience science and technology firsthand, starting with Japan's famous robots! The museum's permanent exhibition will be renewed in April.
Address

2-3-6, Aomi, Koutou-ku, Tokyo, 135-0064
View Map

Nearest Station

Telecom Center Station (Yurikamome)

5. Shop 'Til You Drop at Venus Fort
One thing to do in Odaiba is this surreal indoor-style shopping mall that recreates the old pompous streets of Medieval Europe. Shop to your heart's desire and experience the full beauty of a clear sunny day regardless of the weather! One of Venus Fort's most popular photography spots is the fountain in the center that is supported by the figures of several goddesses.

Another must-see is a spectacle called Sky Feature Program. Within one hour, a beautiful projection paints the ceiling in the colors of the sky, starting from a beautiful blue sky over a glorious sunset to a mystical starlit sky.
Address

1-3-15, Aomi, Koutou-ku, Tokyo, 135-0064
View Map

Nearest Station

Aomi Station (Yurikamome)
1 minute on foot


Phone Number

03-3599-0700
TARLUM BIANCO is located on the white sandy beach of Odaiba Kaihin Park and when entering, you'll find yourself stepping into a restaurant reminiscent of Sicily in Italy. It is particularly known for its seafood cuisine as the chef purchases the ingredients at the Tsukiji fish market every day. While looking out over the amazing scenery of Daiba's Tokyo Bay, enjoy a delicious fish or meat lunch that is served with soup, salad, and a drink.
TARLUM BIANCO

Address

1-4-1, Daiba, Minato-ku, Tokyo, 135-0091, Japan
7. Experience The MEGA WEB
Toyota, one of Japan's most famous car manufacturers has its own showroom in Palette Town. The theme park where you can "See, Ride, and Feel Cars" offers an exciting experience for both young and old. From safety to environmental topics, learn everything there is to know about Toyota's cars here – all of that without an entry fee. There are things to do in Odaiba for literally everyone.
Address

1-3-12, Aomi, Koutou-ku, Tokyo, 135-0064
View Map

Nearest Station

Aomi Station (Yurikamome)


Phone Number

03-3599-0808
8. Take a Mini Cruise and Enjoy Odaiba's Scenery by Sea Bus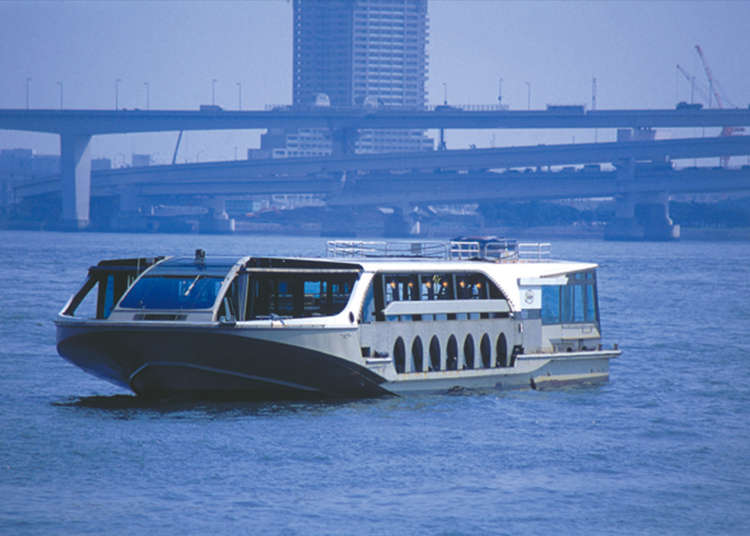 If you want to get a glimpse of Daiba from the sea, we highly recommend the Sea Bus to you, boardable both from the Odaiba Seaside Park and Palette Town. One possible course to take is the one from the Odaiba Seaside Park to Hamamatsucho's Hinode Pier, for \480 per one-way ticket. This isn't only a unique way to get from one place to another but also offers a wonderful opportunity to enjoy both Daiba and the Tokyo skyline from the sea.
東京都観光汽船(株)

Address

1-4-1, Daiba,Minato-ku, Tokyo, 135-0064, Japan
9. Lose Yourself to the Nighttime Beauty of the Lit-up Bridge of Dreams
A beautiful pedestrian bridge of about 60 meters in width connects the areas of Oumi and Ariake. This bridge is called Yume no Hashi, literally translating to Dream Bridge or bridge of Dreams, and as the name suggests, it is lit up by beautiful illuminations. Not only has it appeared in numerous TV shows and movies but it is also a very popular photo spot.

When facing the center promenade while on the bridge, it is possible to have Palette Town's Ferris wheel in the background of your perfect shot! While the view from the bridge is stunning by daylight, visiting the Bridge of Dreams during and after dusk is completely different when the beautiful illuminations are turned on.

Finally, whether you're around for just one day or several, there are plenty of things to do, see, and explore at this Tokyo hotspot. Be sure to add Odaiba to your list of things to see in Tokyo!
Address

1, Aomi, Koutou-ku, Tokyo, 135-0064
View Map

Nearest Station

Tokyo Teleport Station (Rinkai Line)

10. Check out the teamLab Borderless Exhibition
TeamLab is a creative art group that represents "Cool Japan". It combines technology with art to produce amazing interactive art that it exhibits all over the world gaining for itself an international reputation and selection by the world famous design culture web magazine designboom as one of the top ten art exhibitions in the world.

Now has established a permanent exhibition in the 10,000 square meter digital art museum of the Mori Building located in Odaiba, Tokyo. This large-scale exhibition creates a fantastic world using 520 computers and 470 projectors with the assistance of engineers, architects, and artists. This interactive creation allows visitors to experience it with their five senses and let their imaginations run free as they discover a new form of digital art!
Mori Building Digital Art Museum: Epson teamLab Borderless

森ビル デジタルアート ミュージアム:エプソン チームラボ ボーダレス

Address

〒135-0064 東京都江東区青海1-3-8 お台場パレットタウン / Odaiba Palette Town, 1-3-8 Aomi, Koto-ku, Tokyo, 135-0064

Nearest Station

5-minute walk from Rinkai Line Tokyo Teleport Station
5-minute walk from Shin Kotsu Yurikamome Aomi Station
Period: permanently from Thursday, June 21, 2018


Hours:
Monday - Thursday 10:00 a.m. - 7:00 p.m. (9:00 p.m.)
Friday and Saturday and day before national holidays 11:00 a.m. - 9:00 p.m. (10:00 p.m.)
Sundays and national holidays 10:00 a.m. - 7:00 p.m. (8:00 p.m.)

*Last admission is one hour before closing time
*Be sure to get tickets in advance since the exhibition is quite popular
Discover more you can do in Odaiba at the links below!
*This information is from the time of this article's publication.
*Prices and options mentioned are subject to change.
*Unless stated otherwise, all prices include tax.
Recommended places for first-time visitors to Tokyo