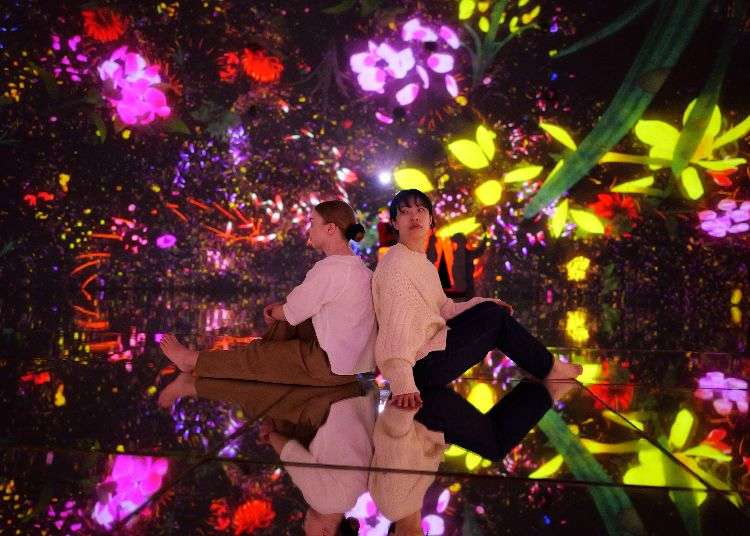 teamLab Planets Tokyo DMM is an art facility that exhibits creations by a world-renowned group of artists known as teamLab. It's located in the Toyosu district of Tokyo.

With its many outstanding reviews, this museum is also popular among foreign tourists. What's more, it welcomed a new exhibit this summer! We decided to do some digging and see what kind of pieces can be found in this space. Here we will introduce the top artworks that left us completely awestruck.

top image courtesy of: teamLab
What is teamLab Planets Tokyo DMM in Toyosu, Tokyo?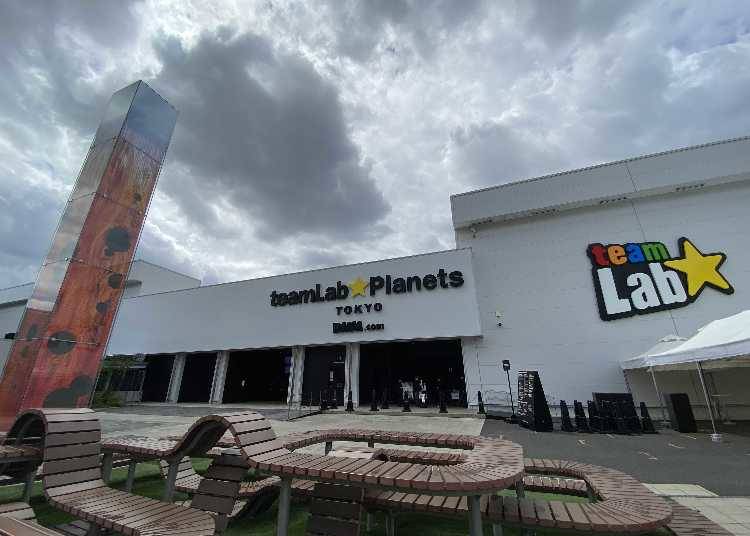 teamLab has created an immersive space that combines technology with art. teamLab Planets Tokyo DMM (or teamLab Planets) centers around four massive interactive pieces in which you enter the water. Centering around these, you can find a total of seven artworks on display.
Find Two Art Installations in the Newly Added Garden Area: Blending Nature with Technology!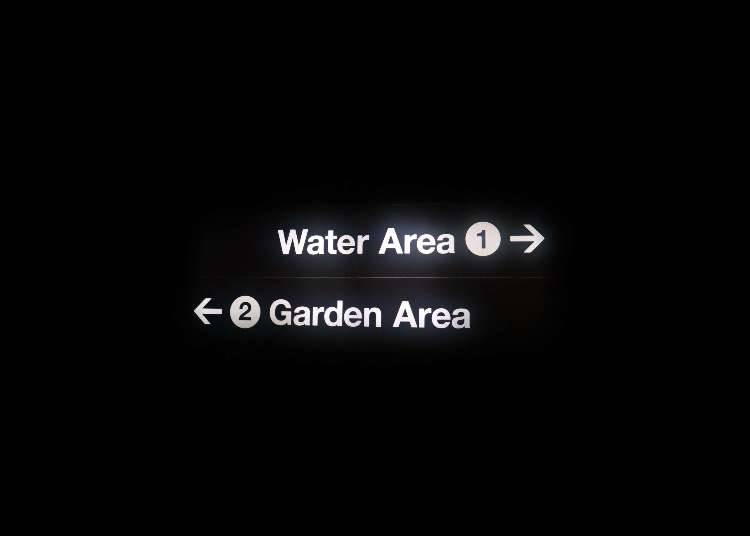 As of July 2021, in addition to the four installations in the water area, there's now a garden area. Here you can become one with nature by enjoying flowers and moss.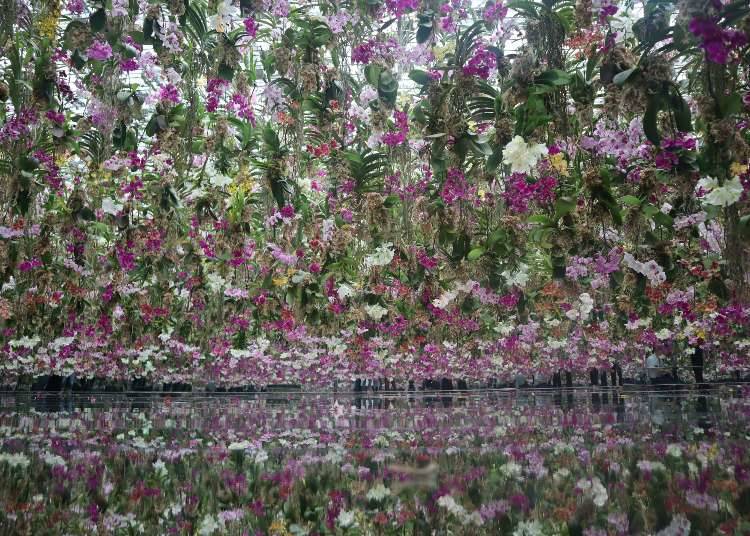 The garden area has two artworks. The first is flower-themed, titled; Floating Flower Garden: Flowers and I Are of the Same Root, The Garden and I Are One.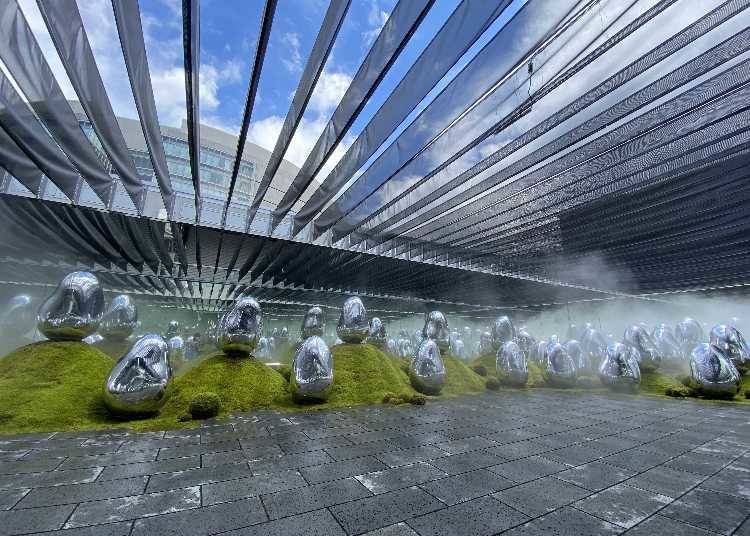 The second is a moss-themed installation titled Moss Garden of Resonating Microcosms: Solidified Light Color, Sunrise and Sunset.
What is the Difference Between teamLab in Odaiba and teamLab in Toyosu?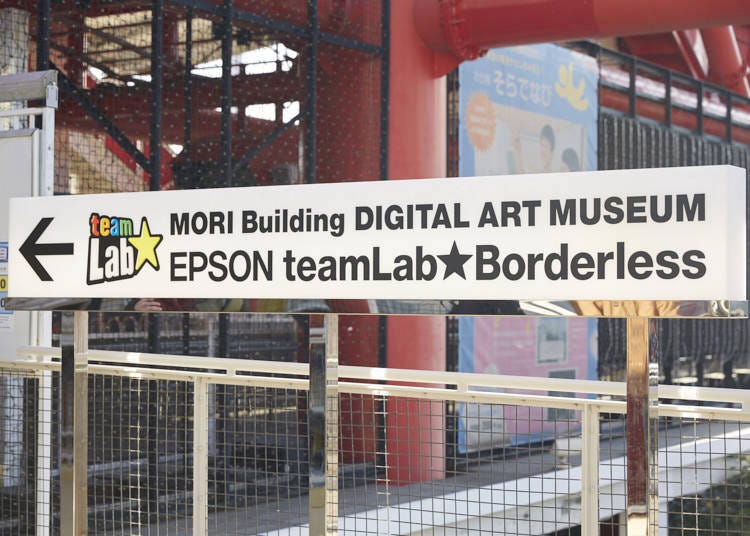 The MORI Building Digital Art Museum: Epson teamLab Borderless in Odaiba and teamLab Planets in Toyosu were both made to have people who come see art, make it. However, the concepts at each museum are different.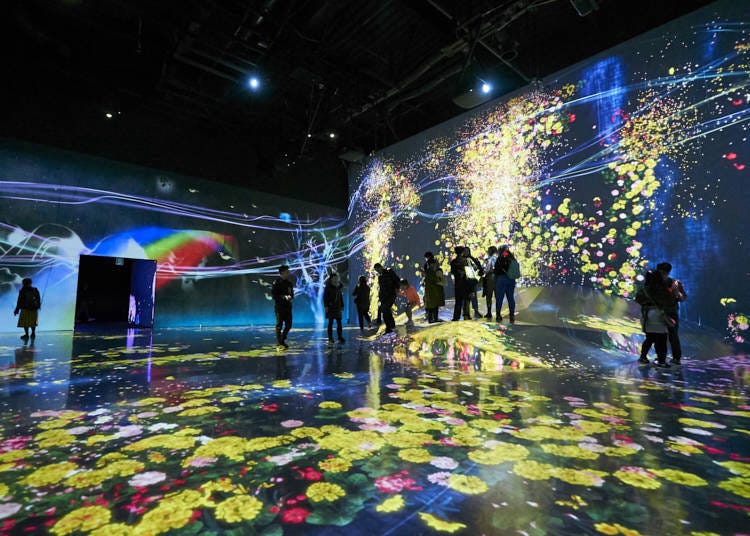 Just like its name, Odaiba's teamLab Borderless is indeed borderless. There's no separation between the spectator and the art piece. It's an interactive art installation where the viewer and art become one.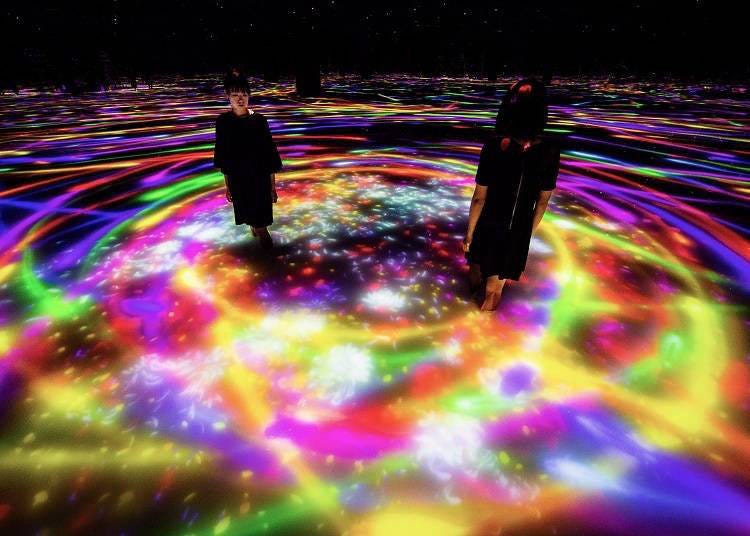 teamLab, Drawing on the Water Surface Created by the Dance of Koi and People - Infinity, 2016-2018, Interactive Digital Installation, Endless, Sound: Hideaki Takahashi © teamLab teamLab is represented by Pace Gallery
On the other hand, teamLab Planets in Toyosu is known for being body immersive. Here you enter water-themed exhibits barefoot. As a result, it has now become a kind of water museum where you can walk into a garden and become one with flowers.

Check below for an article on our previous experience:
Floating Flower Garden: This Garden Filled with Real Orchids Will Take Your Breath Away!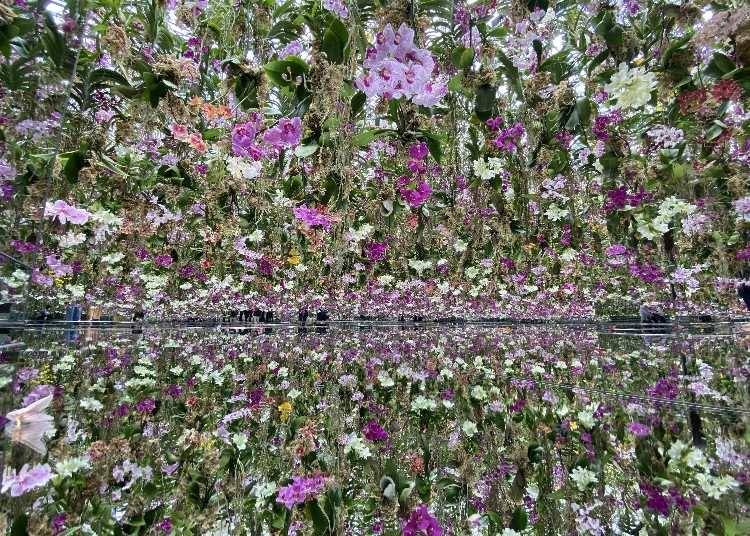 Floating Flower Garden: Flowers and I Are of the Same Root, The Garden and I Are One is a space covered in flowers from the moment you walk in. The flowers found in this installation are all real.

Here 13,000 orchids dangle from above and bloom in mid-air. This spectacular sight is reflected onto the walls and floor entirely made from mirrors. Flowers can be found every way which you look, transporting you to a flower paradise.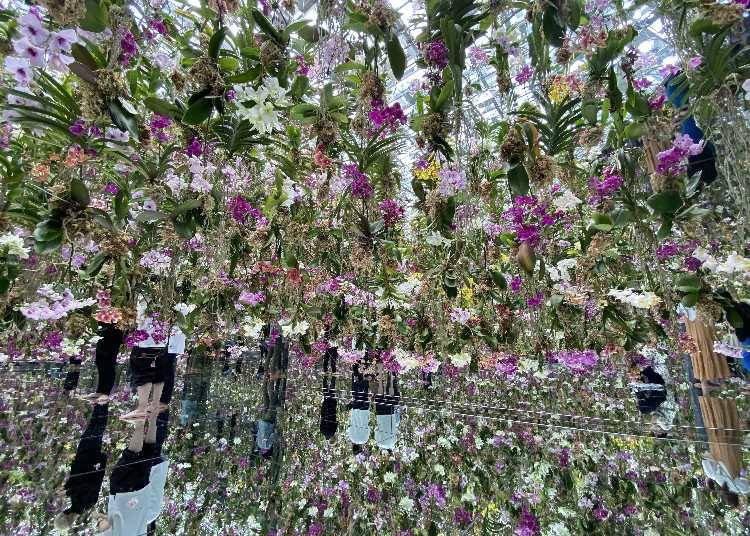 With all of these flowers, it's hard to know the floor from the ceiling. Another special aspect of this exhibit is that it doesn't have any rules or restrictions. Enjoy the freedom of not knowing where the installation ends and you begin.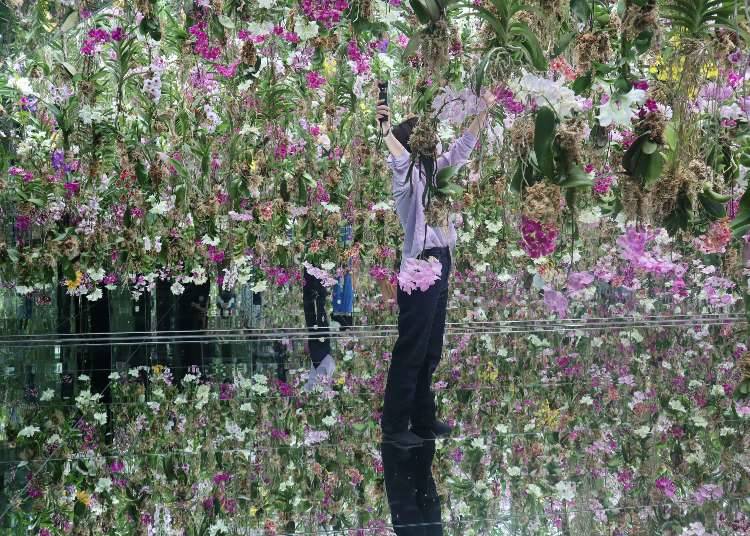 Experience the real thrill of a teamLab art installation by immersing yourself in the sea of flowers. Any photo here is a guaranteed hit on social media.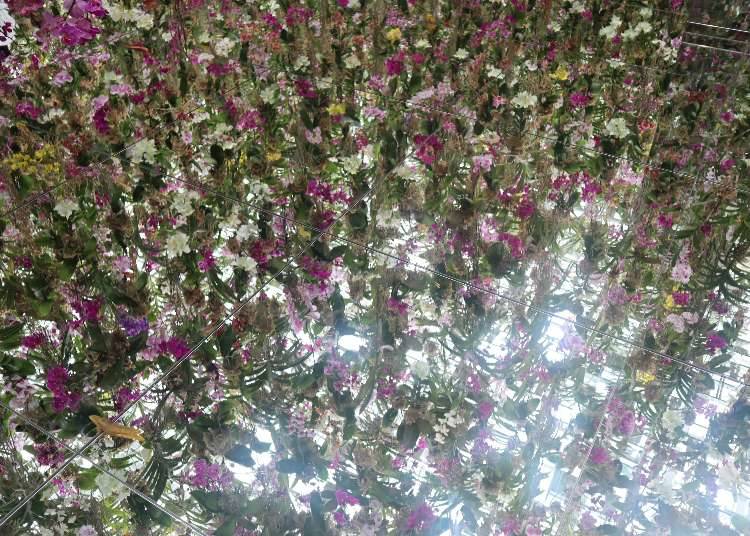 Depending on the time and whether it's morning, noon, or night, the scent of the room will change.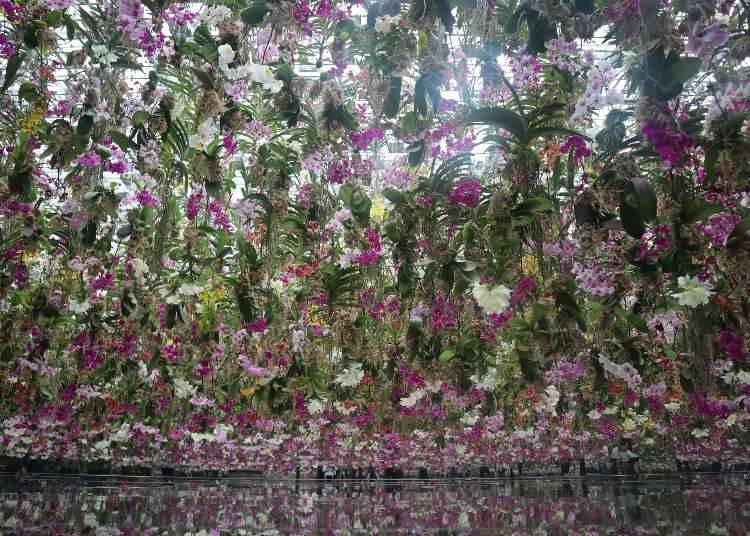 The flowers are continuously but slowly moving up and down. When making your way through, sections will naturally part or lift in order to guide you. This is done by using a human detection sensor. When no one is detected, the flowers return to their original state, drooping to their lowest point.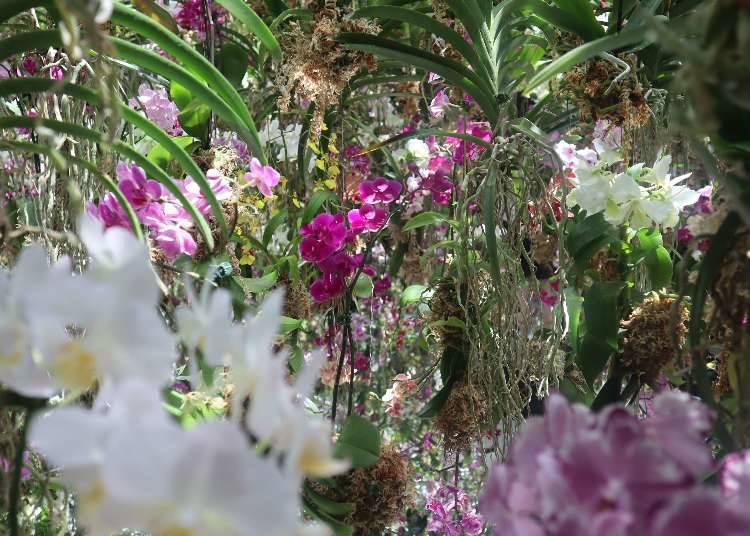 Flowers can be found everywhere you look. It will leave you strangely wondering if such a wonderful place could ever exist in real life.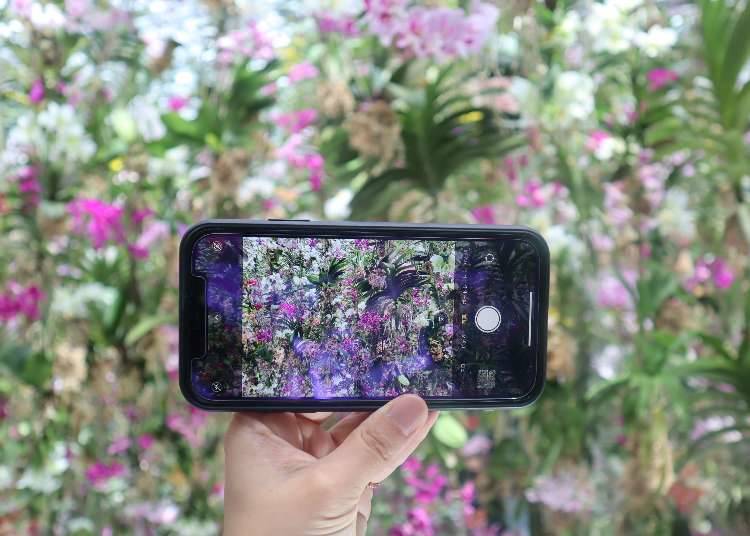 The flowery scenery is so charming, you can't help but take pictures. Prepare to be forever absorbed in this installation.
Moss Garden of Resonating Microcosms: Changing Scenery Depending on Weather and Time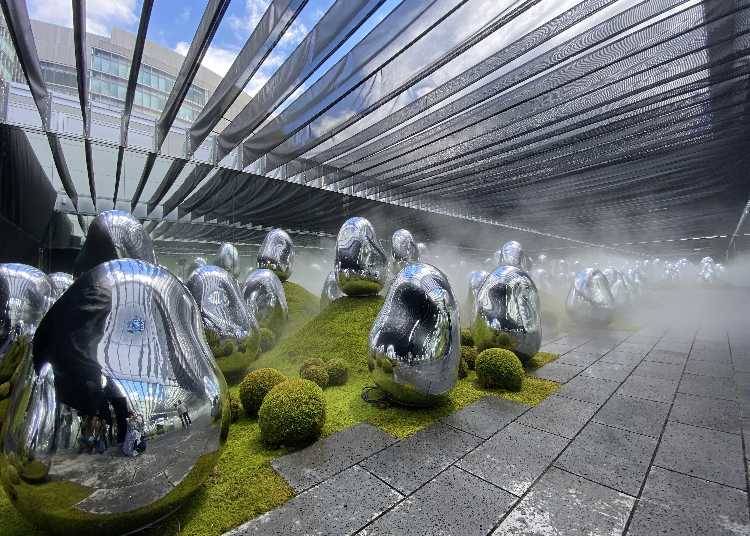 Moss Garden of Resonating Microcosms: Solidified Light Color, Sunrise and Sunset is another large installation located on the museum's roof. Everything is covered in a mist, giving it a mystical atmosphere that makes you feel as though you've entered a sea of clouds.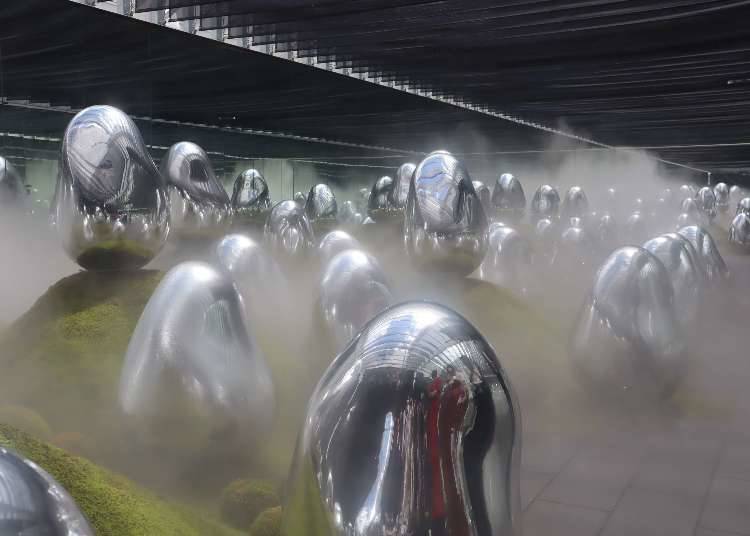 Many ovoid objects occupy the space. If they are pushed down by the wind or by human hands, they make a beautiful sound. This sound is then captured by the neighboring object and slowly spreads throughout the entire area.
(Image: teamLab)
What's more, lights can be found inside the ovoid. They light up at night and change color once you touch them. When one of them changes color, the others gradually follow suit.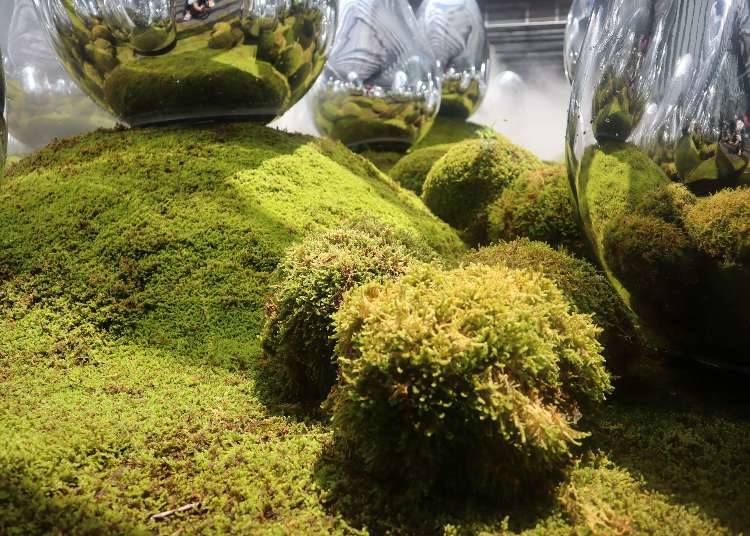 Japan is the perfect breeding ground for moss, so it is commonly found in traditional Japanese gardens. It's an essential part of traditional Japanese beauty and art. Since moss balls have been popular in recent years, this exhibit has drawn some attention.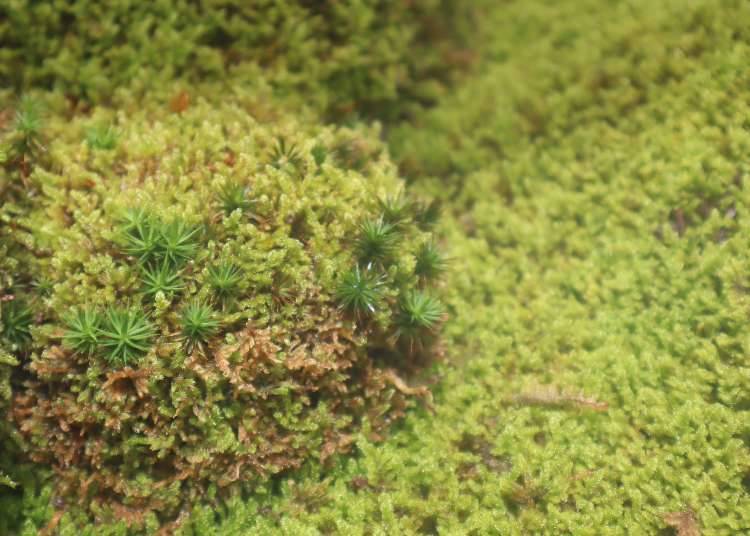 Depending on the season, weather, and humidity, moss changes its color and shape. There are always new things to discover with this plant. All the moss in this exhibit is real and continues to grow.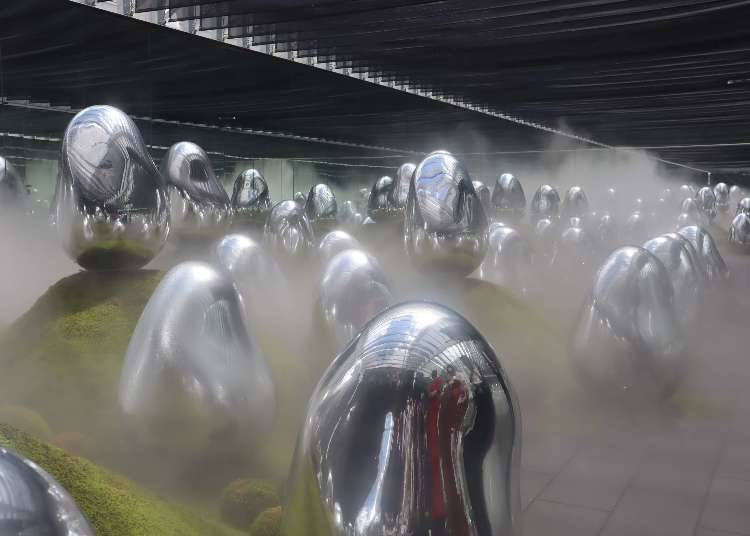 You'll be able to discover something new and different every day just with this one exhibit.
Drawing on the Water's Surface, Created by the Dance of Koi and People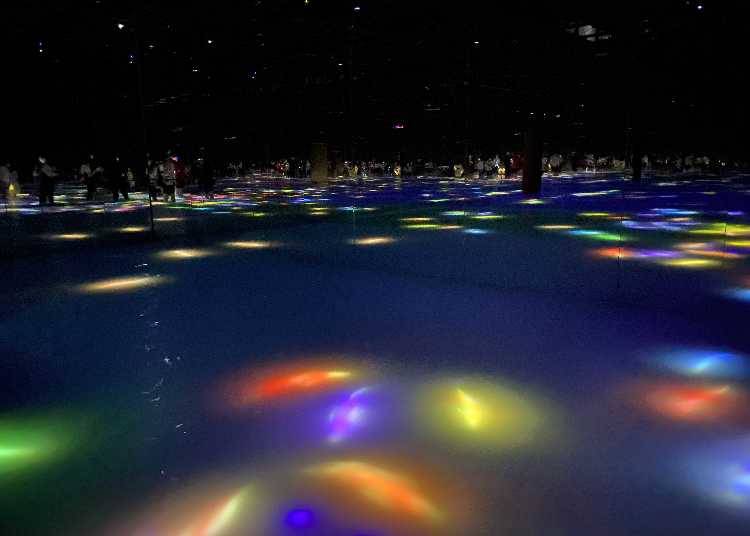 Even in the already existing water area, some exhibits show artwork limited to the season. Drawing on the Water's Surface, Created by the Dance of Koi and People is an interactive art installation in which you enter a space where water comes up to your knees.

Here Koi fish swim on the water's surface. If they happen to bump into you, they transform into flowers and wilt away.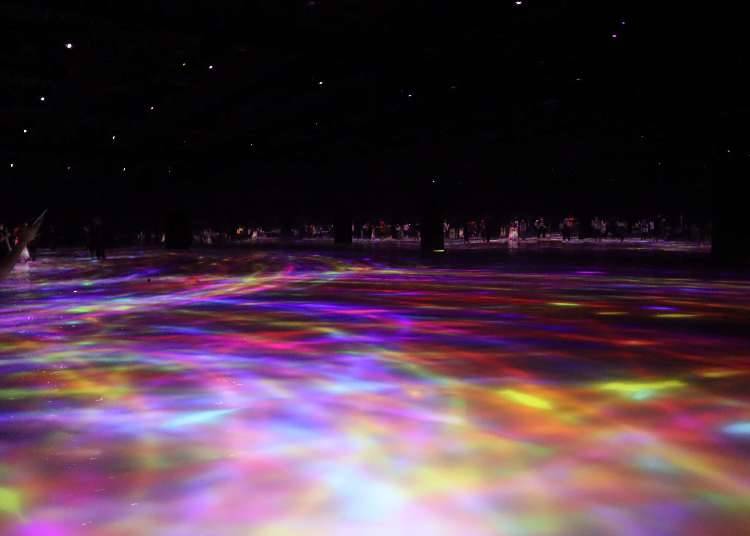 This art installation showcases different flowers throughout the year. You can currently find summer flowers such as hydrangeas and morning glories. This installation is never the same, changing each time a person enters.

Walking into this exhibit is truly a once-in-a-lifetime experience. Moreover, the temperature of the water changes depending on the season, so you can enjoy new sensations each time you visit.
Universe of Fire Particles: Powerful and Lively Flames Will Leave You in A Trance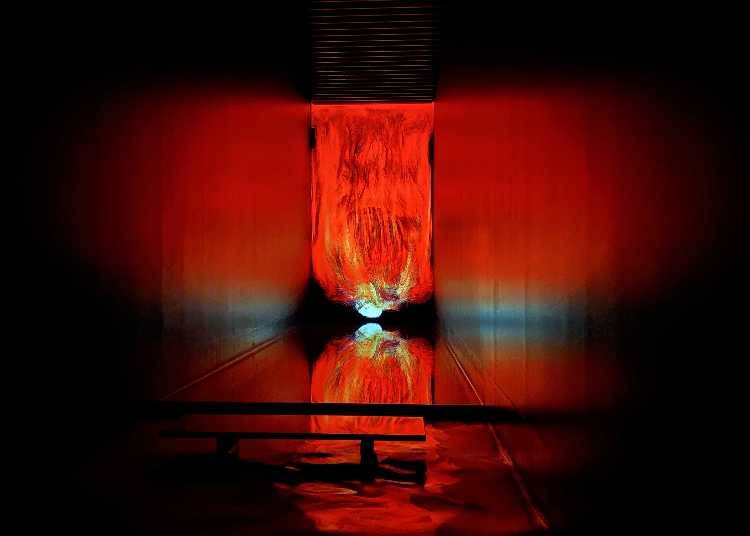 Universe of Fire Particles is a new installation that's been added from April of this year. Here lively flames that constantly change their shape dance in a dark room.

Once you take a look, you will naturally lose track of time. There are chairs in front of the artwork, so you can take your time to view it. You'll love enjoying this installation to your heart's content!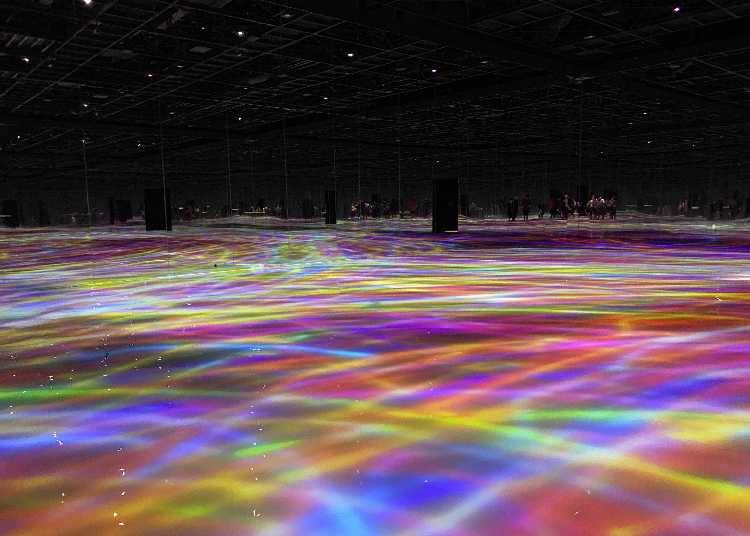 Unfortunately, many people seem to overlook this area due to not being able to find it. This installation is located past the Drawing on the Water's Surface, Created by the Dance of Koi and People exhibit and through a narrow entryway. Please be sure not to miss out on the wonderful artwork found here.
Universe of Fire Particles Falling from the Sky: A Public and Interactive Art Piece that Anyone Can Enjoy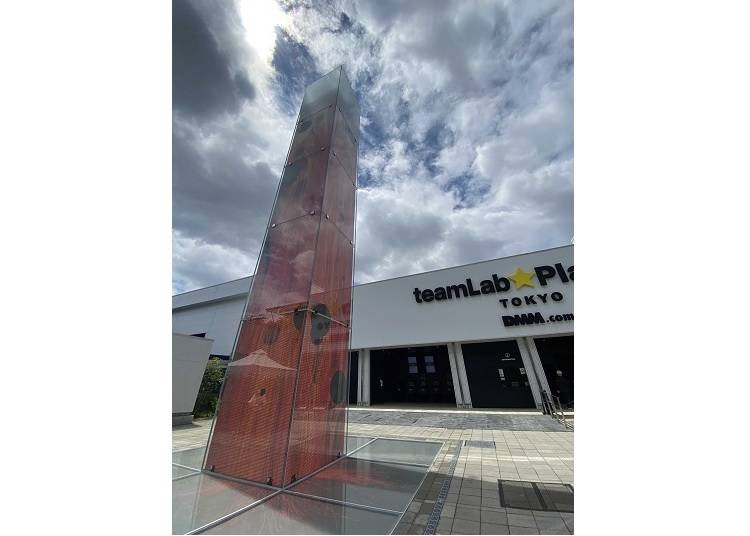 Another new addition since April is the Universe of Fire Particles Falling from the Sky. It can be found in front of the museum's entrance. Even those who decide not to stop by the museum can enjoy this public artwork.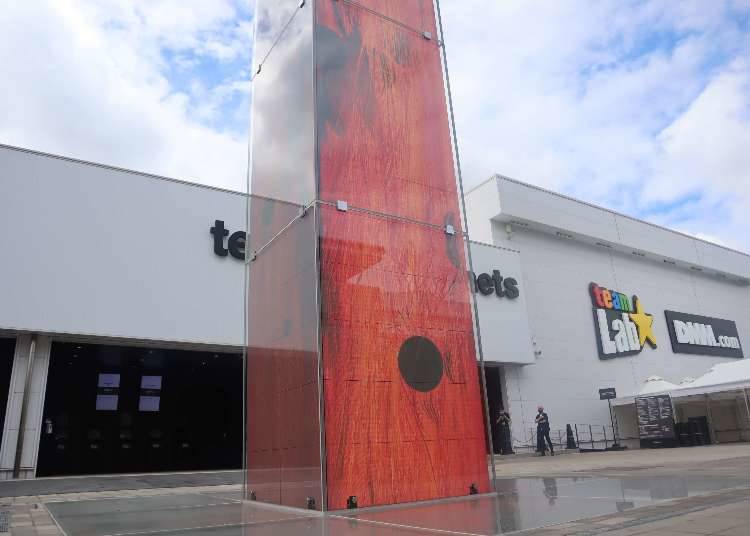 Once anyone stands in front of the pillar, the shape of the flames changes. This is another amazing interactive piece of art. Although, the fun doesn't stop there!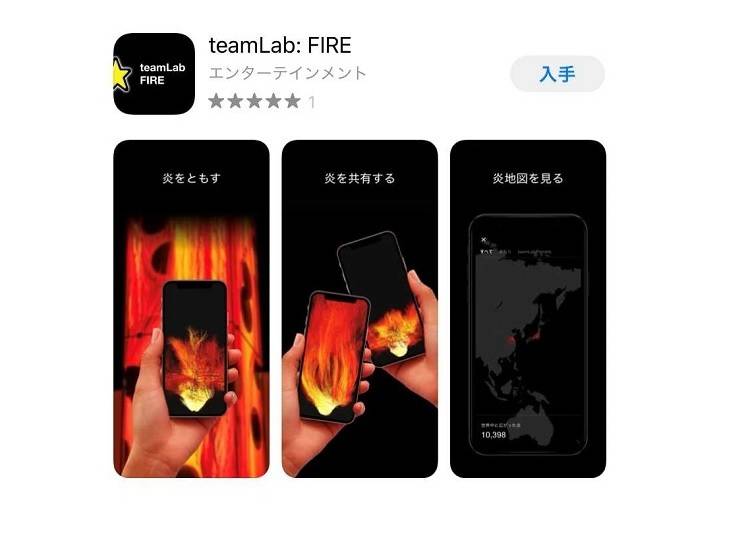 If you download the teamLab: FIRE app, you can take home your own personalized fire. Almost like an Olympic torch relay, you can share your fire with others who have the app.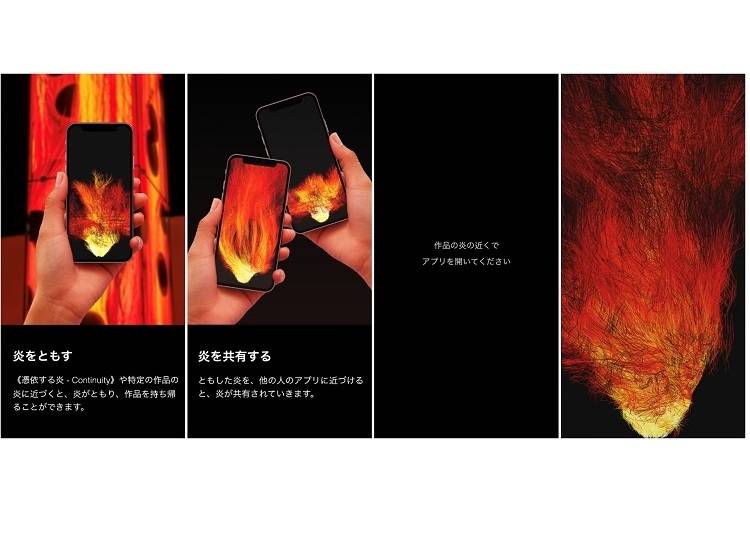 Even after leaving the museum, art seems to follow us in our everyday lives. The phrase falling from the sky is indeed fitting for an installation such as this one.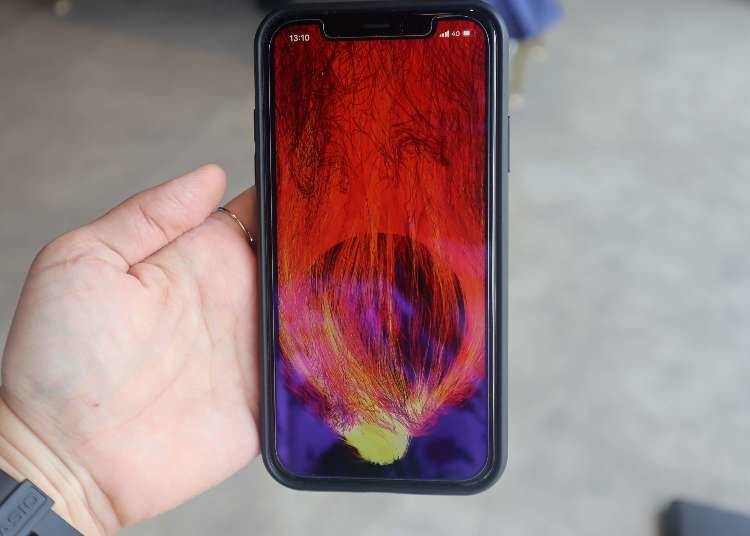 The fact that you can take what you've experienced home with you is mind-blowing!
An Unrivaled Experience: Please Come and Experience the New teamLab!
teamLab has changed the way to enjoy art by continuously adding new discoveries and stimulating people's creativity. So be sure to stop by teamLab Planets Tokyo DMM to experience the many impactful and moving installations it has to offer.
teamLab Planets TOKYO DMM

チームラボプラネッツ TOKYO DMM

Address

Toyosu 6-1-16, Koto-ku, Tokyo

April - June Hours
・Monday - Sunday 9:00 a.m. - 9:00 p.m.
* Extended opening hours: April 1-2 and April 29-May 7, 9:00 a.m. - 10:00 p.m.
* Last Entrance one hour before the closing time.
* Opening hours may be subject to change. Please check the official website before booking.
Written by:
*This information is from the time of this article's publication.
*Prices and options mentioned are subject to change.
*Unless stated otherwise, all prices include tax.
Limited time offer: 10% discount coupons available now!