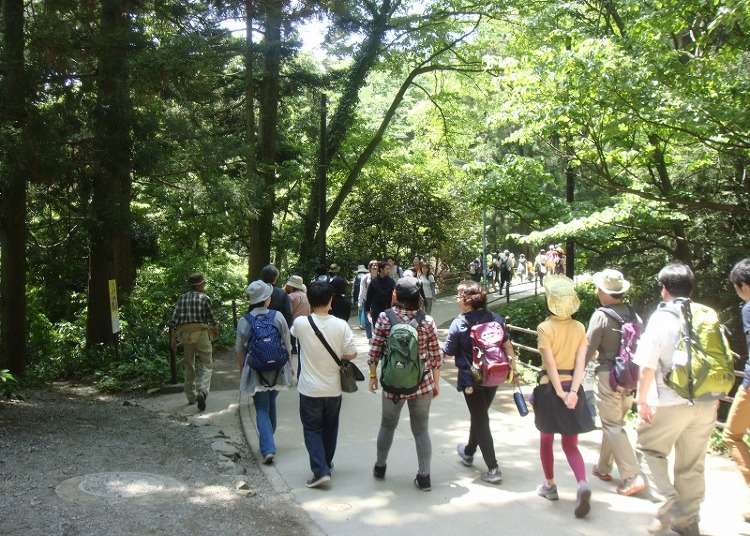 Rated three-stars by travel guide "Michelin Green Guide Japan", Mount Takao is one of the most well-known mountains of Japan and is scaled by the most number of climbers annually in the world.

Advantages of the mountain include easy access - it's located in Tokyo itself! - as well as its relatively low height of 599 meters (about 1,965 feet). Hikers aiming to hit the mountaintop can choose from a few courses with varying difficulty levels, making it an appealing choice for beginner and expert climbers alike.

But which Takao path to choose? Here, we've compiled a list of Mount Takao hiking trails with extra information about features, difficulty levels, and methods to make the most of your mountain climbing trip specially for readers planning to conquer this amazing mountain!
In total, there are nine trekking routes for Mount Takao, each with well-maintained trails. Here we'll be focusing on four of our recommended courses sorted by difficulty.

Here's a brief overview: Trail 1 is a simple path that can be used to climb the mountain even in everyday clothes; Trail 3 is designed to be a leisurely nature trail; Trail 6 is where you can be surrounded by the relaxing sound of a river stream as you hike to the mountaintop; and finally, the Inariyama Trail is the route you'll want to choose if hardcore hills are your kind of mountain climbing.

Despite its relatively low height of 599 meters, the hiking trails of Mount Takao nevertheless require good preparation to tackle successfully. We hope our list of how and what to prep will prove to be useful for your planning!
(Beginners) Trail 1: Comfortable climbing with a dash of sightseeing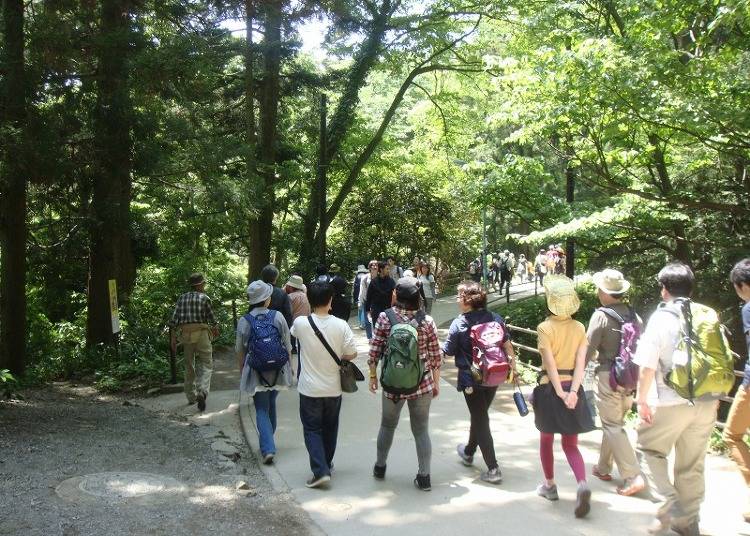 Credit (Public Corporation): Hachioji Visitors & Convention Association
Trail 1 is the most popular mountain-climbing course on Mount Takao. It goes along the main approach to Takaosan Yakuo-in, a shrine that has been in service for about 1,200 years! It takes about 100 minutes to reach the mountaintop via this course, and you'll pass by quite a few facilities along the way, like eateries and even a zoo where you can see monkeys. This is the best trail for visitors interested in trying out mountain climbing enjoying a bit of sightseeing on the side.

After passing through the Joshinmon gate of Yakuo-in shrine, the mountain path splits into two. One side is called the Otokozaka, a stairway with 108 steps, and the other side with a gentle sloping path is known as Onnazaka. Take your pick depending on how much energy you have when you reach them. The two paths will converge again after reaching the top, so you can also split up safely if members of your group decide to pick different sides. Located where both paths meet is a teahouse by the name of Gogenchaya, strategically placed for a quick breather. The soft-serve ice-cream available here is definitely worth a try!

Other than a short length of road just before reaching the mountaintop, the whole of Trail 1 is paved, allowing anyone in sneakers or casual footwear to easily make their way up. The mountain is generally cooler than central Tokyo and the weather here can change quite abruptly, so it may be wise to bring along a jacket even if you're making the climb during the summer months. We recommend trying out this route if this is your first time climbing Mount Takao.
Trail details
Course distance:

About 3.8 kilometers (about 2.3 miles)
Approximate time taken:

100 minutes ascending, 90 minutes descending (with cable car or lift usage: 50 minutes ascending, 40 minutes descending)
(Intermediate) Trail 3: Trek in peace at your leisure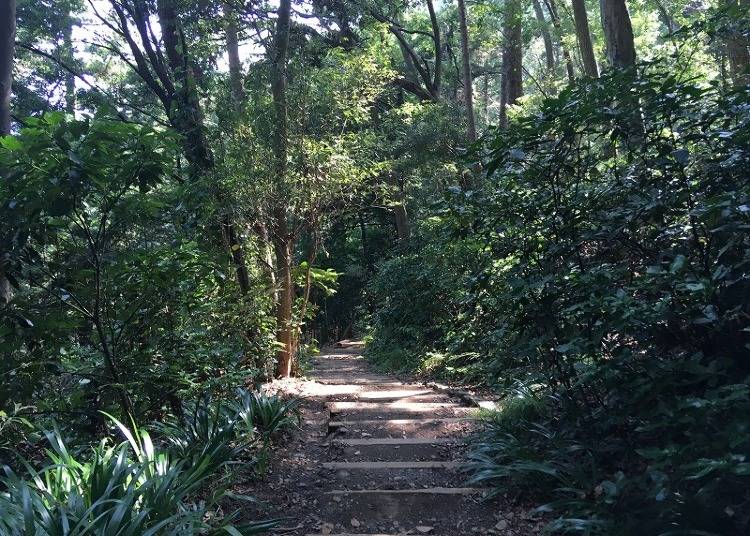 Trail 3 is well-known to feature plenty of lush greenery, from luxuriant trees to exotic wildflowers. It takes about 60 minutes to reach the mountaintop via this relatively less crowded path, allowing hikers to trek in peace and quiet, one of the most appealing points of this trail. Nicknamed the "Katsura Woods Trail", it's also where you can admire beautiful yellow foliage if you're doing the climb during autumn. At the end of the path, you can branch out into Trails 1 and 2 as well.

Along the way, there are four wooden bridges that hover over valleys. The path also takes you through scenic natural landscapes where you can admire evergreen oak trees, wild birds, and interesting insects at your own pace while trekking your way up. As you get nearer to the mountaintop, you'll be welcomed by the beautiful Katsura Woods, an area decked with an abundance of katsura trees that were planted in the year 1925.

Although the pathways on Trail 3 are gently sloped and relatively easy to walk on, many roads on this course are quite narrow, so it may be better to do this trail in proper footwear, like a pair of trekking shoes or mountain climbing shoes. Bring along a windbreaker with an attached hood or a waterproof jacket in case of abrupt weather changes. You won't find any eateries or vending machines along this trail, so be sure to come prepared with enough water for hydration.
Trail details
Course distance:

2.4 kilometers (about 1.5 miles)
Approximate time taken:

60 minutes ascending; 50 minutes descending
(Advanced) Trail 6: For climbers who want to break a sweat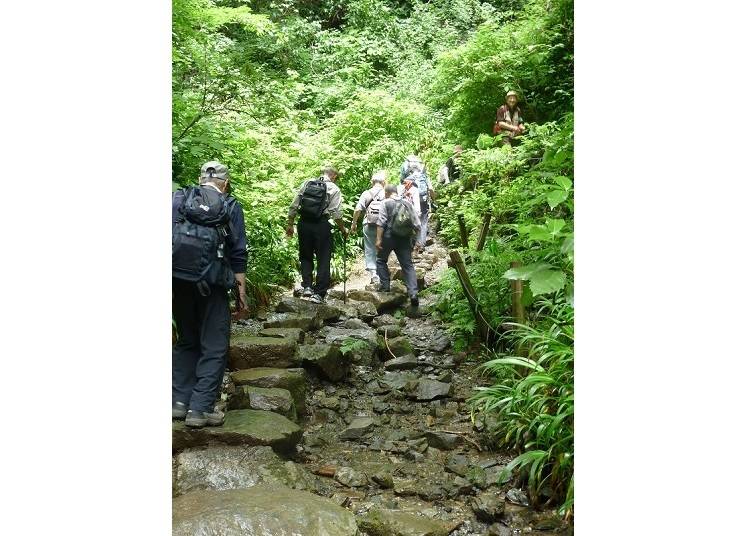 Credit (Public Corporation): Hachioji Visitors & Convention Association
Trail 6 follows the path of a small river and brings you close to a waterfall located along the way. This is the best course to take for climbers interested in harnessing all the negative ions they can from nature as they scale the mountain. As mentioned, you'll pass by Biwa Waterfall, where monks are known to carry out waterfall training, and Iwayadaishi, where Kōbō-Daishi is enshrined.

Part of the path goes over a mountain stream, so Trail 6 also is nicknamed the "Water Course". Because the trail may be somewhat wet, or you may have to walk on slippery stepping stones at times, come equipped with trekking shoes or mountain climbing shoes if you're set on taking this path. The path runs parallel to a stream and most of it is protected from the sun, so the general temperature here will be quite cool. Wear proper mountain climbing gear and make sure you have enough protection for the cold as well.

Trail 6 may also be quite narrow or dark at times, so consider bringing along a hand torch to light up the path ahead. Since there are no vending machines or eateries along the way, you may also choose to stock up on a handy snack or two that can provide a calorie boost during breaks, in addition to a good amount of water.
Trail details
Course distance:

3.3 kilometers (about 2 miles)
Approximate time taken:

90 minutes ascending, 70 minutes descending
(Expert) Inariyama Trail: A challenging trail with a view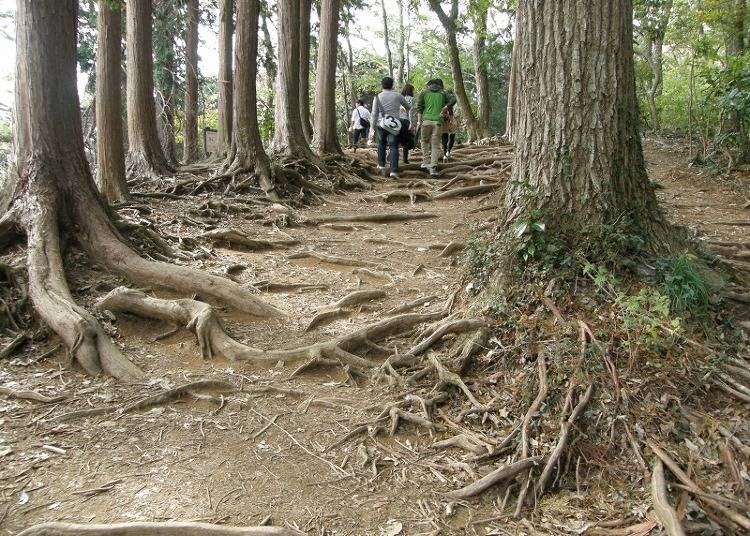 Credit (Public Corporation): Hachioji Visitors & Convention Association
The Inariyama Trail is the hardest Mount Takao trekking course and comes with plenty of steep inclines. The path was used historically by workers of the timber industry, so there are Japanese cypress and cedar trees for as far as the eye can see. It takes about 90 minutes to reach the mountaintop via this path. Along the way, you can also stop by the Azuamaya, a halfway-point observatory for a sweeping bird's eye view of Hachioji's streets. On fair weather days, you'll even be able to spot clusters of skyscrapers at Shinjuku! The trail also takes you past Asahi Inari Shrine, the reason it is known as the "Inariyama" course.

You'll be walking along the southern mountain ridge, which puts you in line for much glorious sunshine and ensures a bright and cheerful journey to the mountaintop if the sky is clear. The most difficult part of this course is the final stretch just before hitting the mountaintop, because you'll need to scale a staircase with about 200 steps! Our advice for this trail is to never overestimate your strength and take plenty of rest whenever needed.

From the starting point to Azumaya, the trail path has poor footing or steep steps, so come in trekking shoes or mountain climbing shoes. Make sure to also come with all the mountain climbing essentials like good gear and hand torches. Needless to mention, there are no vending machines or eateries along the Inariyama Trail either, so stock up on water and mobile food rations!
Trail details
Course distance:

3.1 kilometers (about 1.9 miles)
Approximate time taken:

90 minutes ascending, 70 minutes descending
And there you have it! Four trekking trails of Mount Takao tailored for people of all experience levels - Trail 1 being the easiest to climb, Trail 3 if you're looking to avoid crowds, Trail 6 for those with more mountain climbing experience, and the Inariyama Course for more avid climbers. Another reason Mount Takao is so appealing to people of all ages is because they can always go back for a fresh experience by climbing on another different trail!

Despite its relatively low and easy height, Mount Takao is still a proper mountain with all the views and vistas you can expect from one. As long as you prepare well, are in a good state of health, and pick the right path, hiking up Mount Takao will be an enjoyable experience no matter how much experience you have with mountain climbing.

English translation by: Huimin Pan
*This information is from the time of this article's publication.
*Prices and options mentioned are subject to change.
*Unless stated otherwise, all prices include tax.