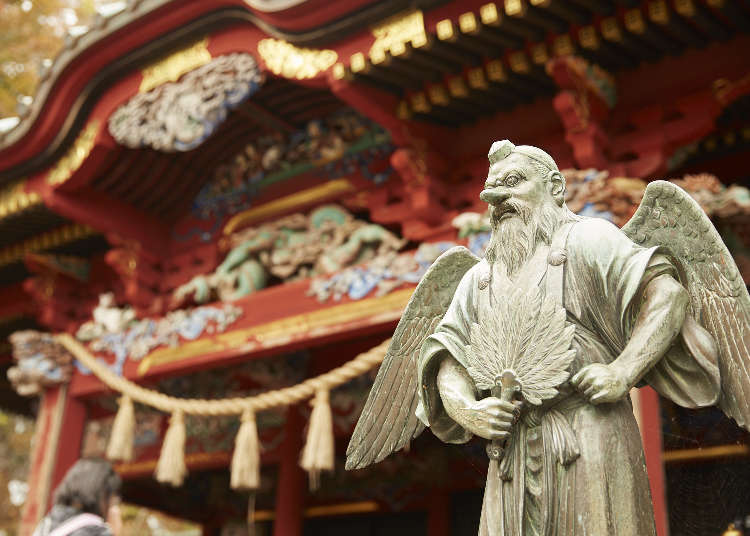 Mount Takao is a popular tourist site situated just around an hour away from Tokyo or Shinjuku on the Keio Line and is perfectly suited for casual hiking.

It was rated as a Michelin three-stars site along with Mount Fuji in 2007 and reviews on websites like TripAdvisor reflect similar satisfaction. No wonder more and more people are heading to this mountain to see what the fuss is about!
For this article, we've roped in Machida, stationmaster of Takaotozan Railway - the company that operates the cable cars, chair lifts, and various eateries on Mount Takao - to tell us what are some locations we absolutely should not miss on a visit. What would someone who knows the mountain inside out recommend to visitors coming from overseas? We find out!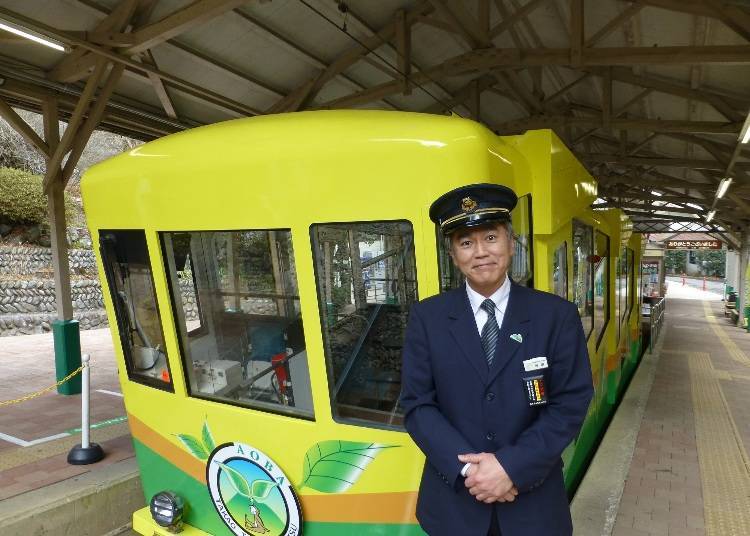 Start your Mount Takao tour at Takaosanguchi Station (Keio Line)
* One of the places of interest here is Takaosanguchi Station itself, which was designed by famous Japanese architect, Kengō Kuma.
Mount Takao stands at a height of 599 meters, or 1,965 feet above sea level. The nearest station is Takaosanguchi Station on the Keio Line, and it takes about 50 minutes by through train or special express from Shinjuku to reach, making it an attractive destination for a day trip. There are a few hiking trails ranging from the hardcore to the leisurely for hikers of all inclinations.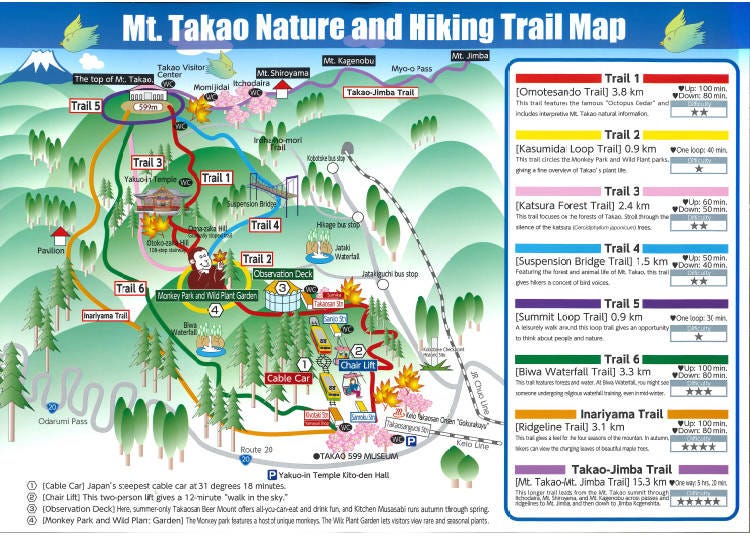 Downloadable PDF available at: https://www.takaotozan.co.jp/sp/course/img/course_map_english.pdf
Hiking is definitely one of the most enjoyed attractions on Mount Takao, judging by the sheer number of trails there are available for hikers of all experience levels.

Pick from six standard trails or a few other more adventurous ones, including one that goes around Inariyama, a nearby mountain. Cable cars and chair lifts will take visitors halfway up the mountain, catering for those who may not be in top form or are looking to avoid inclement weather. This ensures a fun outing for all groups, no matter the circumstances!

We'll hike up Mount Takao for ourselves and see some of stationmaster Machida's recommended spots.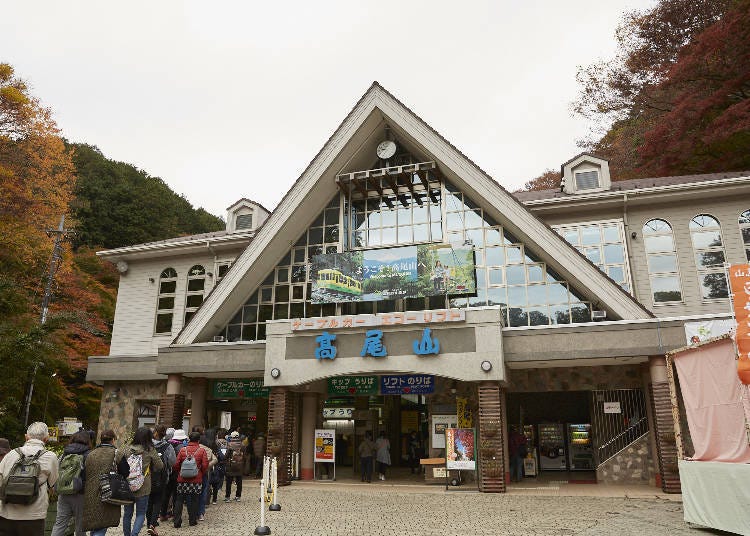 This is Kiyotaki Station, the cable car station at the foot of Mount Takao. We'll be hopping onto a cable car here, which will take us halfway up the mountain.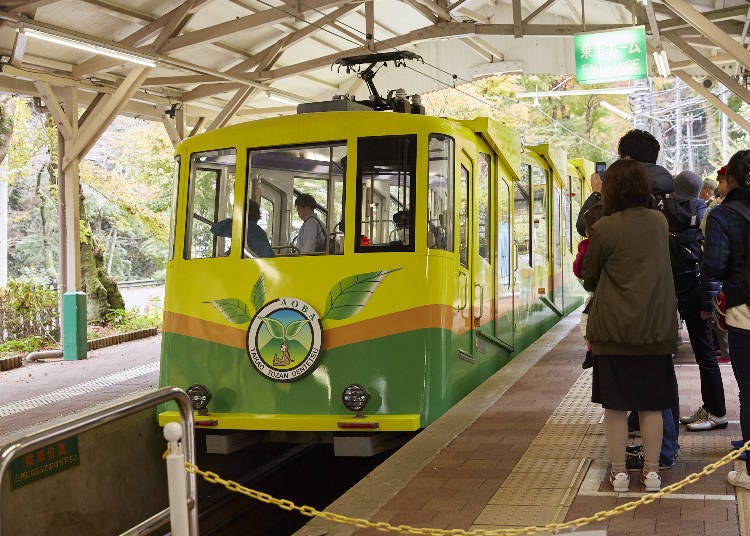 The cable car we're taking is called the "Aoba", and there's another one, called the "Momiji". Both cars are connected to a single cable. Interestingly, all cable cars in Japan run on funicular railways, where two cable cars will pass by each other at the midpoint.

Mount Takao's cable cars also function on an inclined slope. Kiyotaki Station has a gentle gradient of six degrees (105%), but this quickly changes to a steep incline of 31.18 degrees (608%) by the time the cable car approaches Takaosan Station at the midpoint of the mountain.

This is the steepest slope in Japan, and you may even find yourself fumbling to stay on your feet if you're not holding on to something! Nevertheless, this steep incline is widely considered to be one of the best landscapes of the mountain.
Hot Spot 1: Feeding Monkeys at Monkey Park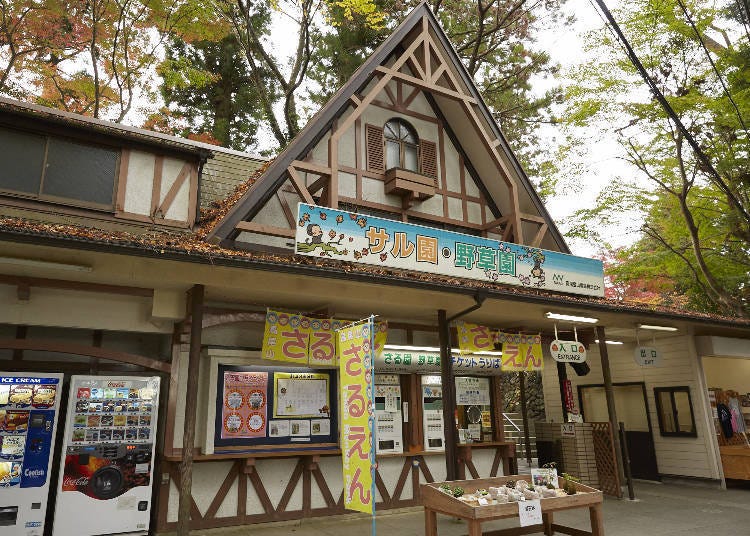 Takaosan Station is the cable car station at the midpoint of Mount Takao. Disembark here and follow Trail 1 to reach Mt Takao Monkey Park & Wildflower Garden after a three-minute walk. You'll find more about 70 Japanese monkeys lounging about here, carefree and comfortable under the watchful eye of "Nesshin", the park's fifth alpha monkey. At the rooftop, you'll be able to buy monkey treats for them at 100 yen per portion. And if you're ever curious about monkey ecology or lifestyle, simply talk to one of the enthusiastic park keepers to get a better understanding of these primates.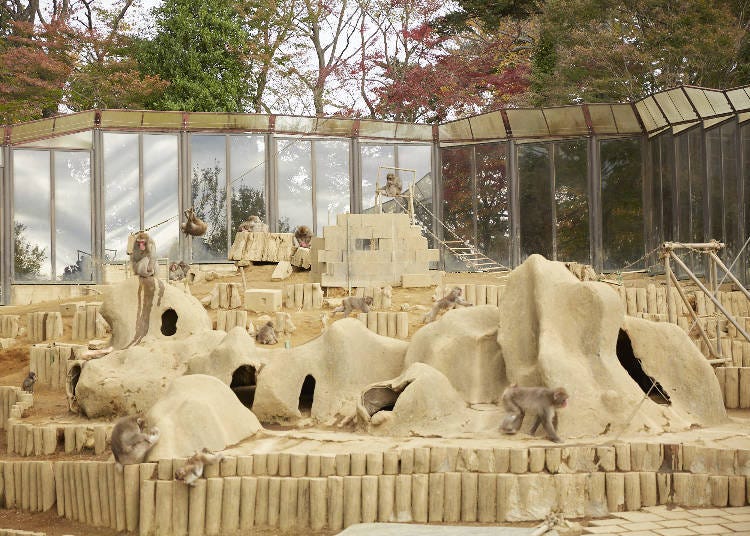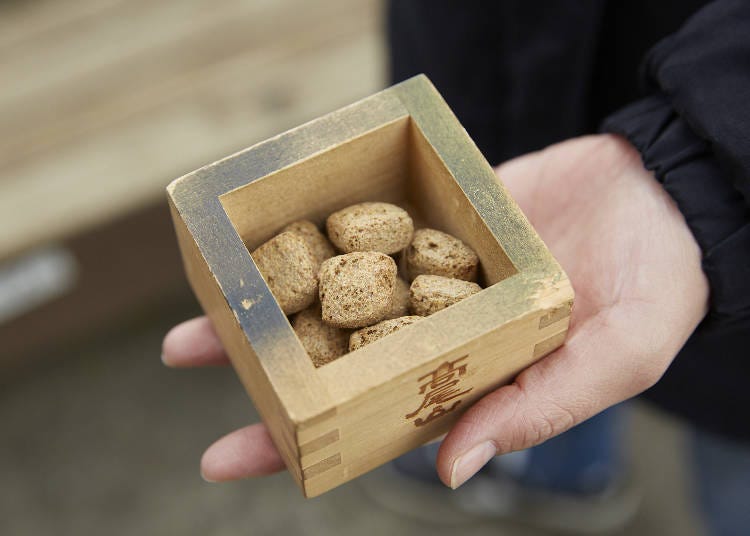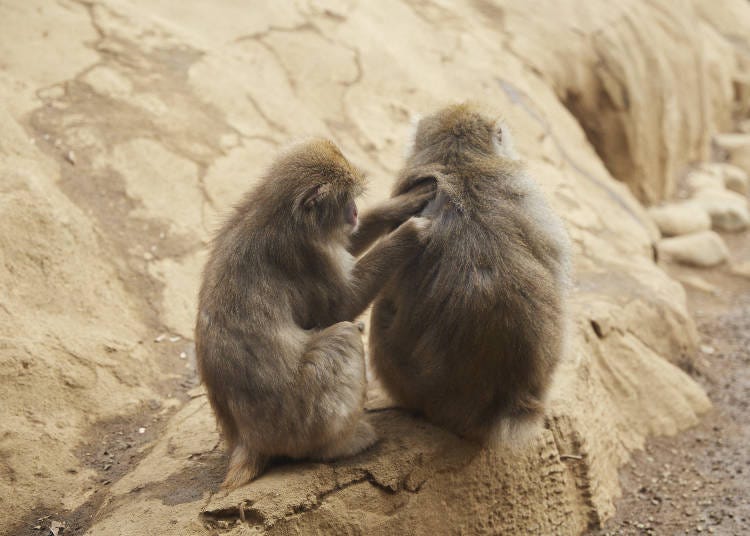 ・Stationmaster Machida's Recommendation!
"For an interesting mental exercise, think about how monkey society differs from human society as you observe the interactions of the monkeys here. Monkey society is matriarchal, so the females are generally stronger. Only one male monkey can become the alpha, and he's expected to protect the weaker and younger monkeys as the respected leader of the pack. It's also the alpha's job to watch over older and younger monkeys and ensure cordial living conditions by quickly mediating between fights. If an alpha loses the respect of the troop, he'll be ousted from his position. The park keepers remember the names, faces, and characters of each and every monkey, so it'll definitely be fun to listen to them too!"
Hot Spot 2: Experience the Goma Fire Ritual and Shojin Buddhist Vegetarian Food at Mount Takao's "Yakuo-in", Where the Tengu, a Long-Nosed Goblin Awaits
After having our fill of frolicking with the monkeys at the Monkey Park, we continue on Trail 1 towards Yakuo-in.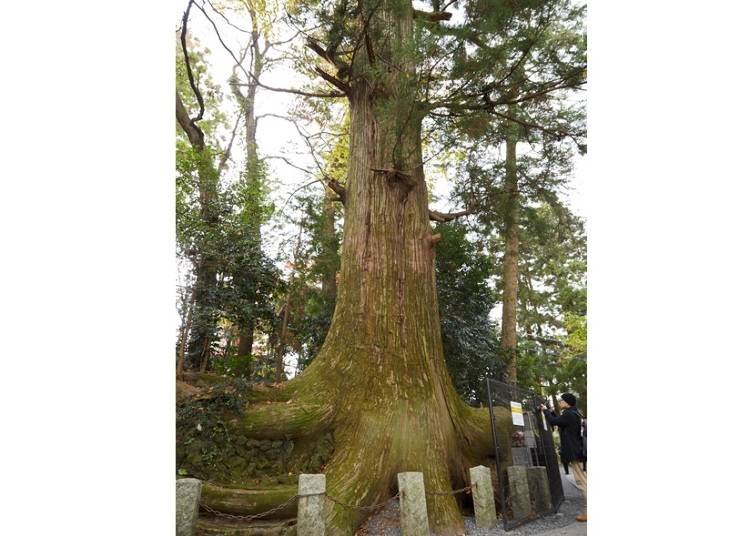 Along the way, we bump into Takosugi, or "Octopus Cedar", a cedar tree with roots shaped like an octopus' tentacles. Takosugi is an elderly tree that's over 450 years old and about 37 meters, or 121 feet tall.

Yakuo-in was established in 744 CE by Emperor Shōmu as a Buddhist prayer temple for eastern Japan and its founder was High Priest Gyōki. It is now known as the head temple for Shingon Buddhism's Chizan-ha Sect and the temple for Mount Takao's Shugendō (mountain asceticism). Izuna Daigongen is the god enshrined here.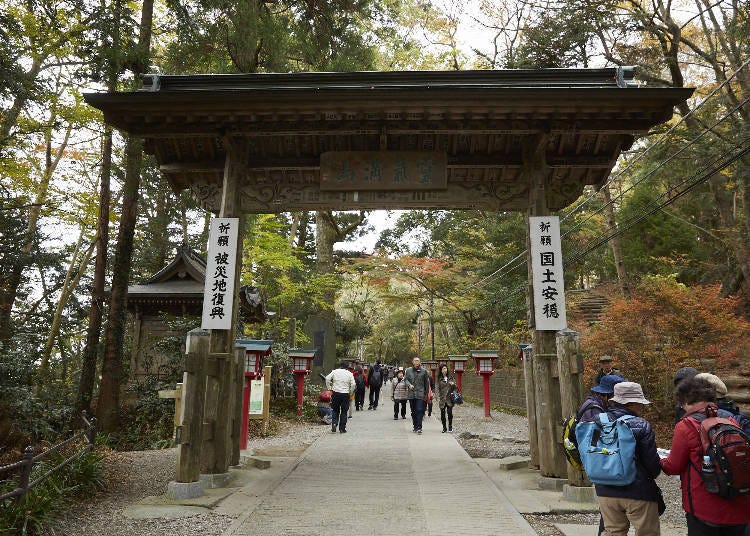 The first thing you'll see walking from the direction of the Monkey Park is the Jōshinmon Gate. Walk through the gate and you'll find that you've entered a no-kill zone. What this means is, even if a mosquito stops on your arm, you have to leave it alone and not kill it. After walking further and passing through Niōmon Gate, you'll see stone statues of Izuna Daigongen's retainers, Hanadaka or Tall-Nosed Tengu (Major Tengu) and Karasu or Crow Tengu (Minor Tengu).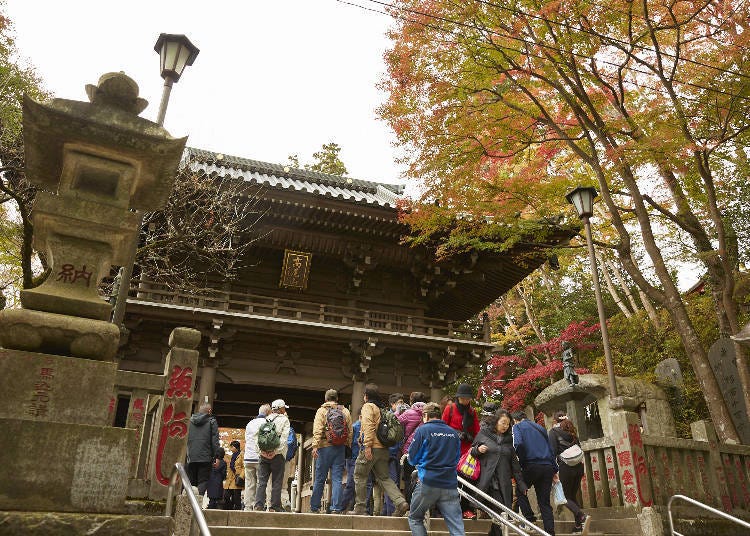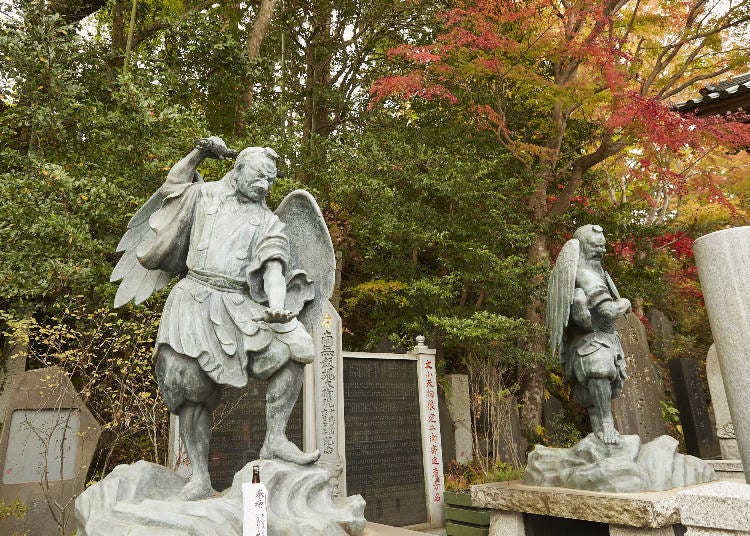 The Tengu with the tall nose on the right is the Major Tengu, whereas Karasu Tengu (Minor Tengu) on the left, as his name suggests, sports a crow-like beak.

Just ahead of Niōmon Gate is the main temple building, where Goma fire rituals are held five times a day. Anyone is allowed to take part by applying at the Goma reception center. Perhaps, just perhaps, being bestowed a Goma charm as you observe a fire ritual amidst sutra-chanting monks and the sound of the conch is just what you need to have your deepest desires heard by a higher power...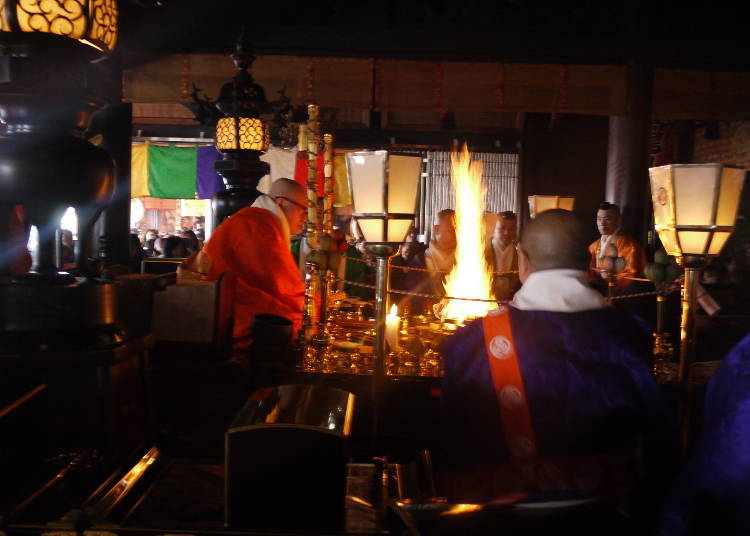 If you come at the right time, you'll even be able to catch an order of monks marching towards the Goma fire ritual. The sight of mountain ascetics blowing their conch shells can only be found in Shugendō temples.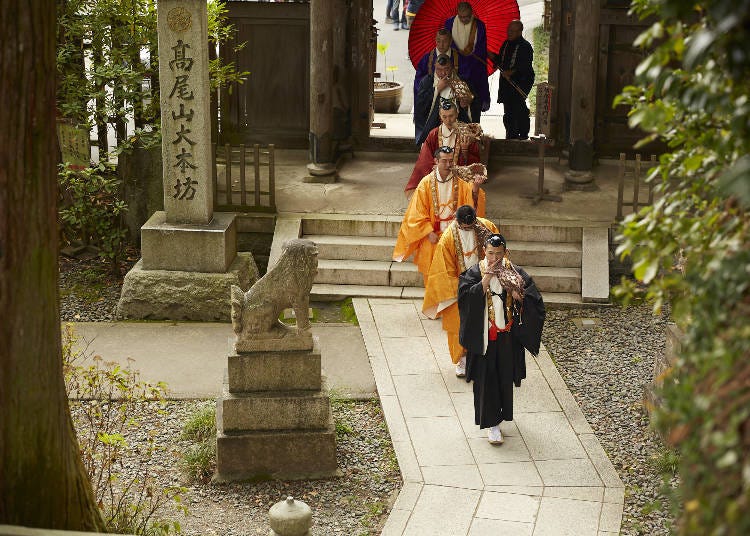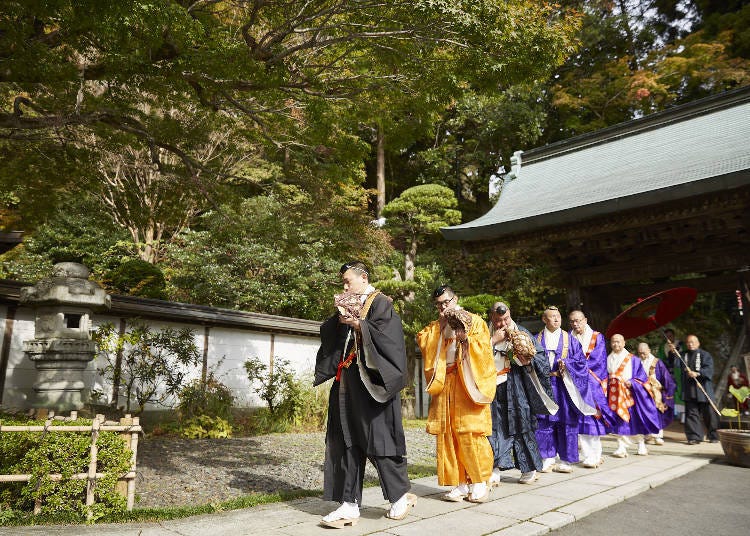 The archives deep within the main temple building features a surprisingly unique Western architecture that will doubtlessly leave a strong impression. The Dharma Chakra-shaped windows are part of a design that you'll only find here as well. An estimated 8,000 architects were involved in the construction of the archive and it is obvious at first glance how valuable this marvelous building is. The place is not open to individual visitors, but may accept group visitors.

You can also have a vegetarian meal at the main building. The dishes are prepared using the wild grass harvested from around the mountain as main ingredients.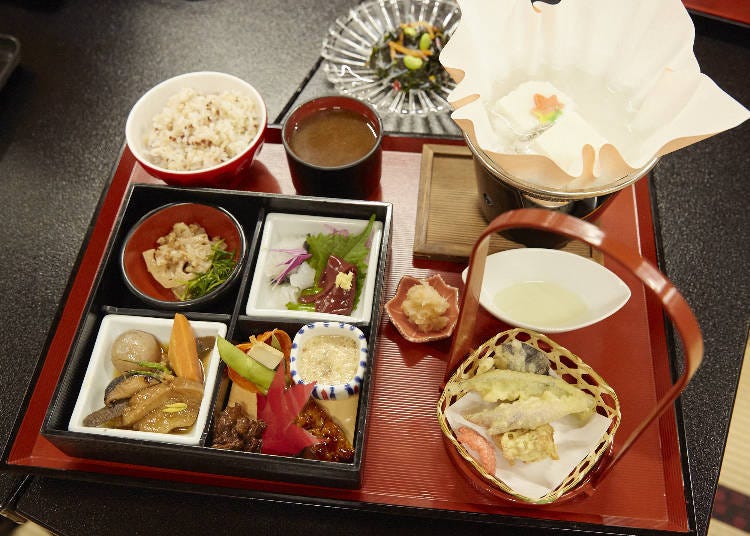 ▲"Momiji Set Meal" (2,800 yen, inclusive of tax) contains millet rice, mushroom soup, seaweed salad, and other foodstuff. If you like it, you're free to go for seconds!
The "Momiji Set Meal" that is offered every autumn is so tasty, some who are ignorant of the fact that it's vegetarian may even mistakenly conclude it contains some manner of braised pork, liver sashimi, broiled eel, or preserved soy beef! The set meal also comes with deep-fried food, boiled tofu, millet rice, mushroom soup, and other sumptuous delights. The dishes are made to be slightly more flavorful to cater to hikers who may be spent after their journey. The generous portions are large enough to satisfy most adults.
(Unless you have a reservation, seasonal set meals may be offered on weekdays instead, so to avoid disappointment, always make a reservation beforehand.)
・Stationmaster Machida's Recommendation!
"Yakuo-in is a huge area with many places of interest. Daishi-dō, for example, contains 88 Buddha statues. There's a saying in Japan that if you visit 88 different temples or shrines, you'll have your wish granted. Now, you can just visit Daishi-dō once for the same effect! Also, near a stupa where Gautama Buddha's bones are being enshrined, there's a little-known spot full of maple trees. Few people go there, so it's a lovely place for clean and fresh air along with some peace and quiet."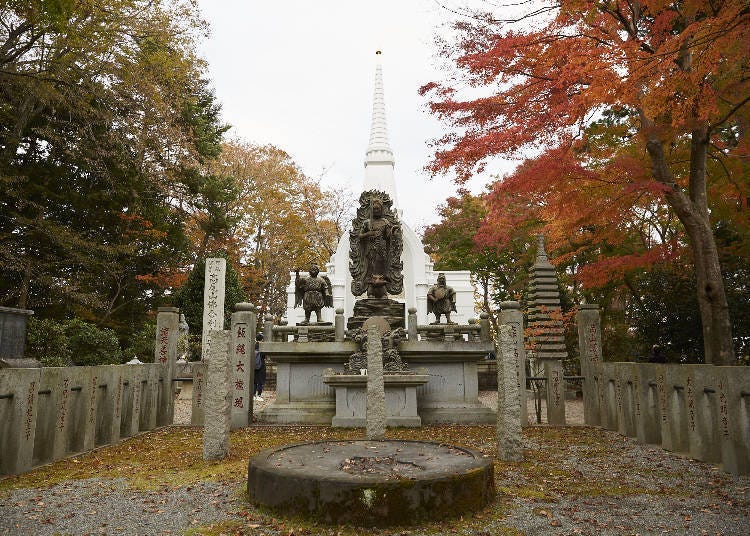 You can find Izuna Daigongen and his two retainers in front of the stupa too.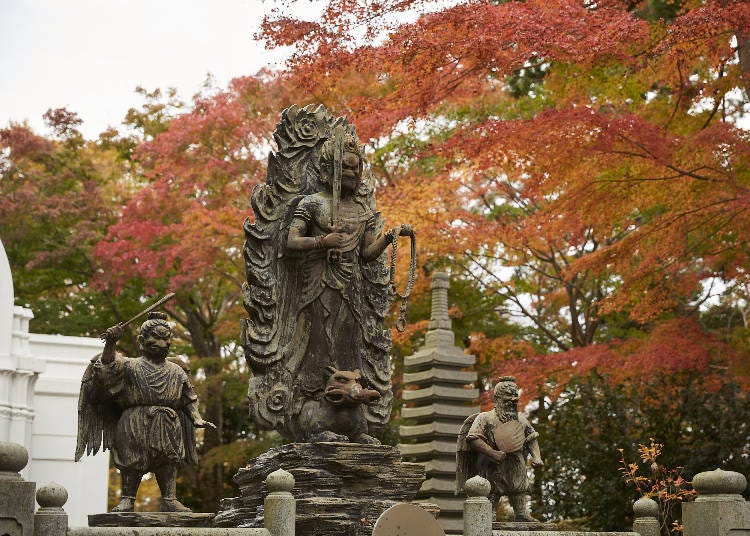 A cool and restful spot with Izuna Daigongen's statue and maple leaves as its backdrop.
Hot Spot 3: Mount Takao's Peak Only Known to Experts - Conveniently Located Along the Sparsely Populated Fuji Road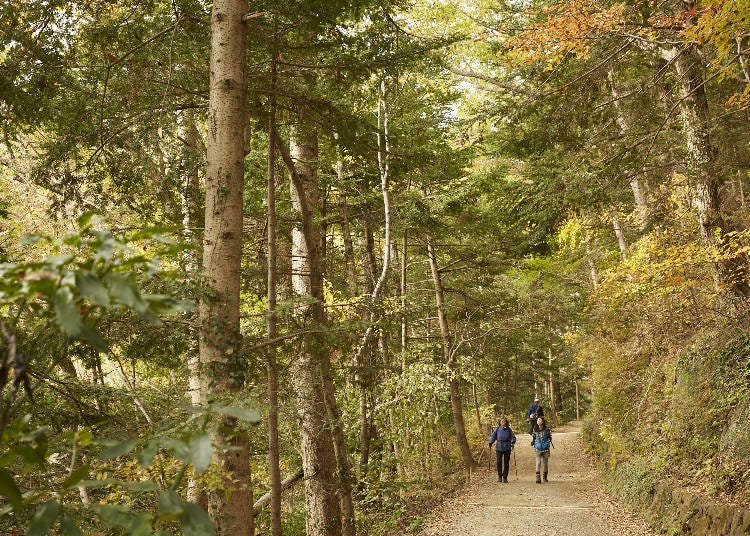 After melting your troubles away with the fiery heat of the Goma ritual and filling your tummy with delicious vegetarian food, it's finally time to take on the peak of Mount Takao. There are a few ways to reach the mountaintop from Yakuo-in, including a route that has lesser traffic than usual, as you can see in the picture, and is much easier to walk on.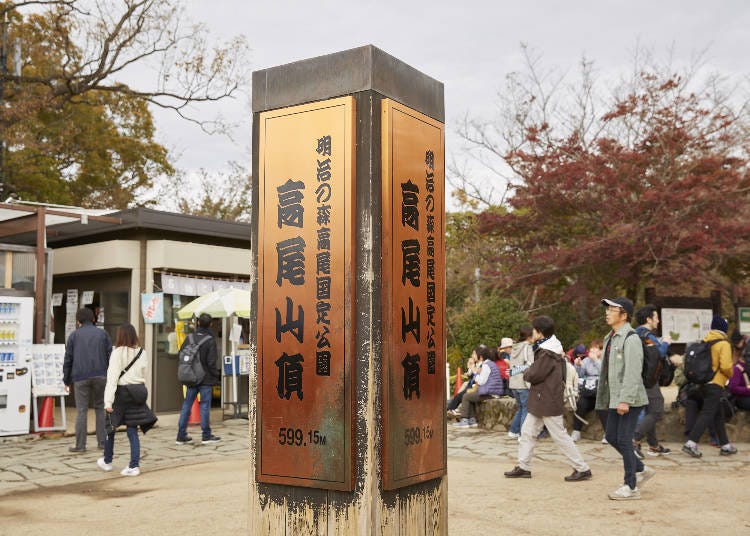 The peak of Mount Takao is 599 meters, or 1,965 feet above sea level. On the day we went, it was unfortunately cloudy, but on clear days, you'll be able to see Mount Fuji and the Tanzawa Mountains from here. During autumn leaves season, the place is abuzz with people and activities even on weekdays.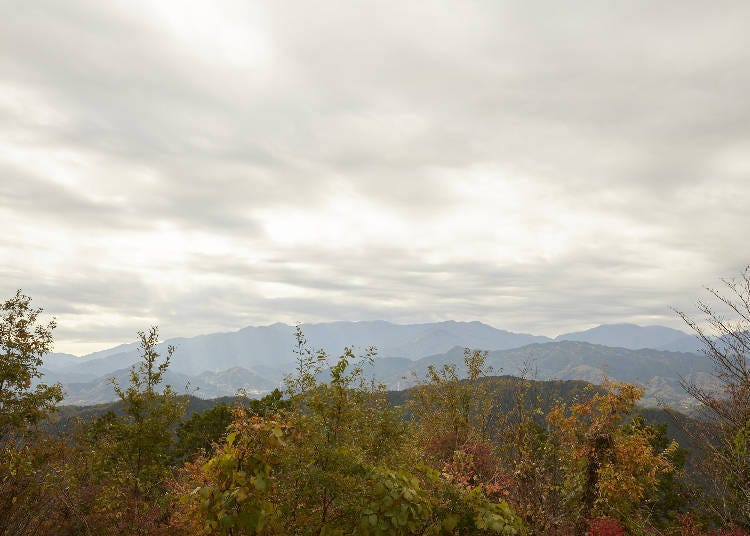 Mount Takao Visitor Center is a facility located on the mountaintop where you can find out more about the history and natural world of the mountain as well as helpful information about the hiking trails. They also conduct nature tours and guided walks. All are welcome to learn more about Mount Takao through these programs. Some staff on hand can speak foreign languages, so there's no need to worry about language barriers.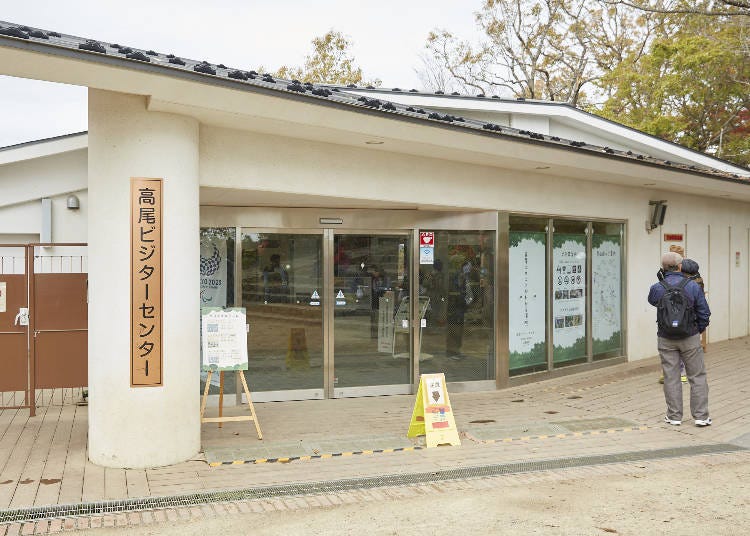 ・Stationmaster Machida's Recommendation!
"To really enjoy mountain-climbing, I highly recommend the Inariyama route. You'll be walking along ridges and the view of the Inariyama observation deck halfway through is very impressive. For the last part of this route, you'll get to scale 200 steps to prove your extreme ruggedness, ha! That's the real thrill of mountain-climbing, if you ask me!"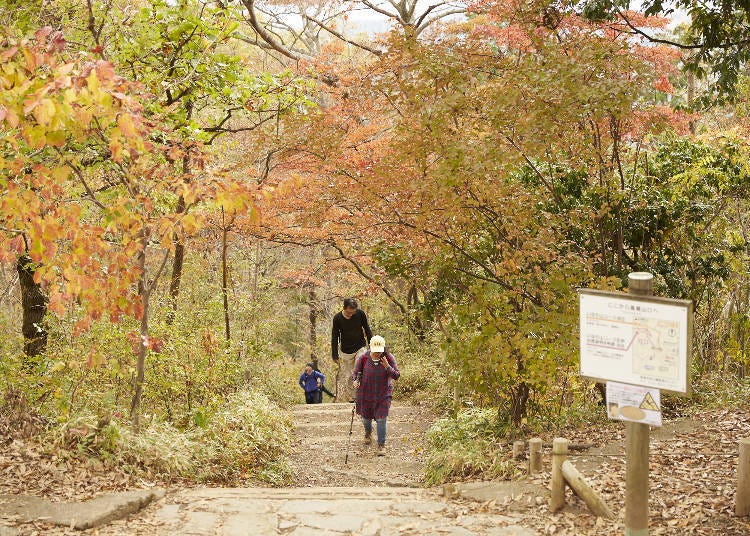 Hot Spot 4: Mount Takao's Must-Try Meals and Finger Foods
Now do you see why Mount Takao is such a popular tourist site for casual hiking? And there's more! On Mount Takao, there are plenty of irresistible food that taste as good as they look. Be sure to catch a bite or two before leaving the area!
"Tengu-Dog" is a 30 centimeters long sausage shaped like the looong nose of a Tengu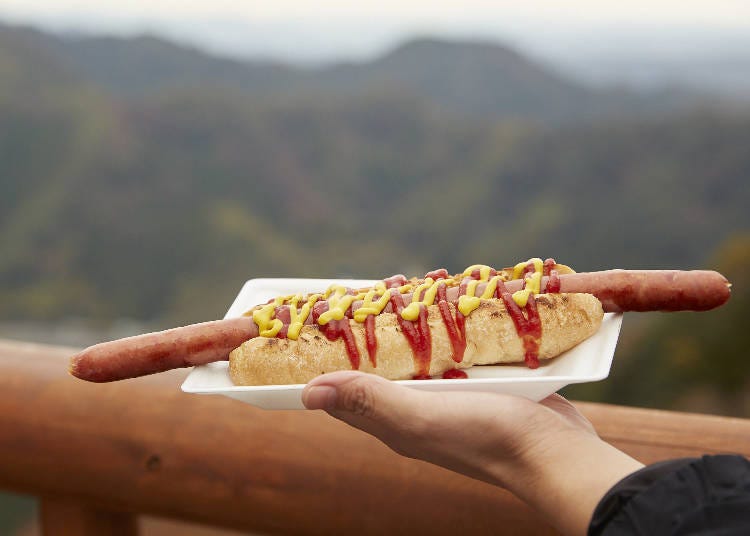 The first thing you should try here is "Tengu-Dog" at Mount Takao Vista Cafe. This hotdog comes with a 30 centimeters, or 11.8 inches long sausage will set you back 540 yen (including tax). Both ends of the coarsely grounded meat sausage jut out from the bun, and the sausage itself is delightfully crunchy and flavorful in your mouth. Up to 1,000 pieces of this popular item can be sold in a day!
"Mitsufuku Dango" - Sticky rice dumpling dessert that are springy on the outside, but full of creamy walnut filling on the inside!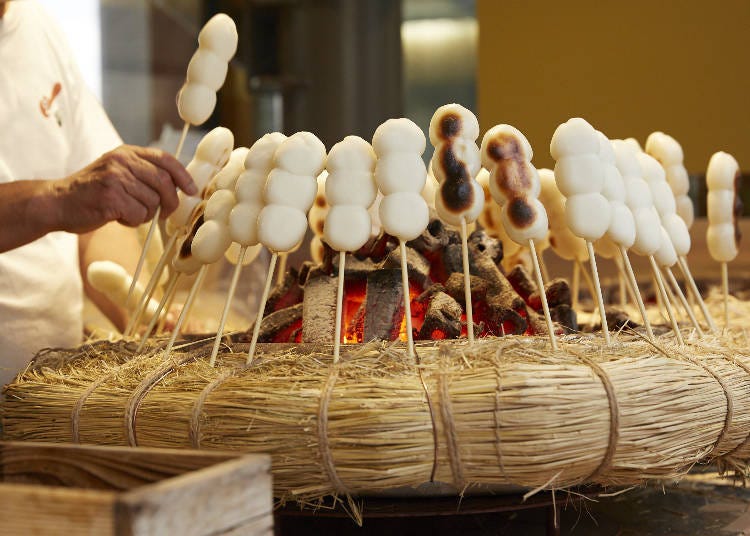 Daifuku, kofuku, and yufuku are types of Japanese dango, or sticky rice dumpling dessert. Collectively known as "Mitsufuku Dango", the trio are among the more well-known specialty food of Mount Takao, and each skewer costs 350 yen (including tax). The "Takaosan Sumika" soba shop just a little ways from Takaosan Station is where you can get your hands on them. Slowly grilled over a charcoal fire, the chewy dumplings are stuffed full of a specially made walnut filling you won't find anywhere else.
Bring home the popular "Mount Takao Cheese Tart", rich and as crispy as can be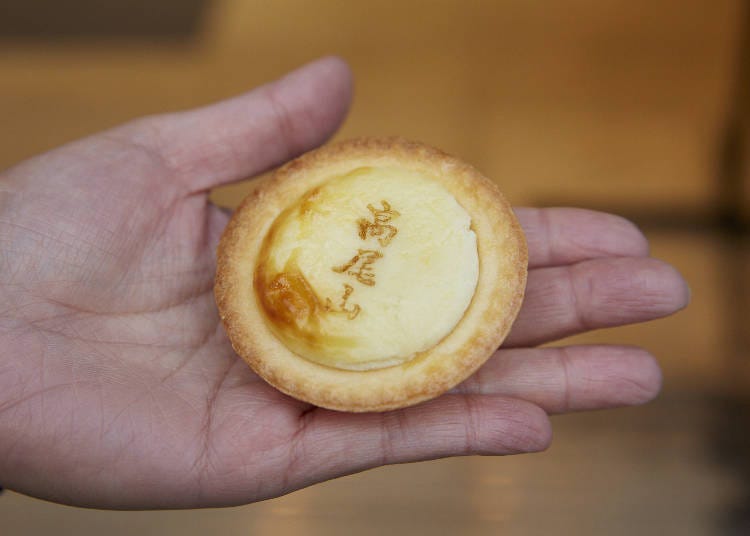 A "Mount Takao Cheese Tart" costs 250 yen (including tax) is made from a blend of three types of cheeses from Hokkaido, France, and Denmark. The cheese blend is then stuffed into tart dough that has been baked to a perfect crisp. They can be purchased from Takaosan Sumika's Tengu Shop. The tarts stand out as excellent even among the wide range of Japanese confections available for sale in Mount Takao. Tucking into them fresh from the oven right at the shop itself is one way to enjoy them, but we also recommend buying some home to eat chilled!

・Stationmaster Machida's Recommendation!
"Takaosan Sumika is the most popular shop on Mount Takao, and visitors expect to join long queues with no qualms at all. In fact, I personally recommend the 'Tengu-Yaki' - a Japanese pastry shaped like a Tengu. The 'Tengu-Yaki' that's in the form of Karasu Tengu is stuffed with black bean filling, and is quite popular among those who don't like sweet dessert, or can't take adzuki or red bean paste."
Hot Spot 5: More Fun to Be Had on Your Way Down! Takao 599 Museum Promotes the Appeal of Mount Takao
Alas, it's time for us to make our way down on our return trip. But wait! There are more places of interest to visit near Takaosanguchi Station, the most prominent of them being Takao 599 Museum.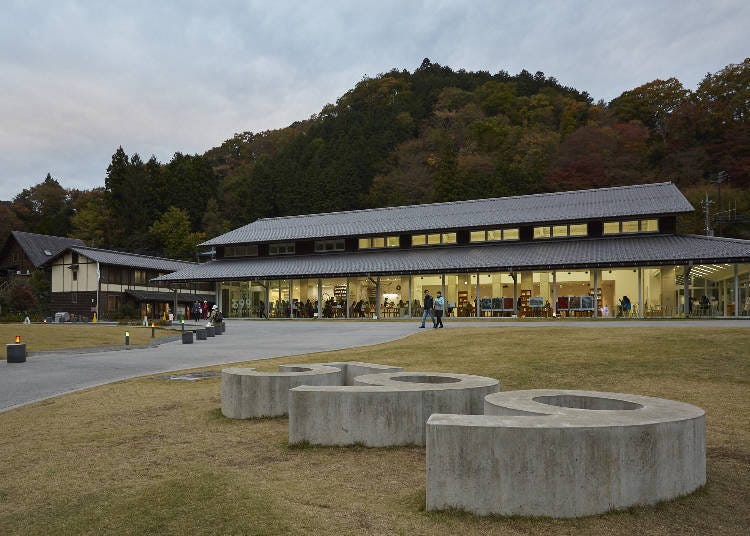 Takao 599 Museum features three-dimensional exhibits about Mount Takao's thriving ecology that are enhanced with projection mapping technology. It's a sensory-type of museum where you can get to personally experience the appeal of Mount Takao. Amenities include a cafe and large lawn spaces for those wanting to lounge and relax, and a splashing pool for children to enjoy as well! Entry is free of charge and it's an excellent pit stop for visitors either before they head up or after coming down from the mountain.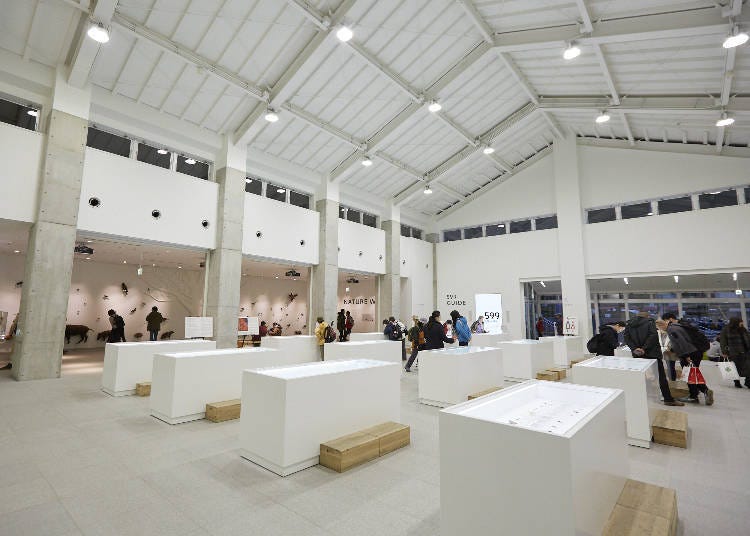 ・Stationmaster Machida's Recommendation!
"Inside the museum is something called Nature Wall, which is decorated with stuffed specimens of animals that can be found on Mount Takao like flying squirrels, Japanese monkeys, and wild boars, all framed by decorative Japanese beech, said to be the symbol of Mount Takao. Using projection mapping technology, the face of the wall is always changing into different scenes featuring Mount Takao's four seasons. It's definitely worth a visit! The museum is equipped with English announcements and visitors of all nationalities are welcome."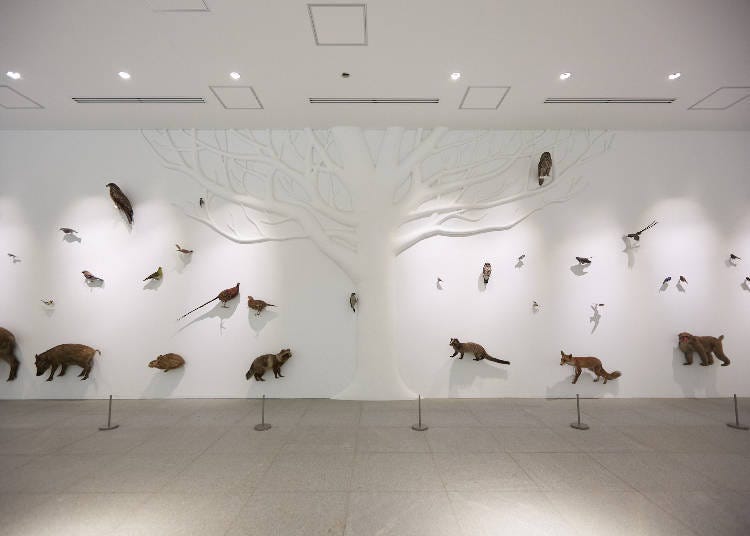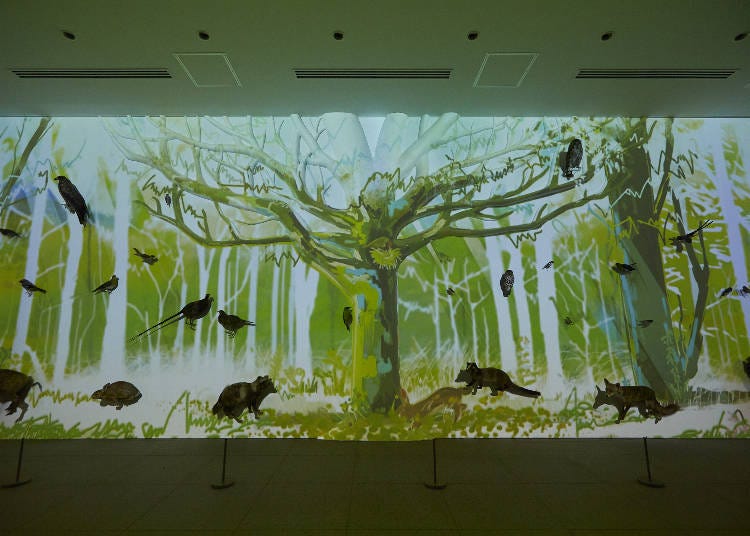 Hot Spot 6: Looking for an Outrageous Photo Op? Look No Further Than Mount Takao Trick Art Museum!
One more place you have to visit on your trip to Mount Takao is the Mount Takao Trick Art Museum. This is the largest trick art museum in all of Japan, featuring a full array of artwork in the style of trompe l'oeil, or optical illusions, an art technique that was established during the Renaissance. You'll find curious installations like floating temples and Tengu using his powers to shrink and enlarge people. The ability to insert yourself into the artwork being displayed is always the most exciting and mind-blowing part of trick eye museums, so don't miss this stop if you're in the area!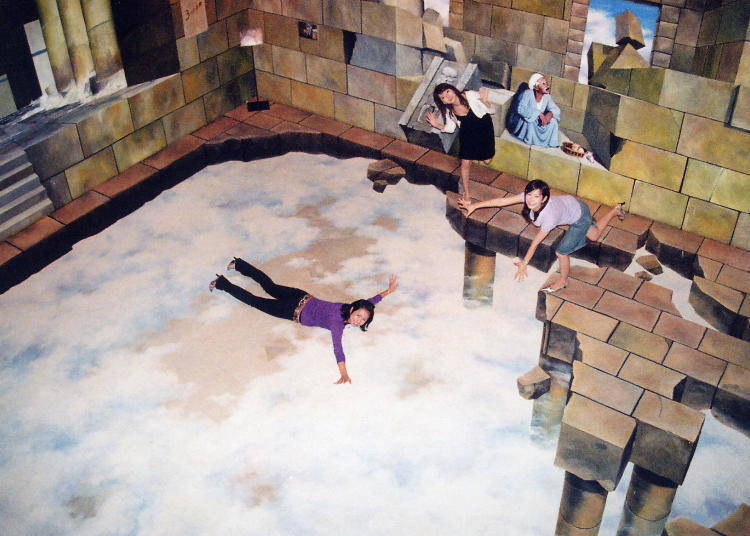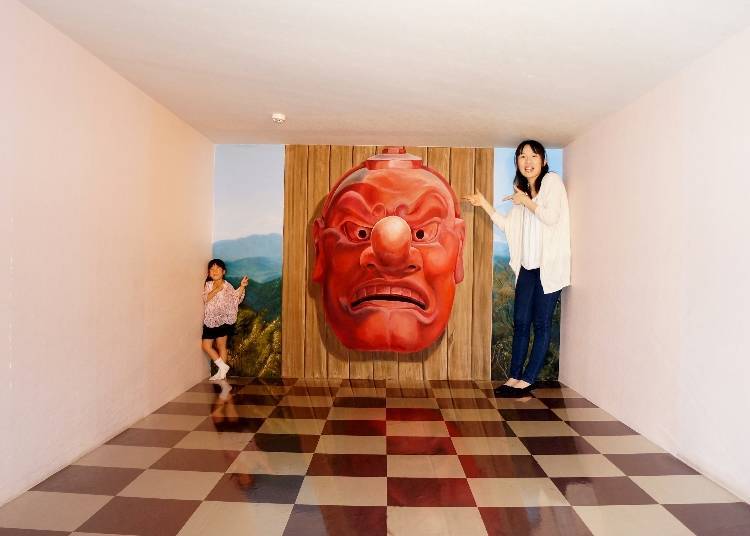 ・Stationmaster Machida's Recommendation!
"The museum was established in 1996 and has plenty of installations that use optical illusions to trick the visitor while tickling them pink about being tricked at the same time! You should be able to finish wandering the museum in about an hour, so it's a great place to drop by on your way down from Mount Takao if you're tired and want to do something relaxing. Photographs are allowed, so take as many outrageous ones as you like!"
Hot Spot 7: Soak Your Fatigue Away in the Hot Springs of "Keio Takaosan Onsen Gokurakuyu"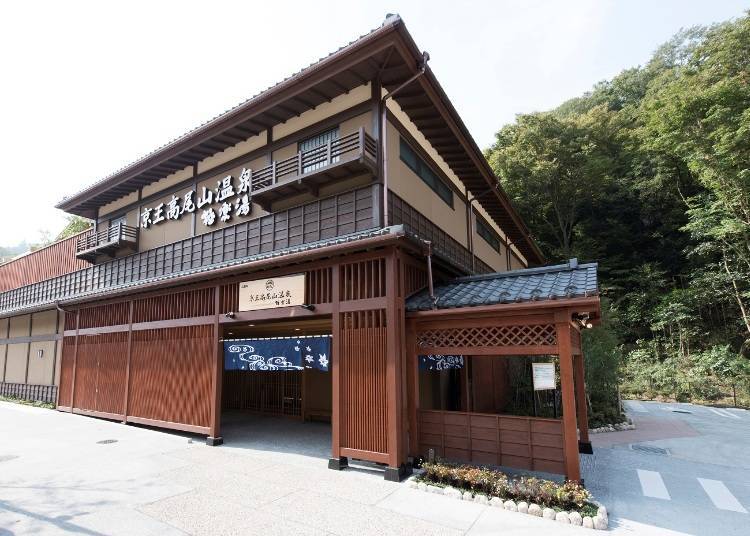 You could do no better than to make "Keio Takaosan Onsen Gokurakuyu" your final stop. Gokurakuyu is just adjacent to Takaoyamaguchi Station on the Keio Line, and is renowned for its bathing facilities. This includes an open-air, natural rock beauty hot spring, a carbonated hot spring bath, saunas, and many others.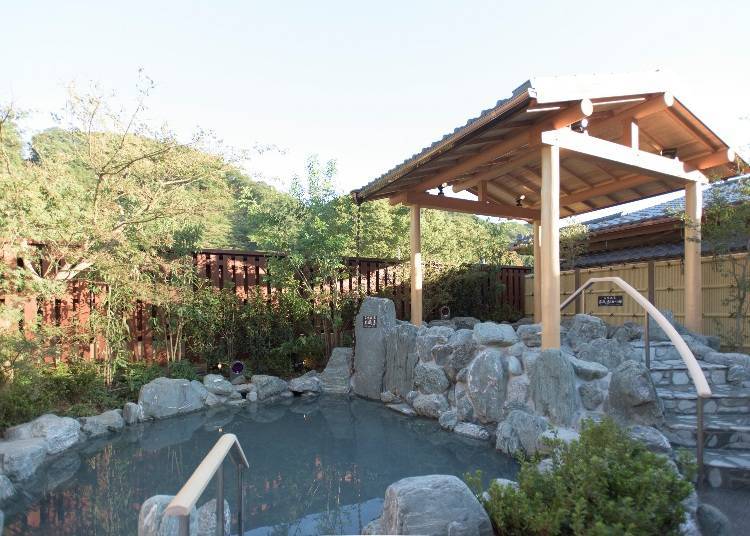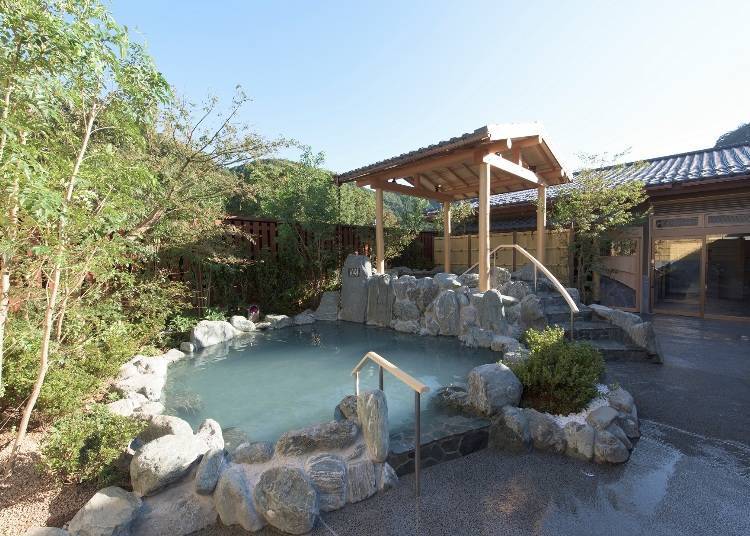 Inside the facility's eatery, you'll find local favorites like the "Mount Takao Set Meal" and "Grated Yam Soba", both of which use Mount Takao's specialty grated yam as ingredient. Other delicacies include tasty side dishes, daily set meals, ramen, and loads of other sumptuous treats. If you're feeling thirsty, you can always order a beer, sour, Japanese sake, or other beverages. The restaurant offers great dessert and kid's meals too! International visitors will be comfortable ordering food here, as English menus are available and most food items have an accompanying photograph for illustrative purposes as well.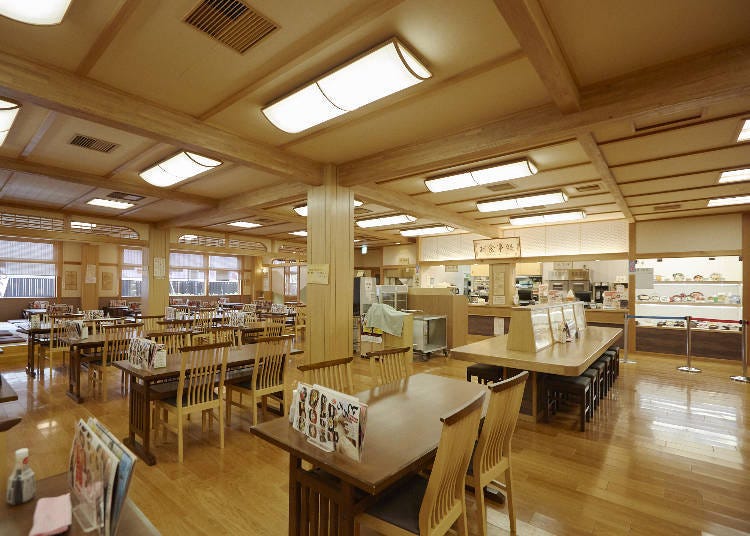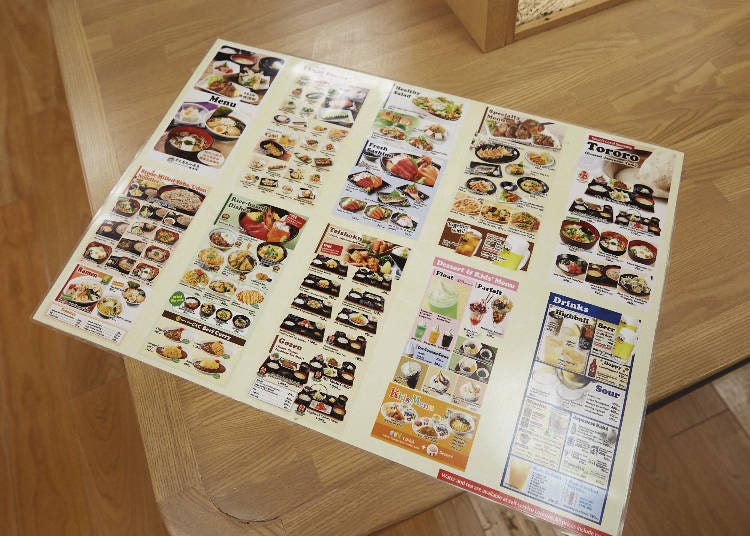 You can always pamper yourself with a body, foot, or calf massage at "Hogushi-sho". The massage courses will take anywhere between 20 to 80 minutes depending on your preference.

"Utatane-sho" is where you can go for quick breaks after food or a massage. Feel free to lie down on the tatami mats to just relax, or get some shut-eye as the name of the place, utatane (snooze) suggests!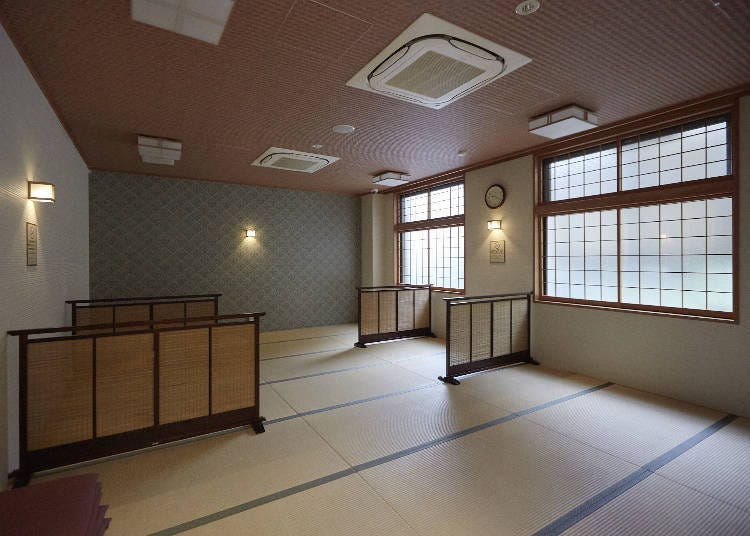 Inside the building, there's an electronic bulletin board that displays the next train departing on the Keio Line, which is an immense help for visitors who may accidentally miss their trains because of how relaxing the whole experience has been!
・Stationmaster Machida's Recommendation!
"The hot spring facility is open from 8:00 a.m. to 11:00 p.m. every day, so there's no need to rush. Take your time with a good, long soak and relish some of Mount Takao's specialties like chilled tofu or thick-cut beef tongue along with some beer before setting off back home."

So, we've gone to all the hottest spots in Mount Takao and found out that with its beautiful natural sights, relaxing hot springs, and great gourmet food, there's really no lack of things for visitors to do here! Come and spend a fun-filled day at Mount Takao. We guarantee you won't regret it!

(Article written by: Matsumura Chiemi / Photos by: Ishikawa Yoshikazu)

*This information is from the time of this article's publication.
*Prices and options mentioned are subject to change.
*Unless stated otherwise, all prices include tax.
Limited time offer: 10% discount coupons available now!