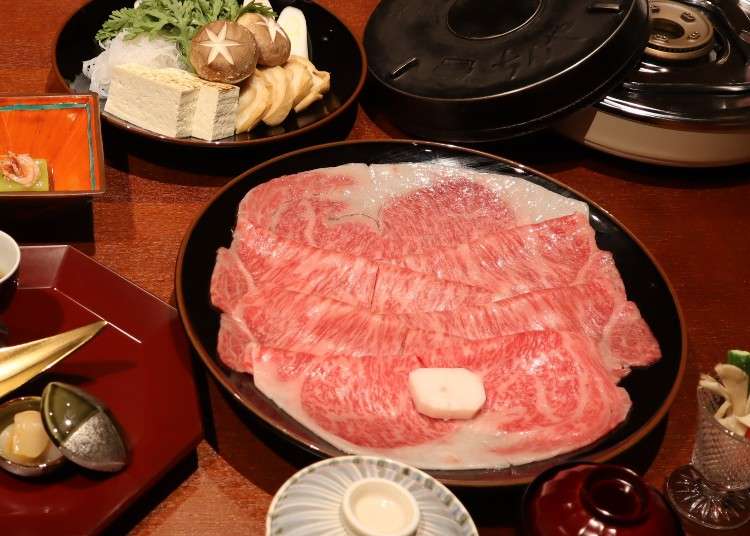 Sukiyaki is one of Japan's stand-out dishes. Often considered a symbol of the country's development, it remains a beloved treat for Japanese people and those throughout the world.

One of Japan's most well-established sukiyaki restaurants sits within Tokyo's sightseeing district of Asakusa. This is Chinya, whose good name has been passed down the generations for 142 years.

After a brief closure in 2021, it reopened in March 2022 to great acclaim! And we were lucky enough to be invited for a sneak peek before the reopening.

Let us guide you through the history of this world-class dish as we check out the restaurant's revamped location!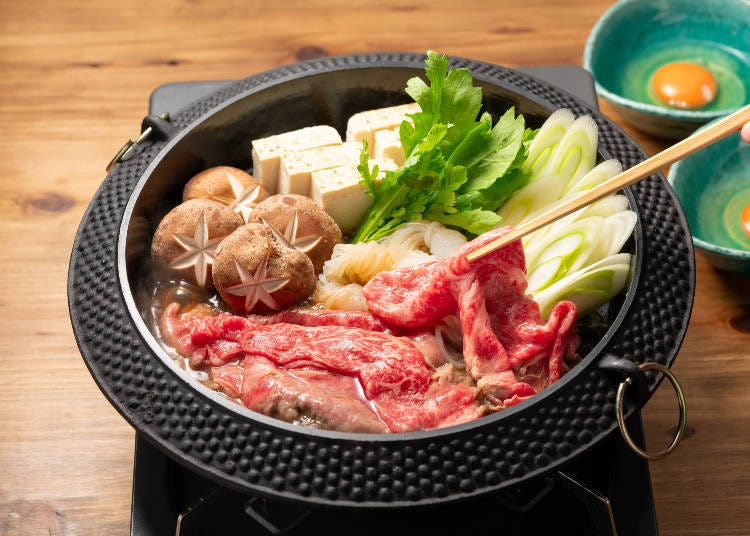 Image is for illustration purposes only (PIXTA)
Sukiyaki became widely popular in Japan during the beginning of the Meiji period (1868-1912). It originated from a type of simmered hotpot called "gyunabe," consisting of beef and onions.

This dish evolved alongside the modernization of the Meiji Restoration, exploding into popularity after the meat prohibition order was abolished by Emperor Meiji.

It found a particular following in the heavily populated Asakusa area, with over 500 outlets said to have been serving the dish in Tokyo alone by 1877.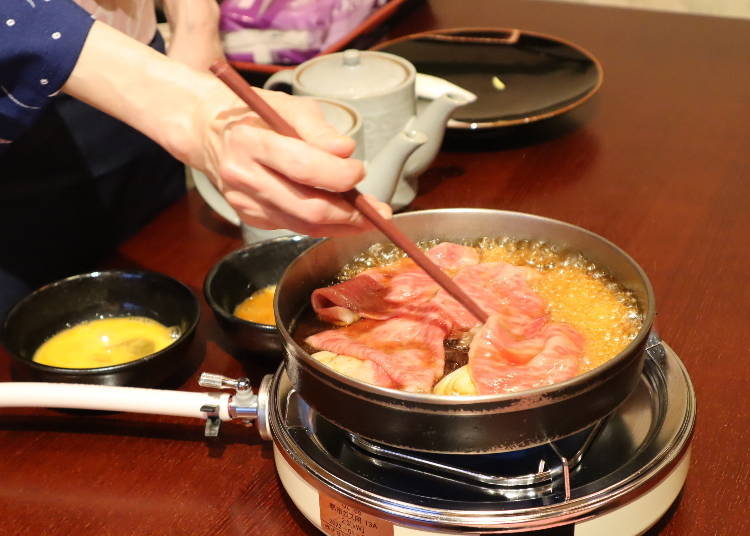 Sukiyaki itself was actually born in Japan's midwestern region of Kansai and spread to Kanto, changing the gyunabe dish of the time into the sukiyaki we know.

However, even today, a distinctive Kanto-style and Kansai-style of sukiyaki remains, with the former grilling the meat while a sauce called "warishita" is added to be simmered with vegetables.

Kansai, on the other hand, combines meat with soy sauce, sugar, and other seasonings and quickly cooks it, then adds vegetables and simmers/fries them. Putting it simply, Kanto uses warishita sauce, and Kansai doesn't.

Incidentally, there are lots of scenes in the popular anime and manga Rurouni Kenshin of the characters eating gyunabe. Sukiyaki is truly a representative of Japan!
Chinya - Sukiyaki specialty restaurant established 142 years ago in Asakusa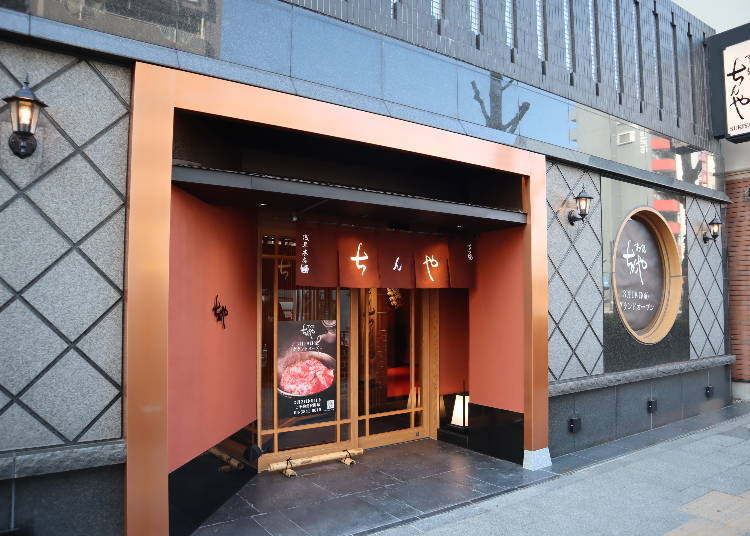 With 142 years of history, Chinya are experts in traditional Kanto-style sukiyaki. It started as an eatery in 1880, catering to locals in Tokyo's Asakusa district, before becoming a specialized sukiyaki restaurant in 1903. While adored ever since, natural deterioration combined with the effects of COVID-19 forced its doors closed in August 2021.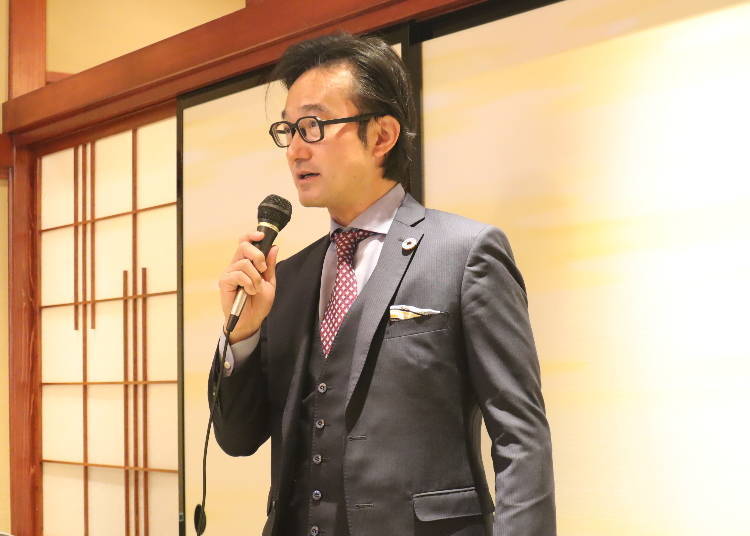 Ken Shimizu, President of WDI Corporation.
However, letting Asakusa's oldest sukiyaki restaurant simply disappear would have been a tremendous loss.

Feeling that something must be done, WDI Corporation, which develops restaurants in Japan and abroad, joined forces with Chinya and helped move the establishment to a new location within the same area of Asakusa.

Chinya reopened on March 18, 2022, diligently continuing to serve their legendary sukiyaki and "shabu shabu."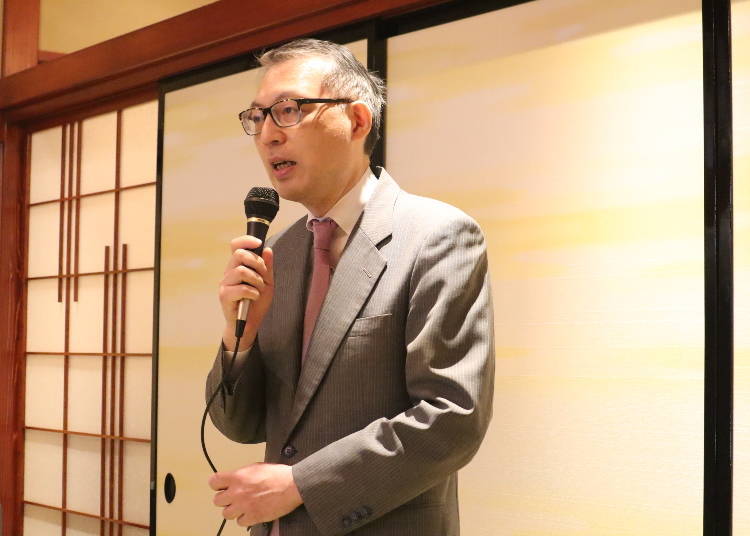 Fumihiko Sumiyoshi, the 6th generation proprietor of Sukiyaki Chinya.
Fumihiko Sumiyoshi, the 6th generation proprietor of Chinya, says, "sukiyaki is the food closest to one's memories."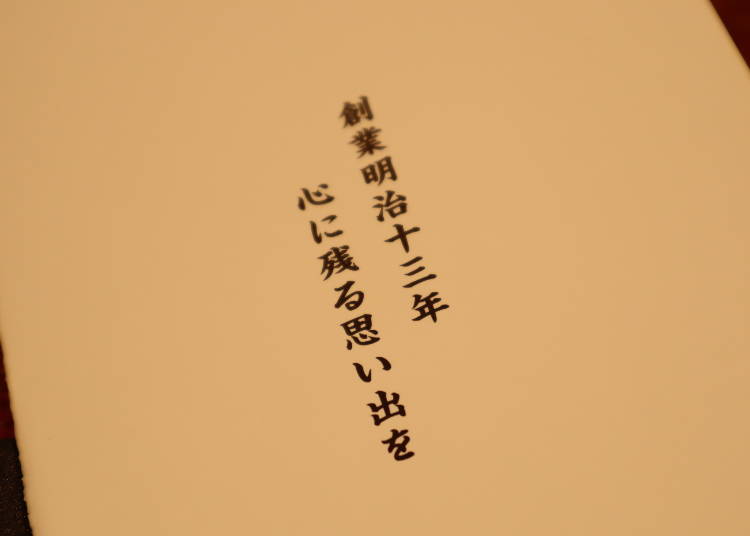 For Japanese people, sukiyaki is not an everyday dish. It's something relished at an anniversary, celebration, or special event. "Sukiyaki is about those extraordinary days, when everybody gathers around a hot pot to eat and create unforgettable memories. We aim to be a restaurant where people can return for the same taste they had during those wonderful moments," said Fumihiko.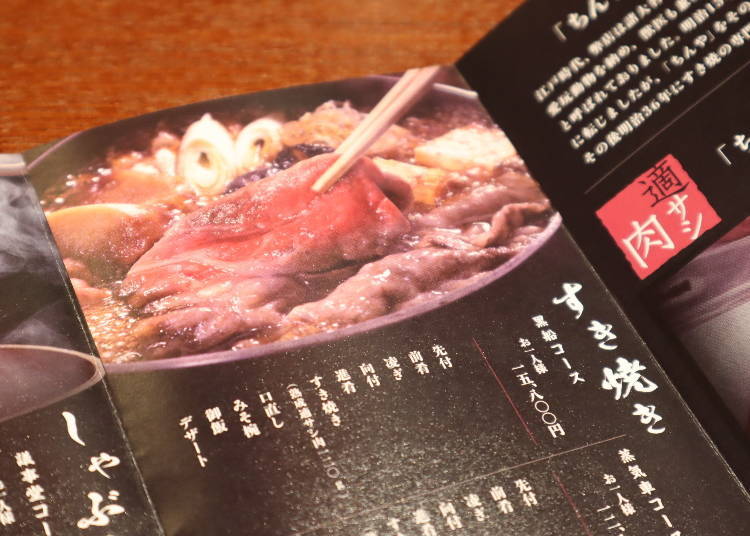 With the reopening, more than half of the staff, including the head chef, have moved to the new location, while the menu, tastes, and traditional methods remain the same.
Specially selected, perfectly marbled meat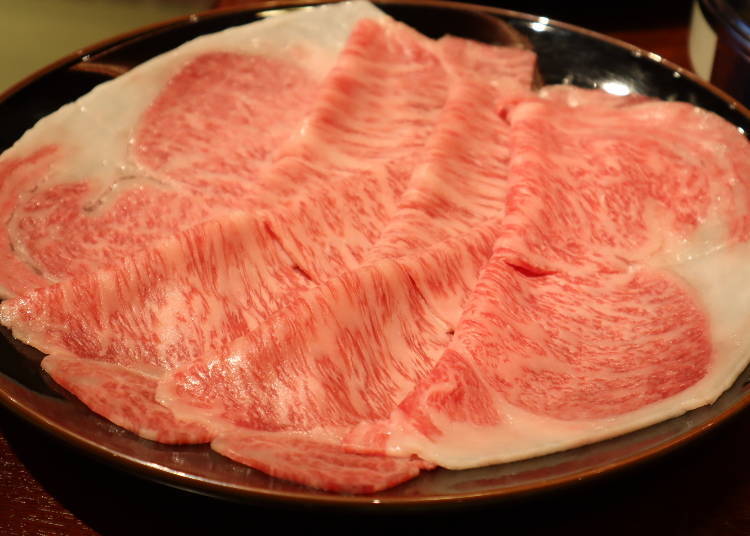 Behold, Chinya's exquisite sukiyaki! The secret to its superb taste is the "perfectly marbled meat." This means that the marbling (fat within the red meat) is at the ideal balance - not too much or too little. Chinya are so serious about this that they've even trademarked the phrase "perfectly marbled meat" in Japanese.

Their definition of perfect is actually less fatty than A5-ranked meat, instead preferring the balance coming from rank 4 Japanese Black cattle, which is aged to intensify the fragrance and flavors. This kind of meat is easy to digest and won't lie heavy on the stomach, making it suitable for even those not used to marbled meat.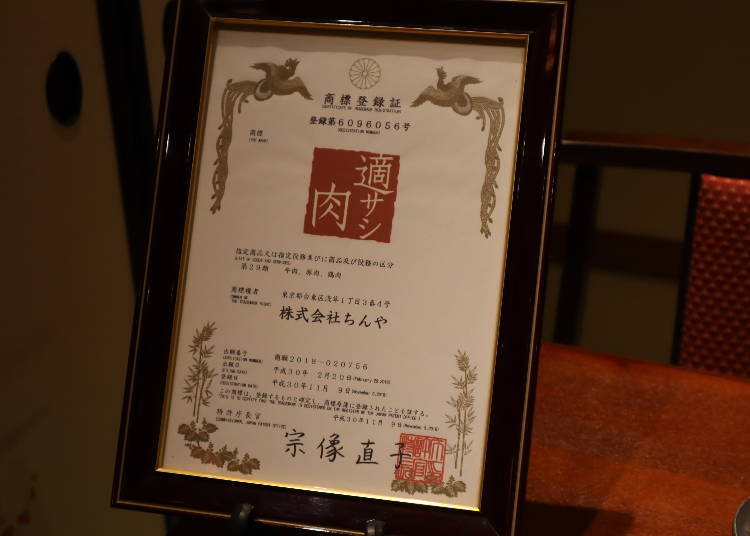 Not limiting themselves to a single region of cattle, Chinya purchases entire Japanese Black cows that meet their stringent quality and marbling demands.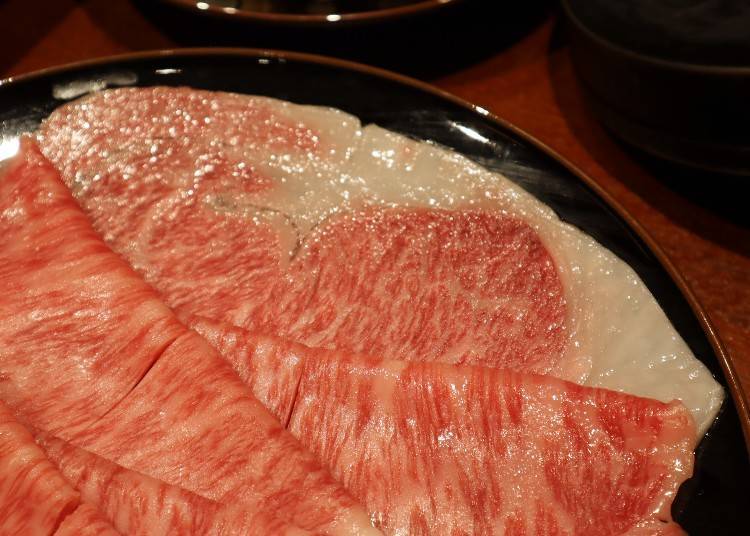 High-quality meat has fat with a low melting point - even starting to melt at room temperature! When served, the meat on the plate already glistens with fat melted into the meat.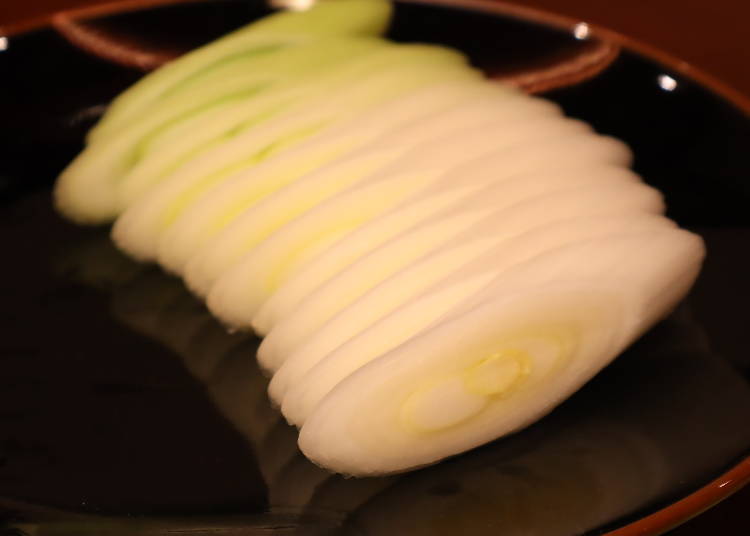 And Chinya doesn't just stop at meat - the type of leek used in their sukiyaki is of the famous "Senju Negi" heirloom variety, which is carefully chosen at the specialty Senju Leek Market in Adachi City, Tokyo. With a thick, meaty texture and potent fragrance and flavor, they play an essential role in Chinya's sukiyaki.
Cooked to perfection by staff
The Chinya staff handle all the cooking and will ensure the sukiyaki is served at its peak. First, they spread beef fat on a specialized iron hotpot to fry up the Senju Negi.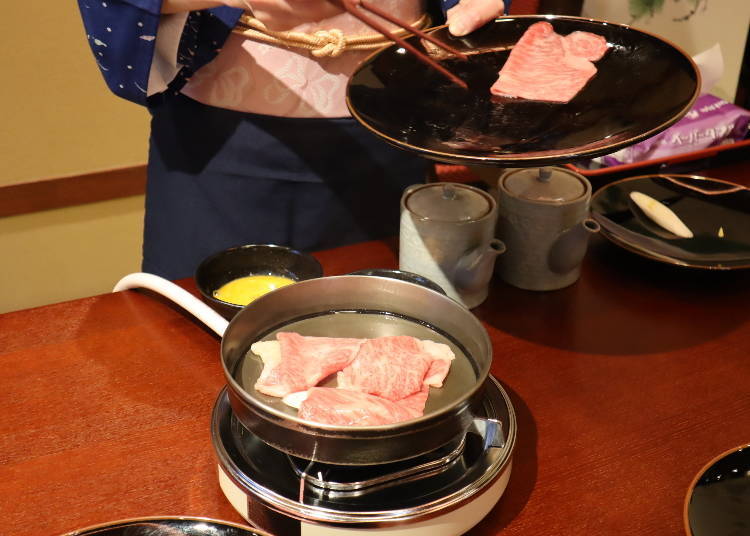 Frying the Senju Negi first ensures its fragrances thoroughly engulf the meat, which is subsequently placed on top.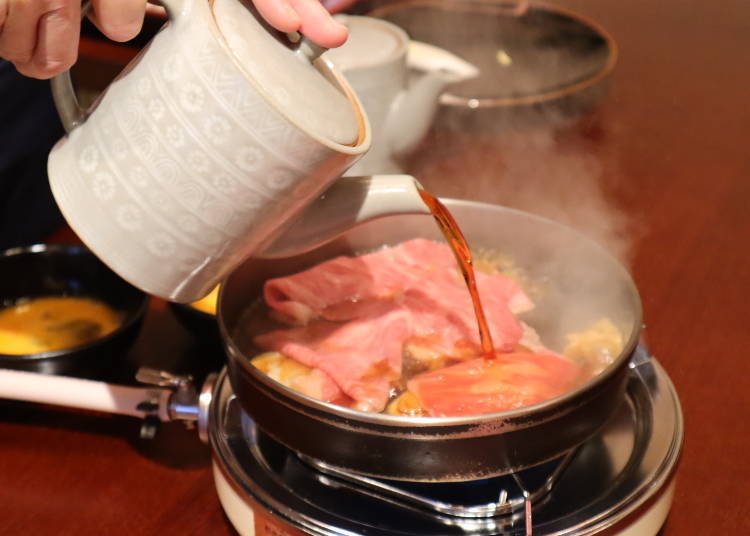 Next, the specially made warishita sauce (a mixture of soy sauce, sake, sugar, mirin, and dashi stock) is added, and the meat is fried.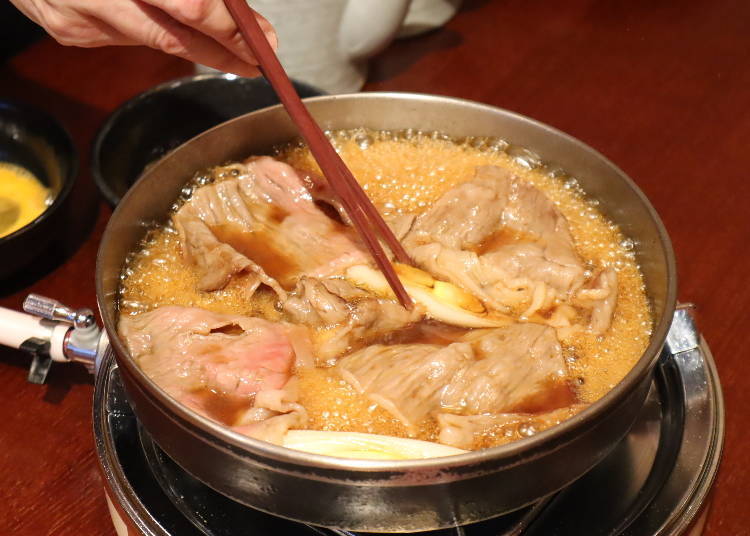 The beef is simmered and fried in a flash.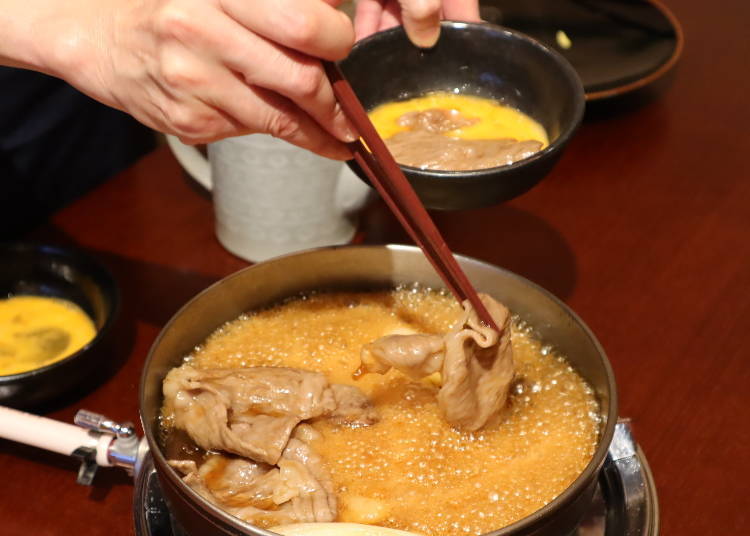 The beef is then lifted out of the pot at the moment where a hint of rawness remains and immediately sat in raw egg.
Beef and raw egg - The true flavor of sukiyaki!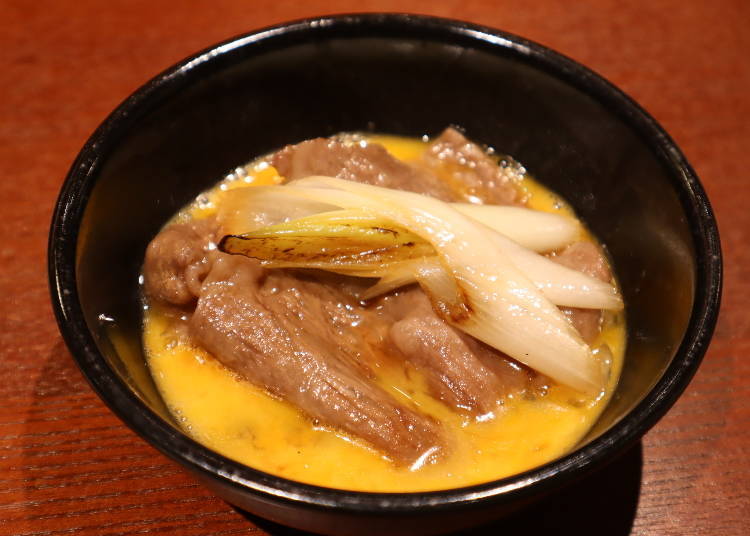 And that is how sukiyaki at Chinya is done! The sweetness of the fat and sauce spreads throughout the palate, culminating in an action-packed, juicy mouthful. With both a melting softness and firm, meaty bite, it's impossible to be left unsatisfied with sukiyaki. The Senju Negi also kicks in an added helping of sweetness and fragrance, providing the final touches to this scrumptious bowl.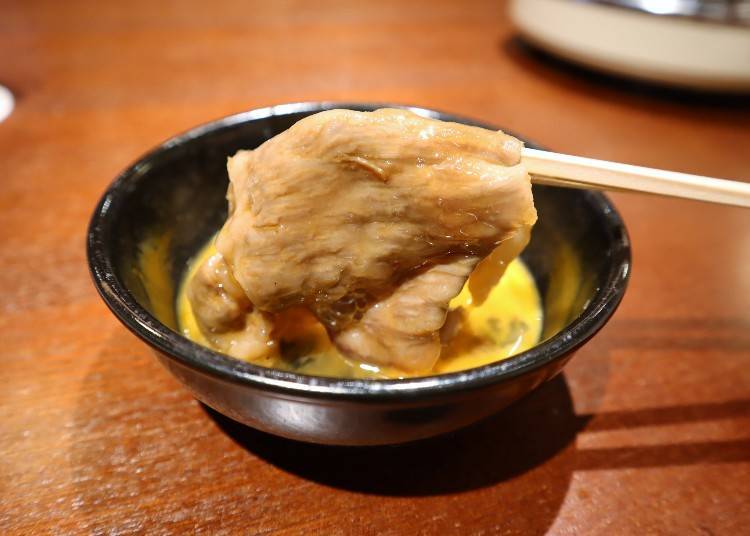 While many might be squeamish about eating raw eggs, it's perfectly safe! The sauce-covered meat enriched by egg forms the true flavor of sukiyaki. If you're in Japan, definitely don't miss out on the chance to get your fill!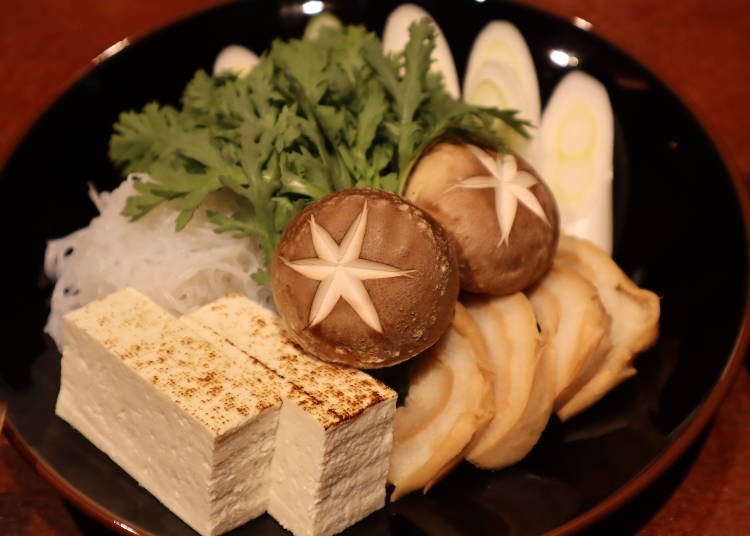 Alongside meat, you can continue eating with a variety of additional ingredients, like tofu, edible chrysanthemum, shirataki noodles, and more.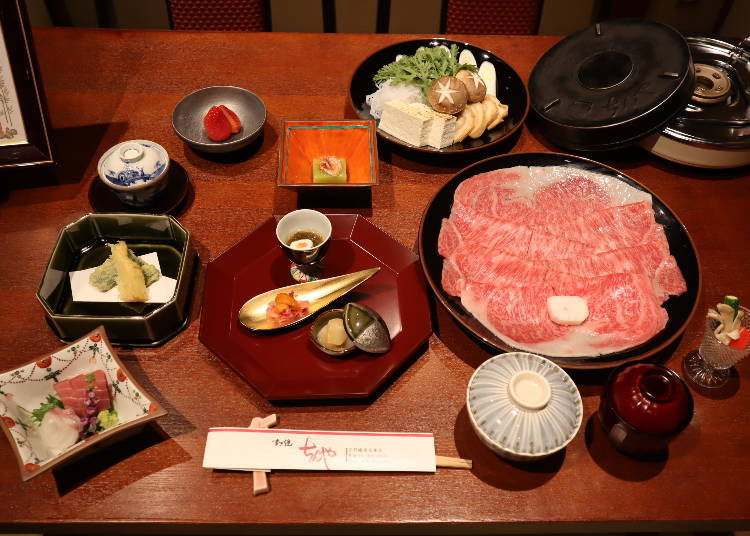 This is an example of sukiyaki at Chinya - the "Ekibasha Course" (10,800 yen/person).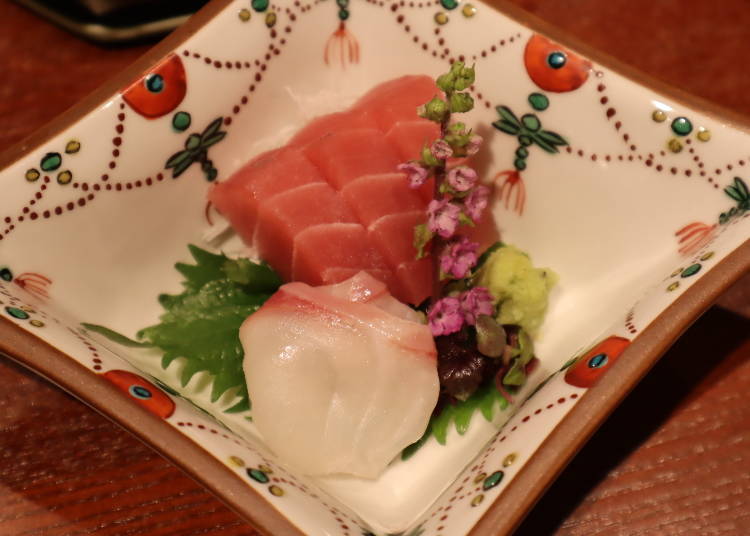 In addition to sukiyaki, Chinya also serves sashimi, tempura, side dishes, rice, and desserts. Of course, individual portions of sukiyaki are also available for those who want the main specialty.
Relish retro Japan through Taisho Era aesthetics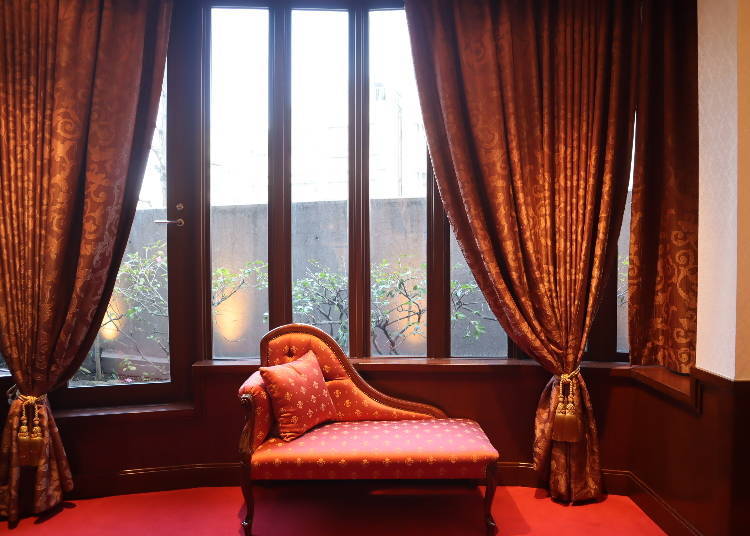 Putting aside the delectable gourmet offerings, the revamped restaurant interior is also worth mentioning.

The distinctive atmosphere, art, and ideals of the turbulent Taisho Era (1912-1926), when Japan rapidly westernized, is painstakingly recreated through the finely crafted architecture, layout, and furniture.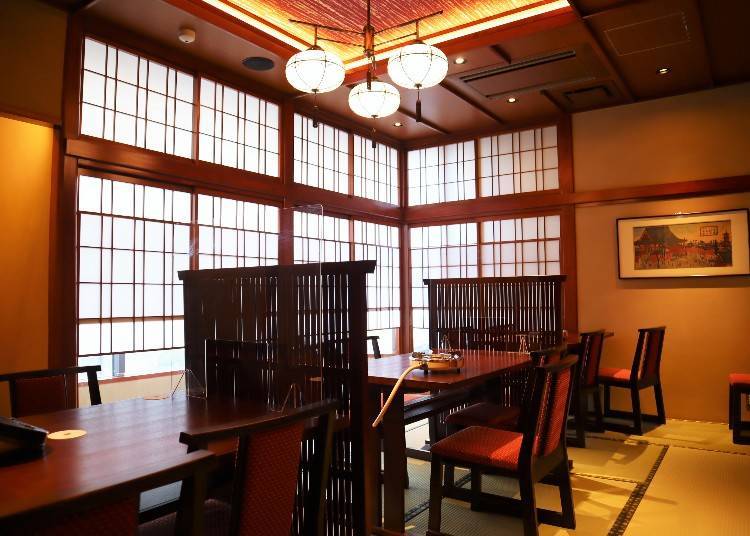 While difficult to draw your eyes away from the mountains of food, you'll surely delight in the tapestry of ornaments, decorations, and trimmings that form this warm, rustic atmosphere.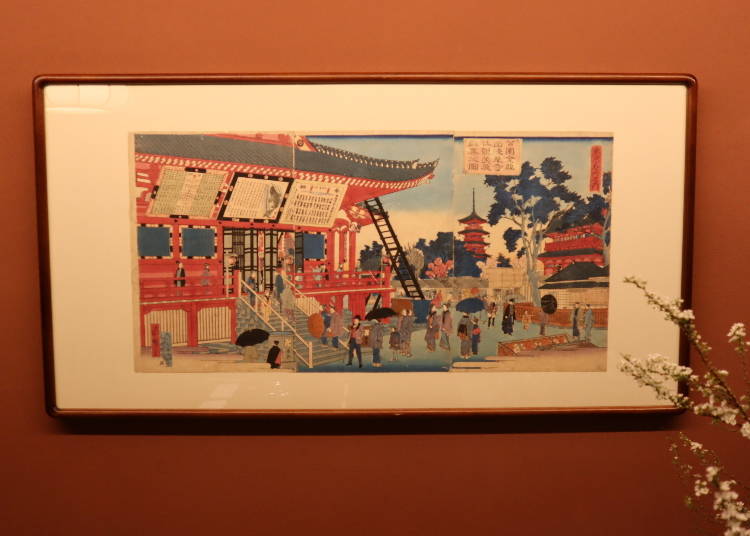 There is even an authentic piece by famous Japanese ukiyo-e artist Hiroshige.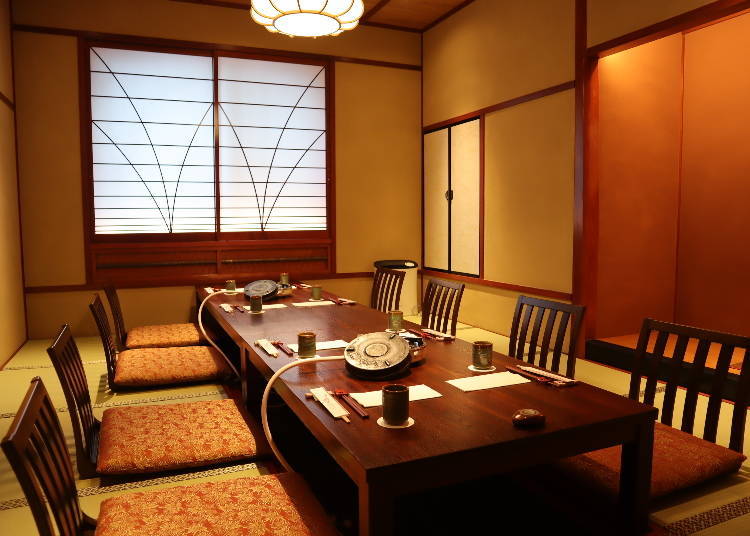 The Japanese-style private room.
There are three private rooms, each flaunting its own unique aesthetic and name taken from the ancient districts of Asakusa: Kisakata, Matsuchiyama, and Saruwaka. Here you can let loose and take your time to feast with friends and family (max ten people, 4,000 yen usage fee).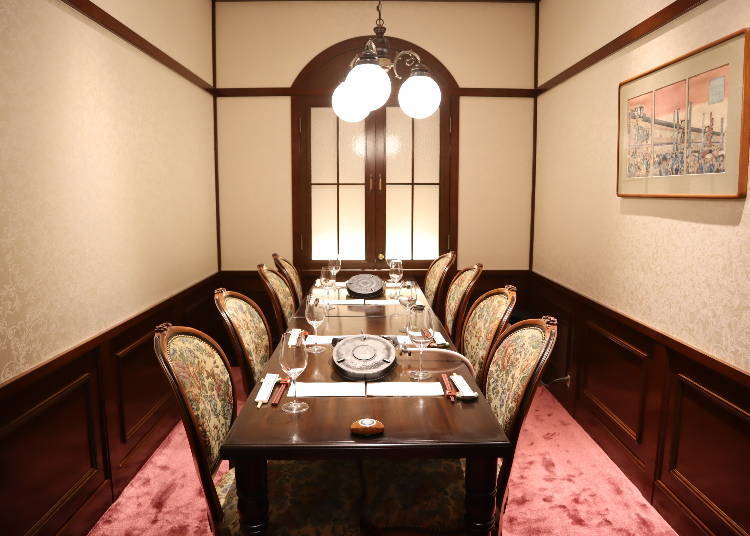 The western-style private room.
With a mixture of Japanese and western cultures, international customers will also feel somewhat at home within the nostalgic interior designs.
Bring the tastes of Chinya back home at the butcher next door!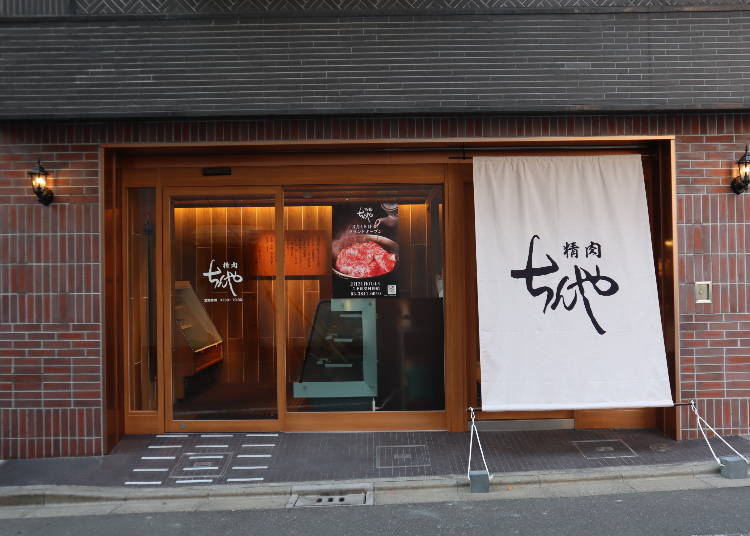 Chinya also runs a joint butcher, selling their signature perfectly marbled meat alongside a variety of additional cuts and original dishes! Naturally, the butcher likewise sources their meat from entire cows, passing rigorous criteria, allowing you to take the flavors of Chinya back to your accommodation to savor another day.
Opened March 18, 2022! Authentic Japanese Sukiyaki at Chinya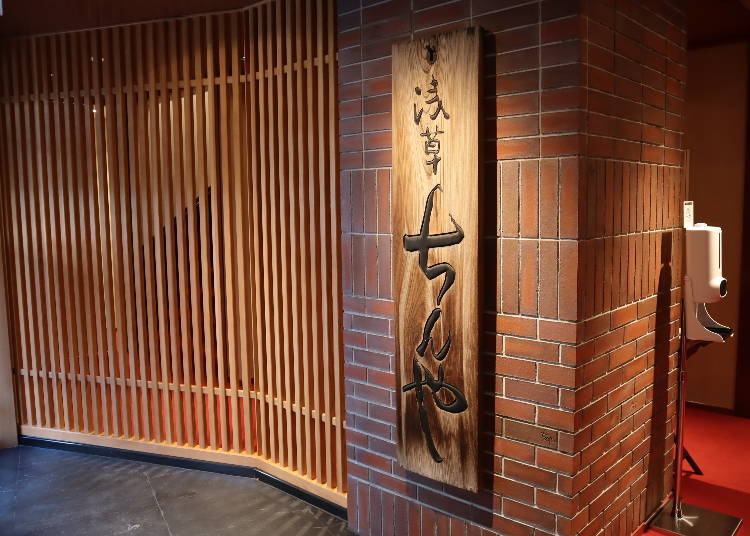 Chinya seeks to pass on the authentic tastes of sukiyaki to the next generation of those living in or visiting Asakusa. With its long history almost cut short, it is now once again imbued with life and ready to embark on a new chapter.

Reopened on March 18, 2022, the official website is taking bookings in multiple languages, keen to serve their incredible sukiyaki meals to keep this culture strong and vibrant.
すき焼き ちんや

Address

2-16-1, Hanakawado, Taito Ku, Tokyo, 111-0033, Japan

Phone Number

03-3841-0010

Restaurant Hours:
- Mon-Fri: 11:00am - 3:00pm/4:30pm - 10:00pm
- Sat/Sun/Public Holidays: 11:00am - 10:00pm
Butcher Hours: 10:30am - 7:30pm
Closed: Irregular
Written by:
*This information is from the time of this article's publication.
*Prices and options mentioned are subject to change.
*Unless stated otherwise, all prices include tax.