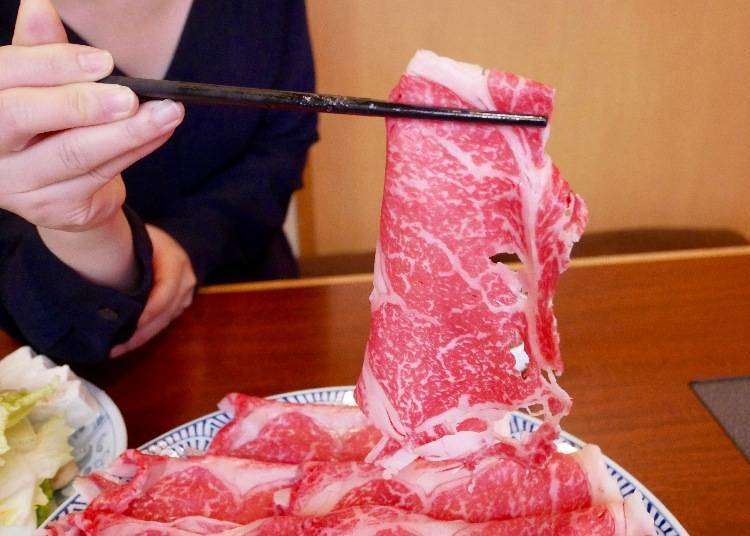 Japanese cuisine is well-known, of course, for sushi, rice, and ramen, but an equally delicious menu option is Japanese beef! It has a unique and delicate flavor that is popular all over the world.

We'd like to introduce a shabu-shabu and sukiyaki restaurant in Tokyo's Ueno neighborhood. At Hachinoki, you can order a sizeable portion for as little as 1,800 yen and a dinner including high-grade wagyu beef costs less than 5,000 yen. If you love beef and want to eat well, read on!
Hachinoki: Ueno Ameyoko's Stunning High-Class Dining Spot for Sukiyaki and More!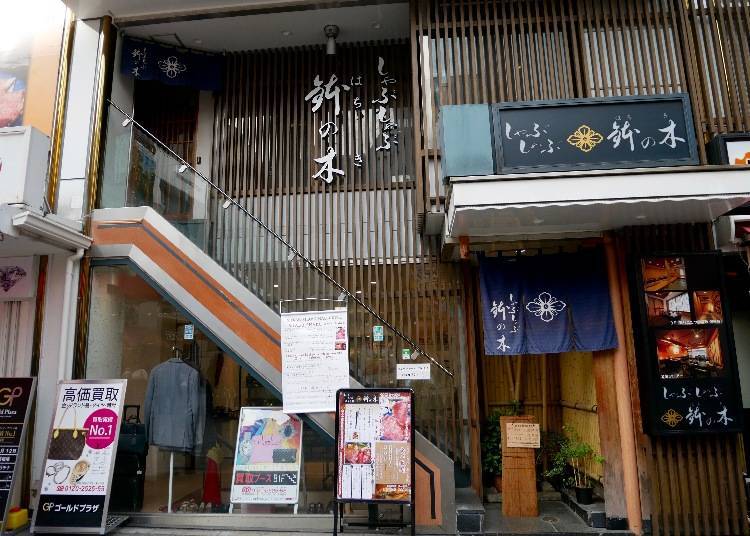 Hachinoki has been in business for over 50 years and is located in Ueno's Ameyoko shopping district.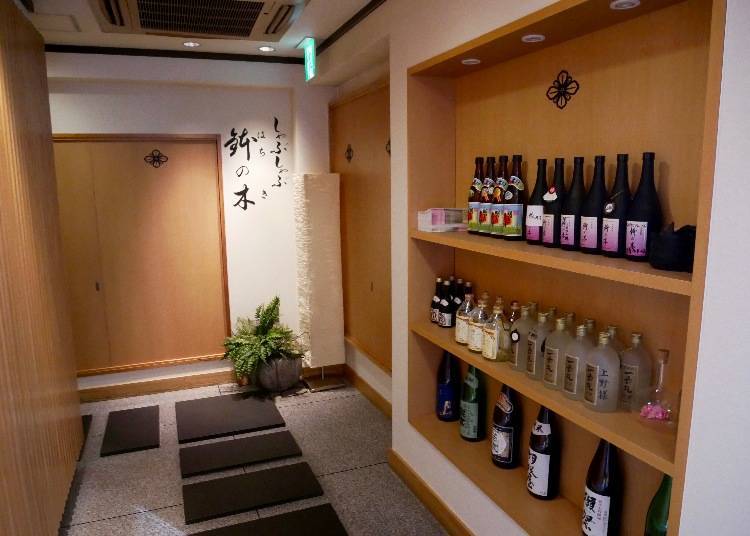 This Ueno sukiyaki restaurant is elegantly furnished. Whether it's the open seating on the second floor or the semi-private tables on the third, all seats are spacious and comfortable. The tradition and reputation of the restaurant are evident, and the employees are friendly.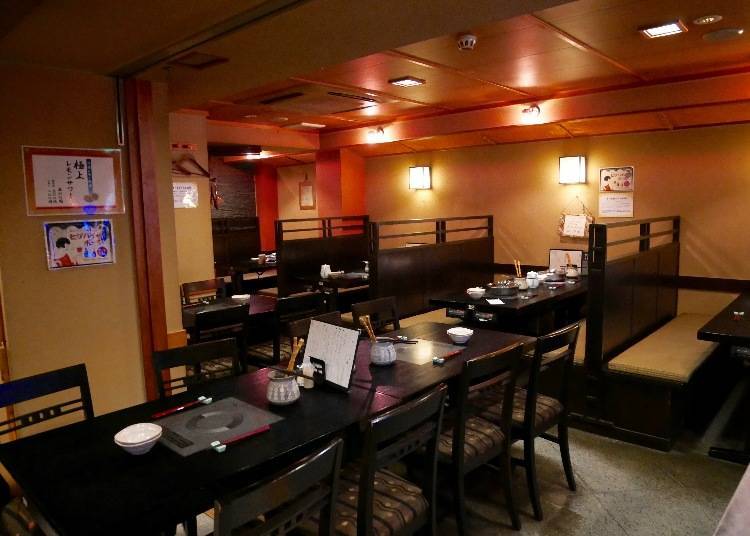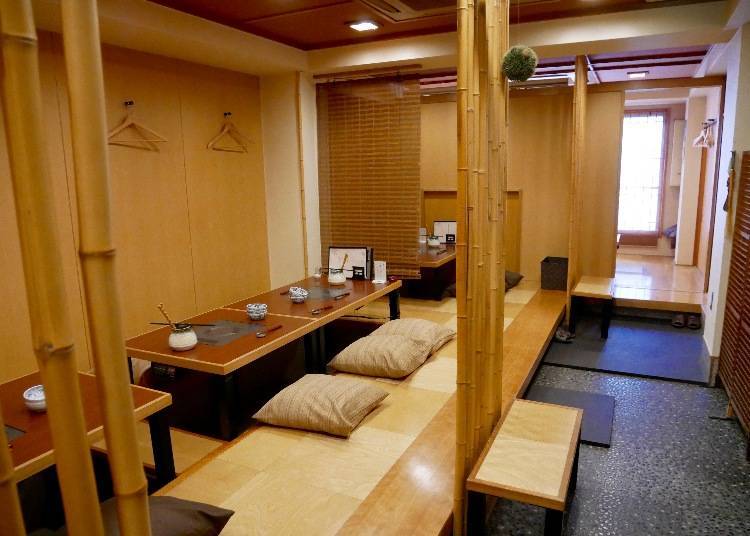 The tables and rooms on the third floor are also very suitable for parties including children or senior citizens. After a day of exploring Ueno and its many tourist attractions, Hachinoki offers an excellent balance of delicious food, relaxing atmosphere and reasonable prices.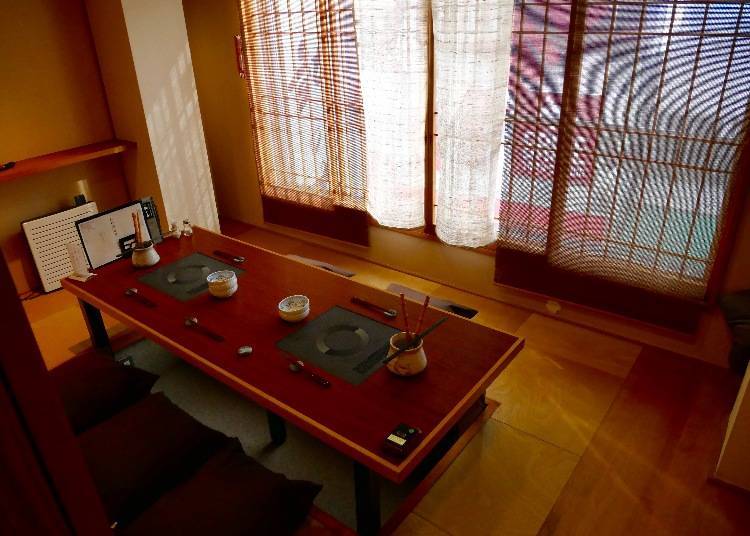 Although Hachinoki has been somewhat overlooked by tourists, it has enjoyed an excellent reputation among locals, especially for its solid cost performance, and its popularity has grown by word of mouth.
Value Priced, High Grade Wagyu Beef – Eat More & Eat Well!
Many hot pot restaurants try to fill up their guests on side dishes, but not at Hachinoki. Here, beef is what it's all about! Today's recommendation is the marbled A4 wagyu beef Shabu-shabu course.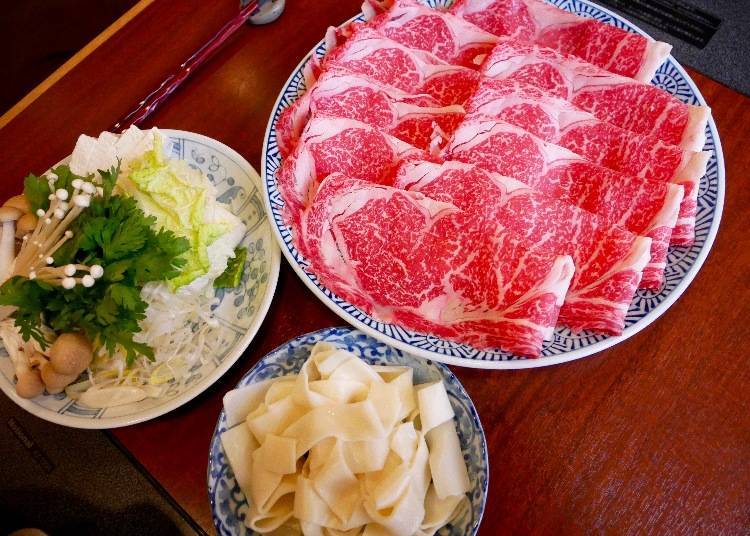 Just look at how beautiful the beef is in the photo above! The grade of beef can be judged from its firmness, meat color, fat marbling, and fat color. Above, the beef is firmer, the meat is bright red, the marbling is even, and the fat is white – all signs of good quality beef. Hachinoki serves delicious high-grade A4 and A5 beef, freshly stocked daily from Tokyo's famous Shibaura market.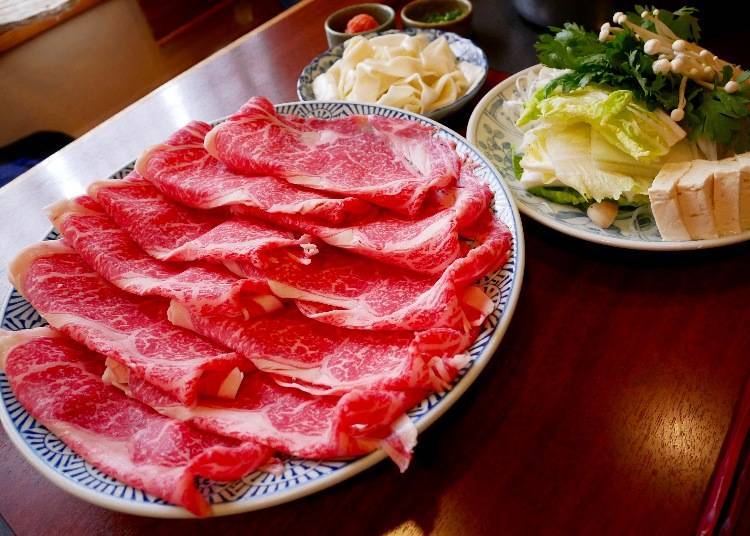 From the side, you can see the thickness of the portions, and each slice is about the size of one's hand. Such generous portions are a big reason why Hachinoki is so loved!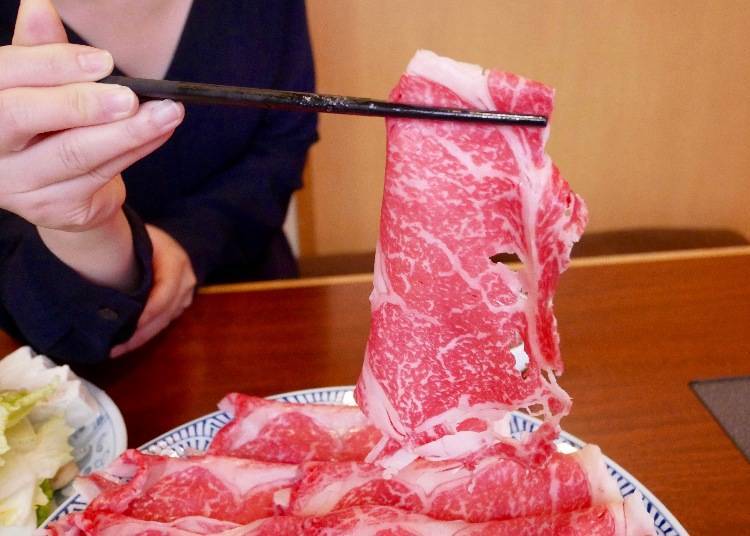 Find The Delicious Secret to High-Grade Japanese Shabu-shabu in Ueno!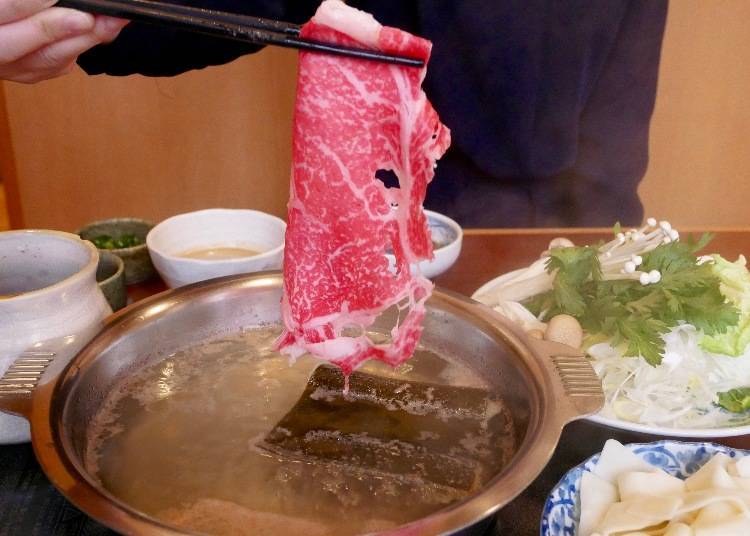 In other Asian countries, shabu-shabu style meals are often prepared by putting vegetables into the boiling pot of water, and then adding meat. In Japan, that process is reversed. The Japanese philosophy is that the meat is the main ingredient and that the vegetables might dilute the meat's flavor.

The correct method is to first dip the meat into the broth, gently moving it back and forth. About 3 or 4 seconds after then meat's color changes, add sauce.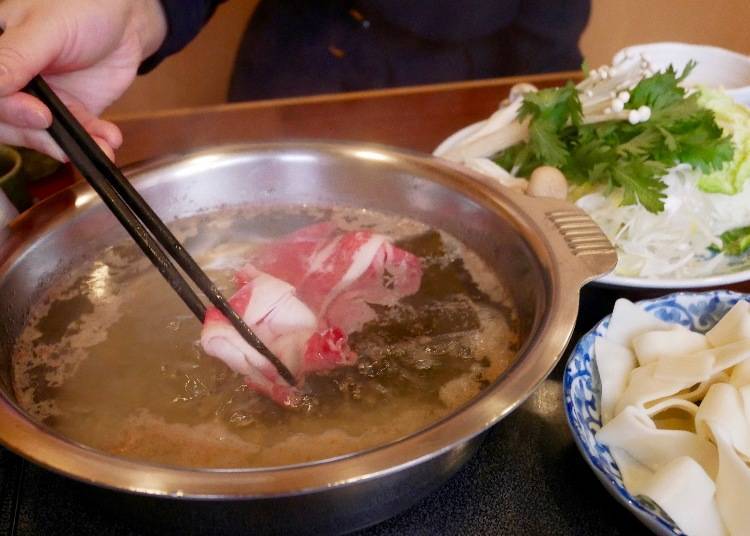 It doesn't take long for the beef to turn a nice pinkish hue, and it's ready to enjoy. This is when it's most tender, but if you prefer to boil it a bit longer that's ok – just be careful not to leave it for too long or you'll waste the best qualities of high-grade beef!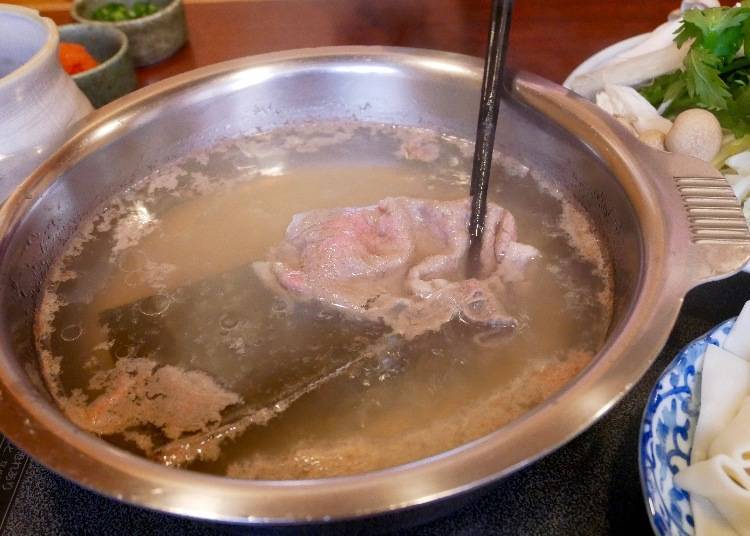 Another important cooking technique for Japanese-style shabu-shabu is to avoid putting all the meat into the pot at once. Also be sure not to let the slices bunch up so they'll all be cooked evenly. After the sauce is added, the meat should be eaten almost immediately, but don't burn your tongue!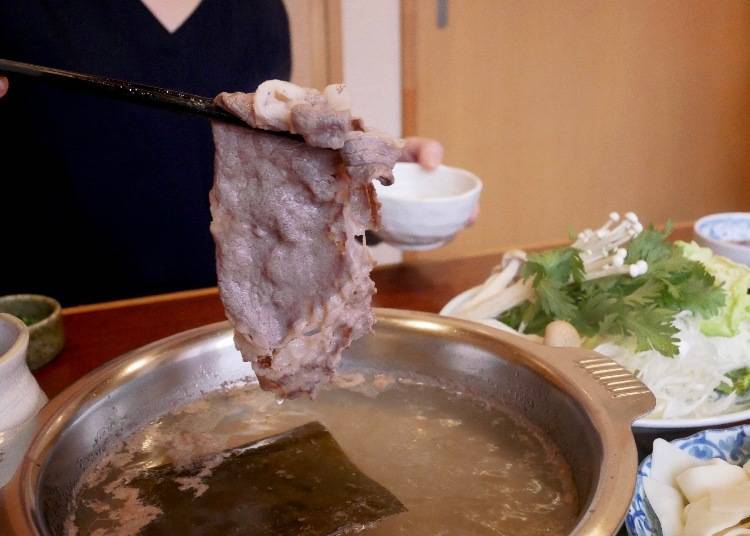 After tasting the beef and sauce, you'll come to understand what a pleasure it is to eat Japanese beef. The taste and delicate aroma of the tender meat is impressive.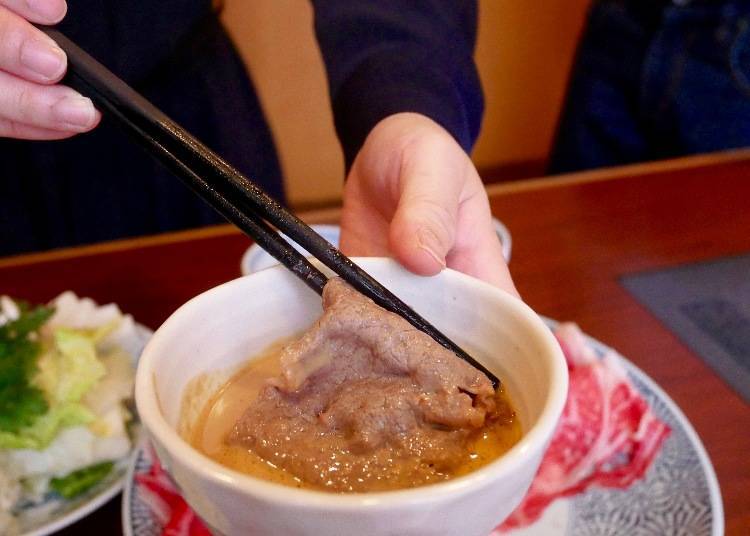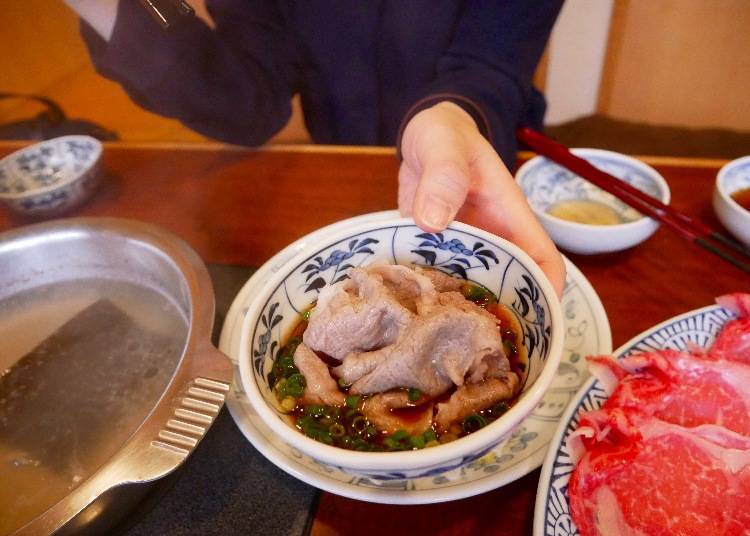 The kitchen staff prepares two kinds of sauce: sweet and sour vinegar, and sesame. Both are delicious.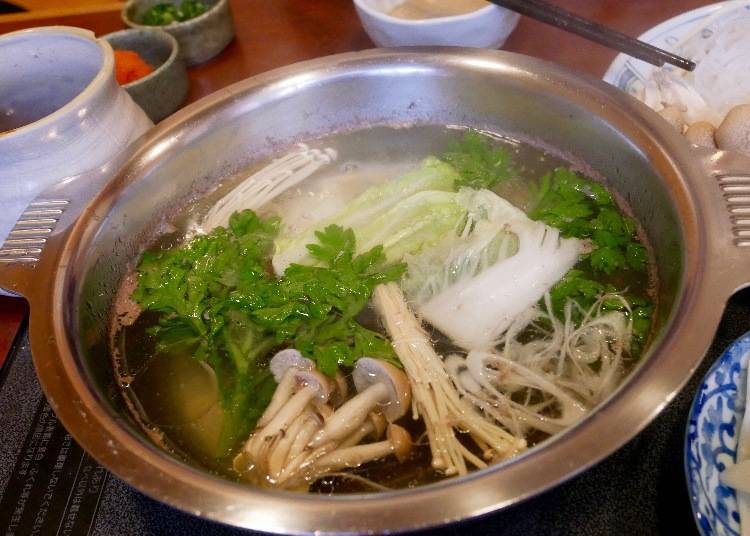 After the meat is almost finished, you can add the vegetables! The vegetable dish includes sage, cabbage, enoki mushrooms, eringi mushrooms, and tofu. All are produced in Japan, and the quality and freshness are second to none.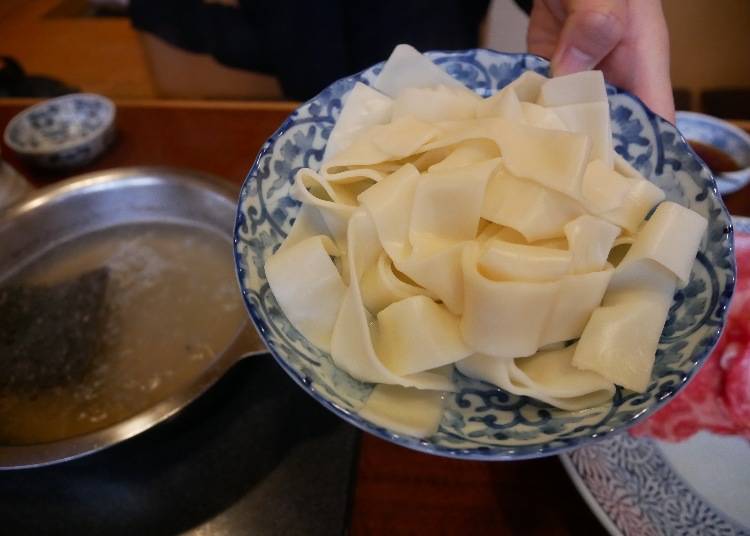 Finally, specially prepared noodles from Kiryu City in Gunma Prefecture are served. These wide noodles are very thin and smooth. Japanese people add noodles at the end of the hot pot, let them soak up the flavors of the pot, and then eat the noodles as a perfect ending for the hot pot.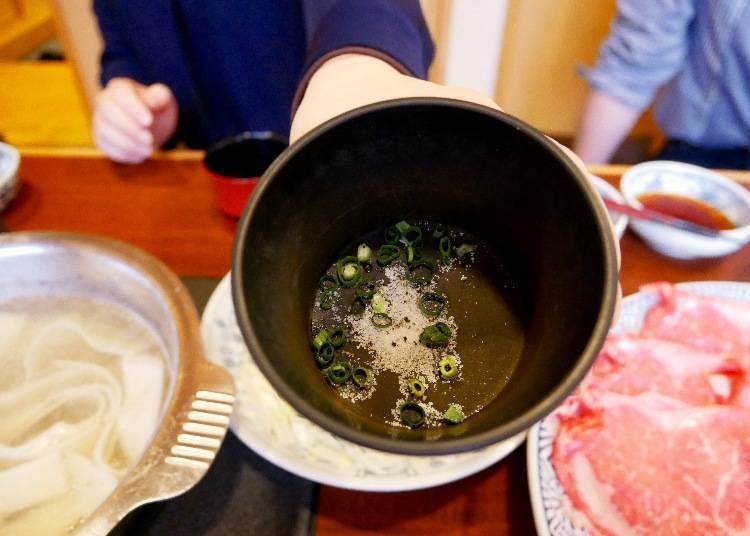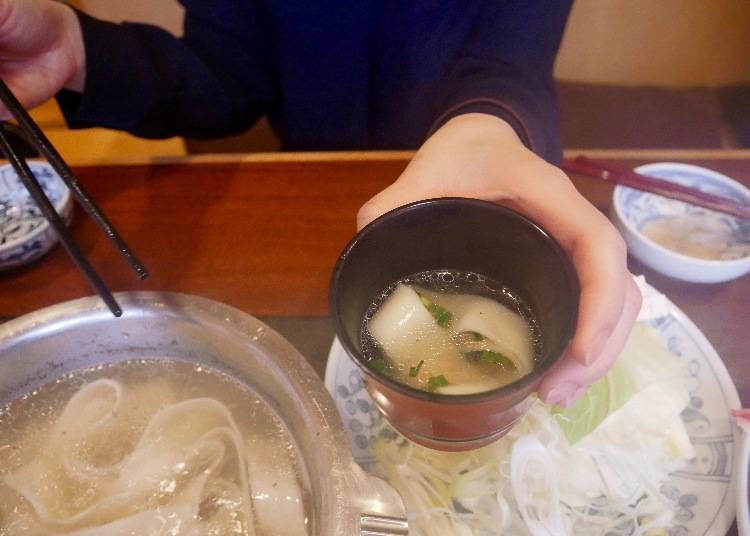 The noodles are cooked slightly, put into a small bowl with salt and chopped green onions, stirred slightly, and then eaten like a mini ramen. This small bowl of noodles not only warms the stomach, but also the heart.

Beef Shabu-shabu Dinner
4,800 yen (excluding tax)
Meal time is 120 minutes, and the last order is 30 minutes before the end
Delicious Sukiyaki Lunch in Ueno at a Great Price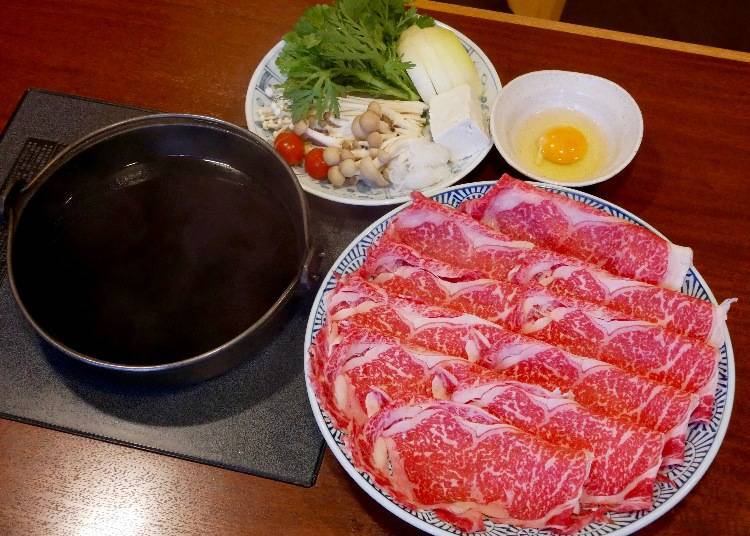 Note: The amount of meat pictured is a double order.
Another highly recommended Hachinoki dish is their sukiyaki pot, which uses the same A4 beef as the Shabu-shabu. Sukiyaki sauce is made of soy sauce, sugar, and miso. The proportion of each is very important for properly prepared sukiyaki. The standard technique for eating sukiyaki is first put the meat into the sauce. After the rich flavor is absorbed, the meat is immediately dipped in the egg. This harmonious blend of meat, sauce, and egg will have your taste buds dancing.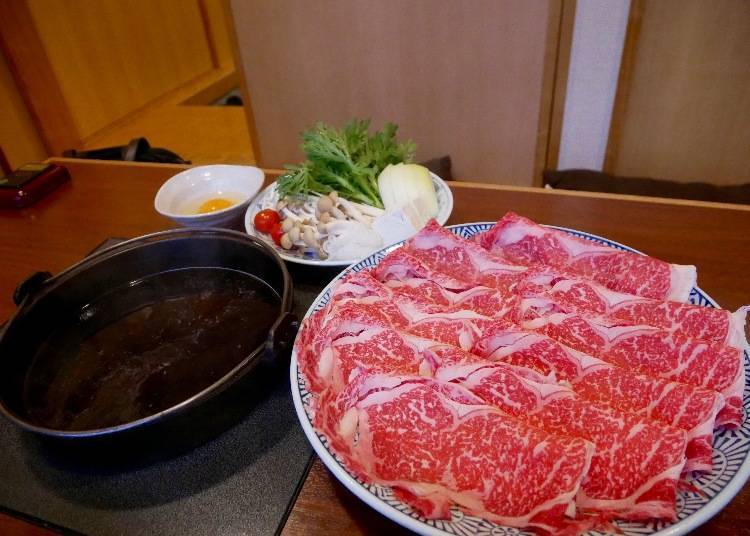 Although Hachinoki's sukiyaki lunch isn't large – about 100 grams of beef – it is satisfying. The lunch set also includes a vegetable plate with sage, cabbage, enoki mushrooms, eringi mushrooms, tofu, and cherry tomatoes. These all taste great when cooked in the sukiyaki sauce!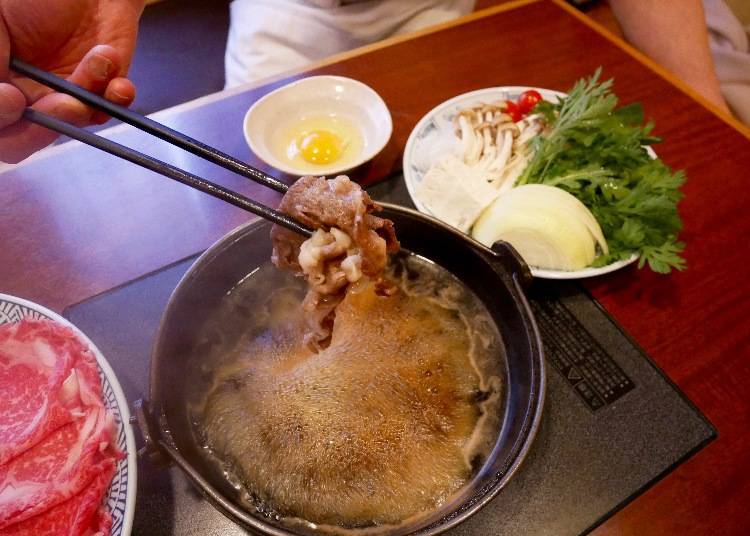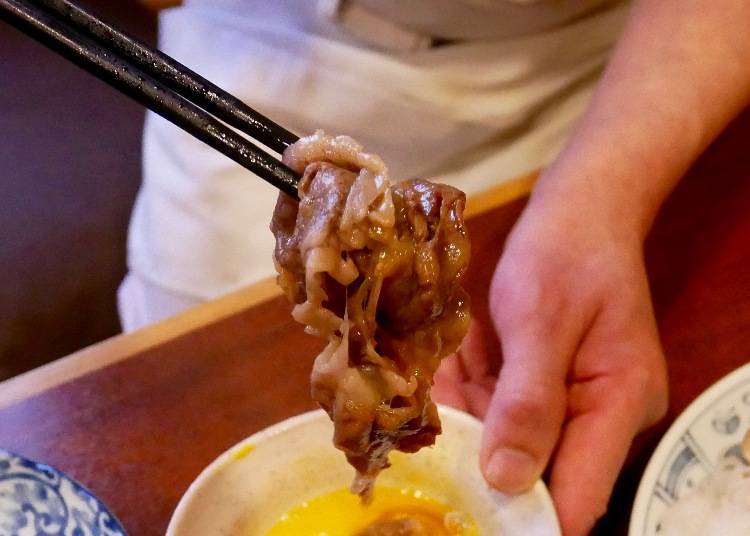 Sukiyaki was originally eaten during celebrations in Japan and the 1,800 yen price of Hachinoki's sukiyaki lunch is also a cause for celebration. If you're in Ueno, be sure to stop by for an afternoon meal the whole family will enjoy.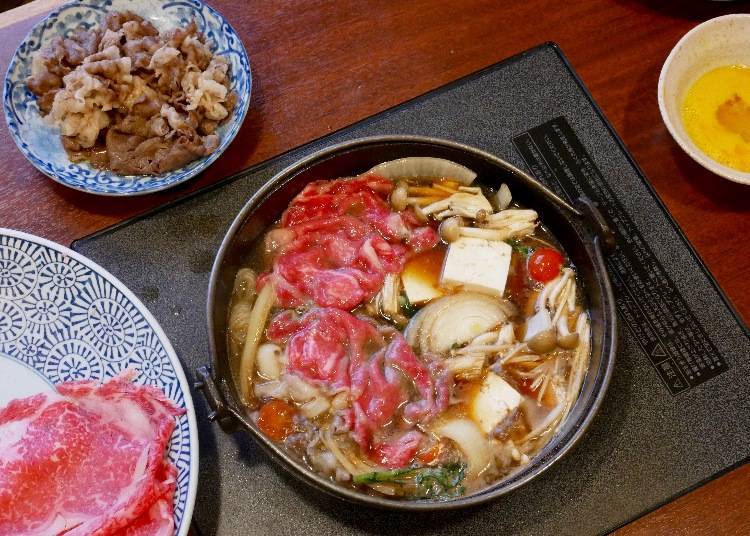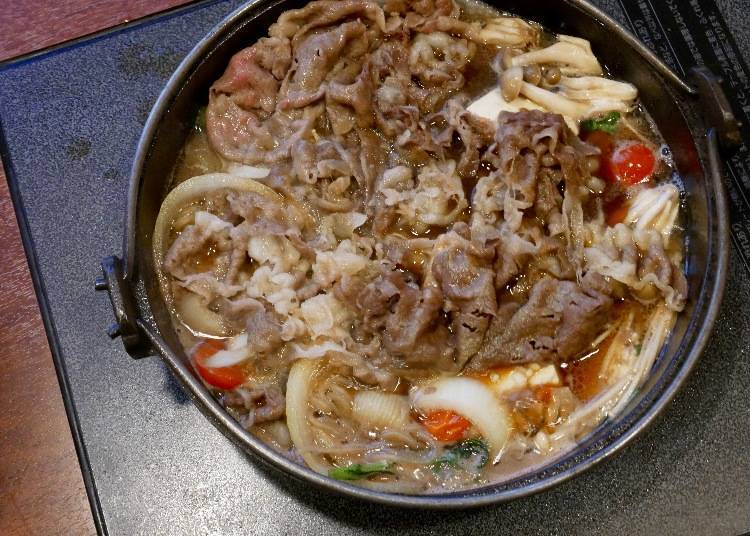 Beef Sukiyaki Lunch
1,800 yen (excluding tax)
Lunch time: 11:30 - 15:00
Hachinoki provides fresh, high-quality beef, no matter what dish you order. Each is meticulously prepared an the elegant, comfortable dining areas further add to the experience. Its convenient location in Ueno and great prices make it a highly recommended stop on any meat-lover's tour of Tokyo. Be sure to add it to your itinerary, and treat yourself to an unforgettable meal!
鉢の木

Address

2F, Komuro Bld., 4-7-3, Ueno, Taito-ku, Tokyo, 110-0005, Japan

Nearest Station

3 min. from JR Okachimachi Station North Exit, 5 min. from JR Ueno Station Shinobazu Exit


Phone Number

03-3831-0729

Hours: Lunch 11:30 - 15:00, Dinner 17:00 - 22:30

*This information is from the time of this article's publication.
*Prices and options mentioned are subject to change.
*Unless stated otherwise, all prices include tax.
Limited time offer: 10% discount coupons available now!