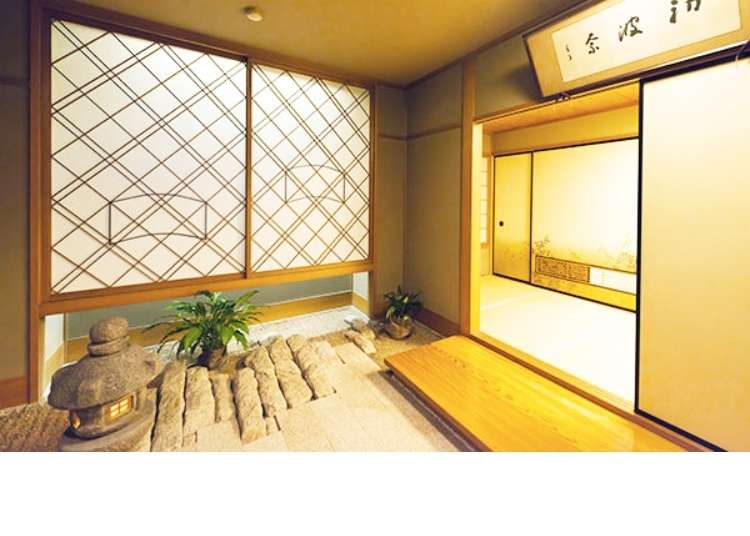 If you are a lover of gourmet with a weakness for delicious foods, then you've probably heard about (and wanted to try) real Matsusaka wagyu beef.

Wadakin Sukiyaki is a spot in Mie Prefecture's Matsusaka City that's been known for its dedication to high-quality beef since its establishment in 1878. Their Matsusaka wagyu beef has become known across the country as a top brand.

Today, we will go to that very spot to experience the taste and charm of Matsusaka wagyu for ourselves. If you want to try real, authentic Matsusaka beef, then you need to try Wadakin sukiyaki.
What is Matsusaka Wagyu Beef?
Matsusaka beef is a brand of Wagyu (Japanese beef) which comes from Mie Prefecture, where Matsusaka City is the capital.

There are several things that define quality Matsusaka beef cattle. First, it must be a young, Japanese black cattle heifer that has never had offspring. It must also be registered in the Matsusaka Cattle Individual Identification Management System.

Finally, they must enter the Matsusaka wagyu production area within 12 months of birth, in which the fattening period will be the longest and final period. (After entering the production area, the movement will be limited to only that area).

So what sets apart Matsusaka wagyu in taste? We visit the long-established Wadakin to find out!
Wadakin Sukiyaki: Long-Established Masters of Matsusaka Wagyu
At Wadakin Sukiyaki, the shopkeeper selects and purchases only the finest of young Japanese black cattle raised in Tajima, Hyogo Prefecture after carefully inspecting it himself, and takes them to be raised at his own company ranch, where they are given expert care. The food management, including an independently developed fattening method, is thoroughly implemented, and only the best efforts are made every day to produce beautifully marbled, high quality meat.
Beautifully marbled Matsusaka wagyu
Because of the efforts taken to provide personal, quality care that guarantees reduced stress on a well-maintained ranch in a safe and secure environment, the resulting Matsusaka wagyu is valued as an especially top-quality work of art.
Wadakin Sukiyaki, A Classy Matsusaka Wagyu Beef Restaurant
The shop is about 10 minutes on foot from Matsusaka Station on the JR and Kintetsu Lines, and approximately 15 minutes from the Ise Expressway and Matsusaka IC by car.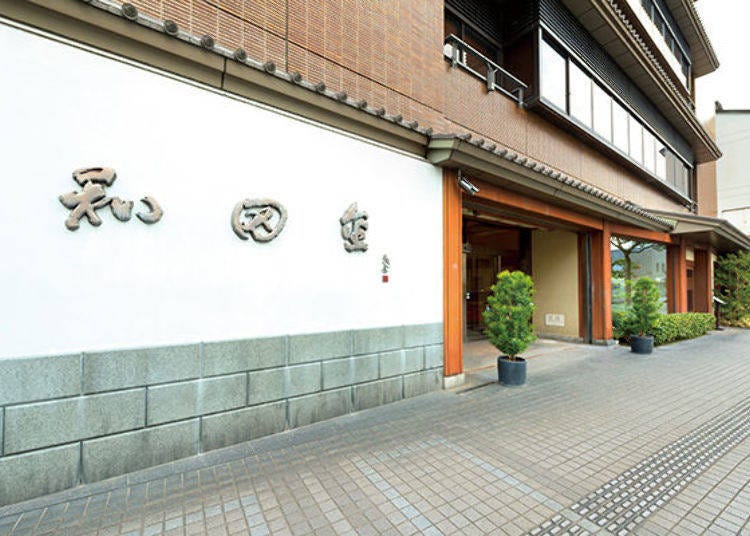 The dignified appearance of Wadakin Sukiyaki
Wadakin Sukiyaki is a special place, especially for Mie locals who are familiar with Matsusaka wagyu beef. It is often used for various forms of entertainment, such as celebrations and anniversaries.

It's a place you can boast about going to, so much that if you mention to anyone that "I went to Wadakin," they are bound to respond in an envious "Wow!"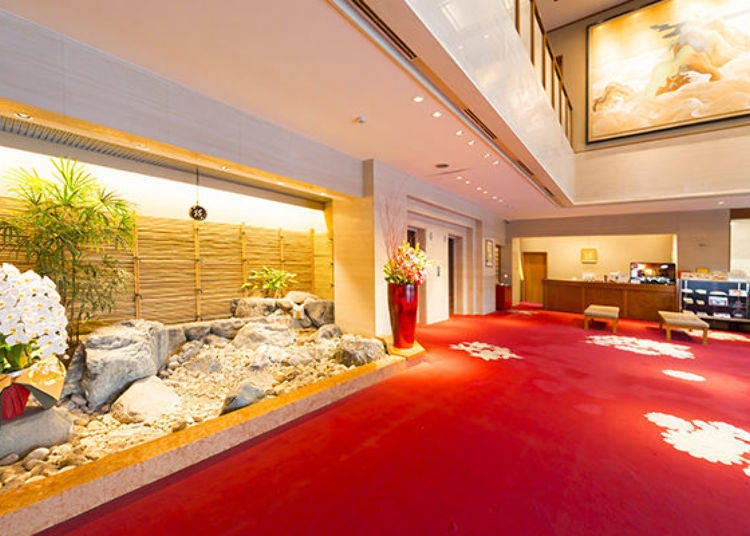 The softly carpeted lobby floor looks exactly like a hotel lobby
I was surprised from the moment I entered the lobby! The gorgeously posh interior was overwhelmingly similar to a luxury hotel.

Wadakin Sukiyaki has a total of five floors and 40 rooms that range from small rooms to large halls. You will even be guided by staff from the lobby to your room via the elevator.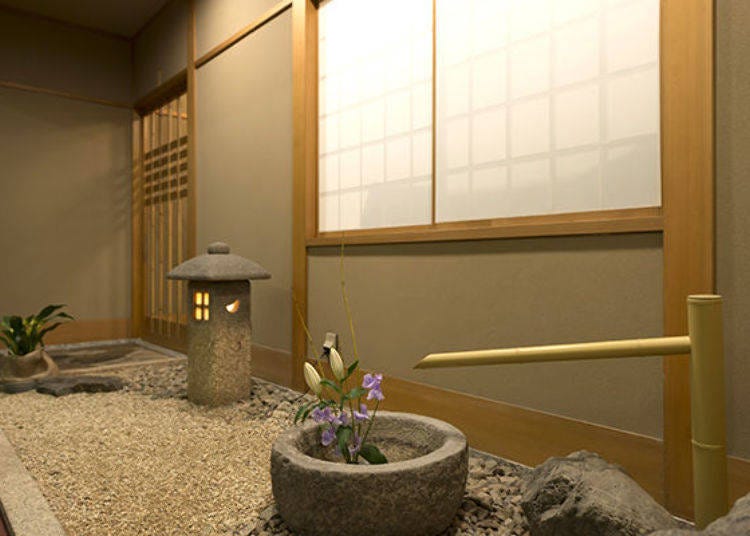 Once you get off the elevator on every floor is a corridor with an adorable garden. The little added touches of elegance added here and there will surely move you.

The rooms are all private rooms, which you can request according to party size and purpose of visit.
The Finest Sukiyaki, Enjoyed by Gourmet Celebrities
Every dish on the menu uses Matsusaka beef, including the Sukiyaki Course, Amiyaki Course, and the Steak Set. (Orders are from 2 servings or more).

If it is your first time at Wadakin, the Sukiyaki Course, which has a history of being enjoyed since the Meiji Era is highly recommended. You can order individual items as well, however, if you want to enjoy this high-quality Matsusaka beef to the fullest, nothing compares to the course!

You can select the quality of beef to be used in your Sukiyaki Course: Matsu (Rank 1, 16,700 yen), Ta-ke (Rank 2, 14,600 yen), Ume (Rank 3, 12,200 yen). *All tax included; 10% service charge separate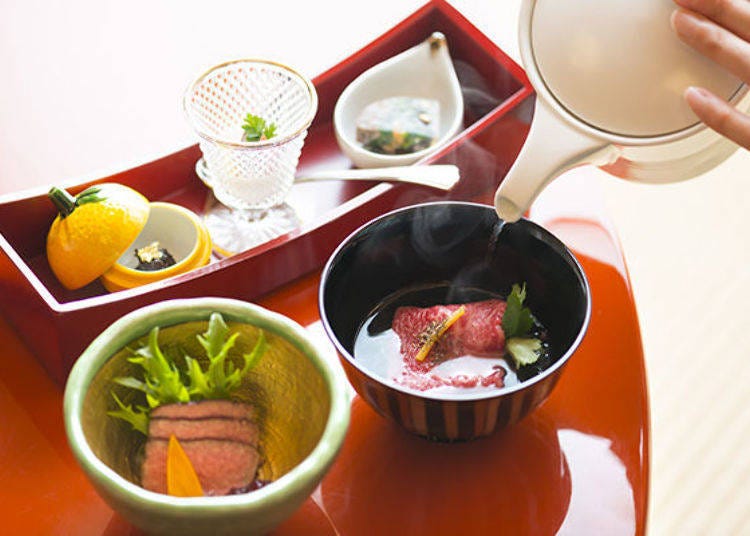 The Sukiyaki Course dishes on a Wajima-lacquered round table
Along with the main sukiyaki meal of the Sukiyaki Course Matsu/Take/Ume, it also includes three Wadakin side dishes (shigureni, seasonal jelly, and vegetable mousse), kahari-aburi yaki, Wadakin niku-sumashi (a meat soup), rice, pickled vegetables, and dessert. *Individual dishes may be subject to change.

In order to properly grill the sukiyaki, the waiter lights the fire and skillfully flips the charcoals repeatedly. I can't wait to taste the food! We enjoy the other dishes of the meal as we relax and wait patiently for the charcoal to burn.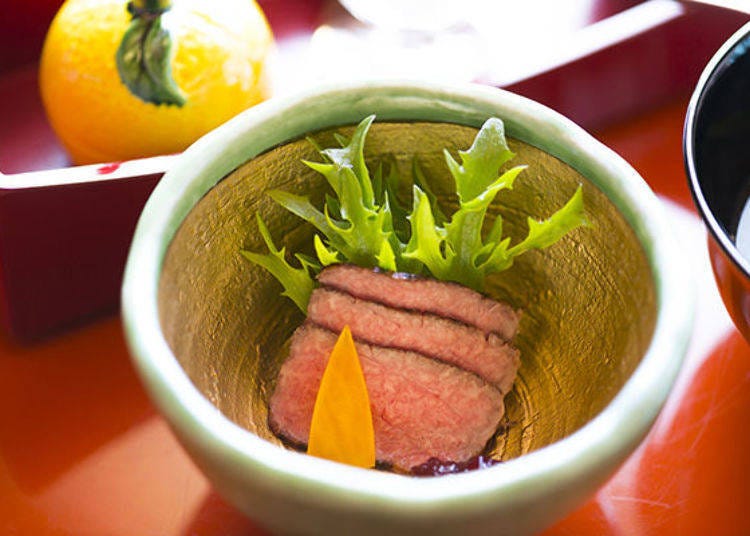 Kahari-aburi yaki is a dish that resembles roast beef, roasted with charcoal. It is a fragrant masterpiece with a delicious taste and an aroma that lingers in your nose, unique only to Matsusaka wagyu beef.

You also get to try Matsusaka wagyu with a variety of other tastes and textures, such as the Wadakin niku-sumashi, in which you can dip the meat into a hot broth, and shigureni, a simmered dish that is also a popular gift item.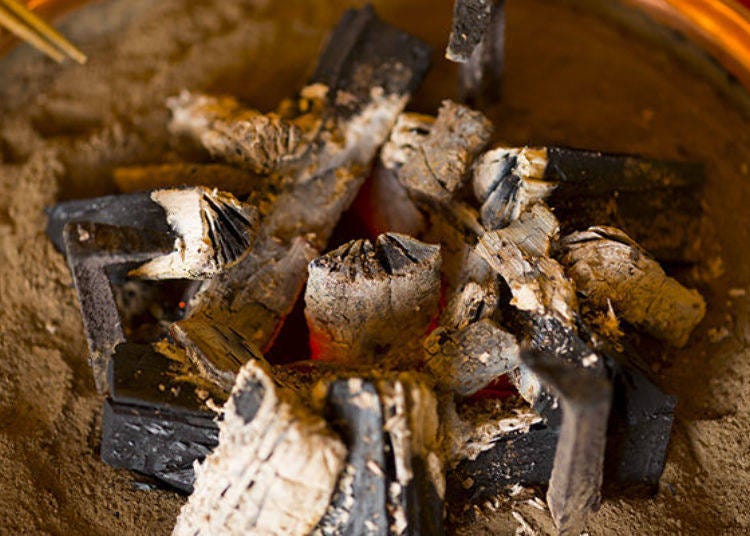 The "chrysanthemum" oak charcoal cracks outward from the center. It gets this name because of the shape made when it bursts.
The charcoal is now quite red. The whole room has become wrapped in soft warmth.

The black charcoal, which is made especially for use at Wadakin Sukiyaki from Kumamoto oak, is a chrysanthemum oak charcoal that is also used for tea ceremonies. This charcoal does not break very easily and emits almost no smoke, so the smell is also less likely to cling to your clothing.

Because the heat from the fire is strong, the meat is tender and cooked just right through the far-infrared effects of the charcoal.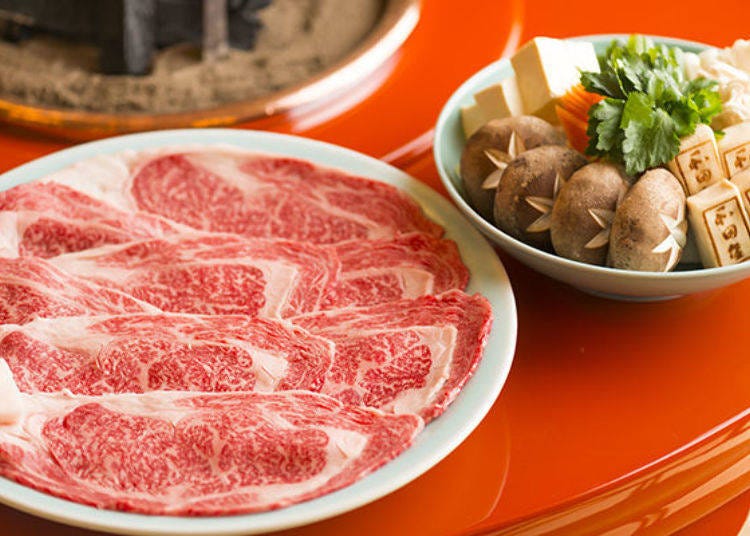 Today I ordered the Sukiyaki Course Matsu (Rank 1) *Photo shows 4 person serving
"Wow!"
Such beautifully marbled meat and crisp, fresh vegetables are brought out to our table. The meat is cut rather thick, especially for sukiyaki slices.

Because Wadakin Sukiyaki traditionally does not freeze its meat, the slices are cut thick.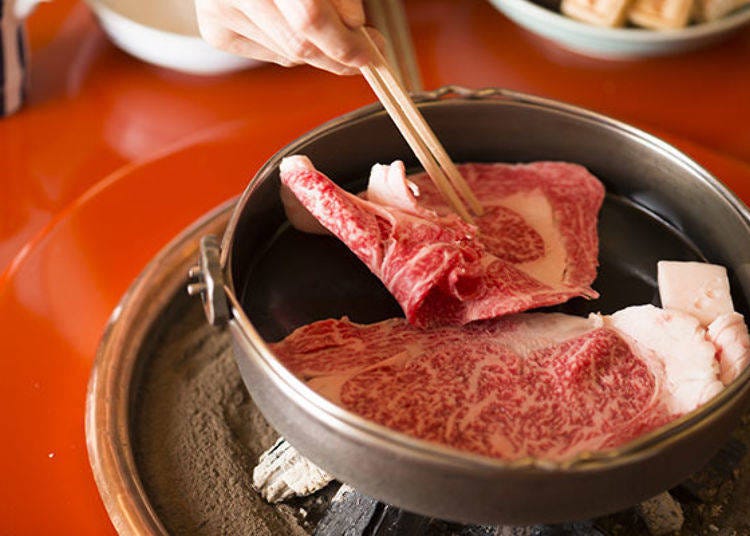 Heavy Nambu cast iron sukiyaki pot
As the charcoal gradually reddens, the heavy iron pot is placed on the fire.

"Please wait a moment while the pot heats," instructs the waitress, as she quickly coats the surface of the pot with beef tallow and begins to put in the meat.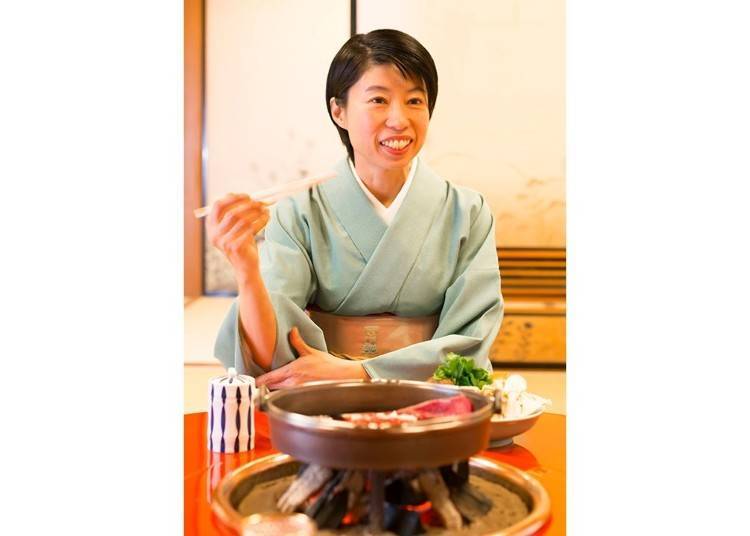 Ms. Ai, who has been a waitress here for 8 years
"Huh? Don't I get to start cooking the meat to hear the 'shabu' sound?"

"Wadakin's sukiyaki is a slowly and gently cooked meat. We want you to be able to enjoy the meat in its finest condition, so please leave everything else, such as the grilling and seasoning, to me," Ms. Ai says as she prepares to get down to business.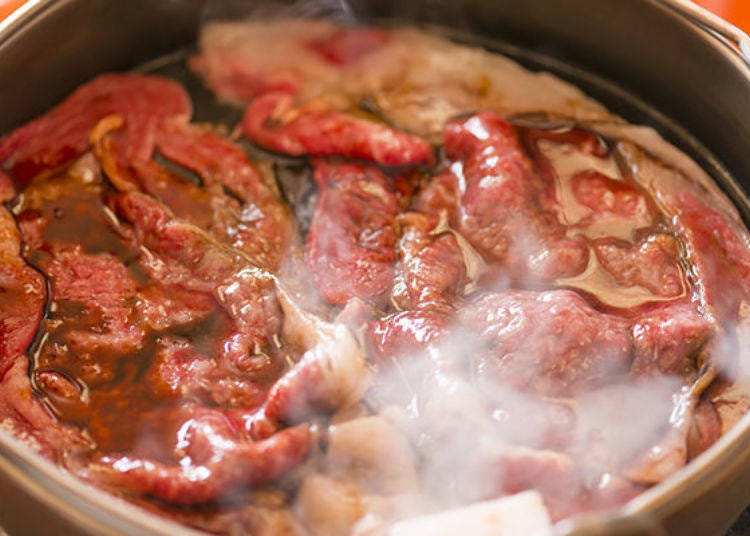 Seasoned with sugar and tamari soy sauce. The meat slowly changes in color as it is cooked in the fire.
Without using the sukiyaki stock, I season it with sugar, soy sauce, and a little bit of kombu. Wadakin Sukiyaki has its own incomparable style. Mere customers like us simply watch intently as the Wadakin professionals show off their special styles, gesture, and the best techniques for heating, seasoning, and grilling the meat.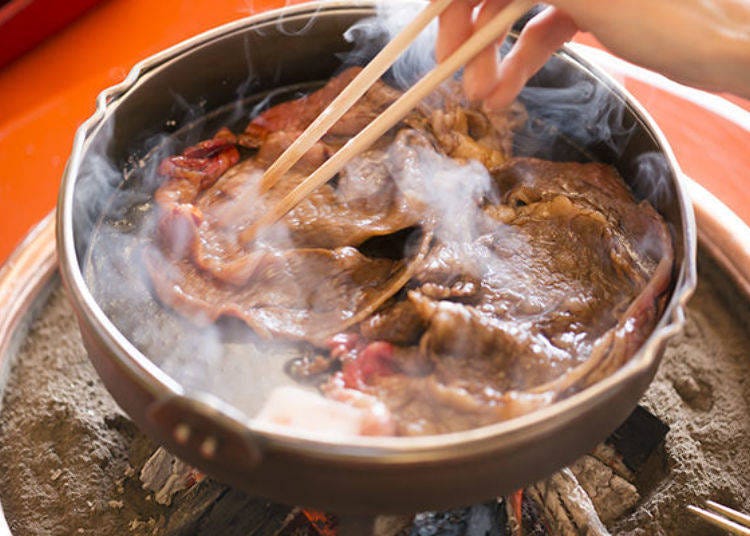 It seems Wadakin Sukiyaki employs its own "hostess test," which all waitresses must pass before being able to cook in front of the customers

Wow! The meat is glossy and smells delicious. I just can't wait, I want to stick my entire head right into the pot!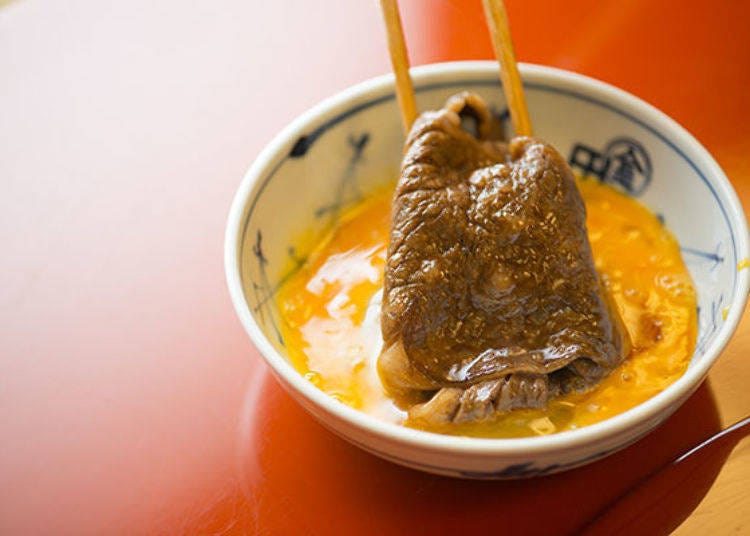 "Enjoy your meal!"

I put the meat in a dish, and pass the slices through a beaten egg. I can barely wait any longer!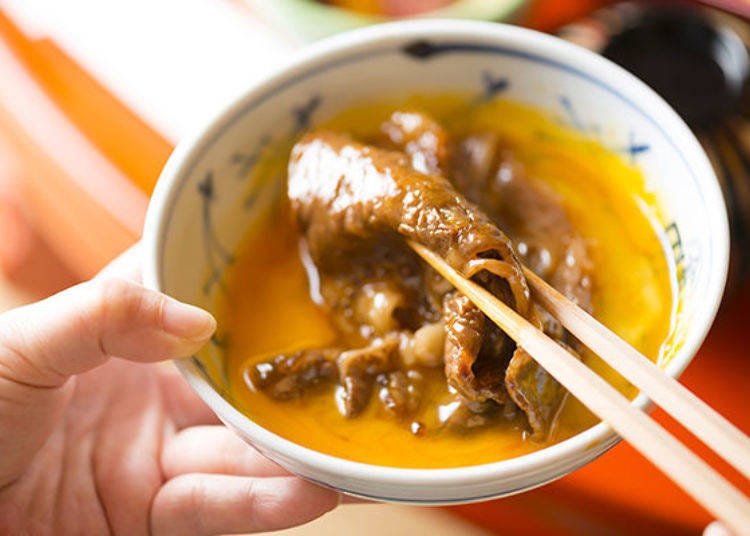 "Mmm, so melty!"

The meat is said to be soft enough to cut with your chopsticks, but here it seems it could be easily cut with only the tips. You don't usually think of the words mild or mellow when talking about beef, it is an impression I have only had for the first time now. The aroma and taste of the Matsusaka beef spread inside my mouth as the flavor becomes milder. It has an elegant sweetness, without any thick meatiness or greasy fat at all.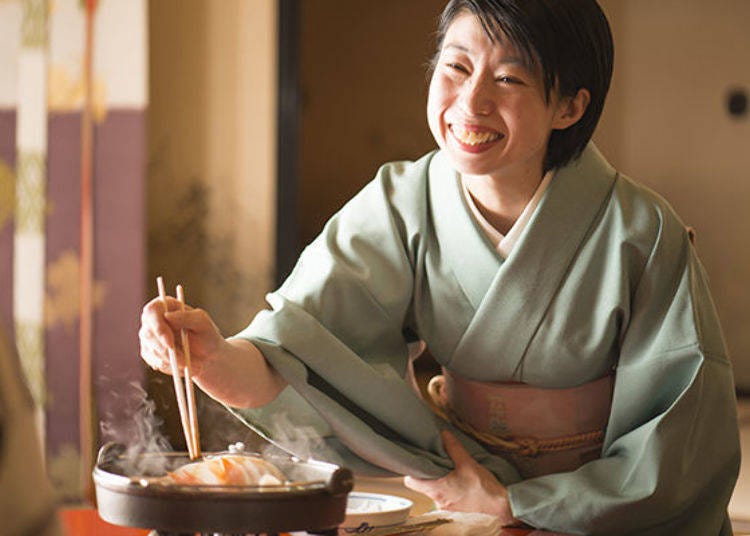 "I am so happy right now!"

After eating a big slice of meat with a smile, it is time to simmer the vegetables in the meat. Carefully selected vegetables such as locally grown scallions and Japanese parsley, Awaji Island onions, and Oita shiitake, are now placed into the pot.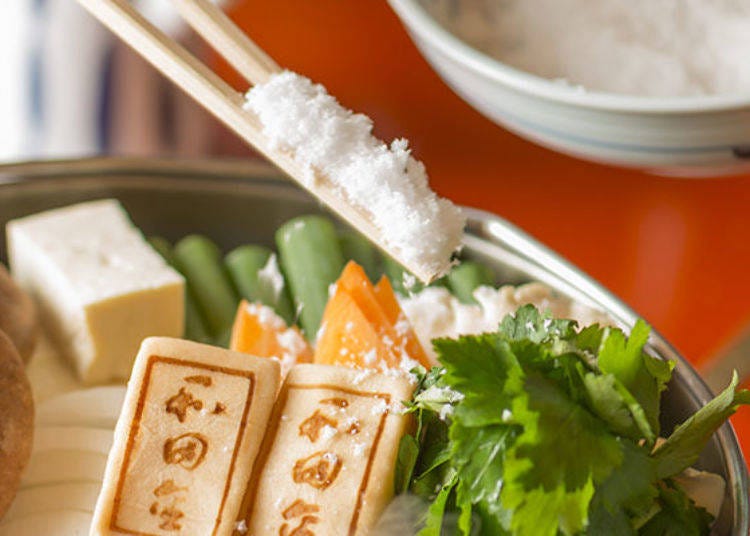 Just as with the first piece of meat, she carefully sprinkles the sugar with the chopsticks, like falling snow. Her skillful handling of the chopsticks show masterful craftsmanship.

Next, a tiny amount of specially made soy sauce and kombu broth are added.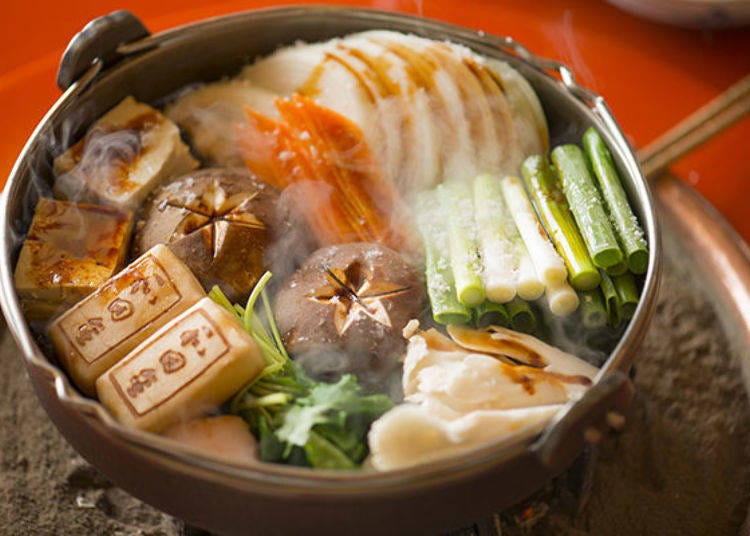 I ask her to place the foods I am ready to eat directly into my bowl, so they are still in their peak condition by the time each bite reaches our mouths. The flavor of the meat lingering in the onions, the sweetness of the scallions, the plumpness of the shiitake mushroom, and even the ofu, or wheat gluten, all carry the delicious flavor of Wadakin!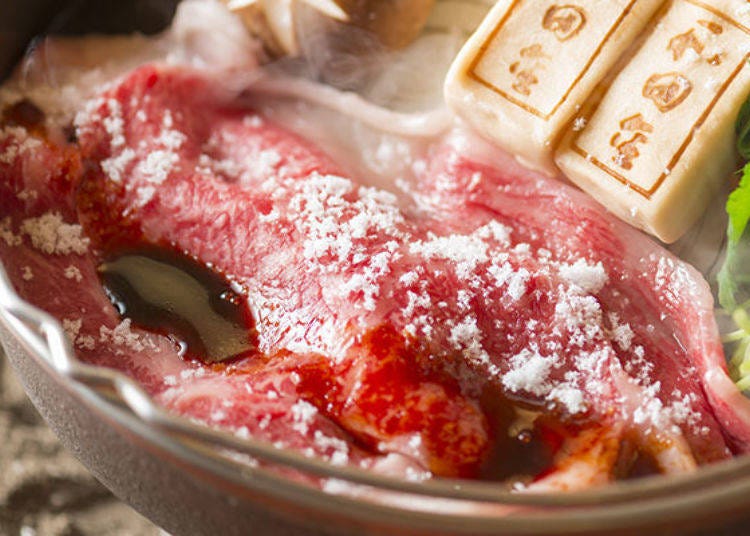 After eating the vegetables and making space in the pot, it's time for round two of the meat. The marbled fat is clear and glossy. Quality beef fat has a low melting point, and can melt even at normal human body temperature.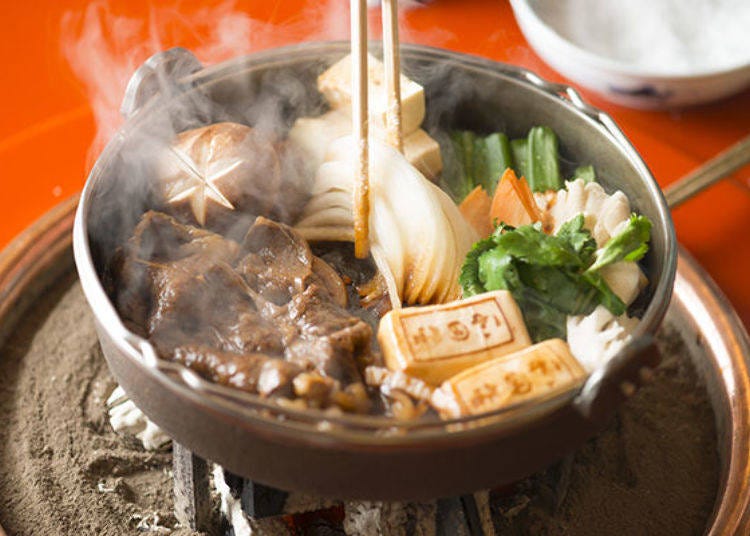 "I am surprised that visitors from the Kanto Region don't use the sukiyaki stock," says the waitress.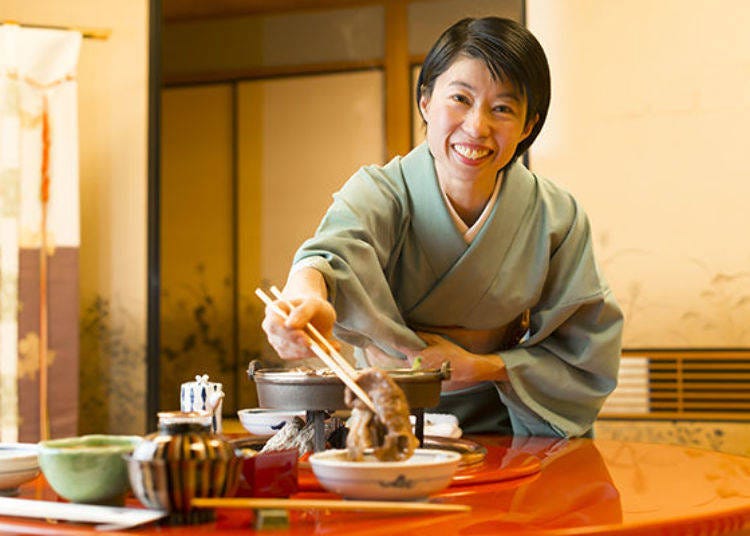 The waitress's gentle smile adds to the pleasant atmosphere
The glossiness of the Matsusaka beef seems to be reflected even in the Wajima-lacquered table.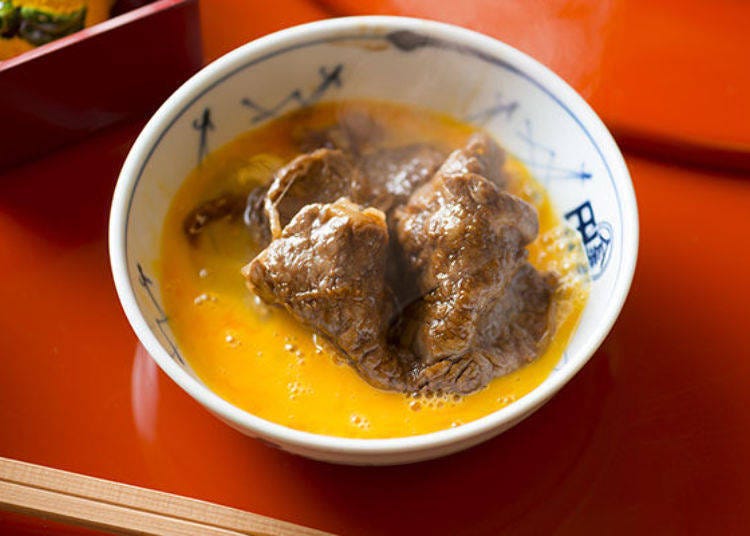 The sukiyaki includes two slices of meat per serving. As one piece alone is quite thick and large, it is very filling and satisfying!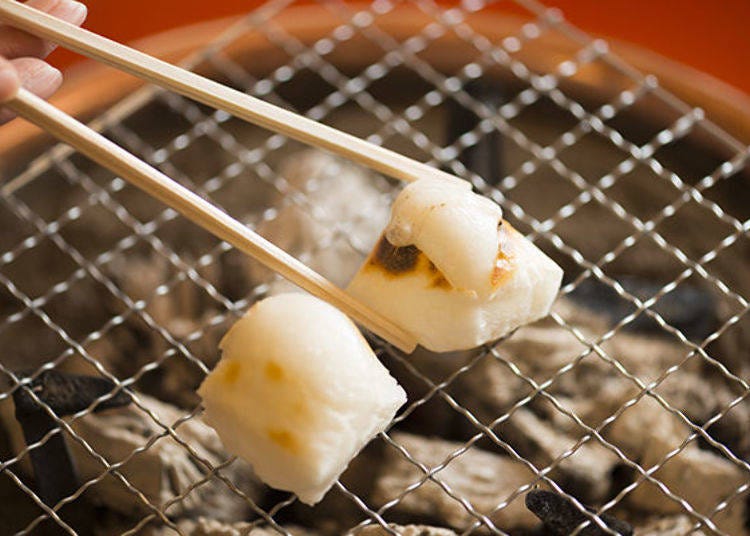 After the meal is dessert. Mochi cooked over the grill.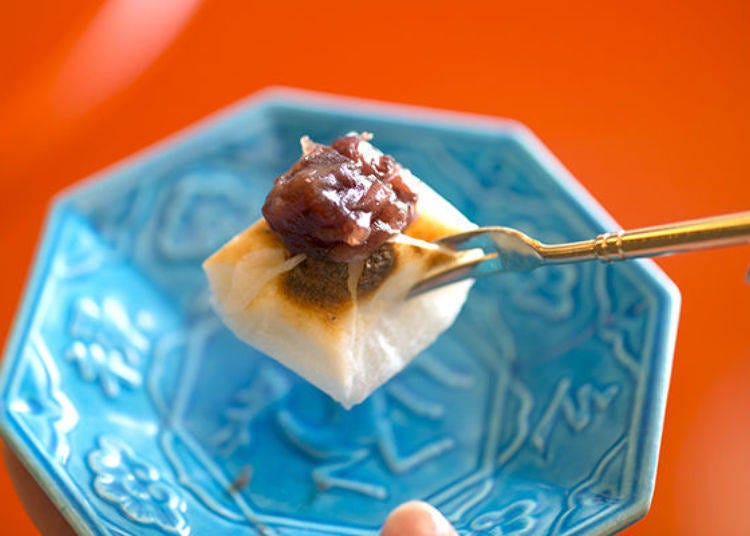 A bit of anko after all that meat is also delicious!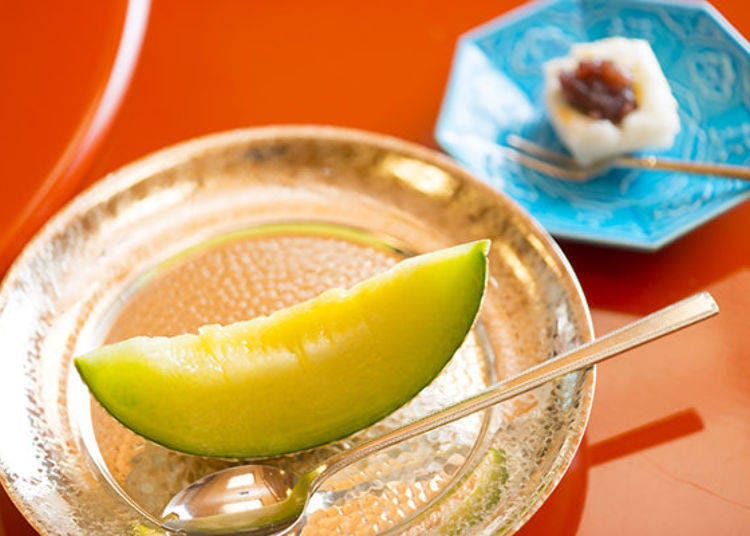 Additionally, seasonal fruits, such as the highest quality muskmelon "amane," can also be enjoyed for dessert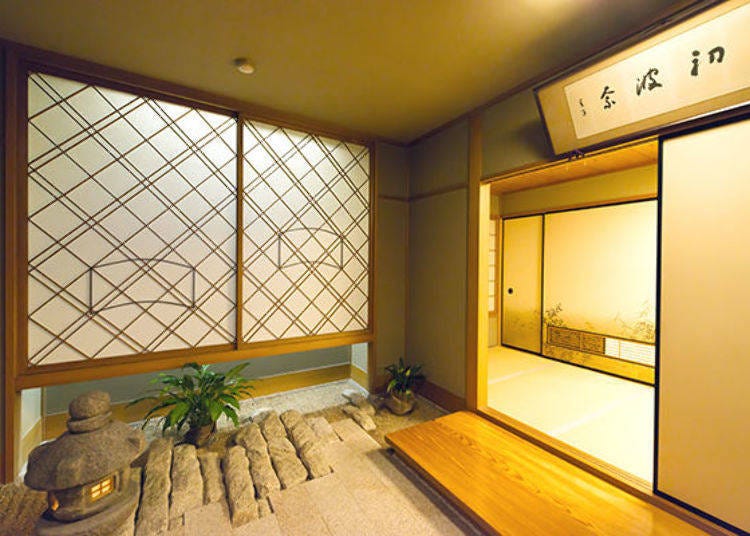 If you want to try Matsusaka beef, why not try Wadakin Sukiyaki, the long-established shop with delicious food highly recommended by prominent gourmet celebrities? The Matsusaka beef enjoyed right here in its own home town is exceptionally delicious! You will surely enjoy the most luxurious time.

Additionally, there is a section of the shop where you can buy quality and preserved meats, recommended as gifts, or even to cook for yourself at home.
和田金

Address

1878 Nakamachi, Matsusaka City, Mie Prefecture

Phone Number

0598-21-1188

Business Hours: 11:30AM~8:00PM (Weekends and holidays, open from 11:00AM)
Shop Sales: 8:30AM~7:00PM *Closed New Years
Regular Holidays: Every 4th Tuesday (varies by month); Jan 1 and 2
*This information is from the time of this article's publication.
*Prices and options mentioned are subject to change.
*Unless stated otherwise, all prices include tax.