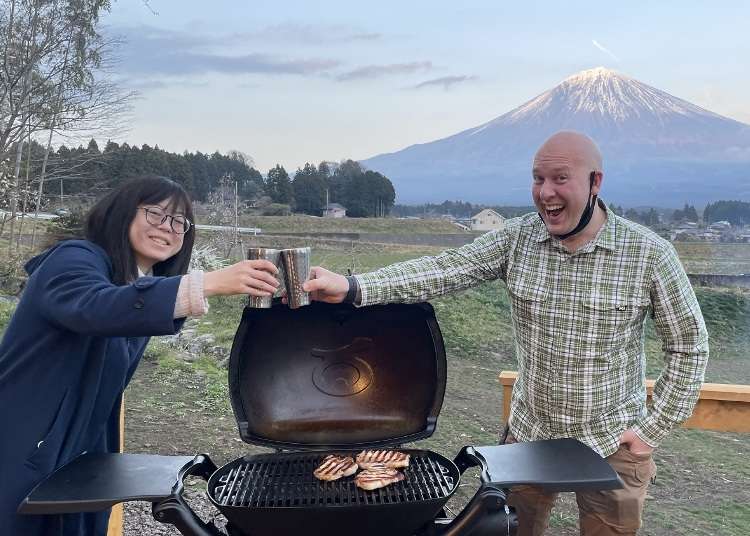 Mt. Fuji Satoyama Vacation is a private glamping facility perfect for people with an eco-conscious lifestyle. Newly opened in March 2021, you can take ecotours of Japanese culture and nature here, allowing you to experience a different side of Japan you haven't seen till now.

And as Mt. Fuji Satoyama Vacation is backdropped by Mt. Fuji, it's a breathtaking place to start your vacation - or workation! This time, the LIVE JAPAN Editorial Team set off on a 2-day experience at Mt. Fuji Satoyama Vacation to see why it's become such a popular draw. Here's the full report with all the details!
What kind of place is Mt. Fuji Satoyama Vacation?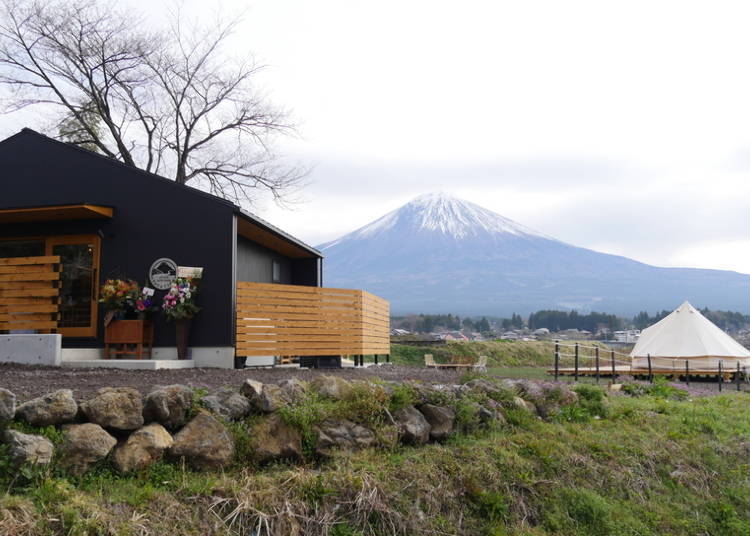 The large panoramic view of Mt. Fuji extends in the distance
Mt. Fuji Satoyama Vacation opened in March 2021 next to Shira-Ito Falls in Fujinomiya city, on the western side of Shizuoka Prefecture. The private glamping facility was constructed with the theme of sustainable tourism in mind, featuring a large panorama of Mt. Fuji and idyllic views of the countryside.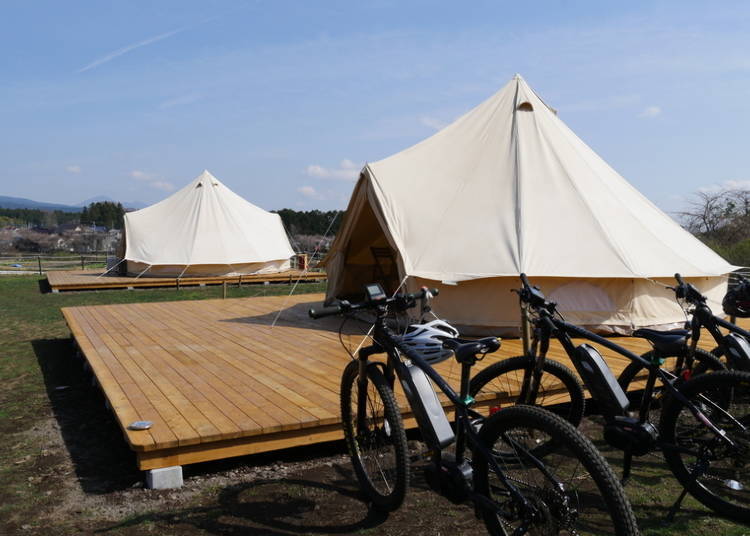 Two glamping tents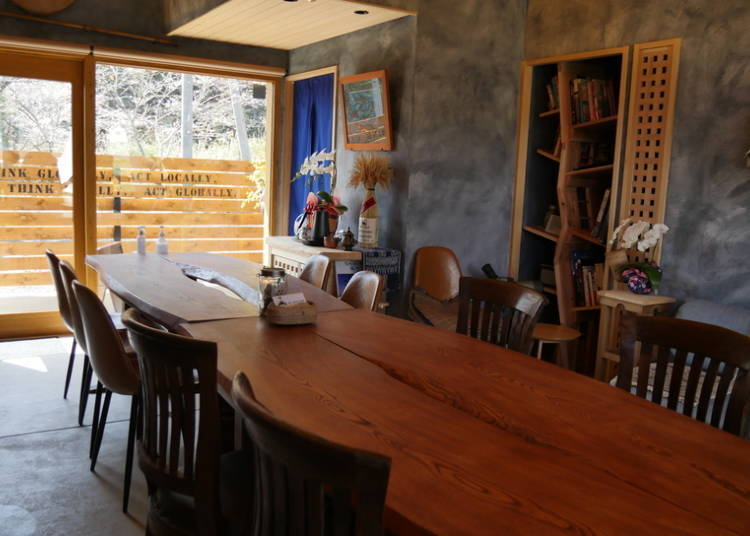 Cafeteria
With a rental for one group of four to eight people per day, sleeping accommodations and glamping tents are provided. You can make use of facilities such as the cafeteria in the lounge outfitted in warm wood, two shower rooms and toilets that can be used all day, as well as other spaces for relaxing, such as a "Fujimi deck" to gaze upon Mt. Fuji, and a Japanese-style garden.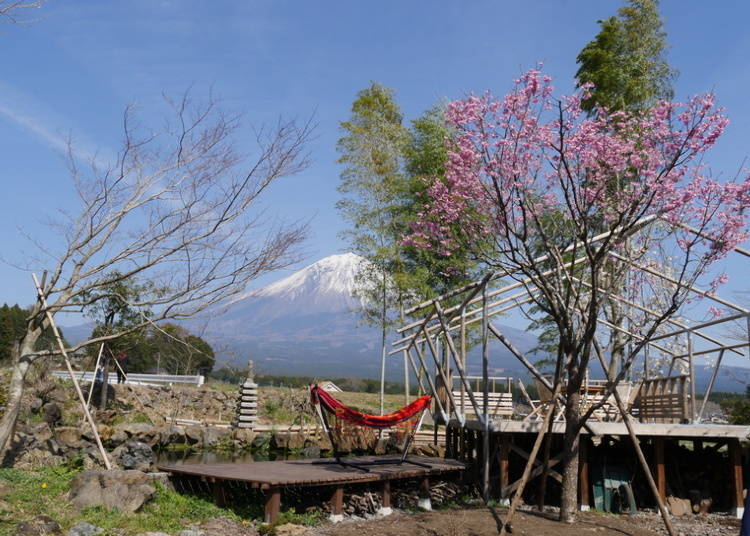 To take beautiful pictures, it's more convenient to have a tripod with you!
This glamping facility was opened by the company Ecologic. With the mission of "Protecting the world's natural environments and local cultures, and respecting people through ecotourism," the company makes use of its extensive experience in ecotourism research from all over the world to provide ecotours for foreign visitors to Japan in Fujinomiya City.

Hoping to create a high-quality ecotourism experience for both local and foreign visitors at the foot of Mt. Fuji, this glamping facility was opened to fulfill such a purpose.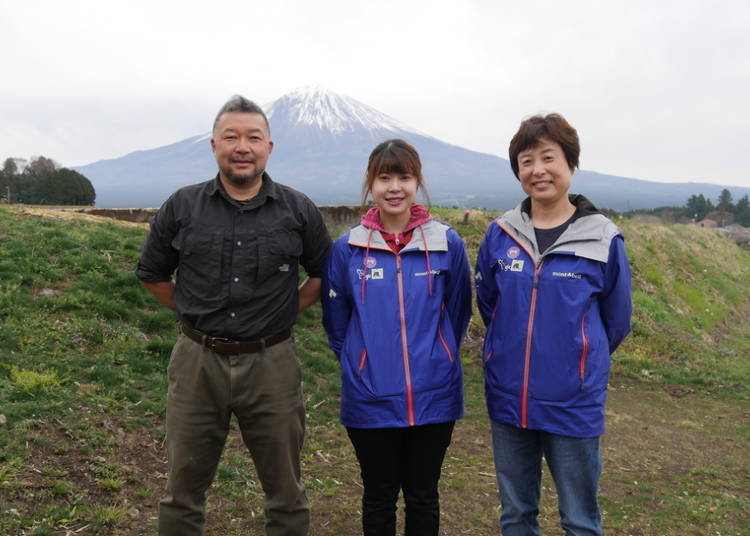 The Representative Director of Ecologic, Shintani Masanori (left), his daughter Ayaka (center), and Ecotour Guide In-charge Andō Chieko (right)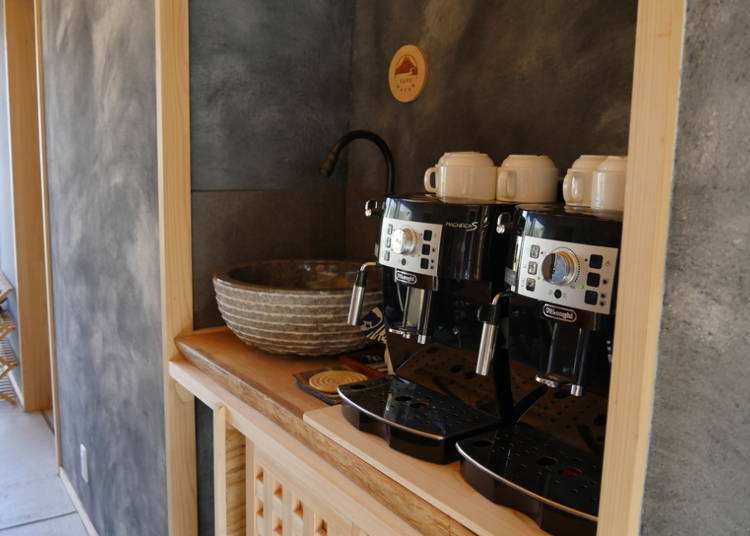 Complimentary fair-trade coffee. Beside them is a natural spring water source from Mt. Fuji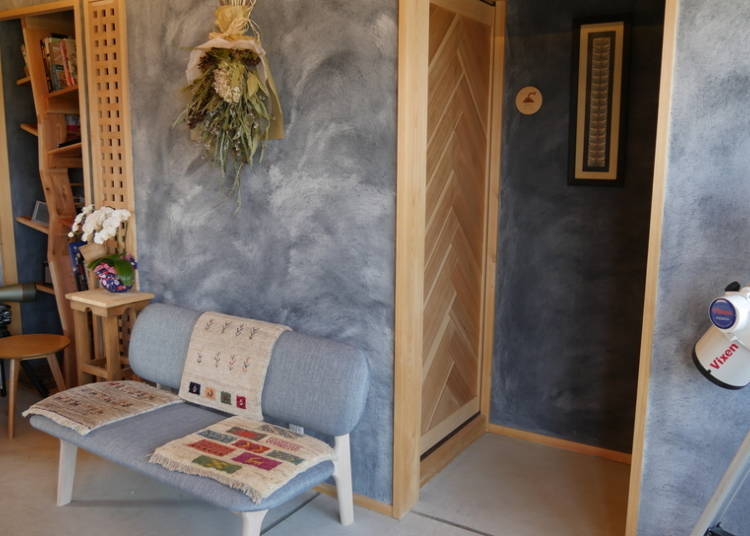 Many interior furnishings and fittings are handmade by locals.
In pursuit of its goal, the facility uses solar panels for electricity, and provides complimentary fair-trade coffee, amongst other unique provisions to better care for the earth. On top of this, many interior furnishings and fixtures were sourced from locals in the area.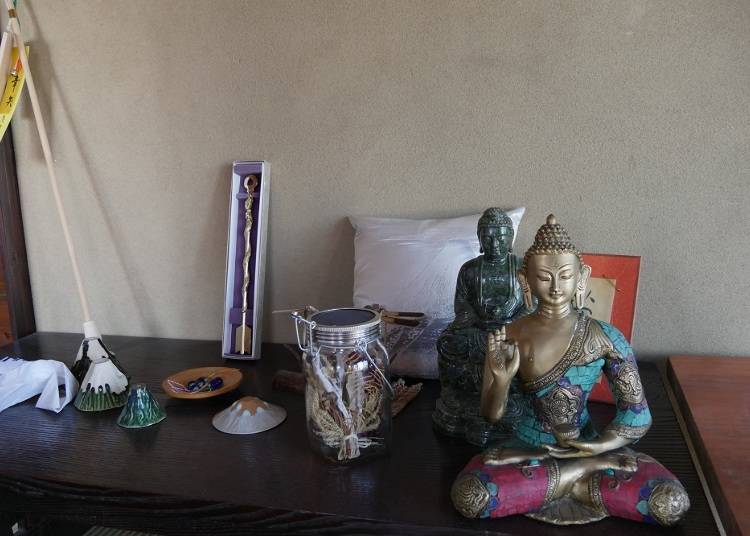 A lot of interesting art is on display as well.
Representative Director of Ecologic, Mr. Shintani, also has on display several pieces of art that he acquired while traveling the world. It's a space where you can feel the world while still staying in Japan.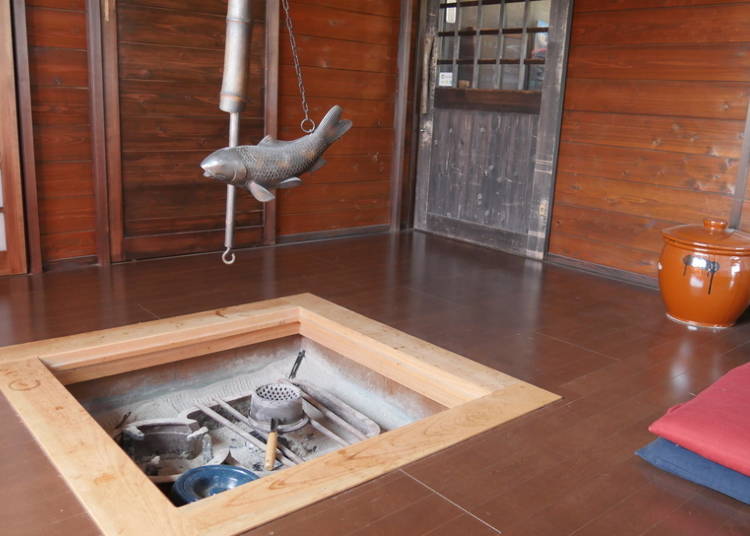 An experience facility in one of the villas, which has been renovated. The Japanese-style room with an irori, a traditional Japanese sunken hearth, is wonderful!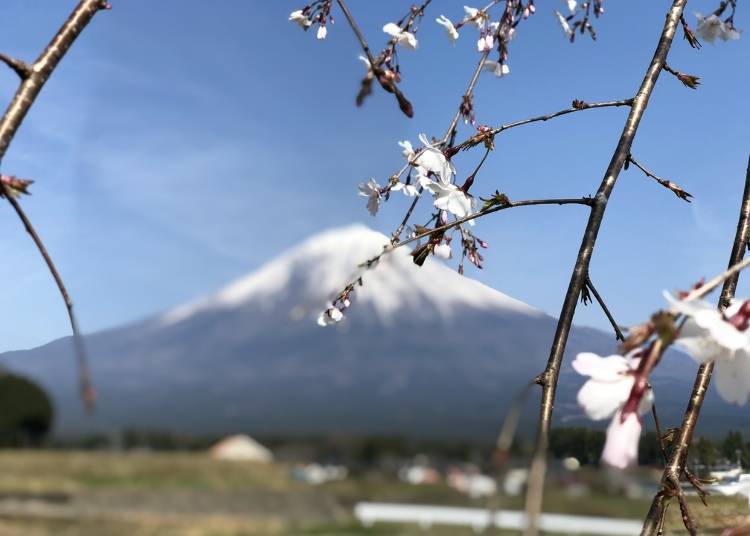 Though it had not fully bloomed that day, you can enjoy the cherry blossoms in spring.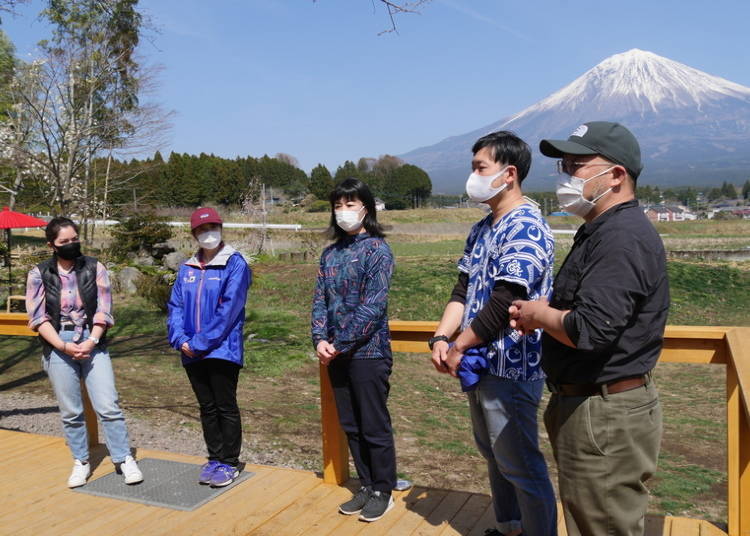 The staff who came to welcome us. With a team capable of speaking English, Spanish, French, and other languages, they can accommodate many foreign-language speakers.
How do you get to Mt. Fuji Satoyama Vacation?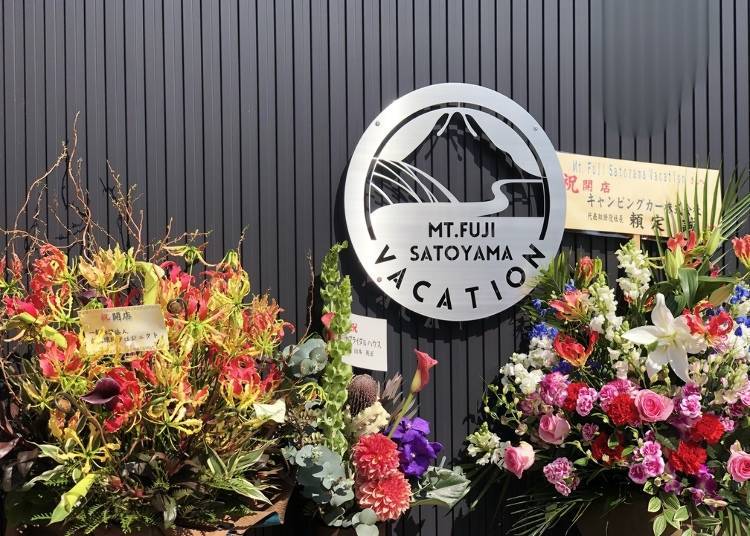 This time, the editorial team went there via public transport from Tokyo Station.

You can take a train from Tokyo via the Tokaido Shinkansen, on the Kodama train. If you're getting a reserved seat, we recommend getting seats on the right side! You can see a magnificent view of Mt. Fuji along the way.

After riding on the bullet train for about 50 minutes, you'll arrive at Mishima Station. From Mishima Station, take the local JR Tokaido line to Fuji Station, then change onto the JR Minobu line to Fujinomiya City (about 40 minutes).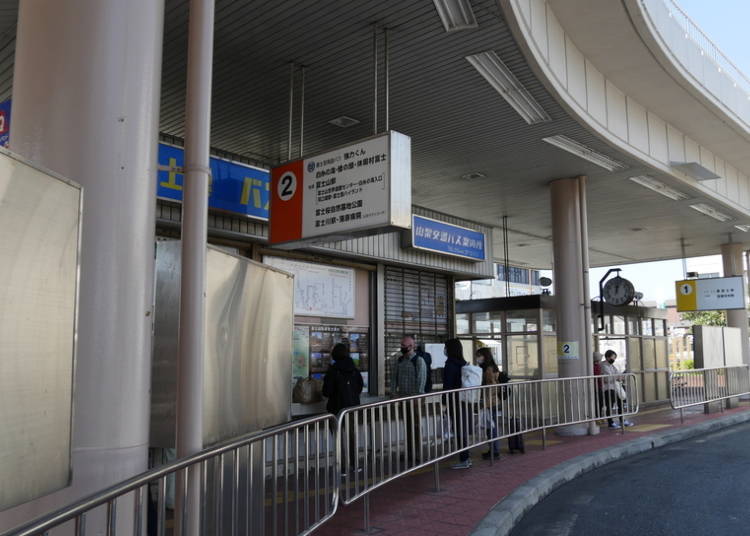 Bus rotary at Fujinomiya station
Once you've arrived at Fujinomiya Ctation, head to the bus rotary, and board the Fujikyu Shizuoka Bus heading for Kyukamura FUJI, and get off after about one hour at "Shira-Ito-no-Taki Iriguchi" bus stop.

As you can use transport IC cards such as Suica and Pasmo cards on the bus, it'll make for a smoother and more convenient transfer if you use these cards.

After walking from the Shira-Ito-no-Taki Iriguchi bus stop for about 15 minutes, you will arrive at Mt. Fuji Satoyama Vacation. Currently, as the number of buses is very limited, for a smooth transfer, it's recommended to check the route beforehand.

If you're coming by car, take the Shin Tomei Expressway and exit from Shin Fuji IC, and you'll arrive in 30 minutes. There is a free parking lot on-site, with spaces for five cars.
Day 1: Workation and barbecue - all while gazing upon Mt. Fuji!
The LIVE JAPAN editorial team's two-day, one-night glamping experience has begun!

2:00 p.m. Workation experience

Mt. Fuji Satoyama Vacation has the perfect environment for a workation. The facilities are furnished with both Wi-Fi and power supplies. On top of that, with a 52-inch monitor and cameras for use with Zoom, it's perfect for a meeting on the television with people from far away.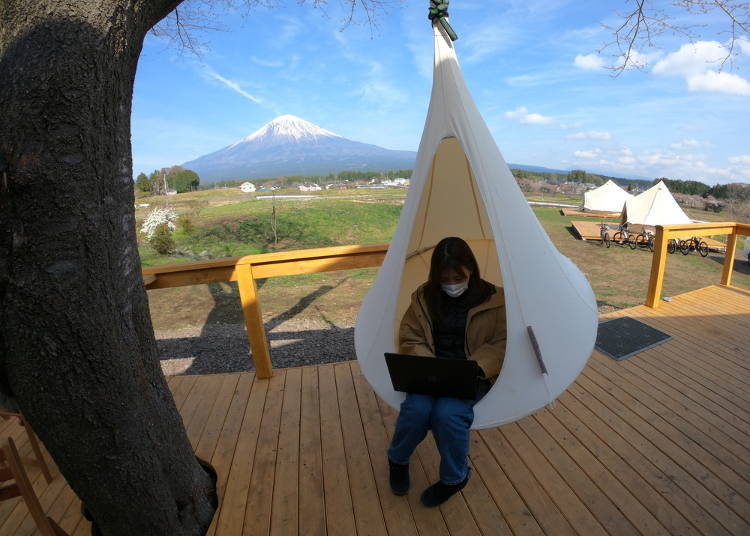 Swinging in a fashionable hammock while working on the computer!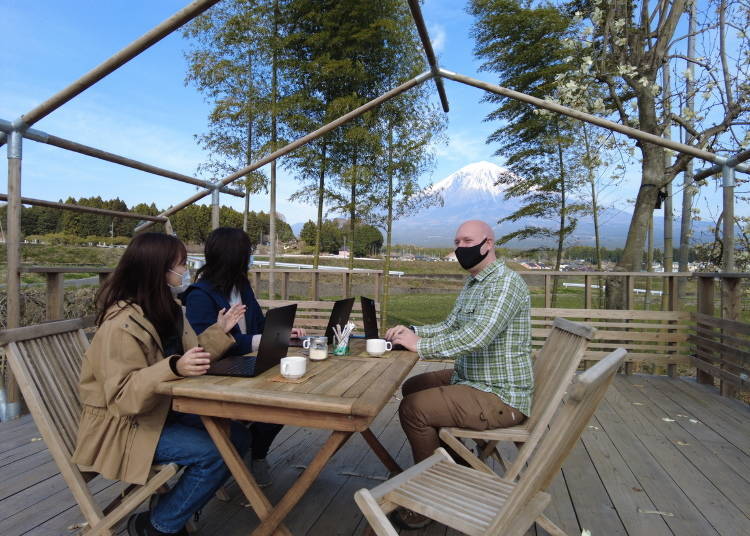 Having a meeting under the blue skies with Mt. Fuji right in front of our eyes. There's free-flow fair-trade coffee available too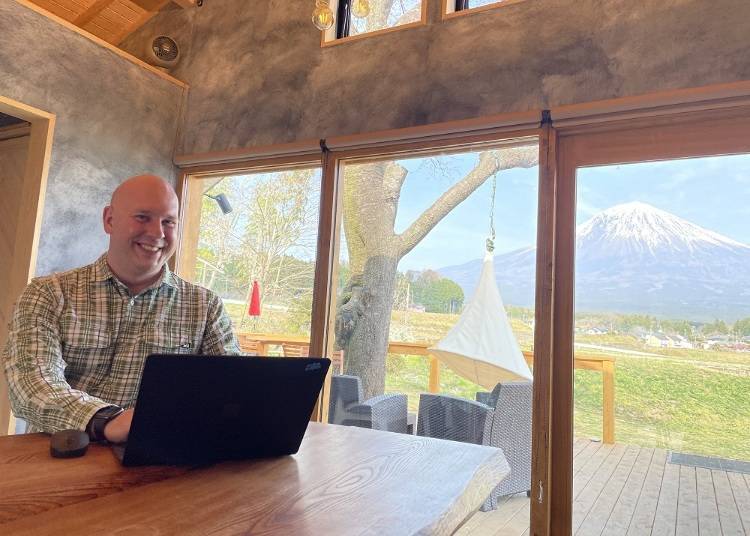 Though there are new ways and new normals of working now, letting your senses immerse in the great wilderness really increases your creativity!

5:00 p.m. Dinner: Barbecue

Once night falls, enjoy a barbecue while enjoying the view of Mt. Fuji bathed in red. Before that, we tried picking our own bamboo shoots at one of the fields here!
Dig up the soil bit by bit around it with a hoe, then pull it up whole!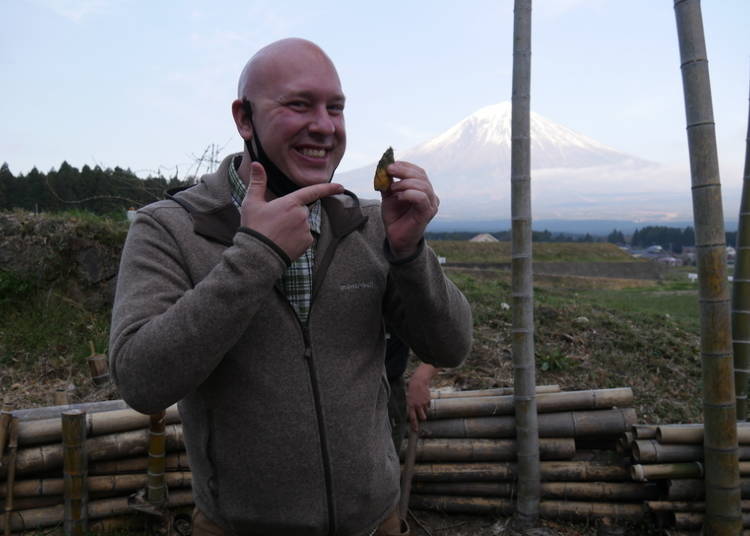 We pulled up such a cute bamboo shoot!
All of the food used for the barbecue is locally sourced. The pork and beef are from Asagiri, and there are also many types of fresh vegetables. The volume is large and filling! Of course, the bamboo shoots we picked just now are also included.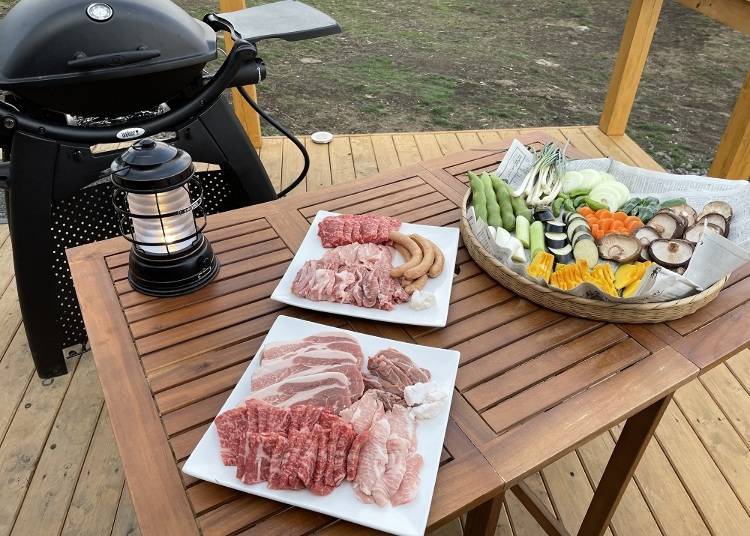 Locally-sourced food and ingredients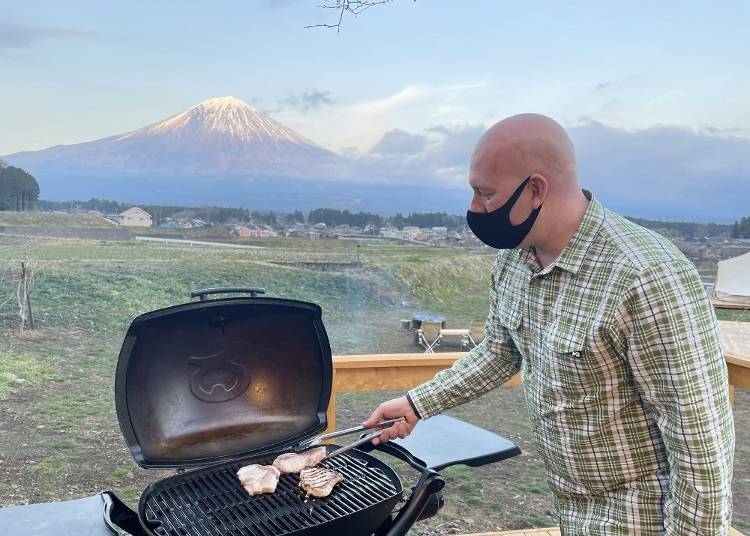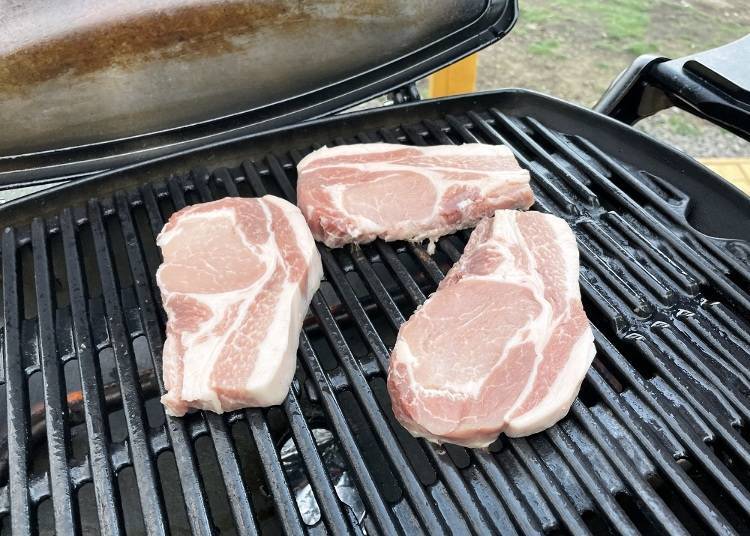 The meat is grilled on a high-performance grill. As the cuts are thick, make sure it's cooked properly!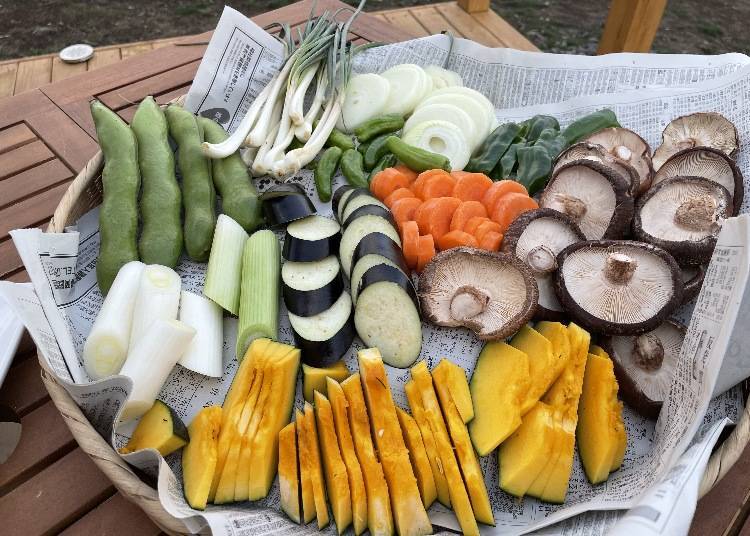 The fresh vegetables are delicious when paired with locally produced miso!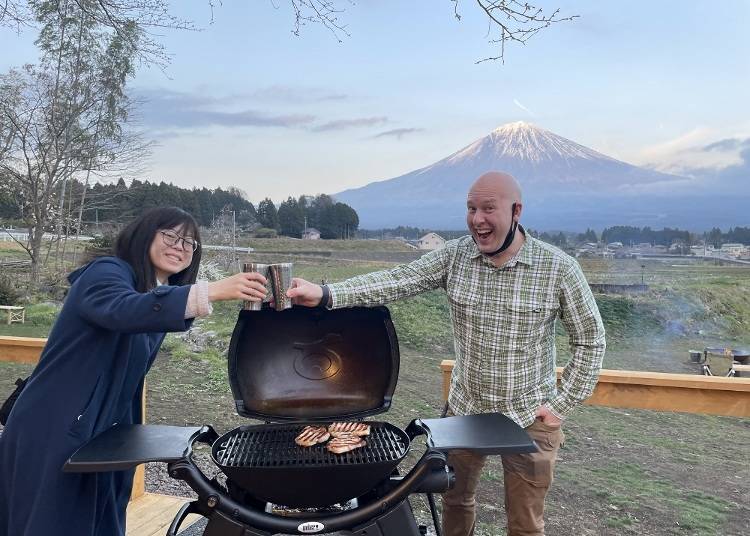 Enjoying a barbecue while gazing at Mt. Fuji is the best!
On top of this, if the weather is good, you can see the sky full of stars at night. A telescope is available as well, allowing you to enjoy stargazing.

Unfortunately, it was cloudy on the day we were there, and we were unable to see the starry night sky, but it seems that Mt. Fuji and the stars in the night sky would make for an unbelievable night scene.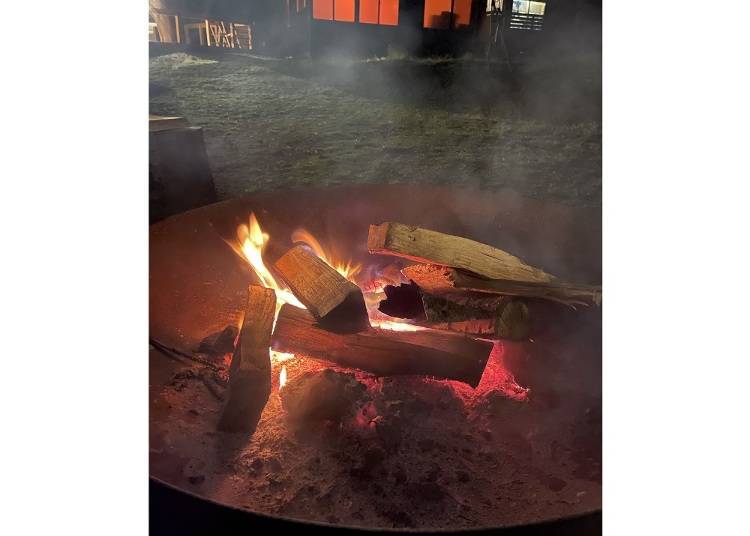 It's good to gather around the bonfire at night for some drinks and chatting too! (Separate fees apply)
11:00 p.m. Lights out

Inside the tent, the room has a kerosene stove, which must be extinguished before sleeping, and the bed has an electric blanket as well. Though the nights at the beginning of March are bitterly cold, you can have a warm and comfortable sleep in your bed in the tent.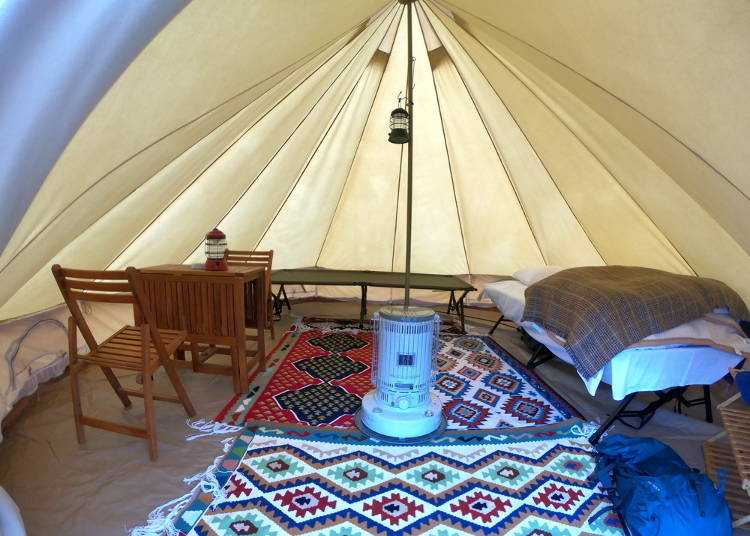 Small tent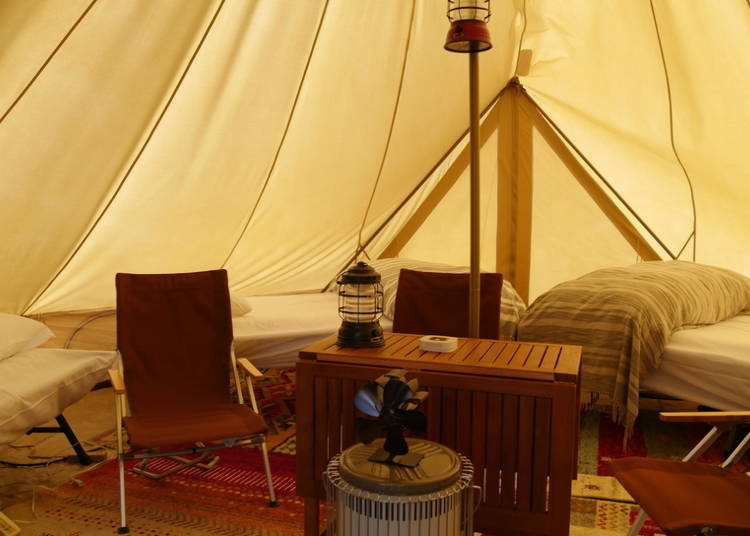 Large tent. Both tent sizes are sufficiently tall and spacious.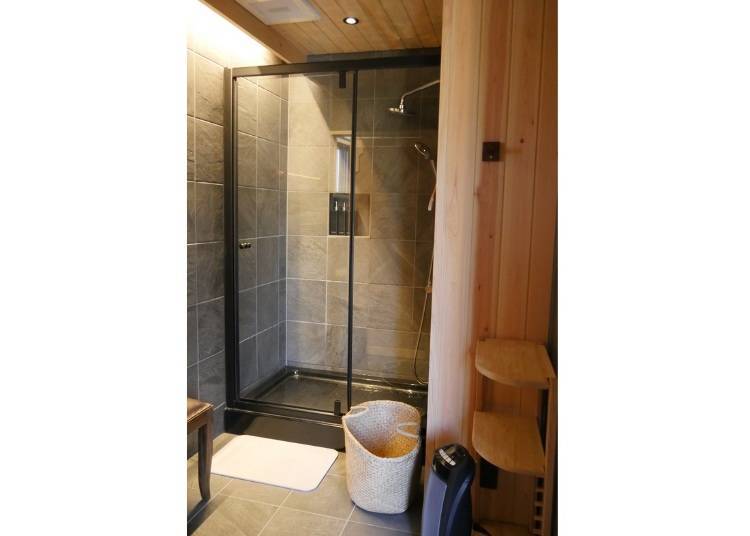 The shower rooms are also clean and spacious! As two are available, you won't find it uncomfortable even in a group setting.
Day 2: Onward to our ecotour experience! We feel the breath of the wild of Mt. Fuji and the surrounding countryside on e-bikes
8:00 a.m. Breakfast

It's now day 2. We greet Mt. Fuji over breakfast as it's bathed in the morning sun. Today, we tried making our own hot sandwiches using locally produced eggs, tomatoes, bacon, and other ingredients! We used a bonfire to toast the sandwiches.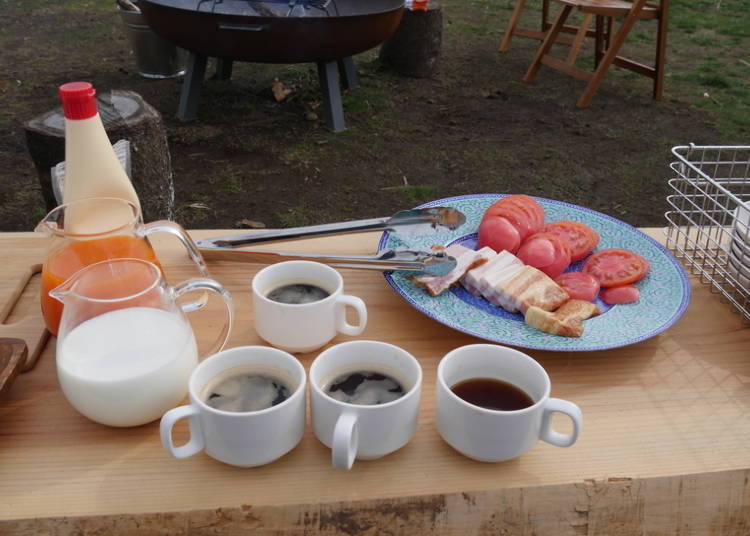 Breakfast also makes used of locally-sourced ingredients.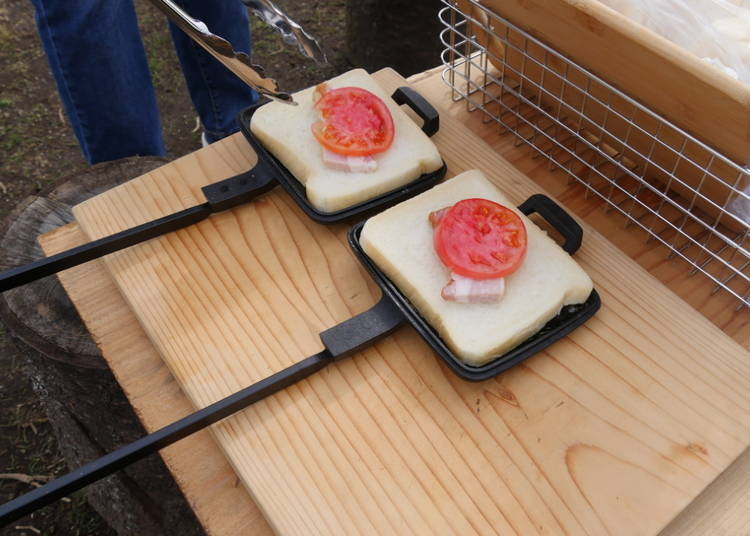 Filling the hot sandwich makers with ingredients!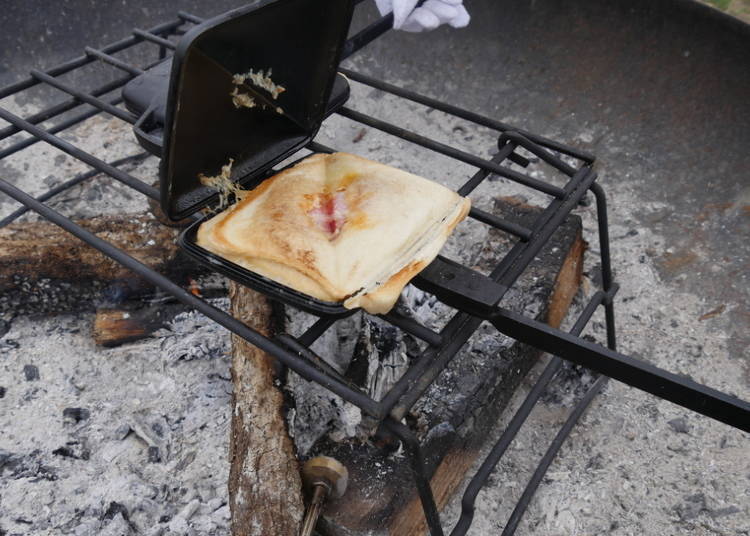 Deliciously toasted!
Controlling the strength of the fire was a little tough, but it's also a good experience. We made such delicious hot sandwiches with it!

For drinks, we had milk and specially produced carrot juice. The natural sweetness and fruitiness of the carrot juice makes it very popular!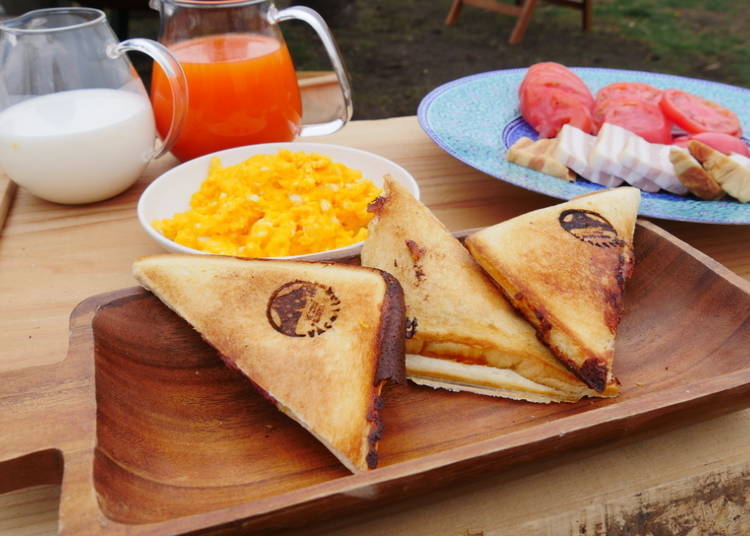 The Mt. Fuji Satoyama Vacation logo is also cutely toasted onto the sandwiches!
10:00 a.m. Ecotour

Once we've filled our bellies, we went for our ecotour in the morning.

The ecotours organized by Ecologic have many variations, including the "Fujisan Trekking" tour where you can visit Mt. Fuji's power spot, Mount Hōei; the "Fujisan Forest Walk" where you can explore the forests around Mt. Fuji on foot with a guide; as well as the "Sato-no-Megumi Mankitsu Ecotour," where you can visit local beer breweries and cellars, and you can also try walking around the town in a kimono for a taste of Japanese culture.

Many tours have been successfully conducted for foreign visitors as well, and English-speaking guides are available.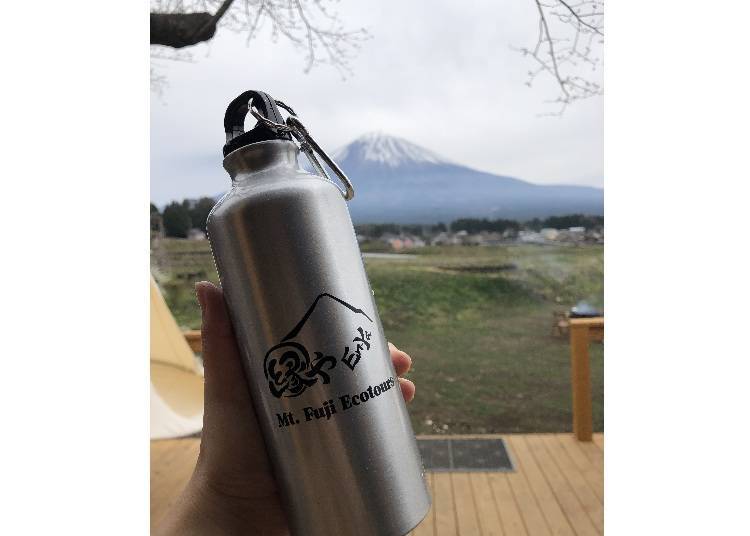 For refreshments, we have spring water from Mt. Fuji in a special bottle. For the sake of the environment, single-use plastic bottles are not used.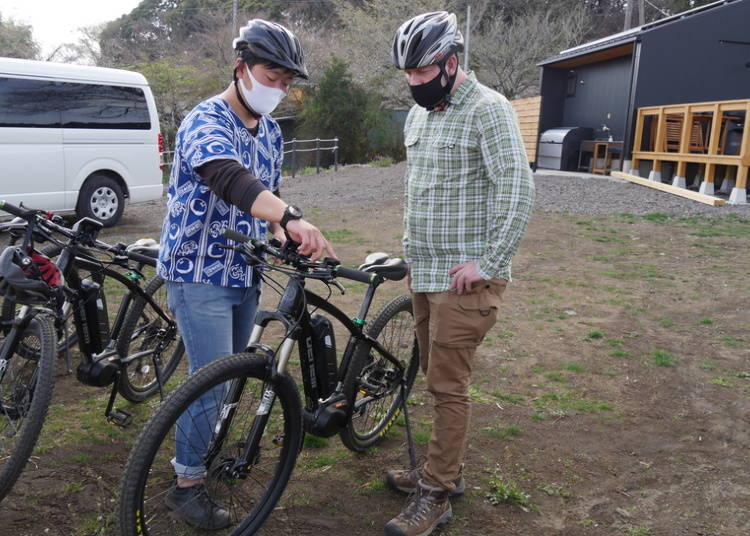 Being patiently taught the way to use the bikes.
This time, the editorial team tried out the Satoyama Village Cycling Ecotour, where you use an electrically-powered e-bike to explore the surrounding foothills and fields.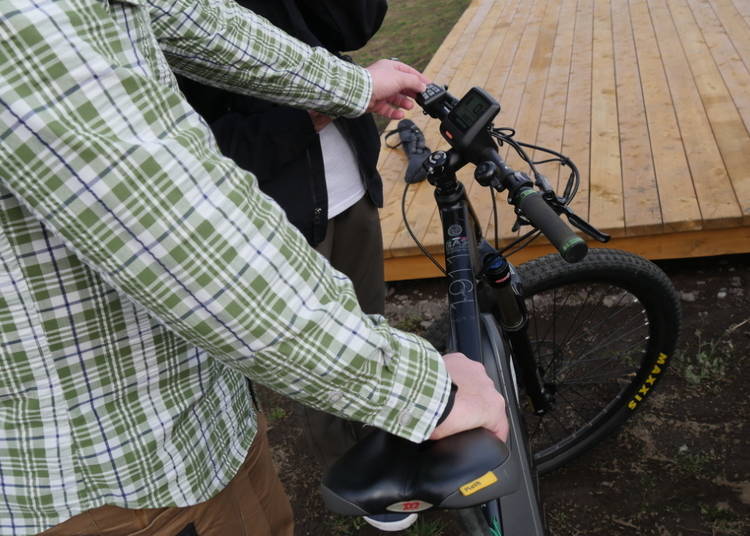 The left handle has assist functions, while the right adjusts gears and speed.
As we had a thorough lecture about the way to ride the e-bikes, we had no worries even though it was our first time. With the assist function, it's easy even to go down steep slopes! As there is no space to store your belongings, it's better to bring along a backpack or waist pouch.

Besides this, due to prevailing measures to prevent the spread of Covid-19, masks are a must, though it can get dangerous when your glasses fog up from the mask. If you leave enough distance between yourselves, it's ok to remove your mask.

This time, our guide and representative, Mr. Shintani, took us on a tour to various historic sites and shrines through the fields and countryside, starting from the famous Shira-Ito Falls.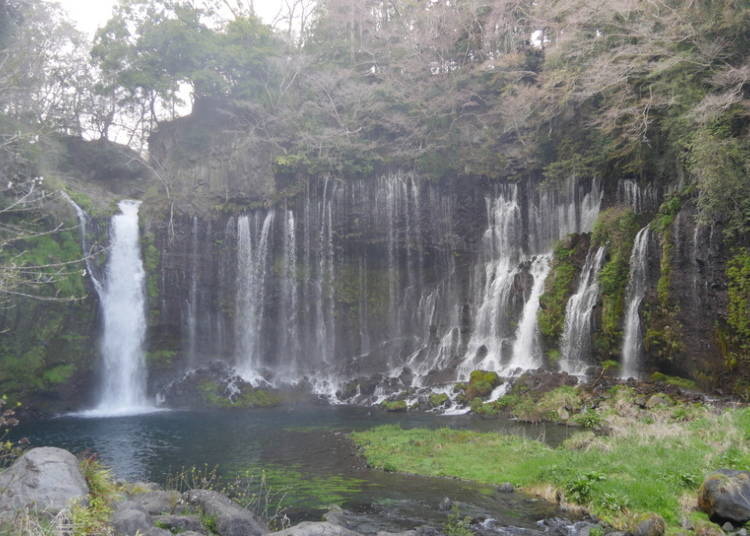 The powerful Shira-Ito Falls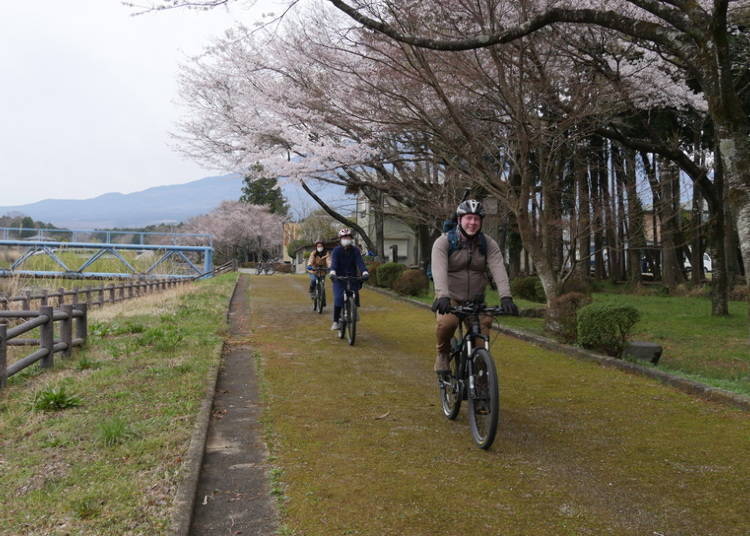 Whizzing by under cherry blossom trees!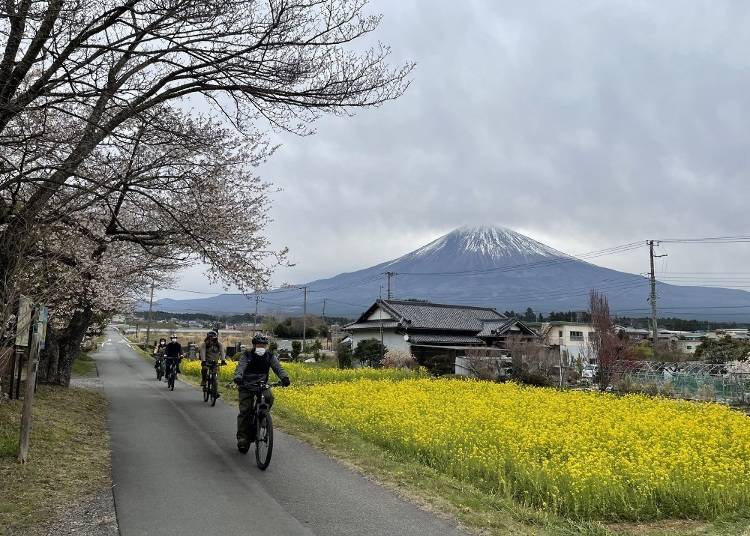 We saw a beautiful view of cherry blossoms and rape blossoms with Mt. Fuji.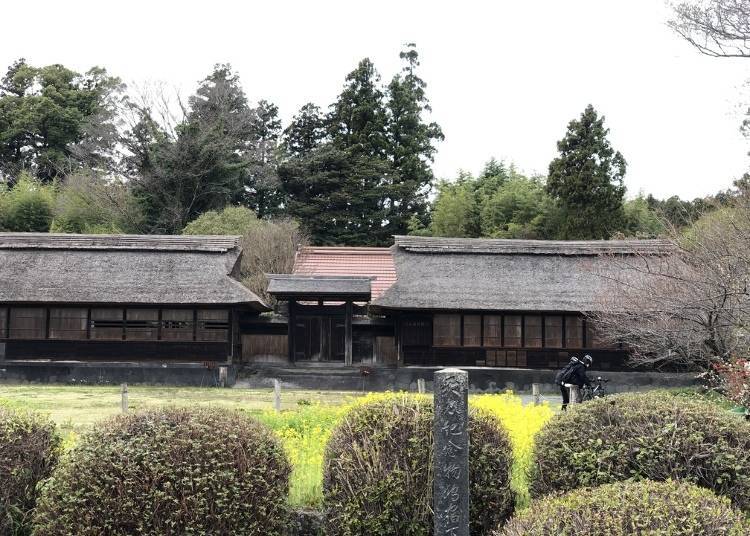 "Ideya Kōreimon Oyobi Nagaya". A hunting lodge that Minamoto-no-Yoritomo, one of the shoguns of the Kamakura period, stayed in during the Fuji-no-Makigari, a grand hunting event organized during that time.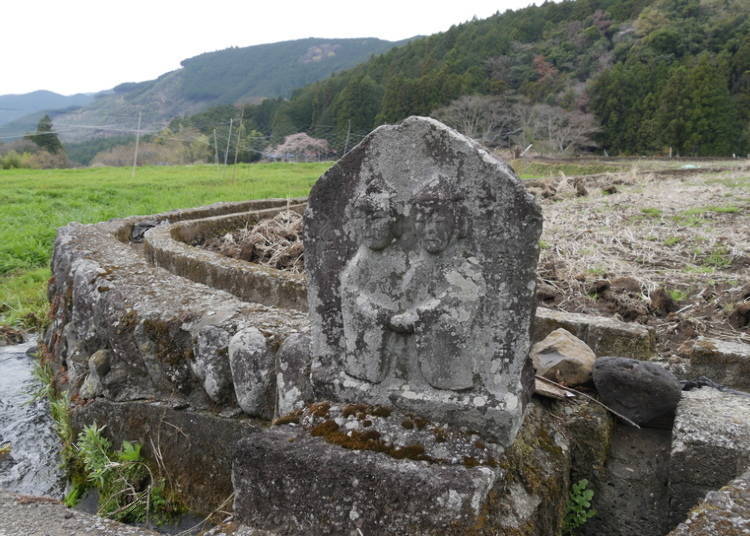 The countryside roads have many dōsojin, or roadside gods, like this. The villagers built these as protection against evil spirits, plagues, and other disasters.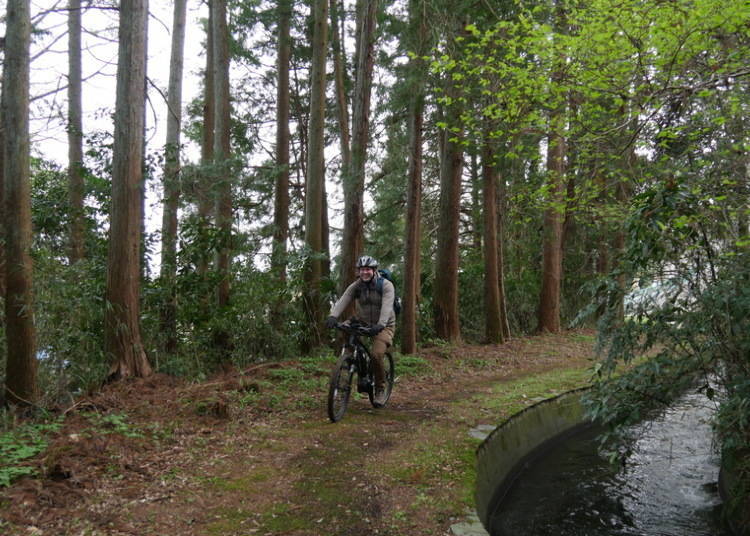 Upon turning away from the open field, we continued down a narrow path in the forest. It's one of Mr. Shintani's spots of interest.
Explanation at Sengen Shrine
Once we reach each spot, time is taken to tell us the story of each place, so that we can more deeply understand the area.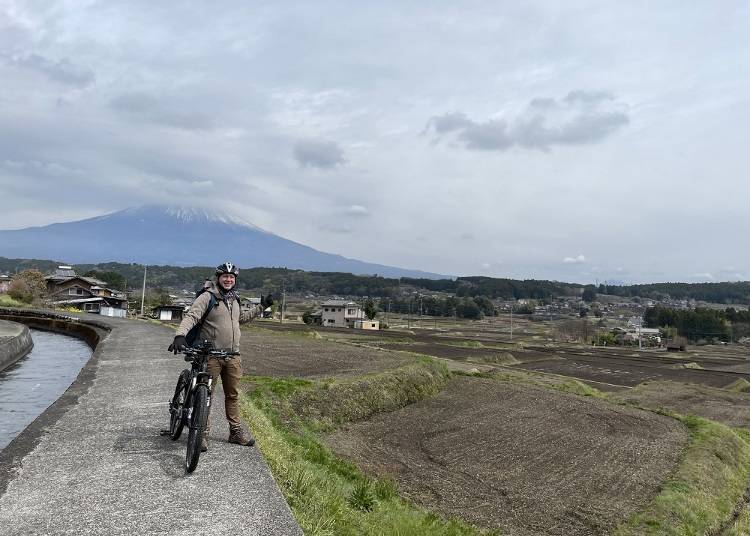 A view of the tranquil countryside!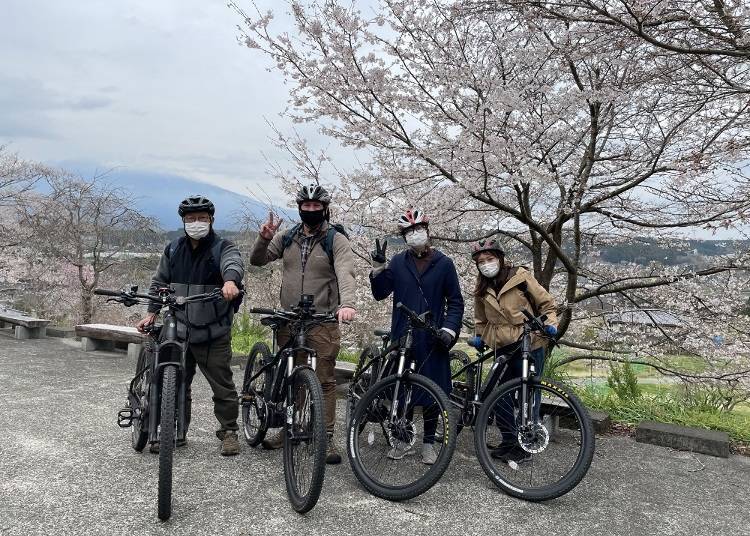 A commemorative photo under the fully blooming cherry blossom trees!
While enjoying the scenery of the old and good Japanese countryside and Mt. Fuji, we also learnt a lot about the culture and history of the area.

1:00 p.m. Lunch

For lunch, we had Fujinomiya yakisoba at "Okonomiyaki Kazu."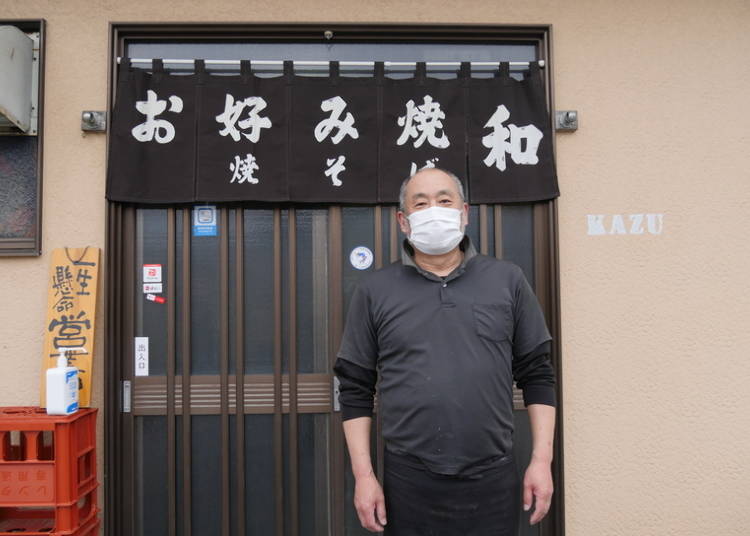 The shop owner cheerfully welcomes us.
Fujinomiya yakisoba is made of springy boiled noodles with meat and other ingredients, and is considered "B-class gourmet food" in Fujinomiya. This time, we also tried out Fujinomiya okonomiyaki pancakes, with plenty of cabbage and boiled noodles, minced meat, and lard.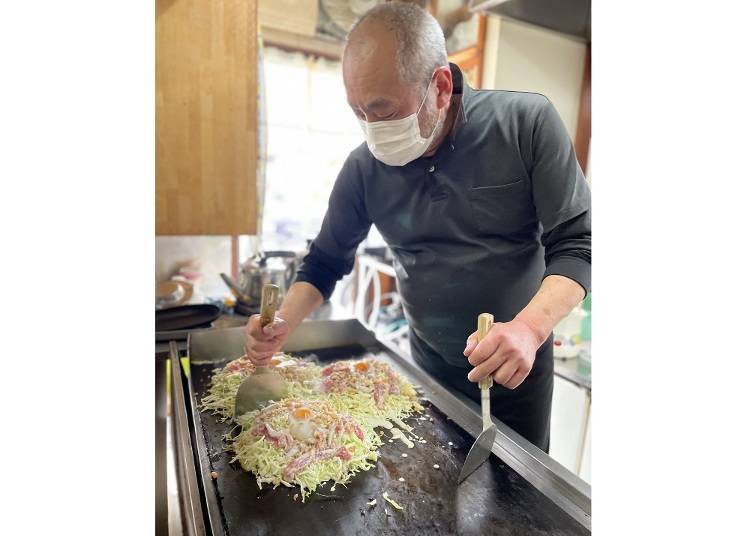 Just seeing it is making us hungry!
From the counter, you can see your food being prepared. Please look at the amount of cabbage in this okonomiyaki!
Fujinomiya okonomiyaki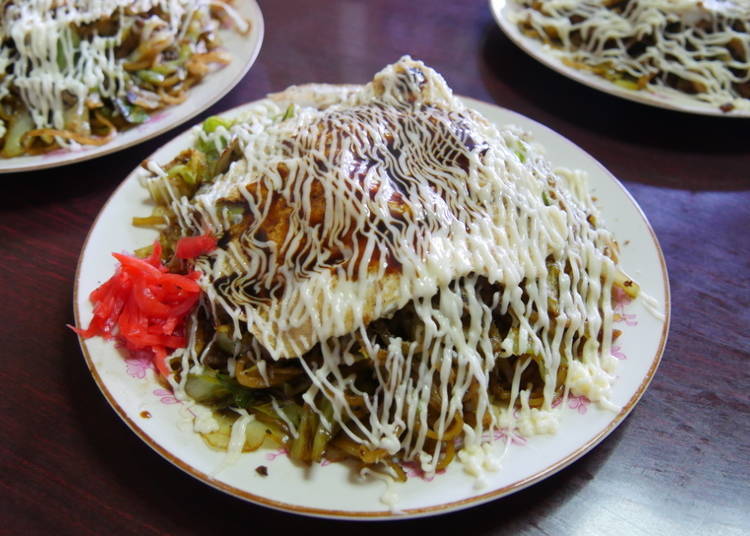 Fujinomiya yakisoba
Even with such a massive volume, the yakisoba and okonomiyaki (when ordering the special) only cost an affordable 650 yen each.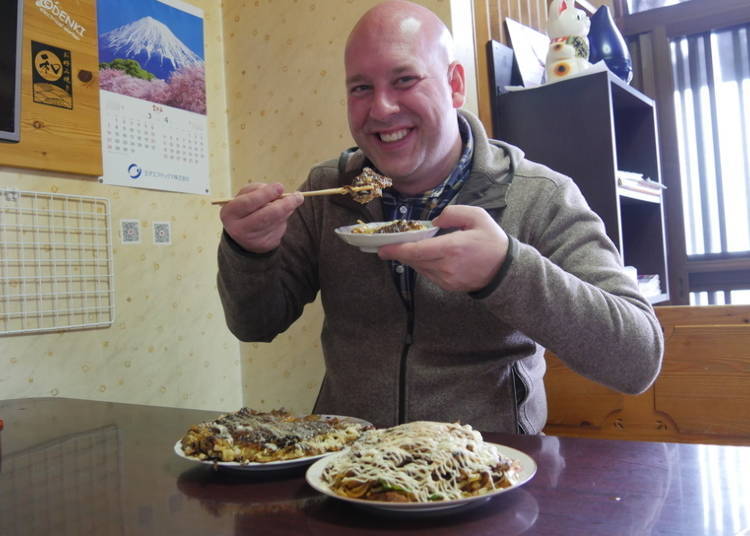 Though the menu is not available in foreign languages, we had support from our English-speaking tour guide.
お好み焼き 和(かず)

Address

364-1 Shimoyuno, Fujinomiya City, Shizuoka 419-0305

Phone Number

0544-66-0155
3:00 p.m. Sake brewery tour

After we've had a satisfying lunch, we returned the e-bikes, and went to "Fujinishiki Sake Brewery" by car for a tour of a sake brewery.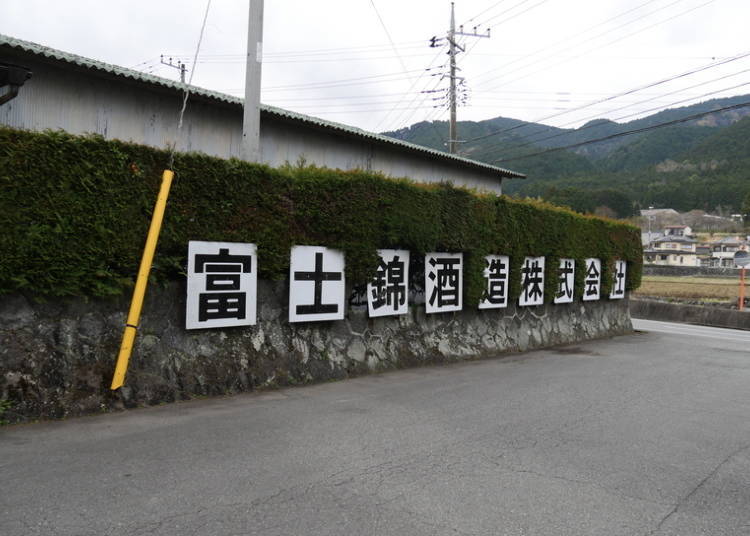 Arriving at Fujinishiki Sake Brewery!
Fujinishiki Sake Brewery is a sake cellar with over 300 years of history. The surrounding underground areas have water flowing from Mt. Fuji, and with the abundance of natural water here, delicious sake can be brewed with the blessings of nature.

The delicious sake is made using high-quality rice and water, making the grounds of Fujinomiya the perfect environment for brewing delightful sake.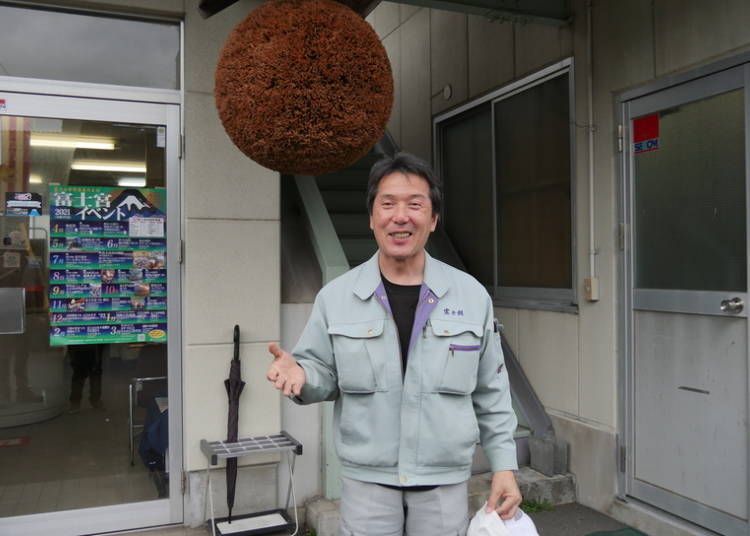 Mr. Sei, who showed us around
For our tour of the brewery, Company President Mr. Sei gave us a tour of the place, with thorough explanations along the way.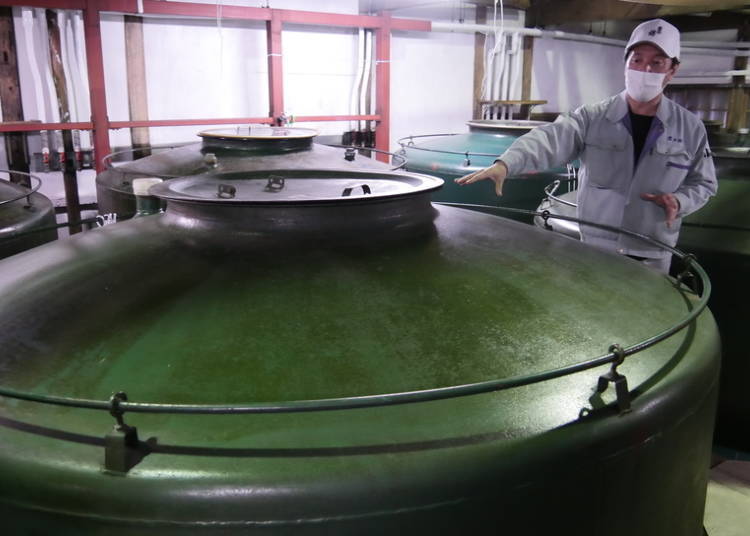 A tank in the brewery. There are tanks made from melted-down decommissioned battleships from after the war too.
One point of interest is that long ago, females were not allowed to enter the brewery. We were given an easy-to-understand and thorough background about the reasons for this.

This time, we got to go up the tanks that were being prepared. You can see the large and heavy tanks all lined up!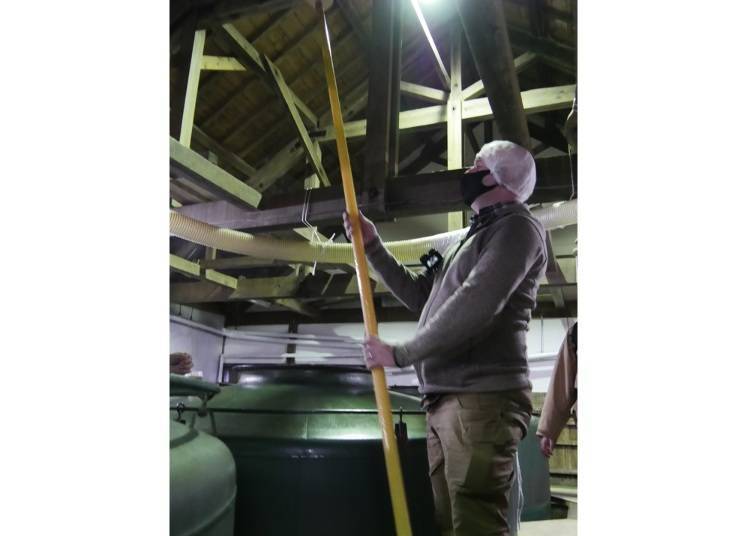 Holding a paddle used to mix the inside of the tank. It's heavier than expected!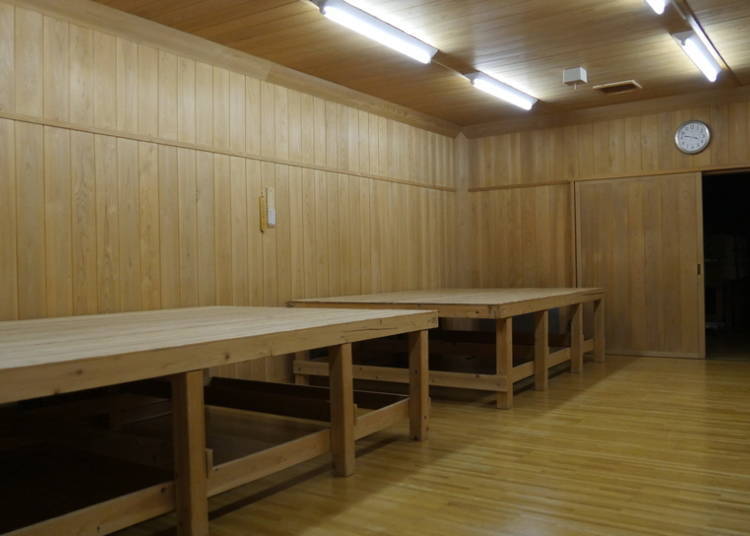 Kōji-muro
Besides this, we got to see the kōji-muro, where kōji, or rice malt, an essential ingredient of sake, is produced, as well as the storehouse and bottling facilities, and we learned a lot about the long process needed to brew delicious sake.

On the day we visited, it was the period when brewing preparations had just finished, but we managed to see the process from the preparation all the way to the brewing stages.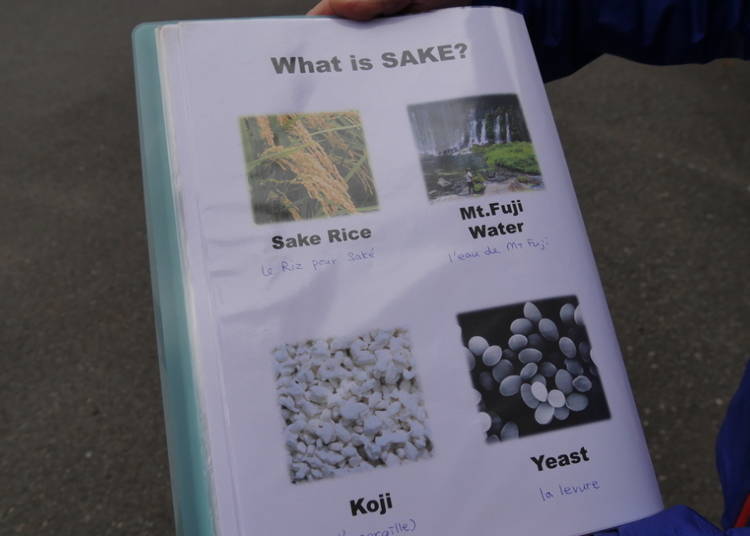 Explanation materials have English and French annotations too
During the tour, besides our guide in English, we also saw materials explaining the process with English and French annotations too. Many foreign visitors seem to come here for tours as well.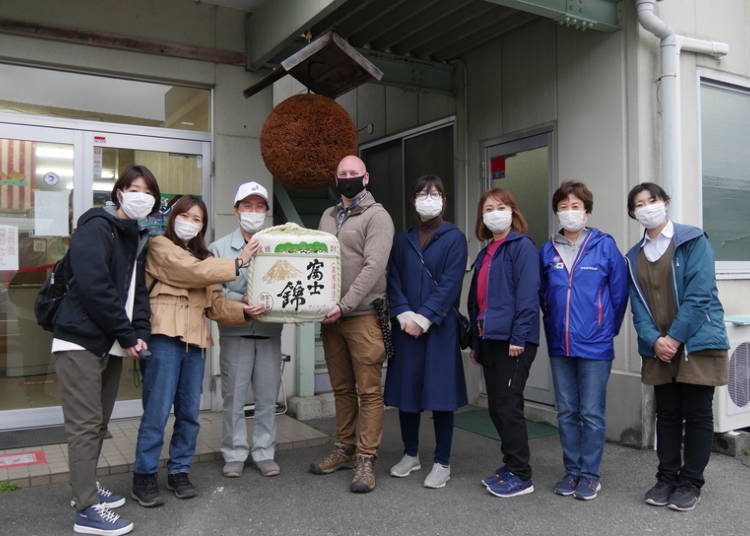 A commemorative photo with everyone! Thank you so much.
Fujinishiki Sake Brewery Co., Ltd

富士錦酒造株式会社

Address

532 Kamiyuno, Fujinomiya City, Shizuoka 419-0301

Phone Number

0544-66-0005
What the LIVE JAPAN staff recommend about Mt. Fuji Satoyama Vacation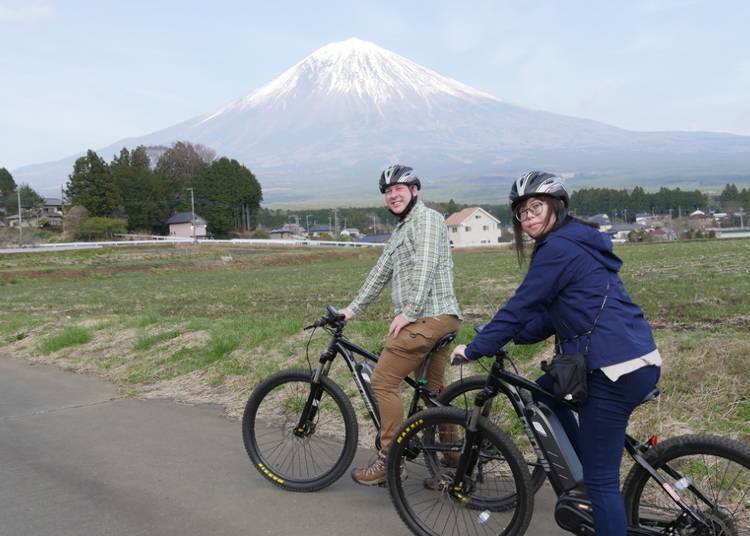 For this 2-day experience, LIVE JAPAN's foreign staff, Timothy (left) and Lee (right) tell us their recommended points for foreign visitors and thoughts about the experience.

Timothy: No matter how you put it, with Mt. Fuji right before your eyes, this place really takes your breath away. Even though we stayed just one night, we could enjoy a sense that this was our home away from home - a campsite just for us. Also, I really liked how the eco-conscious concept was integrated throughout the experience: from the use of local ingredients to the lack of single-use plastic bottles.

Besides this, the staff also live in the local area, and as they explain things in English, you can really gain a deep appreciation of the local history and culture.

Rather than "glamping," I felt this was a fun experience to join in and get to know and connect with the Fujinomiya community - even for a short time. Of course, you can enjoy yourself while respecting your time as well!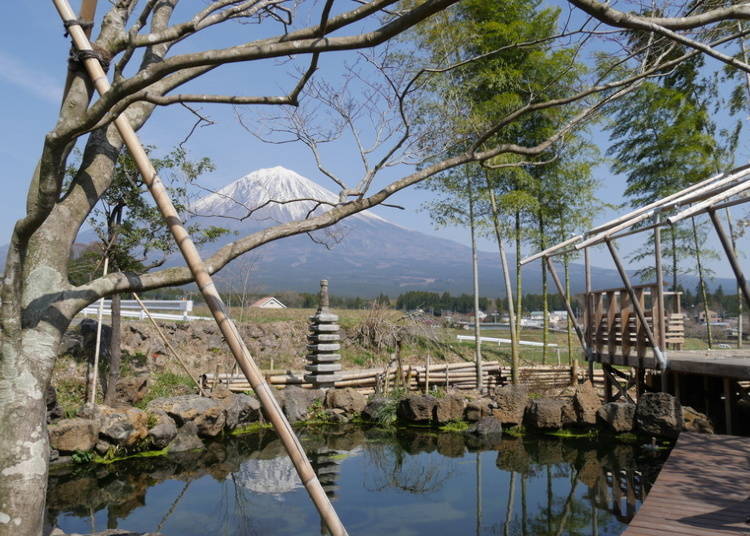 Lee: Mt. Fuji was the best! The great outdoors, like the Shira-Ito falls, is here, and you can enjoy glamping with privacy in an amazing environment.

The barbecue made use of local ingredients, and during the ecotour we got to exchange greetings with the locals, and we really felt the warmth from the Fujinomiya area.

It's great that English translations are provided. If Chinese translations could be provided as well, I'd be happy. I think I'd recommend it to families from Taiwan with elementary and middle school-aged children. Besides passing the day in a relaxing manner, isn't it also a great start to learning more about the environment and sustainability?

Mt. Fuji Satoyama Vacation, a private glamping experience where you can feel the awe of Mt. Fuji and its scenery right before your very eyes.

Enjoying nature is of course a given, and while immersing yourself in Fujinomiya, you learn more about their war of living, culture, and history at Mt. Fuji Satoyama Vacation; won't you say it's interesting?

If you're looking for a different kind of glamping or camp experience that you can enjoy in only Japan, do check out Mt. Fuji Satoyama Vacation.
Indoor disinfection measures taken - Sanitizer installed - Disinfected after each guest leaves - Ventilation measures in place - Staff wear masks, gargle, wash hands regularly, and monitor body temperature - Entry declined to anyone who is feeling unwell - Guests are required to wear masks
MT. FUJI SATOYAMA VACATION

マウントフジ里山バケーション

Address

8-2, Kariyado, Fujinomiya-shi, Shizuoka-ken

Phone Number

0544-66-5722

Hours: 10:00 a.m. to 5:00 p.m.
Closed: Open daily
Text by: LIVE JAPAN Editorial Team

*The information in this article is current as of March 2021. Please check official websites for the latest information.
*This information is from the time of this article's publication.
*Prices and options mentioned are subject to change.
*Unless stated otherwise, all prices include tax.
Search for International flights