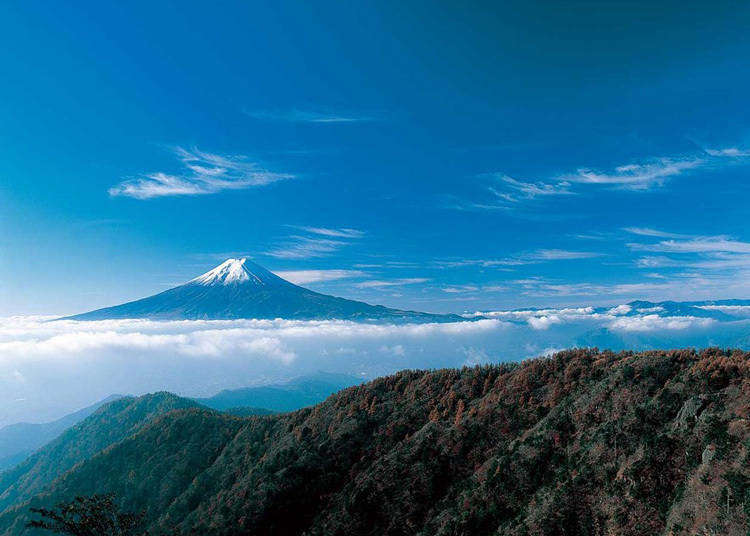 Did you know that Mt. Fuji, undoubtedly the most iconic symbol of Japan, is also the tallest mountain in the country at the height of 3,776 meters (about 12,388 feet) above sea level?

It wouldn't be an exaggeration to state that its beautiful appearance is one of the greatest sceneries you can catch in Japan.

Interestingly, the face of Mt. Fuji changes depending on which direction you're looking at it from! So here's a list of the 10 best places for viewing Mt. Fuji as recommended by local tourist associations. We're confident you'll find this guide handy when planning for your trip to the area around Fuji Five Lakes!
1. Arakurayama Sengen Park: Best place for viewing Mt. Fuji and Chureito Pagoda together!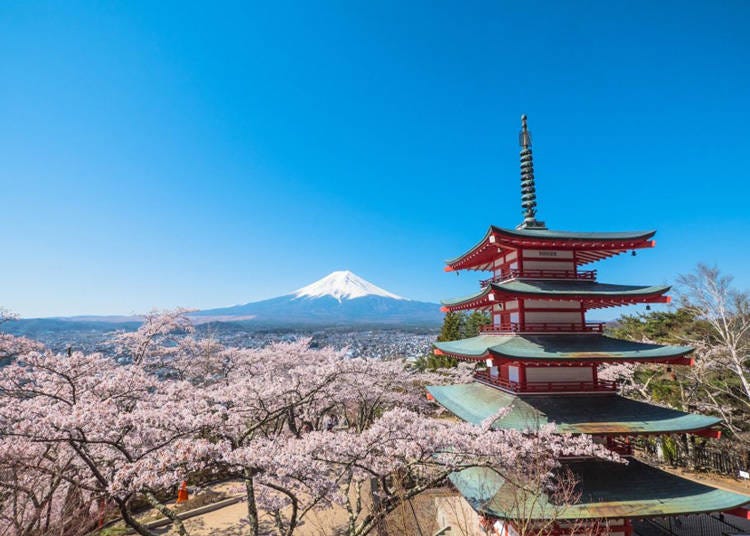 Image source: Fujiyoshida City Mt. Fuji Division
Arakurayama Sengen Park is located in Fujiyoshida City, and it comes highly recommended by many - especially foreigners - as a fabulous scenic viewpoint of Mt. Fuji. The reason for its popularity?

Because the beautiful five-story pagoda in the park, known as Chureito, can be seen together with the mountain! The pair is especially charming during the spring, when the sakura blossoms are in full bloom, a uniquely Japanese sight that's always great for Instagrammable shots.

Nearby, the Arakura Fuji Sengen Shrine has a torii (Japanese temple gate) that's also regarded as an excellent scenic viewpoint of Mt. Fuji. If you're going to be in the area, you can always check them both out and compare notes, or in this case, photos!
新倉山浅間公園

Address

2-3353 Asama, Fujiyoshida City, Yamanashi Prefecture
2. Oishi Park: Mt. Fuji with Lake Kawaguchi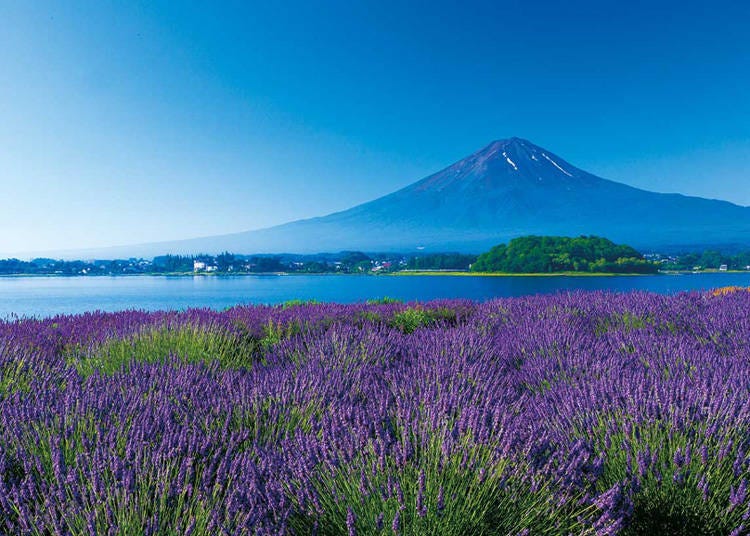 Photo source: Fujikawaguchiko Tourism Division
Another viewpoint on our top 10 list is Oishi Park, because you can take in both Mt. Fuji and Lake Kawaguchi simultaneously in this one special spot!

What's more, there are more than 90 species of flowers blooming within the park along a track that stretches for 350 meters (about 1,150 feet) - and Mt. Fuji is visible throughout the length of this floral path.

Every year in June, a Herb Festival is held, and the main draw of this event is the 100,000 lavender stalks that will be on display. Looking at Mt. Fuji and Lake Kawaguchi from a distance over a field of richly colored lavenders is going to be a sight like no other. The red kochia leaves during autumn are another view worth visiting for as well.

Inside the park is the Kawaguchiko Natural Living Center, where products made with fresh local ingredients from the Lake Kawaguchi area are being sold. Their homemade blueberry jam is especially popular and worth checking out!
大石公園

Address

2585-2 Oishi, Fujikawaguchiko-machi, Minamitsuru-gun, Yamanashi Prefecture
3. Fujimoto Lake Biwa Resort: Mt. Fuji and the largest moss phlox garden in the Tokyo metropolitan area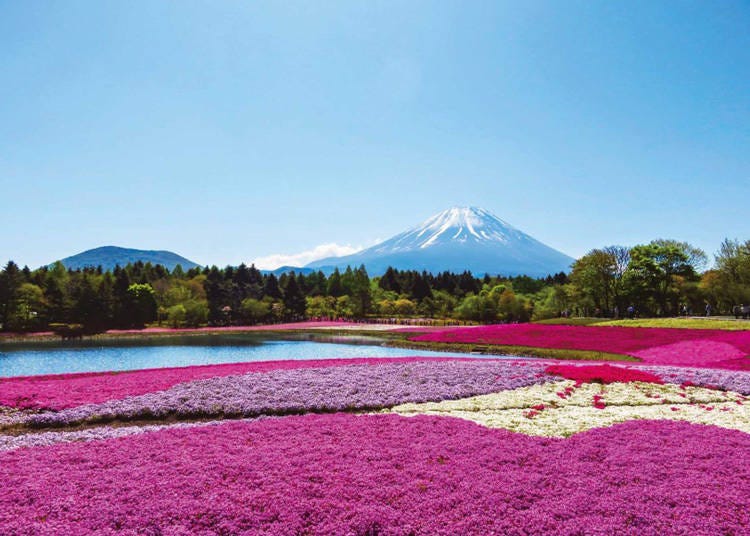 Image source: Fuji Kyuko Co., Ltd.
Every year, Fujimoto Lake Biwa Resort holds the Fuji Shibazakura Matsuri (Fuji Moss Phlox Festival) from April to the end of May. The highlight of this event is the roughly 800,000 moss phlox flowers blooming all over.

Their gorgeous pink petals stand in beautiful contrast against the looming Mt. Fuji in the background, and being able to see both together is why many travelers praise this place as a great Mt. Fuji viewing spot.

Even when it's not moss phlox season, the garden is always full of different kinds of flowers, such as anemone, forsythia, and azaleas, so there's never a plain sight to be found here, another reason for its popularity.

The resort is also one of the places where you can catch sight of a special phenomenon known as Diamond Fuji. This only occurs between early December and early January, when the sun seemingly settles on top of Mt. Fuji's peak for a brief instant. It is as if a large diamond is sparkling atop the summit.

When you watch this over a water surface, the reflected scenery makes it even more special, and some have named this particular sight the Double Diamond Fuji! Because this can only be seen at very few places, you may want to check beforehand where those places are if you're keen to see it with your own eyes!
Fujimoto Lake Biwa Resort

富士本栖湖リゾート

Address

212 Fujigamine, Fujikawaguchiko-machi, Minamitsuru-gun, Yamanashi Prefecture
4. Yamanakako Hananomiyako Park: Mt. Fuji surrounded by seasonal flowers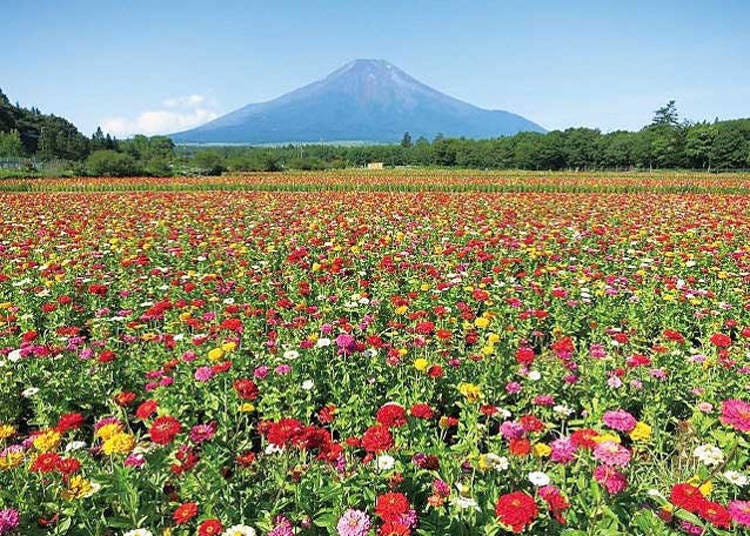 Image source: Village of Yamanakako Tourism Department
Hananomiyako Park, located beside Lake Yamanaka, is where you can admire Mt. Fuji being surrounded by 300,000 square meters (about 3.2 million square feet) of blooming seasonal flowers entirely free of charge!

There are tulips in spring, sunflowers in summer, cosmea in autumn, and so on - the types of flowers in the flower field and farm area will be updated as needed on the park's official website, along with information about their flowering season.

This makes it easy for travelers to plan their trips, so make full use of this provision! Besides the flower field and farm area, the park also has a theme park called Seiryu no Sato that has a soothing motif of flowers and water. There's certainly enough for you to see and do here for an entire day if you wish!
Yamanakako Hananomiyako Park

山中湖「花の都公園」

Address

1650 Yamanakako, Yamanakako Village, Minamitsuru-gun, Yamanashi Prefecture
5. Oshino Village: Where Mt. Fuji is at its most beautiful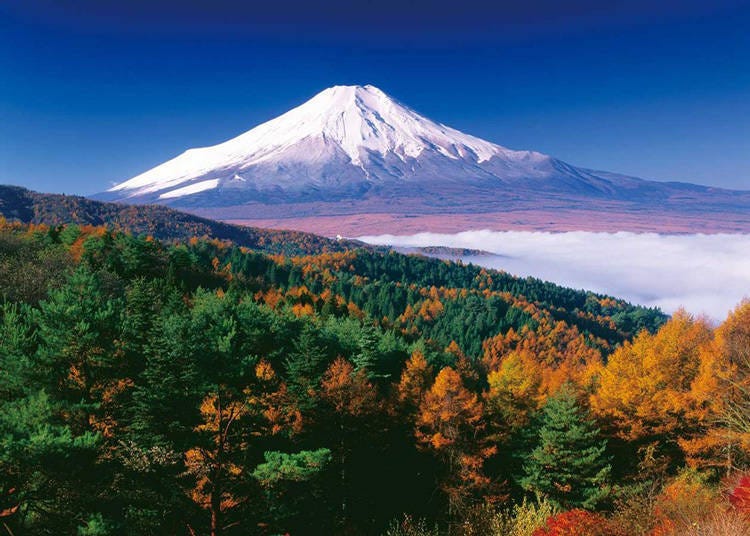 Image source: Oshino Village Tourism Department
Located within the lush greenery of Yamanashi Prefecture's Minamitsuru District, Oshino Village is the place many people are convinced has the most beautiful view of Mt. Fuji.

As a result, visitors armed with camera equipment of all sorts flock to the village year after year to see and capture that precious sight for themselves.

There are quite a few points in the village you can drop by for these much-touted views: Oshino Park, Oshino Onsen area, Mobirabashi, Masunoie, and Omiyabashi, just to name a few.

Oshino Hakkai is a scenic viewpoint that is especially popular. The water source of this village is one of Mt. Fuji's subterranean rivers, and the names of the eight springs (which is what the word Hakkai literally means) connected to this source are Deguchi Pond, Okama Pond, Sokonuke Pond, Choshi Pond, Waku Pond, Nigori Pond, Kagami Pond, and Ayame Pond - all lovely places as well.

In fact, their combined beauty is why Oshino Hakkai is recognized as a national monument. It's definitely a place you should try to visit at least once!
忍野村

Address

Oshino Village, Minamitsuru-gun, Yamanashi Prefecture
6. Roadside Station Fujiyoshida: People come all the way from the city to draw water here!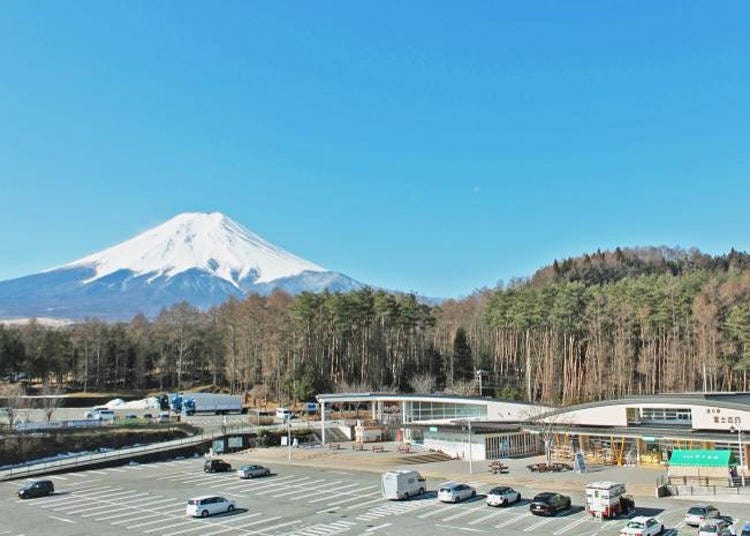 Image source: Fujiyoshida Tourism Promotion Services
Roadside Station Fujiyoshida sits directly in the line of sight of Mt. Fuji and is quite possibly the roadside station in Japan with the most magnificent view of the mountain.

The fact is, many people who come here are not actually taking a rest stop - they drove here specifically to see the great view of Mt. Fuji it has to offer!

To get the full local experience, you can also buy fresh local vegetables here for cheap. Spring water from Mt. Fuji is available free of charge, and some food served by the eatery here can only be had in this rest stop - something else to look forward to when visiting!

Inside the Roadside Station, you'll find an observatory called Mt. Fuji Radar Dome Museum. This is where you can have a completely unobstructed view of the resplendent mountain.

The facility also houses a special experience room that simulates weather conditions on the peak of Mt. Fuji (-8C, or 17F with a wind speed of 13 meters, or 42 feet per second) that visitors can try out. This very educational activity is especially recommended for those traveling with family.
Roadside Station Fujiyoshida

道の駅富士吉田

Address

1936-6 Shinya, Fujiyoshida City, Yamanashi Prefecture
7. Tenjozan Park: Peering at Mt. Fuji from a lookout square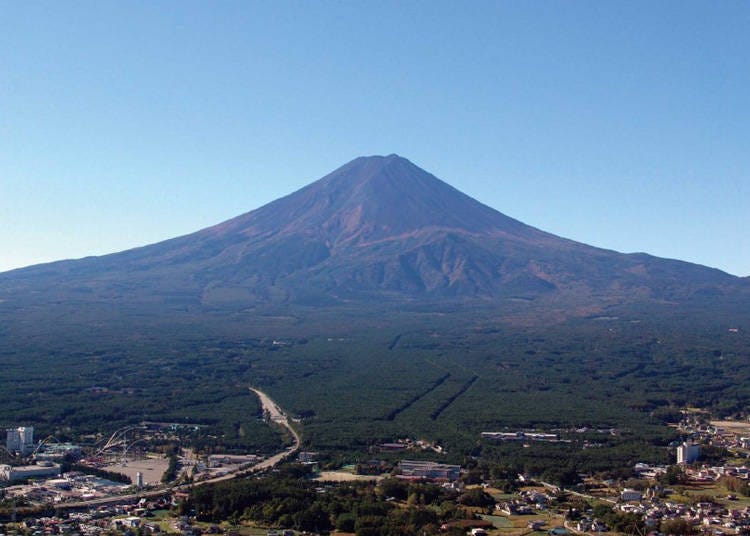 Image source: Fuji Kyuko Co., Ltd.
Tenjozan Park became a household name when famous Japanese fiction author Dazai Osamu used it as the setting of the folk story, Kachi-kachi Yama. Hop on the Mt. Fuji Panoramic Ropeway beside Lake Kawaguchi, and you'll be there in about three minutes.

Tenjozan Park faces Mt. Fuji and Lake Kawaguchiko directly, so the view is guaranteed to be astounding and very different from what the other scenic viewpoints offer.

The observatory deck at the ropeway is called Tanuki Chaya, and because light food and souvenirs are also being sold there, mountain climbers often use it as a halfway rest stop.

Along the way, you'll also find the Usagi Shrine, where the repository for a sacred rabbit is enshrined, and hikers and tourists come here to pray for safety and strong legs. The Tenjo Bell is another place of interest.

Because it faces Mt. Fuji, visitors can't help but ring the bell with great enthusiasm, filled with energy from the grand view before them. These are only a couple of the more popular spots that can be found in the area, and there's more to be explored when you visit in person!
天上山公園

Address

1163-1 Asakawa, Fujikawaguchiko-machi, Minamitsuru-gun, Yamanashi Prefecture
8. Nashigawa Maple Corridor: Mt. Fuji framed with autumn leaves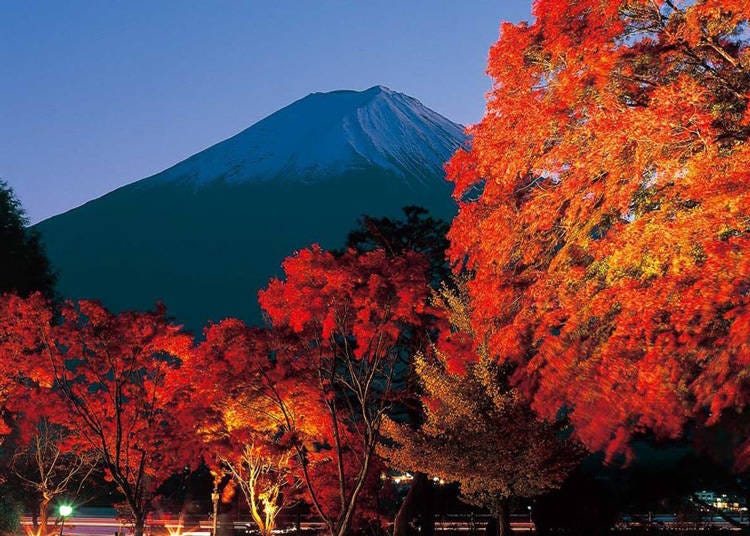 Image source: Fujikawaguchiko Tourism Division
Another famous scenic viewpoint of Mt. Fuji near Lake Kawaguchi is the Nashigawa Maple Corridor, and as its name suggests, the maple leaves here are the main draw.

Every year around November, the roughly 60 large maple trees in the nature corridor start turning a fiery shade of red, creating a lovely landscape unique to the area.

Around this period of time, the Kawaguchiko Autumn Leaves Festival will be held, and the leaves will be illuminated at night, giving them a completely different look from the day!

It's difficult to see Mt. Fuji in the distance when night falls, so photographers may want to take advantage of the lighting from the illuminations during this time for the perfect shot.
梨川もみじ回廊(河口湖もみじ回廊)

Address

Kawaguchiko, Fujikawaguchiko-machi, Minamitsuru-gun, Yamanashi Prefecture
9. Mitsutogeyama: Getting in touch with your spiritual side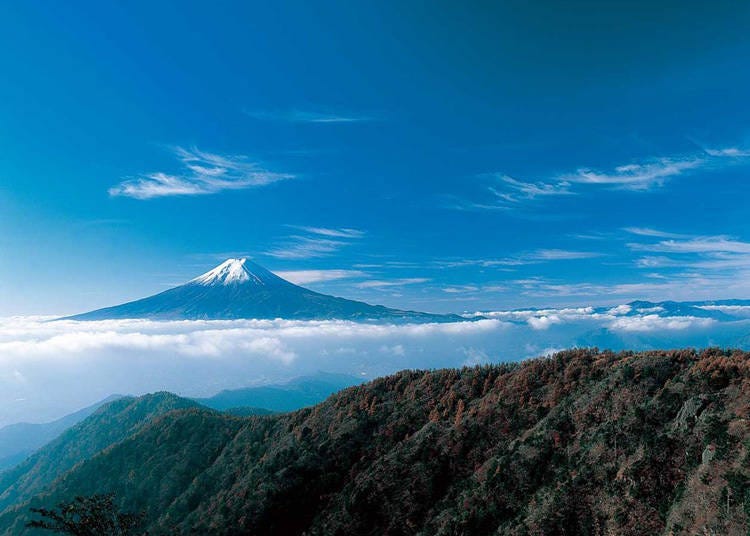 Image source: Sannichi Printing
Mitsutogeyama is actually the collective name of three mountain peaks: Mt. Kaiun, Mt. Osutaka, and Mt. Kinashi, all sacred mountains with long histories of being connected to the faiths of many.

As such, it's an excellent place for people to go to get in touch with their spiritual side. On the other hand, for visitors wanting photographs, the view from the pavilion on the summit is especially sublime in the early morning.

It takes about 2.5 hours to get to the entrance of Mitsutogeyama from Shinjuku by special express train, so a day trip is very much within the realm of possibility!
三ツ峠山

Address

Kawaguchi, Nishikatsura-cho, Minamitsuru-gun, Yamanashi Prefecture
10. Mt. Fuji 5th Stage Okuniwa: A view so breathtaking, even a Tengu came for a visit!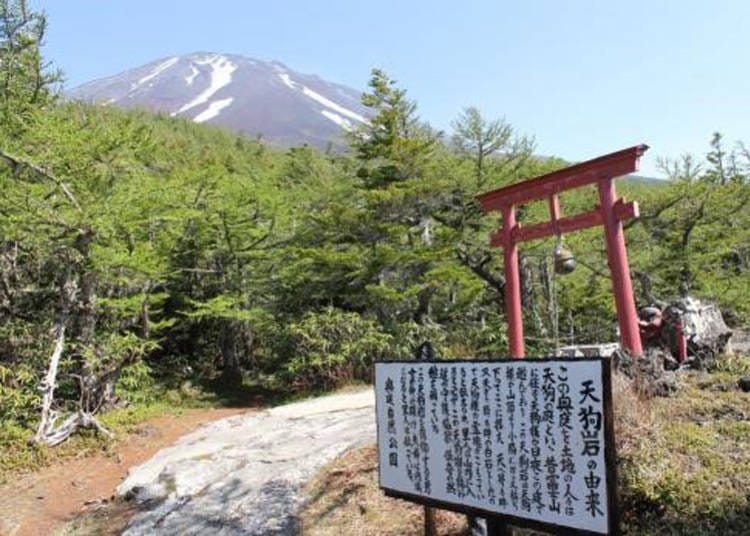 Image source: Fuji Five Lakes Tourism Federation
The recommended scenic viewpoint around the 5th stage of Mt. Fuji is called Okuniwa, or Tengu's Yard, taken from the legend that speaks of a Tengu (a legendary creature in Japanese folklore) visiting the place because of the magnificent view it offers.

There's a torii gate here dedicated to that Tengu, and it complements the natural landscape very well in pictures! The area here is quite flat, making the hiking route leading to Okuniwa easy enough for even beginner mountain climbers. Please give it a go and be rewarded with the ultimate photo opportunity at the end of your trek!
Mt. Fuji 5th Stage Okuniwa

富士山五合目奥庭

Address

Narusawa Village, Minamitsuru-gun, Yamanashi Prefecture
We hope you've found this carefully selected list of 10 scenic Mt. Fuji viewpoints useful for your trip planning. Feel free to look them up on Instagram, Twitter, or other social media to verify the authenticity of this list for yourself!

You won't be disappointed by the pictures or discussions about these places you come across during your search. Perhaps you'll even start making plans for your own visit immediately after that, and really, there's no time like the present!

Written by Dali Corporation, Yu Sato. English translation by Huimin Pan.
*This information is from the time of this article's publication.
*Prices and options mentioned are subject to change.
*Unless stated otherwise, all prices include tax.