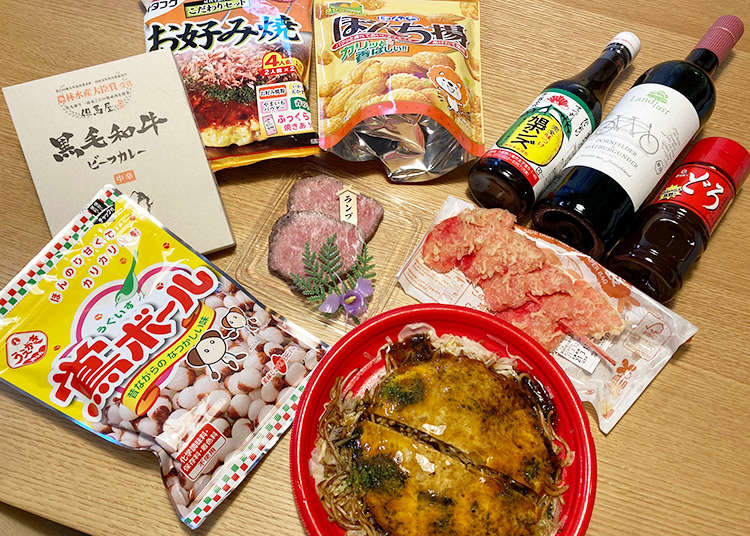 Kuidaore is a popular Japanese term that means to eat oneself bankrupt - a fitting description for Osaka, which has been long-known as the city of kuidaore! Osakans are very passionate about eating and take special care in the everyday dishes they make at home.

Here we will introduce ten representative local foods in Osaka that you can easily find at the supermarket! These range from nostalgic childhood snacks to the well-known taste of pickled-ginger tempura. Foods loved by Osaka's fussy eaters are different from what you can find at your run-of-the-mill souvenir shop.

These items are sure to be a hit even among foreign tourists who have already visited Osaka several times before.
Reopening of Kohyo's Minamimorimachi shop after undergoing renovations in March 2021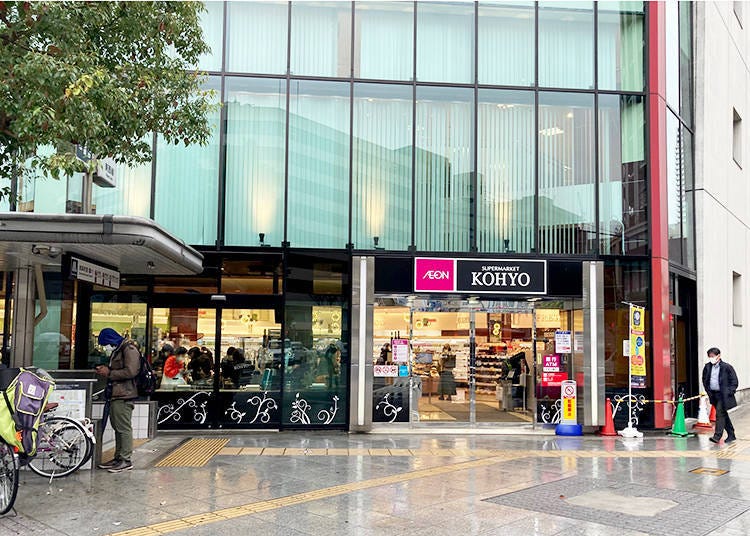 Kohyo's Minamimorimachi shop can be easily accessed due to being right by Exit 4-B of Osaka Metro's Minamimorimachi Station.
Kohyo, which originated in Osaka, now has many shops in the suburbs of the Kansai region. Although the supermarkets are mostly located in town, a buyer gathers fresh and delicious ingredients from nearby markets.

Recently, in an attempt to super-delify the shop, it has been making new additions to its deli section. This includes items such as sushi, sashimi, pre-cut fruit, salads, and roast beef. In addition, the supermarket has been gaining popularity due to offering an extensive range of ready-to-eat items that you can enjoy at home or your hotel.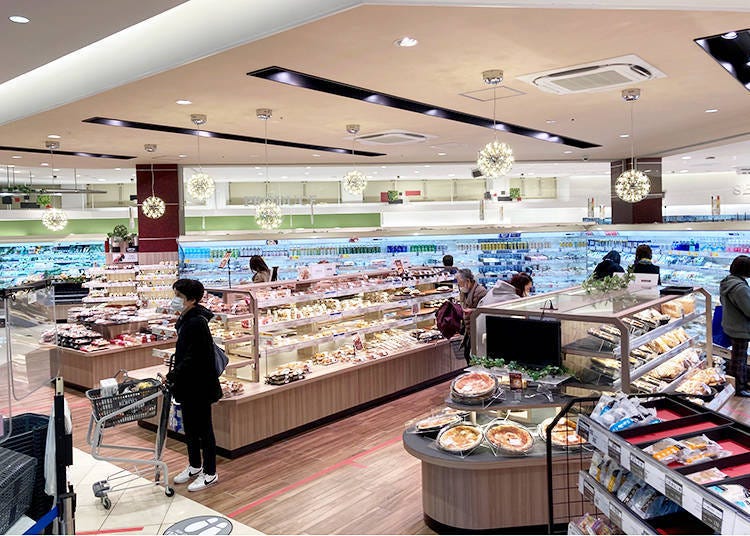 The deli section on the first floor seems to have much more variety compared to other supermarkets.
We have come to Kohyo's Minamimorimachi shop, which was renovated in March 2021. It is within walking distance of the Umeda district, a section of Osaka where you can always discover the latest trends. We recommend finding accommodation here because it has many hotels and easy access to any part of Osaka City.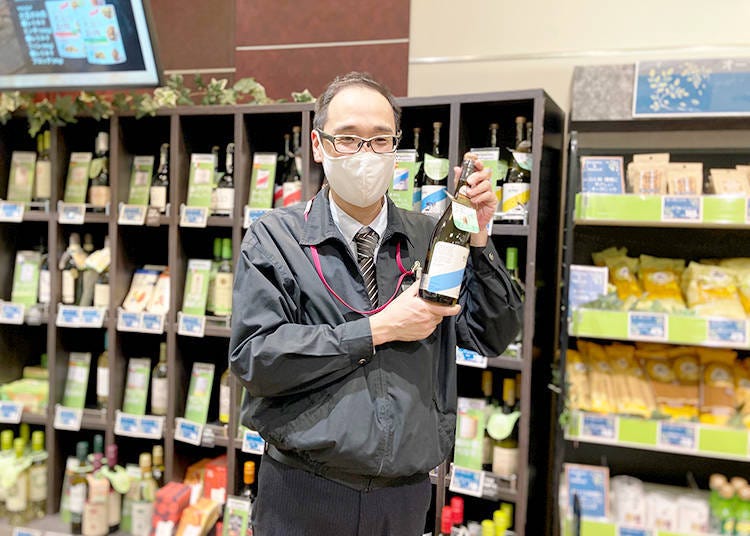 Mr. Maeda shared that the organic and natural section was newly-established upon the supermarket's reopening.
The products available have been revamped with delicious, healthy, convenient, and instant foods. We will be introducing items representative of Osaka found in this attractively updated shop. This will be done with the help of the vice store manager, Mr. Noritaka Maeda, and a writer who has been living in Osaka for over 35 years.
1. Nightingale Balls, A Snack Loved for Over 90 years: Once You Start, You Can't Stop!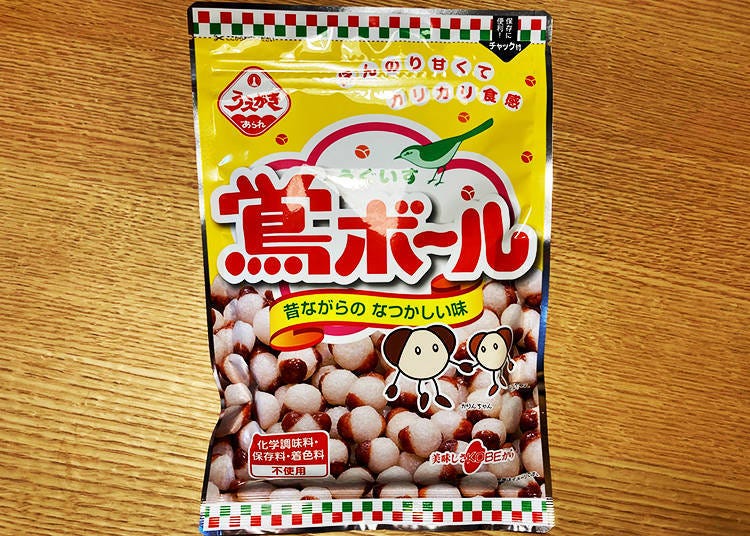 These are also popularly known abroad as Japanese rice crackers.
Located in Kobe City, Hyogo Prefecture, Uegaki Bekika Co LTD first created Nightingale Balls (110g, 213 yen) in 1930. This fried confectionery was first made with glutinous rice and soy sauce. When the writer we interviewed was a child, they could be found at every and any household. With its addicting slightly sweet flavor and crunchy texture, it is a snack that has been loved for over 90 years in the Kansai region.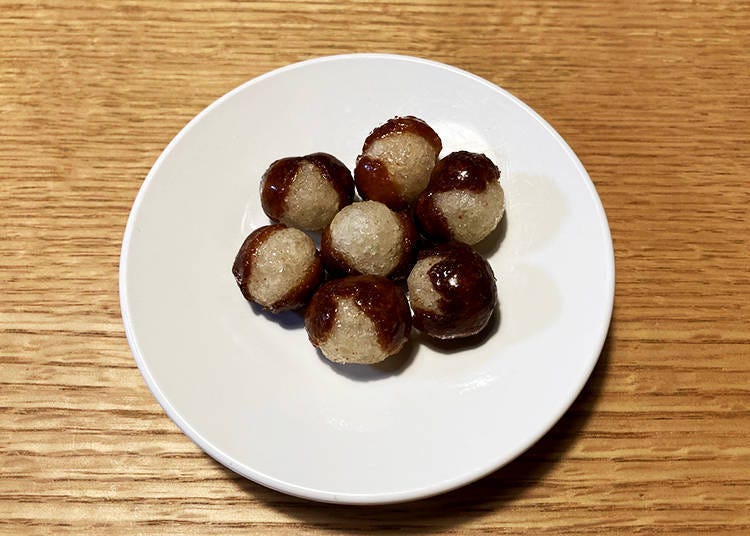 The cute, round shape is another reason as to why they are so loved.
The white part is glutinous rice, and the outer dark-brown coating is made from flour. The ball forms this design due to the color splitting naturally during the frying process. Not found anywhere else in the world, the nightingale ball's unique flavor and shape are sure to make for a great souvenir!
2. Bonchiage: The Osakan Soul Snack
Bonchiage (with a vacuum seal bag, 120g, 138 yen) won't get stale even after it's opened.
Bonchiage is a standard snack that everyone in the Kansai region knows. It has a crunchiness and slightly sweet but deliciously light soy sauce flavor. Although it has been over half a century since it was first sold, when locals are asked to think of fried rice crackers (or snacks using rice), they instantly think of bonchiage.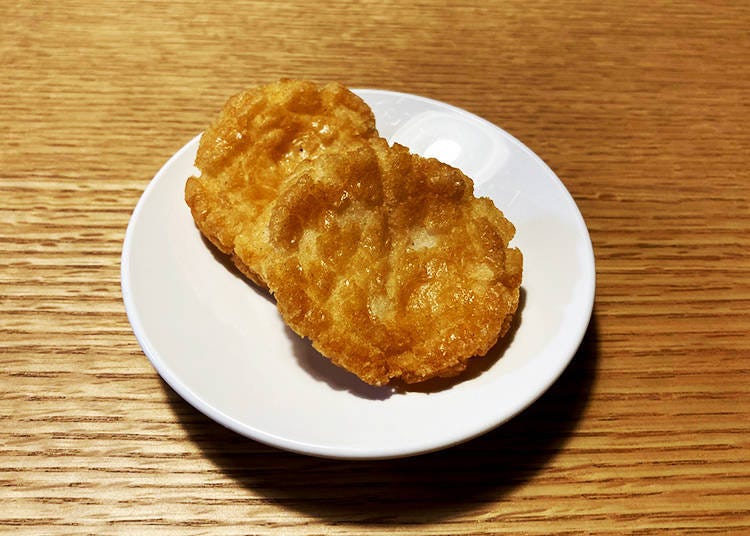 Perfect for when you're in need of something light, the crunchy texture of this snack is just delightful.
"The size of each cracker and the well-balanced, light texture is popular among foreign visitors," mentions Mr. Maeda. Catering to the preferences of people in the Kansai region, it is subtly seasoned. It's easy to understand why this is a popular snack that everyone enjoys.
3. Asahi Ponzu: A Huge Hit Among Picky Osakans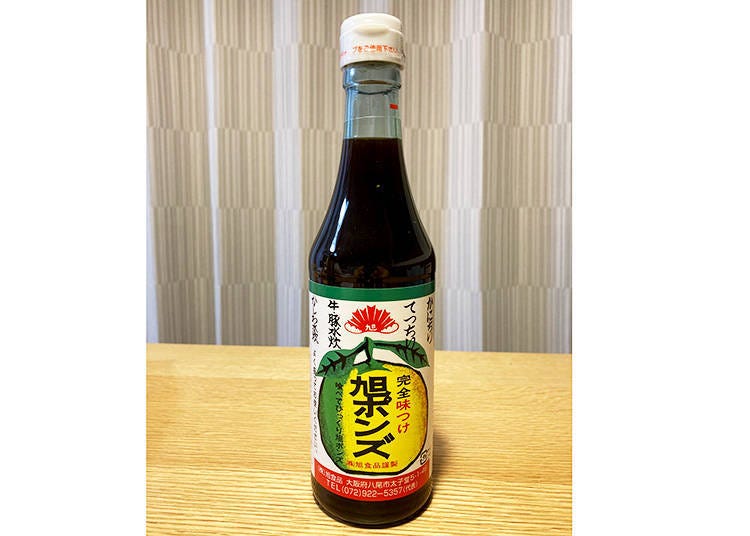 Asahi ponzu is otherwise known as the ponzu sauce you can drink.
Ponzu is a healthy, oil-free condiment used for Japanese cuisine with highly preservative qualities due to mixing lemon, lime, and yuzu citrus with vinegar. Asahi Syokuhin, a food company in Osaka, makes an explosively popular ponzu sauce called Asahi Ponzu (360ml, 645 yen).

Being made with the utmost care, everyone in Osaka knows of this sauce. However, no matter how popular the product becomes, it is never mass-produced. This allows the company to pour their whole heart into making every bottle.

The ingredients for this sauce are carefully chosen. The rich umami flavor and refined aroma that comes from the dashi, a Japanese broth, made from Hokkaido's Rishiri-konbu seaweed is used. This is coupled with citrus fruits that are carefully grown by designated producers. It's a condiment that can be used for various meals, including Japanese hotpot and other grilled dishes.

Our writer enthusiastically commented that they love the aromatic broth of this sauce so much, they wouldn't mind drinking it. When abroad, it's delicious used as a salad dressing and as a sauce on fish dishes or meat dishes like steak.
4. Okonomiyaki Kit: Easily Make Osaka's Specialty of Okonomiyaki at Home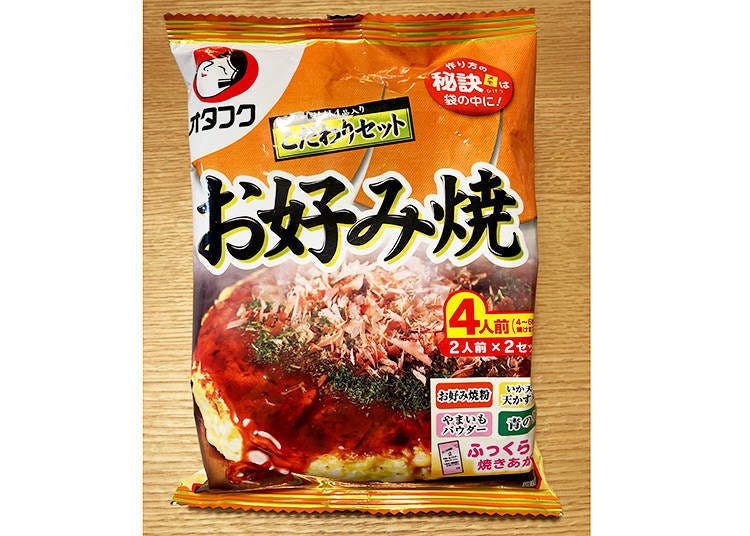 Prepare the ingredients and sauce to make okonomiyaki!
Otafuku sauce is known in Japan as the standard sauce for okonomiyaki-a Japanese savory pancake. The company that makes this sauce has also created the okonomiyaki kit (four-person kit, 429 yen).

To make authentic okonomiyaki at home, all you have to do is prepare some ingredients such as cabbage and eggs along with the sauce. The kit also comes with a lightly seaweed flavored flour mix, small pieces of squid flavored fried dough called tenkasu, yam powder that gives the okonomiyaki its fluffiness, and a topping of domestic dried seaweed known as aonori.

Our writer uses this mix when it's too much work to make and prepare all the ingredients from scratch. It's also highly recommended because, with this kit, anyone can create fluffy okonomiyaki like the ones served at specialty shops in Osaka.
5. Doro Sauce: A Sauce Brimming with Umami from Vegetables, Fruits, and Spices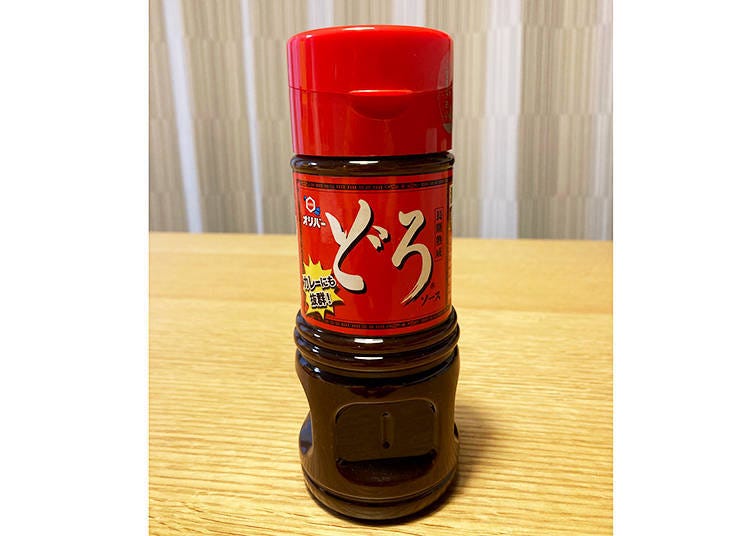 The doro in doro sauce comes from a Japanese word used to describe the thickness of a liquid.
Commonly known as just sauce, this unique Japanese condiment is thickened by using various vegetables, fruits, and spices. It is generally put on top of okonomiyaki or takoyaki - round, fried octopus balls.

Out of the different variations, Japanese Worcestershire sauce stands out. It has a smooth consistency due to the vegetables and fruits being pureed, and the spices give the sauce a special kick.

Doro sauce (360g, 365 yen) is made from the remaining sticky residue found at the bottom of the pot when making Oliver sauce, a Worcestershire sauce made at the main office of a company located in Kobe.

You can enjoy the original, well-balanced, and rich flavors that come from the sweetness of vegetables and fruits harmonizing with aromatic, hot spices. What's more, you can use this unique flavoring for curry and other dishes when you want to draw out the depth in flavor.

Mr. Maeda added, "This sauce is beloved by the people in the Kansai region because it goes perfectly with okonomiyaki and yakisoba - Japanese fried noodles. I believe every household has at least one bottle. So you can enjoy the authentic taste of okonomiyaki in your home country if you buy this condiment and try it with the okonomiyaki kit mentioned earlier."
6. Tajimaya Black Wagyu Beef Curry: Made by a Famous Japanese BBQ Shop Known for Buying Entire Black Wagyu Cows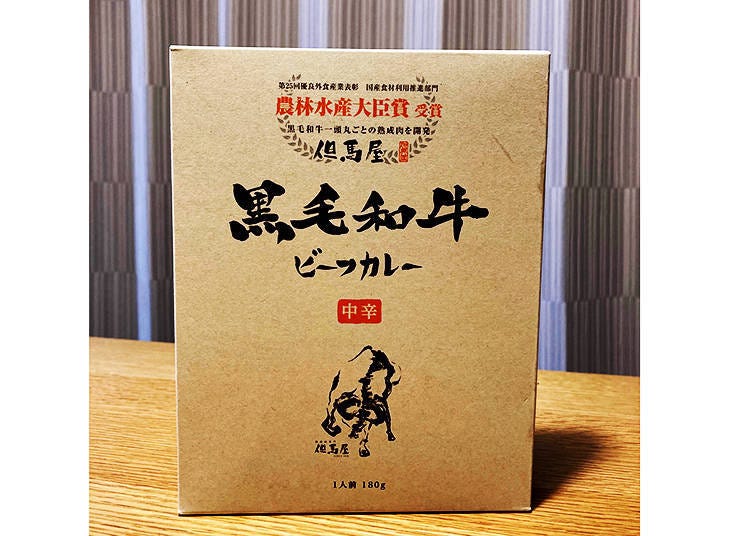 The marker for this curry is the cute design of a cow on its package.
Tajimaya Black Wagyu beef curry (180g, 537 yen) is a dish served at Tajimaya - a specialty shop for aged beef BBQ. This dish won the Minister of Agriculture, Forestry and Fisheries Award in 2017. The pre-packaged curry product was originally made as a meal for the staff at Tajimaya. Since the shop buys an entire Black Wagyu cow for the restaurant, it can produce an affordable product that can be easily enjoyed at home.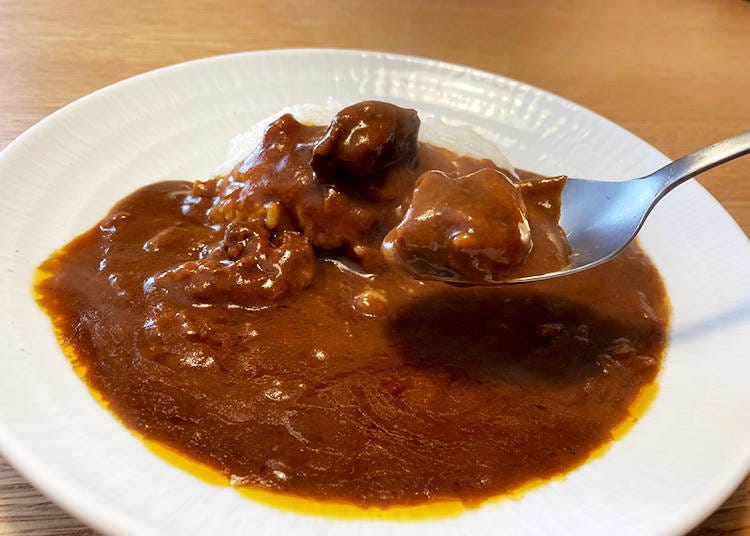 The quality of the tender Black Wagyu beef makes you feel as though you're eating at a specialty shop.
The mild sweetness first hits your tastebuds, quickly followed by a kick of spice. The tender, melt-in-your-mouth quality of the Black Wagyu beef, the beef's fattiness, and the roux result in a superb dish.

There are many kinds of pre-packaged curry products, but this is a brand well-known by the people of Osaka. The quality of this curry is so good, it's difficult to compare it with the other instant curries available. It is a masterpiece that you can boast about when bringing it home as a souvenir.
A Large Selection of Gourmet Takeout Foods That You'll Want to Bring Back to Your Hotel!
A characteristic of the delicatessen found at Kohyo is that you can enjoy dishes that are freshly made. Although you can't bring them back home as souvenirs, we will introduce gourmet dishes we recommend bringing back to your hotel!
7. Benishoga Tempura: The Unique Acidity and Spiciness Will Have You Coming Back for More!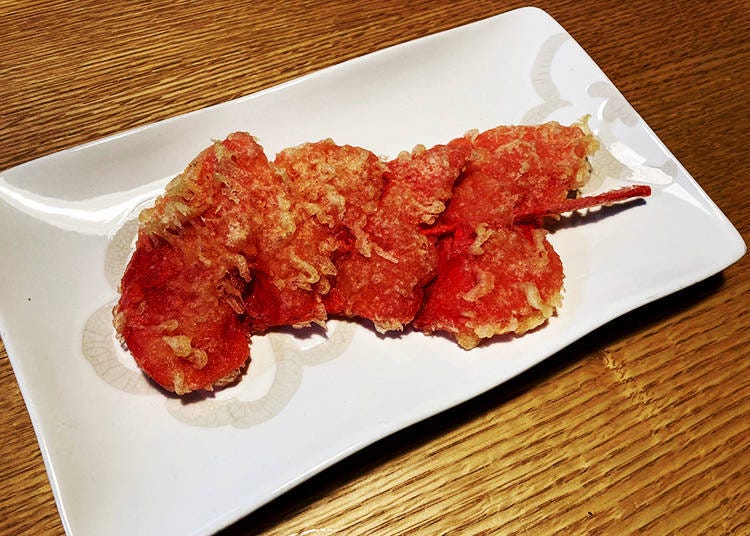 Generally, you'll find fried pieces of sliced benishoga on a skewer.
Benishoga tempura (84 yen) can be had at many of Osaka's izakaya pubs or tempura shops, but it can also be purchased at the supermarket's deli section. Although it isn't as popular in other areas, this dish can be easily found in the Kansai region.

It was originally made due to having left-over plum vinegar generally used to pickle Japanese basil. Because it was a waste to throw the vinegar away, it was used to pickle ginger, making it non-perishable. This benishoga or red pickled ginger was then later fried into tempura.

The writer excitedly told us that they love this dish's crunchy texture as well as its unique acidity and spice. Currently, it has become a complimentary dish when enjoying a couple of drinks. So please try enjoying this dish with some spirits back at your hotel!
8. Kagoshima Black Wagyu Roast Beef: Kohyo x Kagoshima Black Wagyu Beef!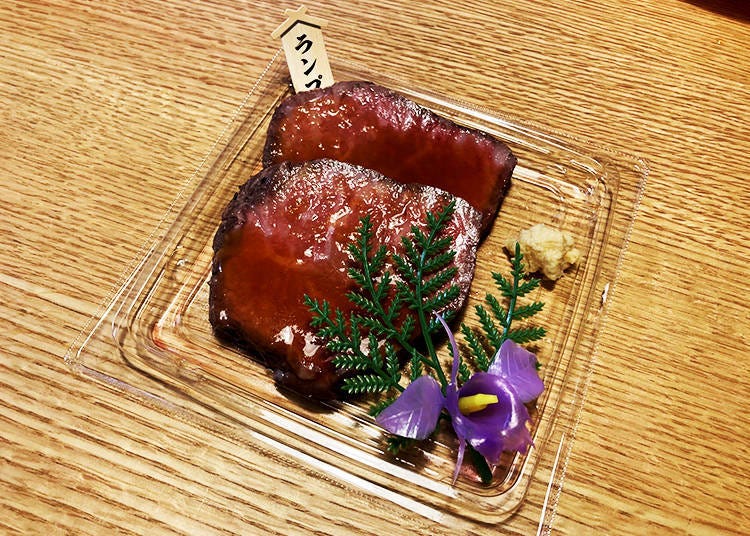 Using only lean, red meat, this roast beef's umami flavors burst in your mouth the longer you chew.
Kagoshima Black Wagyu roast beef (100g, 657 yen) is a popular dish made by Ja Shokuniku Kagoshima KK, a company with a long-standing partnership with Kohyo. The Black Wagyu beef from Kagoshima is processed at the Yao Center in Osaka. It is then directly sent to the Minamimorimachi shop while still extremely fresh.

The roast beef shown in the photo is sliced into 1.5cm. This thickness seems almost unbelievable given that the meat is so tender and juicy. It is a chunky dish that will keep you completely satisfied. Additionally, roast beef sliced into 0.8mm cuts is also available.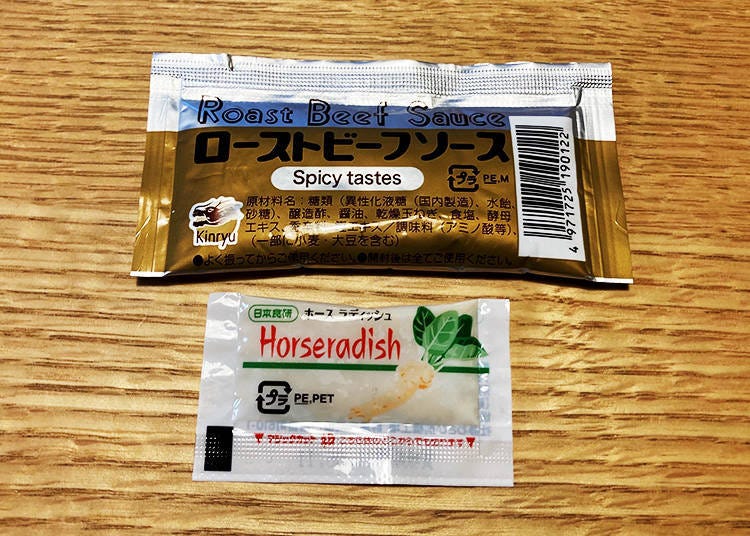 Please try this roast beef by using and taking home some of the original sauce and horseradish. These sauces can also be found in the deli section.
Mr. Maeda proudly recommended this dish, adding, "We also sell Black Wagyu beef from Kagoshima for Japanese BBQ, so please try grilling some if your accommodation has a kitchen. You can enjoy delicious legendary Japanese beef without having to go to a restaurant."
9. Odashitei Hiroshima-style Okonomiyaki: A Dish Incorporating the Mild Flavors of Dashi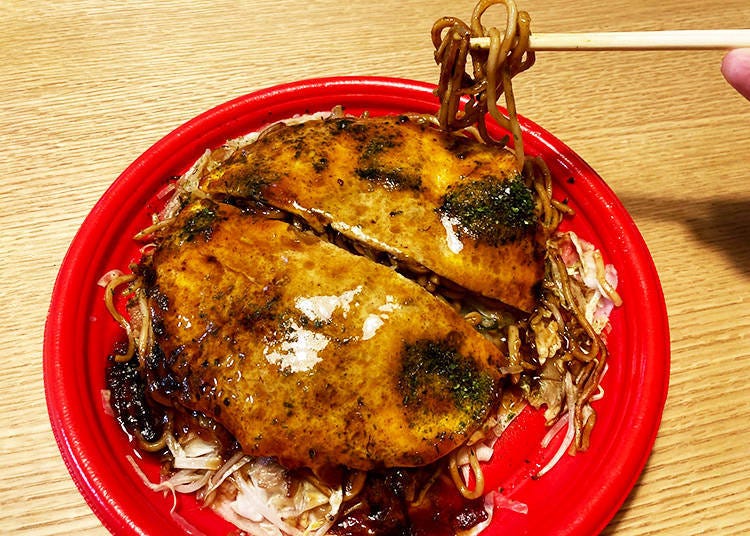 The batter, noodles, and other ingredients in a Hiroshima-style okonomiyaki are layered like a mille-feuille.
At Kohyo, you can easily purchase and take out Kansai-style okonomiyaki. This is a dish that mixes the ingredients of batter and cabbage before it's grilled. In addition to this, the Hiroshima-style okonomiyaki is also available.

This dish grills the batter, cabbage, and other ingredients one by one, layering them on top of each other. Here you can enjoy comparing the tastes of the two okonomiyaki.

The selling point of the Odashitei Hiroshima-style okonomiyaki (537 yen), shown in the photo above, is that it uses carefully extracted dashi. Furthermore, the sauce on top has a refined flavor, allowing you to enjoy this dish until the very last bite.

This is a heaping of okonomiyaki that layers a large portion of noodles, pork, and crunchy cabbage all under a fluffy egg. Not unlike the flavors found at some of Osaka's most popular restaurants, this excellent okonomiyaki is highly praised by the locals.
10. Extras! A Wine You Want to Enjoy with Delicatessen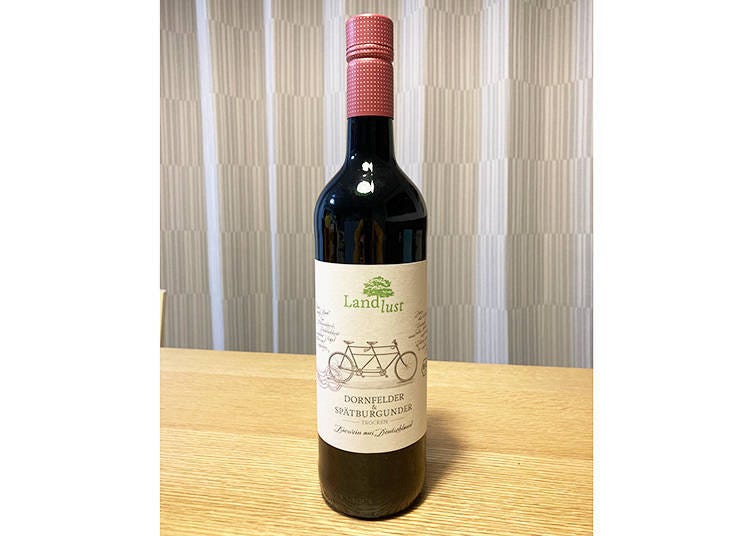 The Reasonable Price Adds to this Wine's Charm
At Kohyo, there is also a wide selection of organic wine. Mr. Maeda recommended some wines to enjoy with the gourmet delicatessen we introduced.

"Organic wines that use grapes grown at organic farms and farming methods that are both people and environmentally friendly are gaining traction worldwide. Peter Mertes Landlust Organic Rouge (750ml, 1,298 yen) is one of these organic wines. What's more, due to not using any animal products, it's also vegan. The fruity and full-bodied properties, along with its freshness, make it a wine that everyone can enjoy. It is displayed in our new organic and natural section. There are many other organic wines available, so you can choose one that's to your liking."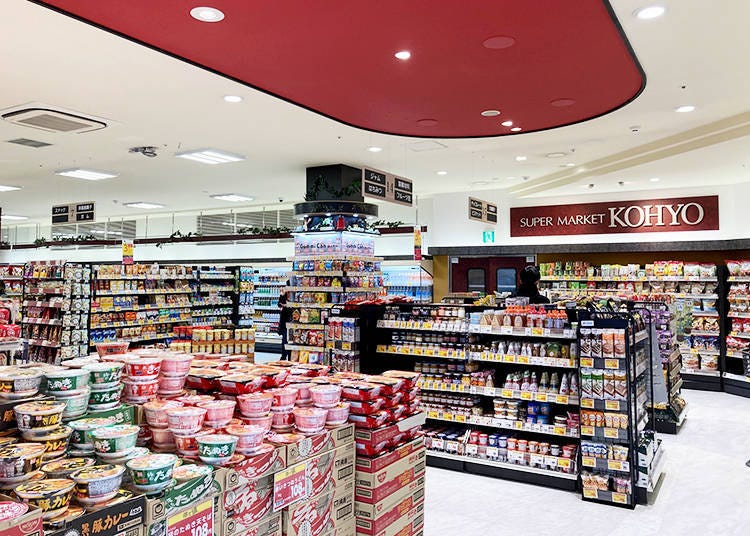 On the 2nd floor of Kohyo's Minamimorimachi shop, you can find a large lineup of frozen foods and liquors.
Taking home the memorable flavors that you tried in Osaka as well as some Osakan soul food is sure to be a hit because it gives you a feel for the region's culture. Kohyo's Minamimorimachi shop is open 24/7, so you can easily stop by whenever you like. This shop comes in handy when you don't have much time for souvenir shopping!

*All prices in the article include tax.
*The products and prices shown are what were available at the time of the interview. Depending on the shop and situation, there may be changes in prices or items. Please kindly consider this when stopping by.
Countermeasures Against Covid-19 at Kohyo's Minamimorimachi Shop
Ventilation measures in place - Usage of coin trays - Plastic partitions installed - Staff wear masks, gargle, wash hands regularly, and monitor body temperature - Limited capacity/increased space between seats - Entry declined to anyone who is feeling unwell - Masks required/temperature check enforced
KOHYO南森町店

Address

2-3-16, Tenjimbashi, Osaka Kita-ku, Osaka 530-0041

Nearest Station

Right by Exit 4-B of Osaka Metro's Minamimorimachi Station


Phone Number

06-6351-5040

Hours: Open 24 hours
Closed: Open daily
Text by: Efeel
*This information is from the time of this article's publication.
*Prices and options mentioned are subject to change.
*Unless stated otherwise, all prices include tax.
Limited time offer: 10% discount coupons available now!