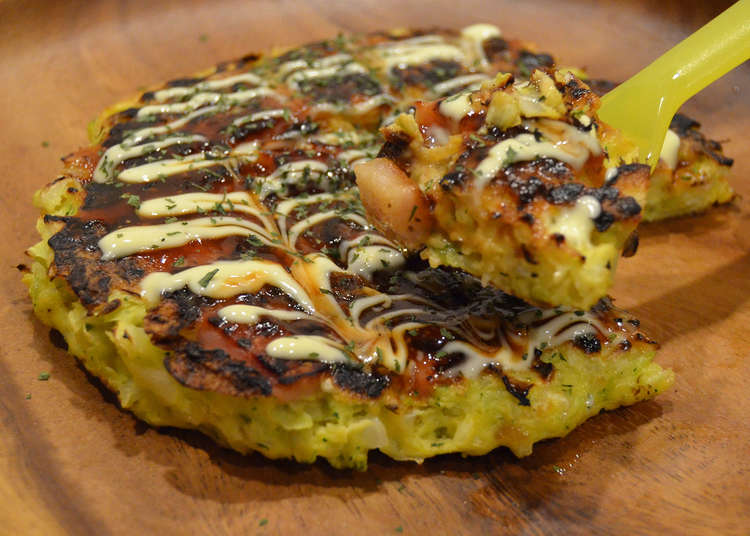 Okonomiyaki is one of the easier Japanese dishes to make at home! These savory pancakes contain a variety of ingredients that you can arrange as you like. Whether you're missing Japan or simply looking forward to some Japanese food, we'll look at how to make okonomiyaki, the famous Osaka specialty!
Osaka Soul Food With Delicious Original Sauce
Okonomiyaki is a mixture of cabbage, flour, and water, baked into a flat, round shape. Sometimes it's referred to as "Japanese pizza" (or "Japanese pancake") because you can put anything you want in it - but quite frankly it tastes nothing like pizza!

Choose your favorite ingredients, such as pork or squid, cook it, and top with sweet and sour okonomiyaki sauce to finish. There are various theories regarding the origins of okonomiyaki. However, since its spread through Osaka after the war, it has become well-known as a specialty dish of Osaka.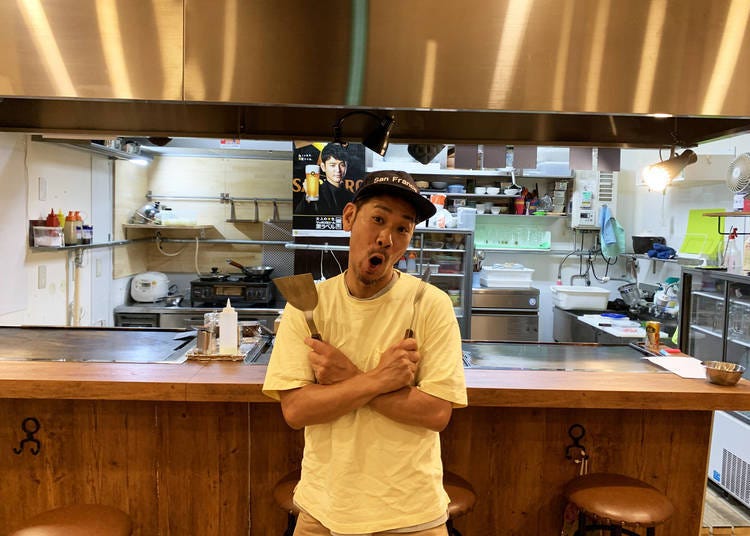 Shop Owner Mr. Miyazaki
Today we met with Masahiko Miyazaki, the owner of Taisho Okonomiyaki Mamama. Mr. Miyazaki opened his shop in Osaka's Taisho Ward after training in a popular shop in Dotonbori. Today, he will teach us how to make okonomiyaki!
Okonomiyaki Ingredients: Made In Your Own Frying Pan!
Today we will be using ingredients more widely available abroad, and the following ingredients will make 4 servings of batter:
・200g flour
・80g instant corn potage powder (can be substituted with vegetable stock powder)
・400g cabbage (chop into 5mm squares)
・Approx. 120g zucchini (grated and shredded)
・80g sliced bacon
・4 raw eggs
・And potato chips as you like.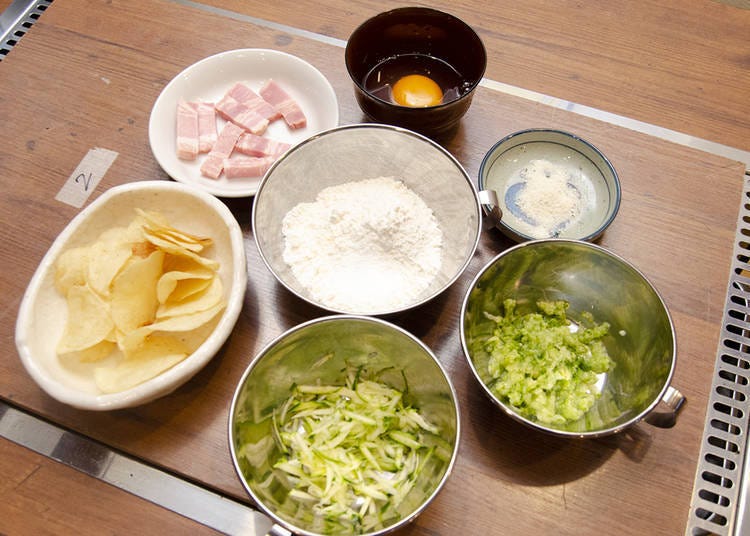 In Osaka, the dough is usually made combining powdered bonito dashi, grated yam, and tenkasu (excess batter from frying tempura).

However, you can substitute corn potage powder or vegetable stock for the dashi, zucchini for the yam, and potato chips for the tenkasu. Also, for the meat, pork belly is generally used, but you can use bacon instead.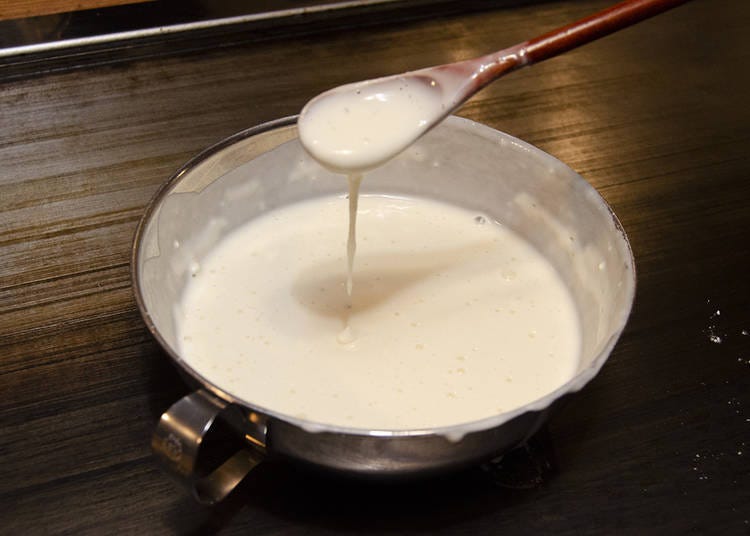 First, make the base. Mix in the flour and corn potage powder/vegetable stock, add water, and mix until slightly thick. Be sure to mix the batter until no lumps remain.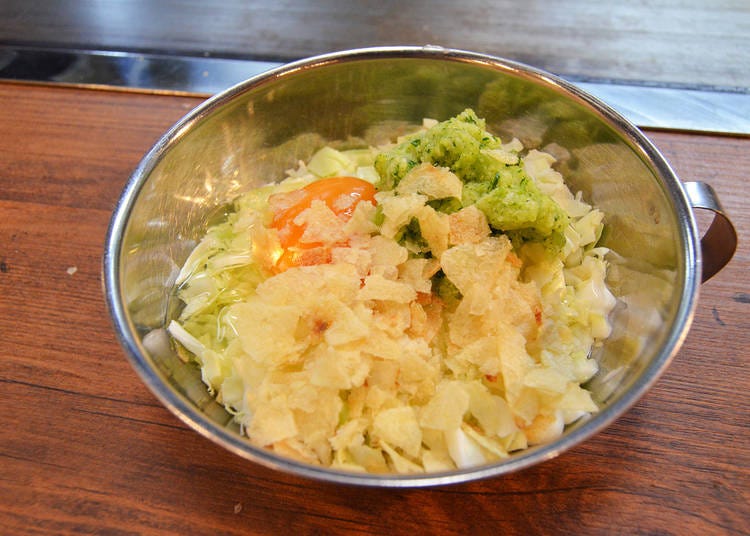 Place 100g of cabbage into a separate bowl, then add 40g of the base batter, 1 egg, 30g of zucchini, and the potato chips.

Mix thoroughly, incorporating air for fluffiness. Be careful not to over-mix, which may drain water from the cabbage, causing the dough to become runny. It is also a good idea to cook the batter and ingredients in individual serving sizes for best results.
Once mixed, add oil to the frying pan, heat on medium heat, and pour in the batter. Spread it to the size of an adult-sized palm, lay out 20g of bacon on top, cover with a lid, and cook on low heat.
How to make Okonomiyaki sauce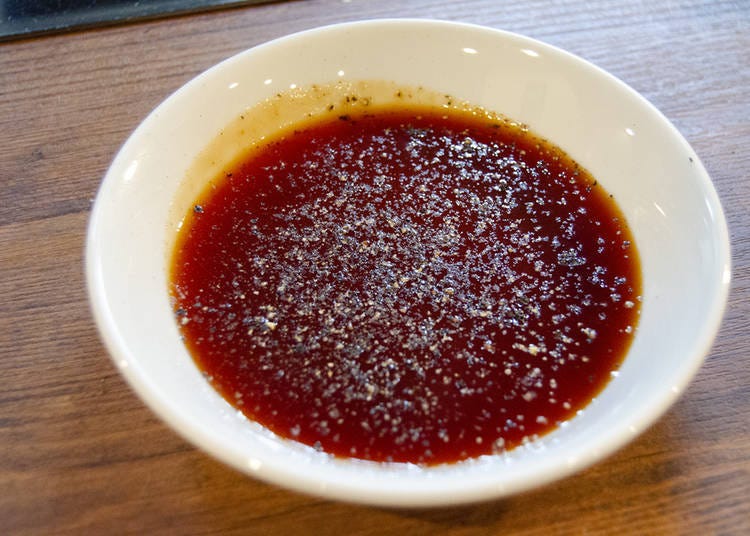 While this is cooking, prepare the sauce. Okonomiyaki sauce is sold in Japan, but if you can't find it, you can make your own!

For a 4 person serving, mix 40g ketchup, 40ml soy sauce, 20g sugar, and 20ml vinegar. Mix well, and add a dash of pepper. Pro tip: Don't mix the pepper into the sauce!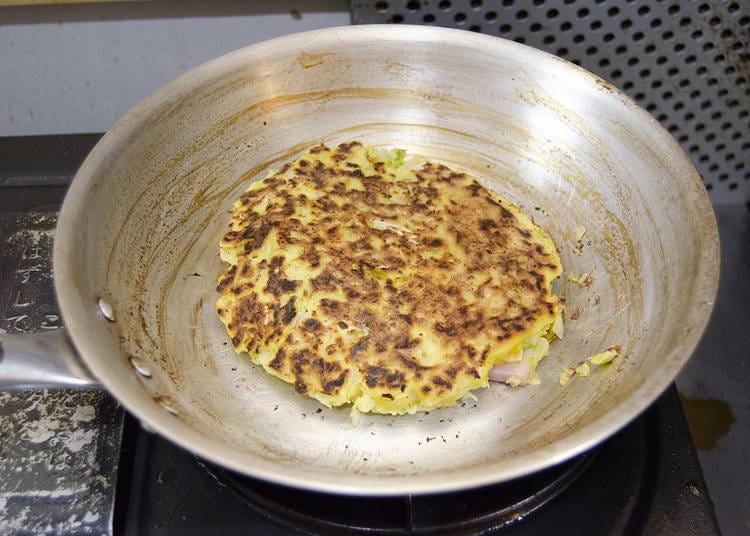 Once the batter is browned, flip it over, and cook the other side for about 5 minutes.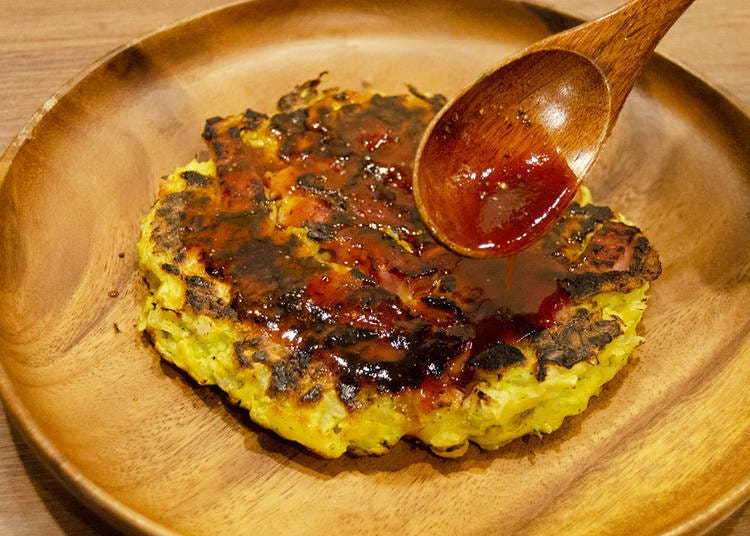 Once cooked, serve on a plate, and top with the sauce. While you can enjoy it with just the sauce, you may also want to add mayonnaise for extra flavor. In Osaka, it is also usually sprinkled with dried green seaweed on top, but you can substitute with chopped parsley - the color will be just as lovely!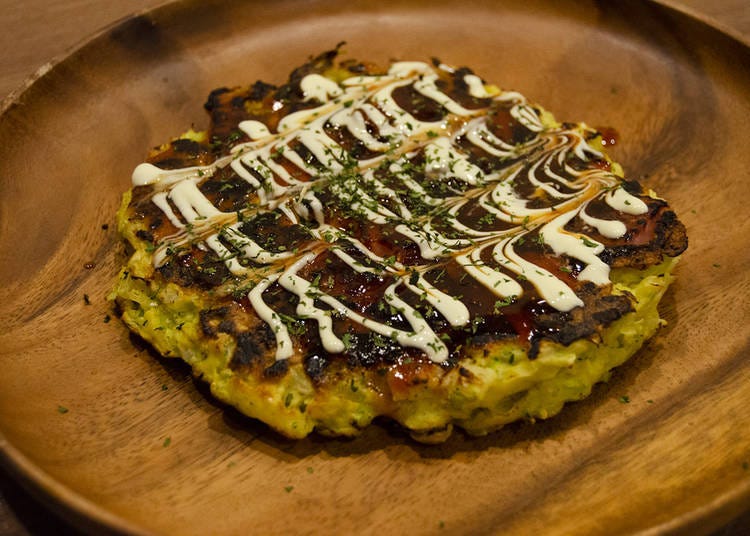 Irresistibly Soft and Fluffy Okonomiyaki!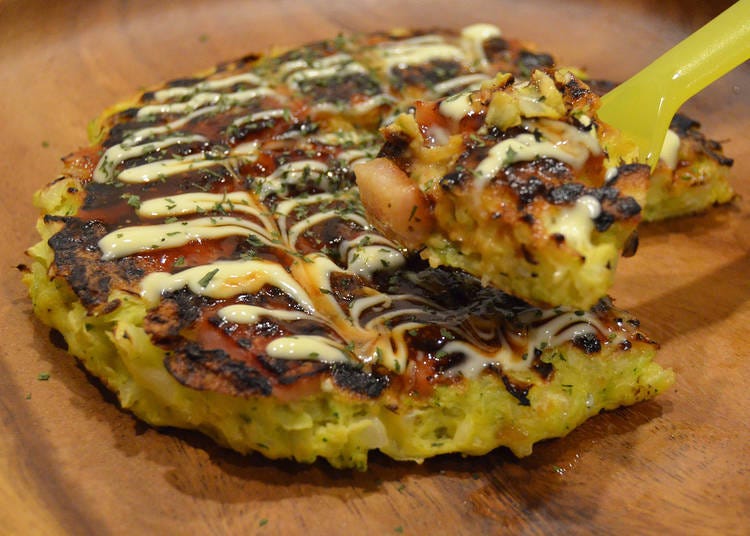 Time to dig in! The moisture of the zucchini is what makes the okonomiyaki fluffy, for a melt-in-your-mouth texture. The slightly-sour sauce also pairs well, and the bacon fat adds to the delicious, rich flavor of the entire dish.

In addition to bacon, you can add shrimp, squid, or kimchi for even more flavor, so be sure to challenge yourself, and try whichever you like!
If you can't visit Osaka to try okonomiyaki, the next best thing is to try it at home. There are so many shops that will cook it right in front of you on iron plates at the table. It's fun to watch, but often you cook it yourself in the restaurant - so this is good practice for next time! And in Osaka, there are plenty of okonomiyaki restaurants where you can enjoy a variety of styles, from steak and shrimp, to Western styles such as tomatoes and cheese.

In Japan, enjoying hot okonomiyaki fresh off the grill is one of the greatest pleasures in life. But for now, enjoy making this pan-fried okonomiyaki in your own home. Next time you're able to visit Japan, try out 'real' okonomiyaki to see how yours measures up!
Today's okonomiyaki recipe is courtesy of Taisho Okonomiyaki Mamama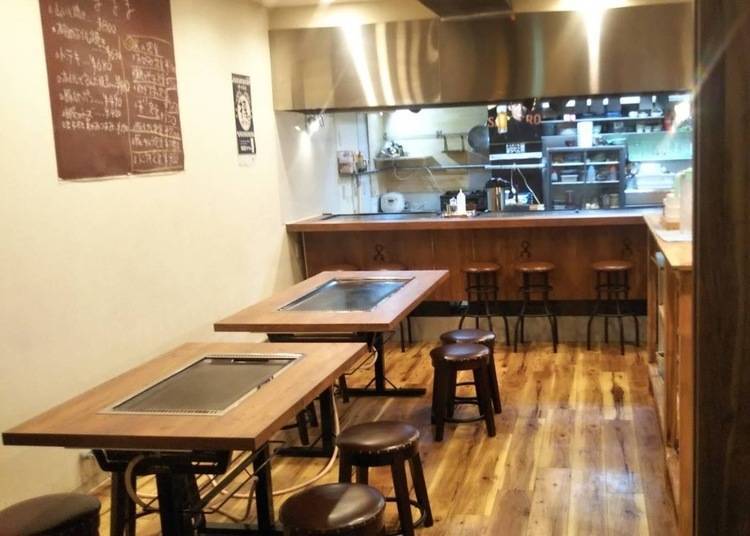 A teppanyaki shop where Mr. Masahiko Miyazaki, who trained at a famous Dotonbori shop, flaunts his skills. The okonomiyaki here (748 yen) was created by self-improving the recipe inherited at the place where he trained and has a very fluffy texture. Also available are Negiyaki (935 yen) and Yakisoba (748 yen), as well as other one-of-a-kind dishes. Take your time and enjoy teppanyaki with sake. Taisho Okonomiyaki Mamama takes precautionary measures against coronavirus, including open doors for ventilation, and preparing hand sanitizer.
大正お好み屋 ままま

Address

1-17-33 2F, Sangenya Higashi, Taisho Ward,Osaka City 551-0002

Nearest Station

1-minute walk from Taisho Station on the JR and Osaka Metro lines


Phone Number

06-6552-1109

Hours: 11:30-14:00, 17:00-23:00, Saturdays/Sundays: 14:00-23:00
Closed: Open daily
Text by: Efeel

*The above article is based on information from June 2020
We also recommend these Osaka okonomiyaki restaurants in addition to the one above. Save time and hassle - book your table online today!
お好み焼・たこ焼処 ふくや

Address

HomeBuilderEBISU1F,1-8-22, Ebisuhonmachi, Naniwa-ku, Osaka-shi, Osaka, 556-0013


Nearest Station

Daikokucho Station (Midosuji Line / Yotsubashi Line)

道頓堀 一明

Has Health & Safety Measures

Address

Niko Building B1,1-6-12, Dotonbori, Chuo-ku, Osaka-shi, Osaka, 542-0071


Nearest Station

Osakanamba Station (Kintetsu Namba Line / Hanshin-namba Line)


Phone Number

06-6212-0281
*This information is from the time of this article's publication.
*Prices and options mentioned are subject to change.
*Unless stated otherwise, all prices include tax.
Limited time offer: 10% discount coupons available now!