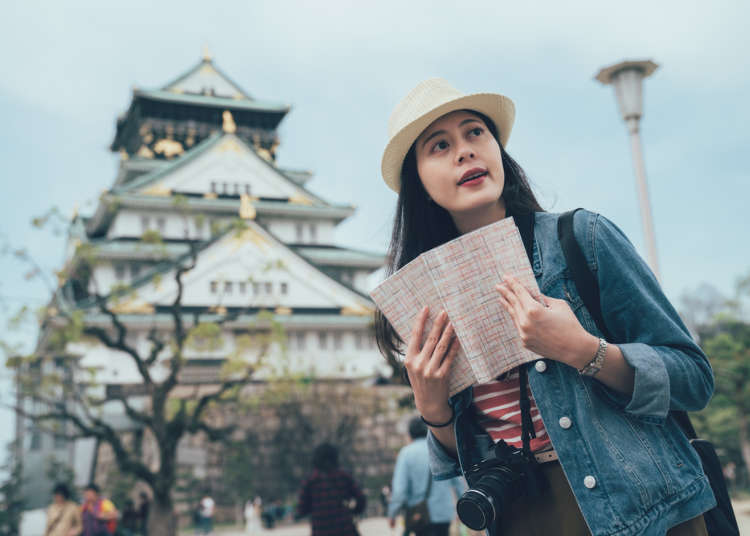 Taking the shinkansen from Tokyo to Osaka is fast and easy, but not the cheapest route. In fact, there are different ways to get from city to city, including by plane, by shinkansen bullet train, and by bus.

Here we will introduce each of these ways, plus fares and travel times, so that you can use it as a reference when planning your own trip.
Shinkansen from Tokyo to Osaka: Plenty of Trains and Super Convenient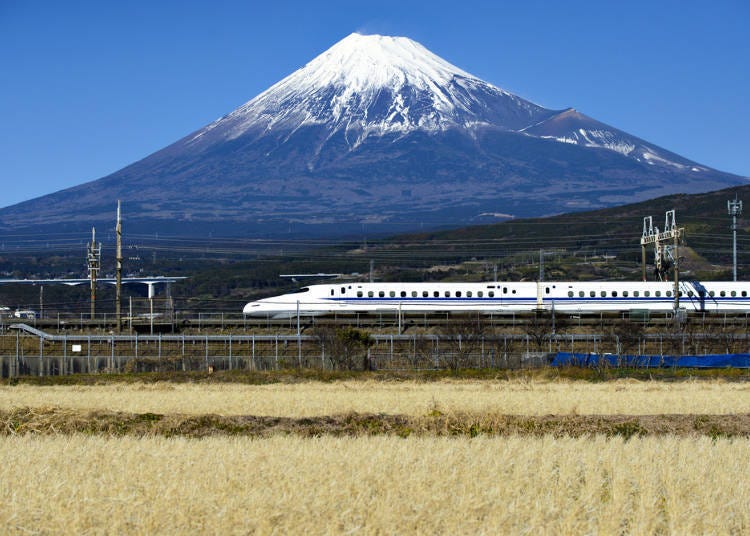 The Shinkansen is Japan's high-speed bullet train, and is operated by the JR company. The Tokaido Shinkansen Line runs from Tokyo Station to Shin-Osaka, and is used by many business people and travelers thanks to its number of trains and convenience.

Please note that unlike a plane, there is no early check-in for luggage, so you will have to carry all your belonging with you at the time of boarding. One great feature of this route is that, if the weather is clear, you may be able to enjoy a nice view of Mount Fuji from your window.

You can even buy an 'eki-ben,' a special train station lunchbox, to enjoy during your ride. You will feel as if you're reached Shin-Osaka in no time! From Shin-Osaka to Osaka Station, which is one station away and the central area of northern Osaka, it only takes 4 minutes and costs 160 yen.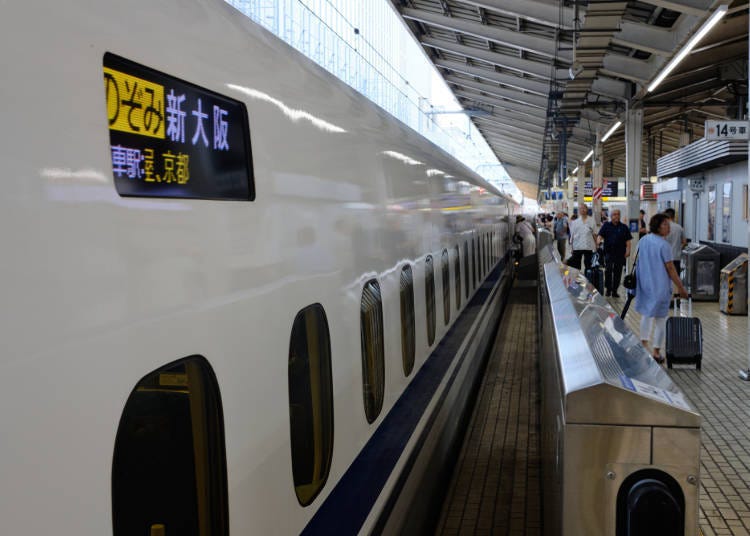 mattxfoto / Shutterstock.com
There are three options when riding the Tokaido Shinkansen from Tokyo to Osaka: the Nozomi, Hikari, and Kodama Lines. Nozomi is the shortest in travel time from Tokyo Station to Shin-Osaka Station, at about 2 hours and 30 minutes. Hikari takes about 3 hours.

Finally, Kodama takes about 4 hours, and stops at every station in between. When purchasing reserved seats, Nozomi costs more than both Hikari and Kodama. For non-reserved seats, the price is the same on all three lines.

The three types of seats are as follows: reserved, unreserved, and green seats. For unreserved seats, you may sit in any seat that is unoccupied. However, keep in mind it is a violation to take up any unoccupied seats with your luggage.

Reserved seats are secured at the time of purchase, so you can guarantee you will have somewhere to sit. Green seats cost more than reserved seats, but are also more spacious and comfortable.

If you are scheduling your travel in advance, please refer to the official Shinkansen Website to make your reservations from the site below.
Shinkansen Cost: Tokyo and Shin-Osaka (One-way, tax inclusive)
Unreserved Seats: 13,870 yen
Reserved Seats: 14,400 yen (Hikari/Kodama); 14,720 yen (Nozomi)
Green Seats 19,270 yen (Hikari/Kodama); 19,590 yen (Nozomi)
*Prices shown are average fare; fares may vary depending on season

Note:
As of mid-May 2020, for travelers with extra-large luggage (luggage with a total of 160-250cm in length, width, and height), tickets will need to be purchased as part of the "Extra-Large Luggage Space" set. Luggage that falls under those measurements may still be brought on board as usual.
By Plane: Shortest Travel Time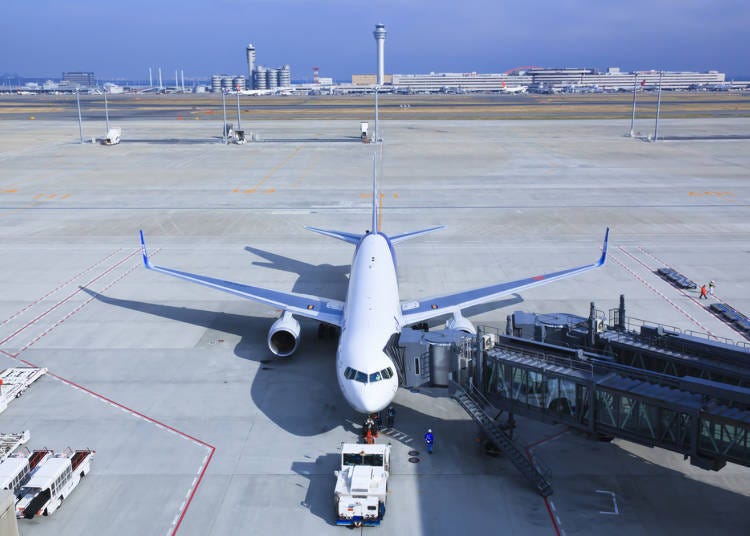 When traveling by plane from Tokyo to Osaka, it only takes about 1 hour 30 minutes. Use Tokyo's Haneda Airport and fly to either Osaka's Kansai International Airport, or Osaka International Airport (Itami Airport). Be sure to check in advance, as airport of arrival may vary depending on airline and flight.

Though naturally it will vary depending on the weather, the scenery spread out below as you fly overhead is a breathtaking sight. Even when you've risen above the clouds, you may be able to see Mount Fuji's peak peeping out from the right-side window. The tendency for turbulence is pretty low, so you will also be able to use your laptop easily. When connected to the in-flight wi-fi, you will find that you have arrived in Osaka in no time. Also rest assured that there are flight attendants who will be able to assist you in English.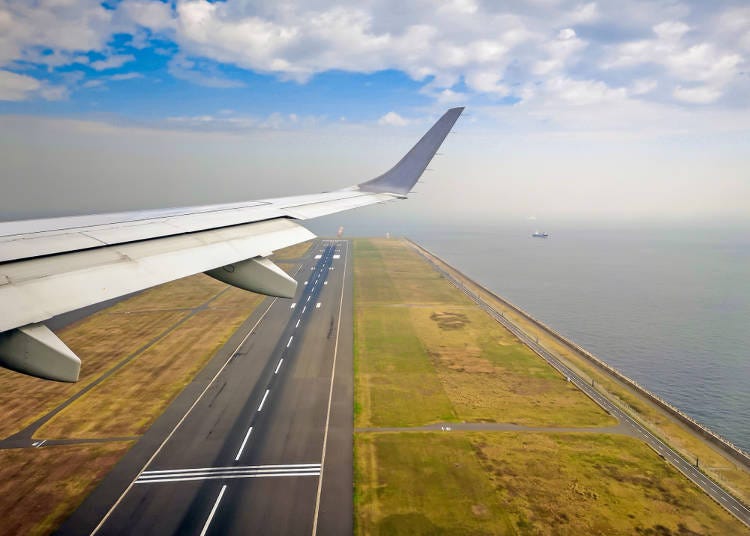 Dpongvit / Shutterstock.com
Prices start from around 13,000, one-way, however prices may vary greatly depending on season and airline. We recommend planning your trip and reserving your tickets as early as you can. Please note you may not be able to change your reservations, especially when buying cheap tickets.

Travel Time and Fare Between Osaka's Airports and Central Osaka
• Kansai Airport Station to Osaka Station: JR Train, approx. 1 hour 11 min (1,210 yen; Limited Express to Tennoji: 49 minutes, extra charge of +1,190 yen)
• Kansai Airport Station to Tennoji Station: JR Train, approx. 53 min (1,080 yen; Limited Express: approx. 34 minutes, extra charge of +1,190 yen)
• Kansai Airport Station to Namba Station: Nankai Airport Line (930 yen; Limited Express: approx. 40 minutes, extra charge of +520 yen)
• Osaka Airport Station to Osaka Umeda Station: Ride Osaka Monorail to Hotarugaike Station (2 min, 200 yen); transfer to Hankyu Line (approx. 20 min, 230 yen)
By Express Bus: Reasonable and Effective Use of Travel Time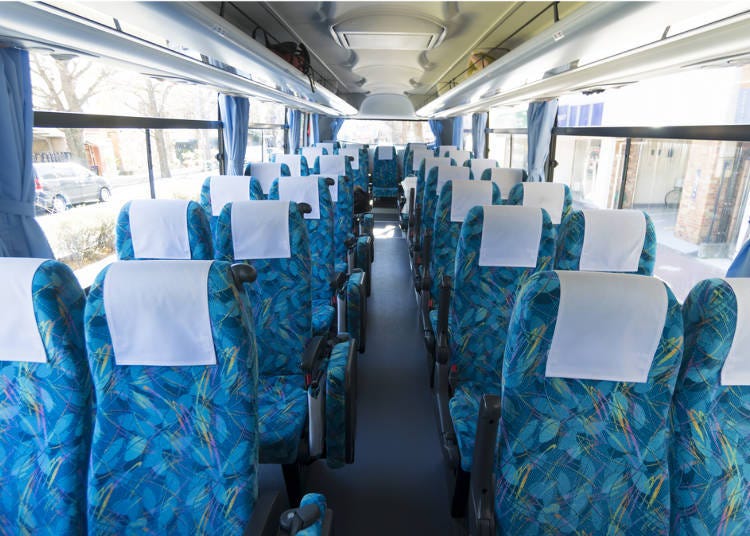 While it may take longer than both plane and shinkansen, the highway bus is recommended for those who are on a tighter budget. Travel time is about 8 hours, but as it departs at night and arrives in the early morning, it is popular, especially with young travelers, as an effective use of time, as they can sleep the whole trip. It is easy to travel by bus from many major terminal stations, including Tokyo and Shinjuku Station. You can also get off near major stations in Osaka, such as Umeda and Namba. Large luggage is stored under the bus, so make sure you carry any necessities in a small bag to bring on board with you.

Depending on bus company, wi-fi and electric outlets may be available, so you can enjoy watching videos, listening to music, and using your phone. However, please be considerate of your fellow travelers around you! There are also female-only buses available, as well as some that do not have toilets on board, so be sure to check all information in advance before making a reservation!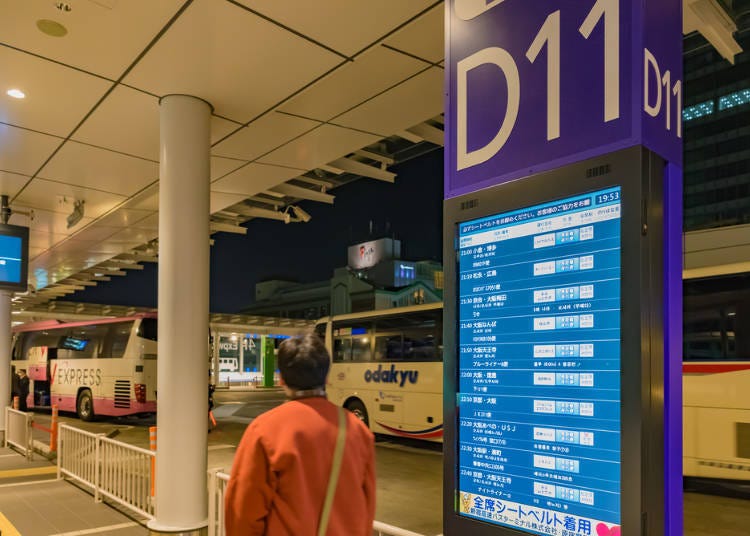 Takashi Images / Shutterstock.com
Prices may vary depending on season and bus company, however standard fare ranges from 3,000 to 10,000 yen. Fare may also vary depending on available on-board services and facilities. You may even be able to purchase premium seats for a more comfortable sleep. However, taking into consideration accommodation and travel expenses, you may find it is not that expensive after all.
You can book your bus easily and conveniently through the JAPAN BUS LINES website. This high-speed bus reservation site supports English, Korean, and Chinese.
If you have the time to check them out, there are plenty of other lines and routes that you can use to travel to other local attractions with great, scenic views. However, for travelers with a limited time, these three are the most popular. So pick your favorite method - plane, bus, or bullet train - and enjoy sightseeing in Osaka with comfort and ease.

*The above article is based on information from April 2020
*This information is from the time of this article's publication.
*Prices and options mentioned are subject to change.
*Unless stated otherwise, all prices include tax.
Limited time offer: 10% discount coupons available now!