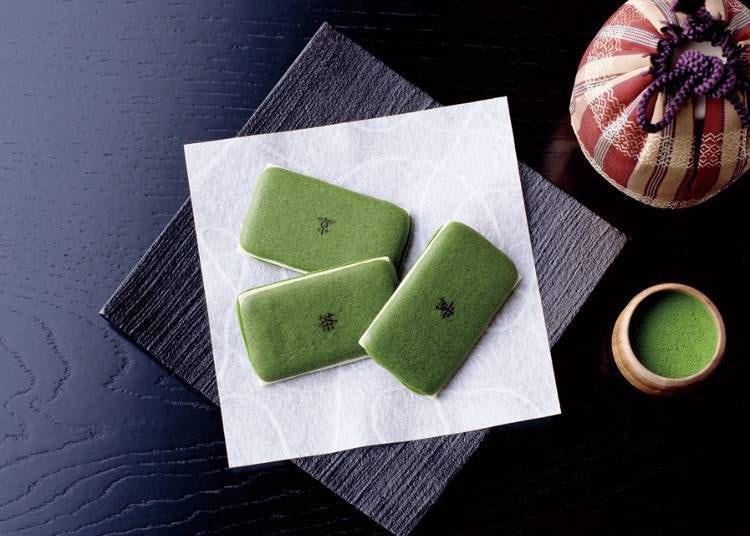 Arashiyama is a must-visit place for sightseeing, and a perfect area for getting Kyoto souvenirs. The Togetsu-kyo Bridge, the paths through the bamboo forest, and the various temples and shrines are visited by many tourists throughout the year. As a result, there are heaps of fun trinkets and gifts you can find in whatever season you drop by.

Along Arashiyama Shopping Street, there are plenty of souvenir shops that draw big crowds as well. When you are wondering what best Kyoto souvenirs to buy, this article will introduce items found only in Arashiyama and distinctive Kyoto products. Find your favorite new Kyoto souvenirs for family, friends, and yourself!
Main Photo: Rolf_52 / Shutterstock.com
1. Oimatsu: Historic Arashiyama Souvenir Shop Selling Melt-in-Your-Mouth Higashi Dried Sweets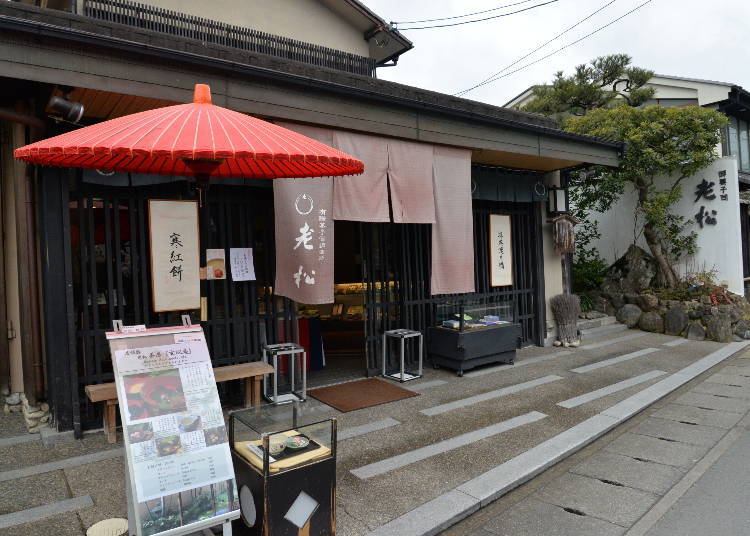 The Oimatsu confectionery shop was founded in 1908. The historic shop's main products are confections for weddings and tea ceremonies, and there is a steady stream of new creations for sale.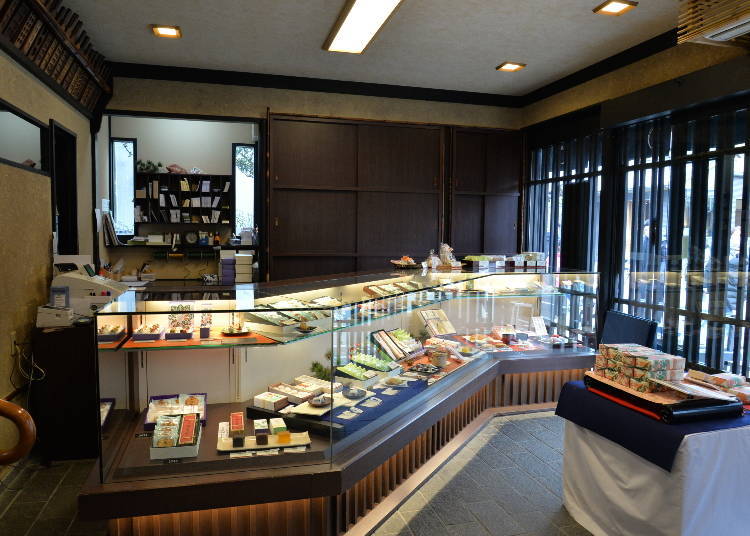 Their natsukanto (available for sale beginning April 1st, while summer tangerine supplies last) made with summer tangerines and kanten jelly are well-known. The Arashiyama branch of the shop opened in 1976.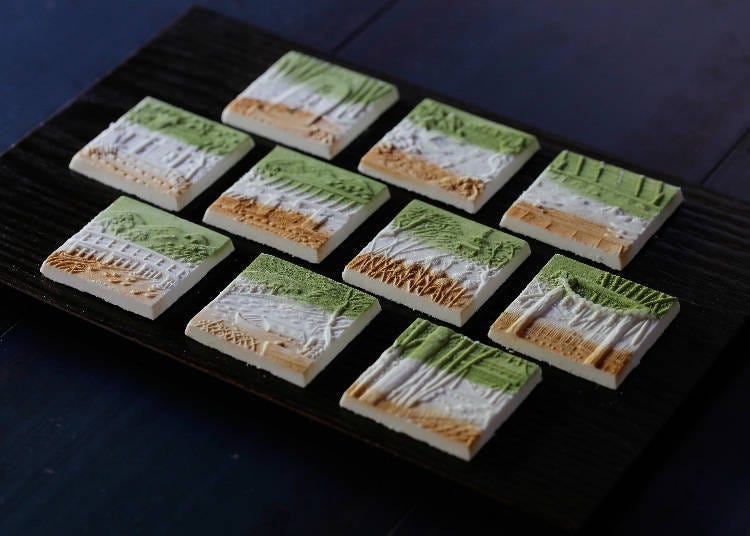 One product only available at the Arashiyama shop or online is the "Saga Jukkei" (10 pieces for 1404 yen, tax included), a naturally sweet uchimono (a type of dried sweet shaped by a wooden mold) made with wasabon-to refined sugar, cinnamon, and matcha that melts pleasantly in your mouth.

Customers can enjoy depictions of famous spots in Saga-Arashiyama such as Tenryu-ji Temple, Togetsu-kyo Bridge, Nison-in Temple, rakushisha huts, and the bamboo forests. The scenery and memories of Saga-Arashiyama seem to come alive again with each bite.

There is a tea shop within the shop as well. Have one of the area's famous warabimochi desserts while you rest and relax.
有職菓子御調進所 老松 嵐山店

Address

20 Sagatenryuji Susukinobabacho, Ukyo-ku, Kyoto, 〒616-8385

Phone Number

075-881-9033

Business Hours: 9:00 AM - 5:00 PM (tea house last order 4:30 PM)
Closed: Irregularly
Access: a 5-minute walk from Randen "Arashiyama" Station
2. Chiri-Men Craft Museum: Intricate Knitwear Made by Traditional Crafting Methods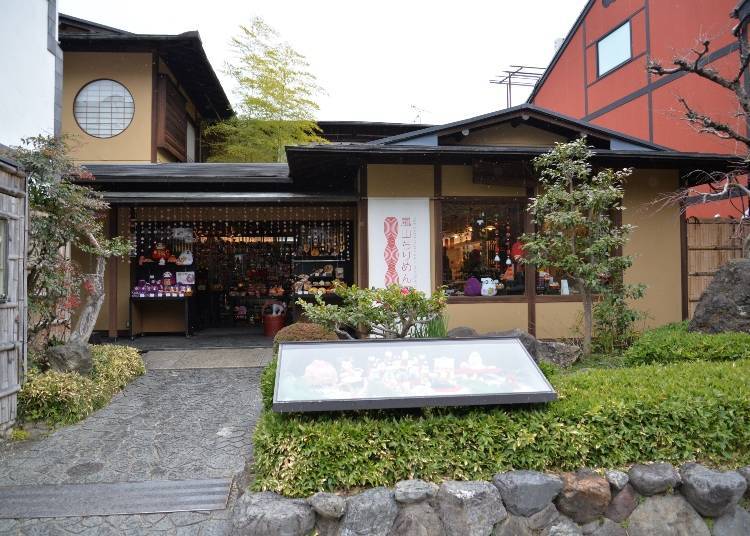 The Chiri-Men Craft Museum Arashiyama is located opposite the world heritage site of Tenryu-ji Temple near the Arashiyama Shopping Street. Located in a Japanese-style house, the shop has a traditional Kyoto appearance and blends nicely against the backdrop of Arashiyama's scenery.

Naturally, you'll find "chirimen craft" items here. Chirimen crafting is a traditional method continuing from the Edo Period and refers to products made with "chirimen", silk fabric with characteristic thin crimps. All items for sale are original, hand-made products. When you visit, be sure to notice the seasonal chirimen crafts displayed at the entrance.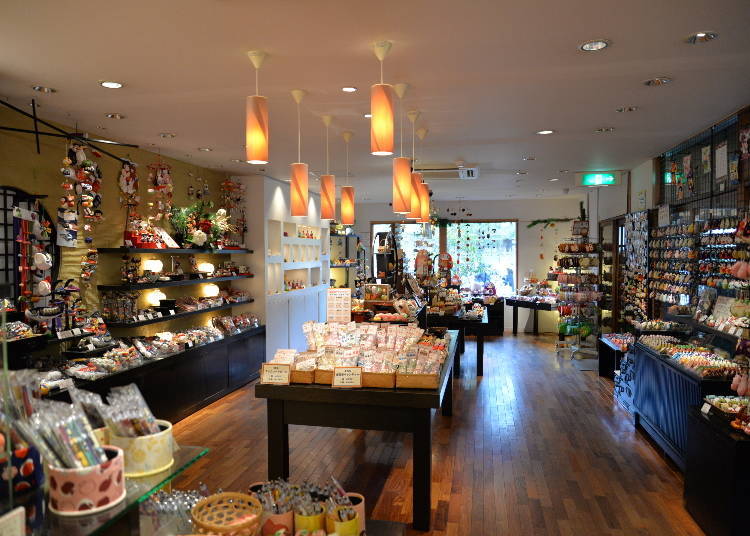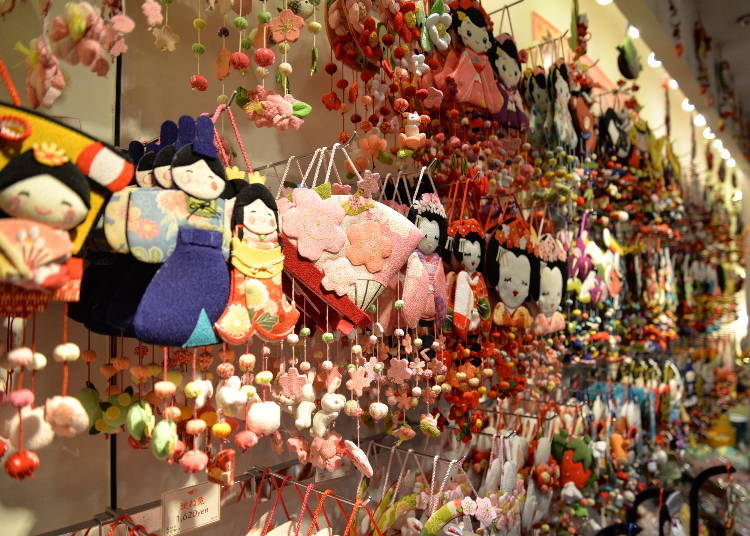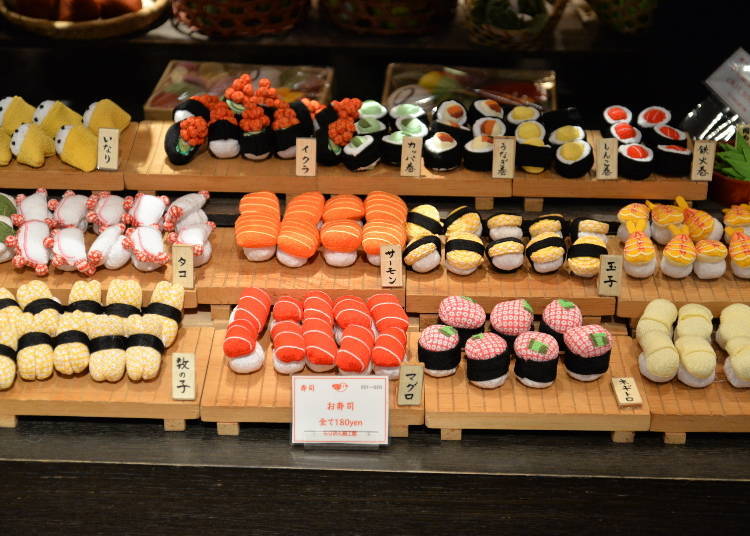 Inside the shop are innumerable chirimen crafts, making the perfect Kyoto souvenirs. Highly recommended among them is the "kawari sage-kazari", a hanging decoration (1620 yen, tax included). One of its selling points is the ability to fold flat, for easy storage in a suitcase. The seasonal motifs will remind you of the Kyoto seasons even after you've returned home.

In addition, the sushi-shaped chirimen crafts (per item 180 yen and up, tax included) are also unique items you'll want to show off. You can choose your favorite types of sushi one-by-one or a pre-made set.

The gama-kuchi (coin purses) decorated with traditional Japanese patterns or "Maiko-san" geisha character are also popular items that can be used as a small purse.
Chiri-Men Craft Museum Arashiyama

ちりめん細工館 嵐山本店

Address

19-2 Sagatenryuji Tsukurimichicho, Ukyo-ku, Kyoto 〒616-8384

Phone Number

075-862-6332

Business Hours: 10:00 AM - 6:00 PM
Closed: Open Daily
Access: near Randen "Arashiyama" station
3. Arashiyama Shoryu-en: Selling Many Rich Variations of Chirimen Sansho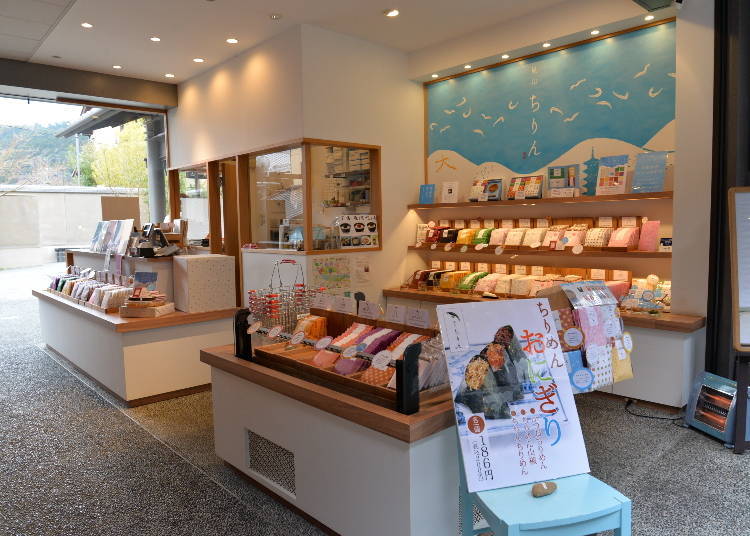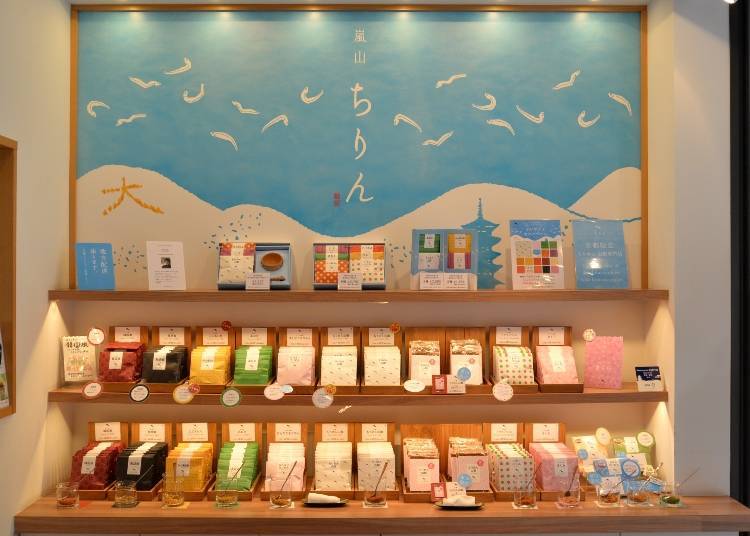 Arashiyama Shoryu-en is located right in front of Randen Arashiyama Station and is a shopping complex of many various historic Kyoto shops.

On the first floor is 1931-established "Arashiyama Chirin", a Nomura tsukudani (soy sauce preserves) chirimen sansho specialty shop. Chirimen sansho is made by stir-frying sansho (Japanese pepper) seeds and chirimen jako (juvenile sardines) together.

It is said that the chirimen jako fish were given their name because the tiny fish resemble chirimen silk fabric when a large quantity is boiled and spread out.

The shop's "Famous Chirimen Sansho" has a bold, sweet and spicy flavor and goes well with rice. The other flavor variations deserve a look as well. There are flavors such as tomato basil, black pepper, and habanero, which can be used as versatile pasta, pizza, and salad toppings.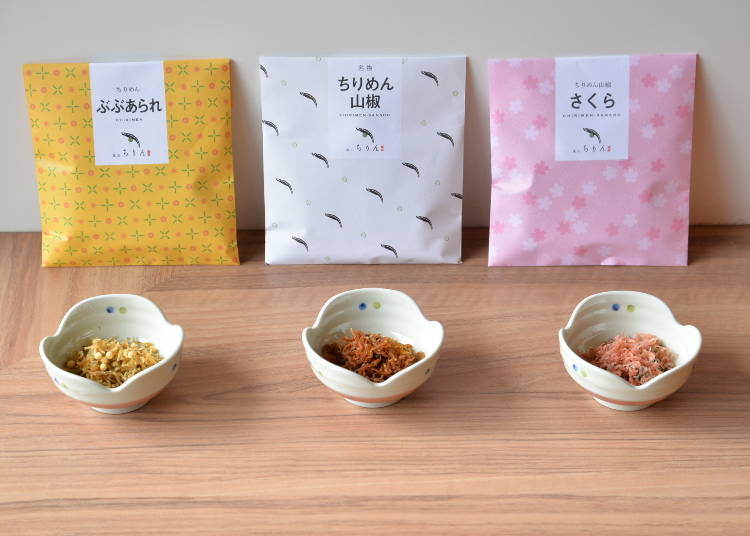 The traditionally Japanese-flavored condiments also made great souvenirs. The "bubu-arare" (tiny, colored rice cracker balls), "aosa" (sea lettuce), "katsuobushi" (dried bonito shavings), and other flavors, each of which is mixed with powdered sansho, will be welcome gifts for anyone who appreciates Japanese cuisine.

This package, with its colorful and cute design, is popular as a tasteful souvenir. The aforementioned three products are 650 yen, tax included (bubu-arare and aosa 40g, katsuobushi 30g).
嵐山 ちりん

Address

Sagatenryuji Susukinobabacho Ukyo-ku Kyoto 616-8385 Japan

Phone Number

075-864-5551

Business Hours: 10:00 AM - 5:00 PM
Closed: Open Daily
Access: Near Randen "Arashiyama" station
4. Mamemasa: Bean sweets shop with cute packaging and a Kyoto feel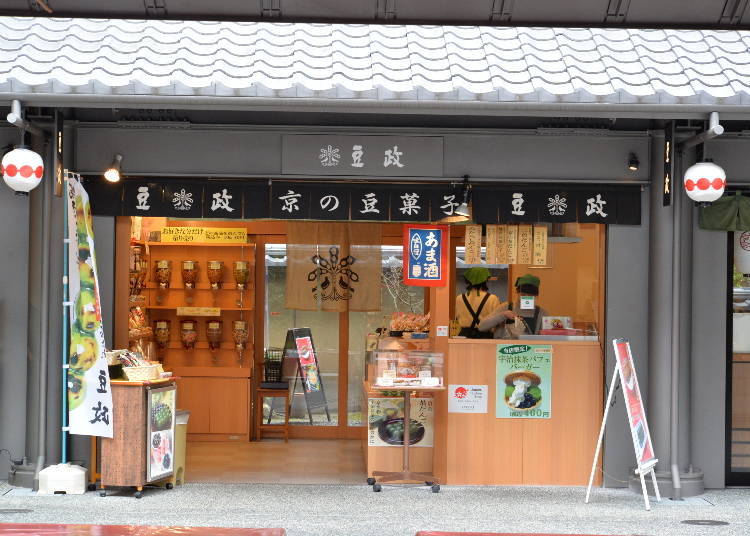 Mamemasa Arashiyama is a mame-gashi, or bean sweets, shop established in 1884. The product displayed on the shop sign, the "Ebisu-gawa Go-shiki Mame (Ebisu-gawa River 5-Colored Beans)" (125 g, 430 yen, tax included) is a vividly colored product featuring beans colored red, white, yellow, green, and brown, which were the 5 royal colors used in celebrations at the Imperial Court. The sweets are notable for the refreshing sweetness of the high-quality sugar. Bring back home with you the taste that's been adored in Kyoto throughout the ages.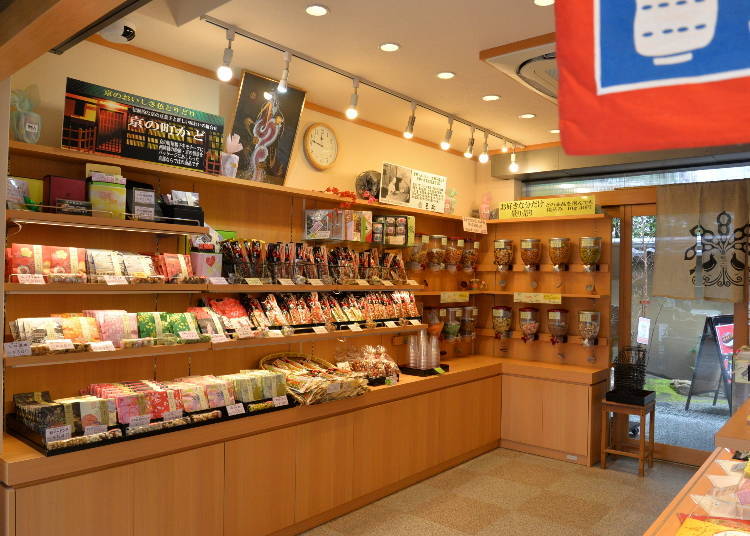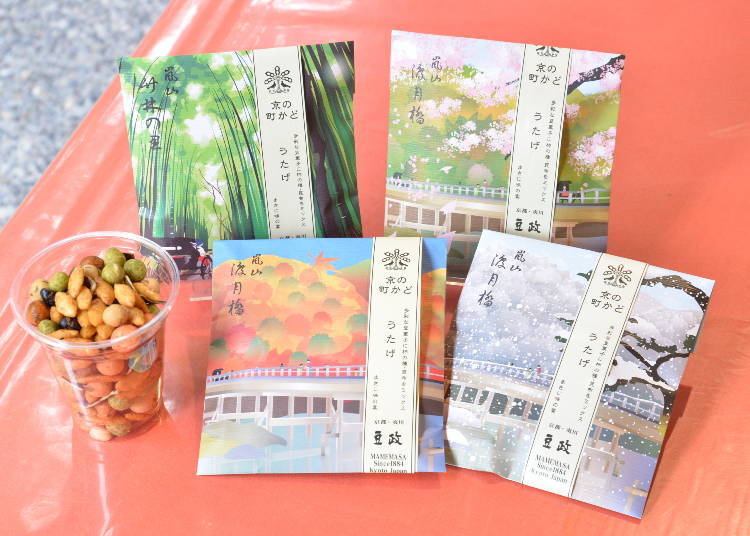 Recommended from among the Kyoto-style "Kyoto Street-corner Series" packaged products is "Utage" (55 g, 430 yen, tax included). The illustrations, themed on the bamboo forests in summer and Togetsu-kyo Bridge and Arashiyama Mountain in spring, fall, and winter, make this a perfect souvenir for your visit to the area. With soy sauce and nori-flavored mame-gashi, kaki-no-tane (a crunchy, soy sauce flavored rice snack), and kombu seaweed pieces, you can enjoy many different flavors within a single bag.
For those who want to try a taste while you're shopping, utilize the loose beans sold by weight, where you can put as many of each type of bean you like into a cup. There are 15 varieties of beans to choose from.
Mamemasa Arashiyama Shoryuen branch

豆政 嵐山昇龍苑店

Address

Sagatenryuji Susukinobabacho, Ukyo-ku, Kyoto 616-8385

Phone Number

075-432-7545

Business Hours: 10:00 AM - 5:00 PM (hours may change seasonally)
Closed: Open Daily
Access: Near Randen "Arashiyama" station
5. Malebranche: Lots of Exclusive Arashiyama Dark Green Tea Sweets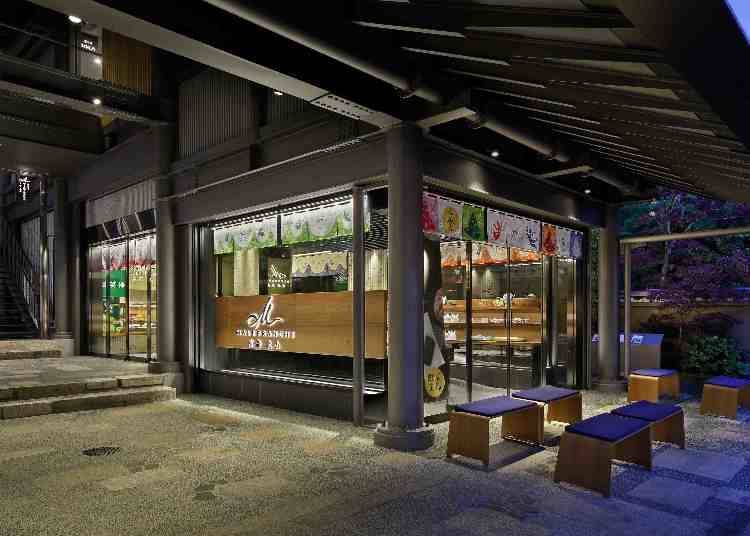 Also located on the first floor of "Arashiyama Shoryu-en", "Malebranche Arashiyama store" is another highly recommended Kyoto souvenir stop.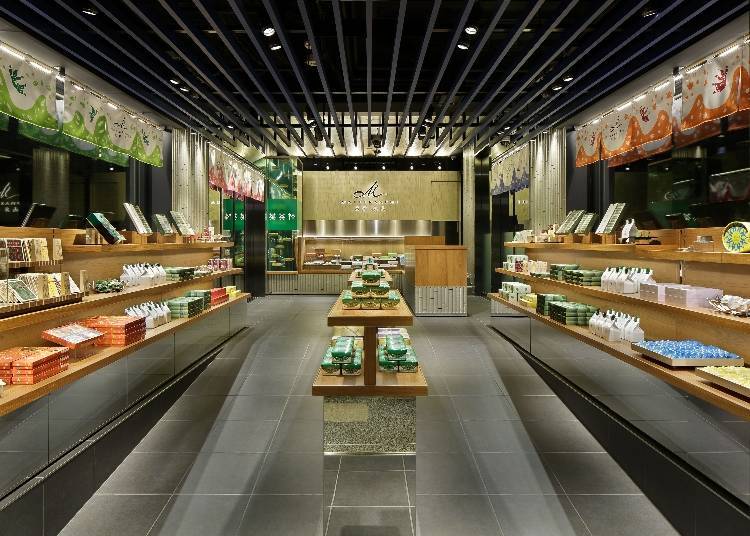 The shop's interior design is based on the moon, as in the Kamakura Era, Arashiyama was so famous as a location to see the moon that songs were written praising the view. There are products exclusively sold at the Arashiyama branch available, so don't miss having a look around.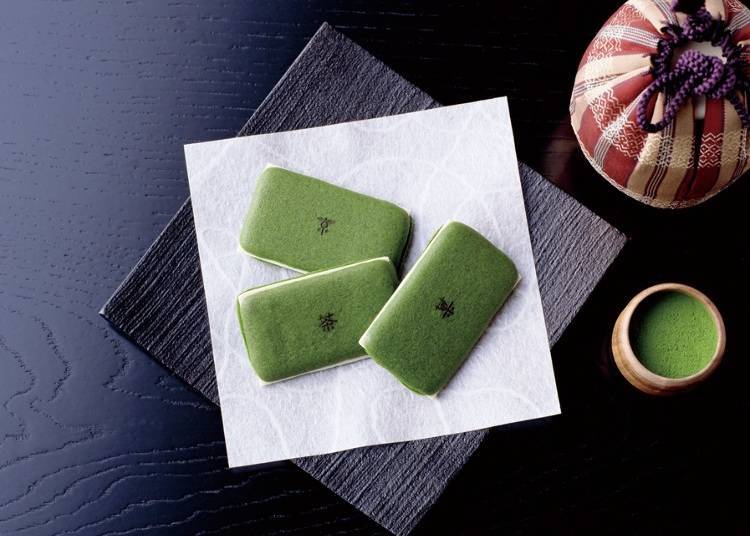 A recommended souvenir to purchase is the "Cha-no-ka", dark green tea-flavored langue de chat cookies. Dark green tea sweets are popular among international tourists, and these cookies preserve matcha's original sweetness as they sandwich an original milky white chocolate filling. Dark green tea and white chocolate have incredible compatibility.

The packaging is also an Arashiyama branch original, with motifs of the moon and bamboo forests, and the box is sturdy enough that it won't lose its shape inside your suitcase. Why not pick up a box to commemorate your visit to Arashiyama?
Malebranche Arashiyama store

マールブランシュ嵐山店

Address

Sagatenryuji Susukinobabacho, Ukyo-ku, Kyoto, 〒616-8385

Phone Number

075-862-5656

Business Hours: 10:00 AM - 5:00 PM
Closed: none
Access: near Randen "Arashiyama" station
*This information is from the time of this article's publication.
*Prices and options mentioned are subject to change.
*Unless stated otherwise, all prices include tax.
Limited time offer: 10% discount coupons available now!