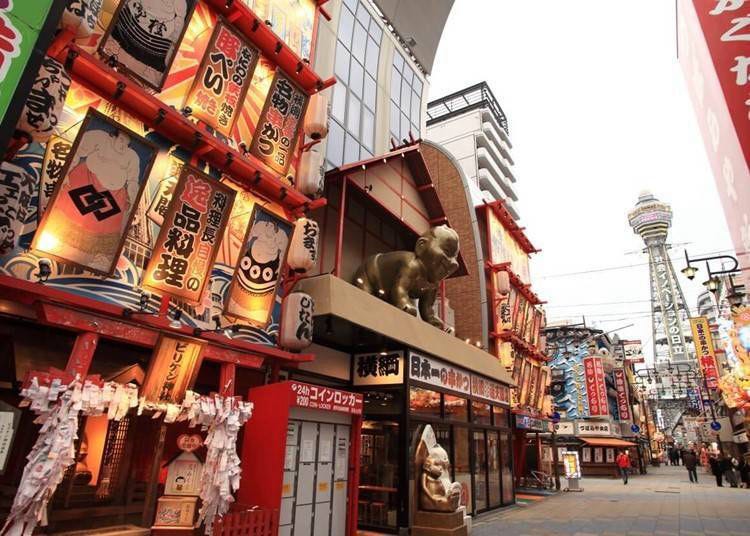 Deep in Osaka's downtown is the neighborhood of Shinsekai. Bustling with tourists, this area is home to the iconic Tsutenkaku Tower, and is a place full of old-fashioned Osakan flair.

Shinsekai is also home to a variety of shops serving kushikatsu and doteyaki. Today, we visit Japan's number-one kushikatsu shop, Kushikatsu Yokozuna Tsutenkaku, and try out their newest supersized menu.
What is Nihonichi-no Kushikatsu Yokozuna?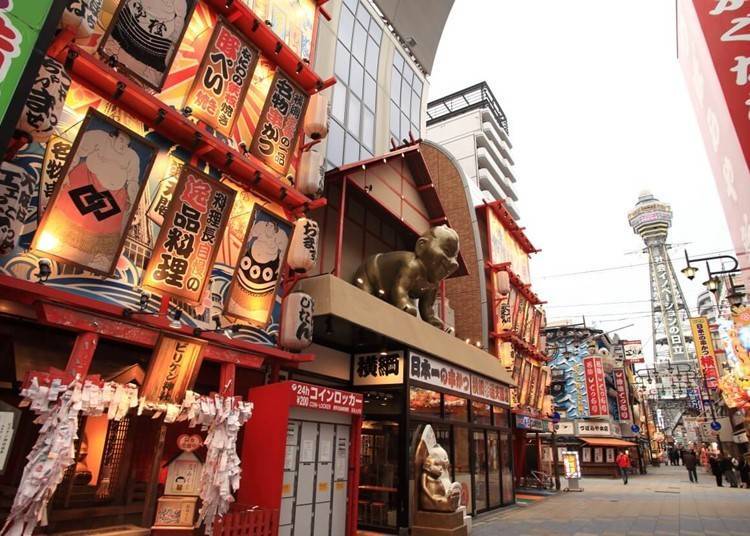 From Dobutsuen-mae Station on the Osaka Metro Midosuji Line, use Exit 5 and head north until you reach the Shinsekai gate on the right.

Here, you will find a lively restaurant. The photo above shows Tsutenkaku and the Shinsekai cityscape as seen from the hot spring facility, Spa World. On the left, you'll notice a shop with a Billiken statue and shrine to Ebisu (one of Japan's gods of good fortune).

That shop is Nihonichi-no Kushikatsu Yokozuna Tsutenkaku, and the site of today's visit. The name 'Yokozuna' refers to the highest rank in sumo wrestling, Japan's national sport. The word originates from 'shimenawa,' the rope the wrestlers wear around their waist.
The outer walls of the shop are brightly lit in the evenings and decorated with sumo wrestler images and names of menu items. The building itself is a popular tourist attraction and the subject of many commemorative photos.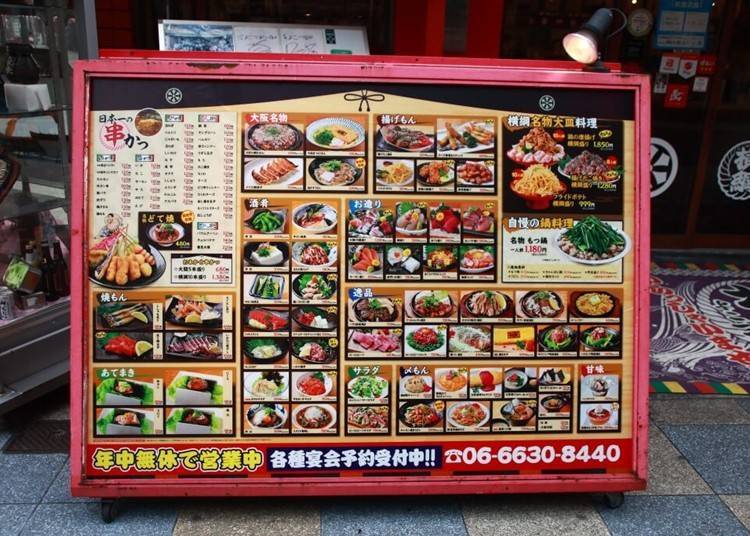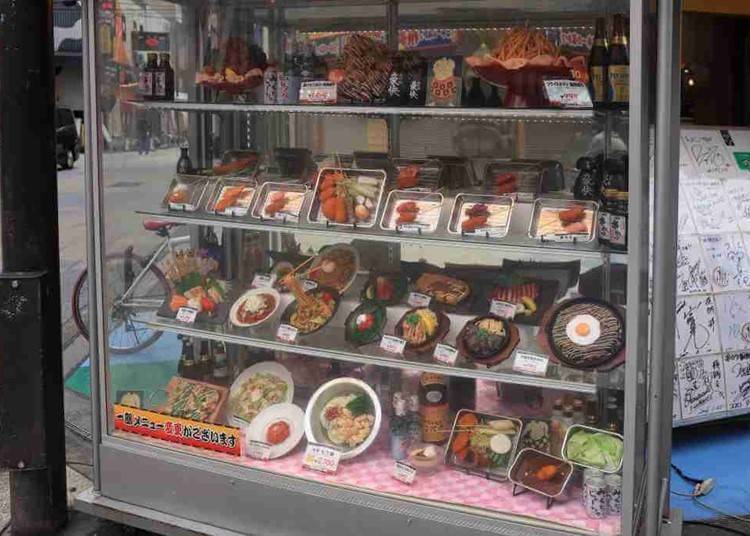 The large signboard by the entrance displays photos, prices, and 3D samples of the menu items, so even first-timers will know what to expect in terms of the size and contents of their order.
How to Order Kushikatsu - Shinsekai's Specialty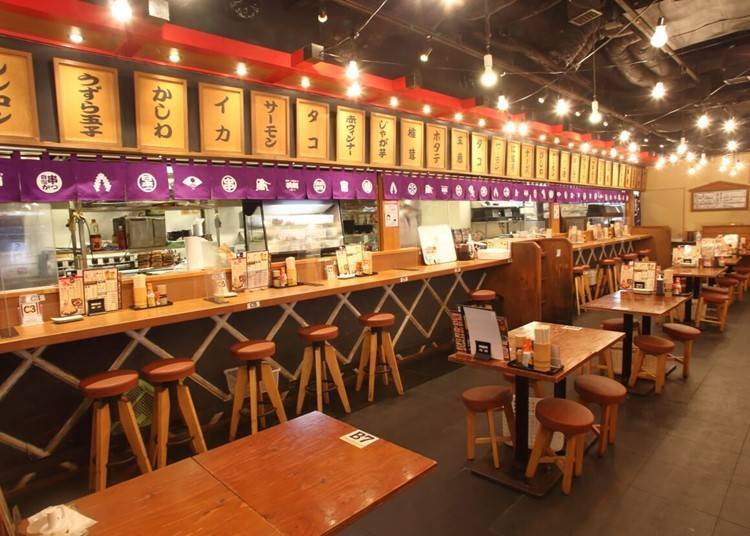 The shop is open and spacious, with high ceilings and plenty of seating. There are three six-person tables, 25 four-person tables, and 16 counter seats. Seating is also available on the second floor.

(*Second floor may be closed as a measure against coronavirus.)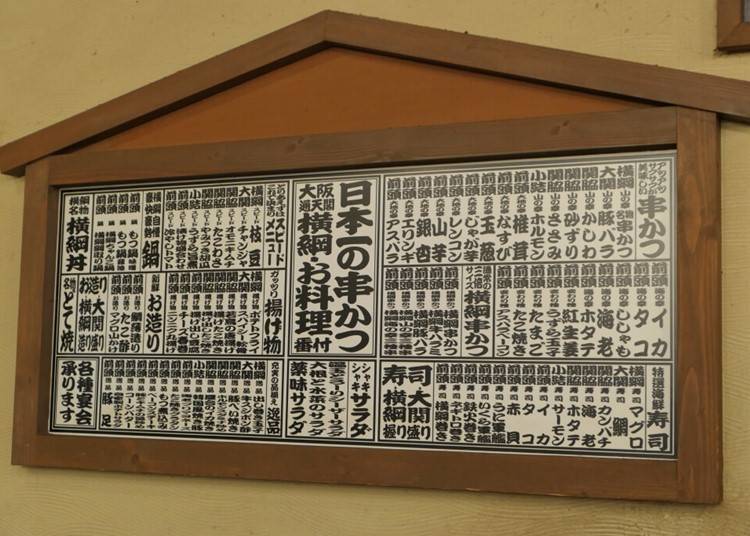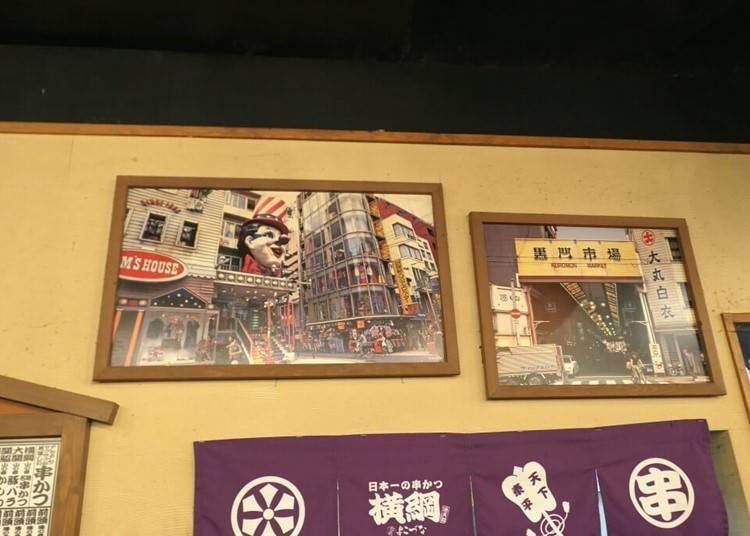 The shop interior is decorated Japanese-style. Menu panels resembling sumo wrestling banzuke (ranking charts) and old-fashioned landscape photos of Shinsekai line the walls.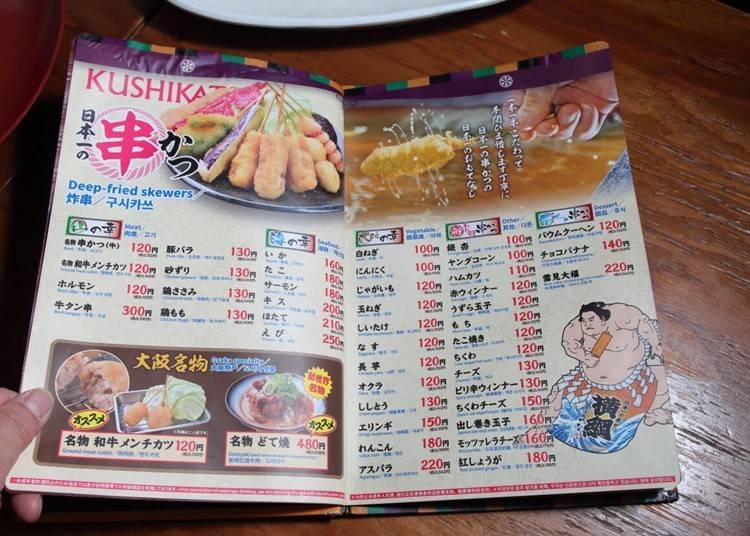 Japanese-only picture menus are placed on each table by default, but you can request foreign language menus from the staff (available in English, Chinese, Korean).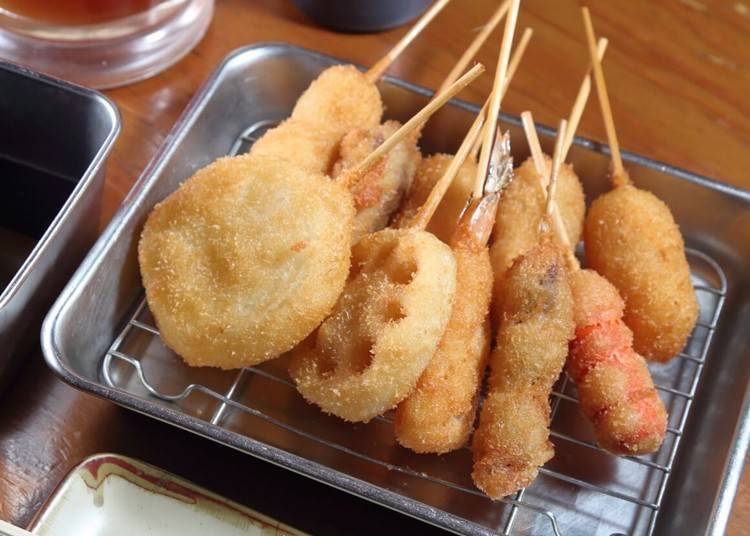 First, we order the shop's signature kushikatsu. While you can order your favorite pieces individually, we were hungry and opted for the 10-Piece Kushikatsu Assortment for 1,518 yen, which includes a combination of meat, fish, and vegetables.

You can request one ingredient from the platter, while the rest are left to the shop. This freshly-fried kushikatsu dish includes a secret dipping sauce in which you can coat your entire skewer. Please note that double-dipping is a huge no-no.

The crisp breading and mildly sweet sauce mingle perfectly with the main ingredients for a delicious flavor you'd only expect of a signature dish. Though tempted to order another one, we stopped here to focus on our main goal - the super-sized platter.

Other popular individual items are the Takoyaki and Ham Kawaridane Kushikatsu, as well as Daifuku Ice Cream and Custard Pudding Dessert Kushikatsu.

(*As of March 2022, sauce dipping containers have been replaced with bottles to help prevent the spread of Covid-19.)
Supersized Menu Challenge Round One: Fried Takoyaki Yokozuna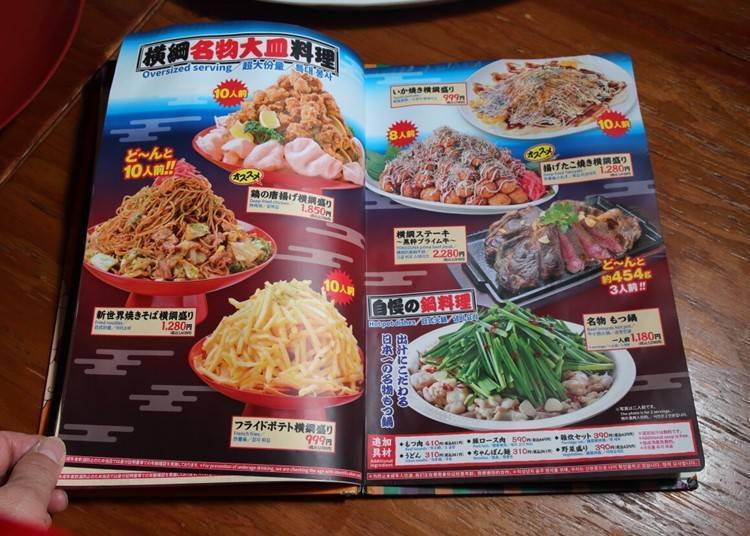 One page of the menu (also written in English, Chinese, and Korean) is dedicated to Yokozuna Specialty Platter Dishes. Ingredients may vary by shop and Covid-19 prevention measures.

At this Tsutenkaku location, the Fried Chicken Yokozuna is 2,035 yen, Fried Potato Yokozuna is 1,098 yen, and Fried Takoyaki Yokozuna is 1,408 yen as of March 2022.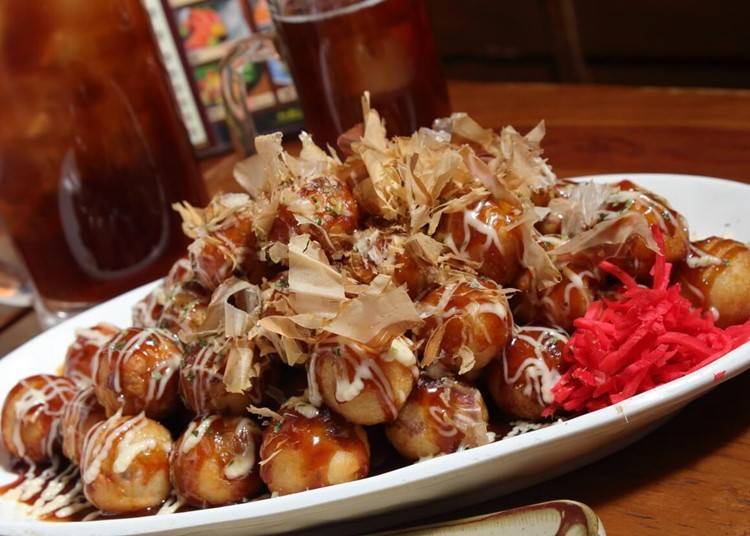 We ordered the Fried Takoyaki Yokozuna. Regular dishes are normally 396 yen for a one-person serving (6 pieces), while an eight-person Yokozuna serving includes 50 pieces. The fried takoyaki is topped with sauce, mayonnaise, and dried bonito flakes.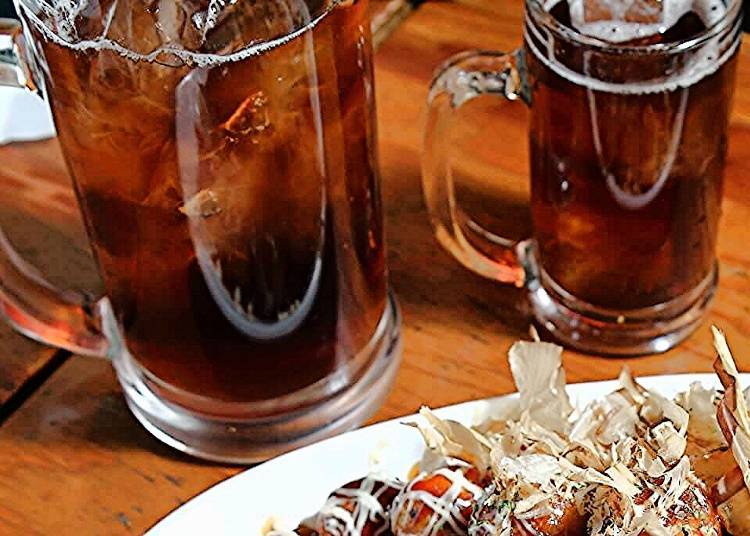 The drink menu also includes a one-liter Yokozuna mug. The regular oolong tea pictured in the photo is 286 yen (500 ml) and 605 yen for the one-liter Yokozuna mug. Draft beer goes for 451 yen for a small mug, 528 yen for a medium mug, and 1,098 yen for a Yokozuna mug.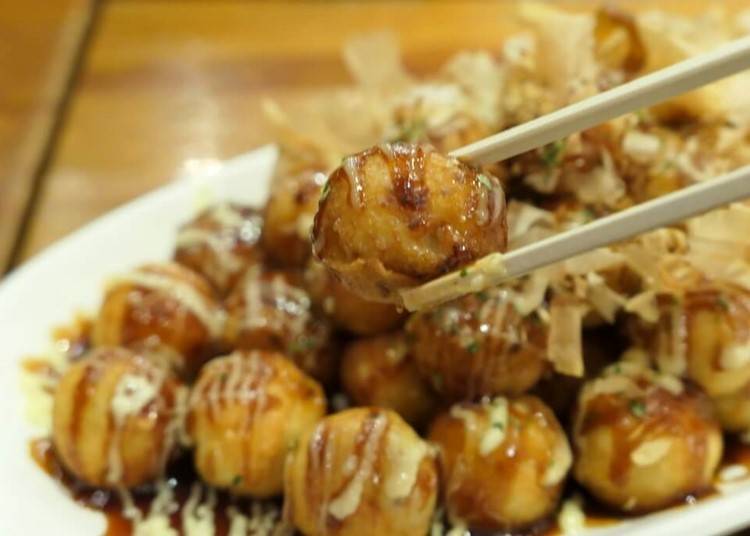 One fried takoyaki is about 3 cm in diameter. They're hot and crispy on the outside, fluffy on the inside, and filled with chewy octopus. These bite-sized pieces are so easy to eat, you just may eat more than you planned!
Supersized Menu Challenge Round Two: Fried Chicken Yokozuna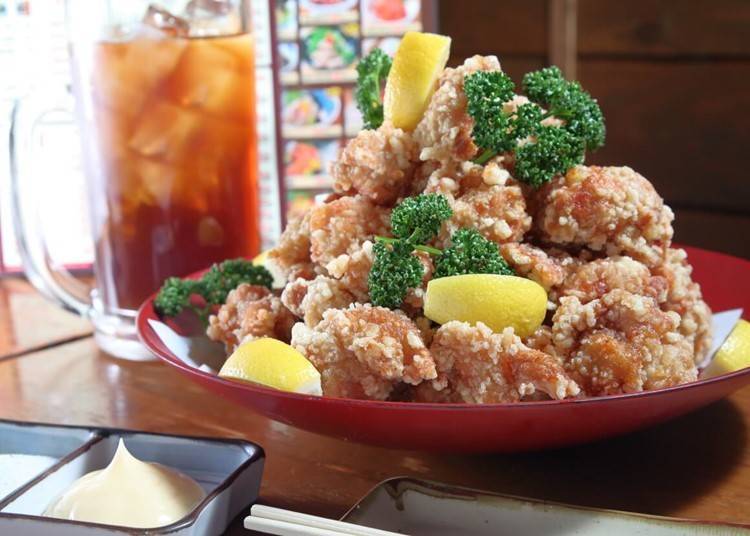 Next, we try the Fried Chicken Yokozuna. One regular serving is about 100g (5 pieces), while the Yokozuna serving is about 25cm high, 1kg in weight, and is the equivalent of 10 servings!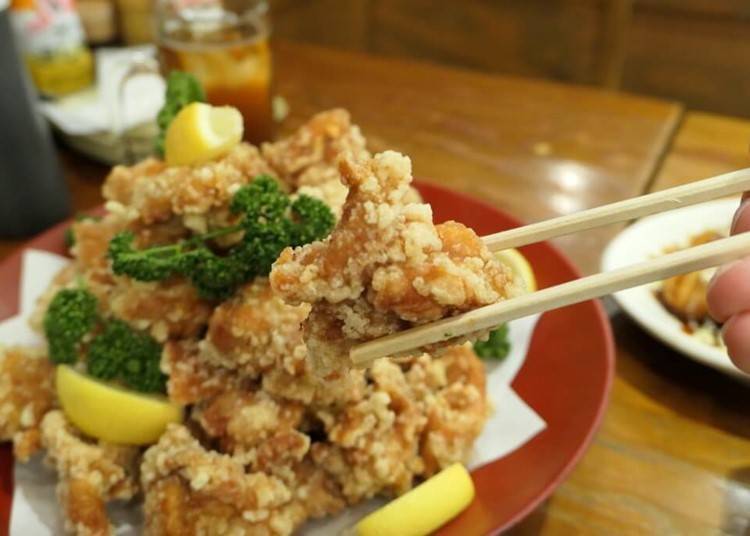 Each piece is coated with a crunchy batter, and is tender and juicy on the inside. And while the dish is already delicious on its own, it comes with mayonnaise, salt, and pepper for those who want more seasoning.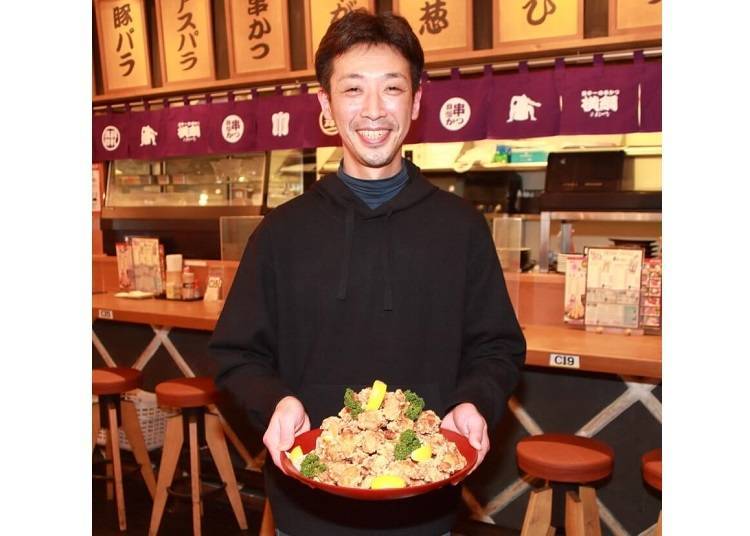 Shop owner Hayakawa explains: "There are no requirements for ordering a Yokozuna dish. Even single customers can order it for themselves. However, most customers share them between groups of three. Many overseas customers who come in groups usually order individual platters for themselves; however, a large number still order Yokozuna Assortments to share. It's a dish that works as a main course or as finger food to enjoy with sake."
Can't Clear Your Plate? Share This Dish With Friends!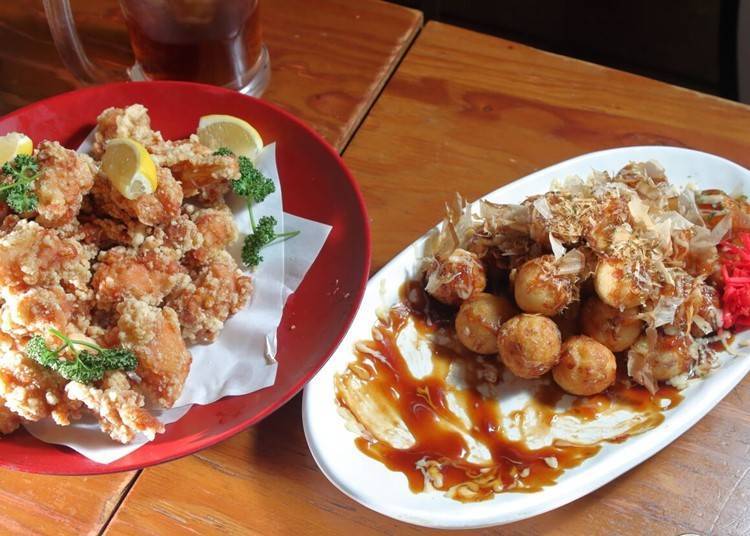 Although I came hungry and tried my hardest to finish the dish on my own, I had to give in after eating about a quarter of it. It certainly seems easier to enjoy with friends rather than alone!
Original Kushikatsu Sauce: The Perfect Souvenir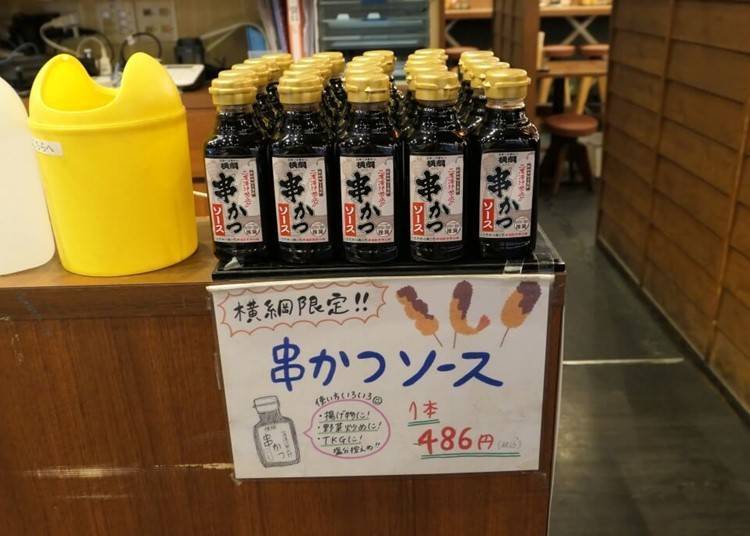 When you go to pay, you'll notice some kushikatsu sauce bottles next to the register. This is the same original secret sauce that accompanies the kushikatsu dishes, sold here for 486 yen (300 ml). It's low in sodium and goes well not only with kushikatsu and fried foods, but stir-fries and vegetables, too. This popular item is only available in-store, and makes the perfect souvenir for yourself!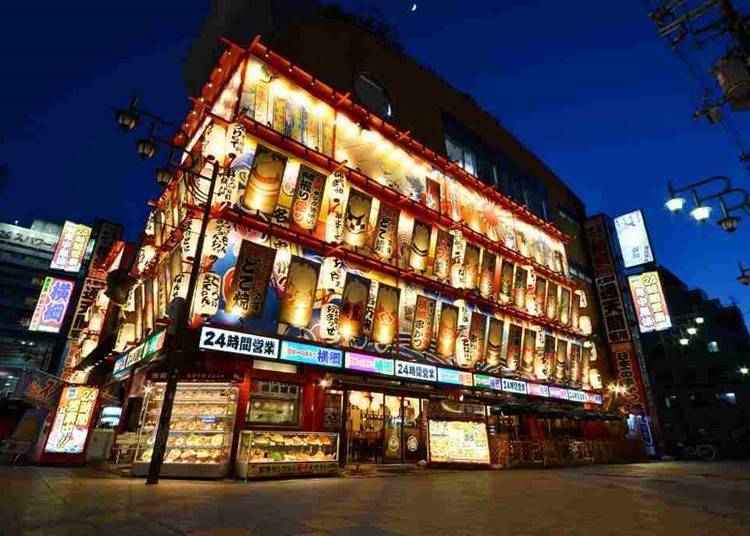 After leaving the store, our surroundings looked pitch black in contrast to the flashy signboard brightly illuminating the Shinsekai nightscape. The shop is open 24 hours a day*, like a kushikatsu castle that never sleeps!

Nihonichi-no Kushikatsu Yokozuna Tsutenkaku welcomes visitors at all times of the day so that you can come for breakfast, lunch, dinner, or drinks in the middle of the night! Real sumo wrestlers aiming for the Yokozuna rank also frequent the shop before the Sumo Haru Basho event held in Osaka every March.

(*Business hours and menu subject to change based on policies and statements by the local governments, agencies, and insurance offices to prevent the spread of COVID-19.)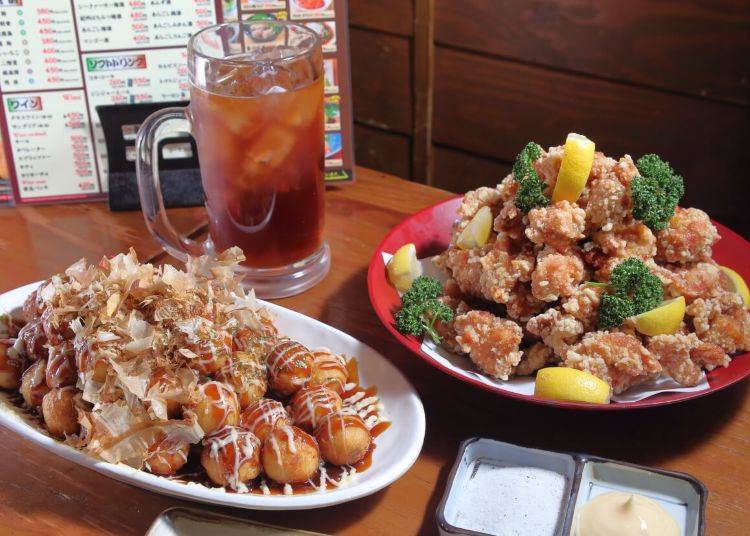 Health & Safety Measures
Disinfection, sterilization, and cleaning of store interior and equipment / disinfectant installed / disinfected after each customer / in-store ventilation measures in place / use of coin trays / staff wear masks, wash hands, use disinfectant, gargle, and monitor body temperature / entry declined to customers feeling unwell / customers requested to wear masks and use sanitizer in store


Translated by: Krys Suzuki
Nihonichi-no Kushikatu Yokozuna Tsutenkaku Shop

日本一の串かつ 横綱 通天閣店

Address

3-6-1 Ebisuhigashi, Naniwa-ku, Osaka, 556-0002

Phone Number

06-6630-8440

Business Hours: Open 24 hours
Regular Holidays: Open daily
Address

2-4-15, Ebisuhigashi, Naniwa-ku, Osaka-shi, Osaka, 556-0002
View Map

Nearest Station

Ebisucho Station (Sakaisuji Line)
4 minutes on foot


Phone Number

06-6643-6322
Written by: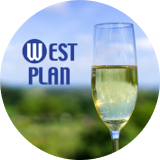 *This information is from the time of this article's publication.
*Prices and options mentioned are subject to change.
*Unless stated otherwise, all prices include tax.