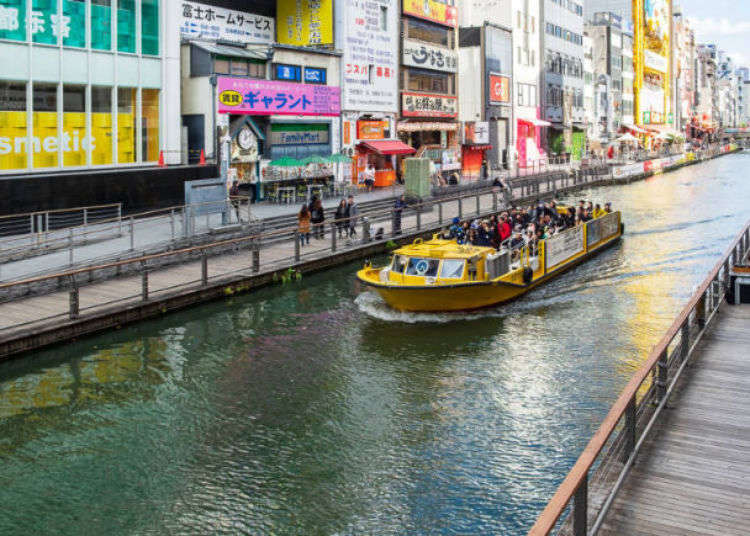 When you mention Osaka, many people probably imagine street food like takoyaki and kushikatsu, or sightseeing spots such as Dotonbori and Tsutenkaku. Walking around the Osaka scenery while eating delicious local specialties is just one way to enjoy the city.

However, there are many other spots and traditional events to enjoy in Osaka! Today, we would like to introduce 10 cool attractions to enjoy during your summer trip to Osaka.

Main image: Jo Panuwat D / Shutterstock.com
1. Watching Sea Animals Swim in the Cool Water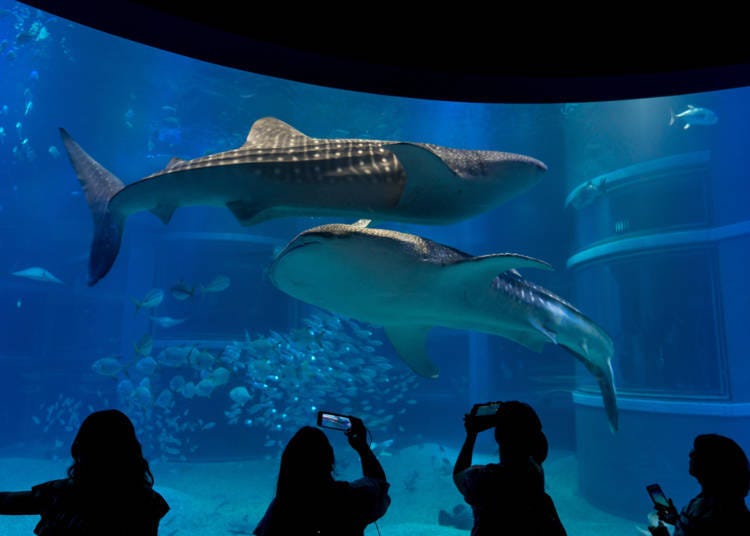 Jarmo Piironen / Shutterstock.com
Why not visit an aquarium and watch the fish swim in the cool waters, avoiding the hot sun? There are several popular aquariums in Osaka, such as the Kaiyukan. There is also an aquarium where you can both watch and interact with the sea creatures, including feeding them and watching a variety of shows.

Enjoy an extraordinary scene as you watch the sea animals play around in the water right before your eyes. Some shows are held outdoors, but the temperature inside the building is cool so the outside heat won't tire you out.

The recommended time to visit is on a weekday evening. There are less crowds than weekends and holidays, and is relatively empty for a popular aquarium, so you can enjoy at your own pace.
Address

1-1-10, Kaigandori, Minato-ku, Osaka-shi, Osaka, 552-0022
View Map

Nearest Station

Osakako Station (Chuo Line)
5 minutes on foot


Phone Number

06-6576-5501
2. See A World Heritage Tomb From Above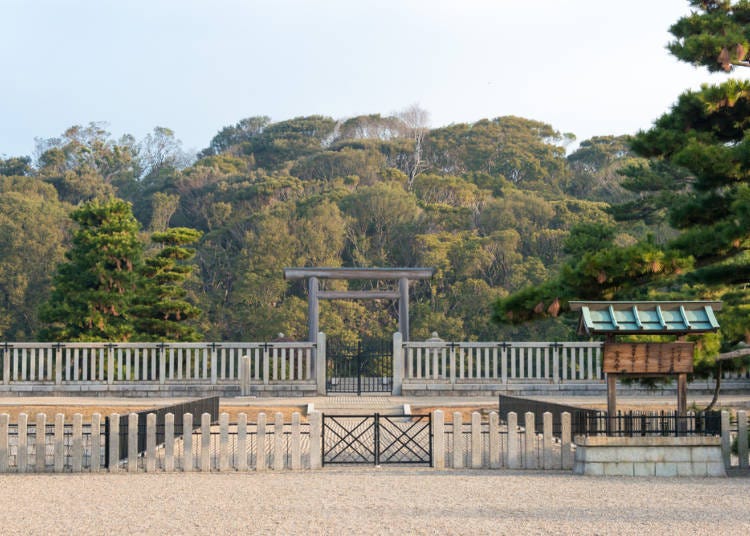 beibaoke / Shutterstock.com
The Mausoleum of Emperor Nintoku, located in Sakai City, is the largest tomb in Japan, with a total length of 486 meters. It is one of the world's three largest tombs, along with the Khufu Pyramid in Egypt and the Mausoleum of the First Qin Emperor in China. It was registered as a World Heritage Site in Osaka in the summer of 2019.

It is a vast group of ancient burial mounds, whose construction is said to have spanned 20 years in the middle of the 5th century. It has a triple moat structure, and a calming, historic atmosphere, surrounded with lush green trees.

It is recommended to see it up close, as well as get a look at the entire keyhole-shaped burial mound from above from the 21st floor Observation Lobby of Sakai City Hall. Ponder the wonders of history as you look out from its refreshing climate.
Mausoleum of Emperor Nintoku

仁徳天皇陵古墳

Address

7 Daisen-cho, Sakai-ku, Sakai City, Osaka

Nearest Station

10 min walk from JR Mozu Station


Price: Free
Hours: Visit anytime
Sakai City Hall Observation Lobby

堺市役所展望ロビー

Address

3-1 Minamigawaramachi, Sakai-ku, Sakai City, Osaka

Nearest Station

5 min walk from Sakai-higashi Station on the Nankai Koya Line


Phone Number

072-233-5258

Hours: 9:00AM-9:00AM (varies by season)
Regular Holidays: Open year round
Price: Free
3. Experience Japanese Culture at the Fantastic Tenjin Festival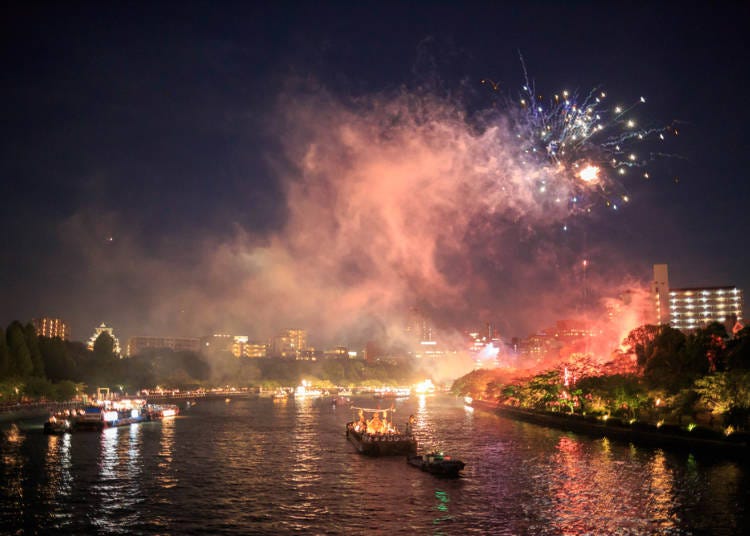 Osaze Cuomo / Shutterstock.com
The Tenjin Festival, held in honor of the ujichi guardian of Osaka Tenmangu Shrine, is a festival that attracts 1.3 million people every year. The scale is so great, it is considered one of the three major festivals of Japan, along with the Kanda Matsuri in Tokyo and the Gion Matsuri in Kyoto.

The Tenjin Matsuri is a long celebration whose festivities are held from the end of June. It is famous for its main celebration, held the 24th and 25th of July. On this day, there is a procession of 100 boats on the river, and a ritual of nearly 5,000 fireworks.

After the sun has set, fireworks are launched one after another, beautifully illuminating the night sky. The bonfires and lanterns on the boats are reflected on the river's surface. The unique beauty of this scene is gives it its nickname, the Fire and Water Festival.

This is a festival where you can fully enjoy both a lively atmosphere, and traditional artistic culture.

*The boat procession and fireworks events have been canceled for 2020.
4. Eat Soft Serve Ice Cream at the Highest Point in Japan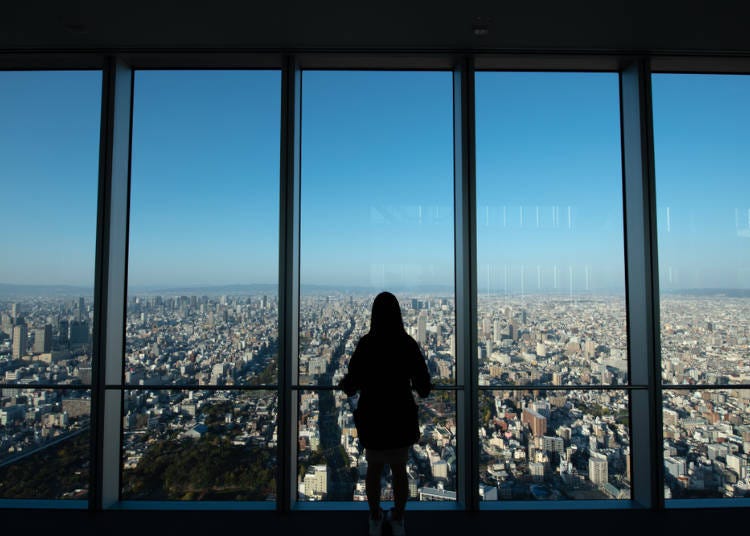 BonStock / Shutterstock.com
Abeno Harukas, opened in March 2014, is the tallest skyscraper in Japan, boasting a height of 300m above ground. From the 58th to 60th floors is the Harukas 300 Observatory. On a clear day, you can even see the city of Kobe and the Akashi-Kaikyo Bridge, as well as Kyoto Tower, one of Kyoto's landmarks.

The 60th floor is entirely covered with glass, and feels as if you are walking on air. The 59th floor is the sales floor, and the 58th floor is an outdoor area where you can look out over the city of Osaka.

There is also a cafe-dining bar on this floor, where you can buy the limited edition 'Pine-Ame Soft Cream' (pineapple candy flavored ice cream) for 450 yen (tax included). Cool off with a refreshing ice cream in a spot with a scenic view.
ハルカス300(展望台)

Address

1-1-43 Abenosuji, Abeno-ku, Osaka City, Osaka

Nearest Station

1 min walk from Osaka Abenobashi Station on the Kintetsu Minami Osaka Line;
3 min walk from Tennoji Station on JR Kansai Main Line, Osaka Loop Line, Hanwa Line, Osaka Metro Midosuji Line, and Tanimachi Line


Price: Adults: 1,500 yen; Junior high/high school students: 1200 yen; Elementary school students: 700 yen; Toddlers: 500 yen
Hours: 9:00AM-10:00PM (Last entry: 9:30PM)
Regular Holidays: Open year round
5. Cool Off at the Illuminated Minoh Falls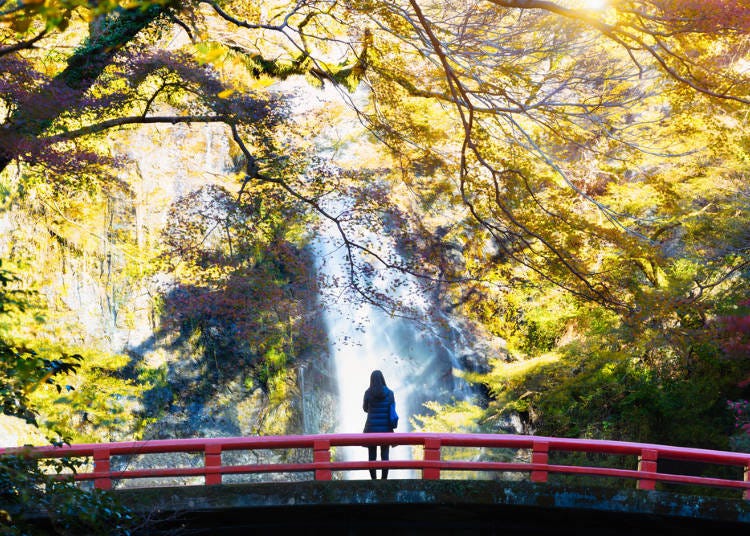 Minoh Falls, located in Meiji no Mori Minoh National Park, is a beautiful waterfall that has earned the title of one of the top 100 waterfalls in Japan. It is a popular spot that attracts 2 million tourists every year. Many locals, as well as people from other prefectures and overseas, also visit.

There is a road leading to the falls from the nearest station, Mino-o Station on the Hankyu Line. The path is surrounded by a lush landscape, and perfect for hiking, and a good way to get some light exercise while walking to the falls. Be careful, however, as snakes and wild monkeys may appear.

You can visit this place in any season, but it is illuminated in the summer. Enjoy the cool breeze and mist from the waterfall, while immersing yourself in the beauty of the light and water.
Address

Minookouen, Minoo-shi, Osaka, 562-0002
View Map

Nearest Station

Minoo Station (Hankyu-mino Line)
40 minutes on foot


Phone Number

072-723-1885
6. Enjoy Barbecue in the Great Outdoors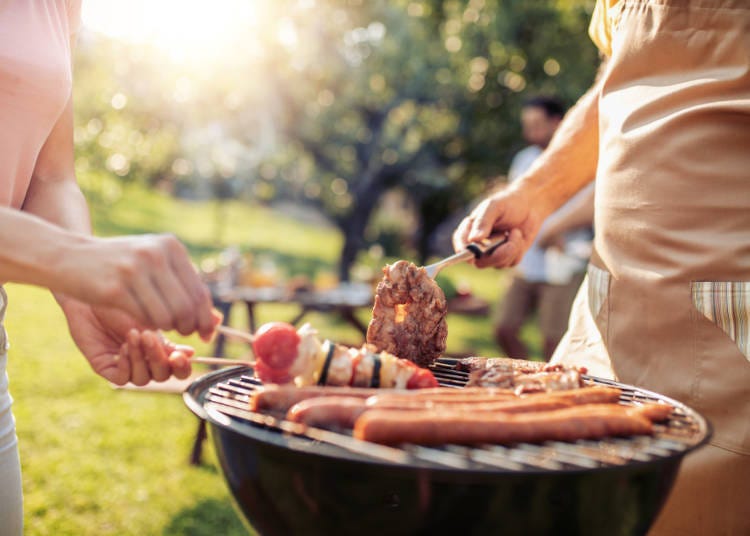 It's summertime, and you can't have summer without a barbecue. In Osaka, there are many places where you can enjoy barbecue with friends and family, surrounded by the rich nature of the seaside, mountains, forests, and rivers. Yodogawa Park has many designated barbecue areas, and many of them are easy access.

Dig in to meat dishes and savor the sake while admiring the beautiful sunset. You can go fishing and grill your own fresh-caught fish, or barbecue surrounded by the refreshing forest.

If you don't have the required tools and ingredients, don't worry, as they are available at some areas. Deepen your bond with nature as you enjoy cooking and fishing in the outdoors. It is sure to be a fun and exciting experience.
7. Cruise the City of Osaka on a Small Boat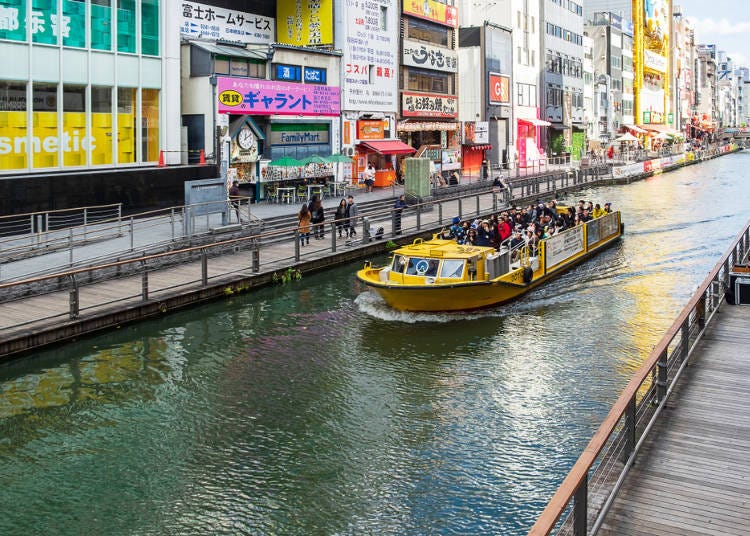 Jo Panuwat D / Shutterstock.com
Osaka, a city developed by water transportation, is often called by its nickname, the water capital. There are various types of leisure activities held on the river, as the waterways themselves are practically major landmarks of the city.

One example is cruising on a small boat. There are both pre-planned as well as customizable tour courses for small boat trips around Osaka.

Food and drinks are allowed, and some boats even have barbecue, so you can even enjoy a private party while touring around Osaka.

You can take a daytime cruise to see the city in the sunlight, or a nighttime cruise for a mesmerizing view of the cityscape at night.
Address

7-13, Soemoncho, Chuo-ku, Osaka-shi, Osaka, 542-0084
View Map

Nearest Station

Namba Station (Midosuji Line / Yotsubashi Line / Sen-nichimae Line)
0 minute on foot


Phone Number

06-6441-0532
8. Overlook Osaka at Dusk from Osaka Castle Observatory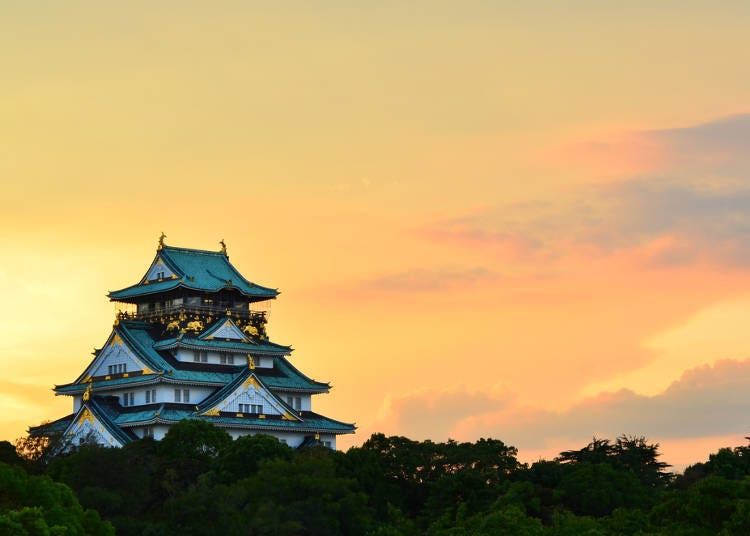 The Osaka Castle Tower attracts over 2.5 million tourists every year, and is a symbol of Osaka. The castle is built of stone wall, and said to be the tallest in Japan. It is one of Japan's three most famous castles.

It was originally built by Hideyoshi Toyotomi in 1583, and has been since reconstructed to its present state. The inside of the castle is magnificent, and there is even a museum where valuable artifacts are displayed.

The castle tower of Osaka Castle normally closes at 5:00PM, but during cherry blossom season, Golden Week, and summer vacation, closing time is extended about 1-2 hours.

In the summer, you can overlook the city of Osaka at dusk right from the observatory. Take a look, and see how the world at dusk appeared before Toyotomi Hideyoshi's own eyes.
大阪城天守閣

Address

1-1 Osaka Castle, Chuo-ku, Osaka City, Osaka

Nearest Station

18 min walk from Osaka Castle Park Station or Morinomiya Station on the JR Osaka Line; 18 min walk from Tanimachi 4-chome Station or Morinomiya Station on the Osaka Municipal Subway Chuo Line; 19 min walk from Tenmabashi Station on Keihan Main Line


Phone Number

06-6941-3044

Price: Adults: 600 yen; Junior high school students and under: free
Hours: 9:00AM-5:00PM (Last entry 4:30PM; restrictions may apply on ticket purchases, depending on capacity at 4:30PM)
Regular Holidays: 12/28-1/1
9. Have a Takoyaki Party at a Place You Can Relax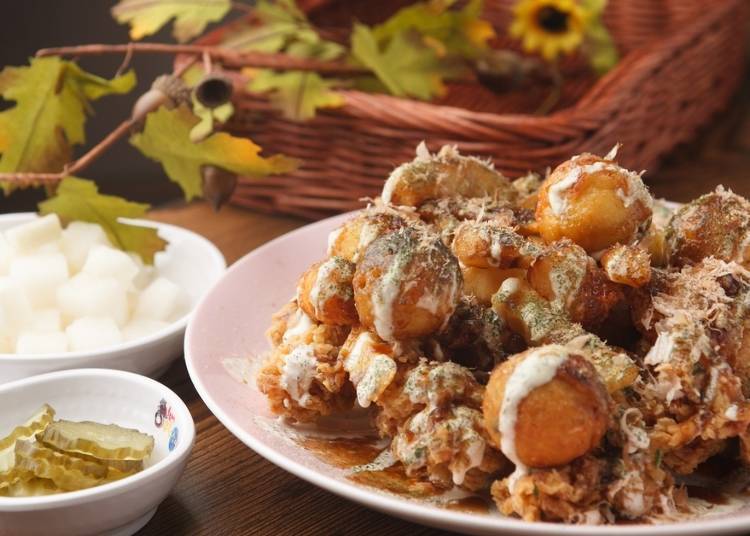 There are many takoyaki restaurants in Osaka. Depending on where you go, there may even be many shops within the same area. Takoyaki is a favorite among Osaka locals, however, you don't have to go outside to enjoy them.

Many people have their own iron takoyaki plates that can be used to make them at home. Having a takoyaki party with family and friends is another popular way to spend your time.

Gather the ingredients and have fun making takoyaki with all your friends. Try difference sauces, including ponzu and soy sauce, and taste different flavors.

We recommend enjoying it at camp sites, friends' houses, or even a rented space with a scenic view for a party. Why not get together with family and friends for an exciting takoyaki party in a rental space with a great view of the fireworks?
10. Experience Comedy Culture in a Cool Building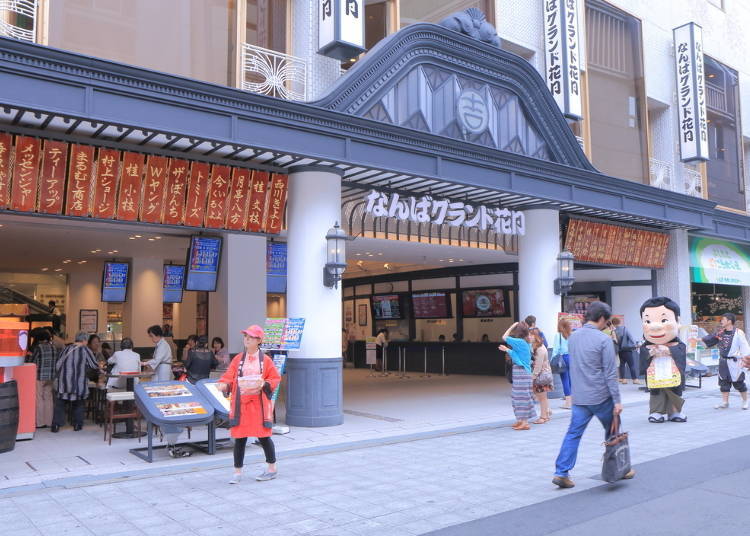 TK Kurikawa / Shutterstock.com
If you come to Osaka, one thing you definitely want to experience is the comedy culture. Sure, your can enjoy watching famous comedians on different variety shows on TV every day, but in Osaka, there are several theaters where you can enjoy live comedy, performed by professionals in the art, right before your eyes.

In addition to the Yoshimoto Kogyo theater, which has produced many popular comedians, there are a variety of other places you can enjoy, including a theater for independent comedians, and a theater for traditional rakugo.

If you don't understand Japanese, you may be worried that you won't be able to enjoy the show. However, with performances by skilled entertainers, new styles of comedy, and the reactions of the entertainers and their props, you will find that by understanding the heart of comedy, you can enjoy yourself beyond the language barrier.

There are even theaters that show improv comedy in English, such as Pirates of Dotonbori.
If you want to avoid the hot sun, why not enjoy a comedy show in the cool indoors?
If you want to avoid the hot sun, why not enjoy a comedy show in the cool indoors?
Osaka is a city with many attractions, and many ways to enjoy the, especially in the summer. The heat may be harsh, but if you take proper precautions to avoid heat stroke, either of the events listed here are sure to be a wonderful experience. Fully enjoy yourself in the summer of Osaka!

●Profile
Dali Corporation Yuki Taniguchi

*The above article is based on information from May 2020
*This information is from the time of this article's publication.
*Prices and options mentioned are subject to change.
*Unless stated otherwise, all prices include tax.