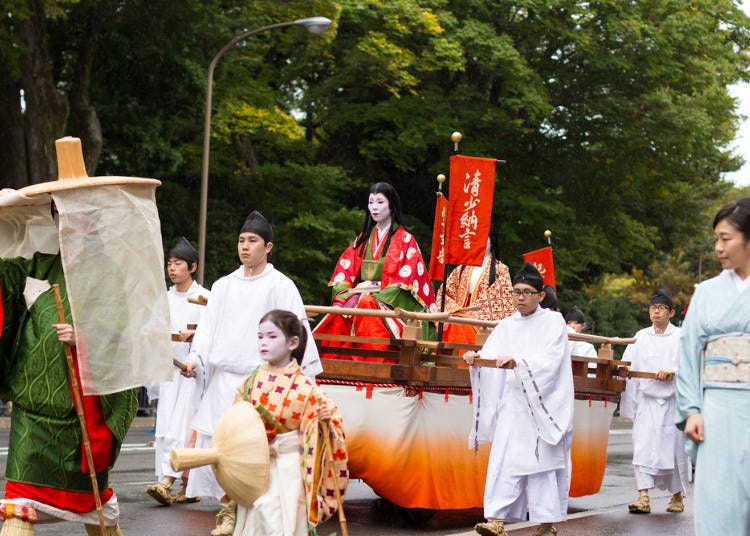 When it comes to tradition, Kyoto festivals stand out, and you'll definitely want to see them if you have the chance. The city also has a variety of other festivals depending on the season, and we'll be checking out a couple here.

Photo:Vlastimil Kuzel / Shutterstock.com
Aoi Matsuri: Like a beautiful court mural (May 15)
Kobby Dagan / Shutterstock.com
May 15th
The Aoi Matsuri is held every May 15th at Kamo-mioya-jinja (the Shimogamo Shrine) and Kamo-wakeikazuchi-jinja (the Kamigamo Shrine). Kyoto festival-goers donning the garb of Heian nobles march down the city's main road, going from the Kyoto Imperial Palace to Shimogamo Shrine, then to Kamigamo Shrine. The group of over 500 look like something out of a beautiful Heian picture scroll as they gracefully move down the road.

The carriage with its bamboo blinds is decorated with hollyhock (aoi) leaves, hence the name Aoi Matsuri – although its actual name, Kamo Matsuri, is said to have come from how this Kyoto festival was performed to enshrine the god of Kamigamo Shrine.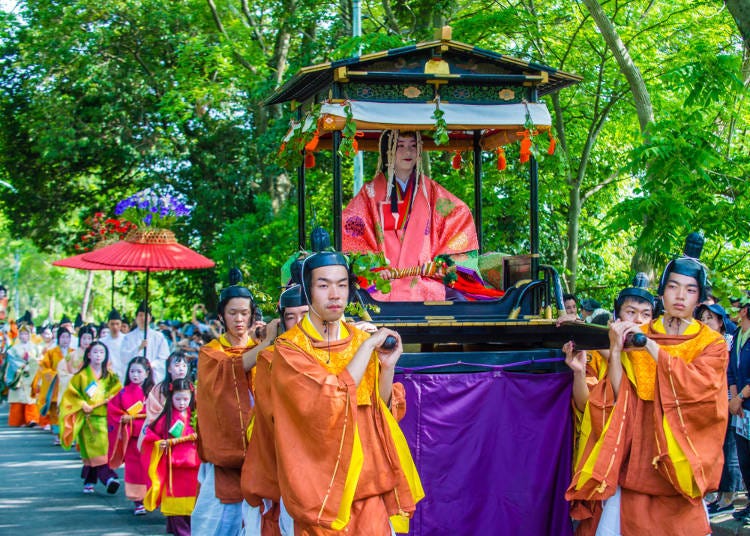 Kobby Dagan / Shutterstock.com
The lines are split into a main line and the Saio-Dai line, with the latter and its glamorous costumes being more popular. There's the Saio-Dai on the palanquin, the shrine girls and court ladies, and many other women with beautiful costumes and instruments.

On the 3rd of May, a preliminary rite is held at Shimogamo Shrine to pray for the festival's safety. This is a very impressive event in which archers, wearing clothes of the old nobility shoot three targets on horseback. The viewing is free, so if you have time in your schedule, check it out.
Address

59, Shimogamoizumigawacho, Sakyo-ku, Kyoto-shi, Kyoto, 606-0807
View Map

Nearest Station

Demachiyanagi Station (Eizan Dentetsu Eizan Line)
10 minutes on foot


Phone Number

075-781-0010
Address

339, Kamigamomotoyama, Kita-ku, Kyoto-shi, Kyoto, 603-8047
View Map

Nearest Station

Kitaoji Station (Karasuma Line)
10 minutes by bus


Phone Number

075-781-0011
Gion Matsuri: Moving art galleries and grand mikoshi (July)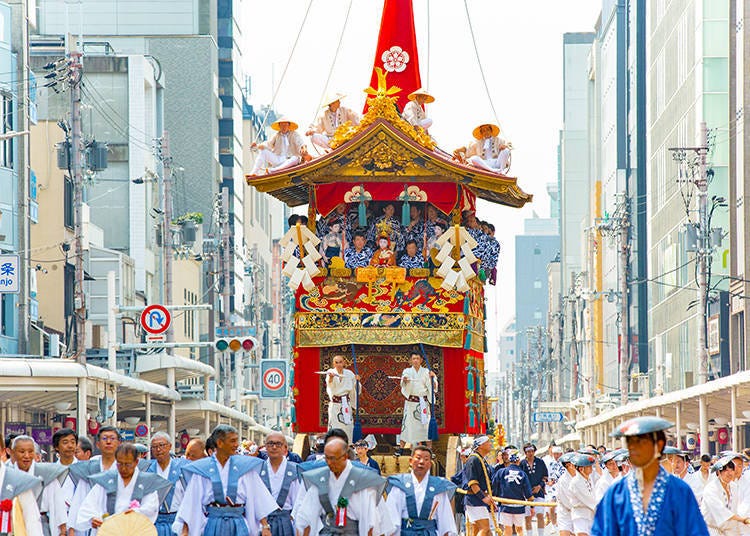 Photo: Gion Matsuri Yamahoko Federation
July 1st to July 31st, Yamaboko floats on the 17th and 24th
The Gion Matsuri is probably Kyoto's most famous summer Kyoto festival. It's held at Yasaka Shrine, starting with the kippuiri on July 1st and ending with the closing ceremony at Eki Shrine on the 31st, lasting for a month.

The Gion Matsuri began when a disease was plaguing Kyoto, leading priests to prop up 66 halberds, one for each province in Japan at the time, in the garden of Shinsen-en. This offering to the god of the shrine, Susanoo-no-Mikoto, is said to have lifted the plague. Of particular note in the festival is the parade of the Yamaboko floats on July 17. The floats are lavishly decorated, making them like moving art galleries, and indeed have been designated as national treasures.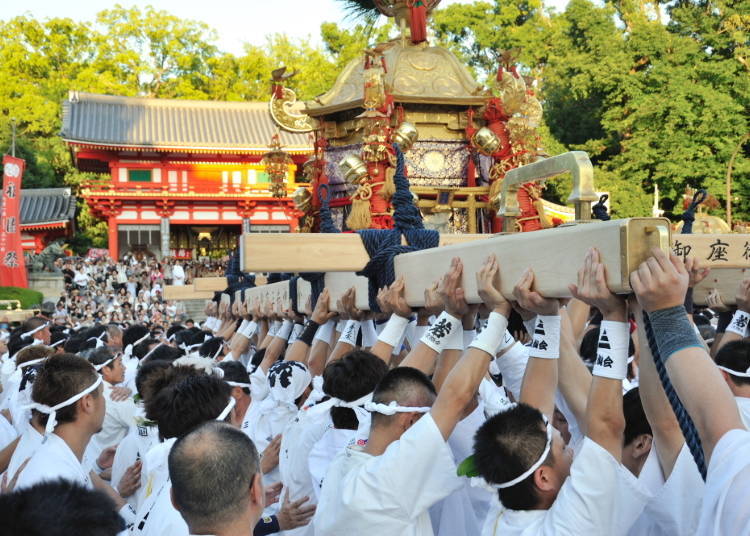 (Photo courtesy of Sanwaka Mikoshi Kai)
On the evening of the 17th, the parade of the mikoshi floats to Yakasa Shrine is held. Three mikoshi, housing the gods Susanoo-no-Mikoto, Kushiinadahime-no-Mikoto, and Yahashira-no-Mikogami go throughout the city, heading for Shijoji-cho. It takes about 300 people, including switches, to carry one 2-ton mikoshi float. These parades are definitely something you'd want to see up close.

Incidentally, during the preceding "Yoiyoiyama" on July 15th and "Yoiyama" on July 16th, parts of Shijo Street and Karasuma Street become a paradise for pedestrians, with an immense number of stalls on display. You'll really get a sense of the fun of a Kyoto festival here.
Address

625, Gionmachikitagawa, Higashiyama-ku, Kyoto-shi, Kyoto, 605-0073
View Map

Nearest Station

Gionshijo Station (Keihan Line)
5 minutes on foot


Phone Number

075-561-6155
Jidai Matsuri: Like a glamorous art scroll in motion (October)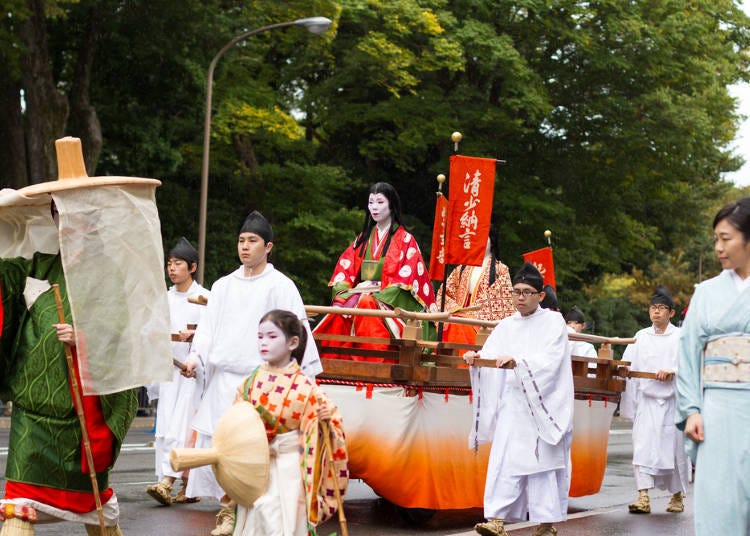 Vlastimil Kuzel / Shutterstock.com
October 22nd 2022
Then there's autumn's Jidai Matsuri, held on the anniversary of Kyoto being named Japan's capital, put on by the Heian Shrine.

It was started during the Meiji Restoration in 1868 as a celebration of the Heian Shrine and Kyoto's 1,100th year anniversary as capital. Most notable is the 2-kilometer long era procession. This is a costumed procession of eight eras of Japan: The Meiji Restoration, Edo, Azuchi-Momoyama, Muromachi, Yoshino, Kamakura, and Fujiwara. Also of note is the Heian period's ladies' march, joined by Kyoto's geisha.
Vlastimil Kuzel / Shutterstock.com
The procession starts from Kyoto Imperial Palace and marches to Heian Shrine. It consists of 2,000 people, each wearing a costume from one of the eight historical periods on display, from the Meiji era right back to when Kyoto was made the capital. It's like watching Japanese history marching before your eyes. Impressively, over 12,000 costumes and props are involved. They've all been made with careful attention to historical accuracy, making the beautiful sight educational as well.
Address

97, Okazakinishitennoucho, Sakyo-ku, Kyoto-shi, Kyoto, 606-8341
View Map

Nearest Station

Higashiyama Station (Tozai Line)
10 minutes on foot


Phone Number

075-761-0221
Baika-sai: Maiko tea service under plum blossoms (February 25)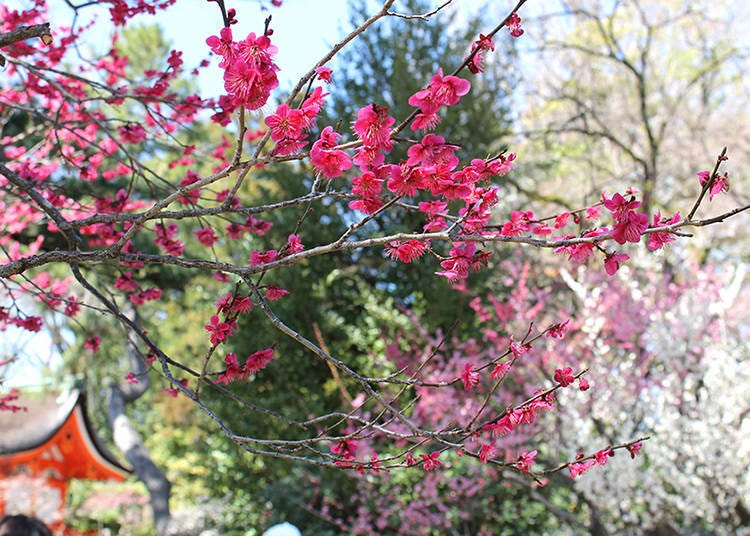 February 25th
There's another Kyoto festival aside from the three greats that deserves mention: Kitano Tenmangu Shrine's Baika-sai. It is held on February 25th, the anniversary of the death of the god of learning's mortal origin, Sugawara no Michizane. An outdoor tea ceremony is held on shrine grounds, said to be based on Hideyoshi Toyotomi's tea ceremonies. It is conducted by geiko and maiko, so stop by and enjoy matcha and sweets.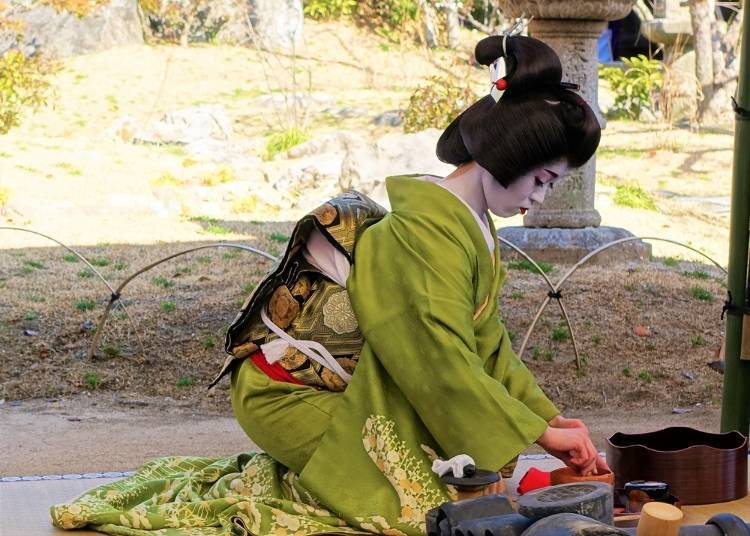 Kantaya / Shutterstock.com
Tickets to drink the tea made outdoors come with tickets to view the treasure hall and a ticket that allows you some of the food offered up as sacred tribute for a total of 2,000 yen, tax included. The brown rice used in the festival is sold for 100 yen a bag as evil-warding rice. The plum garden is also open to the public during the festival, so after enjoying the festivities, how about taking a look at the flowers? There are over 1,500 flowers of 50 types.
Address

Bakurocho, Kamigyo-ku, Kyoto-shi, Kyoto, 602-8386
View Map

Nearest Station

Kitanohakubaicho Station (Keifuku Dentetsu-kitano Line)
5 minutes on foot


Phone Number

075-461-0005
Mitarashi Matsuri: Purification in a cold pond (Late July)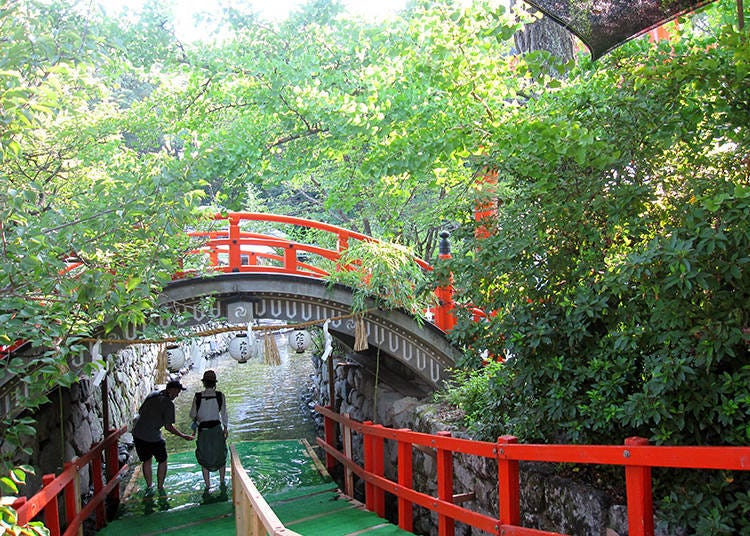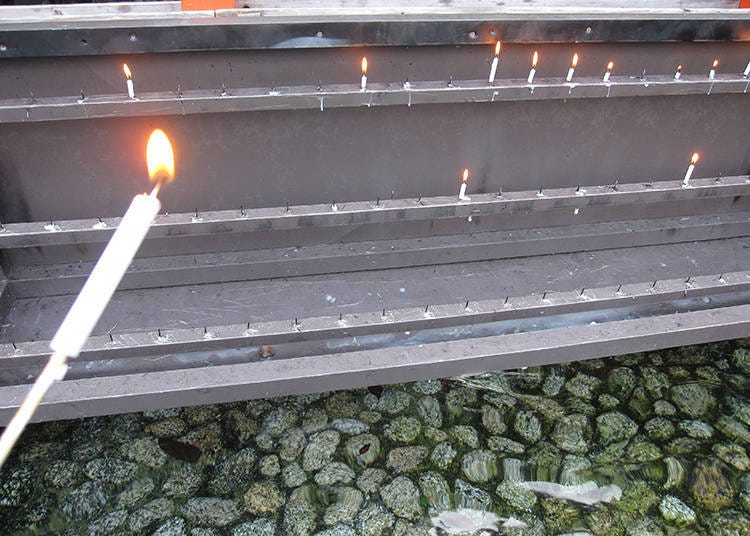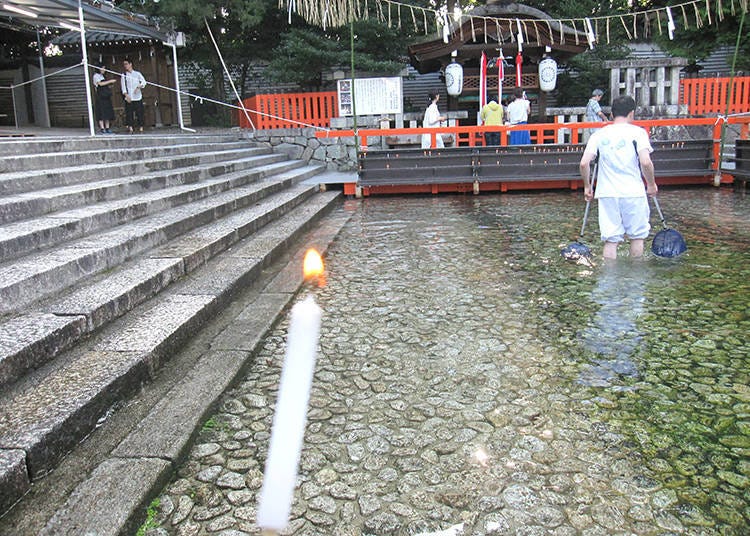 Around the fourth Saturday of July
Finally, let's take a look at the Mitarashima Matsuri, held in one of Shimogamo Shrine's subordinate shrines, Mitarashi Shrine. The festival came from Heian nobles' tradition of purifying themselves when the seasons changed. During this Kyoto festival, attendees go into the Mitarashi Pond, place a down a lit candle, and pray for good health.

Mitarashi Pond is a sacred body of water where the Saio-Dai for the Aoi Matsuri purifies herself, and the water is very cold - under 20 degrees, even in the middle of summer. Though generally closed off to the public, the festival period is the only time it opens up. Incidentally, the well-known Japanese sweet "Mitarashi Dango" is fashioned after the bubbles of the pond. Shimogamo Shrine is the treat's origin, and the teahouse on the premises offers them.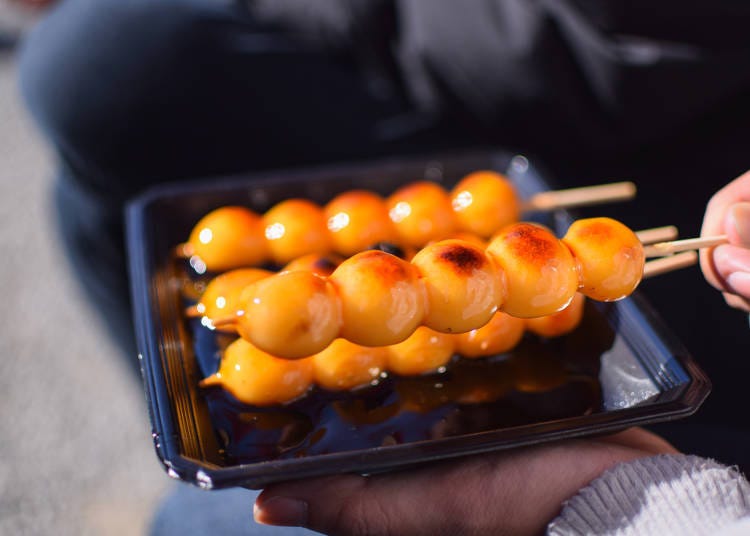 Address

59, Shimogamoizumigawacho, Sakyo-ku, Kyoto-shi, Kyoto, 606-0807
View Map

Nearest Station

Demachiyanagi Station (Eizan Dentetsu Eizan Line)
10 minutes on foot


Phone Number

075-781-0010
Text by:Niki Shigemi
*This information is from the time of this article's publication.
*Prices and options mentioned are subject to change.
*Unless stated otherwise, all prices include tax.
Limited time offer: 10% discount coupons available now!