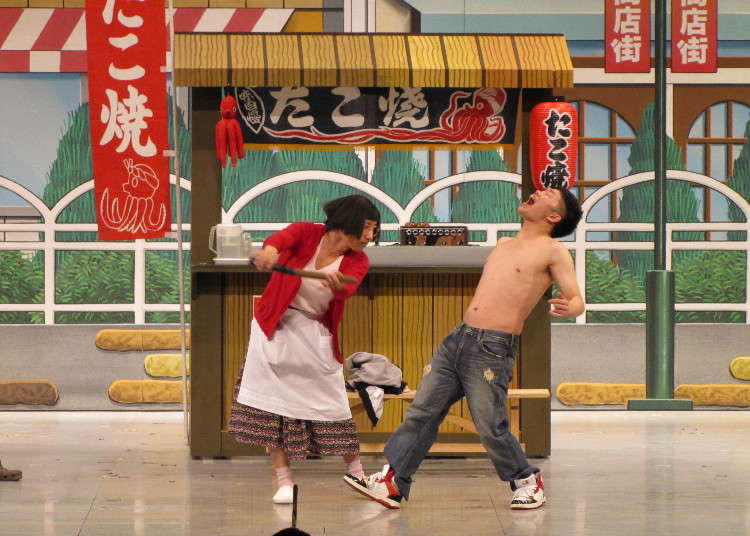 "Namba Grand Kagetsu" is operated by Yoshimoto Kogyo, which employs many of Japan's premiere comedians. At this facility, where manzai comedic duo acts, rakugo comic storytelling, and Yoshimoto Shinkigeki performances are put on every day, you can readily enjoy comedy by popular TV personalities. This naturally brings in many visitors on a daily basis. Namba Grand Kagetsu is a place where people can enjoy entertainment based on "comedy", not only by watching it on stage, but through experiencing how it feels to perform on-stage via virtual reality programs, taking photographs with famous celebrities, and picking out humorous gifts and souvenirs.
Why is Osaka called "the city of comedy?"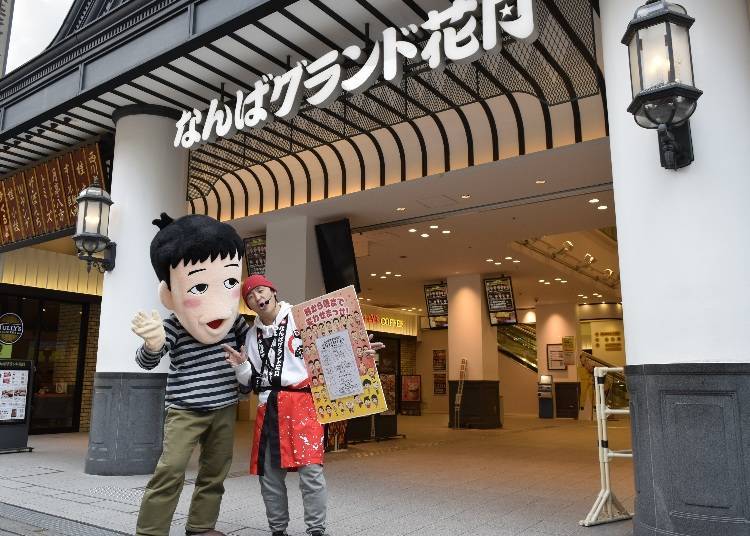 Since long ago, Osaka has been home to many theaters offering traditional entertainment such as rakugo comic storytelling, manzai comedic duo acts, and naniwa-bushi narration. In 1912, a young couple started up "Yoshimoto Kogyo" as a variety theater. Their original plays gathered popularity, and Yoshimoto Kogyo achieved huge prosperity as a source of public entertainment. As time went on, comedy expanded from the stage to radio and television, and in the 1980's, manzai comedy surged in popularity. As a result, Kansai became known as the "birthplace of comedy". In Japan, there's an impression that people from the Kansai area and the Kansai dialect are funny—an impression that very likely stemmed from this history. In reality, even aside from professional comedians, there are plenty of entertaining and comical people in Osaka and the rest of Kansai!
Watch Namba Grand Kagetsu's Shinkigeki performances, the origin of Osaka's funny bone!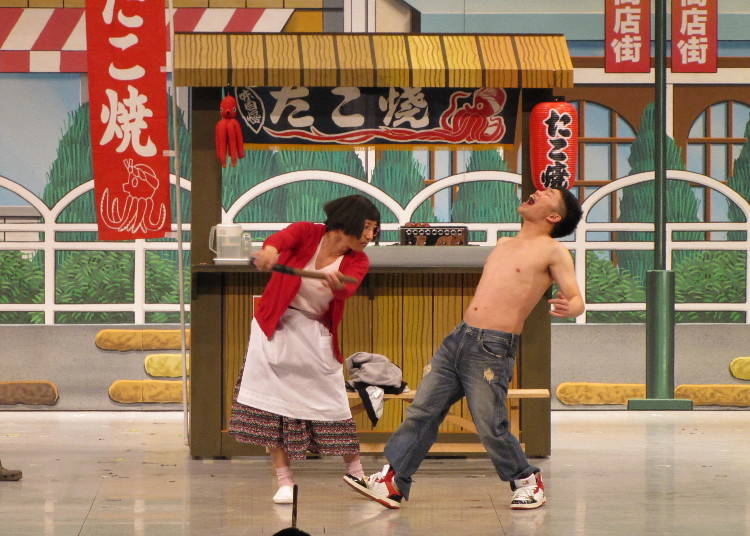 Shows are put on every day at Namba Grand Kagetsu, generally as a set of manzai, rakugo, and Shinkigeki performances. For comedians employed with Yoshimoto, appearing in these performances is the ultimate dream, and for guests, it's a chance to watch celebrities from TV perform comedy and theater on a live stage. One of the types of performance, Shinkigeki plays, are comedies depicting the daily lives of common people in various situations, like visiting local restaurants or staying at a rural hot spring inn. The audience bursts into laughter at the rhythmical succession of jokes and gags! The most popular and standard gags rouse even more excitement and even applause. Performances are all in Japanese, but even first-time viewers will laugh at the performer's reactions and comic timing.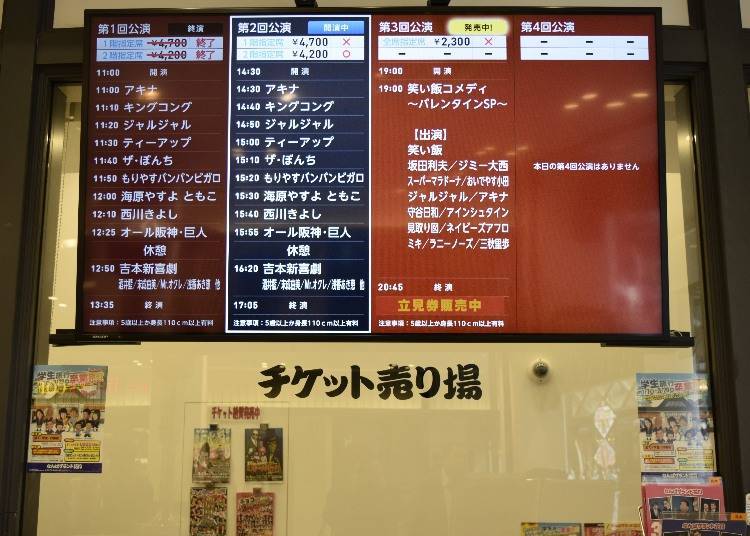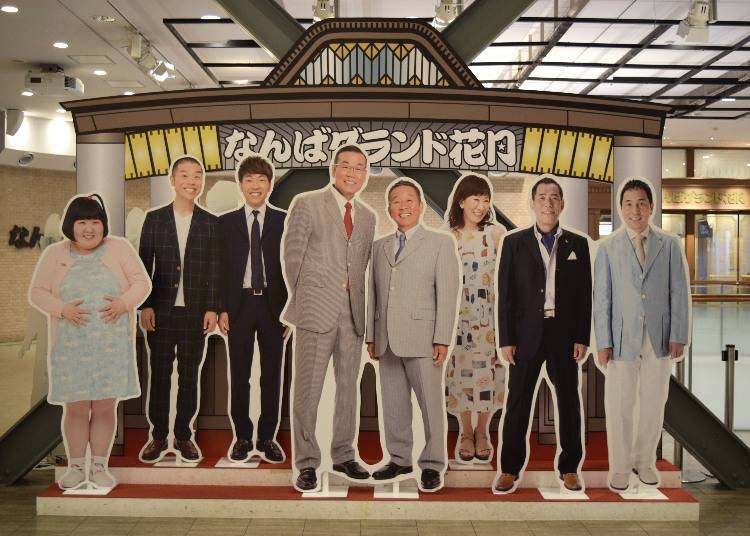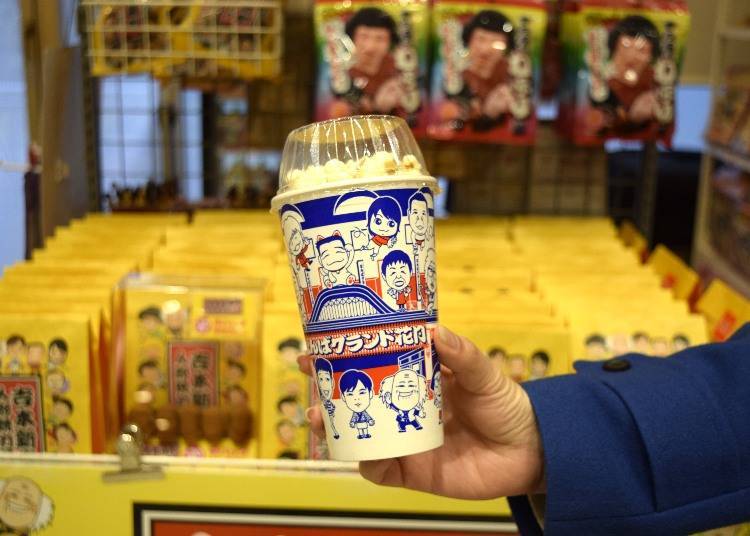 To watch a performance, you'll need a ticket. Tickets can be purchased at the ticket window on the first floor of the theater, but we recommend making an online reservation. By doing so, you can simply print out your tickets from the automated machine on the first floor on the day of your visit for a quick and smooth entry. Once you have your tickets, go up to the entrance on the second floor. Inside, there are places to buy food and souvenir gifts, as well as special products available only for performance viewers! Particularly popular is the salted and buttered popcorn (350 yen, tax included) with cute illustrations of comedians on its package. A lot of people buy this popcorn to eat while they watch their performance.

Even if you don't watch a comedy performance, there are still plenty of other fun places at Namba Grand Kagetsu! And around the entrance on the second floor, there are cut-outs of the actors performing that day on display. Taking some photos with the cut-outs before or after your performance will make great memories of your visit.
Experience being on stage as a performer with "Yoshimoto Shinkigeki VR"
"Yoshimoto Shinkigeki VR", located right as you reach the second floor, is a popular attraction that simulates the point of view of the performers on the stage of Namba Grand. By simply putting on the special headset, Shinkigeki chairwoman Ai Sakai will appear at your side and you'll see a laughing audience. The set-up of the stage and the way gags are played out right before your eyes feels incredibly real and will give you a taste of how it feels to be an actual performer. There is also a "Manzai VR" with popular manzai performers. Each VR is two minutes long.
There are great photo ops all around the theater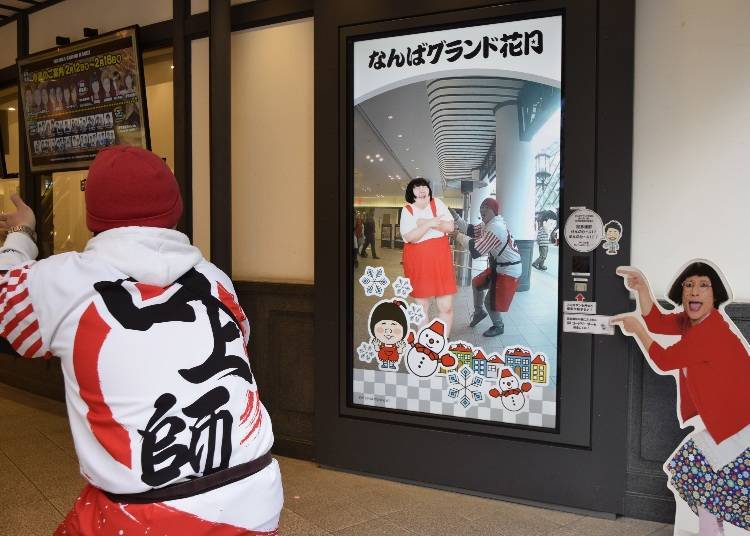 Along with the cut-outs inside the theater, there are many great photo op spots in Namba Grand Kagetsu. Popular characters and new Yoshimoto entertainers are outside the theater advertising and interacting with passers-by, so you can take photographs with them as well. Near the ticket booth is a cut-out of veteran actor Medaka Ikeno, related to his running gag of being "the same height as his necktie". It makes for a fun photo to stand beside the cut-out and compare your height against the short performer's. In addition, at the AR (augmented reality) photo spot with Shinkigeki chairperson Succhi, you can take a photo with your smartphone and then download it for free using the QR code on the panel.
On your way out, don't forget to buy some original products as souvenirs.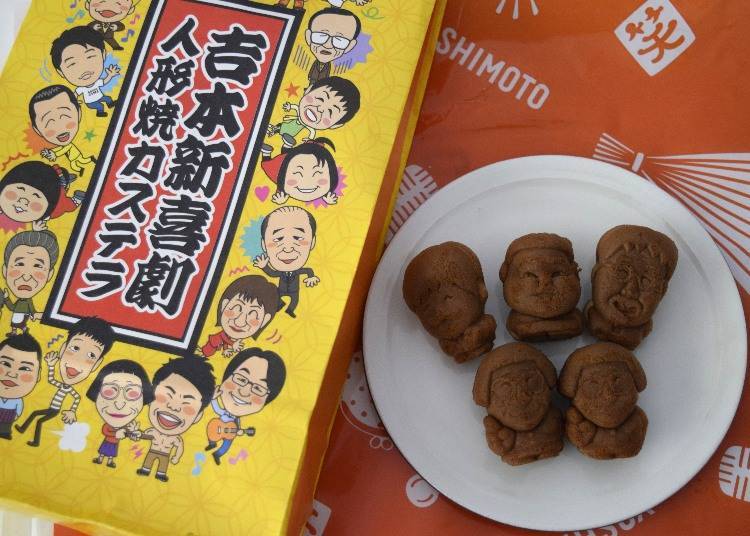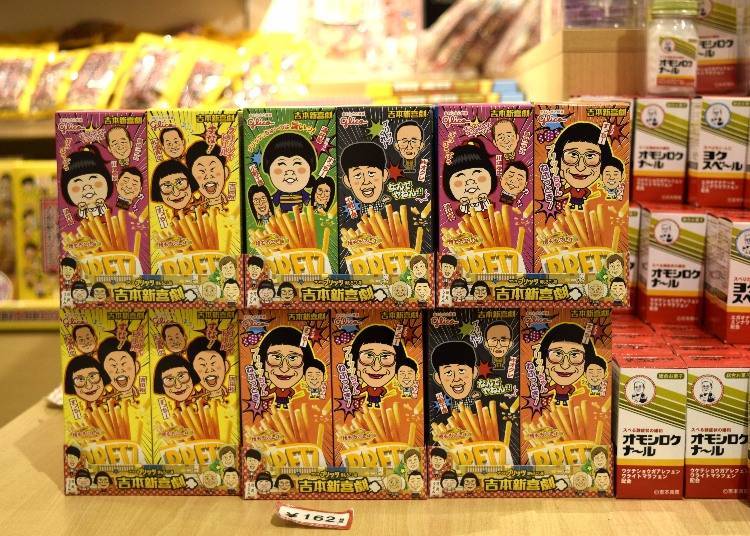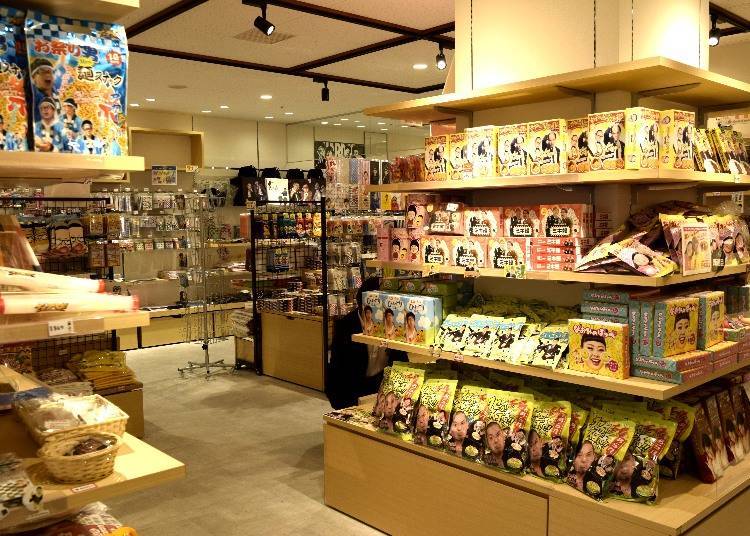 At the "Yoshimoto Entertainment Shop" on the first floor of the theater, you can find an assortment of souvenirs related to the celebrity performers, like snacks, drinks, and other miscellaneous goods. Products like the performing character-shaped mini castella cakes (600 yen) and the Namba Grand Kagetsu exclusive chocolate cream puffs (648 yen) have "I went to Namba Grand Kagetsu" written on them, so they make for easily-explainable gifts or souvenirs. There are also funny T-shirts, socks, face masks, and other items that will be sure to get a laugh out of whoever you give them to.
Before you go, eat a famous dish at celebrity restaurant "Chitose"!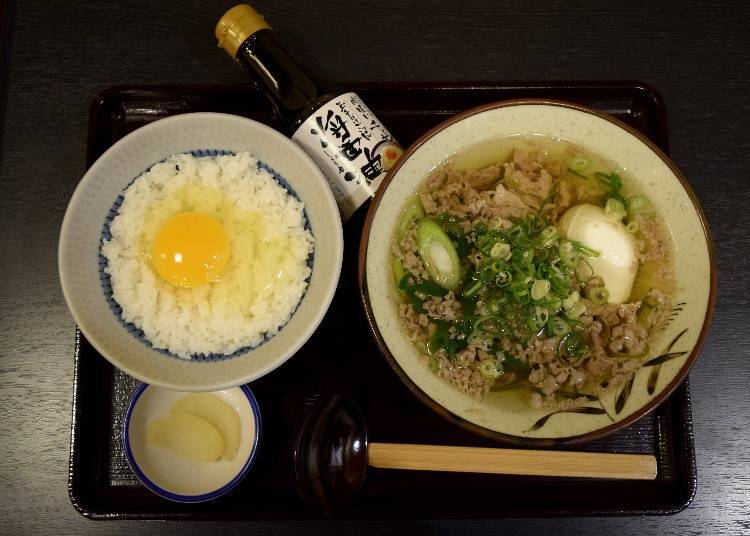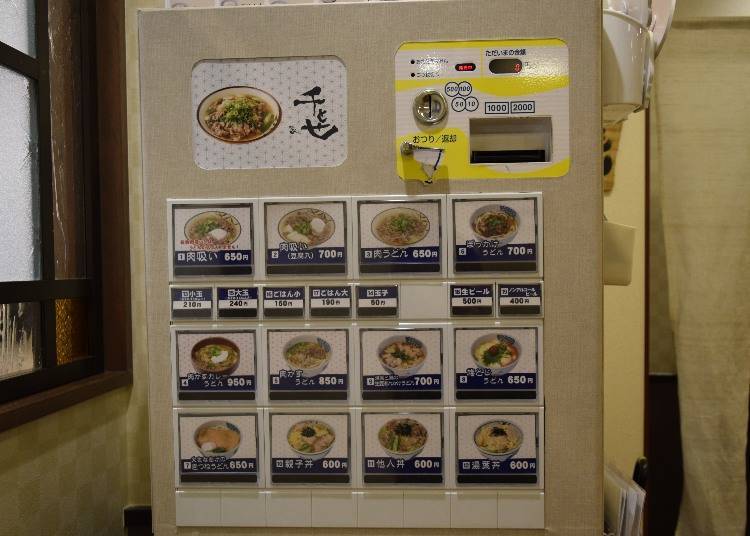 "Chitose" is a popular restaurant where performers regularly go to dine or order take-out to their dressing rooms. On the first floor of Namba Grand Kagetsu, there is actually a Chitose annex. Along with several varieties of udon, there's a popular meat-and-egg soup dish plus raw-egg-on-rice set ("Niku-sui + tamago-kake-gohan", 860 yen, tax included) that was created when a hung-over performer ordered "meat-udon" without the "udon". At "Chitose Bekkan", you order by buying tickets, so buy your meal ticket at the vending machine next to the door. It's easy to figure out what to order, as the buttons have photographs and prices listed. After you take your seat, hand your meal ticket to a restaurant employee and wait for your food to be made. As an aside, the Chitose restaurant's main branch is also located near Namba Grand Kagetsu.
なんばグランド花月

Address

11-6 Nanbasennichimae, Chuo-ku, Osaka City, Osaka

Phone Number

06-6641-0888

Operating hours: Operation and performance times vary by date
Pricing: First-floor seating- 4,700 yen; Second-floor seating- 4,200 yen (Prices may vary during special performance seasons)
Closed: Open daily
Text by:WESTPLAN
*This information is from the time of this article's publication.
*Prices and options mentioned are subject to change.
*Unless stated otherwise, all prices include tax.