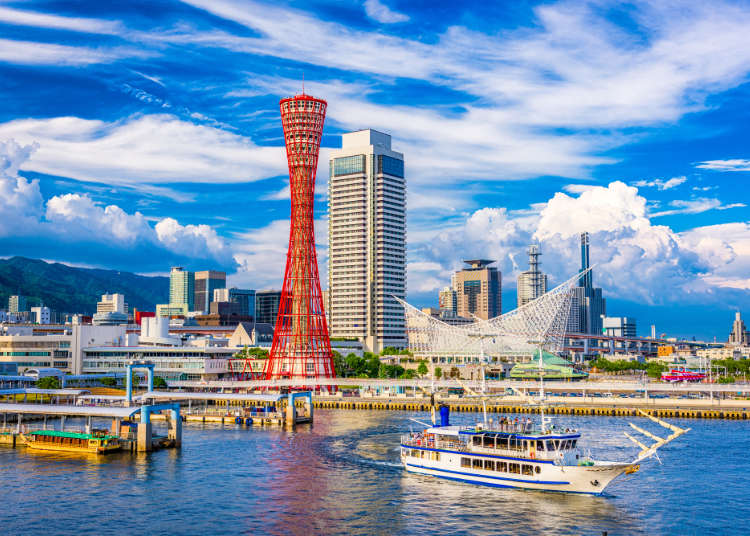 Kobe, Kyoto, Nara, and Osaka are collectively part of the region known as "Kansai," but differences in history, culture, and food give each city a charm of its own. For first-time visitors to Kansai, here's a recommended 5-day, 4-night tour itinerary to get a feel for each city and enjoy plenty of perfect spots!
Day 1: Around stylish Kobe, surrounded by mountains and the sea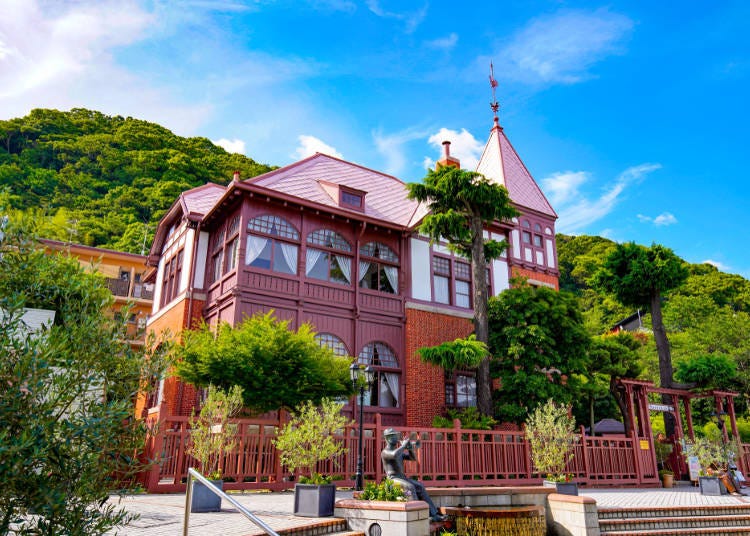 Weathercock House  beeboys / Shutterstock.com
Route:
Kitano Ijinkan-gai → Kitanozaka → Ikuta Shrine → Sannomiya → Kobe Former Settlement → Nankinmachi → Kobe Harborland (Mosaic Big Ferris wheel)

First, visit Kitano Ijinkan-gai to see some Western influence
Your tour of Kobe begins at Shin-Kobe Station, just two 2 minutes from Sannomiya Station by subway.

Leave via the south exit of Shin-Kobe Station, head west along Kitano Street for about 10 minutes, and you'll enter the exotic Kitano Ijinkan-gai area. Here you'll find sixteen historic Western-style buildings where foreigners lived when the Port of Kobe was first opened to the outside world.

Uroko House and Observation Gallery, with its beautiful scale-like stone roof, is located on the highest hill of Ijinkan Street. The Kobe Trick Art Museum and Kazamidori no Yakata are just a few more of the area's highlights, and the latter's red brick exterior is representative of Ijinkan-gai. The square in front of the building is an ideal photo spot.
神戸北野異人館街

Address

Yamamotodori, Chuo-ku, Kobe, Hyogo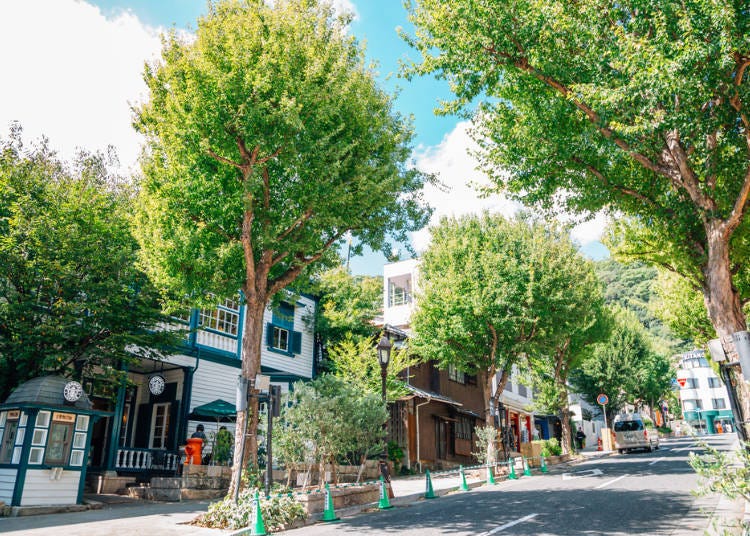 Sanga Park / Shutterstock.com
Visit Ikuta Shrine and stroll through Kitanozaka
Next, take a stroll along Kobe's iconic Kitanozaka, the street running straight from Ijinkan Street toward Sannomiya Station. Along the street there are numerous fashionable cafés, restaurants and sweet shops as well as others selling unique and import products.

Not far from Kitanozaka you'll find Ikuta Shrine. This magnificent shrine has a history spanning more than 1,800 years. Surrounded by greenery and said to bring good luck and improved marriage prospects, this ancient site is really worth visiting.
Address

1-2-1, Shimoyamatedori, Chuo-ku, Kobe-shi, Hyogo, 650-0011
View Map

Nearest Station

Sannomiya Station (JR Tokaido Line / JR Kobe Line)
3 minutes on foot


Phone Number

078-321-3851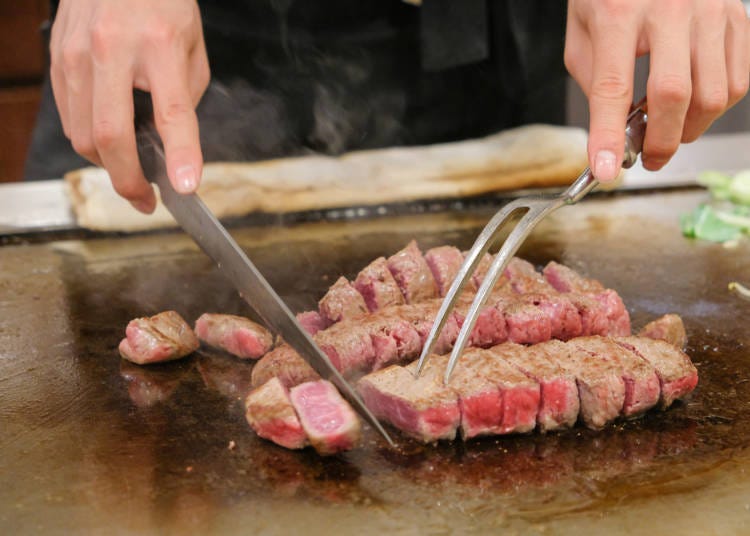 Enjoy a Kobe beef steak for lunch!
When visiting Kobe, you cannot miss out on the famous Kobe Beef. As you go south from Ikuta Shrine, there are many steak shops near Kobe-Sannomiya Station. Why not try a Kobe Beef steak or hamburger for lunch?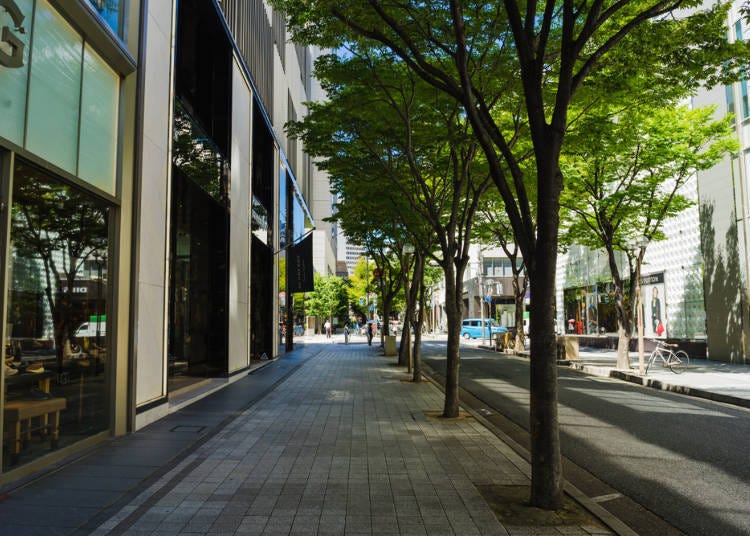 utoi / Shutterstock.com
Shopping in the fashionable old settlement area
Located about an 8-minute walk from Kobe Sannomiya Station, the Former Foreign Settlement of Kobe is perfect for a leisurely afternoon stroll. Full of beautiful retro buildings, this stylish neighborhood is home to consulates and trading houses as well as high-brand shops and modern cafés.

It's an excellent area for social media photo ops, window shopping, and tea time.
The Former Foreign Settlement of Kobe

神戸旧居留地

Address

Kyomachi, Chuo-ku, Kobe, Hyogo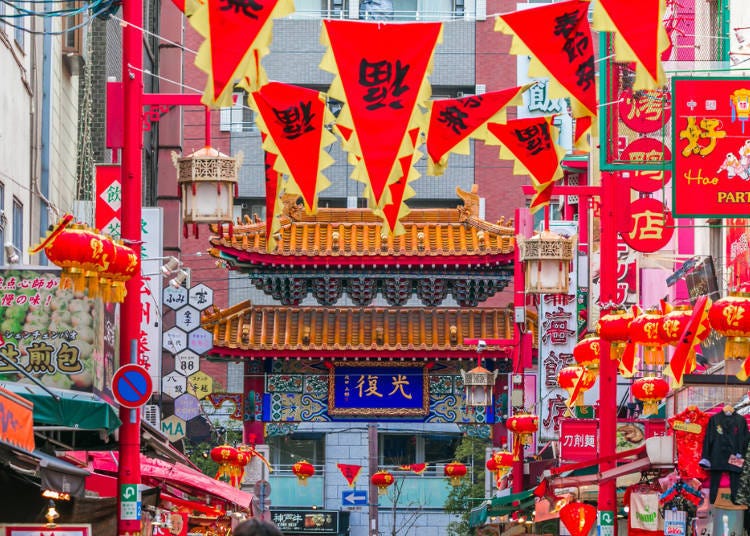 Chinatown (image: beeboys / Shutterstock.com)
Dinner in lively Chinatown
As the sun begins to set, head to Nankinmachi – a 5-minute walk from the old settlement. There, many Chinese general stores, food shops, and restaurants line the lively, energetic streets that spread out from the Choanmon Gate.

Kobe's Chinatown ranks in Japan as second only to Yokohama's, and you can eat freshly prepared dim sum, Chinese chicken, and tapioca sweets while spending an evening enjoying this authentic slice of Chinese culture.
南京町

Address

Sakaemachidori, Chuo-ku, Kobe, Hyogo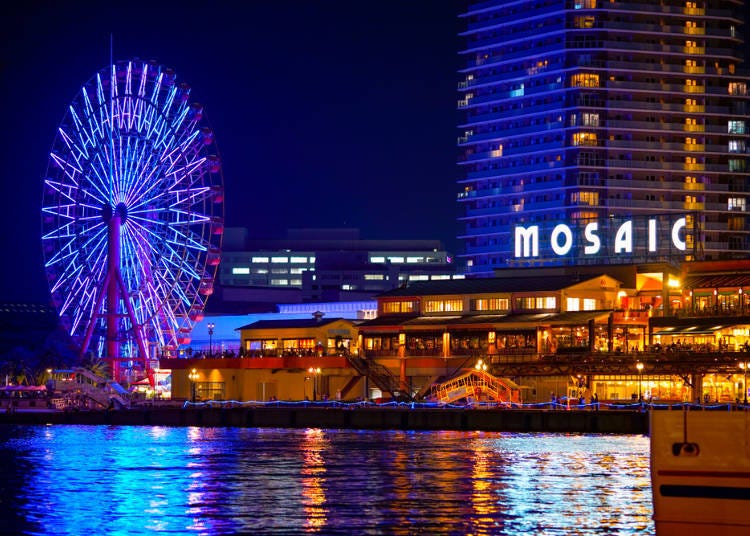 beeboys / Shutterstock.com
A magical night view from the Kobe Harborland Mosaic Big Ferris Wheel
After dinner, head to the southern bay area, a 20-minute walk or 9-minute train ride from Nankinmachi, and Kobe Harborland's Mosaic Big Ferris Wheel.

Open until 22:00 on weekdays and 23:00 on Saturdays and days before holidays, the illuminated, 50-meter-high Ferris wheel offers patrons a romantic 10-minute ride and a wonderful night view of Kobe and the Seto Inland Sea.
神戸ハーバーランド

Address

Higashikawasakicho, Chuo-ku, Kobe, Hyogo
Day 2: From east to west across historic Kyoto
Route:
Nanzen-ji → Philosopher's Path → Kinkaku-ji Temple → Kitano Tenmangu Shrine → Arashiyama (Togetsu Bridge, Tenryu-ji Temple, Bamboo Forest Road, Nomiya Shrine) → Shijo-Kawaramachi and Ponto-cho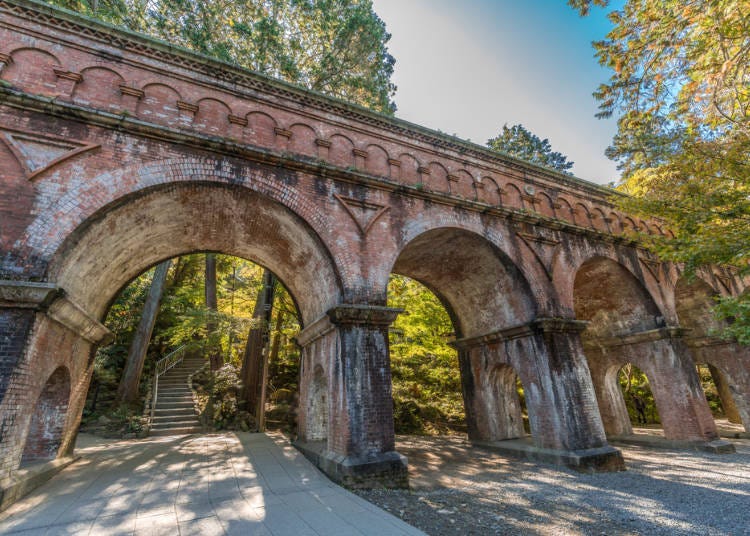 Suirokaku
Transit to Nanzen-ji
On the morning of your second day, take the 8:10 express commuter train bound for Osaka Umeda from Hankyu Kobe Sannomiya Station, and transfer at Juso Station before arriving at Kyoto Kawaramachi Station (about 75 minutes in total), then leave your luggage in the station's storage lockers and head to Nanzen-ji Temple.

From Shijo-Kawaramachi bus stop, take the "Municipal 5 (Iwakura Shoshajo Mae)" bus. It will arrive at Nanzen-ji / Eikandomichi bus stop in about 18 minutes. From there, a 7-minute walk will lead you to the Sanmon Gate of Nanzen-ji, an important cultural property. Nanzen-ji is Kyoto's highest-ranking temple in the Gozan (Five Mountain System) system of Buddhism. Don't miss the rock garden or the Suirokaku Water Bridge, a still-functioning aqueduct.
水路閣

Address

Nanzen-ji Fukuchicho, Sakyo-ku, Kyoto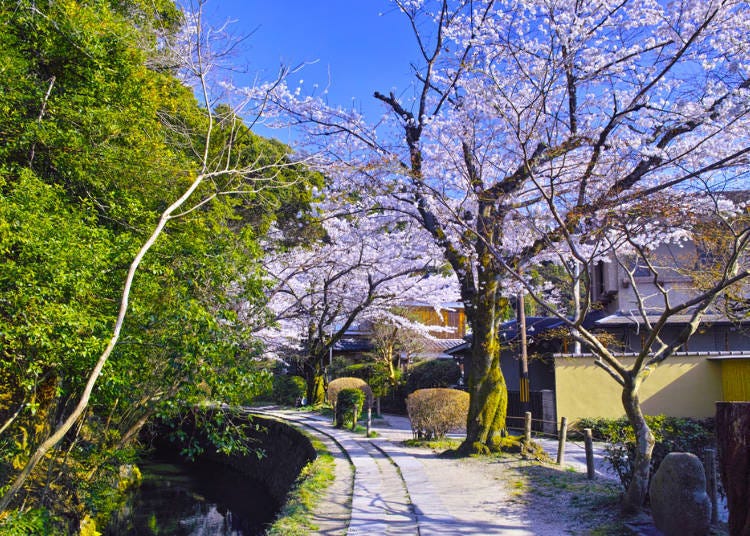 The path of philosophy
Heading north from Nanzen-ji, you'll pass Eikan-do Temple and not far from there is a small canal. The walking path that runs beside it is the "Philosopher's Path" that leads to the area around Ginkaku-ji. You can enjoy the scenery throughout all four seasons and listen to soothing bird calls as well as stopping in cafés and shops along the way.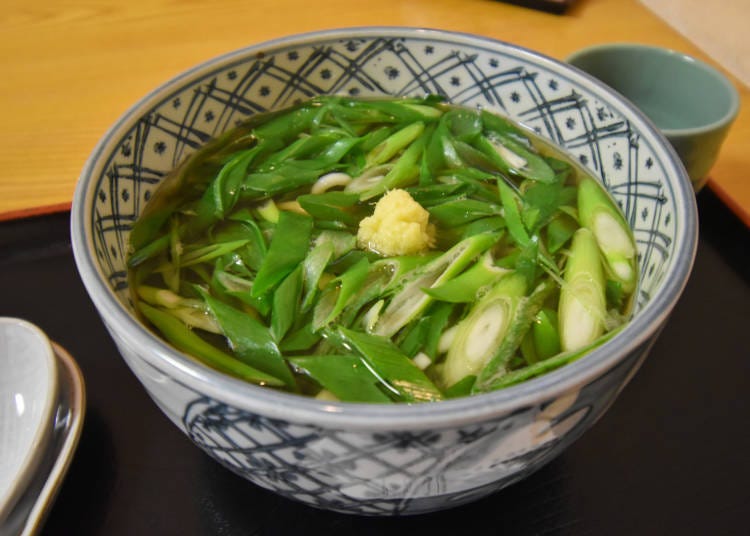 A Kyoto-style soup udon and soba lunch
You should be able to complete the Philosopher's Path in time for lunch. There are various shops around Ginkaku-ji, and a meal of Kyoto-style soup udon, soba, or yuba (tofu) dishes is highly recommended.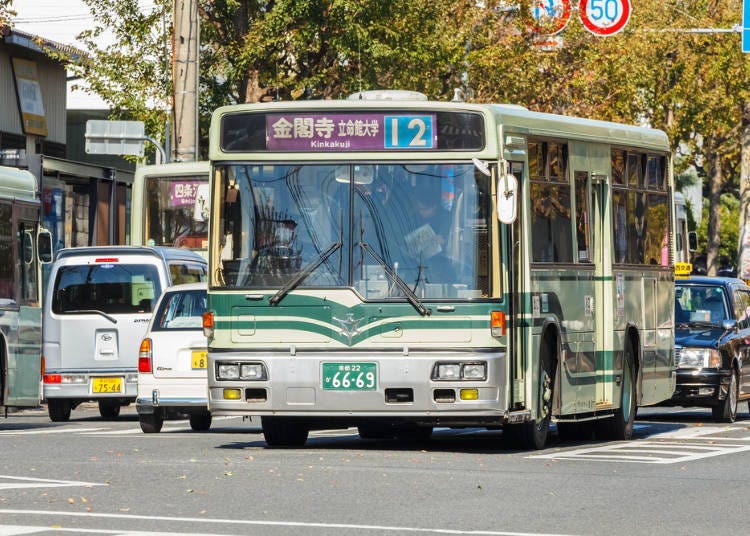 cowardlion / Shutterstock.com
Take the bus to Kinkaku-ji – surrounded by golden leaves
The latter half of your Kyoto tour takes you west. Ride the "Municipal 204 (bound for Kitaoji Bus Terminal)" bus from the Ginkakuji-michi bus stop to Kinkakuji-michi (about 40 minutes).

From there, a 2-minutes will take you to Kinkaku-ji Temple. Kinkaku-ji is famous for its three-tiered, gold-plated reliquary hall, originally built by Yoshimitsu Ashikaga as a villa. On sunny days, Kinkaku-ji is reflected Kyoko-ike Pond, making it a spectacular photography site.
Address

1, Kinkakujicho, Kita-ku, Kyoto-shi, Kyoto, 603-8361
View Map

Nearest Station

Kitanohakubaicho Station (Keifuku Dentetsu-kitano Line)
20 minutes on foot


Phone Number

075-461-0013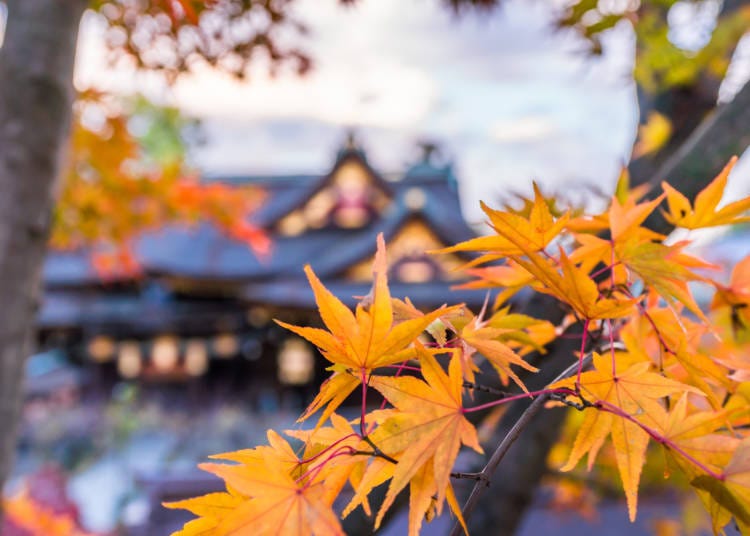 Visit Kitano Tenmangu Shrine, dedicated to the god of learning
From Kinkaku-ji it's a 13-minute walk to Kitano Tenmangu Shrine. The shrine is the headquarters of Tenmangu shrines nationwide and is dedicated to the Shinto god of learning, Michizane Sugawara. Kitano Tenmangu is also said to offer good fortune in the realms of education and performing arts, protection against misfortune, and is a popular location for spring plum blossoms and autumn leaves.
Address

Bakurocho, Kamigyo-ku, Kyoto-shi, Kyoto, 602-8386
View Map

Nearest Station

Kitanohakubaicho Station (Keifuku Dentetsu-kitano Line)
5 minutes on foot


Phone Number

075-461-0005
Nonnakrit / Shutterstock.com
Ride to Arashiyama on the Arashiden
Then, walk seven minutes to Kitano-Hakubaicho Station and take a ride on the cute, retro Arashiden line to Arashiyama. From Kitano-Shiraumecho Station, take the Arashiden Kitano Line and change trains at Katabiranotsuji Station before reaching Arashiyama Station (about 27 minutes).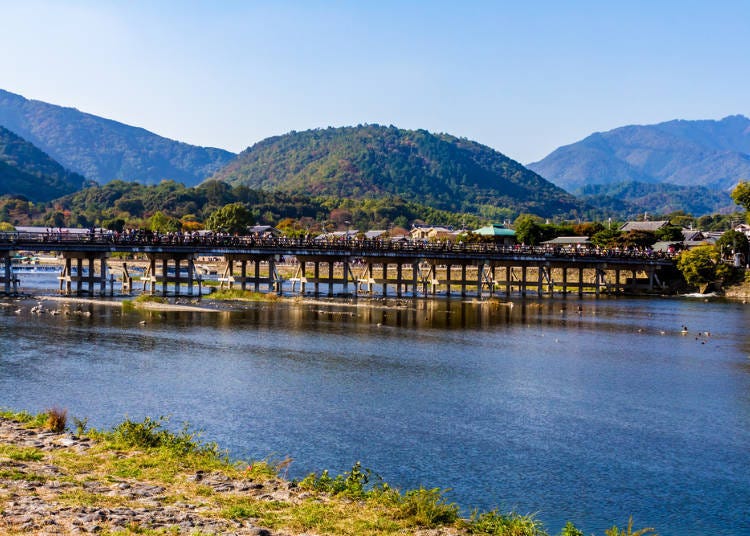 A 3-minute walk from Arashiyama Station leads to the area's iconic Togetsukyo Bridge. Standing northeast of the bridge, you'll be able to take in what is considered to be the most beautiful viewing angle of Togetsukyo. The harmony between the bridge and its mountainous backdrop is inspiring no matter the season.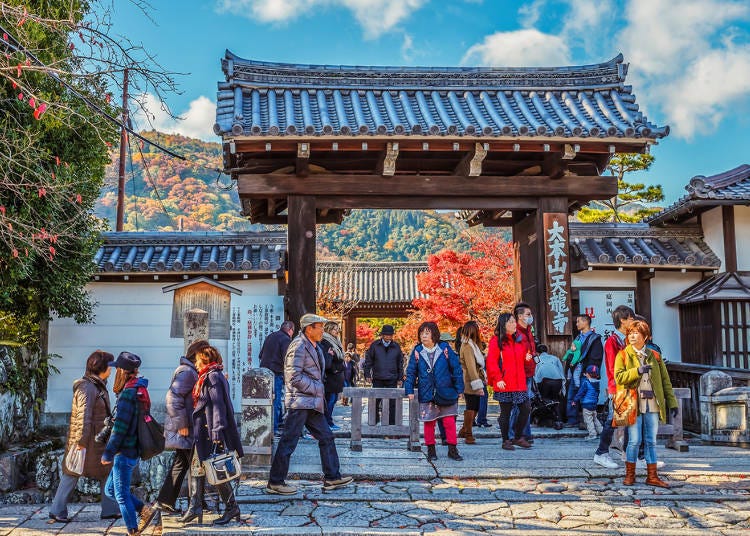 cowardlion / Shutterstock.com
The World Heritage garden at Tenryu-ji
Next is Tenryu-ji, erected during the Muromachi period by Takauji Ashikaga for the memorial service for Emperor Go-Daigo. Its large, beautiful Sogen Pond Garden is registered as a World Heritage Site, and the "Unryu-zu" painting on the ceiling of the hall is also worth seeing, but can be viewed only on Saturdays, Sundays, holidays, and special exhibitions in spring and autumn.
Address

68, Sagatenryujisusukinobabacho, Ukyo-ku, Kyoto-shi, Kyoto, 616-8385
View Map

Nearest Station

Arashiyama Station (Keifuku Dentetsu-arashiyama Line)


Phone Number

075-881-1235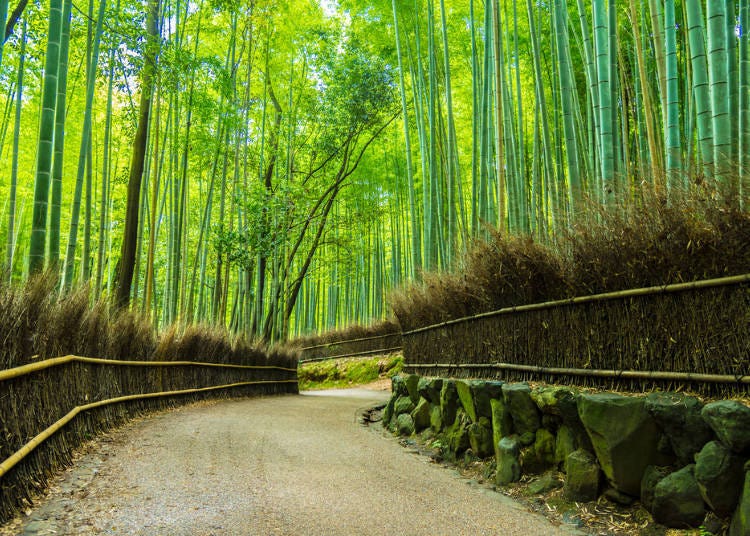 Be astounded by the healing bamboo grove
As you exit the north gate of Tenryu-ji, you'll pass through a bamboo tunnel leading to Nomiya Shrine. This ancient shrine makes an appearance Murasaki Shikibu's Tale of Genji and enshrines the god of good matrimonial prospects.
嵐山 竹林の小径

Address

Sagatenryuji Tateishicho, Ukyo-ku, Kyoto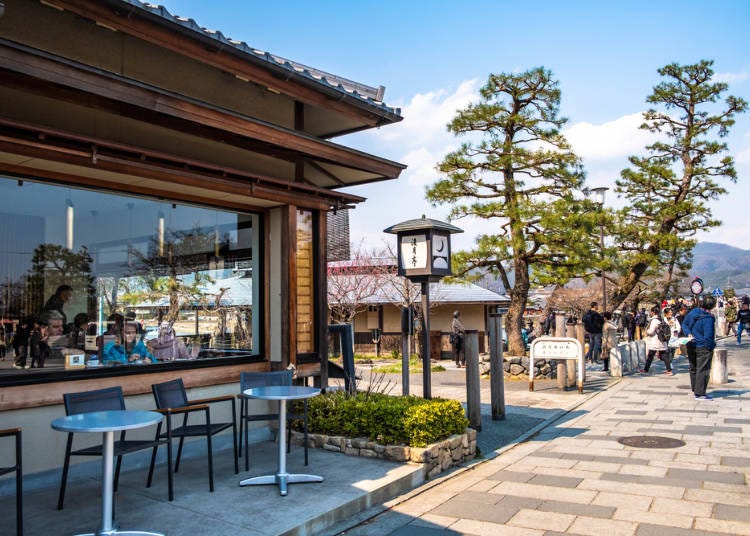 SkyImages / Shutterstock.com
There are many cafés and sweet shops around Arashiyama Station, so after a short break at one of them, take a train from Hankyu Arashiyama Station to Shijo-Kawaramachi (about 40 minutes).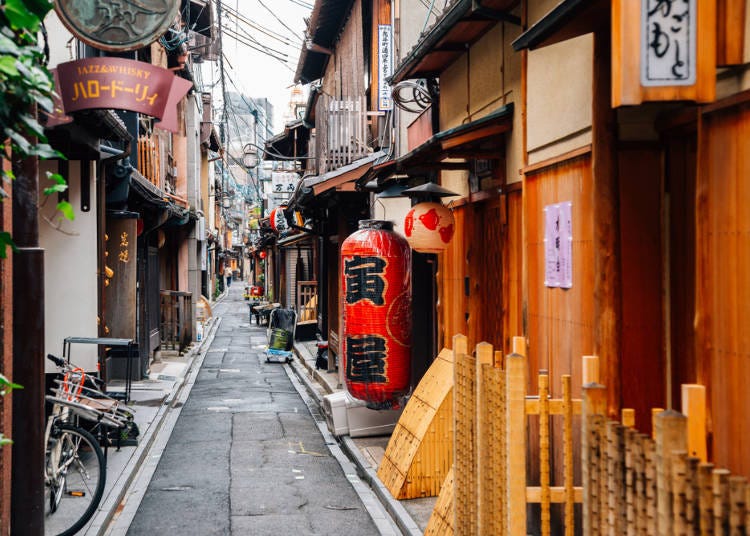 Sanga Park / Shutterstock.com
Enjoy Kyoto's obanzai by night
When you arrive at Shijo-Kawaramachi, have a meal in Ponto-cho or Kiya-cho to experience Kyoto's nightlife.

Kyoto cuisine is good, and izakayas (Japanese-style pubs) have a large selection of dishes using local ingredients. Shops serving "obanzai" are highly recommended.
Obanzai is typical Kyoto-style home cooking and is perfect for those who want to further sample the delicious tastes of Kyoto.
Day 3: From Byodo-in Temple, a World Heritage Site, to Nara, carved out of eternal history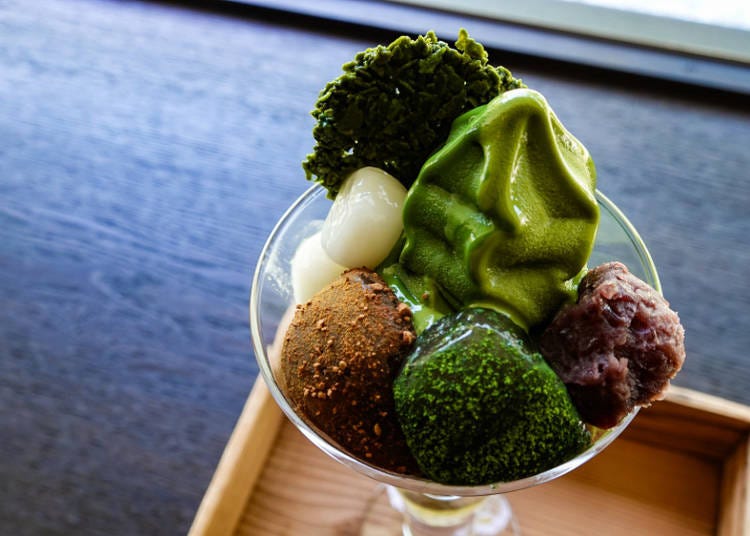 Route:
Byodo-in Temple → Byodo-in Temple Sweet Shop → Kofuku-ji Temple → Naramachi → Todai-ji Temple

On Day 3, take the 9:00 limited express bound for Keihan Yodoyabashi from Gion-Shijo Station, and transfer at Chushojima Station to Uji Station (about 23 minutes). From Uji Station it's a 9-minute walk to Byodo-in Temple.

Byodo-in, a World Heritage Site, is the former villa of Michinaga Fujiwara which his son Yorimichi converted to a temple. The Phoenix Hall, also a national treasure, has a beautifully symmetrical transept, with an Amida Buddha statue seated in the center. Byodo-in is also featured on Japan's 10 yen coins.

Uji is well known for its tea production, and the area around the Byodo-in, has many tea and sweet shops operated by long-established tea wholesalers. Sweets using matcha green tea powder are not only beautiful in appearance but also delicious and are so popular that customers line up just to try them!
Address

116,Ujirenge, Uji-shi, Kyoto, 611-0021
View Map

Nearest Station

Uji Station (JR Nara Line)
10 minutes on foot


Phone Number

0774-21-2861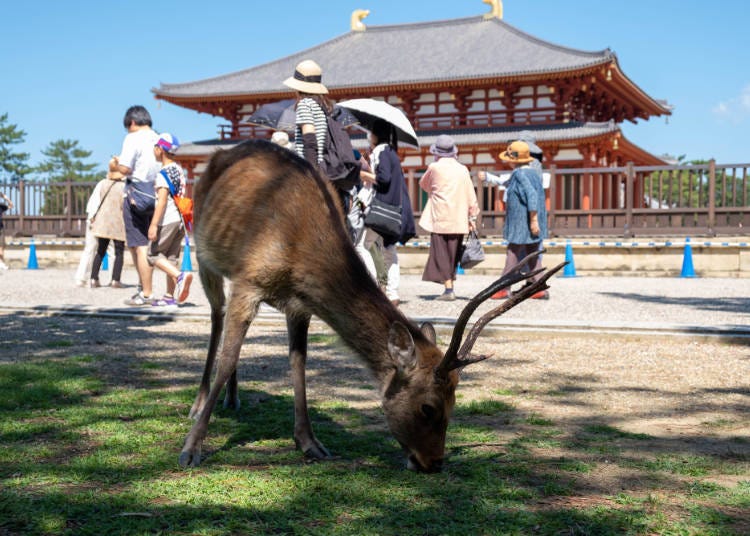 alif_Osman / Shutterstock.com
The awe of Kofuku-ji, a World Heritage Site
Next, head to Uji Station and take the Miyakoji Rapid Service to Nara Station (27 minutes). After a 20-minute walk from JR Nara Station, you'll arrive at Kofuku-ji Temple, situated just outside Nara Park.

Kofuku-ji, a World Heritage Site, is home to a five-storied pagoda, the second tallest pagoda in Japan. Chu-kondo (the Central Golden Hall), other famous architectural works, as well as numerous enshrined Buddhas and the Asura statue, attract many visitors to Kofuku-ji.
Address

48 Noborioji-cho, Nara City, Nara Prefecture, 630-8213
View Map

Nearest Station

Kintetsunara Station (Kintetsu-nara Line)
5 minutes on foot


Phone Number

0742-22-7755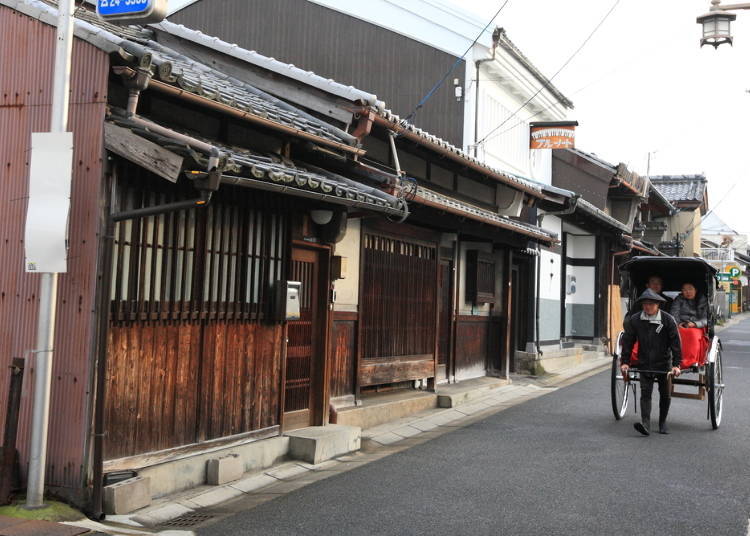 Naramachi KoreaKHW / Shutterstock.com
Take a stroll through elegant Naramachi
Walk about 10 minutes from Kofuku-ji and you'll be in Naramachi. This tasteful townscape offers Japanese, Western, Italian, and French cuisine and Japanese sweet shops, folk craft shops, and souvenir shops. It's a great place for a post-lunch walk.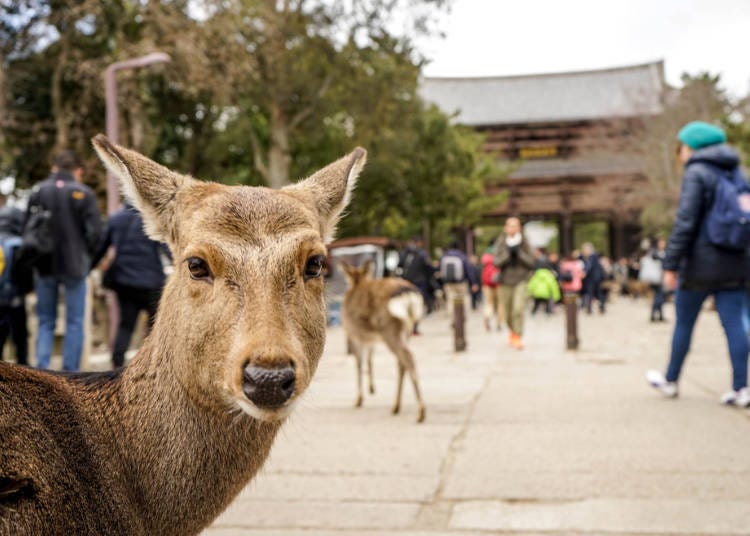 The Great Buddha and deer of Nara cannot be overlooked
To wrap up the Nara leg of your tour, take a 20-minute walk from Naramachi to Todai-ji Temple. Enter through the Nandaimon Gate and play with Nara Park's deer before observing the impressive sight of Taodai-ji's World Heritage Great Buddha. Lastly, your heart will be set at ease when you see the sunset from Todai-ji.
Address

406-1, Zoshicho, Nara-shi, Nara, 630-8587
View Map

Nearest Station

Kintetsunara Station (Kintetsu-nara Line)
20 minutes on foot


Phone Number

0742-22-5511
Day 4: Eating out, and fun snacks in Osaka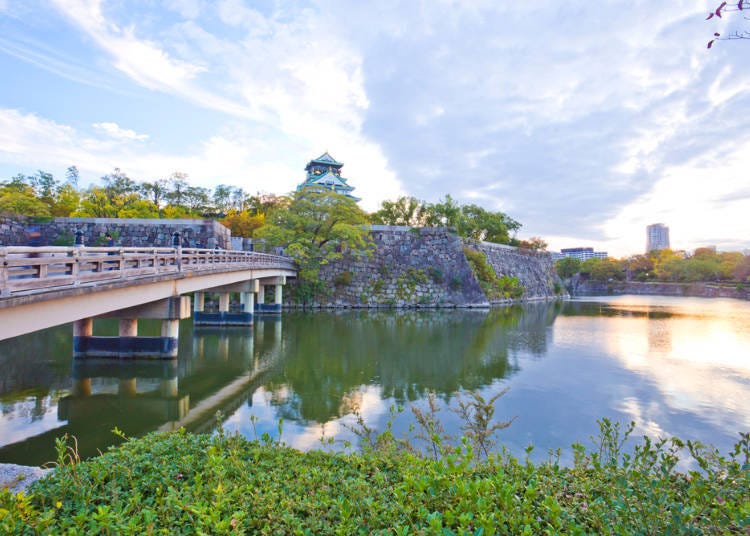 Route:
Osaka Castle → Shinsekai / Tsutenkaku → Americamura → Shinsaibashisuji → Dotonbori

From Nara to Osaka to visit majestic Osaka Castle
On Day 4, depart JR Nara Station at 9:00 and head for Osaka via the JR Yamatoji Rapid (about 50 minutes).
When you arrive at Osaka Station, store your luggage and take the Osaka Metro Tanimachi Line from nearby Higashi Umeda Station to Tanimachi Yonchome Station. From there, it's about a 15-minute walk to Osaka Castle and Osaka Castle Park.

Osaka Castle was built by military commander Toyotomi Hideyoshi as part of his effort to unify Japan and the impressive view of the entire grounds from the castle tower will having you feeling like a feudal lord yourself.

Osaka Castle Park has many other attractions, so if you have time, visit Hokoku Shrine, which is dedicated to Hideyoshi. Depending on the season, different events are held at the Nishinomaru Garden, so be sure to check the castle's homepage to learn more about fun events in which you might be able to participate.
大阪城公園

Address

Osakajyo, Chuo-ku, Osaka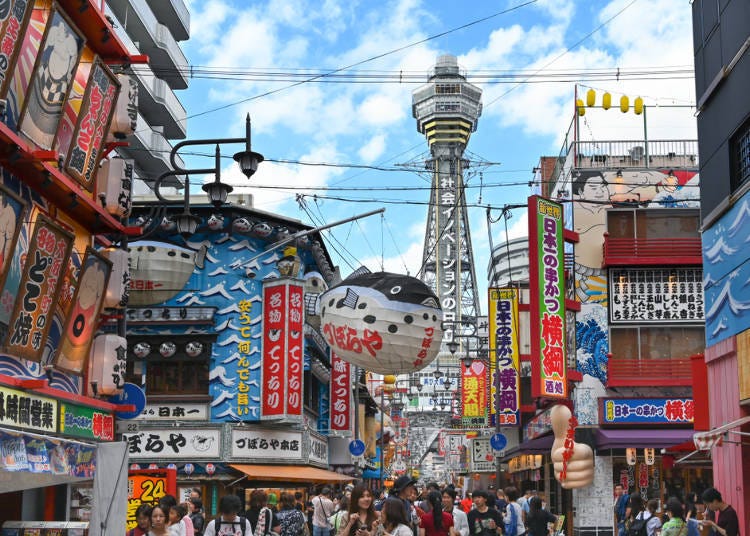 Niradj / Shutterstock.com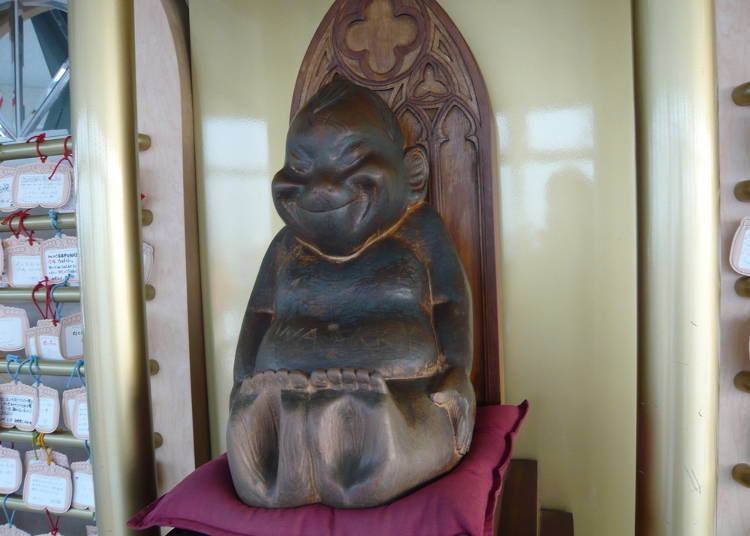 Visit Tsutenkaku and have lunch skewers in Shinsekai
Next, head to the Shinsekai district, home of Tsutenkaku Tower – called the "Eiffel Tower of Naniwa." From Osaka Metro Tanimachi Yonchome Station, take the Chuo Line to Sakaisuji-Honmachi Station, then transfer to the Sakaisuji Line to reach Ebisucho Station (about 12 minutes). Tsutenkaku is about a 7-minute walk from there.

Shinsekai (the New World) is the place to enjoy the retro feel and scenery of a Showa Era downtown area. There are popular theaters, kushikatsu (skewered, deep fried meat) shops, and izakayas all around the area.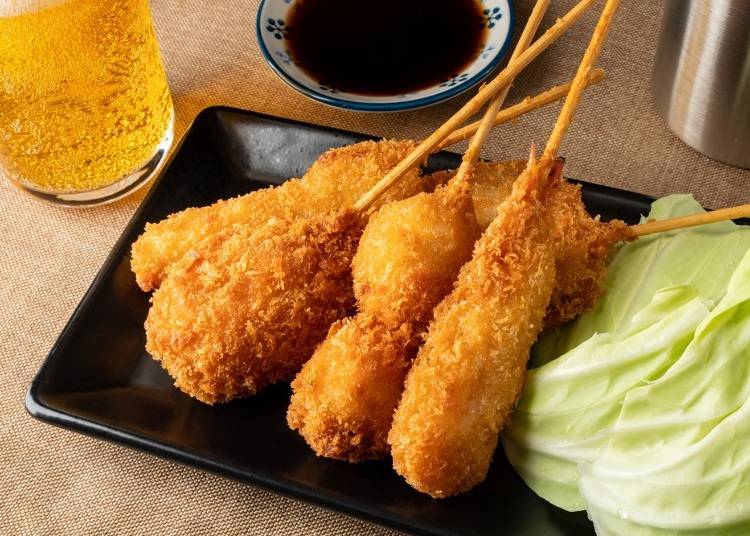 At Tsutenkaku's observation deck, you can overlook the Osaka cityscape, rub the bottom of Billiken-san's foot for luck, and visit another authentic kushikatsu shop.
新世界

Address

Ebisuhigashi, Naniwa-ku, Osaka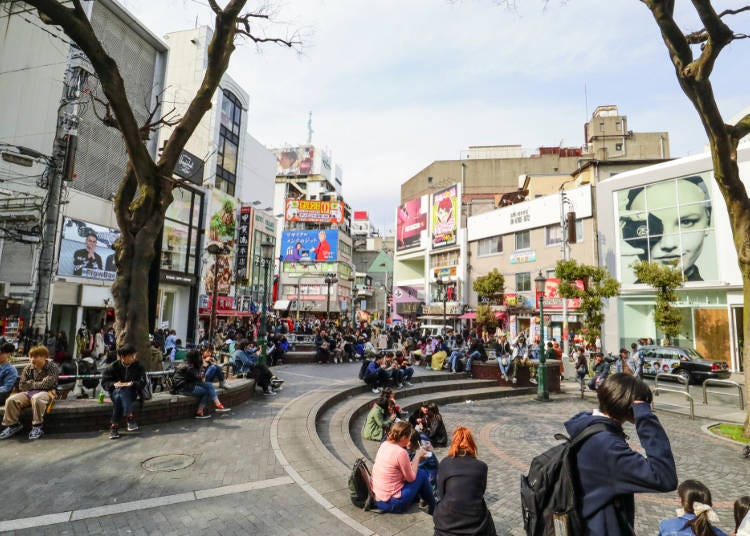 America Town "Americamura" george photo cm / Shutterstock.com
Enjoy shopping and eating in youthful "America Town"
Then pass through Shinsekai's "Janjanyokocho" shopping arcade street and travel from Osaka Metro Dobutsuenmae Station to Shinsaibashi Station (6 minutes). Take a 6-minute walk west from Shinsaibashi Station, across the main street called Midosuji, and you'll find Americamura, home of teens' fashion, miscellaneous goods, and unique food.

While doing some window shopping, be sure to try some of the neighborhood's Instagram-ready snacks like the "longest soft serve ice cream" in Japan, ice dogs, ramen burgers, colorful cotton candy, tapioca milk tea, and more!
Luciano Mortula - LGM / Shutterstock.com
Strolling from Shinsaibashisuji to Dotonbori
When the sun sets, head east across Midosuji to Shinsaibashi. The Shinsaibashisuji Shopping Arcade running about 580 meters north to south is the busiest place in southern Osaka, full of fashionable shops and cafés.

Walk south through the arcade and you will be greeted by the famous Glico neon sign just beside the bridge over the Dotonbori River.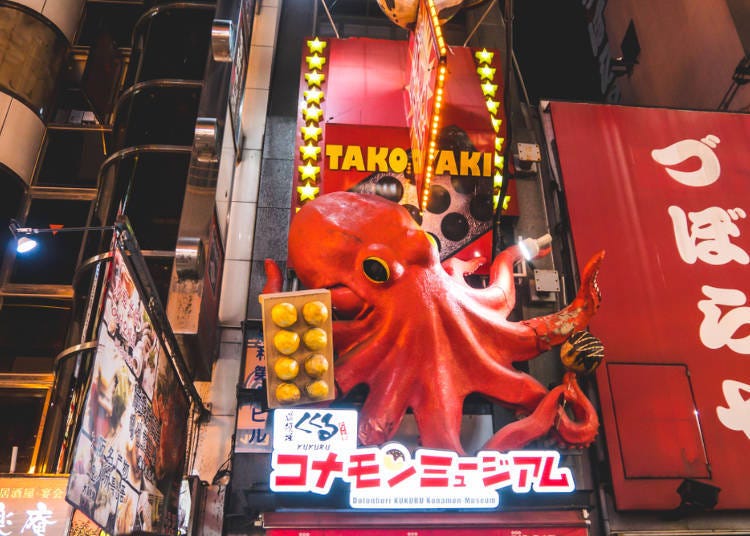 Nattapol_Sritongcom / Shutterstock.com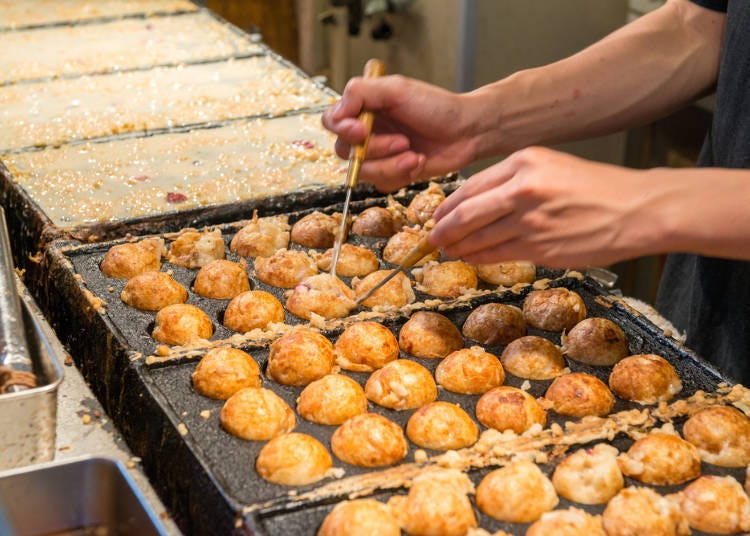 Along the river, the Tonbori River Walk hosts occasional events, and is home to the Nakaza Cuidaore Building, which is full of souvenirs shops and restaurants featuring Osaka specialties. You'll also be able to visit the Dotonbori Konamon Museum, dedicated to Osaka's famous flour-based foods – okonomiyaki (savory "Japanese pancakes") and takoyaki (octopus balls).

Just south of the river, on a quiet cobblestone street, you'll find Hozenji Yokocho, a small, long-established restaurant chain. Check it out along with a few other local establishments and enjoy your last night in Kansai with a little restaurant hopping!
道頓堀筋

Address

Dotonbori, chuo-ku, Osaka, (approximate location)
Day 5: Finish with a sense of stylish Osaka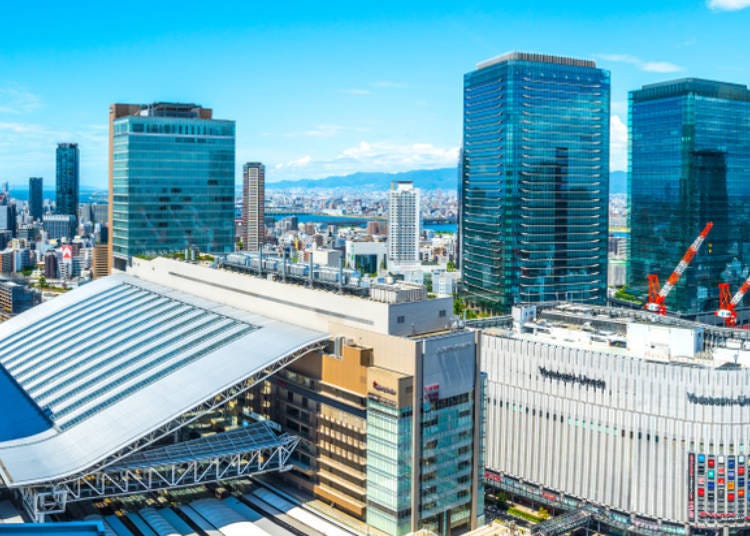 beeboys / Shutterstock.com
Route:
Osaka Umeda area → Kansai International Airport

On the last day of your tour, take time to explore the area around JR Osaka Station. As the gateway to the city, it's home to many commercial facilities, department stores, and hotels, including Osaka Station City – one of the largest station-front commercial facilities in western Japan. Be sure to buy souvenirs here in Osaka Umeda before heading to Kansai International Airport.
大阪梅田

Address

Umeda, Kita-ku, Osaka, (approximate location)
So, there's a simple itinerary for a 5-day, 4-night tour of Kansai's major cities. You'll be able to experience classic Japanese history, modern urban sophistication, and delicious food while visiting the main sightseeing spots of Kobe, Kyoto, Nara, and Osaka. Have a wonderful trip!
Written by: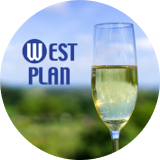 *This information is from the time of this article's publication.
*Prices and options mentioned are subject to change.
*Unless stated otherwise, all prices include tax.
Limited time offer: 10% discount coupons available now!