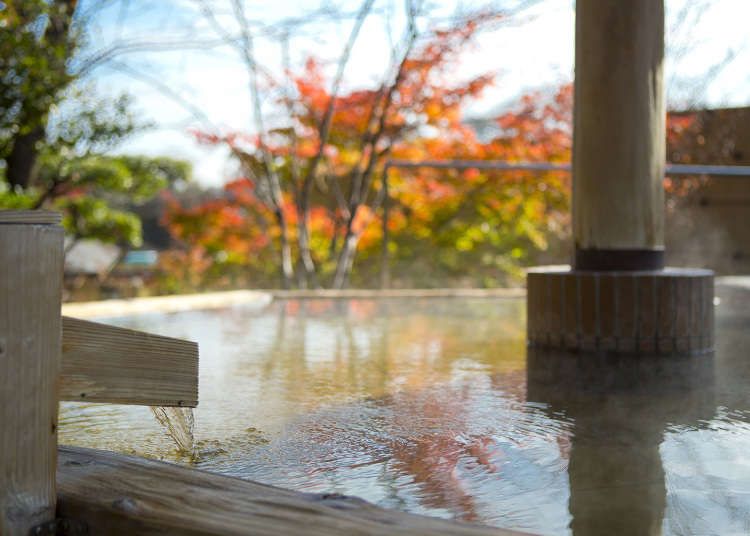 Yunoyama Onsen, located in Mie Prefecture, is said to have a history dating back some 1300 years. Here, the Yumoto Green Hotel features relaxing hot springs, sourced from two of the area's three natural sources.

In addition, Mt. Gozaisho - the most famous place in Mie Prefecture for fall foliage – offers a beautiful view of leaves that gradually change color from its summit to the foot of the mountain where the hotel is situated.

Here we'll be sharing about the Yunoyama Onsen area, focusing mainly on this gorgeous hotel!
Yunoyama Onsen: Some of the most sought-after leaf viewing in Mie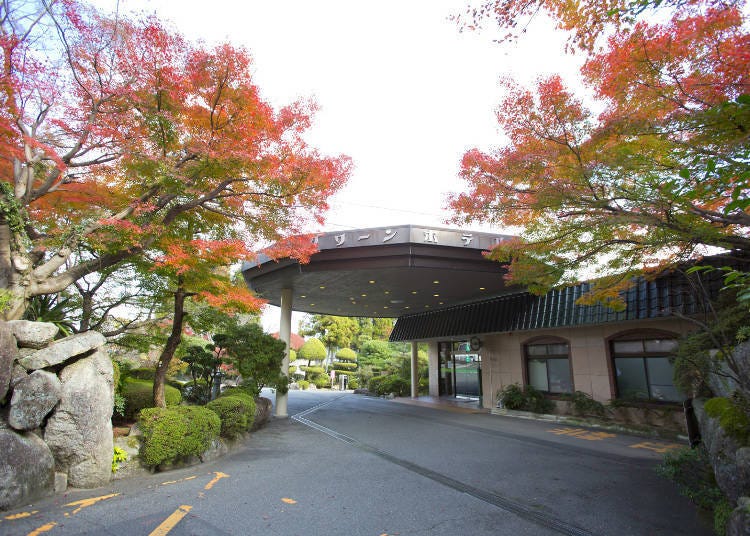 Yunoyama Onsen is located in Chino-cho, Mie. Its ancient history is said to date back to 718, and the spring is also known as "shikanoyu" because, according to legend, a wounded deer was once healed by its waters.

Now popular for autumn leaf viewing, Mt. Gozaisho and its 1,212 meters of breathtaking color is the centerpiece of the area's natural beauty. From mid-November, which is the best time to see the fall foliage, the onsen is busy with tourists there to see the leaves and take advantage of the view provided by the Gozaisho Ropeway.

Yumoto Green Hotel is a mere eight-minute drive from the ropeway platform and is an excellent place to enjoy the soothing combination of a hot spring and autumn leaves.
Yumoto Green Hotel: Open-air bathing at its best!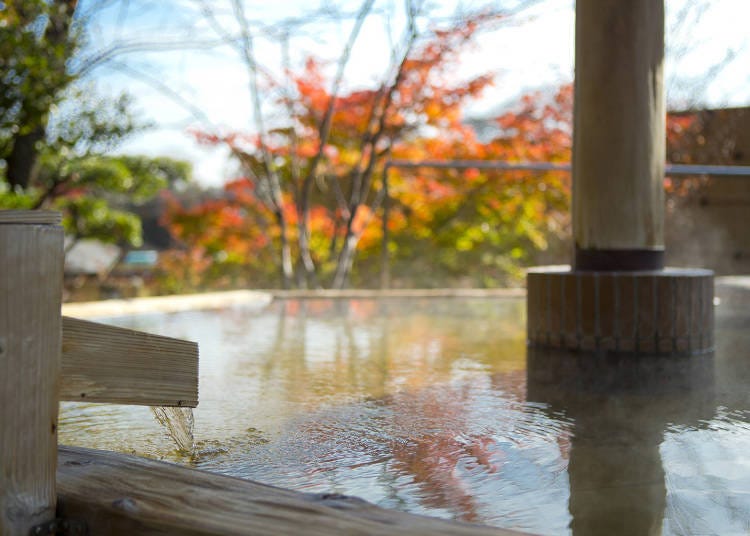 Garden bathing in the "Healing Bath"
Sourced by two springs with differing qualities, Yumoto Green Hotel's indoor and outdoor baths allow patrons to enjoy the openness and scenery of the season and the alkaline hot spring itself, which is said to offer relief from neuralgia, muscle and joint pain, coldness, and recovery from fatigue, as well as beautifying effects for the skin.

In the large "Nagomi-no-Yu" bath, the bliss of viewing the autumn leaves is only heightened by the feel of the cool breeze on your cheeks. "Iyashi-no-Yu" (the Healing Bath), is the onsen's newest bath and offers a great view of the surrounding garden. Immerse yourself in the healing waters of this colorful world and enjoy some much-needed relaxation!
Take advantage of the indoor baths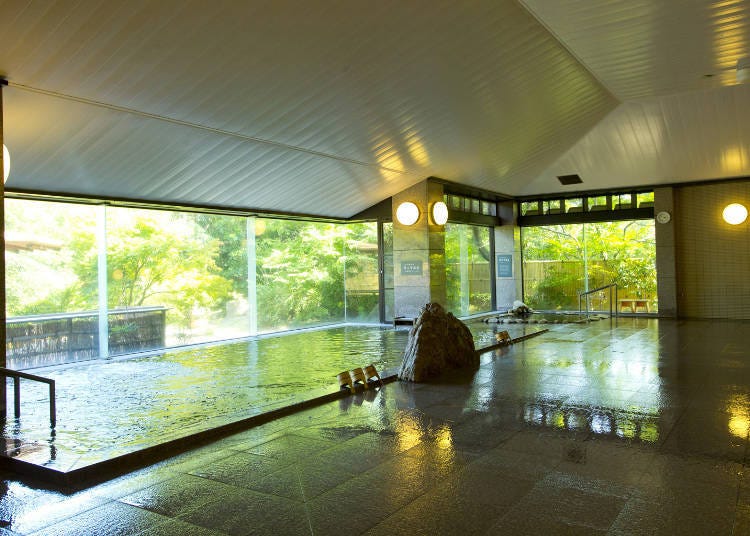 Indoor "Hisui no Yu"
Be sure not to overlook the indoor baths, either. The spacious 550-liter "Hisui-no-Yu" communal bath is shoulder deep, and the 45℃ water will warm your body and mind, while another indoor bath, the "Source Bath," draws its waters from an impressive 1,300 meters below ground.

Guests can enjoy a relaxing bath at almost any time during their stay (open-air baths not available from 10pm to 6am). Day trip bathers can also use these four baths.
The view of the autumn leaves from the rooms is amazing!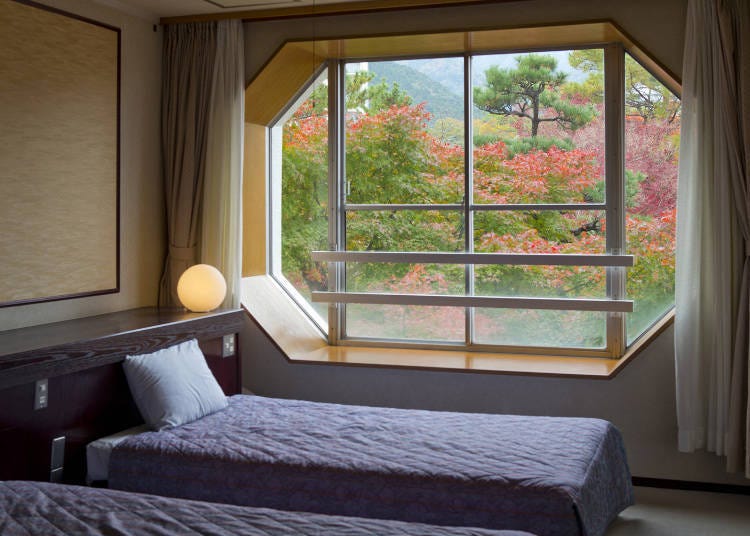 Japanese and Western room with 10 tatami mats and twin beds
The Green Hotel has thirty-eight rooms. The regular rooms are Japanese style and large enough for up to eight guests. The four Japanese-Western style rooms feature 10-tatami mats and twin beds.

Small Japanese and Western rooms are also available to accommodate various tastes and needs. After a refreshing bath with a view, the scenery is still visible from your room with a view of the nearby mountainside.
Enjoy the specialties of Mie!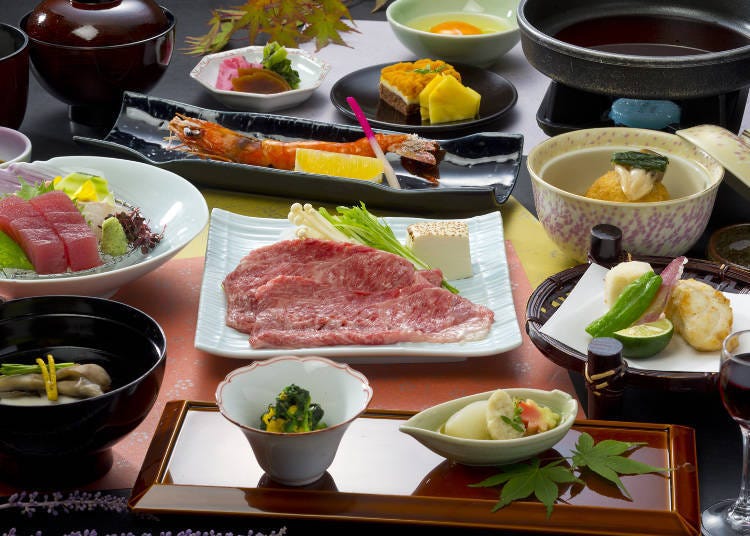 Special autumn banquet
If an overnight stay doesn't fit into your itinerary, Yunoyama Onsen is perfectly suited for a day trip bath with a meal. From the simple noon "Okaku Kaiseki" course (4,000 yen) to the more elaborate "Super Deluxe Kaiseki" (lunch 11,000 yen, dinner 12,000 yen), meals feature a wide variety including Ise lobster sashimi and Matsusaka beef steak.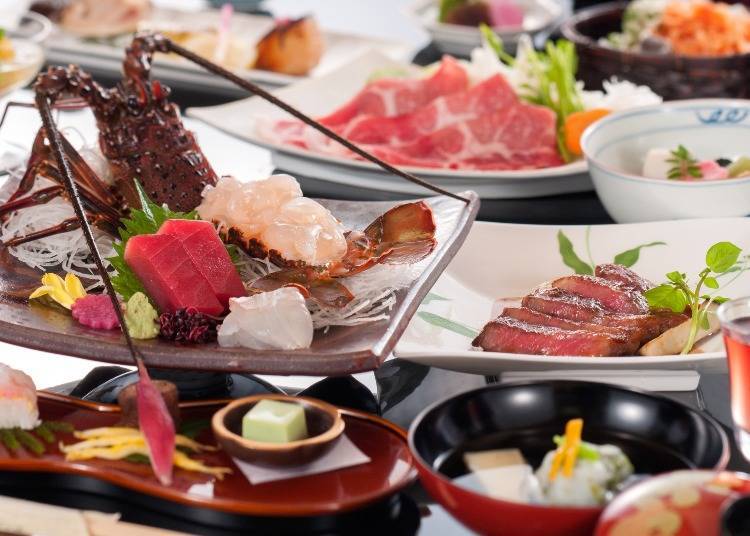 Super Deluxe Kaiseki
Other courses include the chef's recommended "Banquet" course and "Deluxe Plan" that adds Ise shrimp to the meal, so there's plenty of choices depending on your budget and preferences. Be sure to make reservations early as the foliage season is particularly crowded.

* Prices shown are all tax-excluded unless otherwise indicated.
湯の山温泉 湯元 グリーンホテル

Address

7054-173 Chikusa, Komono, Mie-gun, Mie 510-1251

Phone Number

059-392-3111

Hours: Check-in 15:00, check-out 10:00; Lunch 11:00 - 14:00 (L.O. 13:30), Day bathing 11:00 - 19:30 (Last entry 18:30); Closed Fridays (Lunch and day bathing only)
Price: 10,000 yen for 1 night with 2 meals; Day bathing 700 yen for adults (tax included)
Text by: WESTPLAN
*This information is from the time of this article's publication.
*Prices and options mentioned are subject to change.
*Unless stated otherwise, all prices include tax.