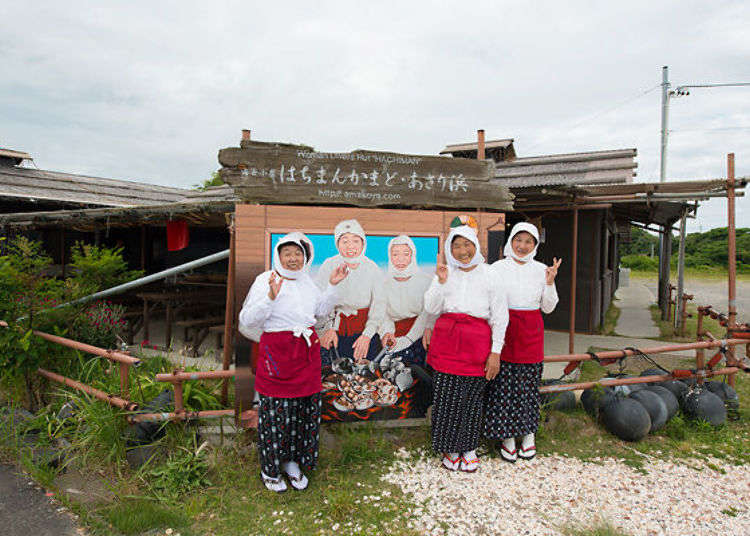 The ama, or female free-divers, of Mie Prefecture, are famous throughout Japan. Ama divers have been free-diving for abalone and other marine products since the Yayoi period, around 2,000 years ago. Records show that abalone from the region was served to the imperial court as a special product of Ise Shima 1270 years ago. It is even designated as a miketsukuni, a region supplying food to the emperor.

In Toba City, there still around 120 ama fisherwomen, inheritants of a long-established fishing tradition. From ancient times, ama huts have been places where the divers change and warm themselves up with fires burning on the hearth.

The ama hut experience at Hachiman Kamado Asarihama allows you to see the culture of the ama divers at first hand and to sample delicious, freshly cooked seafood at the same time.
Giant clams, abalone and turban shells - a feast of freshly caught seafood
When I arrive, a group of ama divers, dressed in their diving clothes, come out to greet me, smiling broadly. They look so happy, I almost feel like a family member being
welcomed home. These ladies are authentic ama divers. This is their life. They don't just dress up like this for the tourists.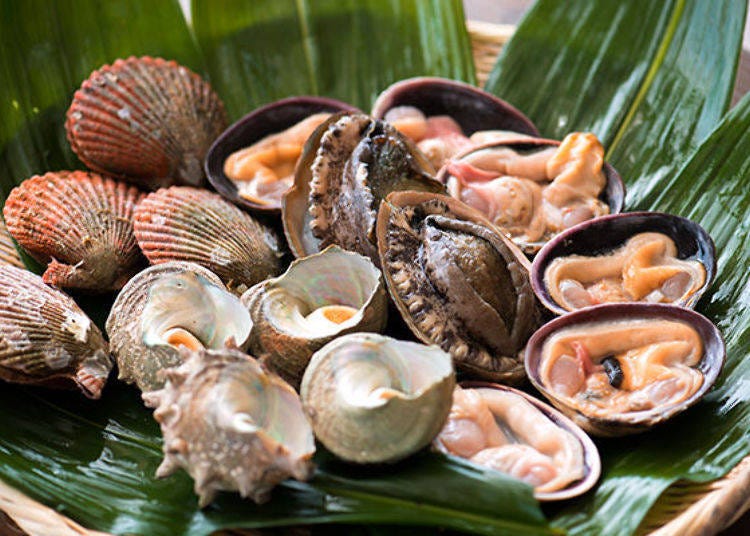 ▲ Seafood for two
They show me to the seats around the stove. "Welcome...please take a seat..." One of them has a basket laden with fresh seafood. I see large some abalone, bright and glistening because it's literally been plucked out of the sea just now. The food is so fresh and most of it has been caught by the ama divers themselves.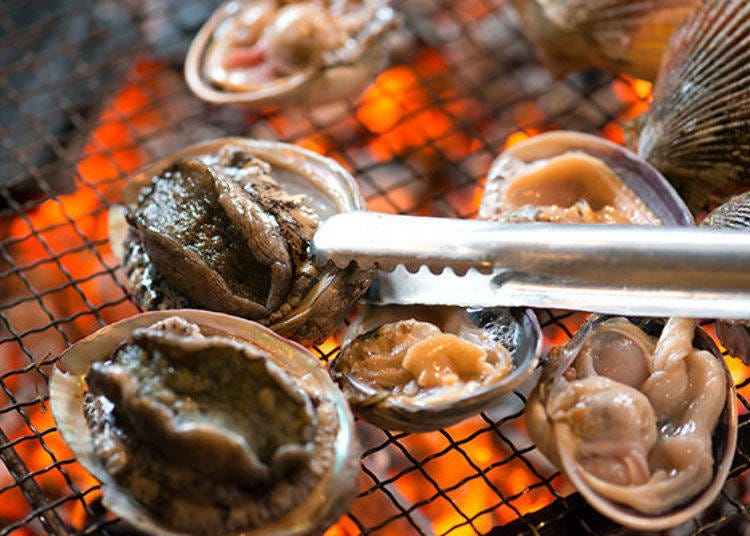 I feel humbled, thankful for these blessings of nature, and full of respect for these ladies who have exerted themselves to bring this food to the table. All this delicious shellfish laid out on the grill in front of me! It's a dreamlike scene. The fragrant aroma tickles my nose and tempts my stomach.

The plump meat opens out slowly in its shell as it cooks on the grill, with gentle sizzling sounds.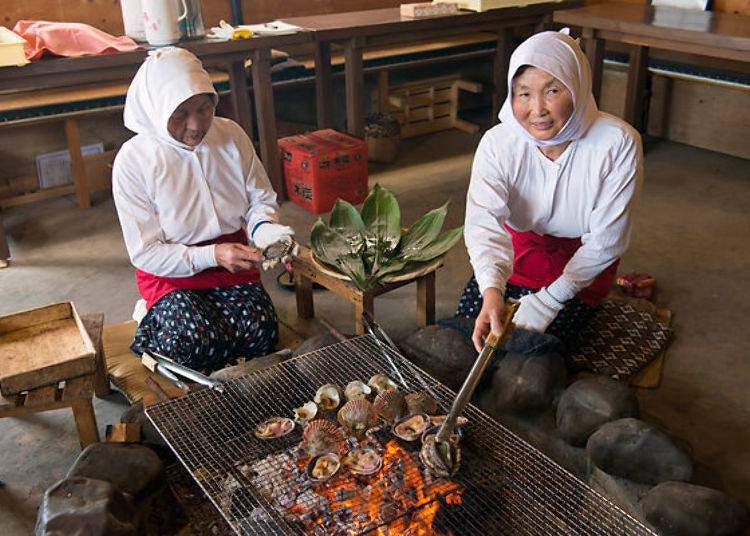 "Have some of this! This is for you!" The grilled shellfish are laid out one by one on the plate in front of me. I tuck in straightaway while it's still sizzling hot. The pieces are so large. As I chew the juices and umami flavors spread out in my mouth.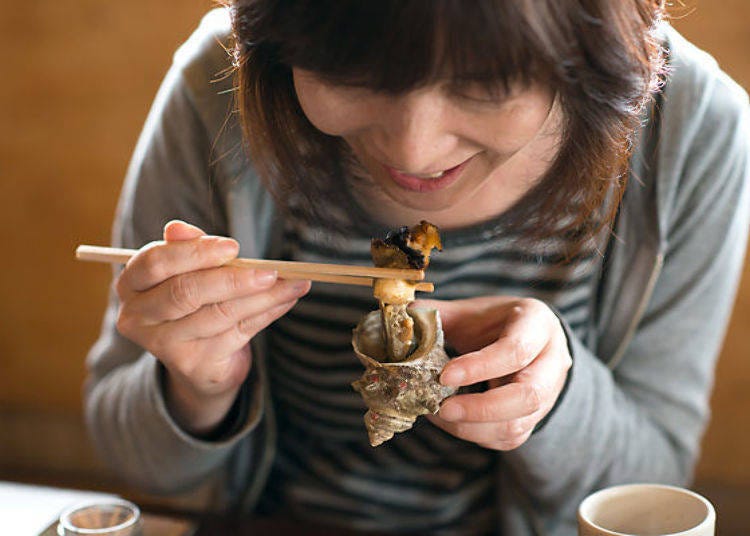 Next the long awaited abalone is served.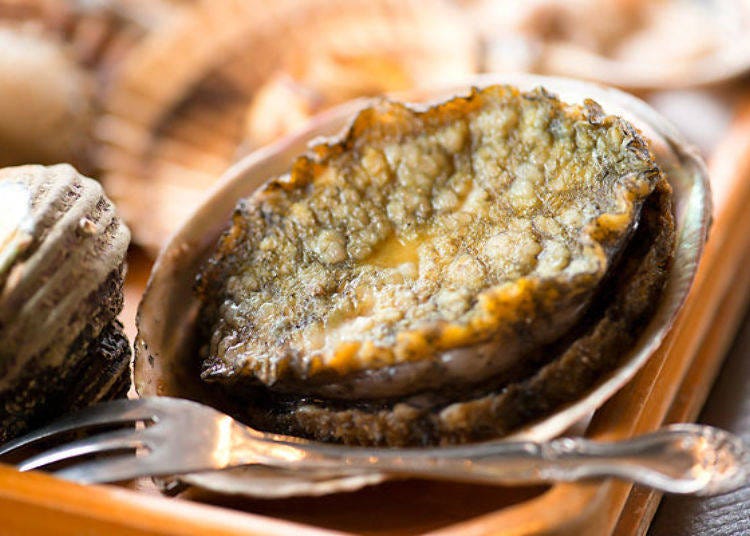 "Now then, what do you think the best way to eat this is?" the ama diver asks me. "Stick your fork in and just eat!" "Really?! It's such a luxury food, are you sure is it OK to eat it like that?!"

I said that, but I just opened my mouth and pitched in anyway! What an amazing dish! I smell the wonderful seafood aromas and taste the overflowing umami juices. The meat is soft, juicy, and slightly chewy - it's just how seafood should taste! It's so delicious, I can't help chewing until I feel the muscles in my face giving out, but I'm so focused on the food I just don't care about my facial expressions!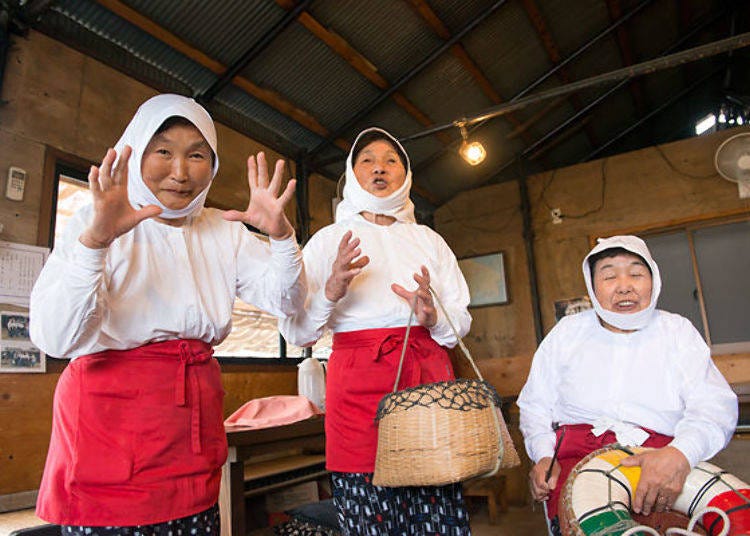 Listening to fascinating stories from the ama divers
"The abalone was this big, you know..." As I eat, the ladies regale me with stories about their life and their diving experiences. Hearing these stories is one of the highlights of my visit.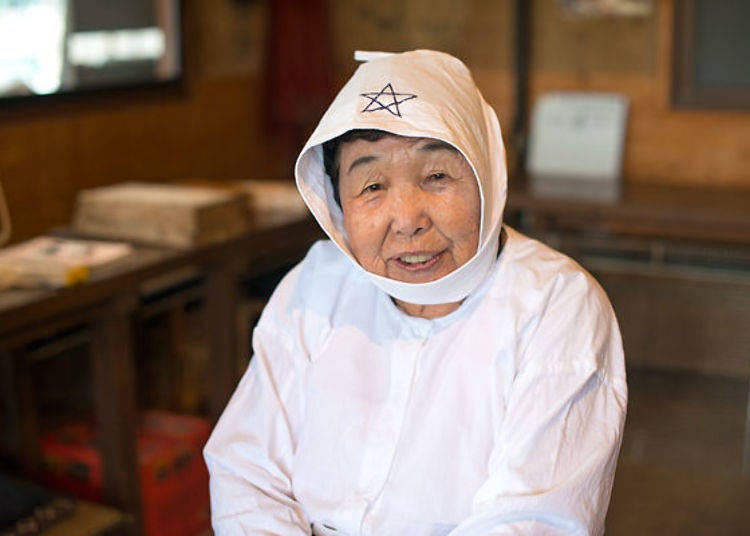 ▲Reiko, the head ama diver
"I have a star painted with one brush stroke on my hood. It's like a lucky charm that protects me so I return safely from the seafloor whenever I dive. It's said to be an ancient symbol denoting good luck." Reiko is an 83-year-old veteran ama diver. She's been diving since she was 14 years old.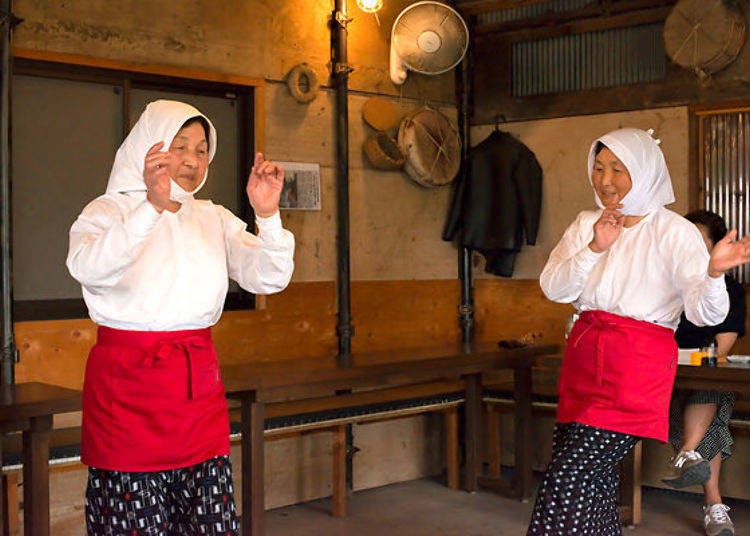 "Ok then. Now it's time to show you our special dance - the osatsuondo." I didn't know what she meant, but then they started to dance! I was taken aback, but I was also deeply moved at these ladies' hospitality and their enthusiasm for ensuring that their guests are enjoying themselves.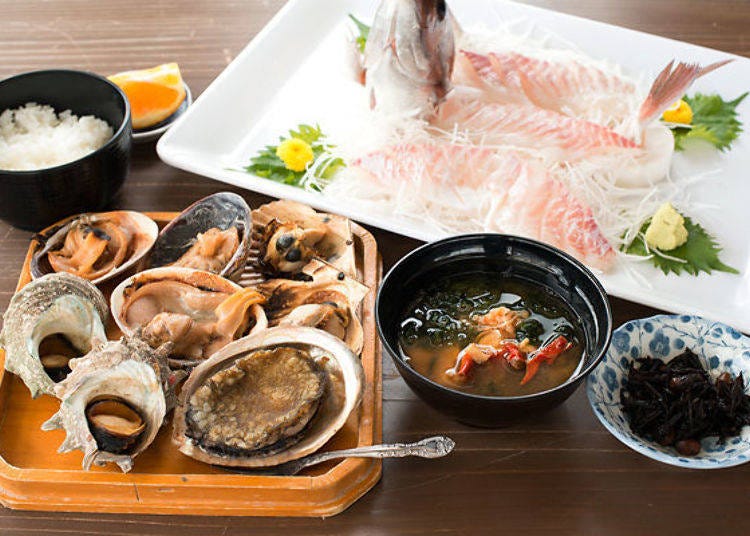 ▲Celebrity Course 7,000 yen (tax included) (Sashimi for 2-3 people)
Today I treat myself to the Celebrity Course. It's a set meal with a range of different fish and seafood, including freshly grilled shellfish.

The glossy white rice served with it is the koshihikari variety, grown without pesticides or chemicals by the ama divers themselves when they're not diving. The Ise shrimp miso soup is made with homemade miso using soybeans also grown by the ama, as well as locally harvested sea lettuce.

Now I understand why it has such a subtle delicious taste! Hachimankamado Asarihama I have such an enjoyable time. Time passes quickly and all too soon it's time to go back.

When I leave, all the ladies wave me off. "Come back soon!" they say. It's been wonderful to experience these ladies' warm hospitality!
Hachiman Kamado (Ama Hut Experience)

はちまんかまど あさり浜

Address

Asari Hama, Osatsucho, Toba City, Mie Prefecture

Phone Number

0599-33-6145

Opening hours: 12:00PM - 4:30PM all year round (Reservations required, information at: http://amakoya.com/amayoyaku.htm)
Closed: Obon, New Year holiday, other occasional holidays
Text by:Advision
Book an unforgettable ama diver experience!
Make your trip extra memorable by booking one of these recommended tours on our partner site, Rakuten Travel Experiences!
*This information is from the time of this article's publication.
*Prices and options mentioned are subject to change.
*Unless stated otherwise, all prices include tax.