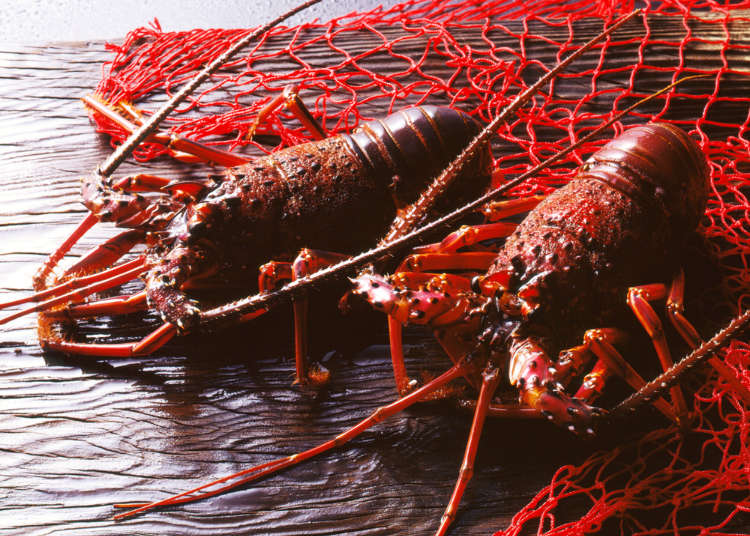 In Mie food comes in so many delicious tastes and flavors, thanks to the prefecture's proximity to the ocean. Mie's long, vertical shape has led to influences from its several neighboring prefectures, so there is a huge variety of delicious food, each town with its own famous dishes! From hearty meat dishes to casual light meals and delicate Japanese sweets, let's explore Mie through each area's original local cuisine.
1. Japanese Spiny Lobster: The king of crustaceans
The first Mie food everyone thinks of when it comes to the prefecture is Japanese spiny lobster (Ise ebi). Despite their large bodies, the lobsters' flavor is delicate and is delicious prepared in every way.

If you eat it locally in Mie, you'll want to have it as freshly caught sashimi, so you can taste the true exquisiteness of its tender texture and sweetness. Grilling it right in its shell and dipping it in an accompanying sauce is also recommended, so you can fully savor the profound flavor of the lobster's unique sweetness with a layer of extra grilled fragrance.

In Mie Prefecture, catching Japanese spiny lobster between the months of May and September is not allowed, so be aware of that before you visit.
2. Matsusaka Beef: One of Japan's top three Wagyu beef brands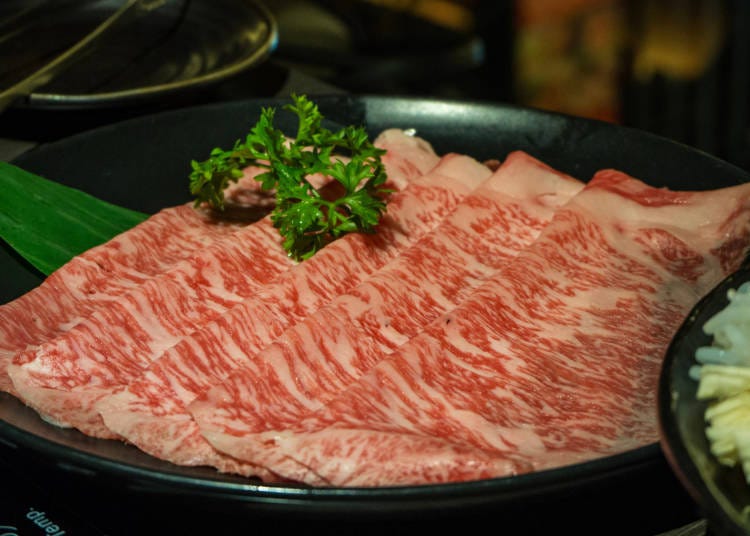 As per its name, Matsusaka Beef is a brand of cattle raised in the outskirts of Mie Prefecture's Matsusaka City. The meat has an extra thin marbling of high-quality fat, which melts smoothly in your mouth. If you try it as a thickly cut steak, have it grilled rare. If you eat it in sukiyaki, cooking it lightly in the sukiyaki sauce will enhance its sweet and savory flavor, making it even more delicious.

Also, because the cattle are fattened for an extended period, the meat's fat is exceptionally buttery, as well as healthier and higher-quality than typical Japanese wagyu beef. Some restaurants also offer Matsusaka Beef in other dishes, such as shabushabu hot pots or rice bowls.
3. Ise Udon: Extra-thick noodles in a sweet sauce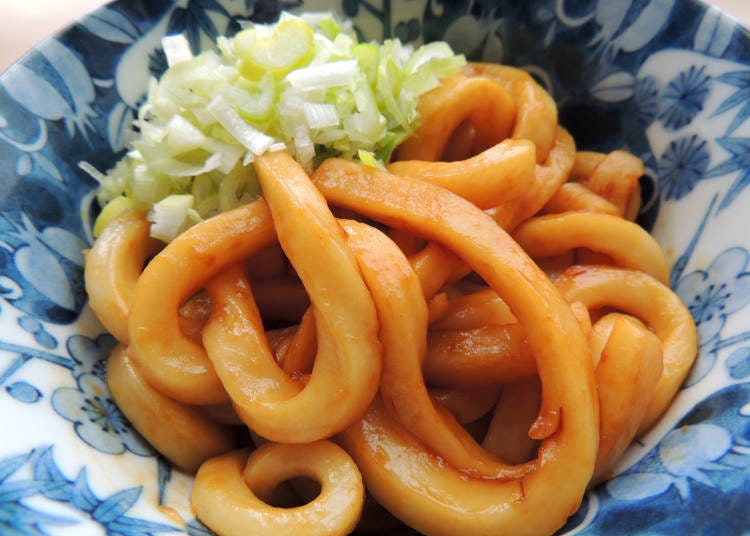 Ise udon is characterized by its extra-thick noodles that are boiled for a long time, giving them their chewy and extremely soft texture. The noodles are eaten topped with a dark sauce made with a base of tamari soy sauce. The udon has a strong flavor, but it's not as salty as it looks, and the fairly sweet sauce is smooth and mellow.

Toppings of sliced green onions provide a refreshing accent to the dish. The noodles are so easily digested, locals often give them to babies as baby food, meaning they're also great for the stomachs of tired travelers. For an even heartier dish, you can add toppings like raw egg or tempura fried foods.
4. Tekone Sushi: Iseshima's delightful take on sushi
Tekone sushi (tekone-zushi) consists of red-fleshed fish, such as bonito and tuna, soaked in a soy sauce-based marinade and placed on top of vinegared rice. It originated as a meal that fishermen would eat while out fishing, by pouring soy sauce on freshly caught bonito, mixing it by hand with rice, and eating it.

Today, it is popular as a traditional food representative of Iseshima. The combination of the fresh fish marinated with soy sauce and vinegared rice is a masterpiece sure to satisfy everyone who tries it. You can also eat it along with the accompanying toppings for different tastes, so you can enjoy every last bite.
5. Yokkaichi Pork Steak: Yokkaichi's famous dish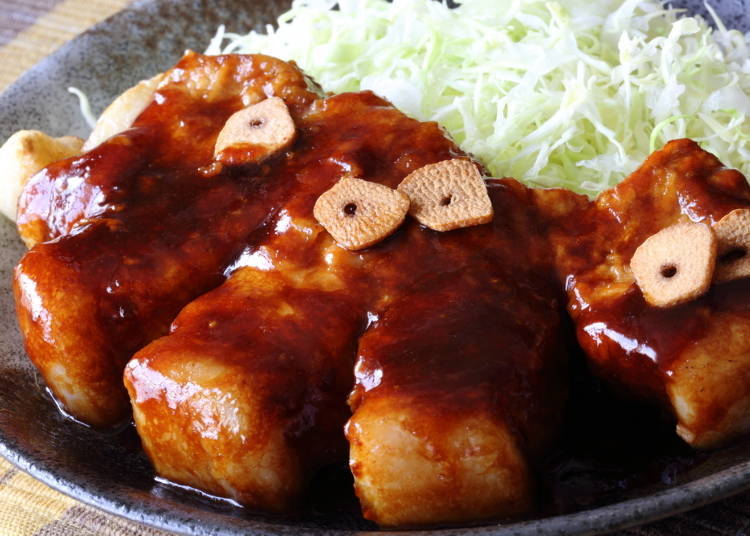 This famous dish of Yokkaichi City is the tonteki pork steak. It rose to popularity as a hearty meal during Japan's period of rapid growth. The thick slices of sautéed pork meat topped with the dark, Worcestershire sauce-based sauce make for a powerful visual, and the scent of garlic will stir your appetite.

The steak comes with a salad of thinly sliced cabbage which also goes great with the sauce. The extra thick cut of the meat is another distinctive characteristic of Yokkaichi's pork steak, but it is also sometimes cut into thick or thin strips and called "komayaki" or "komagire" as well.
6. Tsu Gyoza: The surprisingly large potstickers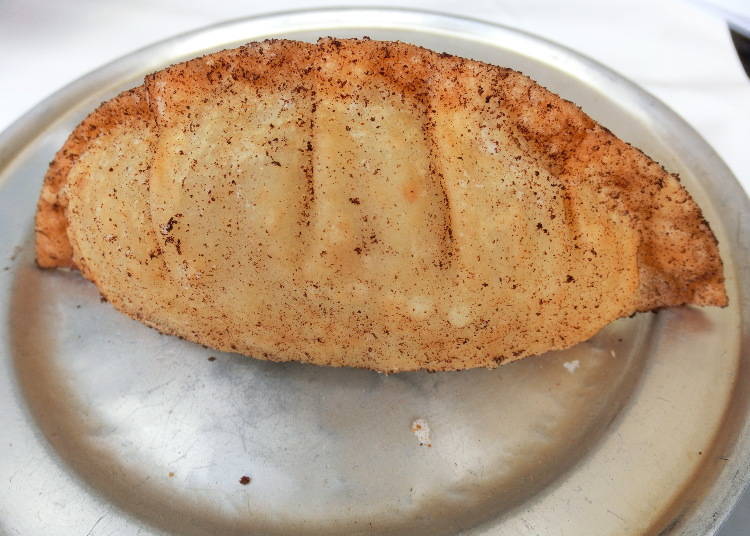 Tsu gyoza is a large, gyoza dumpling of ingredients wrapped in a 15-centimeter wide wrapper. They were invented around 1985, as an elementary school cafeteria food proposed by nutritionists from the Tsu City Board of Education.

The specially-ordered large wrappers were the idea of one of the cooks. Tsu gyoza are defined by using the 15-centimeter diameter wrapper and being deep-fried in oil. The freshly fried, crunchy texture of the gyoza skin and the juicy meat inside create a superb harmony inside your mouth. Different restaurants put different ingredients inside, so why not take a walk around Tsu City to try and find your favorite one?
7. Akafuku Rice Cake: A staple when visiting Ise Grand Shrine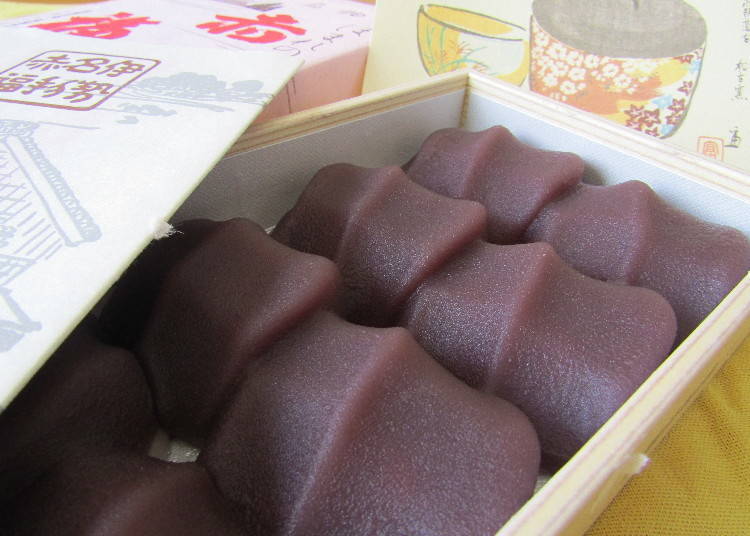 "Akafuku rice cakes" are one of the types said to be eaten by travelers on pilgrimage to Ise Grand Shrine in the Edo period, as a way to keep up their energy. The soft rice cakes are covered in a smooth, sweet red bean paste. The three lines made on the surface of the bean paste represent the flow of the Isuzu River which flows through the Ise Grand Shrine region, and the white rice cakes represent the pebbles on the bottom of the Isuzu riverbed.

Each rice cake is bite-sized and topped with a large helping of red bean paste. The refreshing sweetness and refined taste of the paste perfectly complement the soft rice cakes. These sweets have a short shelf-life, so if you want to bring some back as gifts, buy them right before you leave to return home.
Text by:WESTPLAN
*This information is from the time of this article's publication.
*Prices and options mentioned are subject to change.
*Unless stated otherwise, all prices include tax.