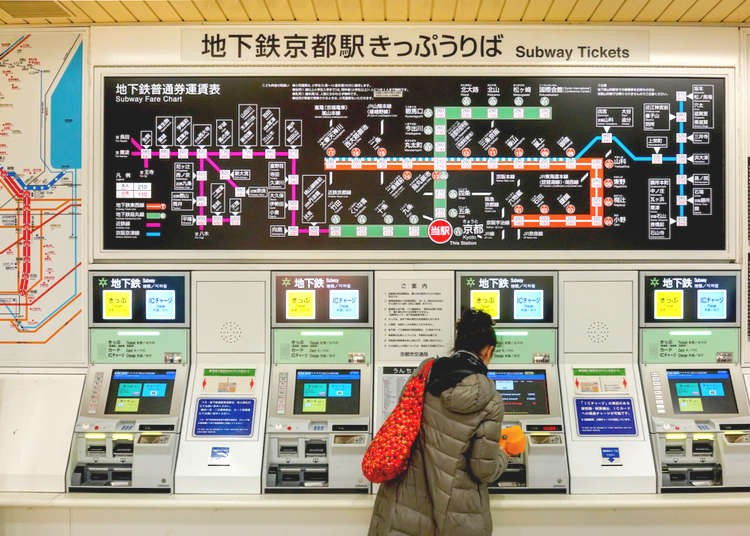 Looking at a map of Kyoto's train and subway system can seem a little intimidating at first! There are a blend of subway lines plus various private railroads in the area, giving you a range of options.

Here we'll introduce Kyoto's train and subway lines, plus show which stations are closest to the main temples, sights and other points of interest in Kyoto!
1. The Only Private Railway Connecting the Three Major Cities!
Hankyu Railway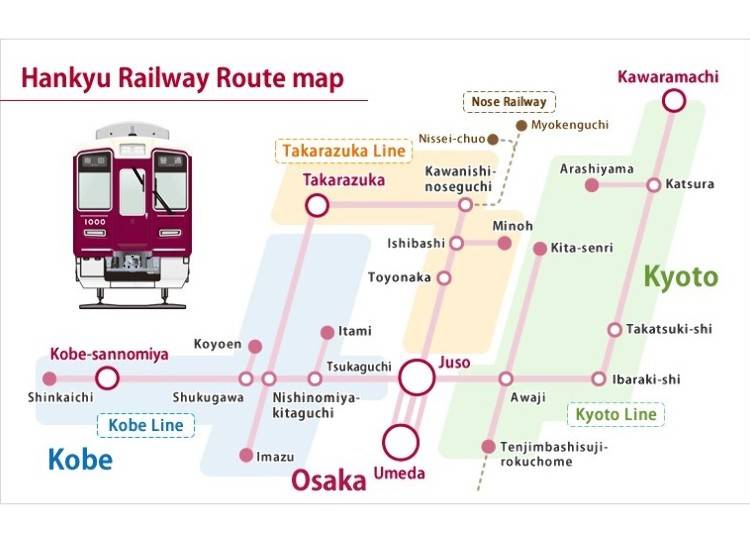 The Hankyu railway connects Kawaramachi (Kyoto), Umeda (Osaka) and Kobe-Sannomiya (Kobe) and is the only privately owned railway in Kansai to connect these three major metropolitan areas. The railway has 9 lines - the Kyoto Line, Takarazuka Line, Kobe Line, Arashiyama Line, Senri Line, Minoo Line, Itami Line, Kyoto Line, and Imazu Line - but the 2 lines most often used for sightseeing are the Kyoto Line and Kobe Line.

It takes approximately 45 minutes via Kyoto Line limited-express train from Kawaramachi (Kyoto) to Umeda, Osaka. To get to Kobe-Sannomiya in Kobe, you can transfer at Juso Station from the Kyoto Line limited-express to the Kobe Line limited-express, for a total trip time of approximately 1 hour and 20 minutes, making this a convenient railway even for a cross-prefecture trip.
For Easy Access to Kifune and Kurama!
Eizan Electric Railway (Eizan Main Line, Kurama Line)
If you want to get to Kifune and Kurama, or if you feel like heading out of Kyoto City to the Mount Hiei area, use the Eizan Electric Railway. The Eizan Main Line connects Demachiyanagi Station and Yase-Hieizanguchi Station, and the Kurama Line connects Takaragaike Station and Kurama Station. You can get from Demachiyanagi Station to Kurama Station in approximately 31 minutes by transferring mid-way at Takaragaike Station. To get to Mount Hiei, ride approximately 15 minutes on the Eizan Main Line to travel from Demachiyanagi to Yase-Hieizanguchi.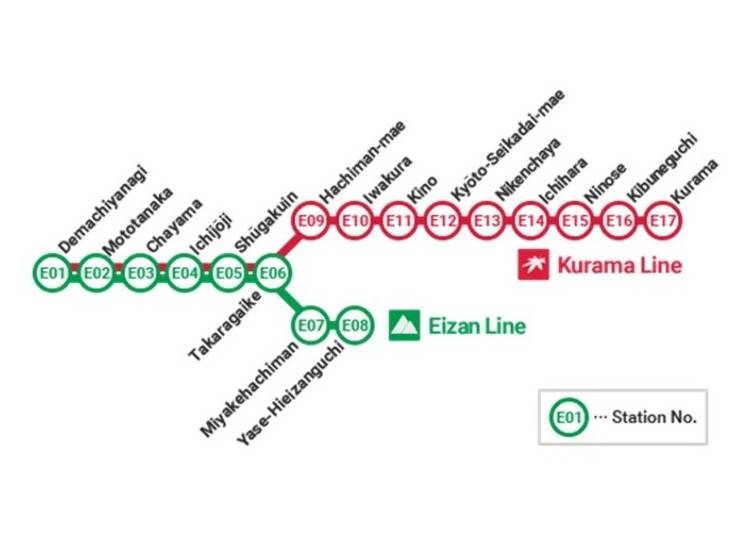 For Sightseeing, Use the Kintetsu Nara Line Connecting Kyoto and Nara
The longest private railway in Japan, the Kintetsu Railway stretches through Osaka, Kyoto, Nara, Mie, and all the way to Aichi Prefecture. For sightseeing purposes, the Kintetsu Kyoto Line - running from Kyoto Station to Nara City's Yamato-Saidaiji Station - and the Namba/Nara Line - running from Osaka-Namba Station to Kintetsu Nara Station - are invaluable. Along the Kintetsu Kyoto Main Line are several famous tourist stops, including Fushimi Castle (Kintetsu-Tambabashi Station) and Amida-ji and Gokuraku-ji Temples (Tonosho Station).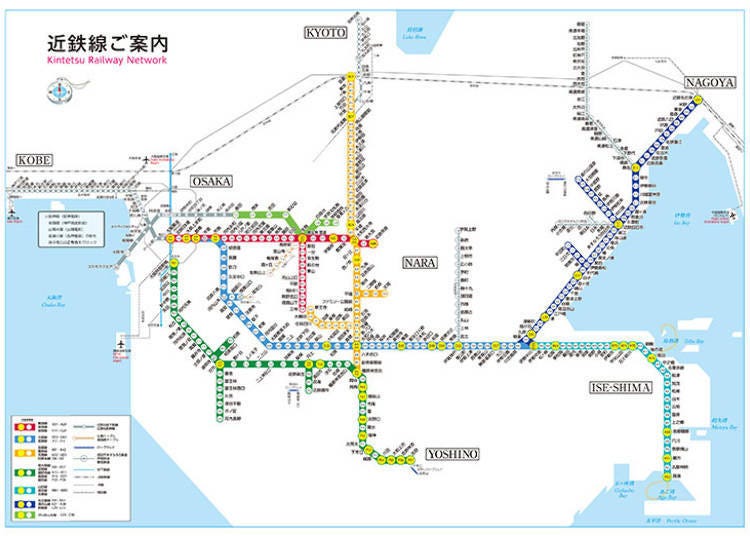 Kyoto City's Only Above-Ground Railroad
Keifuku Electric Railroad (Arashiyama Line, Kitano Line)
The Keifuku Electric Railroad consists of two train lines - the Arashiyama Main Line, running approximately 7.2 km between Shijo-Omiya and Arashiyama, location of the famous Togetsukyo Bridge; and the 3.8 km Kitano Line, connecting Katabiranotsuji and Kitanohakubaicho. Both lines are above-ground railway streetcars and run trains of various designs, including retro-style trains and ones styled after police cars.

It takes approximately 25 minutes get between Shijo-Omiya Station and Arashiyama Station. On the way, you'll pass by Uzumasa-Koryuji Station, which is the nearest station to Koryu-ji, the oldest temple in Kyoto, and Toei Kyoto Studio Park amusement park. Along the Kitano Line are Ryoanji Station, the closest station to Ryoan-ji Temple famous for its stone garden, and Kitano-Hakubaicho Station, which is closest to Kitano Tenmangu Shrine and Kinkaku-ji Temple.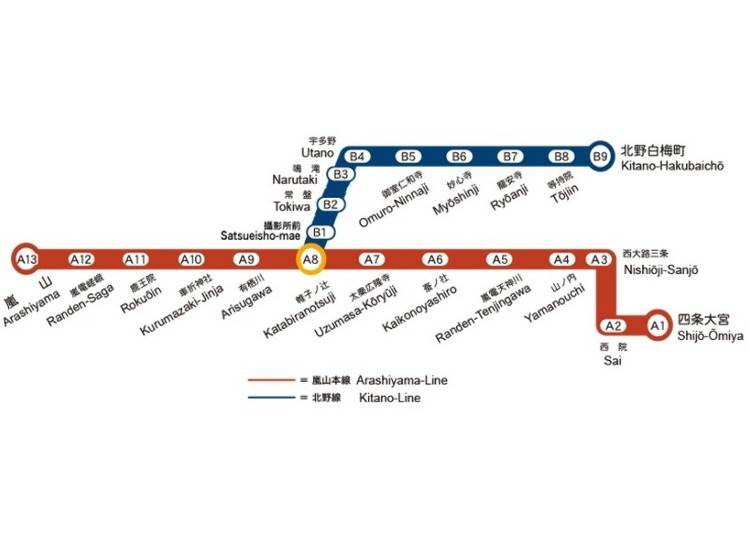 For Access to Amanoshidate
Kitakinki Tango Railway (Miyafuku Line, Miyazu Line, Miyamai Line)
The Kitakinki Tango Railway lines run through the Tango area in northern Kyoto and the Tajima area in northeastern Hyogo Prefecture. There are 3 railway lines - the Miyafuku Line which connects Fukuchiyama City and Miyazu City, the Miyamai Line connecting Maizuru City and Miyazu City, and the Miyazu Line which runs from Miyazu City passing through Yosano-cho and Kyotango City to Toyooka City in Hyogo Prefecture. Of these, the Miyazu Line stops at Amanohashidate, one of the "Three Views of Japan".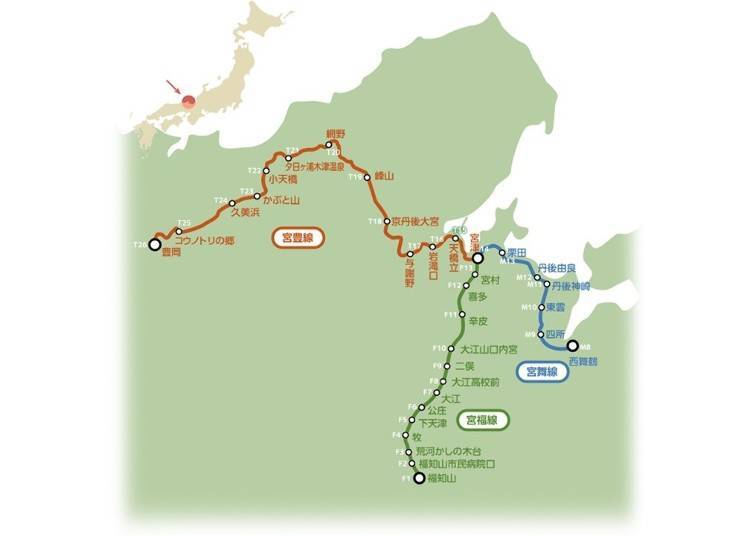 The Two Subway Lines Running Through Kyoto City
Kyoto Municipal Subway (Karasuma Line, Tozai Line)
There are two lines on the Kyoto Municipal Subway - the Karasuma Line, which runs north-to-south from "Kokusaikaikan" Station to "Takeda" Station, and the Tozai Line, which runs west-to-east from "Uzumasa-Tenjingawa" Station to "Rokujizo" Station. Fares cost 210-350 yen, depending on the distance you travel.

List of Tourist Spots at Stations on the Karasuma Line
Imadegawa-cho (Kyoto Imperial Palace)
Karasuma Oike (Kyoto International Manga Museum)
Kyoto (Kyoto Tower, Higashi-Honganji Temple, Nishi-Honganji Temple, Sanjusangen-do Temple, Toji Temple)

List of Tourist Spots at Stations on the Tozai Line
Nijojo-mae (Nijo Castle)
Karasuma Oike (Kyoto International Manga Museum)
Shiyakusho-mae (Honno-ji Temple)
Higashiyama (Heian Jingu Shrine)
Keage (Zenrin-ji Temple (Eikan-do Temple), Nanzen-ji Temple)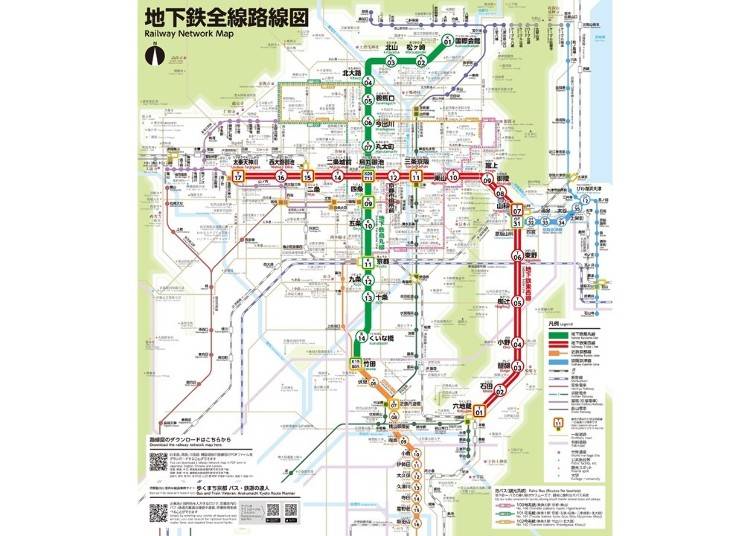 For Traveling Between Kyoto and Osaka or Kyoto and Nara
JR-West
There are several JR lines that run through Kyoto, but the main lines used for sightseeing are the Kyoto Line and the Nara Line. On the Kyoto Line, you can take the limited-express train from Kyoto to Osaka in approximately 30 minutes. On the Nara Line, traveling from Kyoto to Nara takes approximately 45 minutes via express train.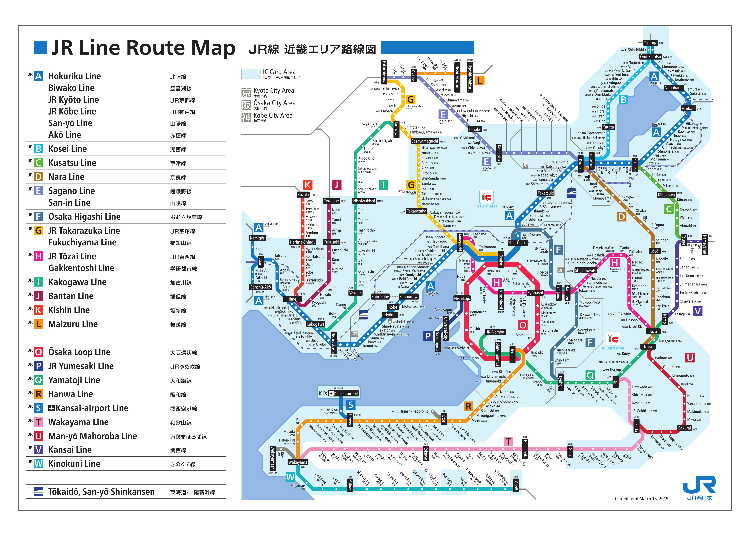 Connecting Kyoto and Osaka
Keihan Electric Railway (Keihan Main Line, Otsu Line)
The Keihan railway connects Kyoto and Osaka, and it gets its name from the Japanese characters for the city's names (Kyoto's "kyo" can also be read as "kei", and Osaka's "o" can also be read as "han"). There are several lines, including the Kyoto Main Line, Uji Line, Katano Line, and Keishin Line, but the Keihan Main Line and Uji Line are most often used for sightseeing purposes, the former being useful for traveling between Kyoto and Osaka, and the latter for visiting sites such as Byodo-in Temple. The Keihan Main Line's last stop in Kyoto is Demachiyanagi Station, and in Osaka, Yodoyabashi Station and Nakanoshima Station. A trip from Demachiyanagi Station (Kyoto) to Yodoyabashi Station (Osaka) takes approximately 55 minutes on a limited-express train.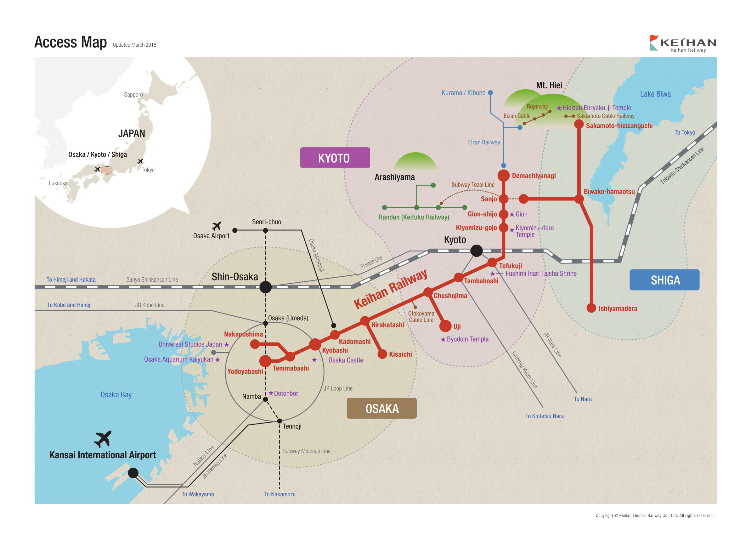 main photo: Boris-B / Shutterstock.com
*This information is from the time of this article's publication.
*Prices and options mentioned are subject to change.
*Unless stated otherwise, all prices include tax.