Many people who visit Kyoto will stop by the red gates of Fushimi Inari Taisha. The Senbon Torii (1,000 torii gates) lives up to its name and has become a majestic sight attracting visitors from every corner of the world.
Fushimi Inari's Grounds are a Melting Pot of Tourists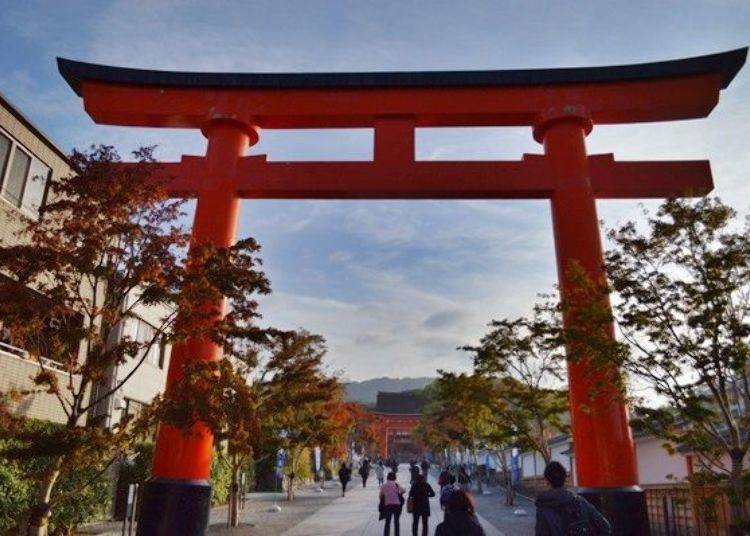 We visited Fushimi Inari Taisha towards the end of November. Even though we arrived early in the morning, there were already many visitors such as students in uniform, energetic older adults, and people with expensive cameras.

The people that stood out the most were foreign tourists from all over the world—a sight fitting for Kyoto, a city of international tourism.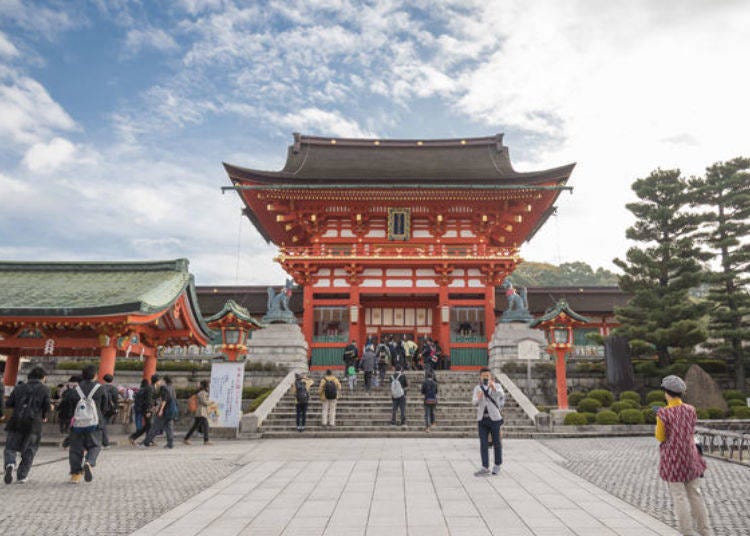 After you finish the purification process of washing your hands and rinsing your mouth, you will go through the large romon gate. This romon is one of the largest for shrines in Japan and was built in 1589 by Toyotomi Hideyoshi.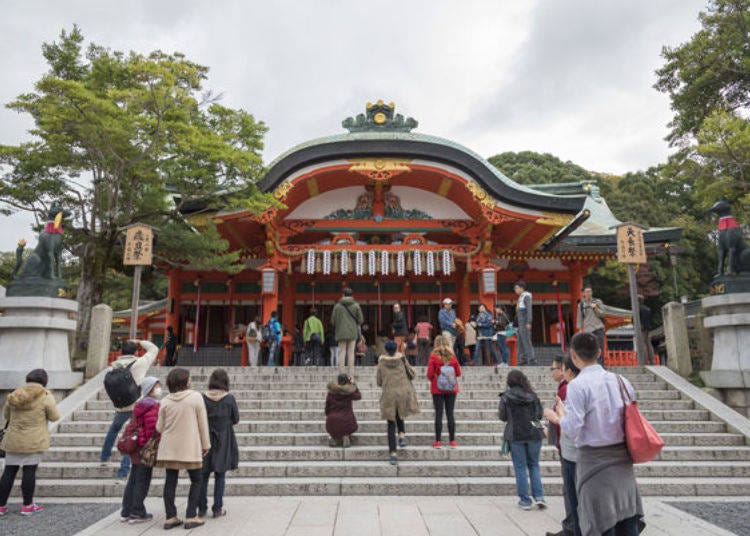 Next, we will visit the main shrine. The main shrine was lost during a war in the Onin period but was rebuilt in 1499. You can see the Azuchi-Momoyama period characteristics from the beautiful decorations. It is also designated as a national important cultural property.

It is said that there are 30,000 Inari shrines around Japan. Fushimi Inari Taisha is the head of them. It dates back to 711 when gozoku (powerful family/clan) Hatano Irogu worshiped the three main gods at Mitsugamine in Mt. Fushimi.
Known as a deity that will grant wishes such as great harvest, prosperous business, and safety for family members, Fushimi Inari is a shrine with many followers, from common people to politicians.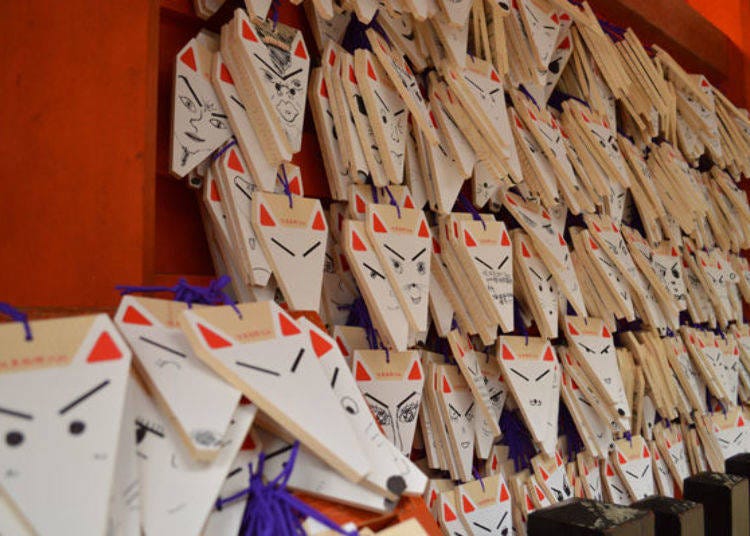 ▲An unusual Byakko ema (wooden boards to write down wishes and prayers). People draw different fox faces along with their wishes
One Red Gate for Every Granted Wish: Walking Down the Mystical Path of Torii Gates
The path to Okusha Hohaisho from the main shrine is about 150 meters. This red torii gate-packed path is called Senbon Torii.

Many visitors stop and take in the mystical sight which has come to represent Kyoto in many ways. Even with many people walking through the vermillion-colored path, it is filled with silence.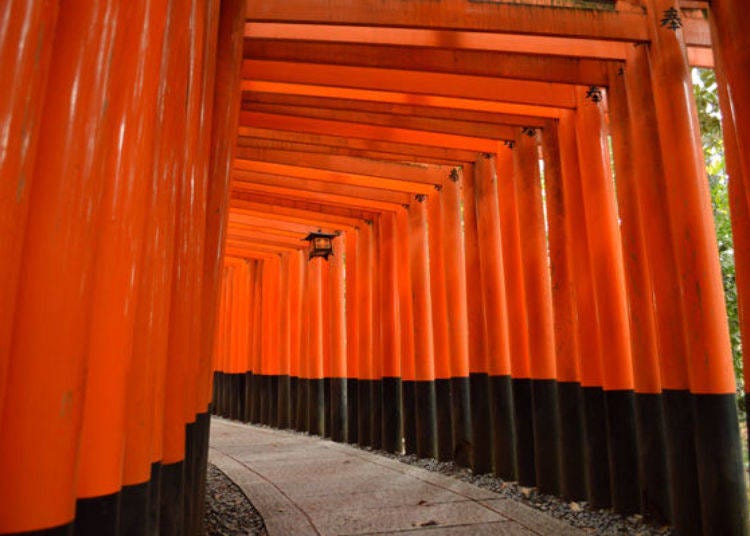 ▲Vermillion is a bright color of hope like red and crimson. Sun, life and birth gives power to the spirits of Inari Daijin
These torii gates in Kyoto were donated out of appreciation for their prayers being answered. It is proof that the people's prayer has been answered. This tradition started in the Edo period and has continued to this day.
The Path of Wishes and Prayers beyond Senbon Torii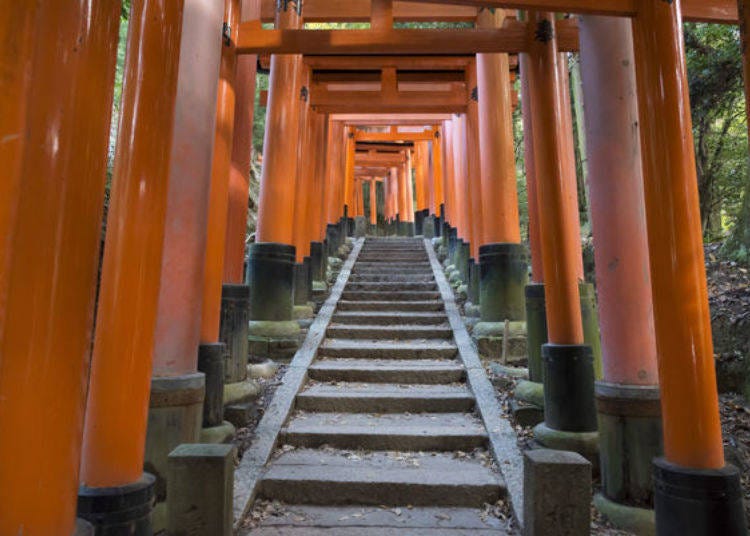 After passing through Senbon Torii, you will reach Okusha Hohaisho that worships Mt. Inari from afar. Many visitors go back and return to the entrance from there, but there is still a path of prayers that continues.

It is said that God descended to Mt. Inari. One could say that Oyama Meguri, the 2km walk to the peak, Ichinomine, is the true experience for worshiping. If you have the time and energy, we recommend going all the way.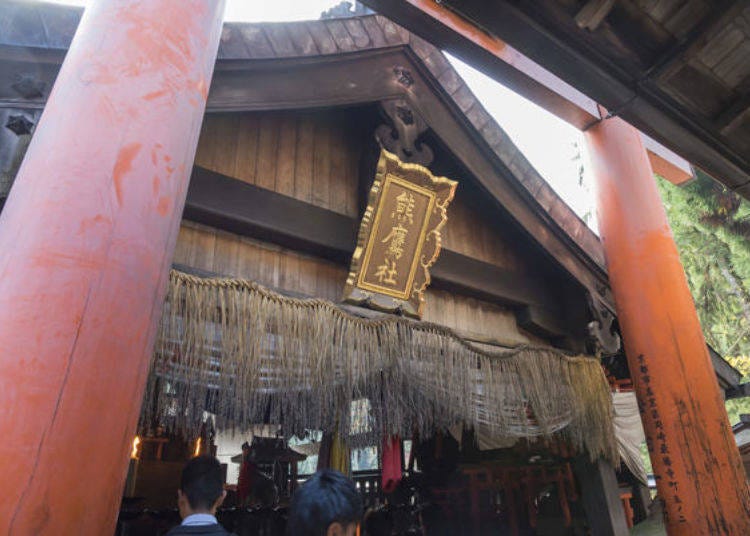 ▲Kumatakasha. A stone prayer area sticking into the pond, an Otsuka worshipping stone for the deity Kumataka Okami can be found here.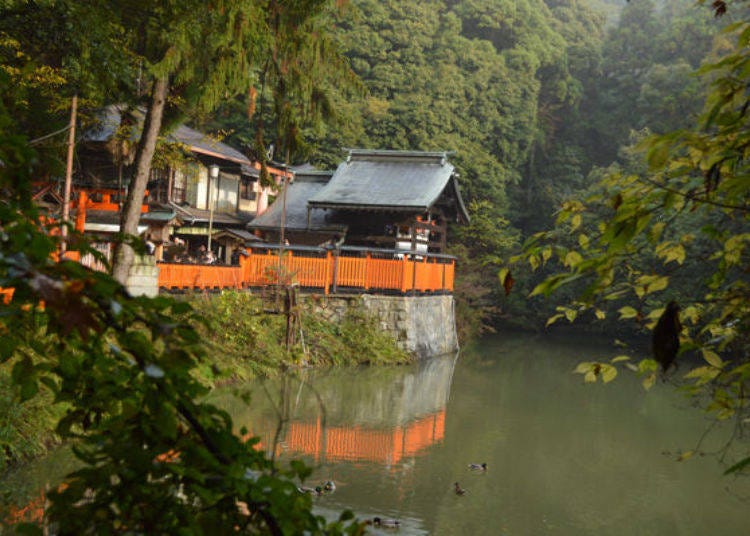 ▲The Shin-ike pond and Kumatakasha. There is a legend that if you clap your hands in front of the pond, the direction that the echo returns from is where missing person you are looking for can be found.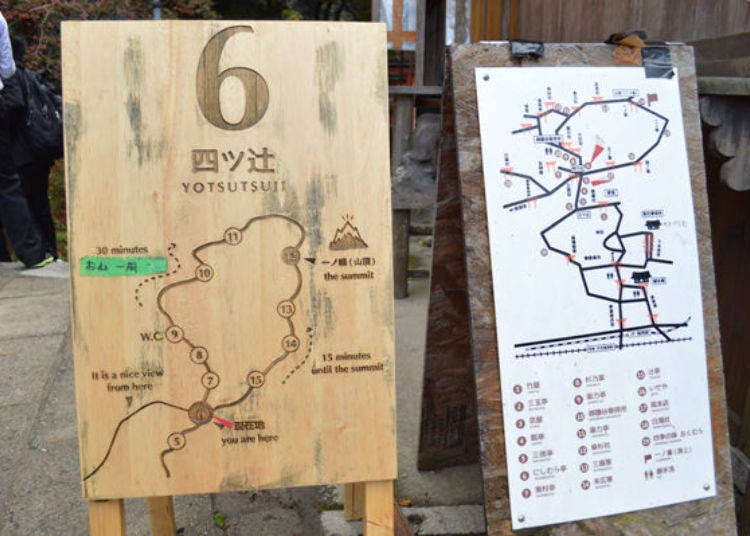 ▲At the halfway point Yotsutsuji, there is an information board in English. Just a little more to Ichinomine summit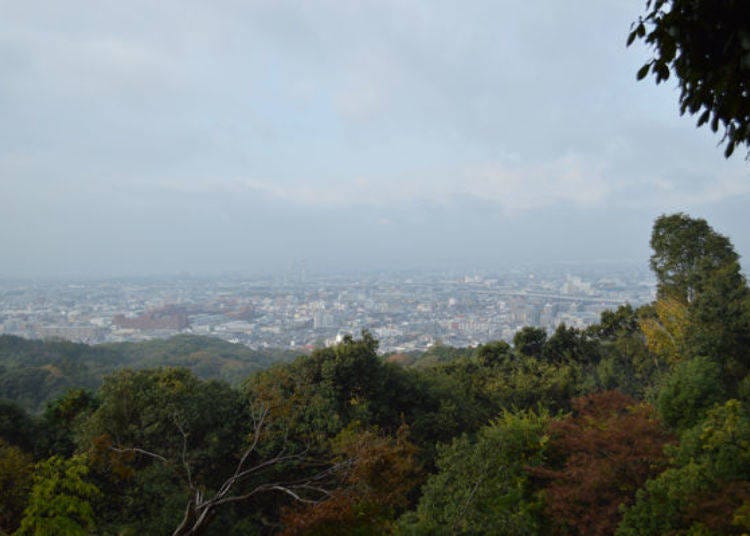 ▲The view from around Yotsutsuji. A great scenic point where you can see the southern part of Kyoto, and a great place to take a small break.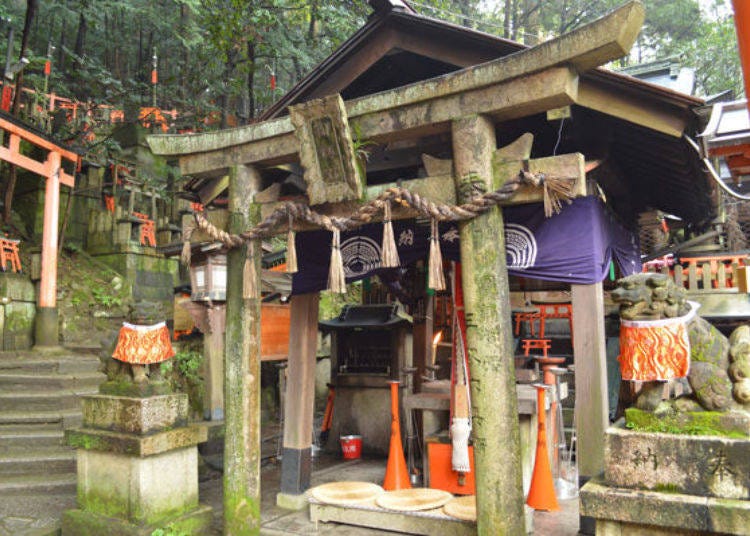 ▲Mitsurugisha. Listed as Kaminarishi Ishi on an ancient map, it is a place of worship just like Mitsugamine since ancient times.
▲After getting past Kiri no Mori, you will reach Ichinomine sitting at the peak of Mt. Inari at an altitude of 233m. Here the deity Suehiro Okami is worshiped.
The path to and from the peak is not easy. However, as you climb each step, your mind will be clear of any thoughts. This may be the true form of prayer and the charm that attracts people from all over the world.

Walk down the path with the famous red Kyoto gates with a clear mind. We hope you stop by Fushimi Inari Taisha and walk the path of prayers, so your wish comes true.
Address

68, Fukakusayabunouchicho, Fushimi-ku, Kyoto-shi, Kyoto, 612-0882
View Map

Nearest Station

Inari Station (JR Nara Line)


Phone Number

075-641-7331
Text by: Myogaya Nobuhisa
*This information is from the time of this article's publication.
*Prices and options mentioned are subject to change.
*Unless stated otherwise, all prices include tax.