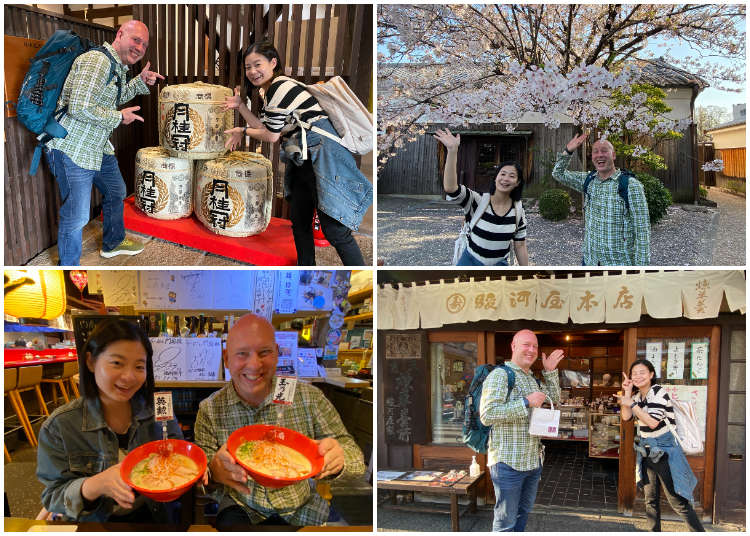 Hidden between the famous cherry blossoms of Kyoto are lots of secret flower-viewing hotspots known only to locals. Many of these are in Fushimi, a neighborhood easily reached from Kyoto Station.

While the rows of torii gates of Fushimi Inari Taisha are widely known, there are numerous other fantastic attractions to explore across the area - like Fushimi Castle, built by famous samurai Toyotomi Hideyoshi, as well as historical streets lined with sake breweries and gorgeous cherry blossoms.

In this article, we'll join LIVE JAPAN international editors Chia-chi and Timothy as they show us their recommended one-day Fushimi itinerary - which includes dazzling cherry blossoms, unique local food, and ancient souvenir stores!
Introducing our Kyoto cherry blossom explorers!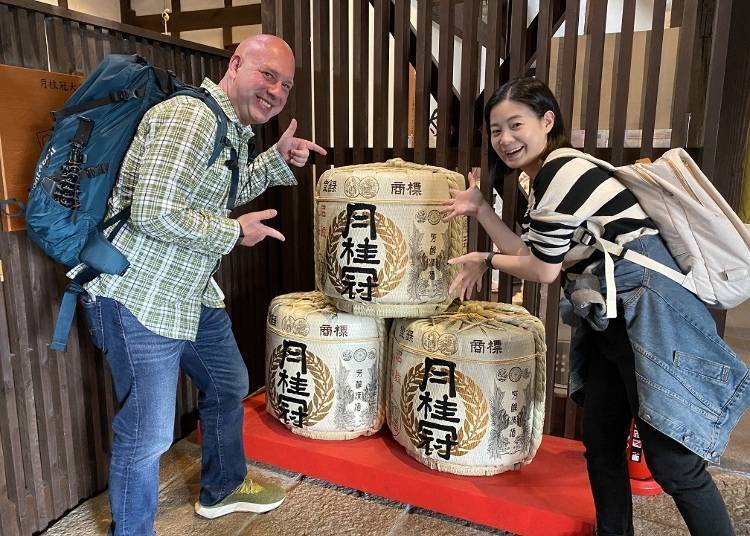 ・Chia-chi (Photo: Right)
Originally from Taipei, Taiwan, Chia-chi has been a resident of Japan for 7 years. She prefers relaxing, indoor trips, often seeking out cafes, charming old buildings, and people-watching while reading books. She also enjoys taking photos of flowers and buildings. Placing great importance on sleep, she always thoroughly checks an accommodation's bedding, room temperature, airflow, and noise levels before settling in.

・Timothy (Photo: Left)
Born and raised in New York, Timothy has lived in Japan for more than 20 years and is an expert in all things Japan. His hobbies include cycling, trekking, and other outdoor activities, and he is always embarking on active, adventurous trips. He also likes cooking and eating, along with sake, beer, wine, and whiskey. He is well-versed in the cuisine of Japan, but prefers everyday, hearty meals over luxury dishes. His smile and carefree personality are his self-proclaimed charms!
What sort of place is Fushimi?
Fushimi originally developed as a town around Fushimi Castle, which was constructed by Sengoku period lord Toyotomi Hideyoshi, and was surrounded by the residences of many daimyo. It long served as an important stage in Japanese history, with a major highlight being the Teradaya Inn, the regular accommodation of Sakamoto Ryoma, an influential samurai of the Bakumatsu during the final years of the Tokugawa Shogunate.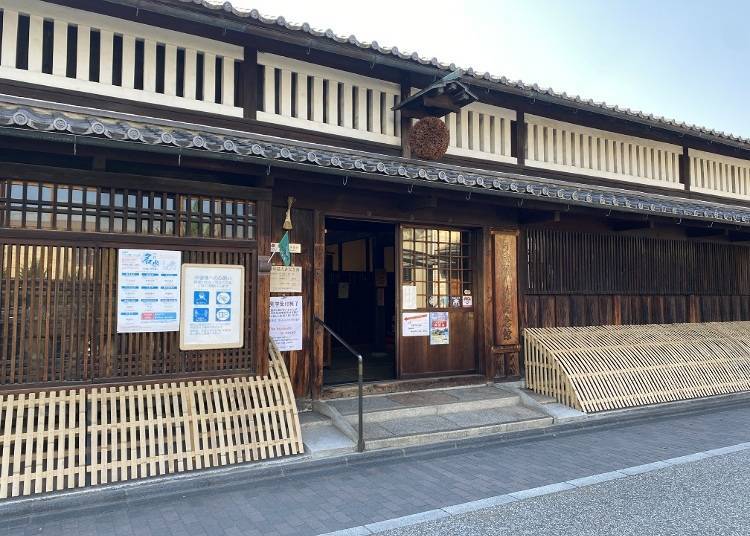 Fushimi is also famous for its abundance of pristine spring water, and has long been a base for sake brewing. This industry continues to thrive today, and several of Japan's biggest breweries are set up in the area, including Gekkeikan, Kizakura, and Tamanohikari.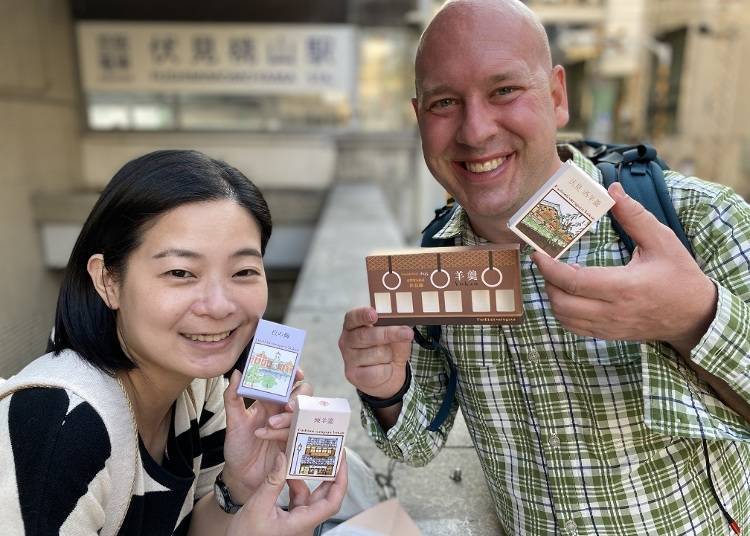 Sightseeing in Fushimi usually starts from Momoyamagoryo-mae Station on the Kintetsu Railway, or Fushimi-Momoyama Station on the Keihan Main Line, which are accessible from Kyoto Station by train in around 10 minutes.

For our history-buff editor Chia-chi, Fushimi has long been an intriguing destination. "I'm so thrilled to be able to visit an area with so many historical buildings," she said with much anticipation.
Cherry Blossom Spot #1: A castle tower and cherry blossoms at Fushimi Momoyama Castle
Fushimi Momoyama Castle is a reconstructed castle tower built on the remains of the destroyed Fushimi Castle, which was established by Toyotomi Hideyoshi.

While the current tower is not the original, it is a stunning replica painstakingly designed based on authentic historical materials. It was built as part of the Fushimi Momoyama Castle Land theme park, which opened in 1964. While the theme park closed in 2004, the castle remained, albeit shut to public viewings since 2007 due to earthquake-resistance concerns. Nowadays, the Fushimi-Momoyama Castle Athletic Park continues to serve as a beloved local hangout.

In order to distinguish the replica from the original, the new castle was given the name Fushimi Momoyama Castle instead of just Fushimi Castle. "Momoyama" is the name of the area, which it apparently received after "momo" peach trees were planted on the grounds after the destruction of Fushimi Castle.

Surrounding Fushimi Momoyama Castle is a plethora of "Somei Yoshino" and "benishidare" cherry trees that bloom magnificently. Seeing them with the castle backdrop makes it feel like you've slipped back to the time of Sengoku warlords. While gazing upon the atmospheric cherry blossoms, we couldn't help but ponder the profound history and culture of the area.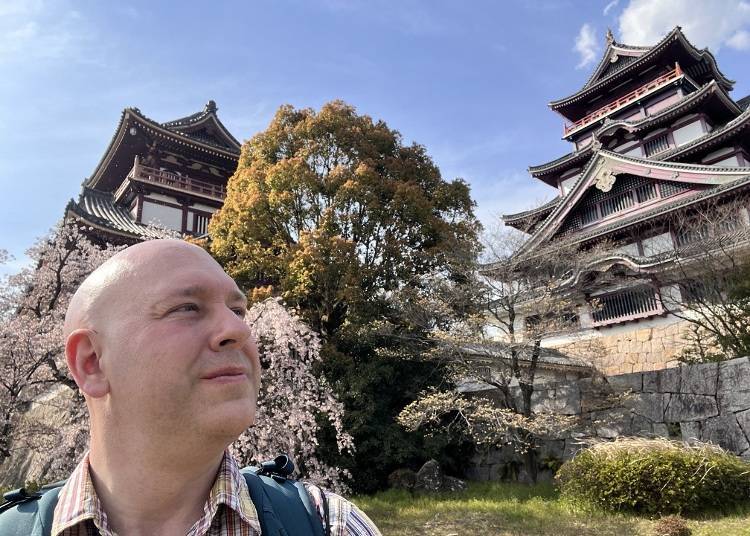 "I recommend bringing a bento for breakfast or lunch and hiking to the park. It was nice to eat in front of the blissful cherry blossoms while listening to the sound of the gentle wind and chirping of birds. Just make sure to remember to bring a trash bag, and take your rubbish back with you."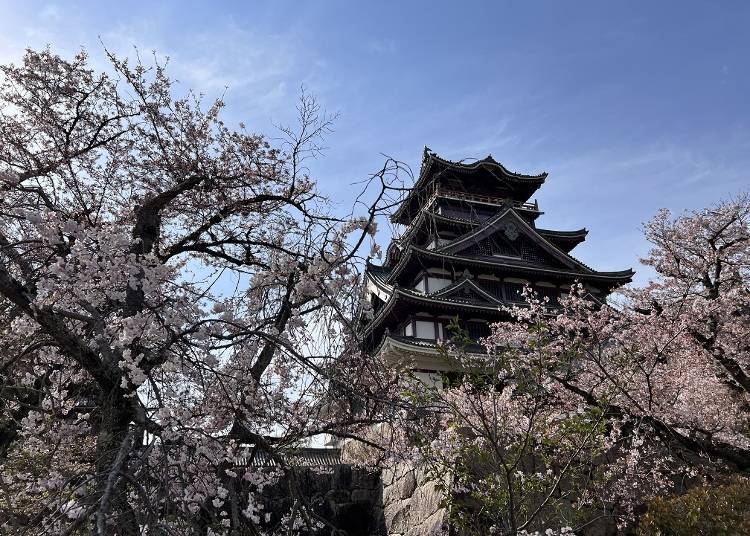 The closest train stations are Fujinomori Station and Momoyama Station on the JR Nara Line, which are about a 15-minute walk away. You can also reach the area in 25 minutes on foot from Momoyamagoryo-mae Station on the Kintetsu Railway, or Fushimi-Momoyama Station on the Keihan Main Line.

"Seeing this fantastic scenery makes the walk here totally worth it! Also, many fans of authentic castles are disappointed when they see a reconstruction, but this area still feels really nice, and the exterior alone is sure to impress. The surrounding park is also quiet, and even the spots with cherry blossoms weren't crowded when we visited. It was practically deserted compared to Kyoto's typical tourist attractions, making it a real hidden gem," said Timothy.
伏見桃山城

Address

45 Momoyamacho Okura, Fushimi Ward, Kyoto, 612-0853
Cherry Blossom Spot #2: The Fushimi Jikkokubune River Cruise and surroundings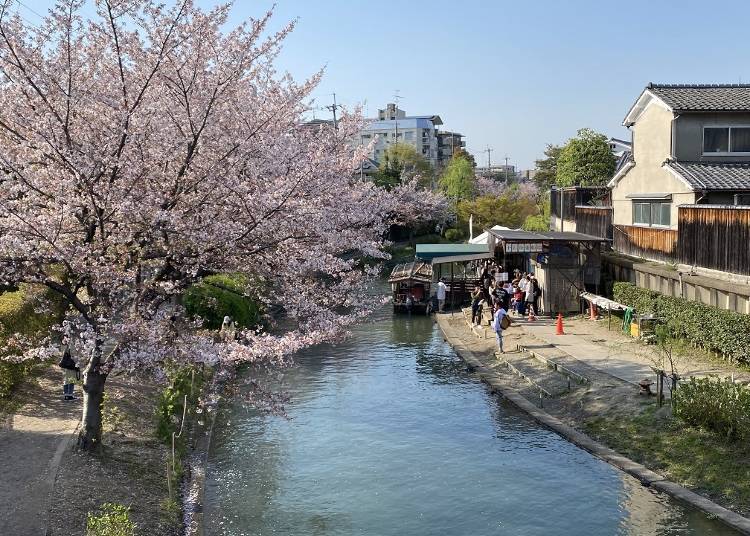 The Uji River and the connecting Horigawa River canal host scenic cruise boats called "jikkokubune."

During the Edo Period, these boats played an important role in transporting goods and people, contributing greatly to the development of Fushimi.

Numerous cherry blossoms are planted along the riversides, making them equally famous for flower viewing.

"The jikkokubune have become popular for cherry blossom viewing with Taiwanese travelers recently, so I'm glad to have finally made it myself!" said Chia-chi.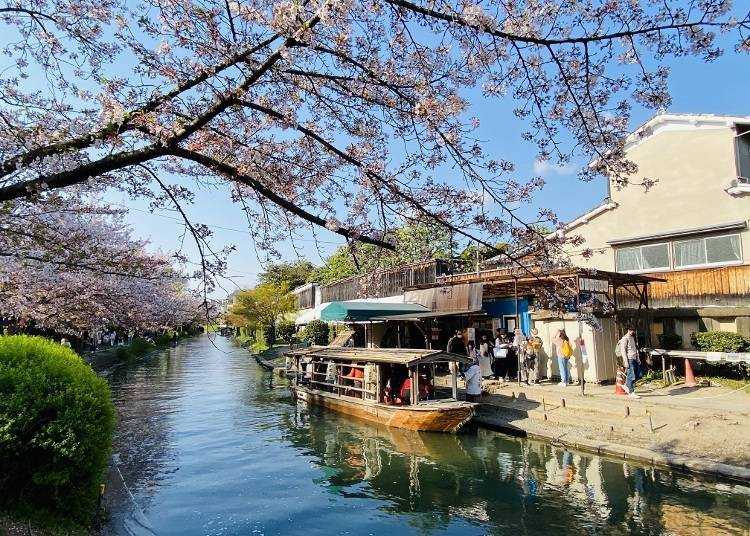 The cruises allow passengers to slowly take in the cherry blossoms and other splendid scenery from the river, making it a popular activity for visitors.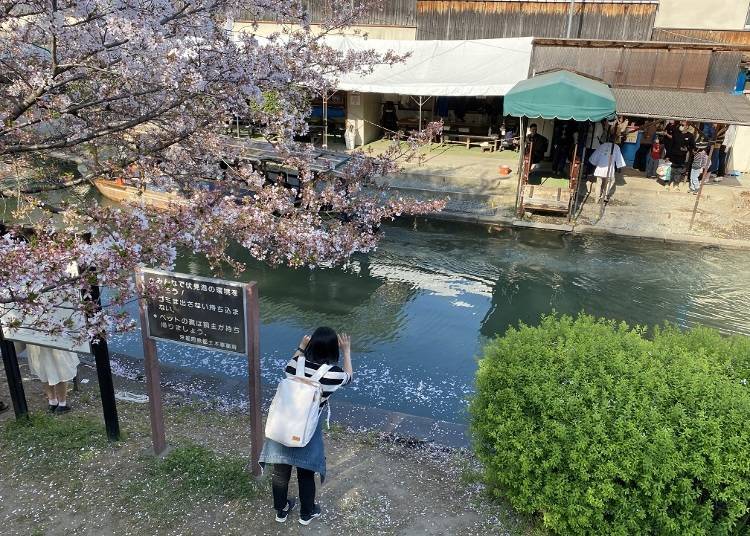 Chia-chi couldn't help but wave at the boats as they set off. "This is such a romantic setting! As a photographer, it's irresistible! I'd recommend setting aside some time in your itinerary to spend a while here, and get the perfect shot."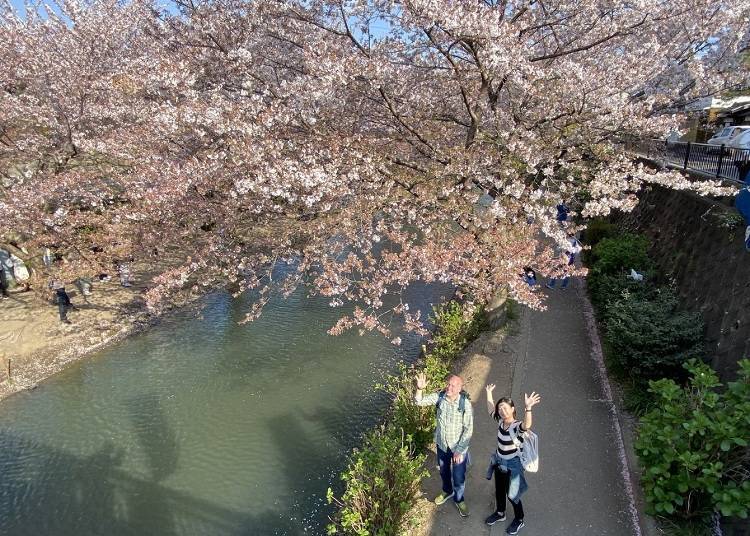 Strolling down the promenade felt like wandering into a dream, filling our spirits with energy.

"It was like we were walking through a tunnel of cherry blossoms. A peaceful riverside stroll like this is exactly what I needed!"
伏見十石舟

Address

247 Minami Hamacho, Fushimi Ward, Kyoto, 612-8043
The Gekkeikan Okura Sake Museum: A must-visit Fushimi attraction with stunning cherry blossoms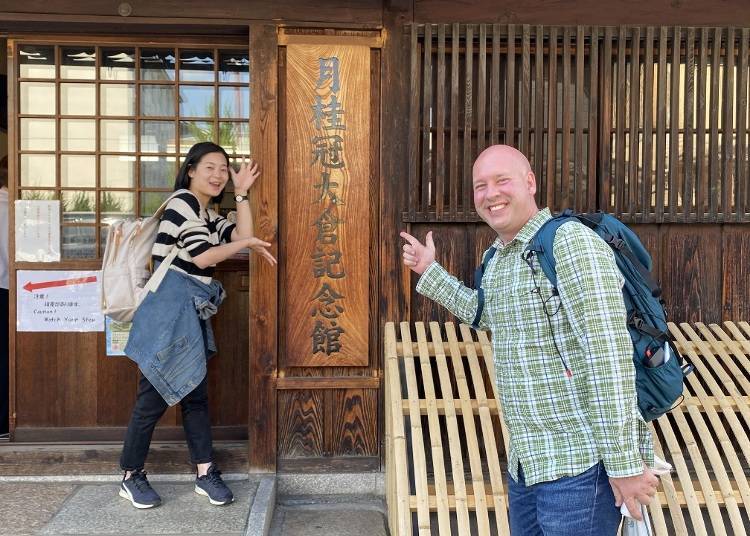 Being a brewers' town, a tour of a sake brewery is essential when visiting Fushimi. The Gekkeikan Okura Sake Museum is run by world-famous sake brewery Gekkeikan, and is the ultimate place to learn about Fushimi's fascinating sake brewing history and culture.
The museum is filled with all sorts of exhibits, including those explaining the history of sake brewing, as well as displays of actual brewing equipment and tools. It takes around 40-60 minutes to fully tour the facility.

"Gekkeikan was founded in 1637, and boasts a truly impressive legacy. The museum has perfectly preserved this history, letting us appreciate it in the modern era. I think this is such a valuable experience."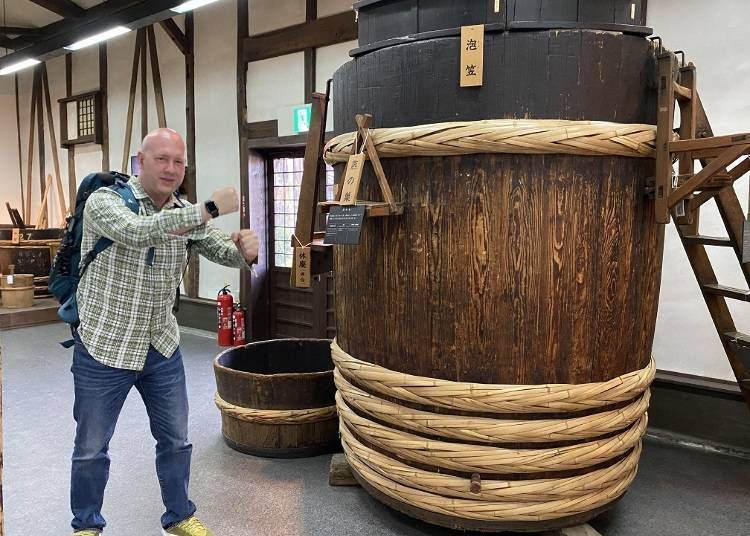 "It must have been hard work to use such a huge barrel. It's great to see this side of sake brewing," stated Timothy.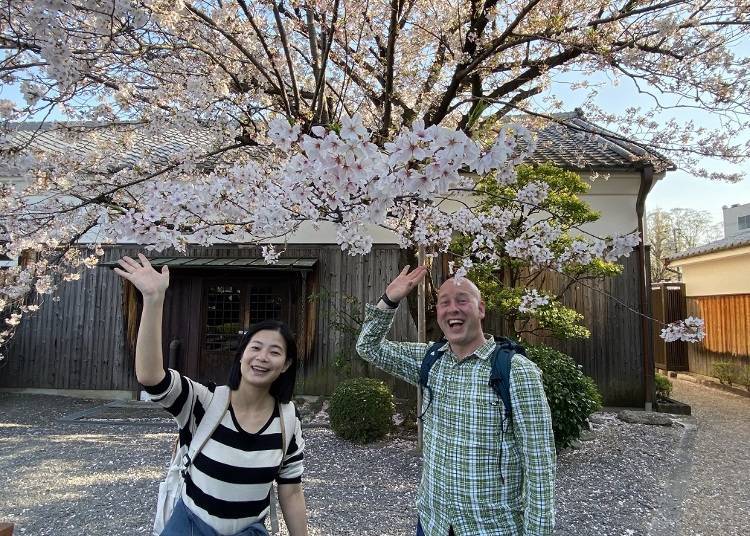 In addition to brewery tours, we also recommend visiting the Gekkeikan Okura Sake Museum for its splendid cherry blossom tree, which is planted in the courtyard.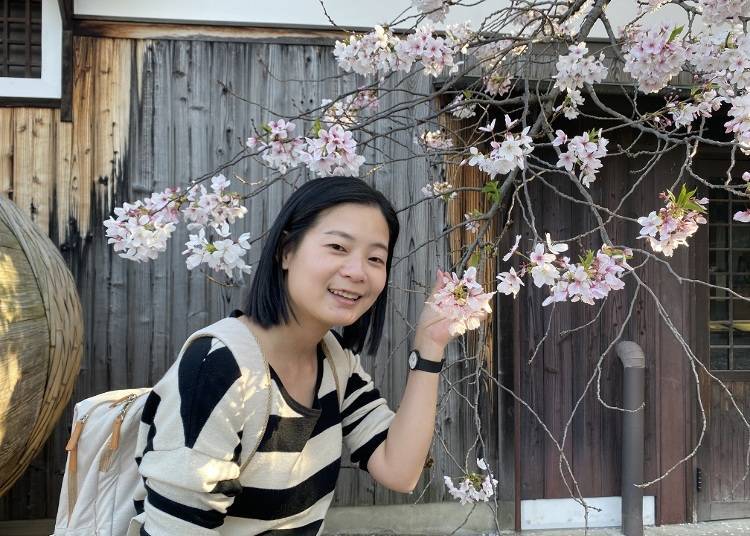 "With so many flowers, it's hard to believe it's just a single tree!"

The garden also has tables and chairs set up, so you can sit down and freely enjoy a flower viewing session! However, food and drink are not permitted.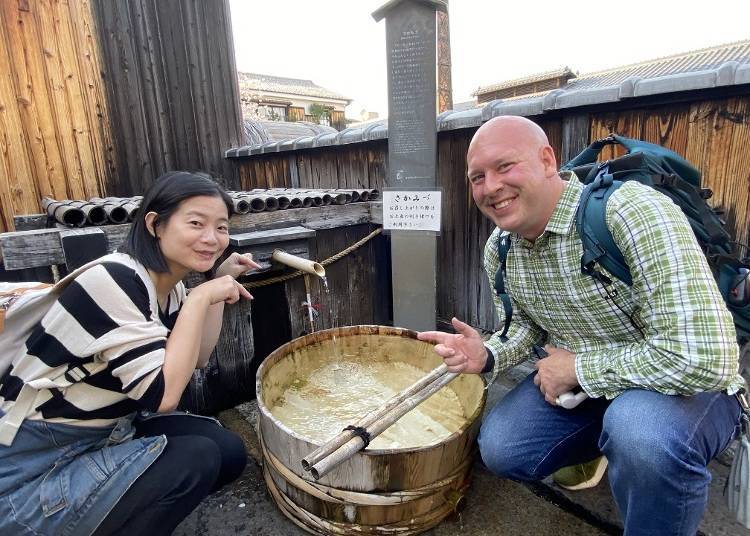 Here is the brewery's precious spring water, which is the bedrock that supports the entire sake industry of Fushimi. You can drink it, so don't hold back!

"While the water in wine comes from the grape itself, sourcing pristine and delicious water with specific qualities is essential for good sake. If you get the chance, I recommend always having a taste of a sake brewery's water to better understand its character and appeal."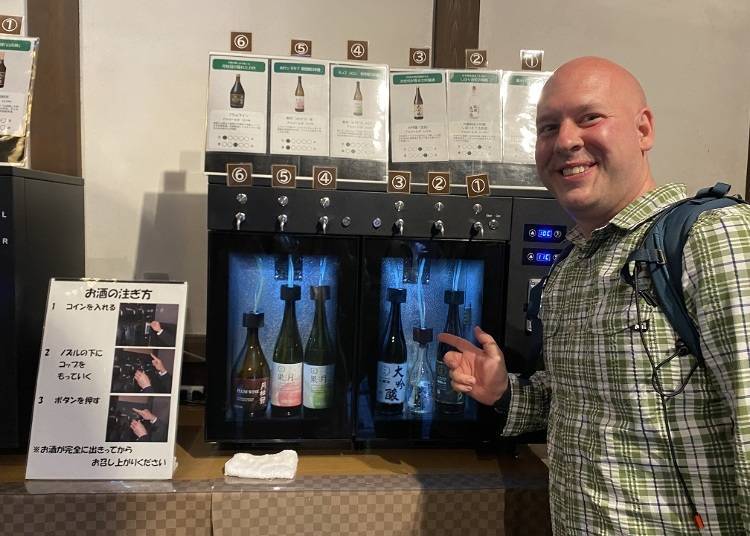 After the brewery tour, we were allowed to taste three different kinds of sake of our choice.

"Many breweries will let you taste their sake, either for free or a fee, so you can check the flavor before making a purchase. As Gekkeikan brews lots of diverse types, it's the perfect opportunity to find a sake that matches your palate," explained Timothy.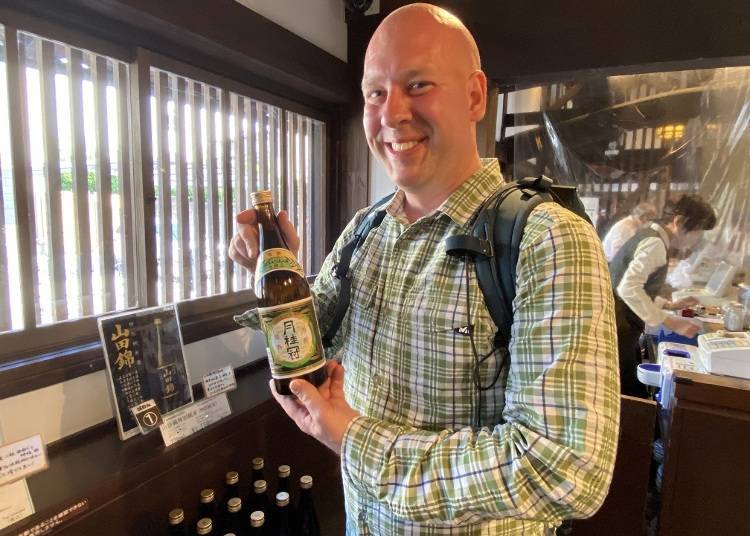 The brewery store is packed with an almost overwhelming selection of sake and local delicacies, all painstakingly procured at the utmost quality. Even if you don't have time to take the tour, you can still shop here, making it worth stopping by for those on tight schedules, too!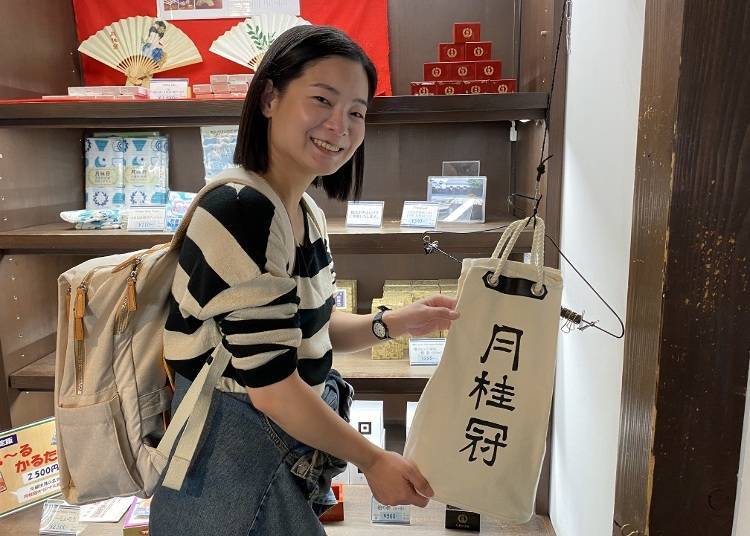 "We've come all this way, so we might as well pick up some limited-edition Gekkeikan merch too!"
Information
・Admission:

600 yen (20+), 100 yen (13-19), free for 12 and under
*Those 13 and over will receive a gift
*Those 20 and over will be able to taste three kinds of sake
・Opening Times:

9:30 am - 4:30 pm (last entry 4:00 pm)
・Closed:

August 13-16, December 28 - January 4, plus other temporary closing days
・Access:

5-minute walk from Chushojima Station, or 10-minute walk from Fushimi-Momoyama Station (both on the Keihan Main Line)
Address

247, Minamihamacho, Fushimi-ku, Kyoto-shi, Kyoto, 612-8660
View Map

Nearest Station

Chushojima Station (Keihan-uji Line / Keihan Line)
6 minutes on foot


Phone Number

075-623-2056
Fushimi Sake Village: Local Fushimi Foods and Sake All in One Place!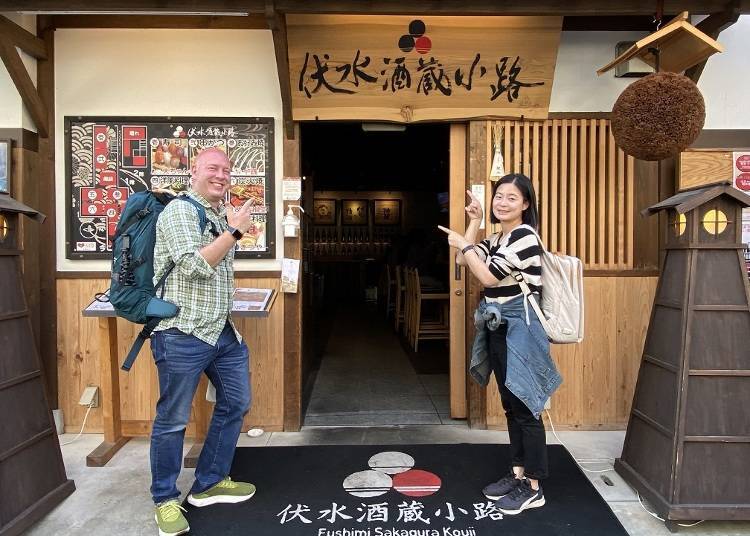 For those seeking something scrumptious to eat in Fushimi, we recommend the Fushimi Sake Village. Here visitors can relish sake from 18 local breweries, enjoyed together with a staggering assortment of great food from eight restaurants all in one convenient location.
Recommended Fushimi Food: Sake lees ramen at Monsen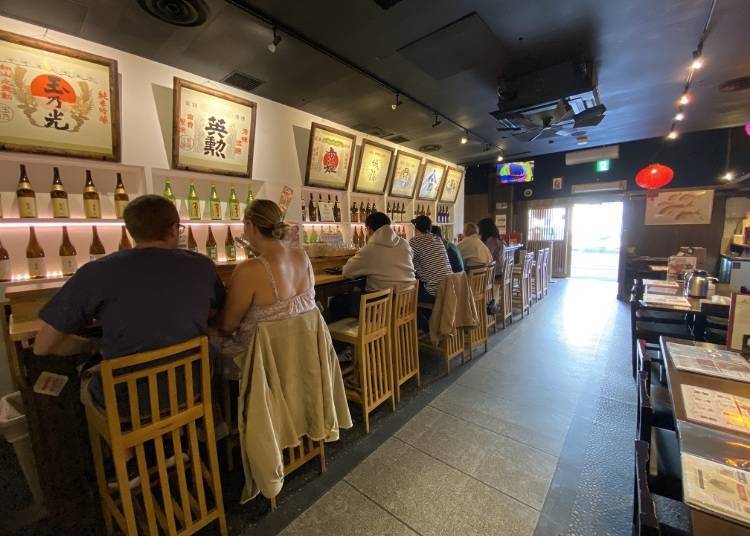 Fushimi Sake Village consists of rows of restaurants and more lined up like a traditional shopping street, centered around a bar counter specializing in sake at the entrance.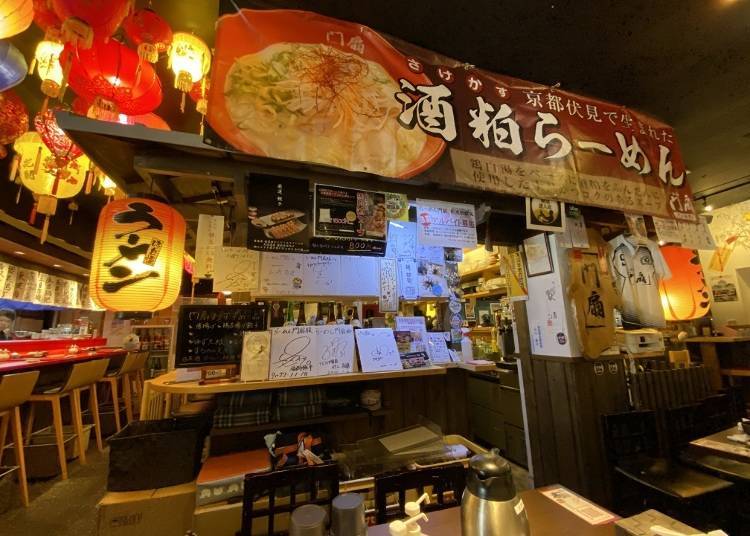 Each restaurant will let you order food and sake on delivery from other restaurants, making for a convenient way to experience several of the dishes and drinks on offer, no matter which restaurant you enter! The bill will be paid all together at the end.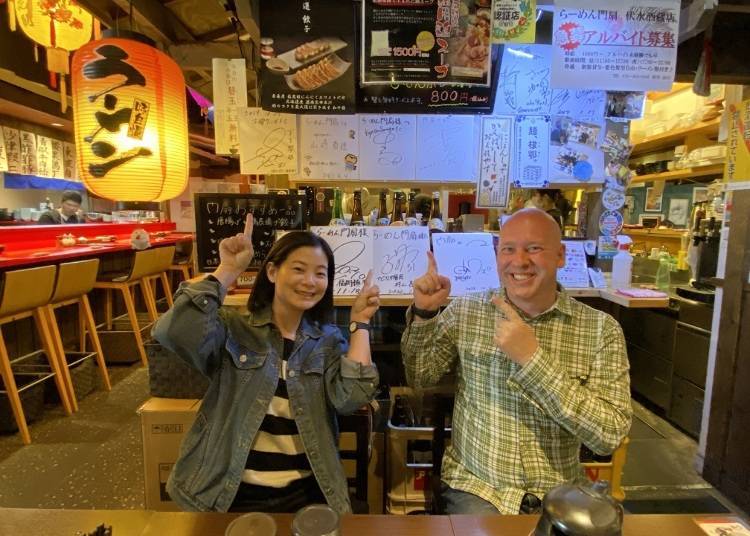 Our two travelers were lured in by the intriguing "Sake Lees Ramen" served at ramen restaurant Monsen. "I'd never tried ramen made with sake lees before - and I couldn't help but wonder what it tasted like! Ramen is popular around the world, but this is like a whole new dish."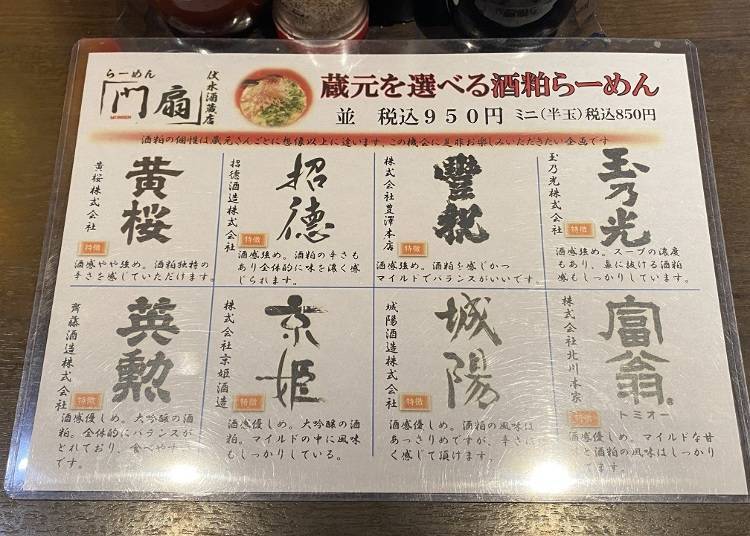 Monsen is a famous chicken ramen restaurant hailing from Kyoto, and they serve Sake Lees Ramen exclusively at their Fushimi Sake Village outlet. They'll let you choose your lees from a variety of brews, ensuring a flavor that suits your tastes.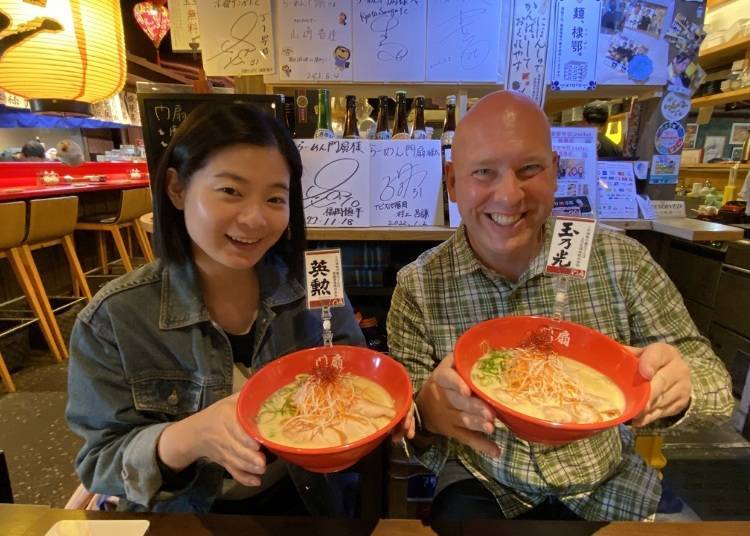 Chia-chi went with "Eikun," whose lees presented a mild and well-balanced character. Timothy opted for Tamanohikari, which was a bit stronger and yielded a thick, rich soup. Within the soup lay a generous helping of chicken char siu, making for a well-rounded, hearty meal.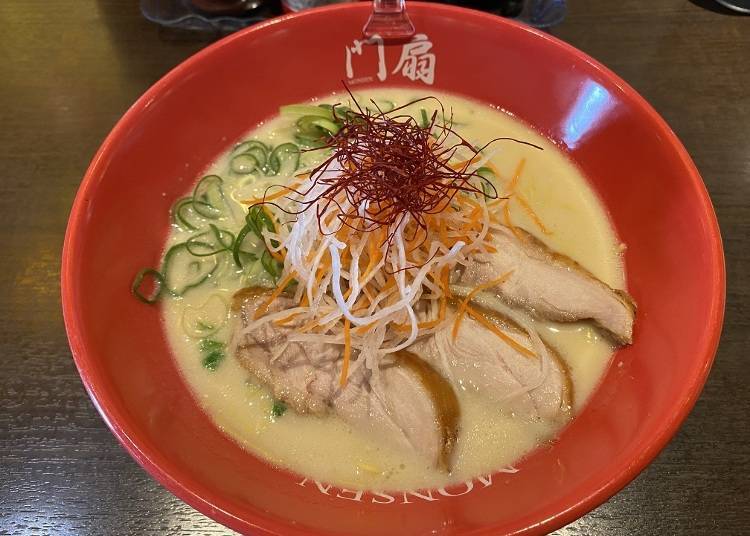 Within the soup lay a generous helping of chicken char siu, making for a well-rounded, hearty meal.
"The aromas are incredible - I can't wait to tuck in," exclaimed Timothy.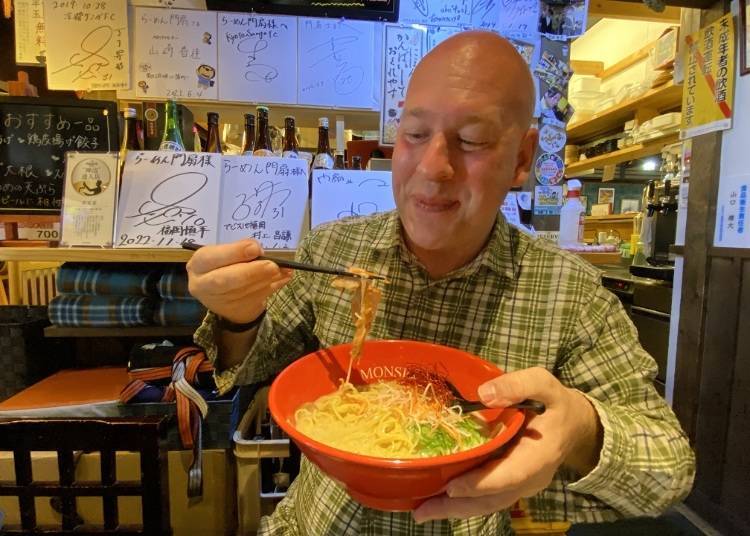 "I've never tasted anything like this before, but I think it's very good. The sake lees were strong, but it went down a treat. It was rich, fragrant, and had a soup that reminded me of soy milk, but with a much more complex flavor."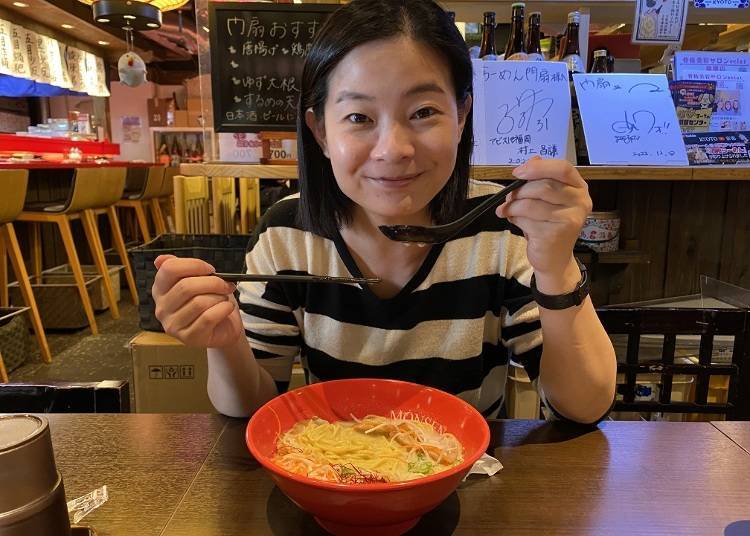 "The soup was superb! The noodles were also thoroughly mixed in, making it feel like one whole dish, rather than separate ingredients. The sake lees were on the lighter side, but added a distinctive flavor that matched my palate!"
Fushimi Drinks: Select sake from local breweries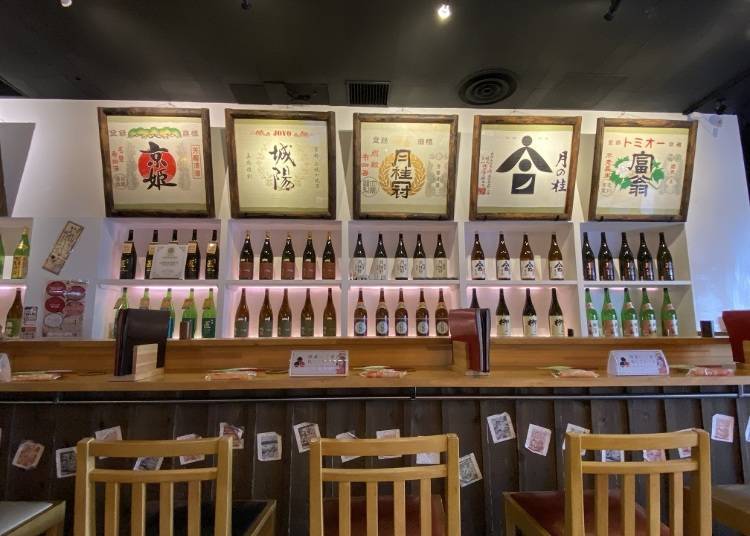 Of course, while the food alone is worth the trek, sake is the main attraction at Fushimi Sake Village - and there's plenty of rare, limited-edition brews to be drunk!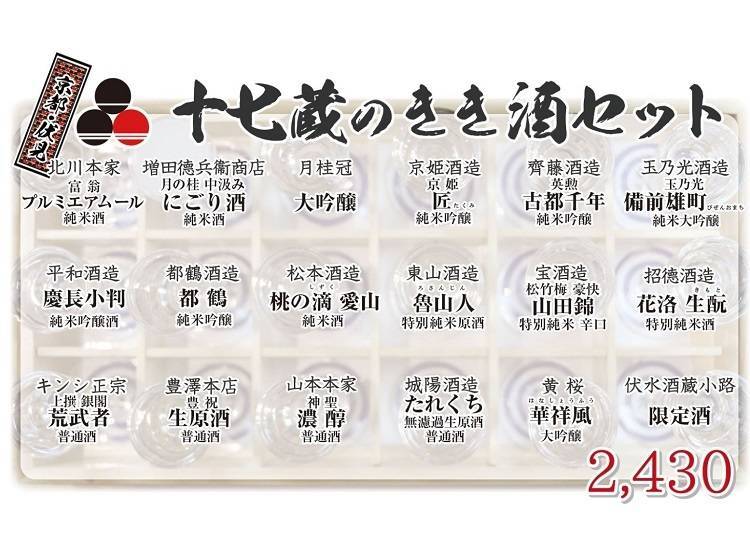 Fushimi Sake Village recommends the "18 Brewery Tasting Set," which lets you try a sake from each of the 18 breweries at the center.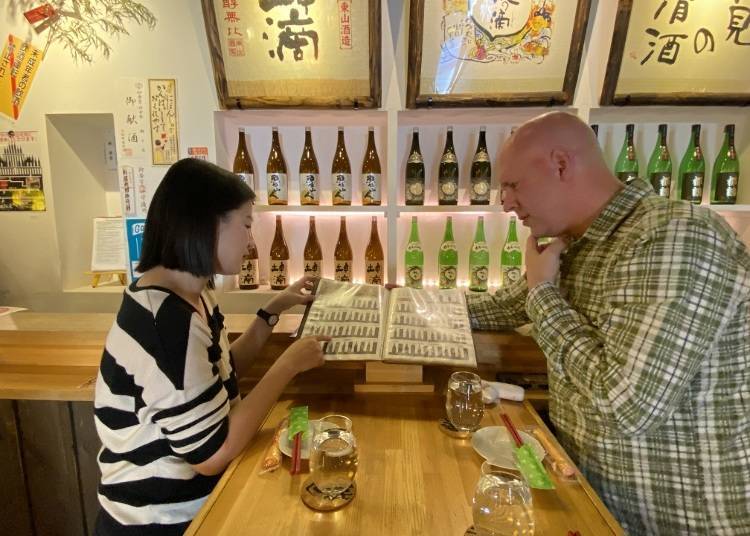 With so much variety, choosing our sake was more difficult than we thought!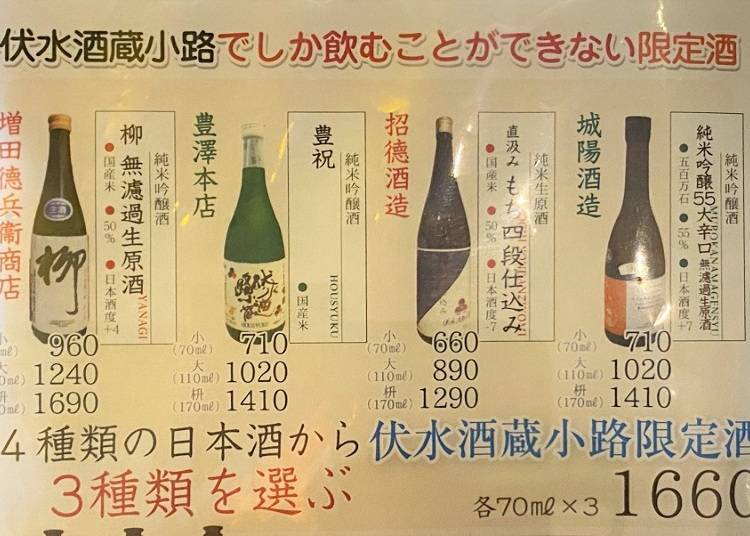 Considering it was still daytime, instead of the sizable 18 sake set, with some valuable assistance from the knowledgeable staff, we settled on three types of limited edition sake only available here.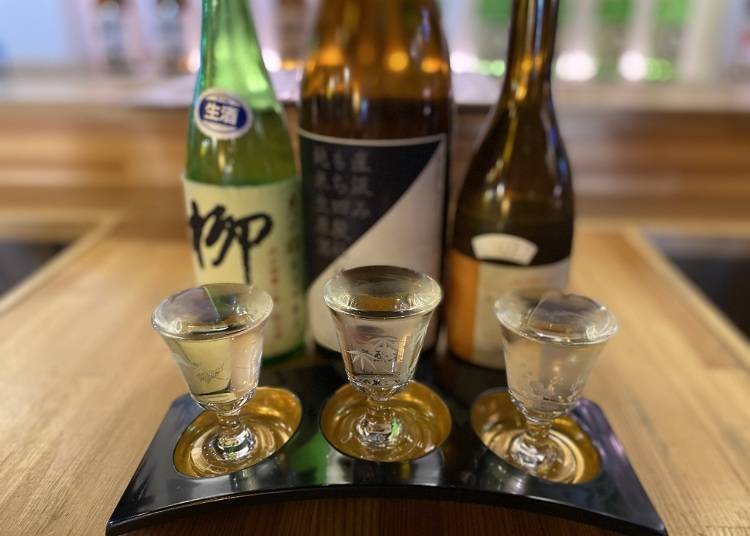 Incidentally, Kyoto was the first city in Japan to enact an official ordinance promoting the drinking of local sake, which encourages sake to be the first drink of the night.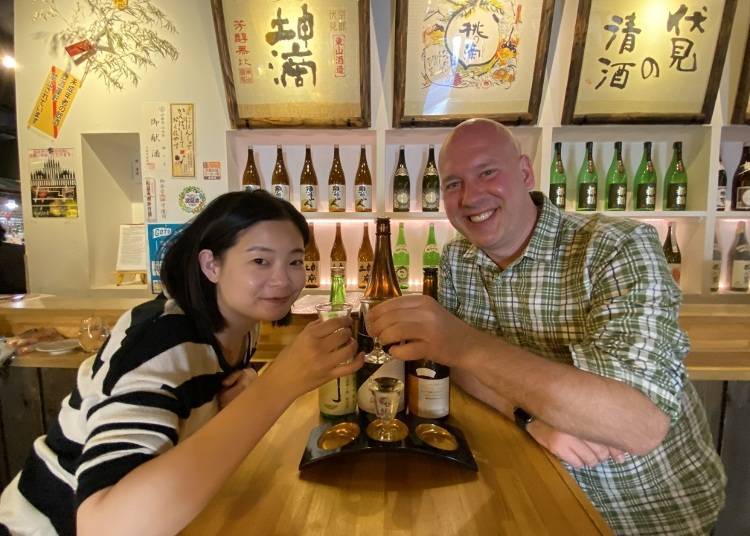 Diligently following the regional rules, Chia-chi and Timothy said "kanpai" and sipped their sake. Each presented a totally unique flavor, illustrating the sheer depth of this wonderful beverage.

After finishing, they discussed their thoughts and pointed out their favorites. Indeed, it is thanks to the large number of breweries in Japan that such a diverse assortment can be made, letting virtually anyone find a flavor that matches their style - and Fushimi is the perfect place to do just that!

"I don't usually drink sake, but even I was able to find one that I really liked. For first-timers, I'd definitely suggest choosing the tasting set."
伏水酒蔵小路

Address

82-2 Hiranocho, Fushimi Ward, Kyoto, 612-8057

Hours: 11:00 am - 10:00 pm
Closed: Open daily
Recommended Fushimi Souvenir Store: The 200-year-old Fushimi Surugaya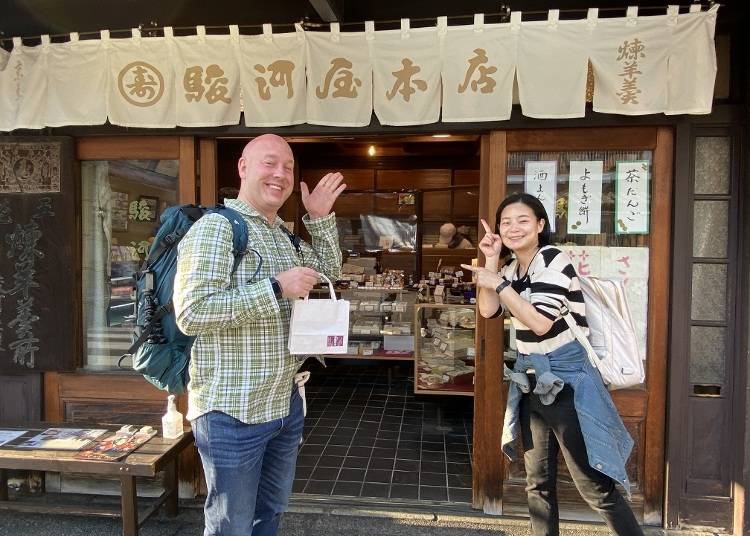 Fushimi Surugaya is another old-time traditional confectionery store founded in 1781 - passing their techniques and flavors to the next generation for over 200 years!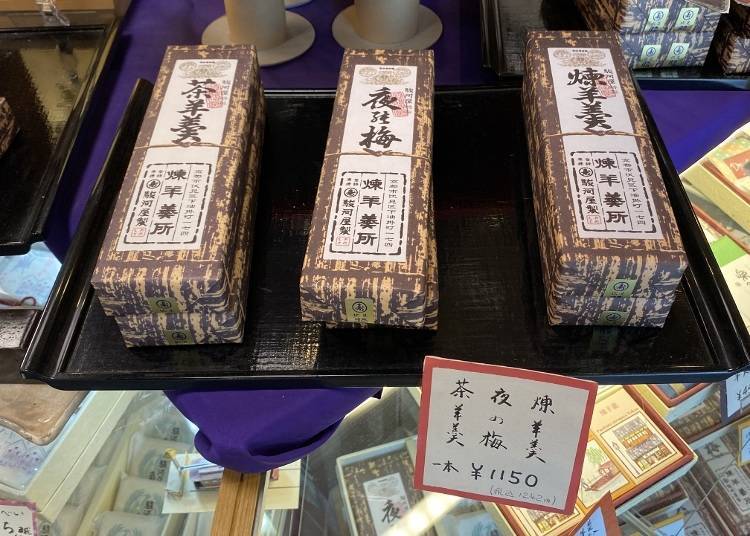 Fushimi Surugaya's signature product is their special "yokan," which is a kind of traditional Japanese sweet made from red bean paste, sugar, and agar. It is a rare treat that can only be purchased in-store, and care is taken to not sell it elsewhere.

There are three different kinds: the soft and smooth "neri yokan," the adzuki-filled "yoru no ume," and the "matcha yokan."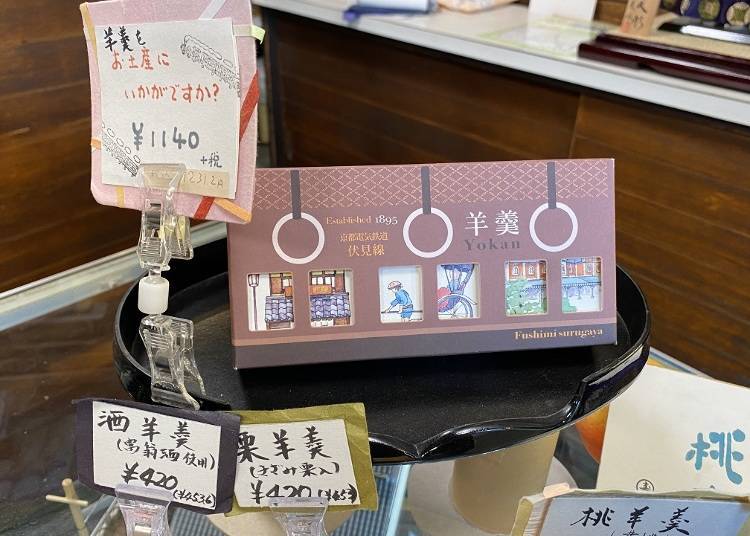 During the middle of the Meiji era, Japan's first ever train passed through Fushimi. With this in mind, Fushimi Surugaya's yokan set with a train-inspired design is the ultimate souvenir to show off to those back home!
Each flavor has its own unique packaging, so there's sure to be something that catches your eye.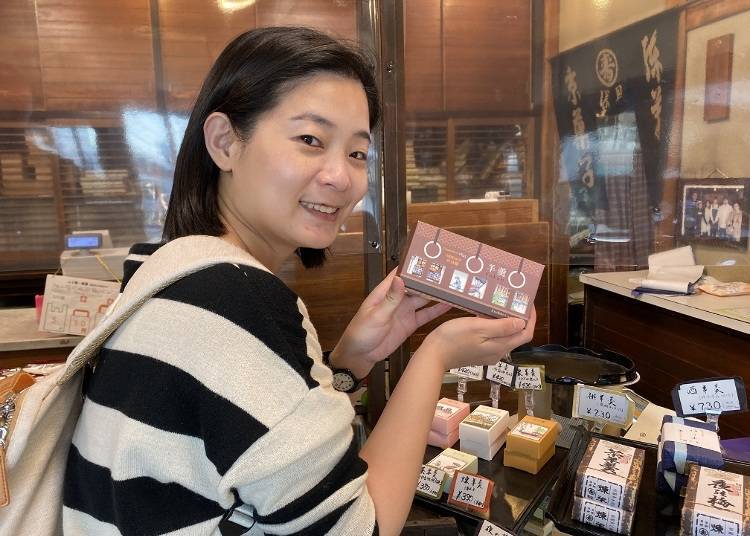 "The cute and retro packaging is a great reminder of a trip to Japan. I'm a big fan of the Meiji era, so my choice was quickly settled!" laughed Chia-chi.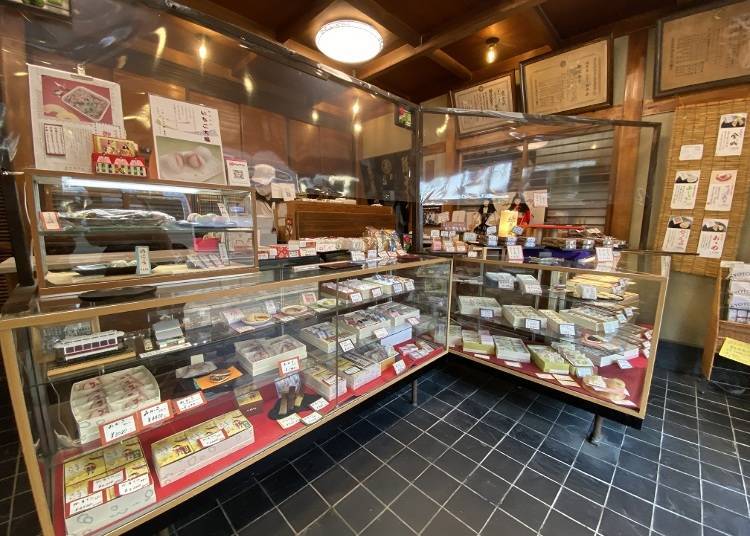 In addition to the standard traditional confections, the store also sells pudding, strawberry daifuku, and lots of other new and creative original sweets. We won't blame you if you decide to grab a cheeky dessert, too!
伏見駿河屋

Address

174 Shimoaburakakecho, Fushimi Ward, Kyoto, 612-8364

Hours: 10:00 am - 6:00 pm
Closed: Tuesday
A hefty helping of Japanese history, culture, and cherry blossoms in Fushimi!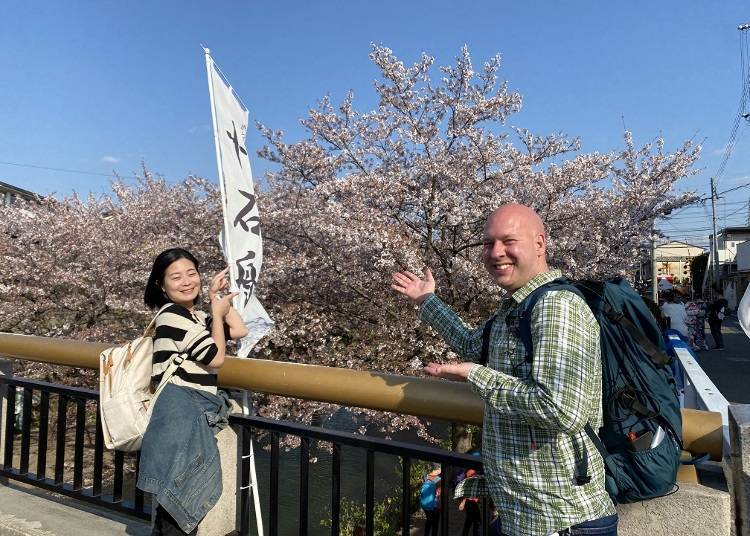 Fushimi has a lot going on, making it well worth dedicating a slice of your Kyoto itinerary to. It played an important role in Japanese history, and its ample pure spring water has made it one of Japan's leading sake brewing regions.

It also boasts a wealth of breathtaking cherry blossoms and a whimsical atmosphere sure to enrapture - plus an irresistible lineup of one-of-a-kind food and drink to top it all off!
*The information in this article is current as of April 2023. Please check the official websites for the latest information.
Written by: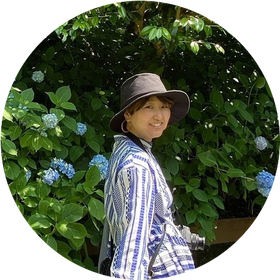 *This information is from the time of this article's publication.
*Prices and options mentioned are subject to change.
*Unless stated otherwise, all prices include tax.
Limited time offer: 10% discount coupons available now!