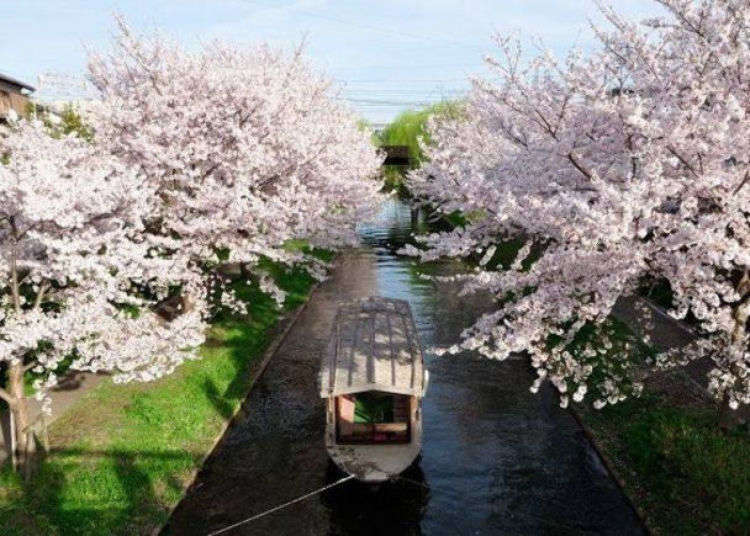 Since old times, the Fushimi Sake District in Kyoto has been known as one of Japan's major sake production sites. The town has many old-fashioned breweries as well as historical inns like Teradaya.

Let's sample some delicious sake while taking a tour of the town, which has deep connections to historical figures, including Sakamoto Ryoma and Shinsengumi.
Gokonomiya Shrine: First Stop on our Fushimi Sake District Tour!
Historically, Fushimi prospered as a shipping and brewing town. It is also the site of numerous historical events undertaken by the patriots of the late Tokugawa period.

You can reach Fushimi via the Kintetsu or Keihan line in about 10 minutes from Kyoto Station. Only a few stations away from Fushimi Inari Taisha Shrine, it's a popular tourist location.

The first thing you'll see after exiting the Kintetsu Line's Momoyamagoyryo-mae Station and Keihan Line's Fushimi-Momoyama Station is a large torii shrine gate.

This is the gateway to Gokonomiya Jinja (shrine). This ancient place has a deep connection with Fushimi's brewing and is a perfect place to worship before exploring the town.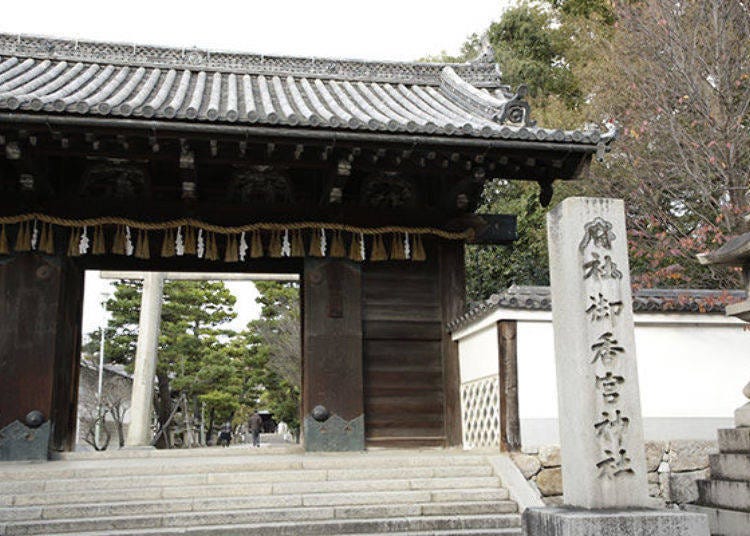 After passing through the torii, you will see the front gate, which is rare for shrines. This used to be the main gate for Fushimi Castle, which no longer exists. It was later transferred to the shrine and has been designated as an important national cultural property. The heavy wall has quite a presence.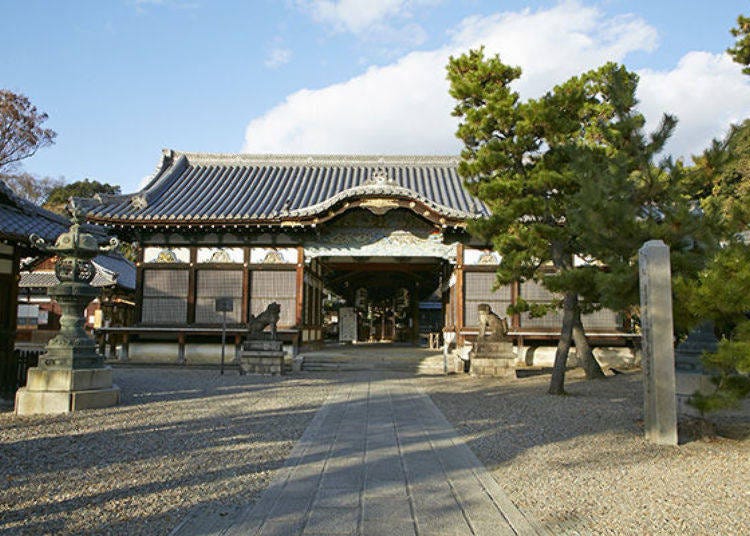 Gokonomiya Shrine has existed since the Heian period and is dedicated to the deity of safe childbirth, Jingu-kogo. According to legend, in 862, good-smelling water sprang from the shrine grounds. When Emperor Seiwa took a drink and was cured of a disease, he named the shrine Gokomiya.

Good quality water is necessary to produce excellent sake, and Fushimi has been known as a source of great water since ancient times. Gokomiya's Gokosui water is one of the Seven Great Waters of Fushimi.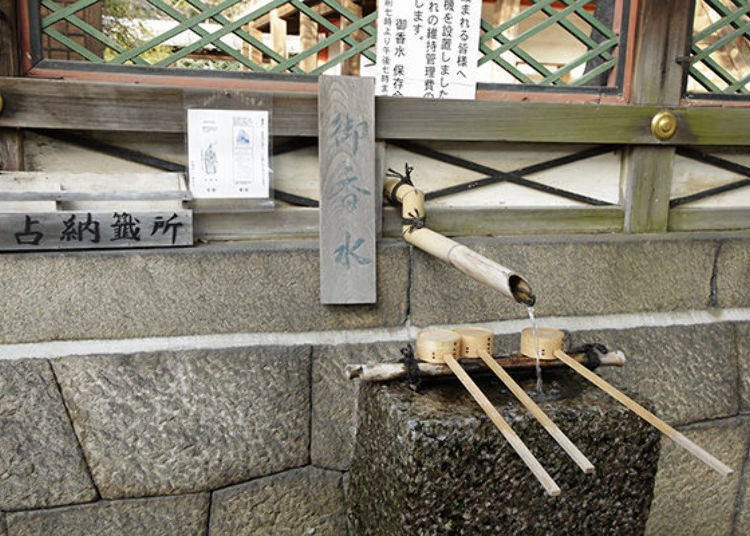 ▲Gokossui water in front for the main hall. Many visitors come here for this miraculous water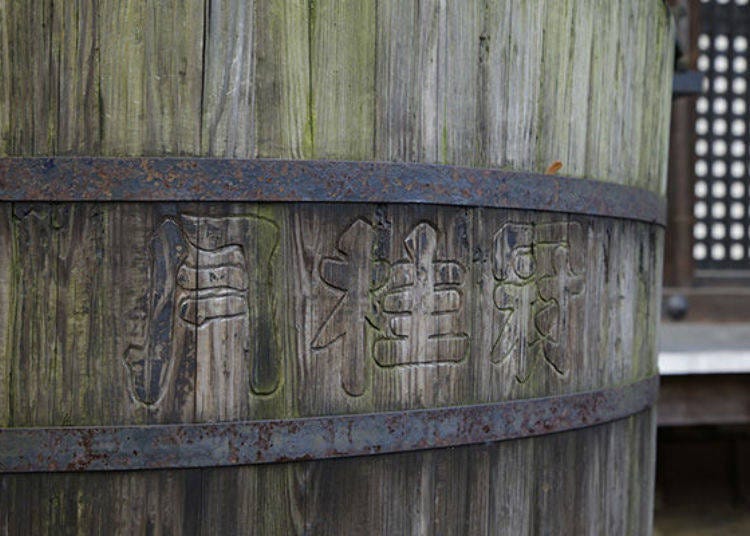 ▲The rain gutter uses a seasoned sake barrel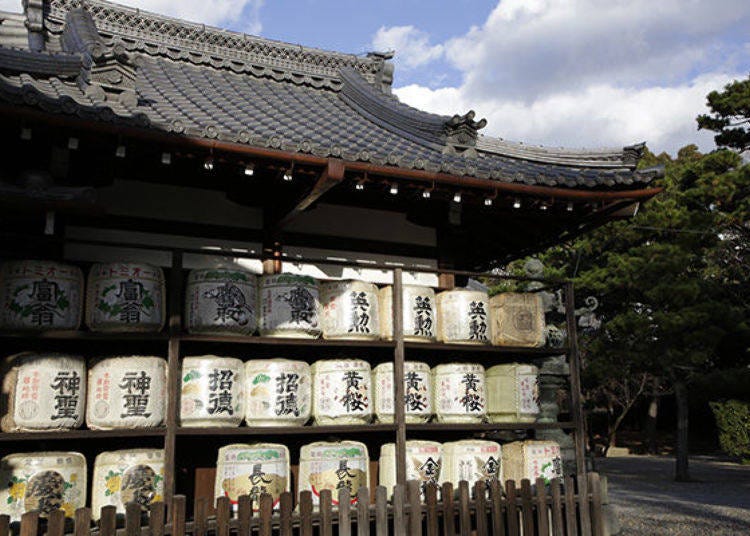 ▲Many famous sake from Fushimi Sake District are offered to the shrine
There are many other subordinate shrines within the large shrine property, including Tenmangu, dedicated to Sugawara no Michizane (a deity of learning). There's also a stone garden made by the famous gardener Kobori Masakazu during the Edo period. Before entering the town of Fushimi itself, please be sure to visit the shrine and offer a prayer.
御香宮神社

Address

174 Gookogumonzen-cho, Fushimi-ku, Kyoto-shi, Kyoto-fu

Phone Number

075-611-0559

・Free Visitation
・Stone Garden Visiting Hours: 9:00 AM – 4:00 PM
・Closed: Irregularly
Teradaya: Feel the Presence of Samurai Sakamoto Ryoma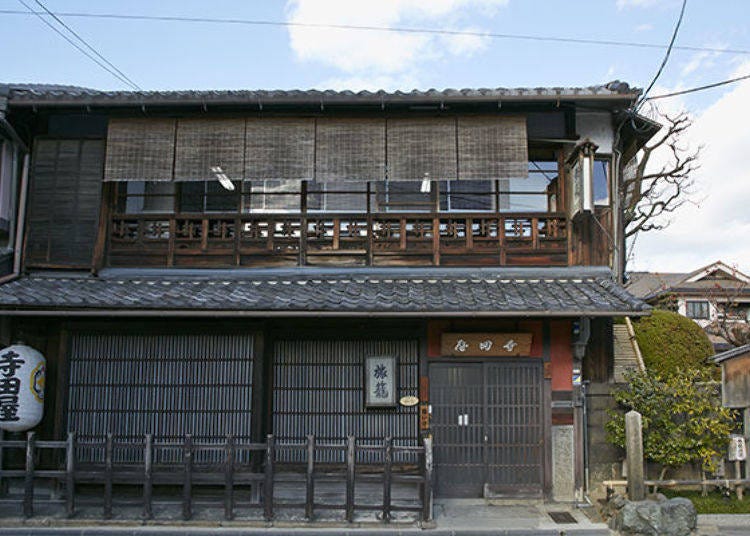 Our next stop is Teradaya. From Gokonomiya Shrine, it is about a 15-minute walk along Fushimi Otesuji Shopping Street.

This famous historic site is known for events, including the Teradaya Incident caused by pro-imperial loyalists from Satsuma and the Attack on Sakamoto Ryoma by the Fushimi magistrate. The inn was burned down in 1868 but was rebuilt in its original design during the Meiji period.

In the room where Ryoma stayed, there is a picture and a painting of him. Also, you can see the famous stairs where his wife Oryo, who was bathing at the time, ran up naked to warn Ryoma about the attack.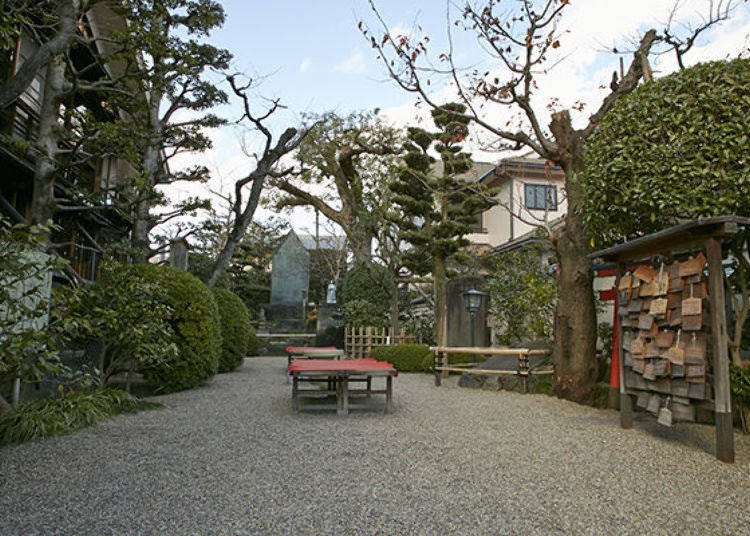 The building's former location is now a garden, and there are tombstones for the historical site Teradaya and the anti-bakufu Satsuma warriors.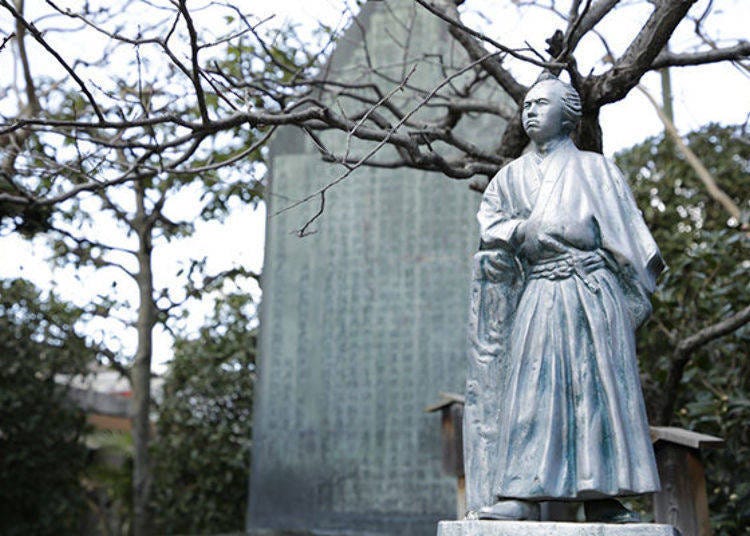 ▲A statue of Sakamoto Ryoma in the garden
There is much information and many exhibits concerning the warriors of the Bakumatsu period - and you can literally walk in the same footsteps as these heroes of Japan who made history during a chaotic era.
寺田屋

Address

263 Minamihama-cho, Fushimi-ku, Kyoto-shi, Kyoto-fu

Phone Number

075-622-0243

Hours: 10:00 AM – 3:40 PM
Entrance Fee: Adult 400 yen, junior high school – university students 300 yen, elementary school student 200 yen (tax included)
Closed: January 1st – 3rd, irregularly closed on Mondays
Jikkokubune: Boat Cruise around Fushimi!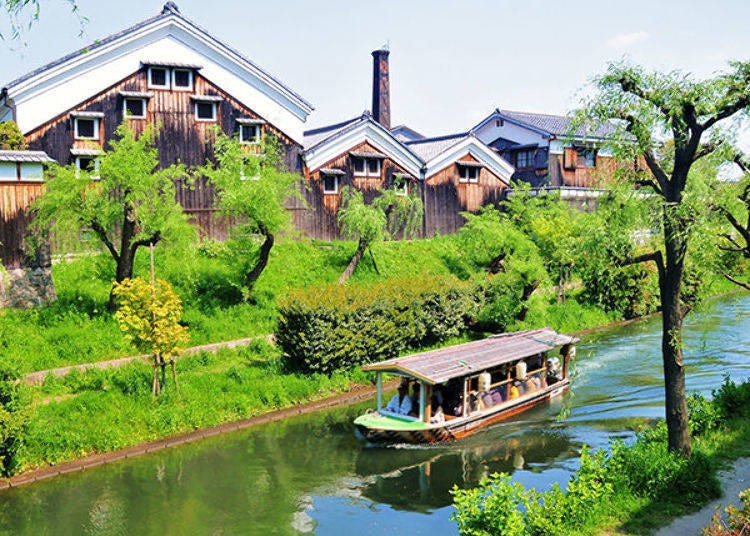 Next, we will take a look at Jikkokubune. You can reach the boarding area by walking about 10-minutes along the river from Teradaya.

It is said that Fushimi's sake became famous nationwide because it was located at the base of the Yodogawa Water Transportation system connecting Kyoto and Osaka.

The waterway that connected Fushimi and Uji to transport rice and sake, is now used for sightseeing thanks to Jikkokubune.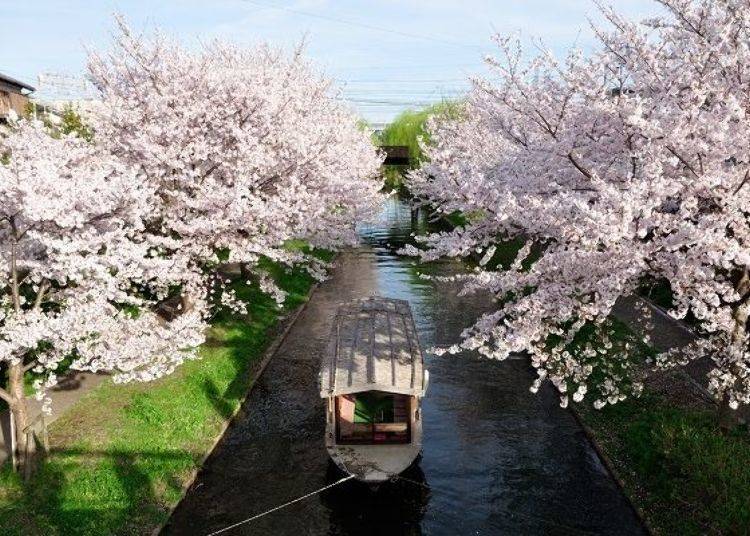 You can get a great view of the brewery town that has maintained its rustic appearance as the boat quietly cruises down the river surrounded by willow trees. The ride takes about 50 minutes.

Unfortunately, when we went in December, the tour season had already ended. However, you can enjoy the iconic cherry blossoms if you visit in spring, or the vibrant greenery should you visit during summer.
十石舟

Address

Motozaimoku-cho, Fushimi-ku, Kyoto-shi, Kyoto-fu

Phone Number

075-623-1030

Hours: 10:00 AM – 4:20 PM (may change depending on the season)
Operation season: usually late March to early December
Fee: Junior high school student and above 1,200 yen, elementary student and below 600 yen (tax included)
Closed: Monody (may change depending on the season)
Fushimi Sakagura Koji: Enjoy 120 Labels of Sake from 18 Breweries and Delicious Food!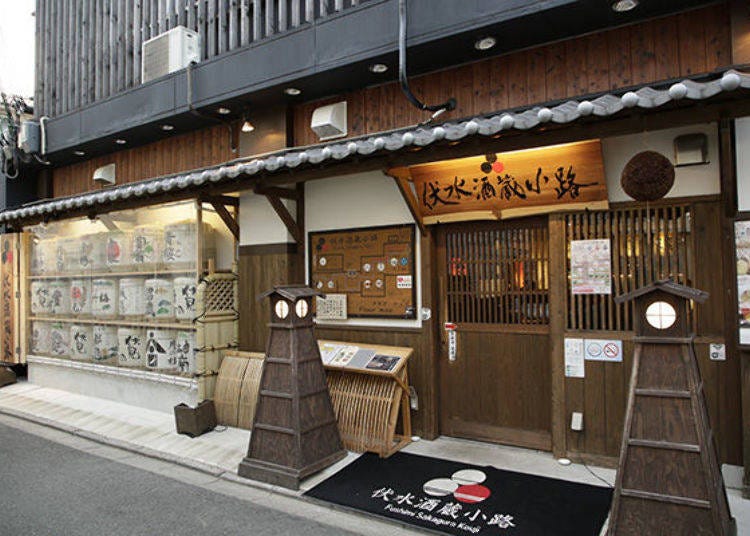 After walking through the town of Fushimi and feeling its rich history, we will head to our main objective!

Walking away from the station and through Fushimi Otesuji Shopping Street for about 10 minutes, you will bring you to Fushimi Sakagura Koji. This is a complex facility where you can enjoy sake from 18 member breweries of the Fushimi Sake Brewers Association and a variety of Japanese and Western foods.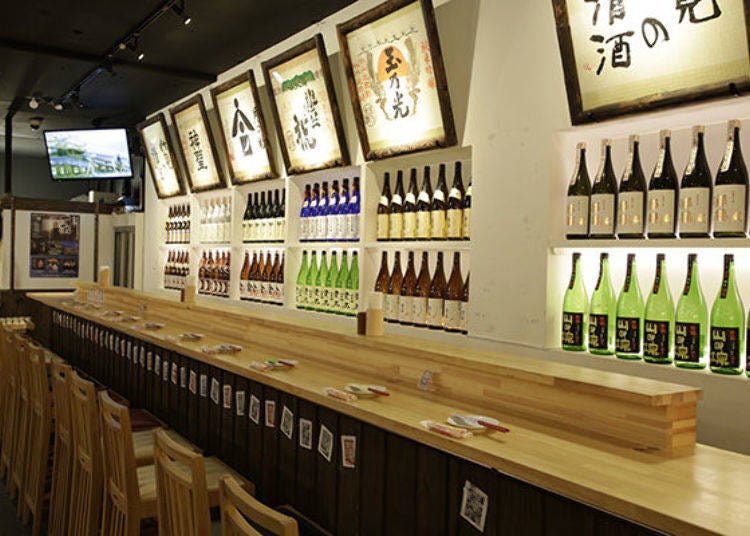 Upon entering the main entrance on the east side, the first thing that will come into view is the Sakagura Counter. This 23m long counter offers an impressive display of Fushimi Sake District brand sake bottles.

The display changes slightly depending on the season, but you will be able to sample 120 labels of seasonal sake. They offer 70ml small glasses, so you can try many types to find your favorite label.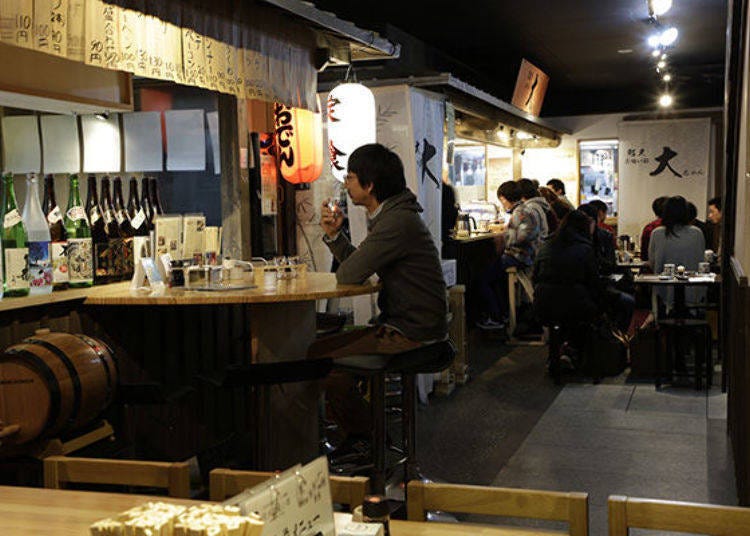 The special feature of this facility is the delivery order system. At typical food courts, you go to each vendor and take the food to your seat. However, at Fushimi Sakagura Koji, you can order food from any vendor from any seat, and it will be brought directly to your table.

In other words, you don't have to leave your seat to enjoy a wide variety of food and sake! For example, you could be seated at the charcoal grill shop but order sushi or pizza.

There are a few items you can't order for delivery, but in that case, you can still hop from vendor to vendor. Some vendors also serve wine, beer, and sake from places other than Fushimi Sake District. At Fushimi Sakagura Koji, everyone can enjoy their food and drink the way they want to.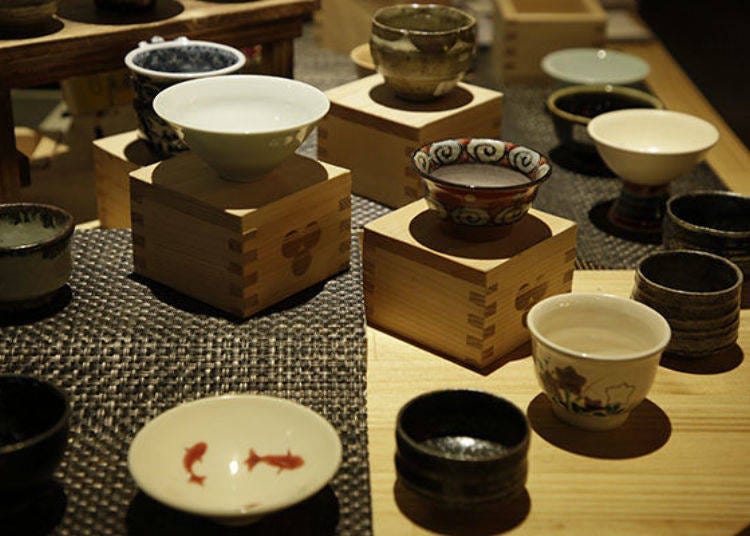 At the Sakagura Counter, they sell ochoko (sake drinking cups). Repeat customers can have the store keep your ochoko, for use the next time you visit!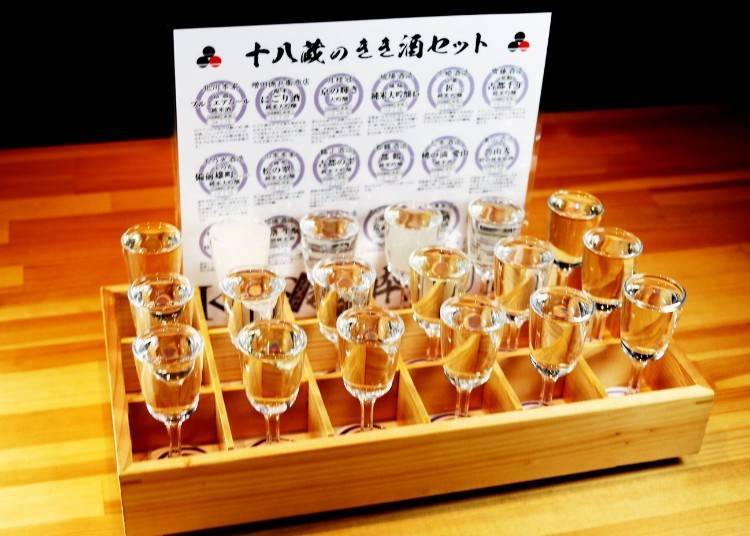 This Tester Set Includes Sake from 18 Breweries and Popular Cuisine
It is human nature to want to try sake from all 18 breweries. Kissui (2,430 yen) is a sake-tasting set that will make any sake lover's dream come true. With this set, you can partake from 18 brands of sake that each local sake brewer boasts.

The wonderful thing about this set is that each sake is considered, and the set is laid out in a recommended drinking order. With this set, you can enjoy various flavors, temperatures, and drink at your own pace with your preferred meal.

According to the store staff, they spent a full day consulting with a sake taster to create the lineup. If you are unsure about which sake to try, this is the perfect set with the perfect lineup. The total amount of sake is about 2 go or about 360ml, so if you are drinking the set by yourself, don't forget to drink some water and take some breaks.

Here are some popular dishes that match the specially selected sake!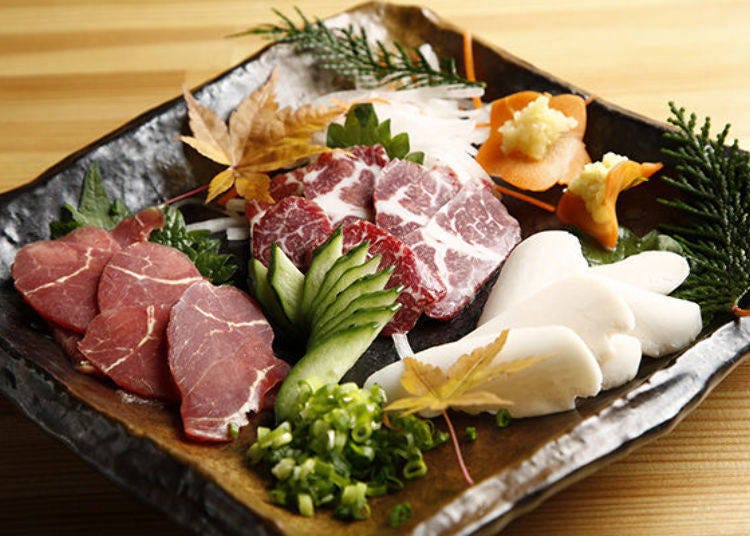 First up, from the charcoal grill shop Fushimi 89 Chome Shokudo's delivery menu is Kumamoto Basashi Moriawase (assorted horse sashimi), which is 980 yen, tax included. The basashi delivered directly from the farm is fresh, doesn't have a strong smell, and is easy to eat.

Dipping the basashi into sweet shoyu with garlic or ginger, it pairs well with firm-flavored such as yamahai style junmai sake (sake made without added alcohol or sugar) or jukuseishu (aged sake).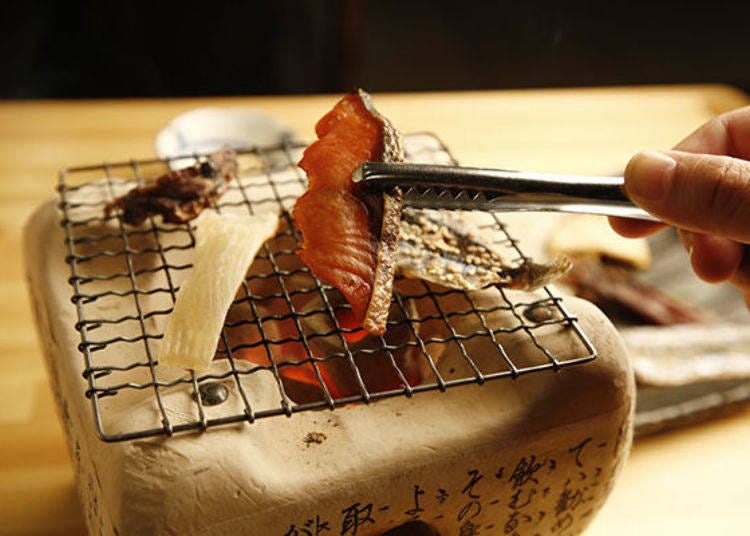 Next up, from Sakagura Counter's menu, is the Otameshi Kaisen Aburi Goshumori (5 Dried Seafood Grill Sampler) for 1,280 yen, tax included.

The dish includes saketoba (dried salmon skin), tatami iwashi (dried baby sardines in a single layer), Shishamo mirin (smelt fish with seasoning sweet sake), firefly squid, and ray fin. These dried foods are then grilled on a small hibachi (brazier).

With an appetizing aroma, the more you chew, the more umami you get, and it is the perfect side dish for sake! I personally think that it matches well with dry ginjo sake (high-quality sake brewed with low temperature).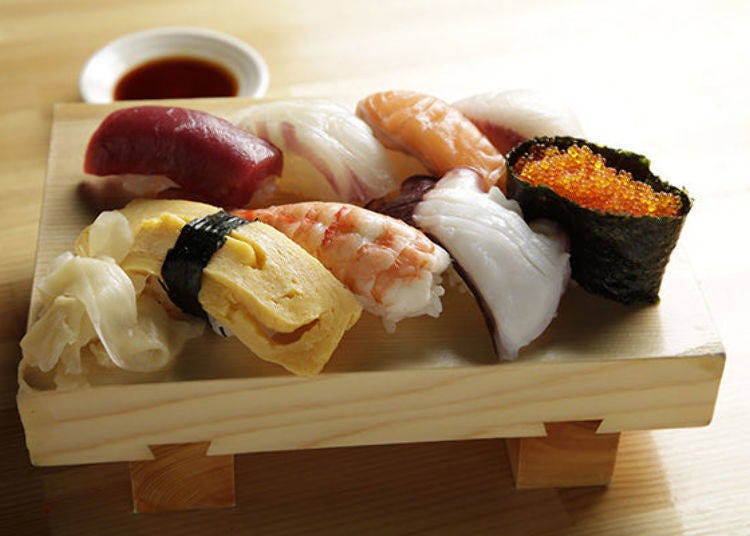 Lastly, Sushidai Dai Chan's Nigiri Hakkan (8 sushi) for 1,200 yen, tax included. This authentic sushi is made by chefs with large, fresh ingredients. The variety of sushi changes daily, and seasonal items are selected. A large portion of sushi is a perfect dish to finish your night. I think that the all-mighty tanrei sake (smooth and refreshing) matches anything and would be perfect with sushi.

As we finished the delicious sake and food, they served us some specialty sake!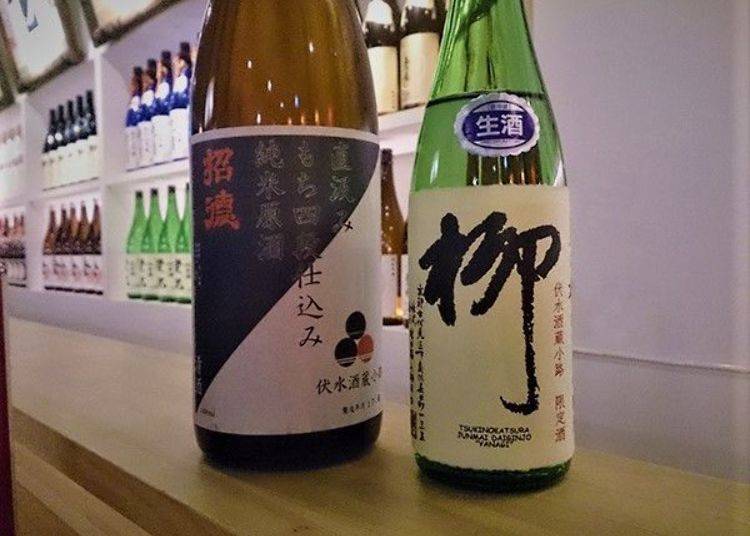 These two labels can only be tasted at Fushimi Sakagura Koji. The Masuda Tokubee Shoten 'Yanagi Junmai Ginjo' (70ml, 830 yen, tax included) is on the right. This was given during a brewery event and had a fresh melon-like aroma. If you are a sake connoisseur, this is certainly worth the visit.

Shotoku Shuzo's 'Jikagumi Mochigome Yondan Shikomi Junmai Genshu' (70ml, 470 yen, tax included) is on the left. It's a rare sake made with mochigome (glutinous rice). It has a clear taste with a distinct sweetness and umami -- an excellent sake.

Both of these sake varieties are very rare, and we were lucky that they were in stock, so please keep in mind that they may be sold out. Feel free to ask the knowledgeable staff and the sake tasters to help you find the right sake.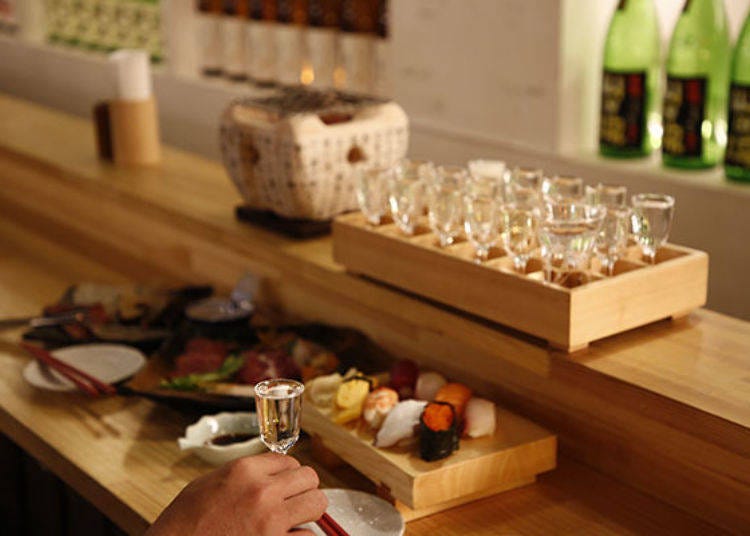 We hope you enjoyed our guide. Walking through the Fushimi Sake District and drinking sake from this wonderful brewery town greatly represents Japan's rich history. We highly recommend heading a little south of central Kyoto to Fushimi and having a relaxing time with amazing sake.
伏水酒蔵小路

Address

115 Nayamachi Fushimi-ku, Kyoto-shi, Kyoto-fu --- 82-2 Hirano-cho, Fushimi-ku, Kyoto-shi, Kyoto-fu

Phone Number

075-748-8831

Hours: 11:30 AM – 11:00 PM *may be different depending on the vendors
Closed: Tuesday
Text by:Myogaya Nobuhisa
*This information is from the time of this article's publication.
*Prices and options mentioned are subject to change.
*Unless stated otherwise, all prices include tax.