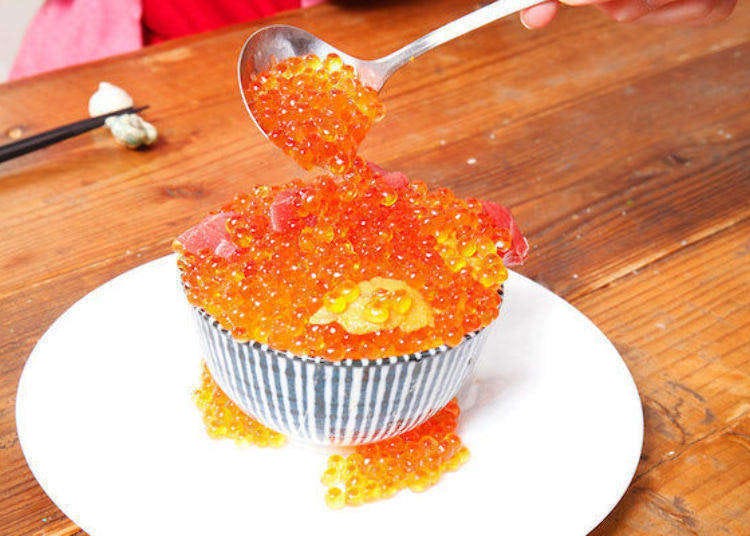 Hokkaido is a food paradise. With everything from fresh seafood to outstanding meat and dairy products, an excellent destination if you want to eat delicious food from seafood and vegetables to meat and dairy products.

Here's a variety of exquisite Hokkaido food delights that will satisfy both your stomach and your heart. Be sure to try as many as you can during your Hokkaido trip!
1. Seafood you should definitely keep in mind when you come to Hokkaido!
▲ Hakodate Morning Market where you can purchase fresh seafood
When talking Hokkaido food, you have to try the fish. Hokkaido, surrounded by the Pacific Ocean, the Sea of Japan, and the Sea of Okhotsk, is known for its excellent seafood. Here are some of the seasonal specialties:

Crab (Kani)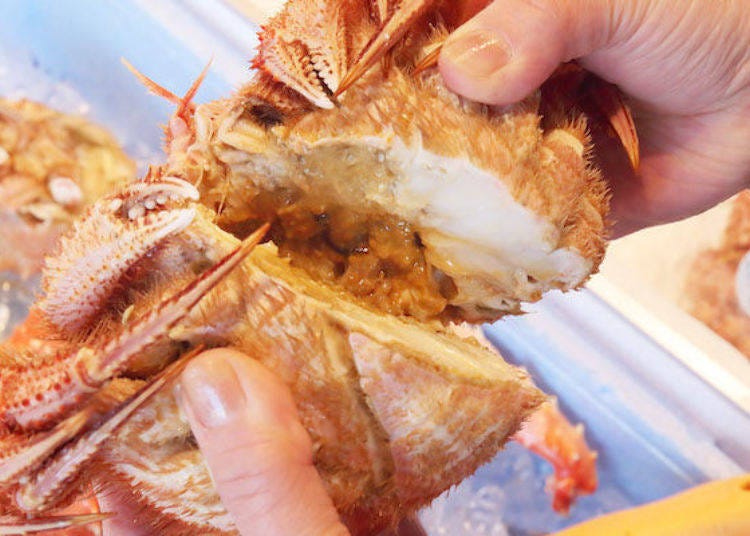 ▲ Available throughout the year, horsehair crab has exquisitely creamy tomalley
While crab is often associated with winter, this famous Hokkaido food can be caught year-round in the waters near Hokkaido, and the king crab and snow crab are most delicious from April to May after the drift ice has gone. Boasting the best crab in Japan, Hokkaido crab is a must-eat, and you can eat different varieties in each season.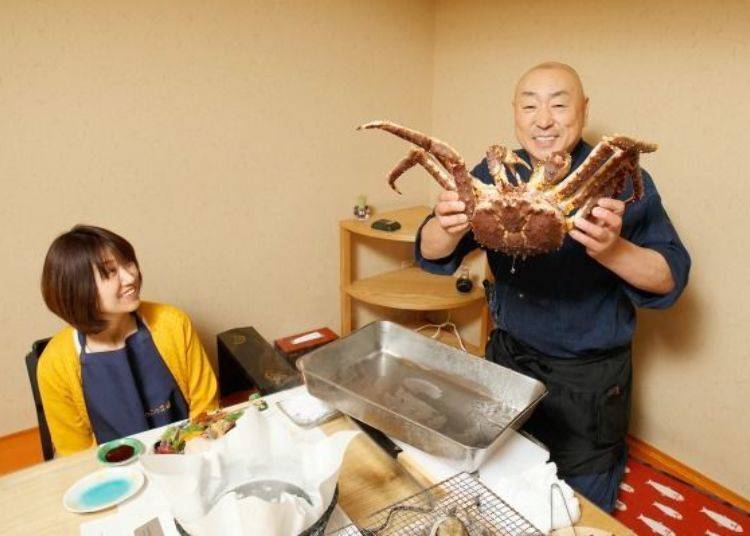 ▲ A full course to enjoy multiple ways of eating crab
At Katukakino Hanasaki in Sapporo, the crab full course featuring a whole live king crab is popular. Don't miss the live performance in which the manager nicknamed "Crab Father" handles a crab right in front of you!

Salmon Roe (Ikura)
▲ Salmon and salmon roe are most delicious in autumn
Ikura (salmon roe) season is from September to November. It's also the best time for salmon itself. While it's easily found in cities like Sapporo and Hakodate, it's also recommended to go to areas with salmon fishing grounds such as the Ishikari region. The seasoning depends on the restaurant, but this awesome Hokkaido food is always delicious when served with plenty of hot rice!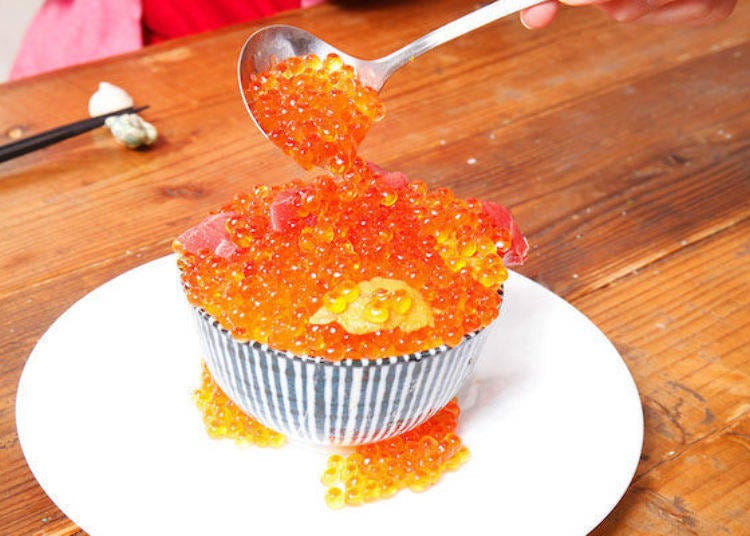 ▲ An overflowing bowl of appetizing ikura!
At the Hokkaido Robata Igokochi izakaya (pub) in Sapporo, the "Super Famous! Posei-don" includes salmon roe on top of sea urchin, salmon and tuna. The staff will cheer you on while you try to eat this huge bowl of delicious seafood!

Sea Urchin (Uni)
▲ Murasaki uni and bafun uni caught near Rishiri Island. The two kinds of seas urchin have different tastes and textures
Sea urchins, or uni, are a Hokkaido food that can be caught all over the island throughout the year. But those harvested from June to August – especially from Rishiri, Rebun, and Shakotan – are particularly delicious Hokkaido uni. Sea urchins that have fed on quality kelp will have plenty of umami and melt in your mouth with an irresistibly creamy taste! They also go well with Western dishes such as pasta.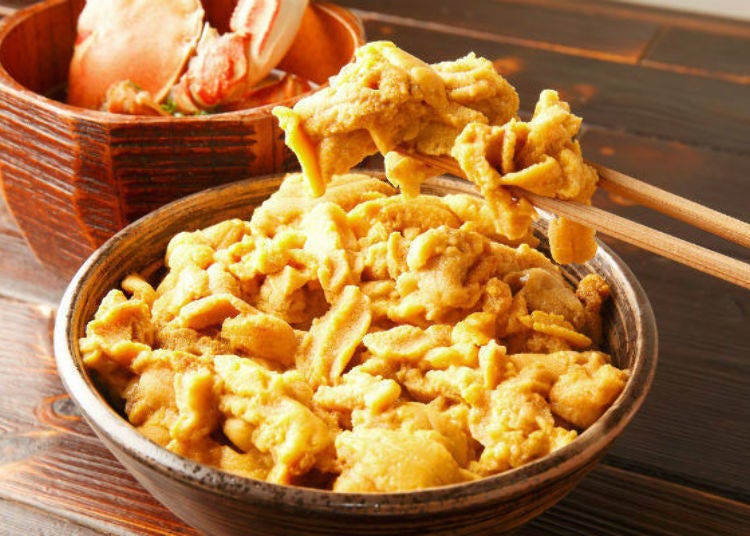 ▲ If you're lucky, you might get to eat "Asa Uni Bukkake Donburi"
The "Asa Uni Bukkake Donburi" at the Tamura Iwataro Store in the Bikuni area of Shakotan is a popular menu item that allows you to choose your own portion of sea urchin. It's only available during the sea urchin season, from June to August, with urchins caught the day before they're served. Only 30 to 50 dishes are sold each day, and they usually sell out, so if you want to try this elusive Hokkaido food, be sure to check on its availability.

Oysters (Kaki)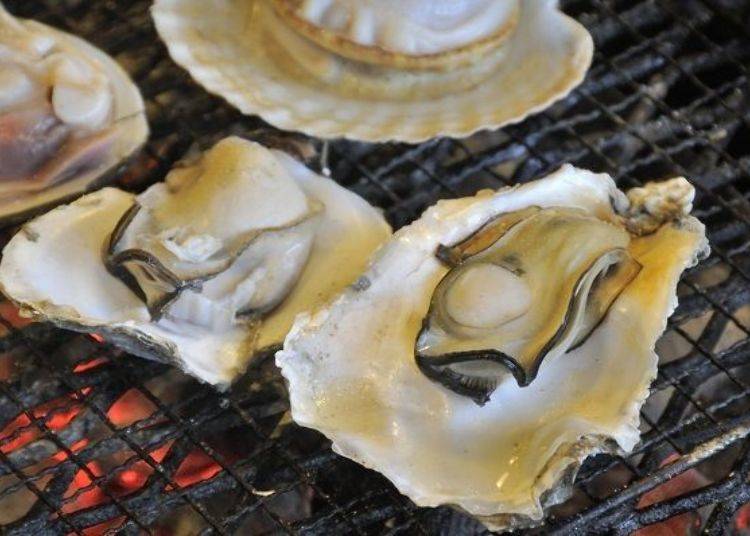 ▲ Delicious oysters, whether raw, baked, steamed or fried
Oysters come from numerous famous locations throughout Japan, but only Akkeshi in Hokkaido ships them all year round because region maintains the salt concentration and 10 degrees water temperature suitable for oyster growth. In winter, oysters store a lot of glycogen to endure severe cold, giving them a particulary delicious umami flavor. Akkeshi's oysters are also large enough that you'll feel their weight on your fingertips when lifting them with chopsticks.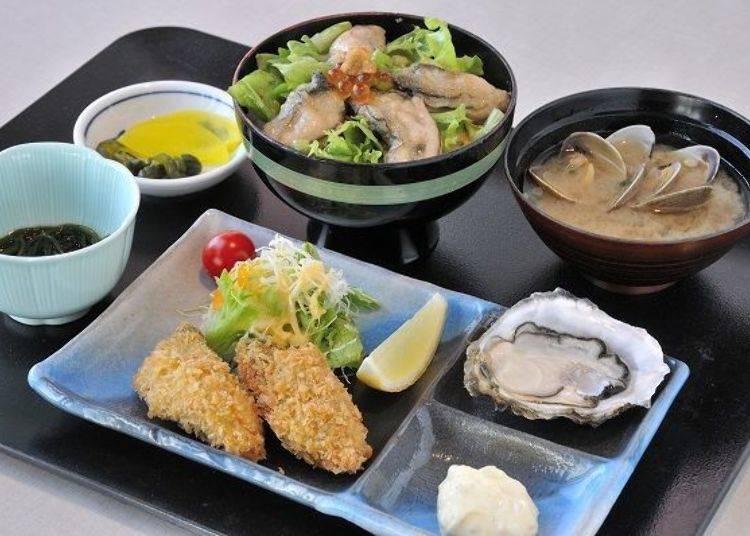 ▲ Restaurant Escal on the 2nd floor of Conchiglie is popular for its "Akeshi Oyster Steak Bowl" which includes grilled, fried, and raw oysters.
If you want to eat Akkeshi oysters, Conchiglie "Road Station Akkeshi Gourmet Park" is highly recommended. The restaurant serves authentic oyster dishes and features an area where you can grill oysters you've just purchased as well as a snack corner with fried oyster burgers and oyster-flavored soft serve ice cream.

Squid (Ika)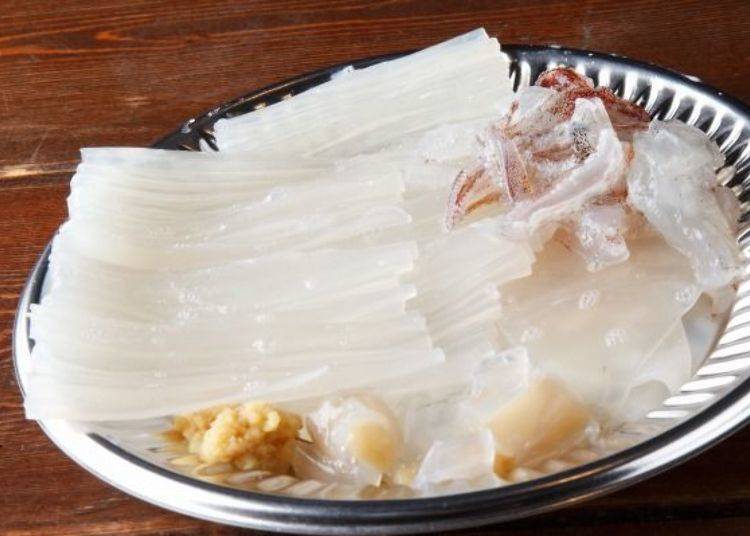 ▲ Squid so fresh, it's still moving!
For fresh squid, Hakodate is the best place to find it. Squid is in season from July to September is one of the specialties of the Hakodate Morning Market. Squid sashimi in ginger looks great, and has a wonderful texture.
Best Hokkaido Food (Seafood)
Japanese

English
Kani

Crab
Ikura

Salmon Roe
Uni

Sea Urchin
Kaki

Oysters
Ika

Squid
2. Delicious sushi and seafood bowls!
Hokkaido is a great place for delicious fresh seafood, and many of the local markets, fishing ports, and tourist areas also offer sushi and seafood bowls that are worth trying.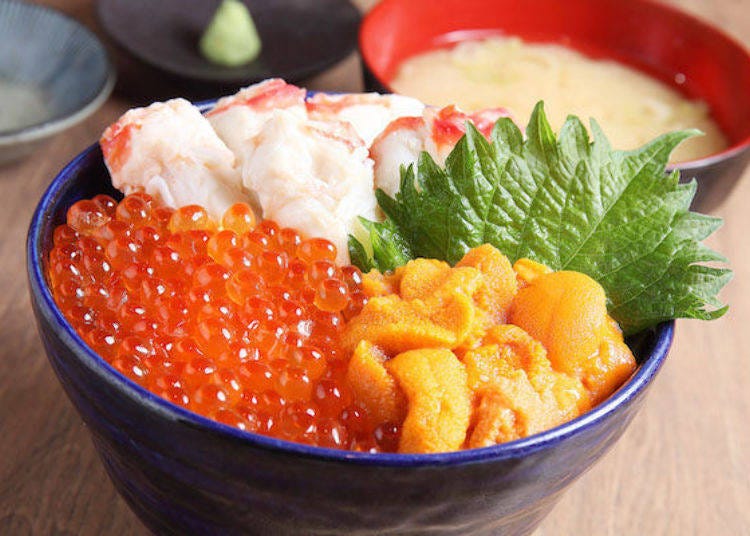 ▲ Nijo Market Oiso has over 30 menu items. Among the eye-catching line-up, the most popular is the "Three Color Donburi."
Nijo Market Oiso, a seafood rice bowl specialty store in Nijo Market. Located in the center of Sapporo, it's full every day. Dishes using sea urchins are especially popular, and they are selected from the top seasonal locations around Hokkaido, such as Hidaka in spring and Higashi in winter. From June to August, the sea urchins come from Rishiri Island and Shakotan.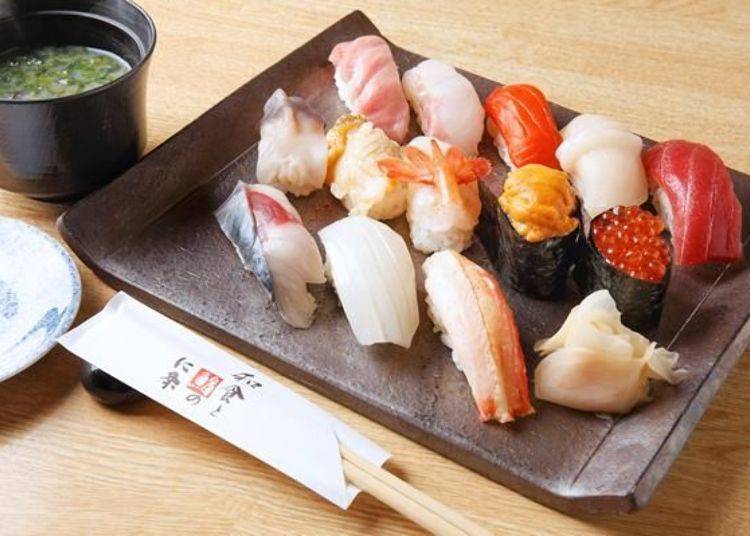 ▲ Washoku to Sushi no Nijo's "Specially Selected 13 Nigiri" is very satisfying.
Washoku to Sushi no Nijo, right next to Nijo Market, is an excellent place to enjoy sushi at a reasonable price. In contrast to the Nijo Market, which is full of tourists, it is characterized by many local regular customers. Menu items include grilled fish, tempura, fried foods, and boiled dishes. The variety of seafood dishes and different methods of preparation are refreshing.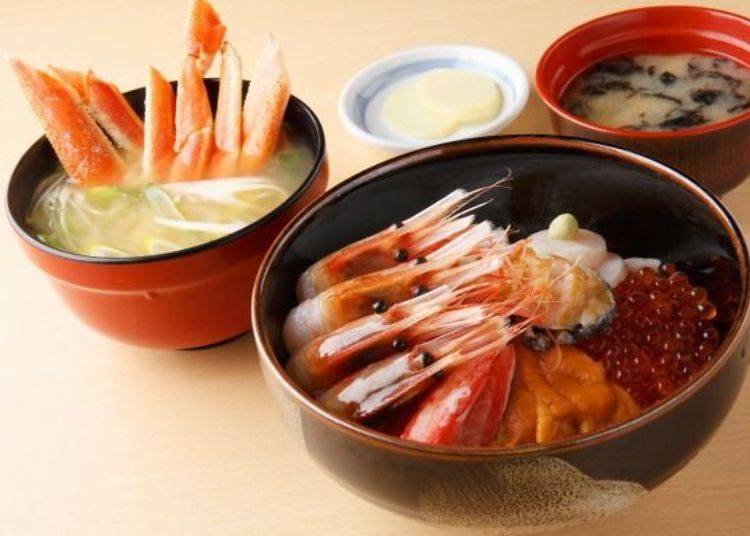 ▲ The "Big Seafood Donburi" features sea urchin, salmon roe, scallops, crab, shrimp and squid, and "Crab Soup" which is full of delicious crab
Hakodate Asaichi (Morning Market), which is located near JR Hakodate Station, is home to about 250 shops and is also popular with tourists. One shop, "Kikuyo Shokudo," is a well-established cafeteria with set meals and seafood bowls. You can enjoy fresh seafood mainly caught in the waters near Hakodate, such as sea urchins kept in salt water with the same concentration as seawater and homemade dishes prepared daily.
3. How to eat the most delicious Hokkaido food, Genghis Khan (Jingisukan)
"Jingisukan" ("Genghis Khan") is a must-eat Hokkaido food. Nationwide, the seasoned mutton used in the dish is soaked in sauce and then grilled. Hokkaido-style Jingisukan employs a reverse method in which the meat is grilled, then dipped in sauce.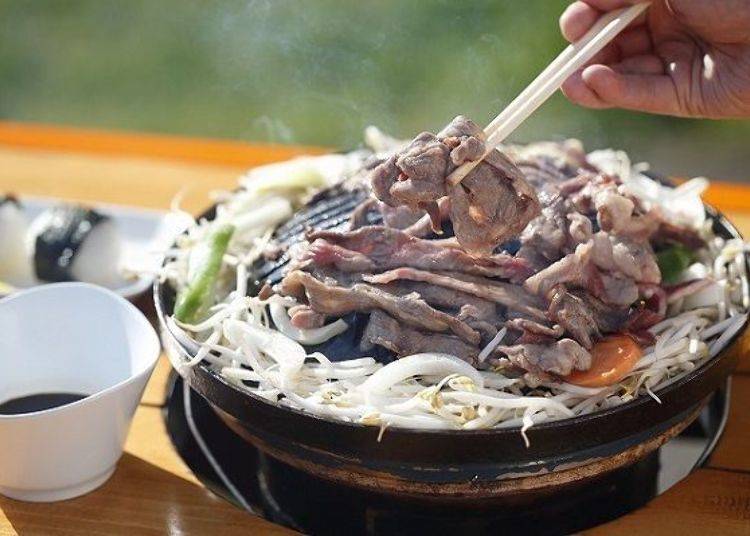 This method is said to be the original way to eat the dish, which has its roots in Manchuria (now Northeastern China) and Saita (now Sakhalin) in the days of Genghis Khan. In the early 20th century, the dish gained popularity in Hokkaido when local residents used sheep that had been bred for wool production as a source of food.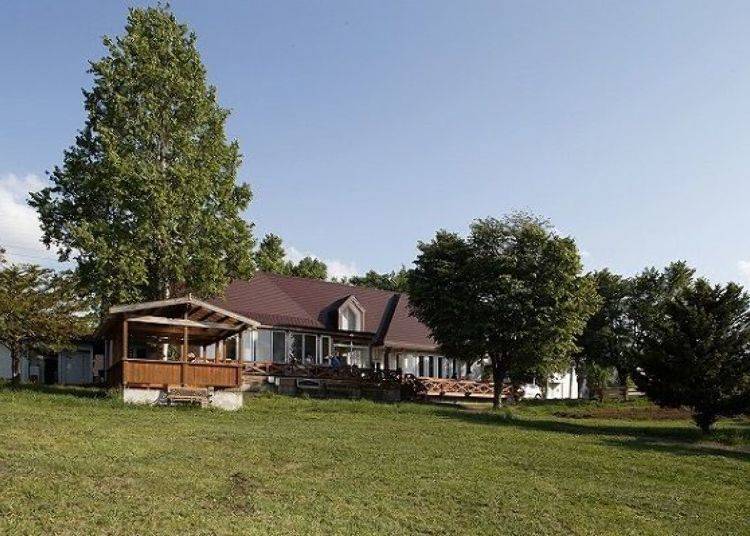 ▲ Tsukisapp Jingisukan Club surrounded by the vast natural beauty of Tsukisamu, Toyohira-ku, Sapporo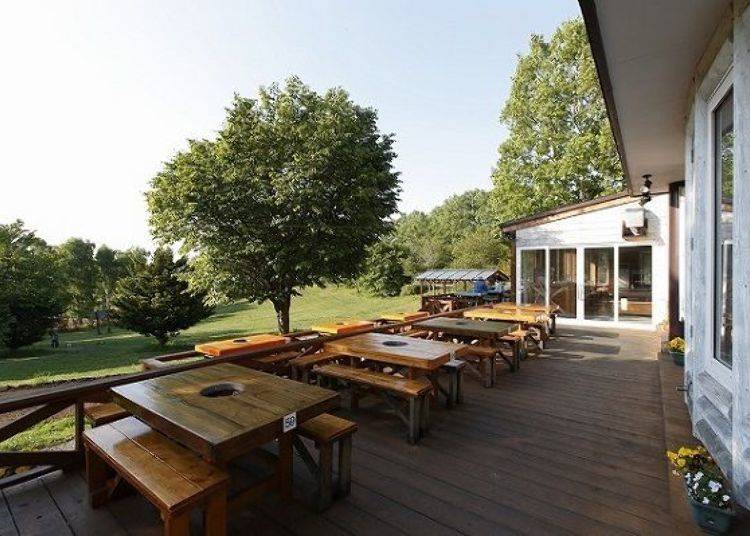 ▲ Eating on the lawn was the custom when the Club started. Now there's also an open terrace for dining.
Tsukisapp Jingisukan Club is considered the forerunner of Hokkaido-style Jingisukan and probably not an exaggeration to say it was born there.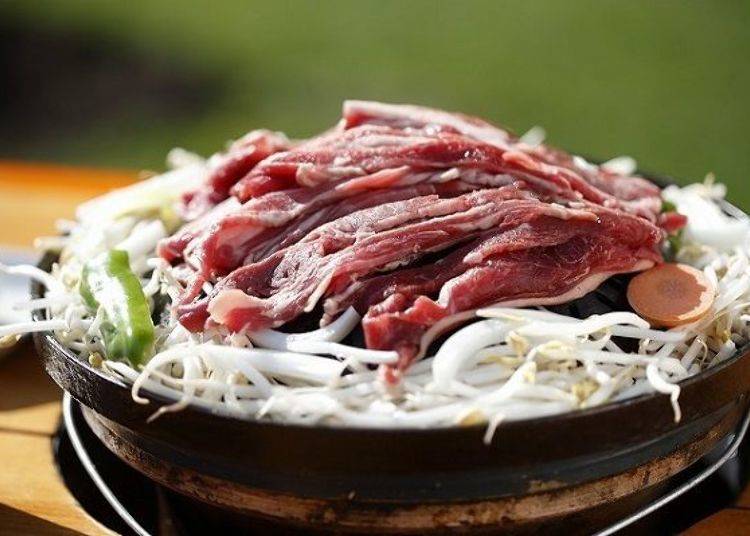 ▲ Rather than the putting meat on top of the vegetables, it's placed directly on the pan
The secret of the deliciousness of Jingisukan at Tsukisapp Jingisukan Club is the way in which it's prepared. Bean sprouts and other vegetables are placed only around the edges of the pan, while the mutton rests directly in the middle of the pan. By arranging the ingredients this way, excess grease from the meat flows down the grooves in the pot, giving the vegetables a distinct flavor.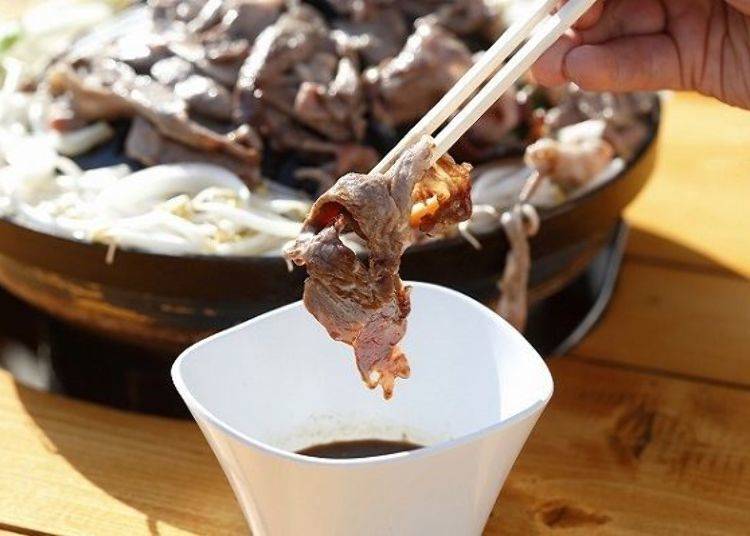 When the mutton is no longer red, it's ready to eat. The secret sauce recipe that has been preserved since the Club's founding and the Hokkaido-style of grilling give the meat a spicy aftertaste that will ensure you won't be able put your chopsticks down until you've eaten it all.
4. Taste "Hokkaido's Three Great Ramen" and "Rishiri Ramen"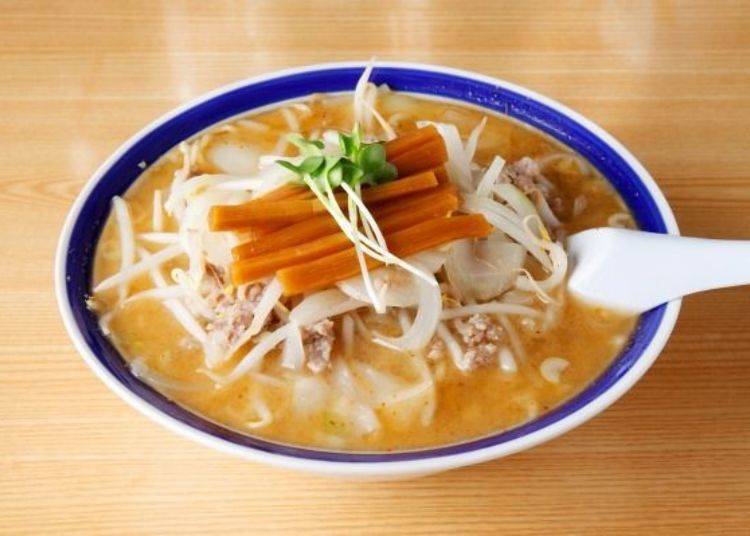 ▲ "Miso Ramen" from Aji no Sanpei -- the roots of "Sapporo Ramen"
Ramen, which goes well with seafood, is popular throughout Hokkaido. Sapporo Ramen, Asahikawa Ramen, and Hakodate Ramen are considered to be the three most loved types of ramen in Hokkaido.

"Sapporo Ramen" is characterized by its miso flavor and plenty of garlic and vegetables.

The founder of Aji no Sanpei opened his shop in the 1950s to serve healthy miso ramen that is "nutritious and delicious." In recent years, Sapporo Ramen has undergone a sort of evolution, and the city has become one of Japan's top cities for ramen.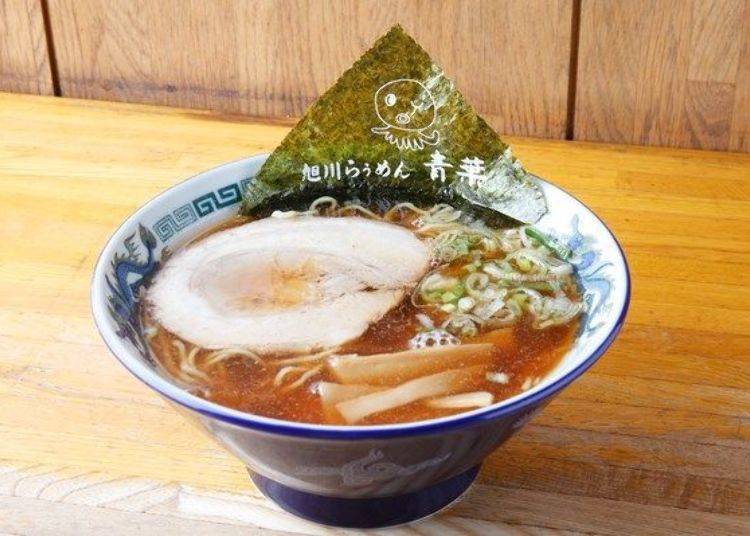 ▲ "Shoyu Ramen," from long-standing Asahikawa Ramen Aoba
Asahikawa Ramen features a simple soy sauce-based taste. In Asahikawa, hog farming was once a major industry, and it is common to use soup made with pork bone and seafood. Another attractive trait of Asahikawa Ramen is to cover the surface of the soup with a film of lard oil so that the soup stays hot even on cold days. Nevertheless, it has a light and classic taste.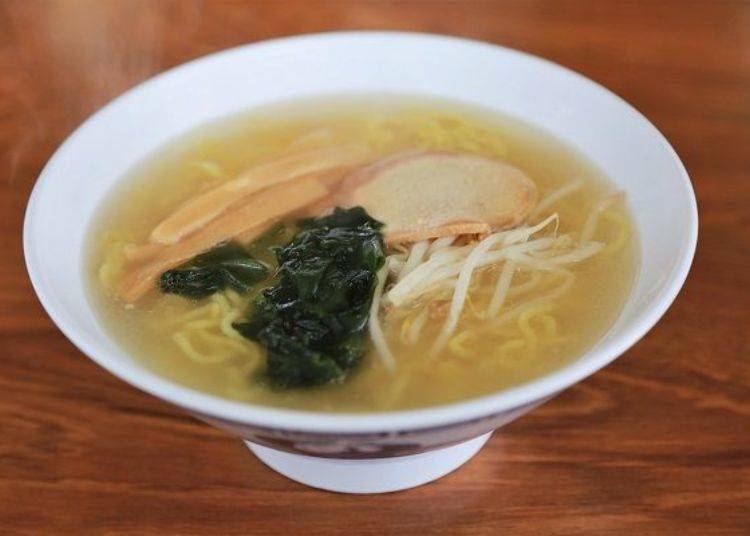 ▲ "Hakodate Ramen" uses straight noodles with a salty flavor close to authentic Chinese ramen
"Hakodate Ramen" is known for its clear, salty soup. The golden soup is careful carefully prepared to avoid becoming cloudy. Hakodate has had a historical connection to Chinese cuisine since the city's port was opened in 1854, and the Chinese style of ramen has been adhered to since. Many people even drink the refreshing soup to the last drop.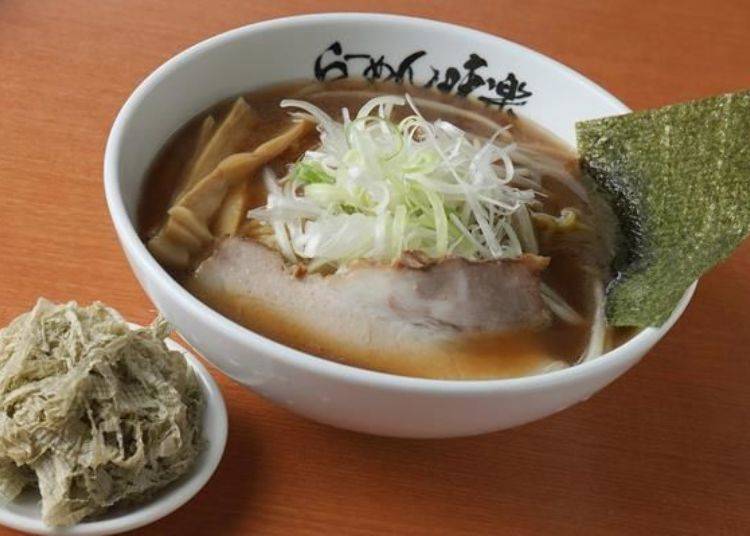 ▲ "Yakishoyu Ramen" from Rishiri Island
Also, "Yakishouyu Ramen," a type of "Rishiri Ramen," has recently become known throughout the country. Ramen fans have become captivated by the soup made with high-quality Rishiri kelp. The savory flavor of grilled soy sauce is not lost in the kelp soup. Some tourists visit Rishiri Island simply to try this Rishiri Ramen dish.
5. Sapporo soup curry: Compare each store's unique style of soup and ingredients!
Speaking of local curry in Hokkaido, soup curry is known throughout the country. In 1970 when a menu item was created by adding curry flavor to the medicinal soup offered by a coffee shop in Sapporo, it quickly became a sensation and spread throughout Sapporo.

Sapporo citizens generally eat it with large-sized ingredients arranged artistically and rice on the side.
▲ "Crispy Shiretoko Chicken and Vegetable Curry" from Suage +, a popular restaurant in the center of Sapporo
Suage+'s soup curry features skewers of deep-fried skewer ingredients and squid ink-based black soup with a rich buttery flavor. The vegetables used are mostly from Hokkaido except in winter. It's a great place to enjoy eating delicious local ingredients.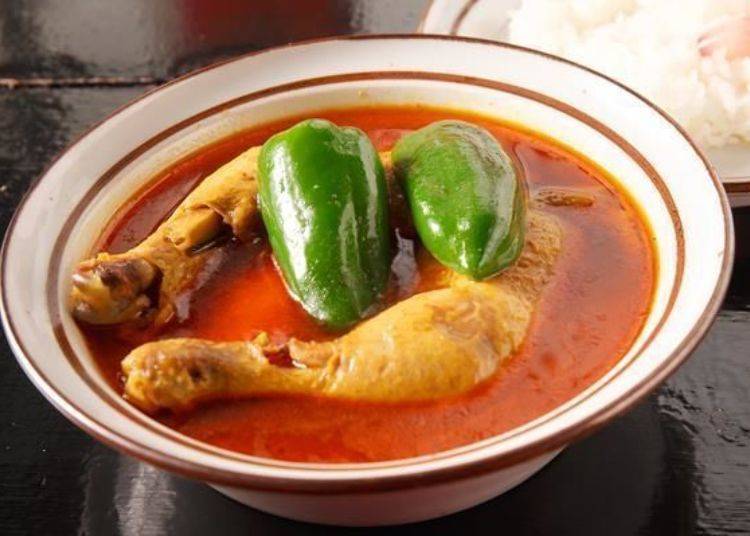 ▲ "Torikari" is a signature item of "Ajyanta Indokari" with two large, tender chicken legs
"Ajyanta Indokari" is a long-standing restaurant that has been around since the dawn of soup curry in the 1970s. Maintaining the recipe from that era, the rich, oily soup is made from over 40 kinds of spices and healthy ingredients. While it is already pretty spicy, you can add even more spiciness with masala powder at each of the tables.

With so many other soup curry restaurants in Sapporo, you'll be able to compare and enjoy the particulars of each store. We're pretty sure that you'll love this unique Hokkaido food!
6. Obihiro's specialty "Pork Donburi": Visually impactful and appetizing!
Obihiro's "Pork Donburi" is a popular Hokkaido food from the Tokachi region and has recently gone from being a local gourmet to having nationwide notoriety.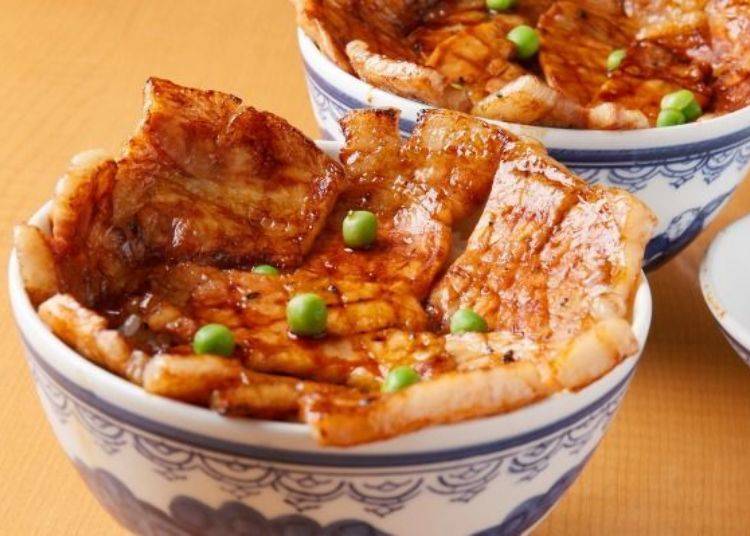 ▲ "Pork Donburi (Plum)" from Butadon Pancho has meat overflowing from the bowl and is seasoned with a sweet and spicy sauce.
In front of JR Obihiro Station, Butadon Pancho, as the name suggests, specializes in pork bowls. Founded in the early Showa period, the shop owner devised a pork bowl with hints of grilled eel to provide farmers with a stamina-providing meal. It quickly gained a reputation for its deliciousness and became a signature menu item. The fragrant pork is charcoal grilled and so soft the excess fat simply falls off the meat. It's a lip-smackingly delicious dish and a generous portion size.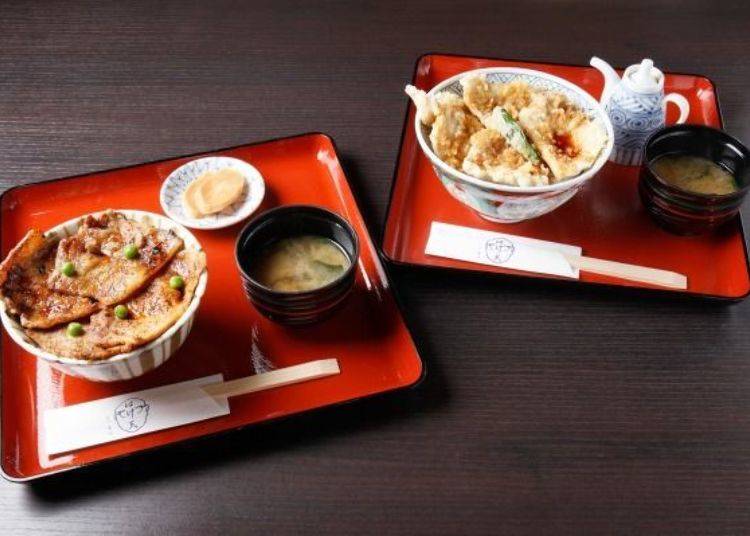 ▲ "Butadon" (left) and "Butaten-don" (right) at Hageten
The main branch of Hageten is about a 5-minute walk from JR Obihiro Station. This tempura and kaiseki restaurant also serves the popular "butaten-don." The pork tempura is light and not greasy. If you visit with a friend, it is recommended that you order both the "Butadon" and Butaten-don" to share.
7. Hokkaido's soul food, "Zangi," is evolving rapidly
▲ The original "Zangi" fromTorimatsu
"Zangi," was first made at Torimatsu, a fried chicken restaurant in Kushiro City, and was an instant hit. The name "zangi" is derived from "zha ji," the Chinese word for fried chicken.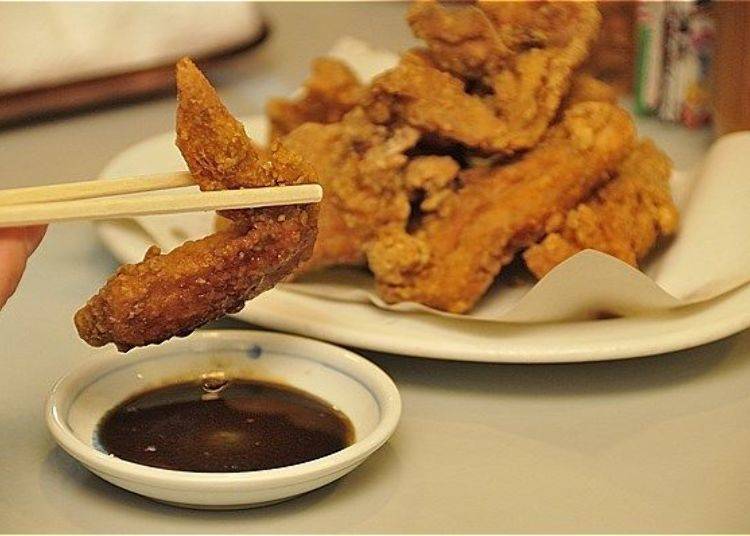 ▲ The original Zangi has bones and various cuts.
Traditional Torimatsu zangi is never boneless and is eaten with sauce. The crispy texture is firm enough that it won't become soggy when dipped in Worcester sauce. In the process of spreading from Torimatsu across Hokkaido, zangi has evolved into a boneless dish and other varies including octopus and oyster have been devised.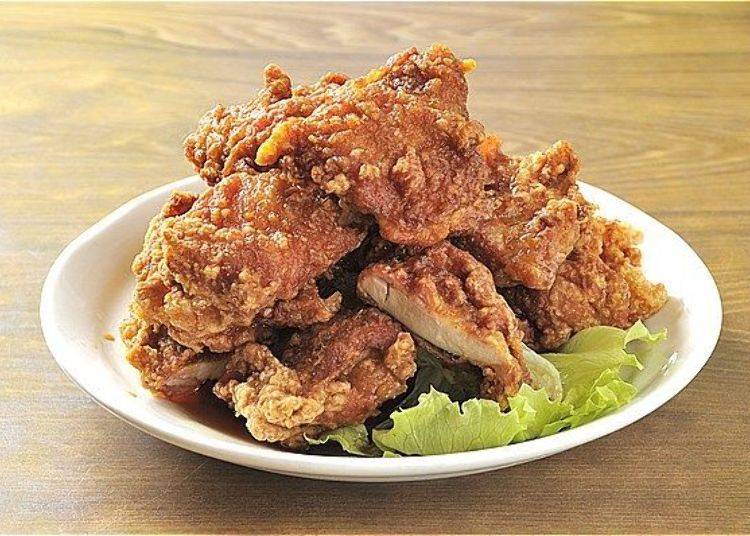 ▲ Nambantei's "Zantare" is big enough to be shared by 2-3 people
"Zantare" is currently attracting attention as an evolution of zangi. A pre-salted form of zangi, it originated at Nambantei, a shop near Kushiro Marsh.

Nambantei's zantare is a massive portion with 7-8 slices of halved chicken thighs. The sauce is seasoned with soy sauce, sugar, and vinegar, and has a refreshing flavor. If you take a trip across Hokkaido, you'll be able to sample an exciting variety of zangi!
8. Enjoy the gentle taste of "Ishikari Nabe"
"Ishikari Nabe," often eaten in homes, is a representative Hokkaido food. This miso-based hot pot made with salmon, trout and a lot of vegetables was traditionally eaten by fishermen.
▲ Ishikari Nabe is said to be rooted in eating the fresh catch of the day cooked in miso soup.
Ishikari city was a salmon fishing center during the Meiji era, and Kandai-tei, where you can enjoy authentic Ishikari hot pot, opened its doors in 1880.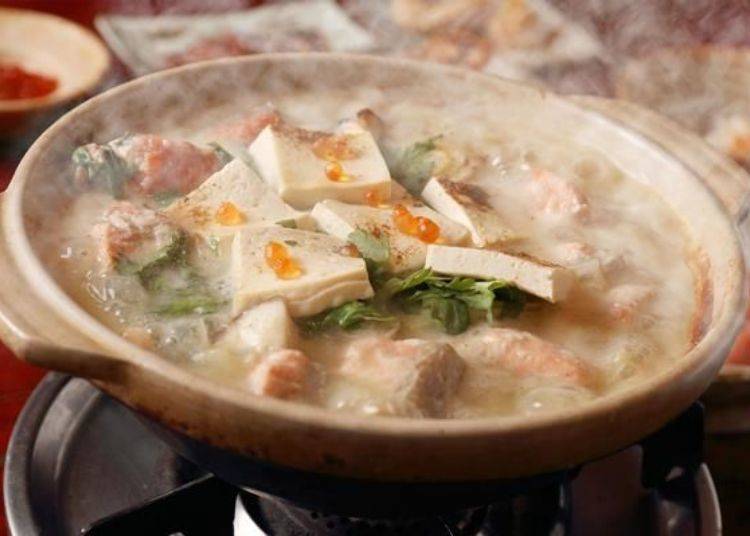 ▲ Kandai-tei signature dish since the shop's founding, "Minabe (Ishikari Nabe)"
Kindaitei's Ishikari nabe is made of cabbage, onions, ginger, shungiku (crown daisies), long onions, tsukekonnyaku, and salmon roe simmered in a soup of white miso and kelp. Tofu sprinkled with a hint of yam complete the dish and provide a subtle taste.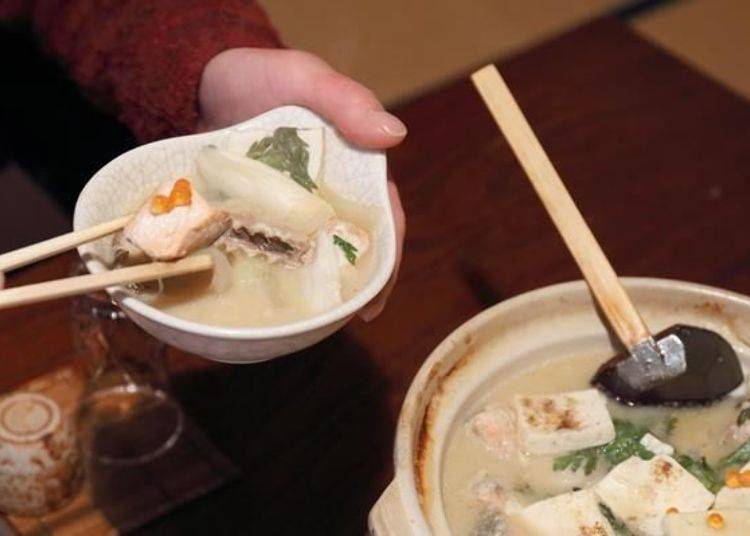 ▲ A gentle flavor that matches the sweetness of the vegetables
This traditional Hokkaido food has been handed down for more than 130 years, and, only one hour from Sapporo, Kindaitei is worth visiting. Because the salmon fishing season is autumn and the trout fishing season is spring the dish features salmon from autumn through early spring, and trout from spring through early autumn. While there's a difference in taste, but you can enjoy delicious Ishikari nabe year-round.
9. Kushiro's sizeable "Supakatsu"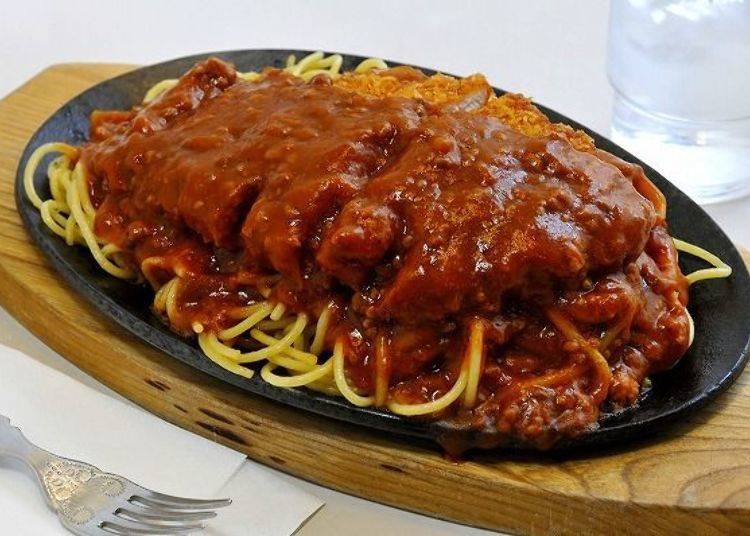 Attracting attention as a local gourmet in Kushiro City, the "Supakatsu" is recommended for those who love eating. The dish consists of spaghetti, tonkatsu, and meat sauce served on a hot iron plate. First offered more than half a century ago, it has become a standard menu item at many restaurants in Kushiro.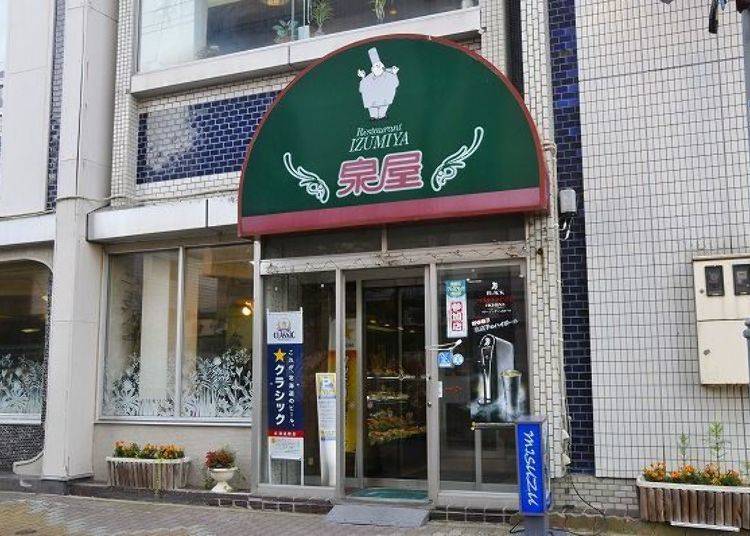 ▲ "Restaurant Izumiya" has been serving Western food in Kushiro since its opening
The "Spaghetti Cutlet" was conceived at "Restaurant Izumiya." Opened in 1959, it was a Western food specialty store, which was a rarity in Kushiro at that time. Supakatsu was designed to make it easy for customers to enjoy an "extravagant" entrée. It immediately became a signature dish, popular for both its taste and generous portion size.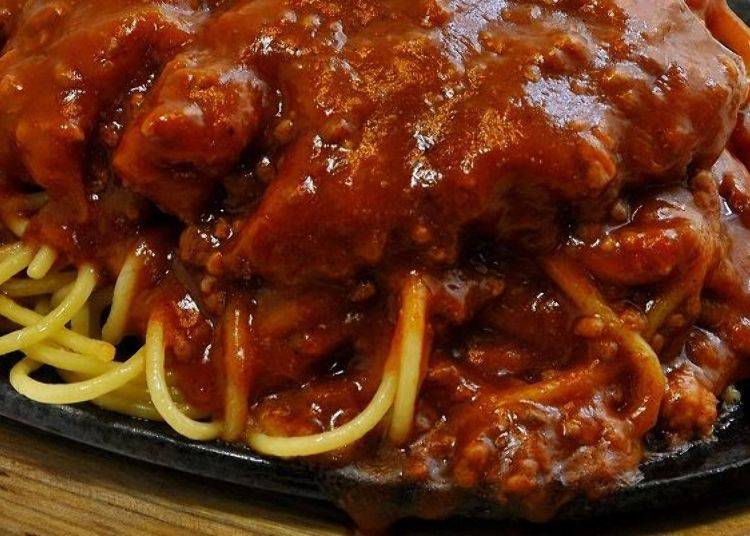 ▲ This big dish has fans all over the country.
The iron plate ensures that your meal will stay hot to the very end in cold Kushiro, and you'll hear the appetizing sizzle of the supakatsu as it's brought to your table. The serving size is about 250 grams of noodles and about 100 grams of tonkatsu, so be sure to eat it on an empty stomach!
10. Exquisite sweets found only in Hokkaido
Hokkaido, known for fresh milk and dairy products, offers a wide array of dairy-based desserts and if you visit Otaru, LeTao can't be missed.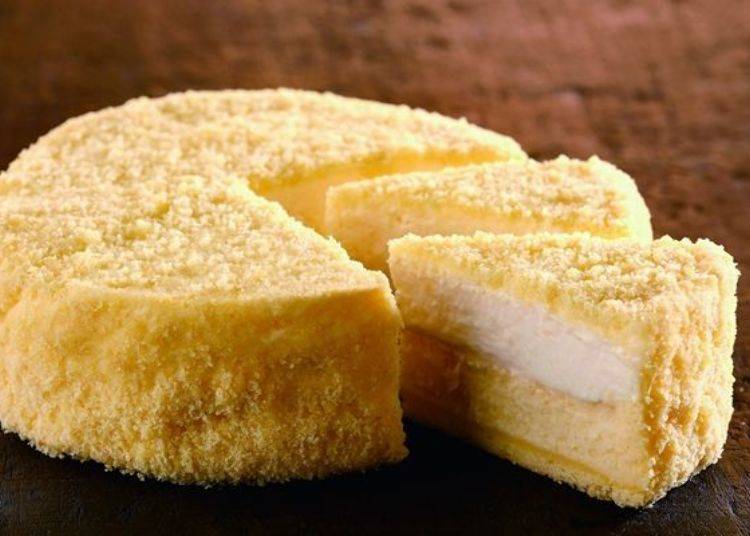 ▲ "Double Fromage" that made Lutao popular
With stores all over Hokkaido, and now it famous all over the country, LeTao has six different stores in Otaru, each featuring its own distictive sweets.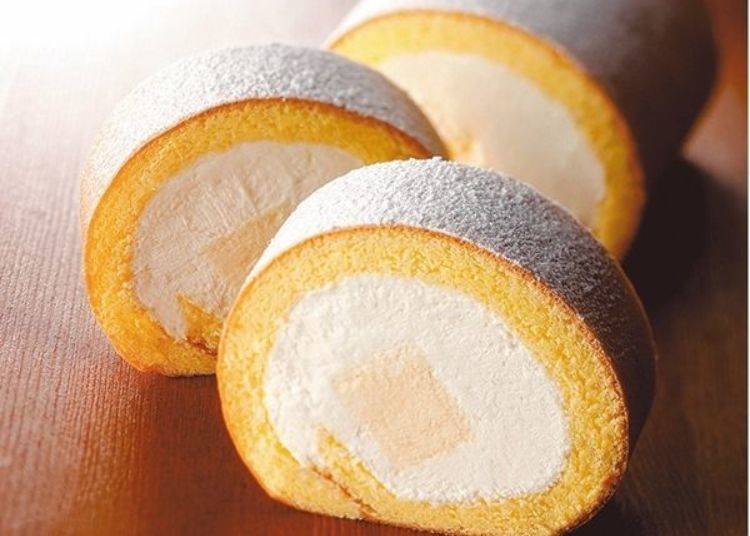 ▲ "Deux Fromage Roll" only available at the main store
The "LeTao Main Store," with its impressive western-style tower, is a truly a shrine for LeTao fans. Here, you can not buy the confectioner's standard cakes and baked goods, but also a number of in-store exclusives. Among them, the "Deux Fromage Roll" is a cake made by rolling baked cheesecake and cream cheese in a fluffy sponge cake, and is a perfect souvenir.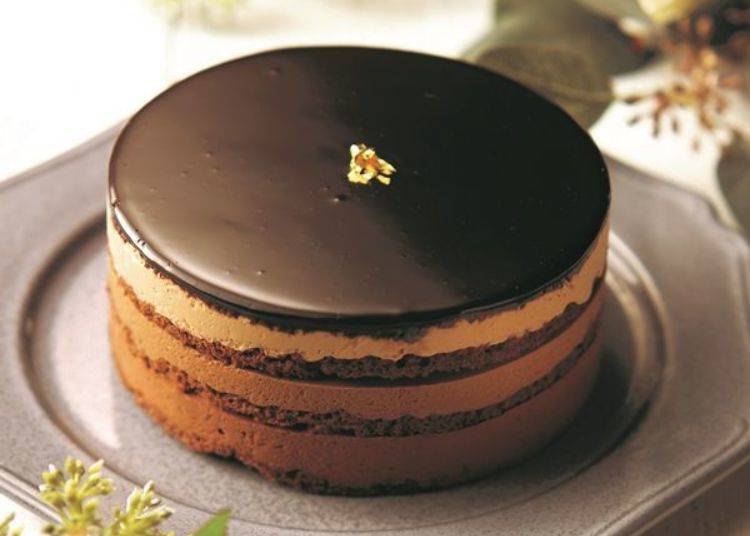 ▲ "Adele" that can only be purchased at the "Nouvelle Vague LeTao Chocolatier Otaru Main Store"
"Nouvelle Vague Leutao Chocolatier Otaru Main Store," which is about 3 minutes walk from the main store, is a chocolate specialty shop that sells freshly made chocolate sweets. "Adele," a dark chocolate mousse layered with two different types of milk chocolate, is an exquisite dish with a rich cocoa scent.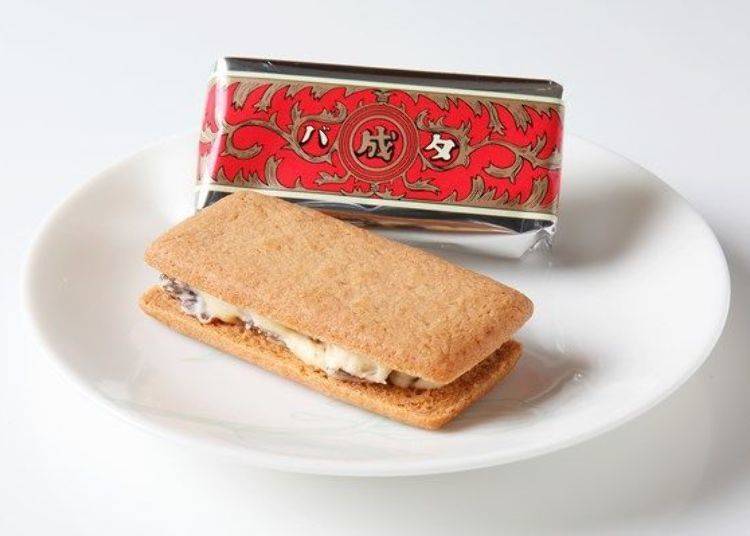 ▲ "Marusei Butter Sand" with familiar retro packaging
Rokkatei is known for its famous "Marusei Butter Sand," which is a popular Hokkaido food souvenir. Founded in Obihiro City, Rokkatei offers a wide selection of freshly made Western and Japanese sweets. In addition to the classic sandwich cookies, many products are sold individually or in bulk, making excellent souvenir options.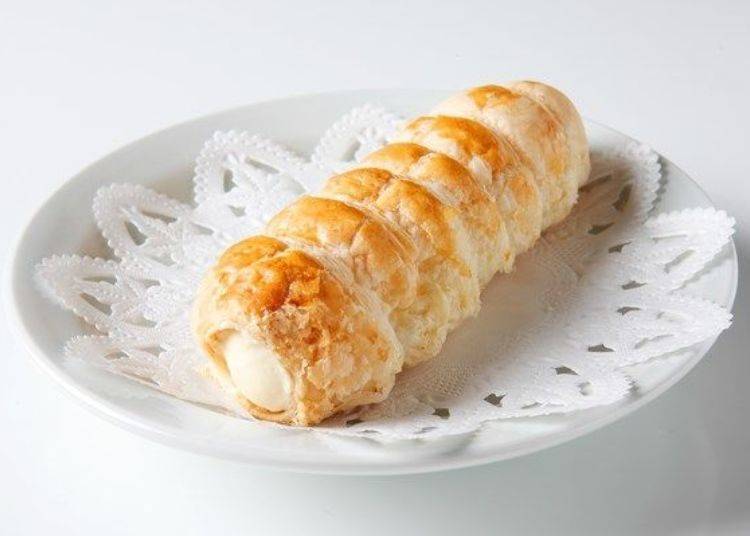 ▲ "Crispy Pie" featuring freshly custard cream in a puff pastry
"Crispy pie," which is sold only in the Obihiro City store, Obihiro airport store, and Sapporo head office is a rare dessert. The pastry loses its unique crispy texture over time, so it has a shelf life of only 3 hours. Thankfully, the main Obihiro store has an eat-in space where you can enjoy freshly prepared desserts.
▲ The butter cream in "Marusei Ice Sands" won't melt right away, so you can take your time when eating it.
Another highly recommended exclusive sweet is the "Marusei Ice Sand." Inspired by the Marusei Butter Sand, it consists of light biscuits and butter-flavored ice cream. The café on the second floor of the Obihiro store also serves tasty hotcakes and crisp waffles.

On your next trip to Hokkaido, be sure to visit LeTao and Rokkutei for some delicious desserts found only in Hokkaido.

If you really want to experience Hokkaido's culinary treasure trove, you may need to schedule all three meals a day and a snack at 3pm! So enjoy, and plan to gain 2-3 kilograms!
Book an unforgettable food experience in Hokkaido!
Make your trip extra memorable by booking one of these recommended tours on our partner site, Voyagin!
*This information is from the time of this article's publication.
*Prices and options mentioned are subject to change.
*Unless stated otherwise, all prices include tax.