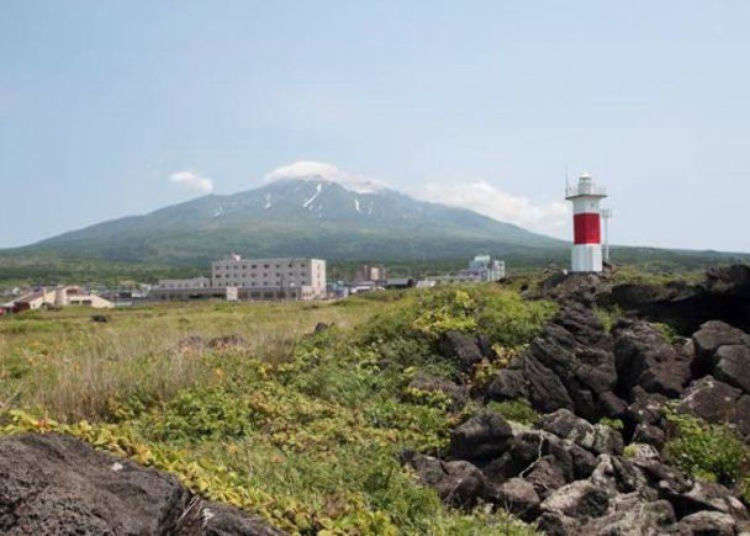 On Rishiri Island, located off the northwest tip of Hokkaido, one ramen shop draws enormous crowds. It's called Rishiri Ramen Miraku.

It became famous as a Bib Gourmand shop in the Michelin Guide Hokkaido 2012 Special Edition and the same 2017 Special Edition. It takes 8 hours one way to get to the shop from Tokyo, but the trip is positively worth it to experience the condensed natural umami of this ramen! Let's take a closer look.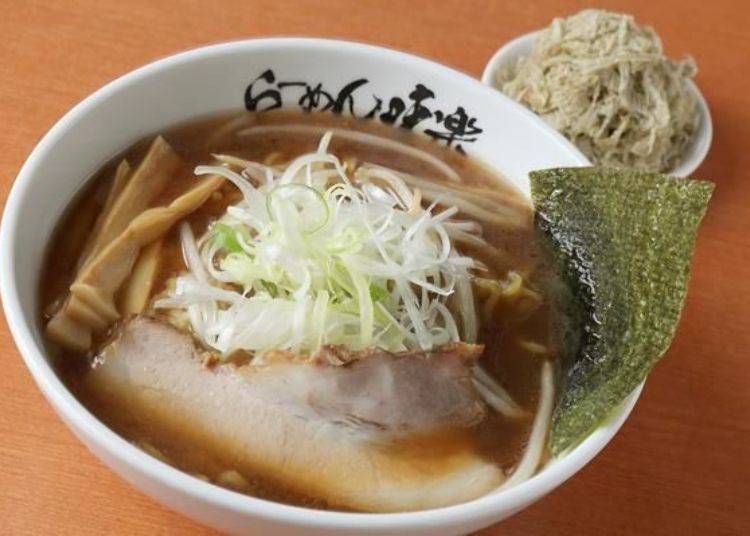 Ramen lovers from all over the country flock to Rishiri Island off the northern tip of Hokkaido to savor a bowl of this ramen
Rishiri Ramen Miraku is open only from noon until 2:30 p.m. Moreover, located off the northern tip of Japan, it takes more than 8 hours to get to it by plane, ship, and bus from Tokyo.

In spite of the considerable hurdles that need to be overcome to get to Hokkaido's "Ramen Island," the shop overflows with customers every day. This is not the ramen shop near you - it is something spiritual. People travel from all over Japan and from abroad just to eat a bowl of this ramen after hearing about it from others.
Definitely try the Yaki Shoyu Ramen, the broth of which exudes the rich flavor of Rishiri Kelp!
It is the Yaki Shoyu Ramen (Scorched Soy Sauce Ramen) that is the trademark dish that draws crowds of ramen aficionados to this remote shop. What gives the ramen its distinct flavor is the soup stock made from large amounts of the rich Rishiri Kelp so treasured by high-end restaurants.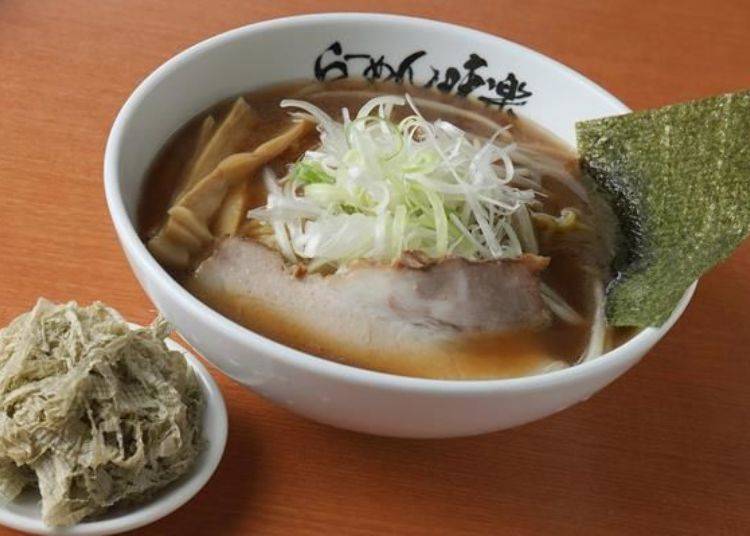 Yaki Shoyu Ramen (850 yen). You can also order a side dish to go with it of Tororo Kelp (kelp shavings) [below left] for an additional 100 yen
First, let's take a closer look at this ramen.

The soup of Yaki Shoyu Ramen is what you would call a double soup because it is a blend of soup stock made from the rich Rishiri Kelp and a stock made from pork bones, chicken bones, and vegetables.

As the name implies, the soy sauce is "cooked." In order to impart its full flavor, when an order is placed, the soy sauce is cooked in a large wok until it is almost burned.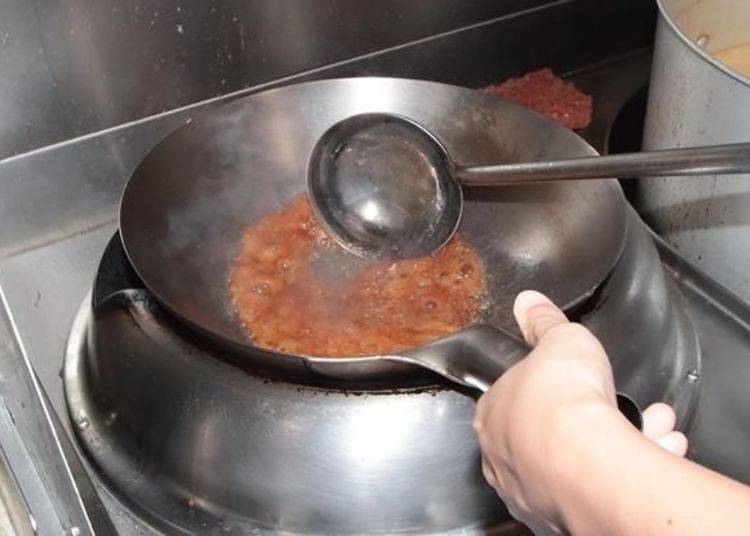 The homemade soy sauce is stir fried in a large wok until it is almost burned
If it is not cooked enough it tastes sweet, but if overcooked then it tastes bitter. It takes a sharp eye and nose to determine when it is cooked to perfection because it can't be cooked according to a set time.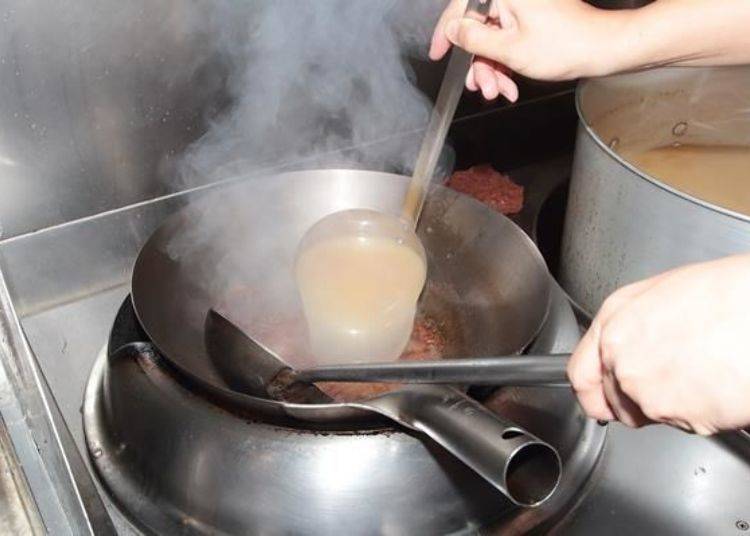 When it is cooked to perfection the soup is then added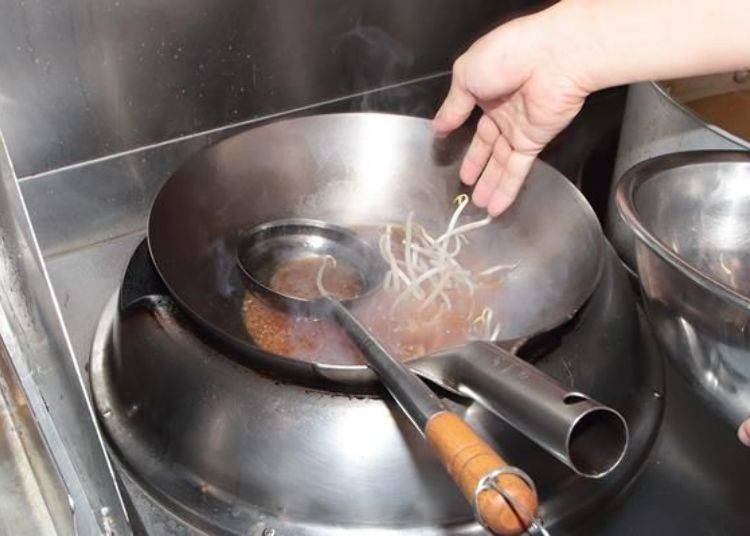 Once the soup and sauce have been mixed together bean sprouts are added
The noodles are also being prepared separately at the same time the soup is being made.

Large, fat curly noodles are the type normally used in Yaki Shoyu Ramen. It is possible, though, to request thin noodles instead.
Noodles are boiled for one minute and ten seconds. Unlike the soup which is made without regard to time, the noodles are boiled for a precise set time.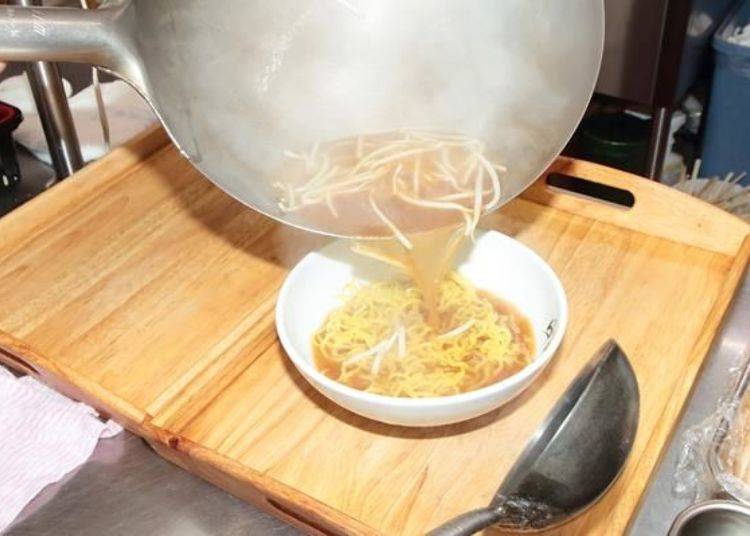 Once the noodles have been boiled they are put in a bowl and then the cooked soup and bean sprouts are poured over them.
Finally slices of homemade chashu (roasted pork fillet), menma (bamboo shoots), negi (green onions), and grilled seaweed are added on top!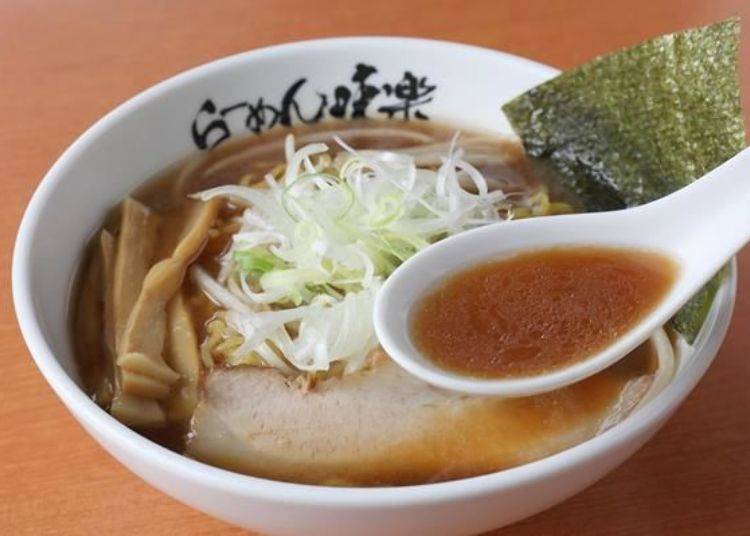 A lot of effort goes into the making of Yaki Shoyu Ramen
First, take a sip of the soup. At first glance, it looks light and clear, but the moment you taste it the full, rich flavor explodes in your mouth!

The rich flavor is neither salty nor fatty, its strong flavor coming from the mellow kelp soup stock that is complimented, and not overwhelmed, by the strong flavor of the cooked soy sauce. The flavor that delightfully lingers after each bite is unforgettable.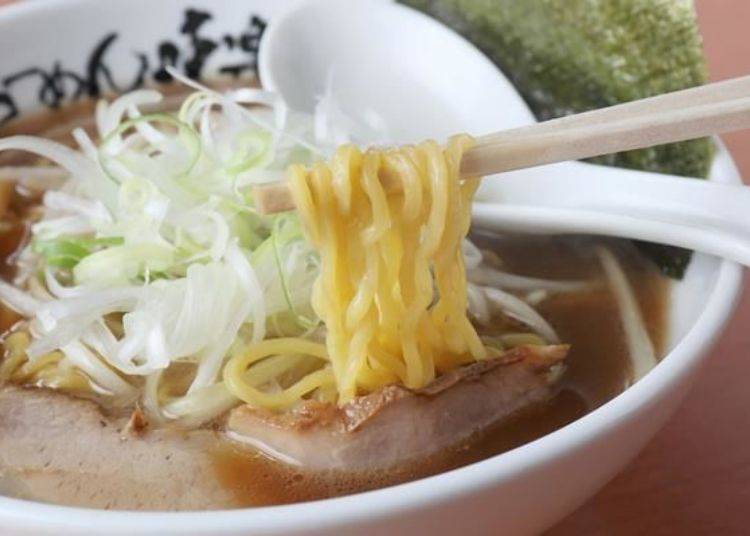 The fat, curly noodles go perfectly with the rich, flavorful soup!
After savoring a few bites, try adding the optional shaved kelp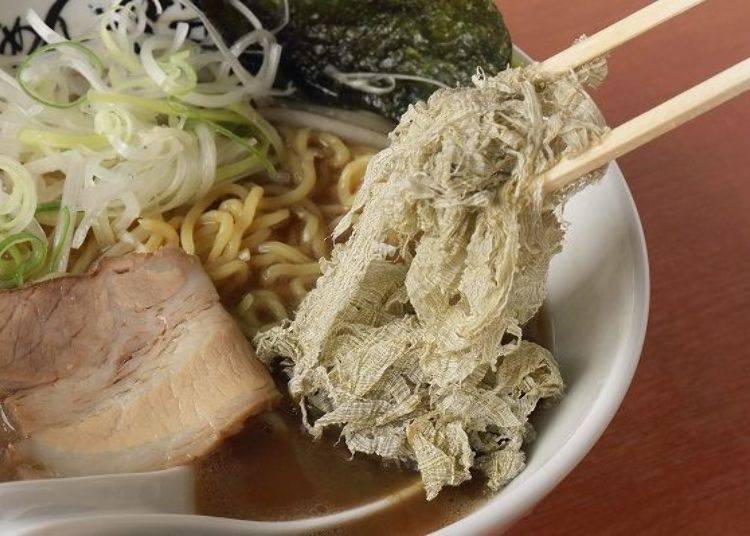 Heaping Tororo Kelp onto the ramen. With each addition, the soup becomes thicker
The kelp further enhances the flavor! The strong flavor of the kelp lingers in the mouth. This is awesome! It seems more like an expensive hotpot dish because of the soup flavor rather than just a bowl of ramen.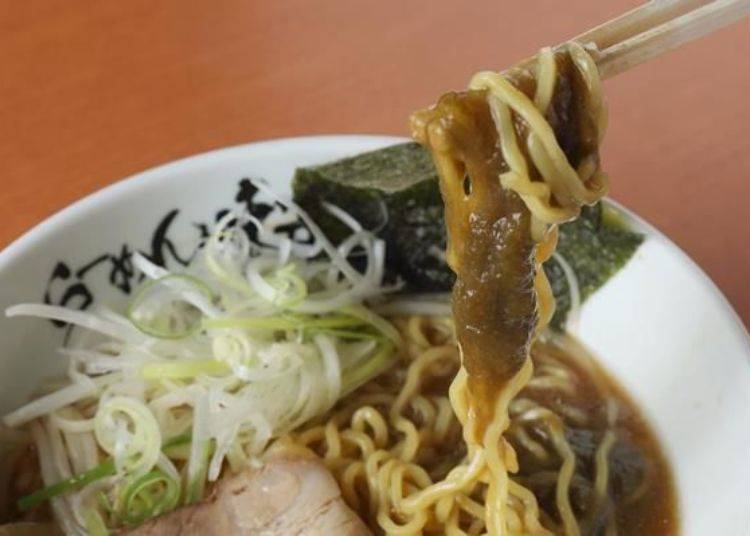 Add lots of Tororo Kelp and mix it with the noodles
No chemical additives are used, so lots of thick, rich flavorful Rishiri Kelp can be added making the soup delicious to the very last drop. It is easy to see why so many people travel to this remote island just for a bowl of ramen.
What led to the use of kelp soup stock for the ramen?
Shop owner Kamitsugi Esashi told me an anecdote about how the ramen with its distinct kelp soup came about.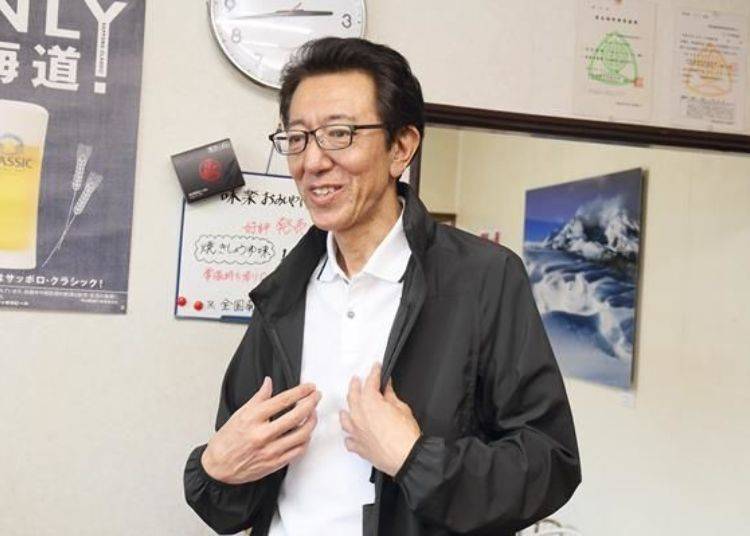 Mr. Esashi moved to Rishiri Island, the birthplace of his mother, after he retired from his job as a civil servant in 2007 and set up this shop.
He explained that when his mother made miso soup, she naturally always used kelp stock that imparted a rich flavor, so he believed that ramen soup had to reveal such a rich flavor to give it "life."

He wanted to find a way to make use of the island's Rishiri Kelp. He decided that the most delicious soup stock would be one made with kelp.

Through trial and error, he eventually created a ramen soup using a soup stock made with lots of kelp.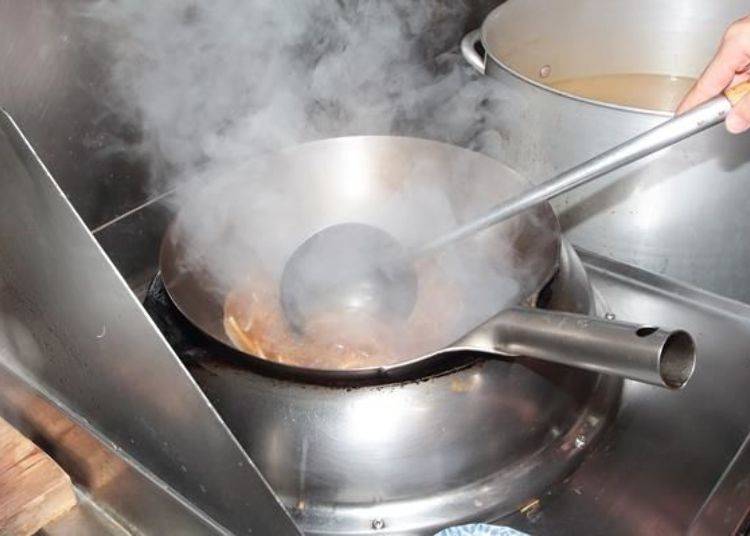 "To ensure that it tasted like ramen, I added soup stock made with pork bones and other ingredients. To ensure that the flavor of the kelp soup stock was not overwhelmed by the other soup stock, I came up with the original idea of the cooked soy sauce."

The flavor of the soy sauce is perfectly balanced with the rich flavor of the kelp soup stock. This is what gives it its robust, rich flavor.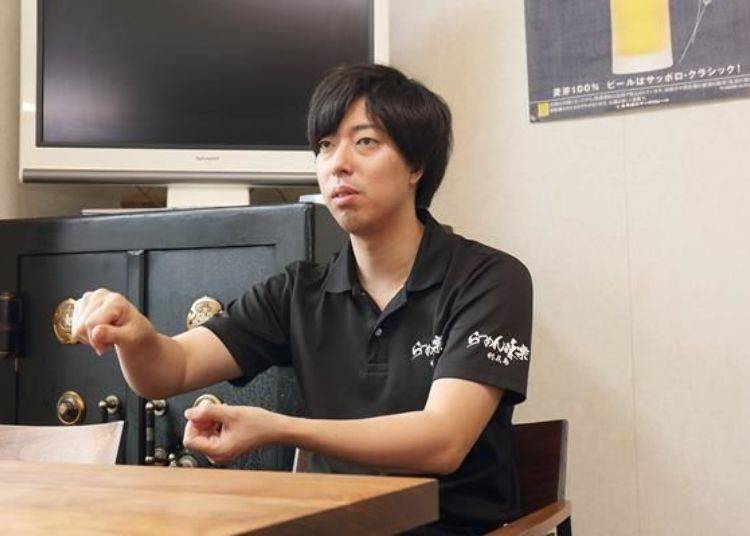 Mr. Esashi's son Takamasa later provided more explanation.
Generous amounts of high-quality Rishiri Kelp is unsparingly used in Yaki Shoyu Ramen.

"To give you an idea of how much Rishiri Kelp is used, roughly a piece slightly larger than a business card is used for a single bowl of ramen." I was amazed to realize that so much was used! And to get a feeling of the generous amount used if one were to cook by oneself?
Stacks of Rishiri Kelp in the shop's storage room! The value of this stock alone is measured in millions of yen. It is a veritable treasure trove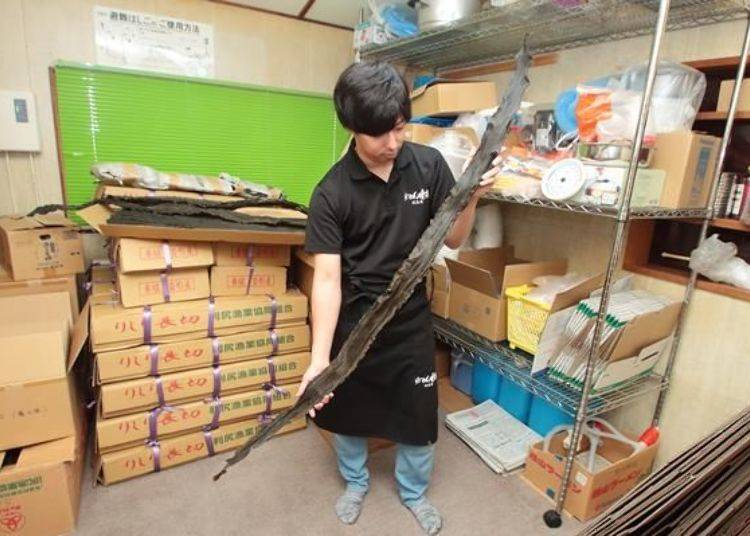 The kelp gets quite large
It is possible to have this large an inventory of Rishiri Kelp because relatives are kelp fishermen. Moreover, it can be obtained at less than average prices.

"Without this source, the cost of a single bowl of ramen would have to be double what it is now," Takamasa explained.

And that is why a bowl including such a large amount of Rishiri Kelp can be offered at only 850 yen.
In summer cold ramen with 100% kelp soup is a must!
After touching on the secrets of the ramen, they next told me about other recommended dishes.
One of these is ideally suited for a hot summer day!
Reishio (cold salt) ramen (900 yen) offered only in summer
As its name suggests, this is a cold shio ramen which has an even more awesome kelp soup stock flavor than the Yaki Shoyu Ramen. That's because the soup is made entirely with kelp stock!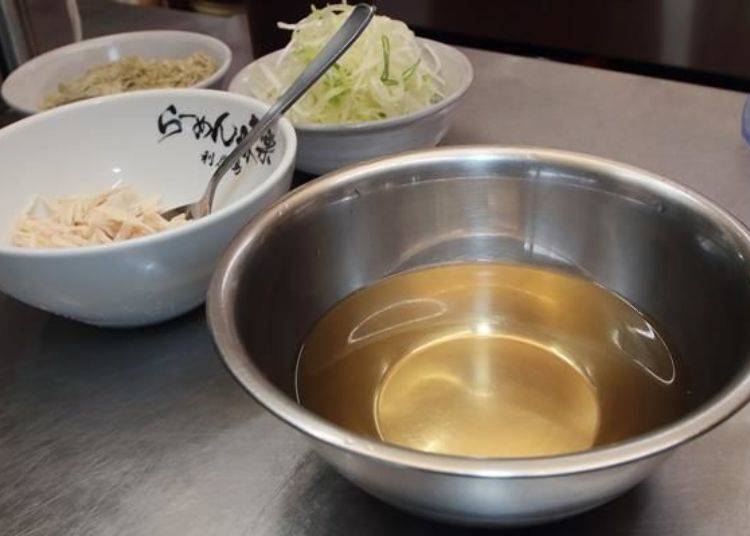 The kelp soup stock has a very rich color. It is proof of the generous amount of kelp used. It looks delicious enough to eat as it is.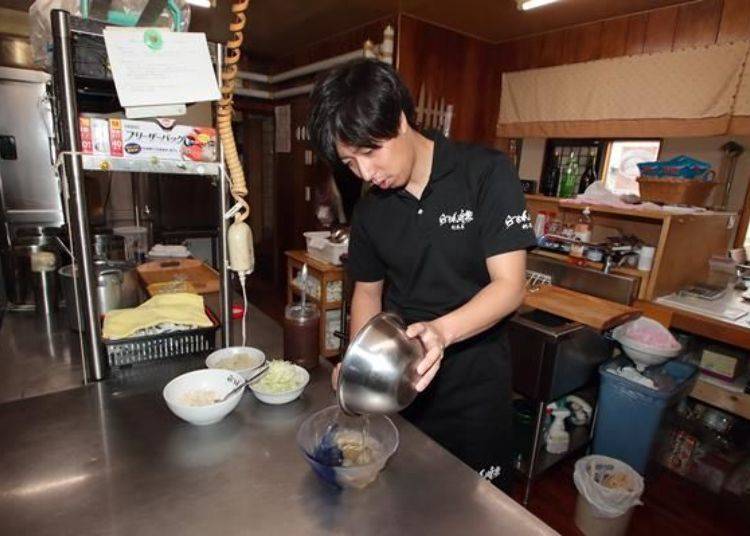 The soup is poured into a bowl, homemade salt sauce is added, and then slices of boiled chicken breast, green onions, and Tororo Kelp are added as topping.
To bring out the full flavor of the soup, thin noodles are used. The dish is kept simple so that the ingredients do not compete with each other but blend harmoniously.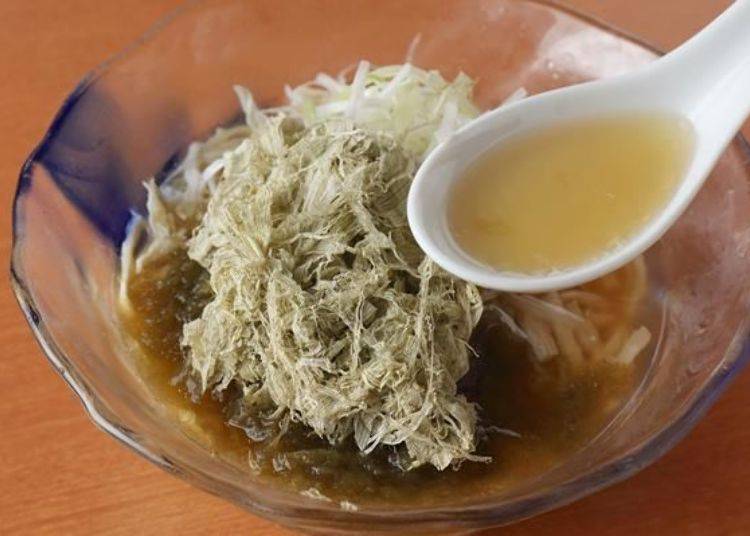 It has a very sophisticated taste. The flavor is similar to what you would experience in an expensive Japanese-style restaurant.
Other items on the menu include shio ramen, miso ramen, tsukemen (noodles dipped in sauce), and curry rice. It goes without saying that all are made with Rishiri Kelp soup stock. The miso ramen appears to be popular with the local folk.

Gyoza on the side is also recommended.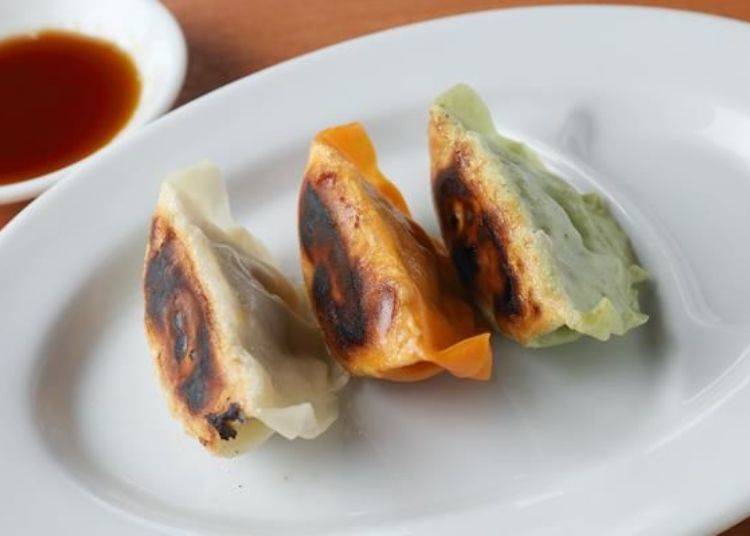 Bite-sized gyoza in three types costs 400 yen (from the left, juicy, spicy, and kumazasa (a type of bamboo grass)
The meat is juicy and the spice hits you the moment you bite into it. It makes you want to let out a yell it is so spicy while the kumazasa has the mellow aroma of bamboo grass.

If you prefer standard gyoza, you can also order a plate of three juicy white bite-sized gyoza for 400 yen.
Yaki Shoyu Ramen also makes a great souvenir to remember Rishiri Island by
Ramen with a strong kelp soup stock. Once you've tasted it you will never forget how delicious it is. "I want to have it again!" is something you will definitely think. So why not enjoy it at home? Packages of it are sold as souvenirs in the shop.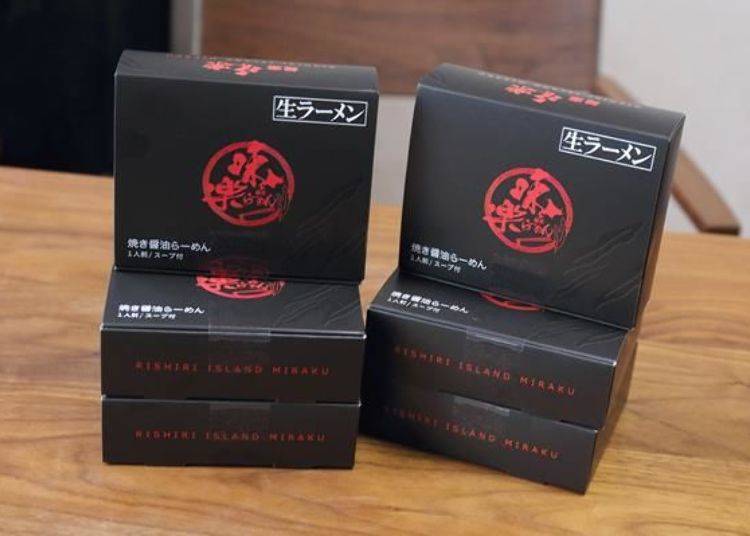 "Gift Ramen" (1 serving of Yaki Shoyu Ramen costs 400 yen)
Can be kept at room temperature. You can take it with you when you leave or, if you have a domestic address, have it shipped to your home. (Shipping fees are separate)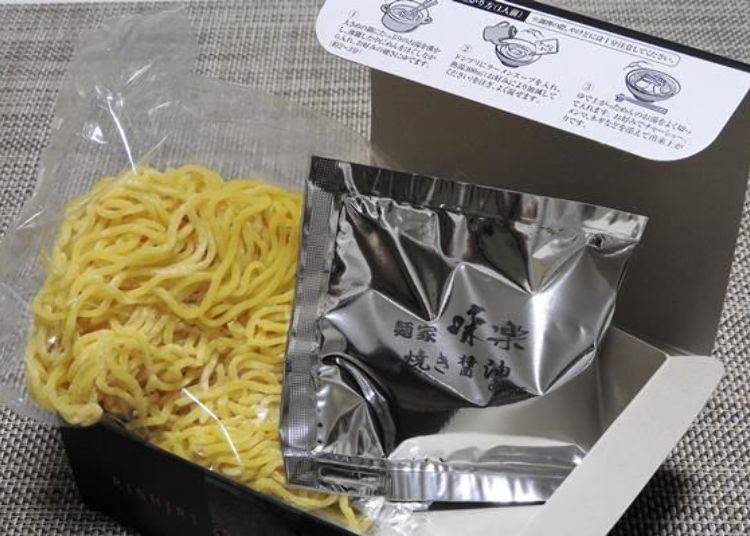 Each box contains a packet of raw noodles and pouch of soup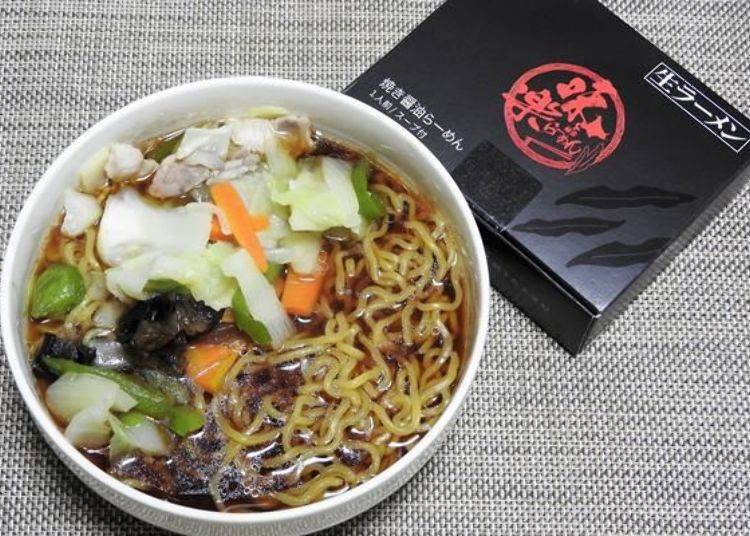 You can recreate your Rishiri Island experience at home! Toping ingredients are not included, so you can use the vegetables you have at home.
The flavor is not exactly like that in the shop, but it closely resembles it. This is definitely a hit item! It's even tastier if you have shaved kelp! Eating it will bring back memories of your trip to Rishiri Island.

It occurred to me after I had finished eating it that instead of making the soup with boiling water, using kelp soup stock would have made it tastier... That is something I will definitely do next time!
It's a challenge to get there, but definitely worth the effort!
The soup of ramen made with Rishiri Kelp soup stock has a rich flavor making the ramen exquisitely unique and something you should definitely try.

Ramen Miraku is located in the Kutsugata district in the western part of Rishiri Island.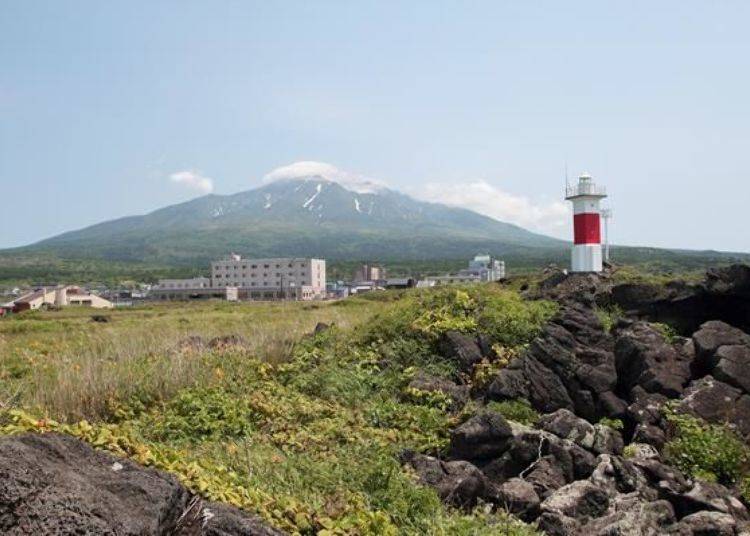 The view of the Kutsugata District as seen from Cape Kutsugata near Kutsugata Port. The mountain in the background is Mt. Rishiri
The shop is about a 15-minute walk from Kutsugata Port which is serviced by ferries which run once a day in the summer between it and Rebun Island.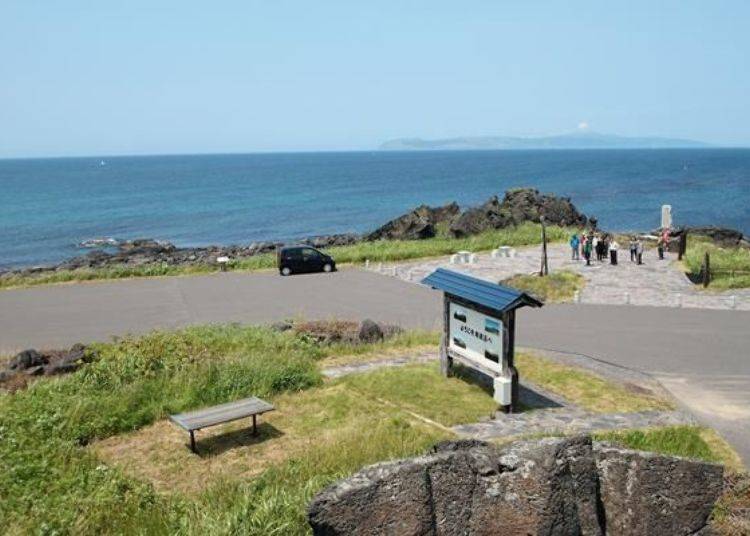 The view from Cape Kutsugata. The island visible in the distance is Rebun Island
The general route for going to Ramen Miraku is as follows (As of 2019):
・Fly to Wakkanai Airport from either Haneda Airport or New Chitose Airport (A direct flight from Haneda takes about one hour and 50 minutes; from New Chitose Airport it takes about 55 minutes and there are two round-trip flights per day from each)
・Take the bus from Wakkanai Airport to Wakkanai Port (about 35 minutes)
・Take the ferry from Wakkanai Port to Oshidomari Port on Rishiri Island (takes about one hour and 40 to 50 minutes; there are three round-trip sailings per day in the summer)
・Take a bus from Oshidomari Port to Kutsugata (about 40 to 50 minutes)
・Walk to Ramen Miraku from Kutsugata (one or two minutes)

The following route is convenient during the summer season:
・Haneda Airport to New Chitose Airport (about one hour and 30 minutes; multiple flights)
・New Chitose Airport to Rishiri Airport (about 55 minutes, one round-trip flight a day only in summer)
Rishiri Airport to Kutsugata (about 30 minutes by bus; bus makes two round-trips to the airport each day)
Kutsugata to Ramen Miraku (one to two minutes on foot)

The time needed to transfer or wait is not included in the above; some routes have fewer flights. It will take one day just to go there.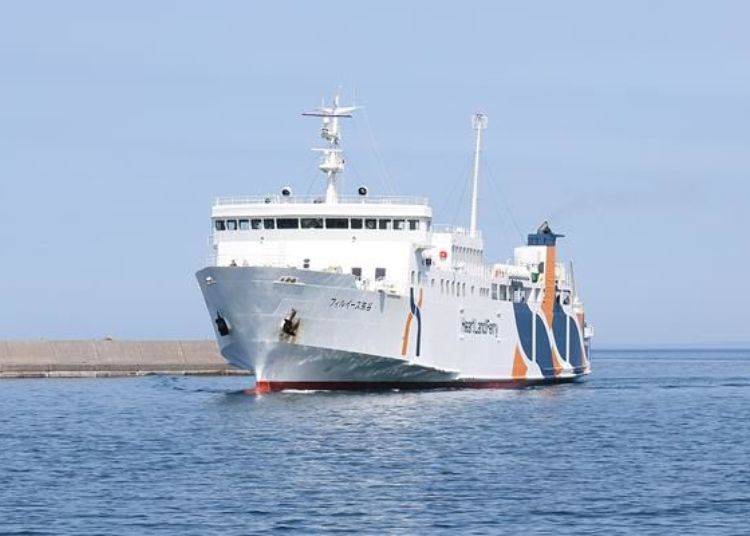 The ferry connecting Wakanai and Oshidomari. This is the main form of transportation for sightseeing on Rishiri Island
Ramen Miraku is, after all, very far away. Moreover, it is only open from 11:30 a.m. to 2:00 p.m.

As such, when you take into consideration the flight times, ferry schedules, and other factors such as the hours of operation of the shop, you really need to spend one night on Rishiri Island.

As for the return, if it is summer, you can head to Rishiri Airport right after you eat and possibly return to the capital that night.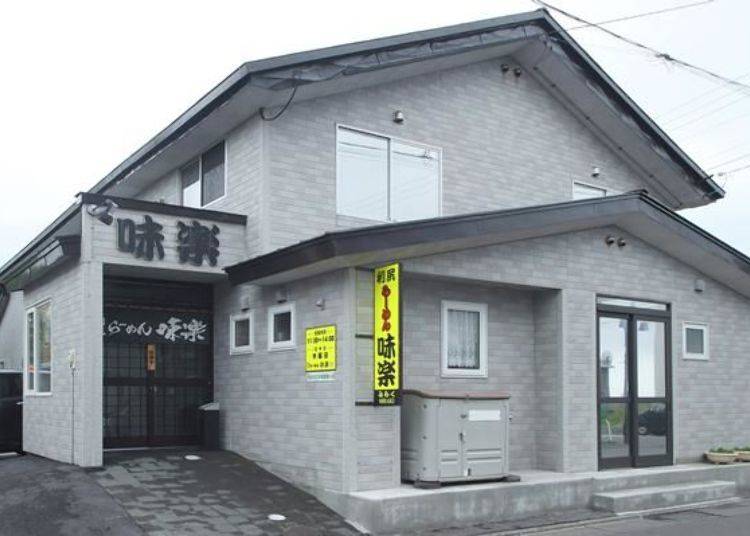 The shop looks exactly like a normal house. It's hard to believe that people line up to get inside.
In spite of the difficulty there is in getting to this shop, people from all over the country flock to it. And even though the shop is only open for two and a half hours, it serves about 130 bowls of Yaki Shoyu Ramen on a busy day. That is to say, an order is placed for it every minute or two on average.

That there are so many tourists who have heard rumors about the shop and repeater customers captivated by the delicious ramen is strong proof of the shop's attraction in spite of the difficulties in getting to it.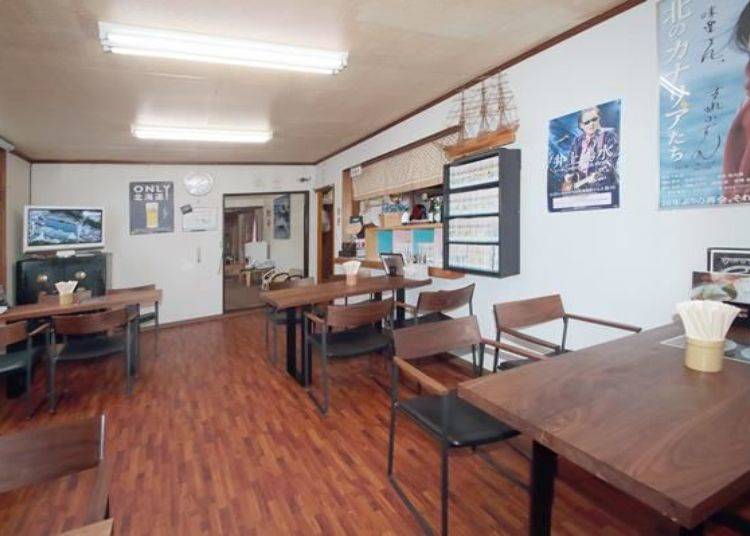 Interior of the shop after it closes. When open for business the place is packed and operates nonstop without a break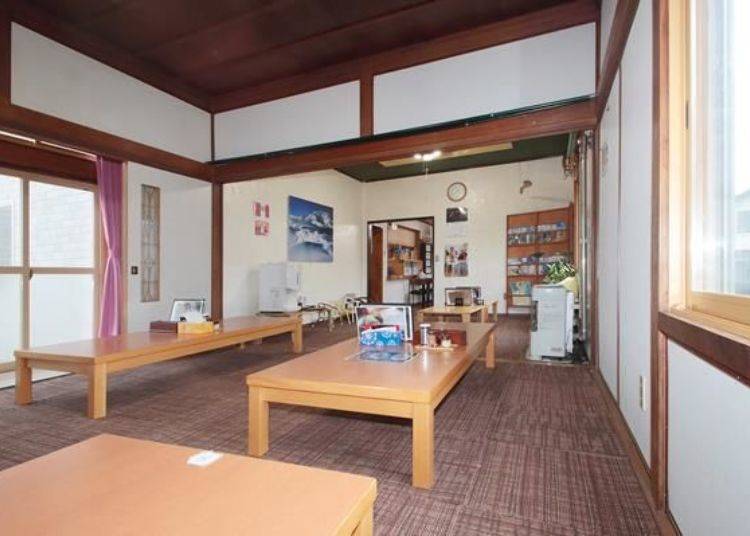 There is also a low-rise seating area so don't hesitate to bring children with you. But keep in mind that this section also is usually filled with customers
"I want to eat it! But there is no way I can go there..." is a thought many people have. For these people there is the "Shin-Yokohama Ramen Museum" branch shop in Yokohama, Kanagawa Prefecture where you can get a taste of this food. Here, though, the cost of a bowl of Yaki Shoyu Ramen is 900 yen and not 850 yen.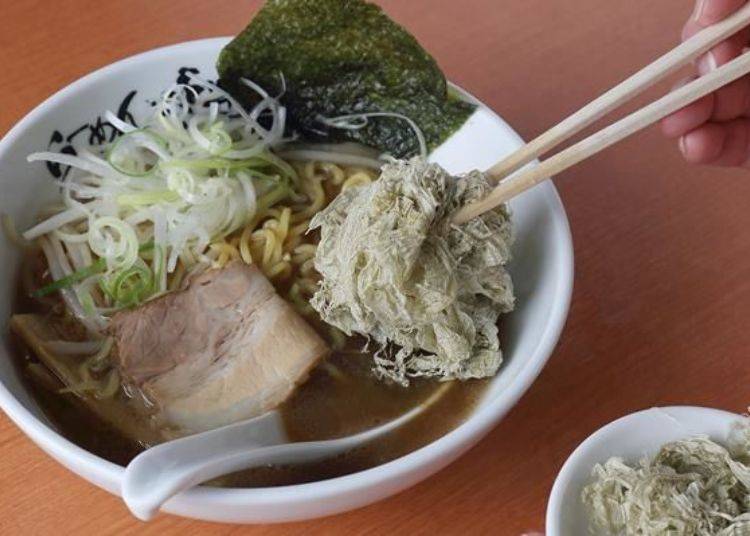 You really must try this ramen that has the flavor of Rishiri Island. While the delicious ramen of other places may be created, it cannot compare with the atmosphere and ambiance of the original locations. The island air and climate, the people you meet there all in some way make a bowl of ramen there uniquely special.

While this is one of the most inaccessible ramen shops in Japan, it is definitely worth the trouble and effort to get there! Someday I hope you will have a chance to visit Rishiri Island and visit Ramen Miraku!
利尻らーめん味楽

Address

〒097- 0401 北海道利尻郡利尻町沓形字本町67/Kutsugata, Rishiri-cho Rishiri-gun, Hokkaido, 097-0401, Japan

Phone Number

0163-84-3558

Open: 11:30 a.m. ~ 2:00 p.m.
Closed: Thursday

*This information is from the time of this article's publication.
*Prices and options mentioned are subject to change.
*Unless stated otherwise, all prices include tax.