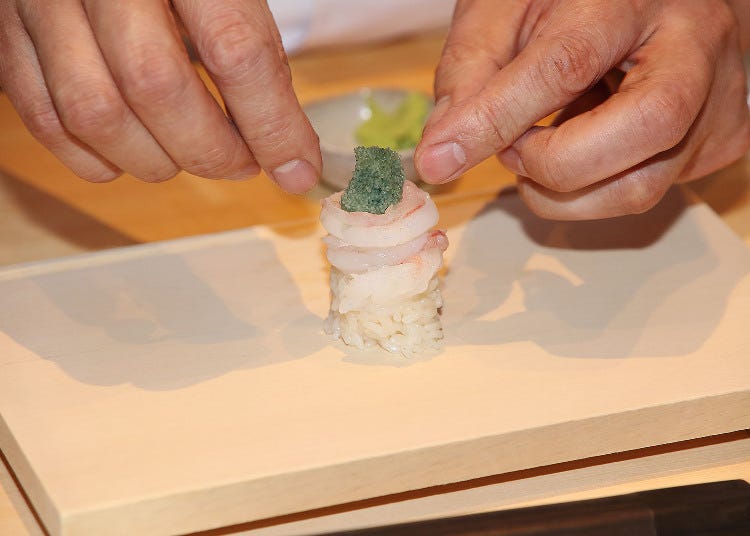 When you're looking for the best Sapporo sushi shops, head to Susukino! Here you'll find many places ranging from sushi trains to luxurious shops that serve beautiful sushi at a price you can afford.

Here are four shops recommended by the locals where you can enjoy fresh Sapporo sushi at a sushi train, one where you can sample fare popular with the regular folk at a reasonable price, and one where the sashimi and sushi is prepared before your very eyes, catering to a more mature clientele.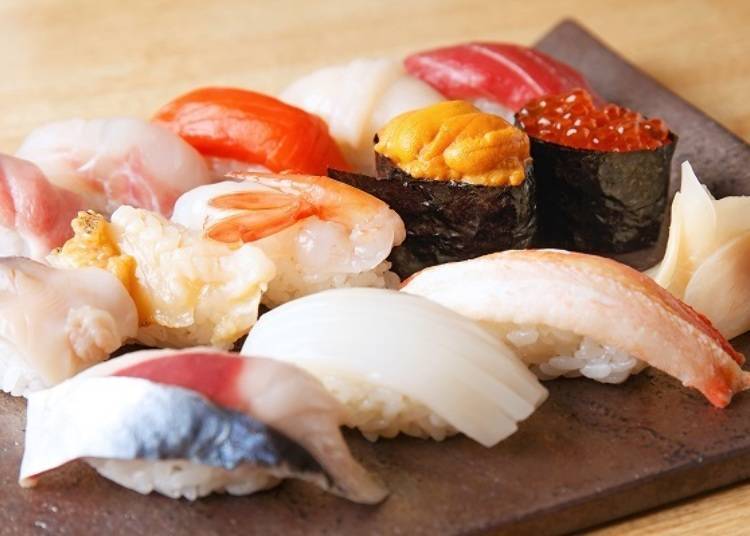 Some of the best Sapporo sushi: Delicious Uni (sea urchin), kani (crab), ikura (salmon roe)
Hokkaido has an abundance of delicious seafood, Sapporo sushi is some of the best around. Regardless of their size, shops can easily obtain the freshest and most delicious seafood products. The following are the sushi restaurants we recommend.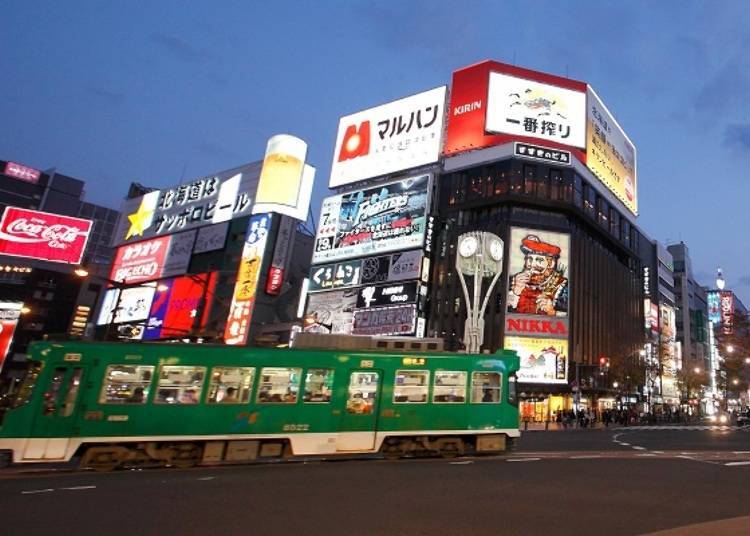 The Susukino intersection just above the exit of Susukino Station on the Namboku subway line
1. Sakana Isshin Lafiler: Savor delicious Sapporo sushi in a casual atmosphere (Shop closed)
First on our list of recommendations is Sakana Isshin Lafiler, a shop which is directly connected to the station.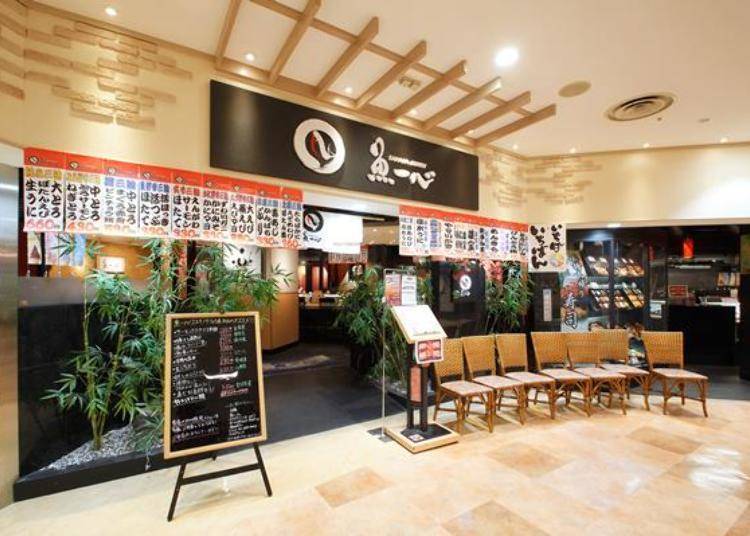 Sakana Isshin is the outlet shop of a fisheries company. It is for that reason it is able to sell the freshest and finest neta (seafood toppings on balls of rice) in Hokkaido at hard-to-beat prices!
No need to worry about rain or snow as the shop is close to the ticket gate of the subway located in the second basement of the Susukino Lafiler Building. Due to its prime access, it is popular with business travelers seeking a reasonable lunch, commuters having a light bite to eat before heading home, as well as those hungry after a night of barhopping.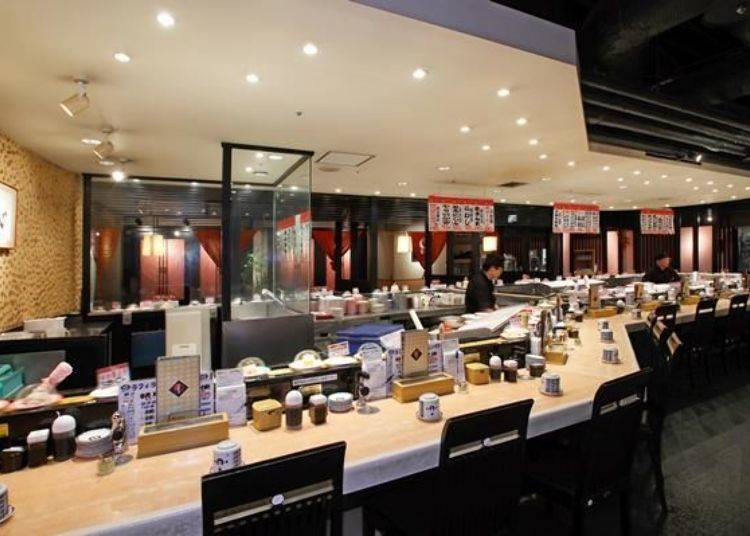 In addition to the counter, there are booths in the rear, too. All sorts of delicious types move before your eyes, but you can also request the itamae (sushi chef) to prepare any of your favorites.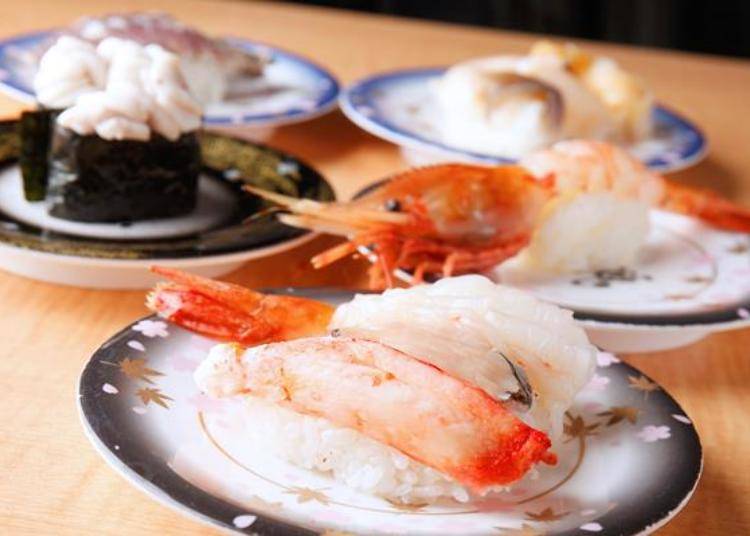 Sakana Isshin is the outlet shop of a fisheries company. It is for that reason it is able to sell the freshest and finest neta (seafood toppings on balls of rice) in Hokkaido at hard-to-beat prices!
On this day we asked the store manager, Hideki Takahashi, for his recommendations and enjoyed several different types of sushi. The first plate we tried was the madachi (cod milt) which is a winter dish representative of Hokkaido.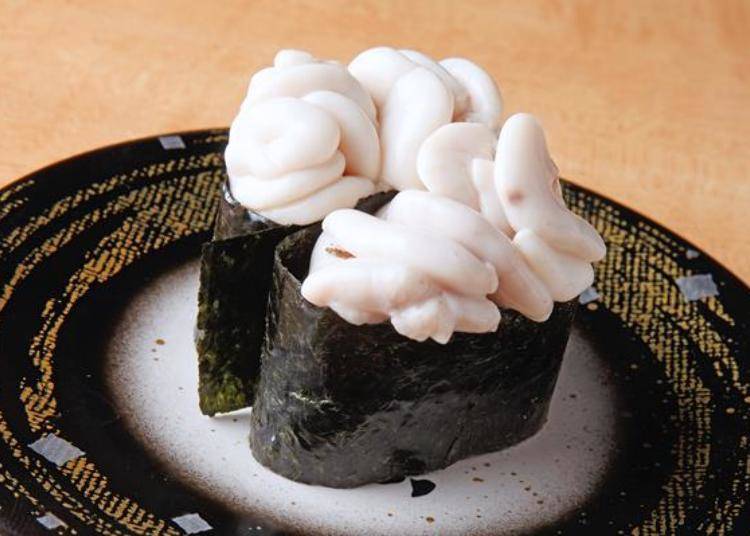 Madachi (cod milt), the sushi topping popular with Dosanko (Hokkaido residents) [530 yen for a plate containing 2 kan (portions)]
Madachi, or tachi as it is commonly called, refers to shirako (the milt of cod). It is odorless and has a smooth, creamy texture. The next is one of the most popular of the more expensive neta selections.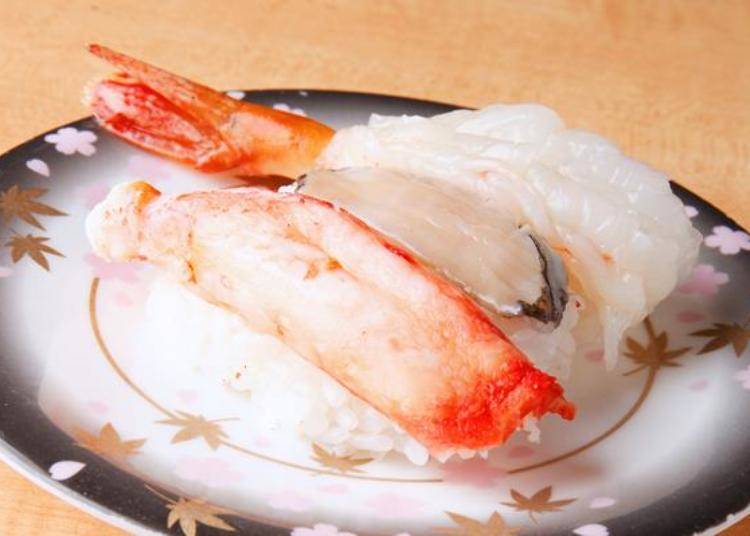 From the front tarabagani (king crab), awabi (abalone), and botan ebi (button shrimp), the price for one kan (serving) of each being 760 yen
Sink your teeth into the thick crab meat, the succulent abalone, and tender shrimp to experience some of the wonderful seafood delicacies offered in this northern country.

The following set of three servings is recommended for those who like shellfish!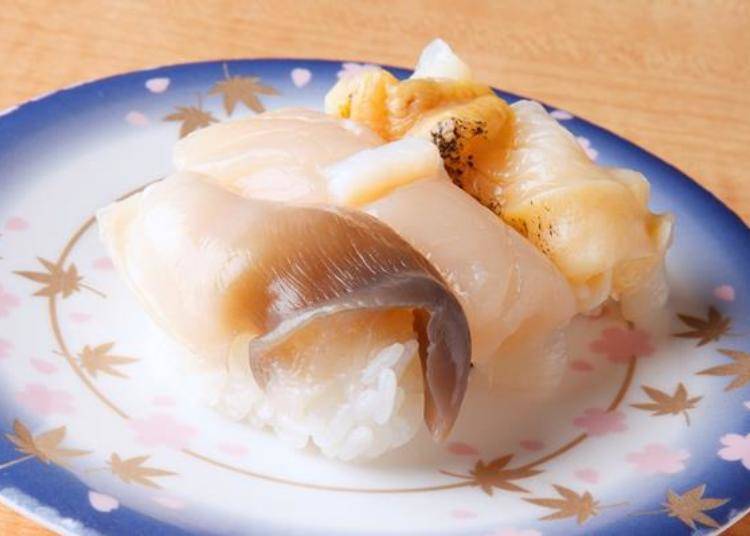 From the front, hokki (Sakhalin surf clam), hotate (scallops), and tsubu (whelk); experience three different types of shellfish for only 330 yen per plate
The flavor of each increases with each bite you take!

At Sakana Isshin part of the menu is devoted to limited discount servings, and each day new services are offered so there is always something special every time you come. This was the special on the day we visited.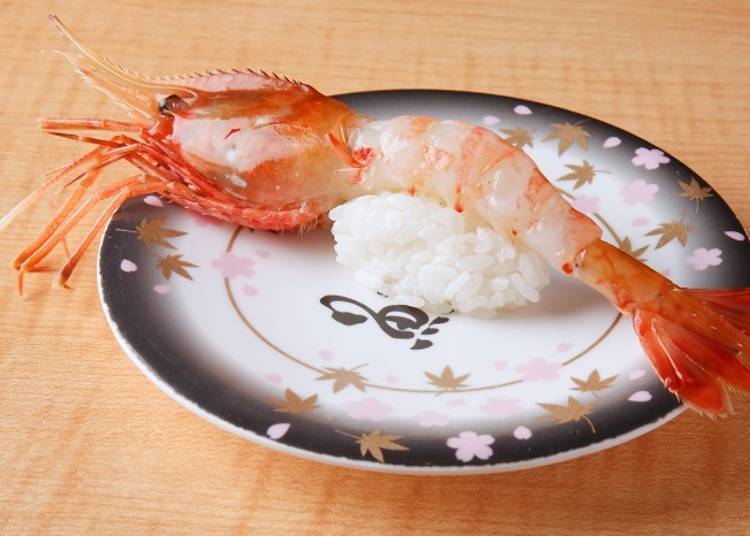 An extra-large spot prawn that normally goes for 530 yen cost only 430 yen on this day!
You can feel the weight of it when you lift it with your chopsticks and the size of the shrimp practically overwhelms the shari (rice) on which it sits. The flavor is so rich that it almost feels like the shrimp is dancing in your mouth!

Last of all we tried the shako (a species of mantis shrimp) that is caught around Hokkaido in spring and autumn.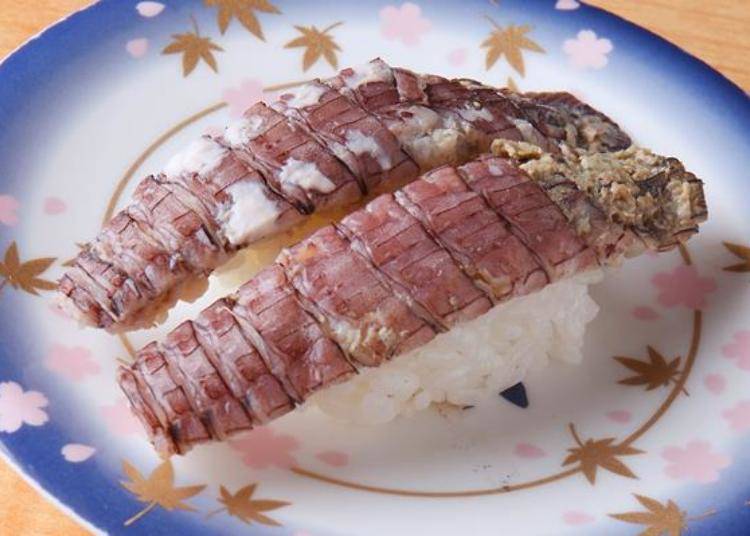 Aki shako (autumn mantis shrimp) [female], 660 yen for a plate of 2 portions. Light at first, the flavor develops steadily with each bite
Due to the relaxed and easy atmosphere of Sakana Isshin, the shop has many visitors throughout the day, and on Saturdays you often have to wait to be seated. A good time to visit when it is least crowded is between the hours of 3:00 and 5:00 PM on weekdays.
Sakanaisshin Susukino Lafiler

魚一心 ススキノラフィラ店

Address

Susukino Lafiler B2F, 4, Minami4-jonishi, Chuo-ku Sapporo-shi, Hokkaido, 064-0804, Japan

Phone Number

011-518-7177

Hours: 10:00 AM ~ 9:00 PM (last order: 8:40 PM)
Holidays: unscheduled (same as for the Susukino Lafiler)
2. Washoku to Sushi Nijo: Delicious Sapporo sushi dishes popular with locals, at reasonable prices
The next shop we want to introduce is Washoku to Sushi Nijo which is popular with local residents for its inexpensive and delicious food. It is located next to the Nijo Market which is a five to six-minute walk from the Susukino intersection that is popular with sightseers.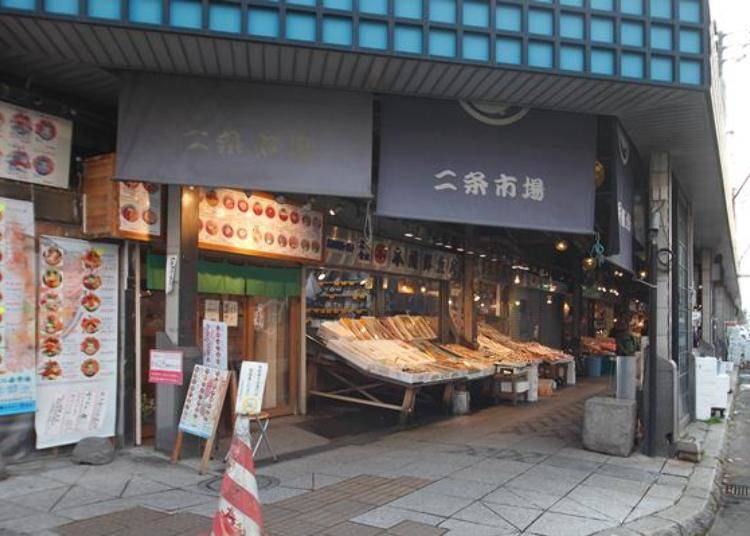 Nijo Market has a number of shops selling seafood products
While the Nijo Market is lively with sightseers, inside the Washoku to Sushi Nijo you see mostly locals. It is popular with nearby office workers at lunchtime on weekdays and at night popular with families and guests staying at nearby hotels.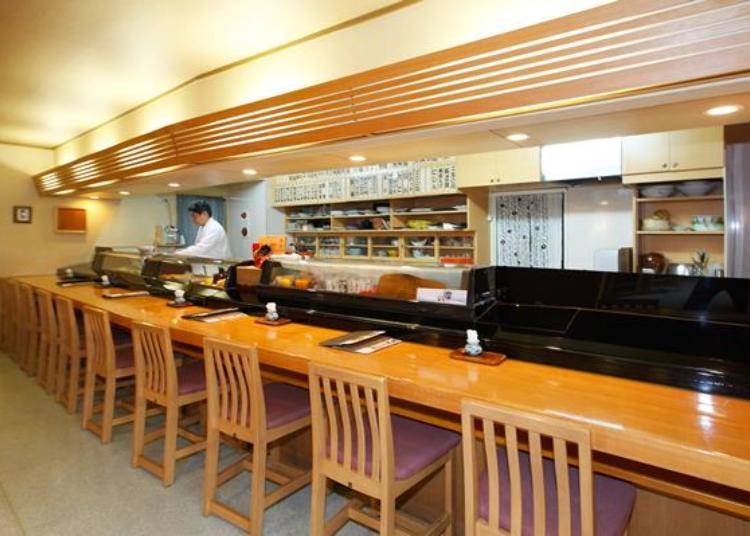 There are also tables and tatami mat seating in addition to the counter. Manager Masaki Yamamoto is pictured standing in the kitchen area.
Mr. Yamamoto says that he strives to make his shop a comfortable one serving inexpensive delicious food and recommends the following three menus.

The first is naturally the nigiri (slices of seafood on balls of rice) and the most popular is this: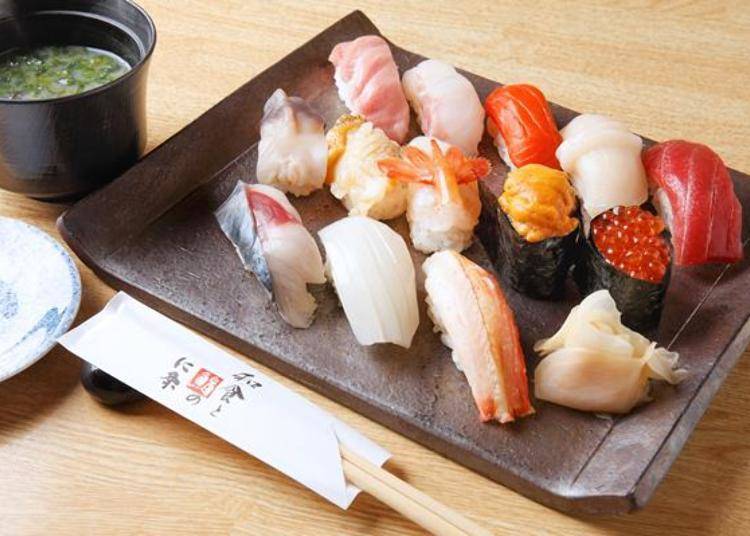 13 servings of especially selected items (3,240 yen). From the upper left to the lower right they are otoro (fatty tuna), soi (fox jacopever), benezake (red salmon), hotate (scallops), hokki (surf clam), tsubu (whelk), botan ebi (button shrimp), uni (sea urchin), ikura (salmon roe), shimesaba (pickled mackerel), maika (squid), and zuwaigani (snow crab)
Only the finest Hokkaido sushi and seafood of the season is carefully selected and obtained from city markets. For that reason, the types of seafood offered will vary slightly according to the season, however most are offered year round.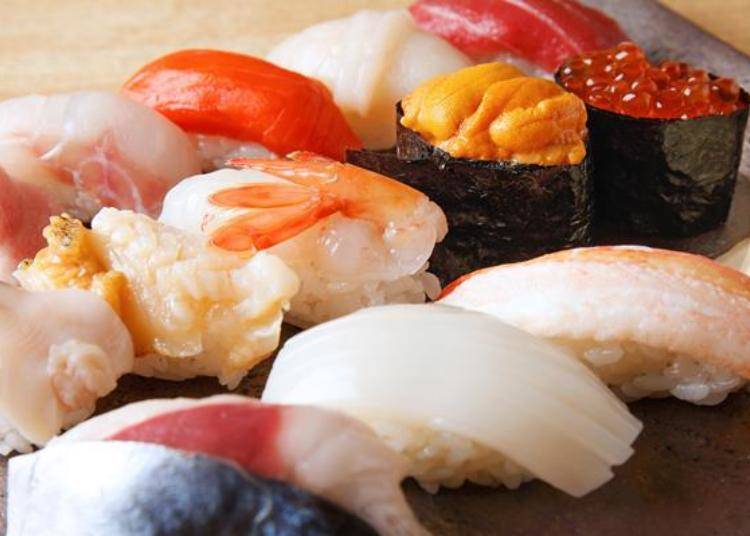 unique
The 13 servings may be filling, but there is one more dish you really should try and that is the ikesu neta (slices made from live seafood).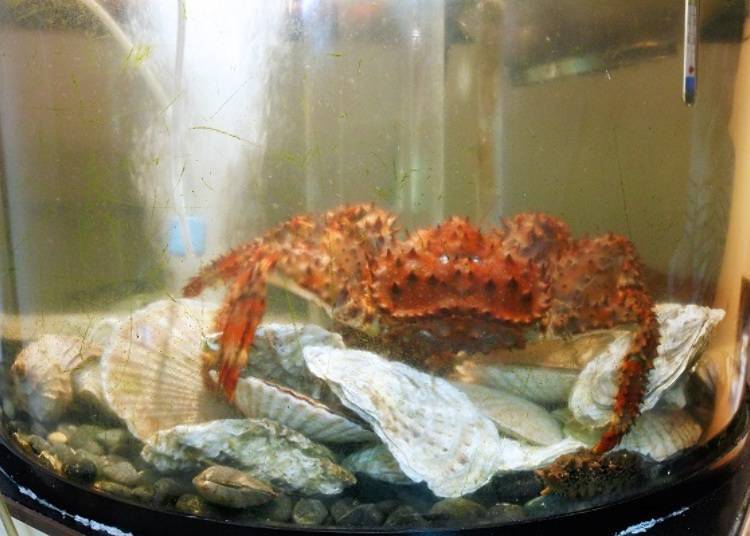 It is almost impossible to see live hanasakigani (blue king crab) outside of Hokkaido! Other seafood kept alive are oysters, scallops, namako (sea cucumbers), abalone, and clams. Roughly every four days tanks are replenished new seafood.
For this article we selected oysters harvested from the coasts of Hokkaido.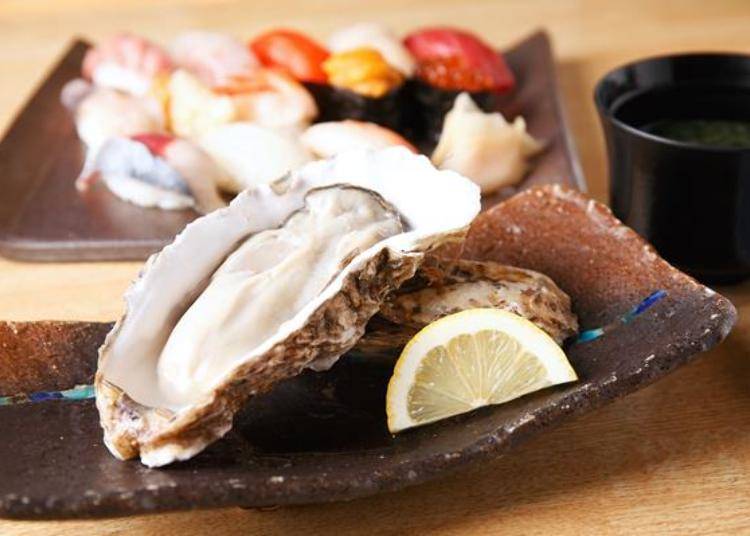 Fresh recently caught live oyster (from 600 yen; price varies according to size)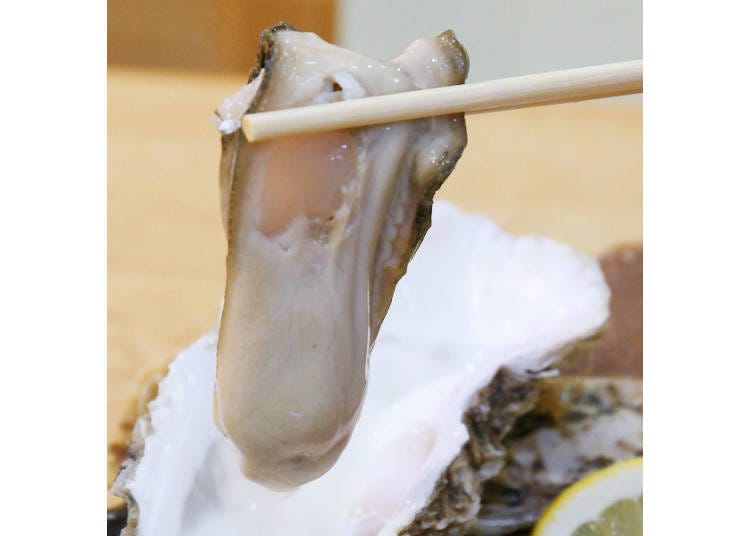 The weight of these oysters when lifted is enough to make you wonder if the chopsticks won't break!
It will take more than a single delicious bite to devour these giants!

Bakudan (bomb), is the second most popular item on the menu after nigiri, and is the final one we will introduce.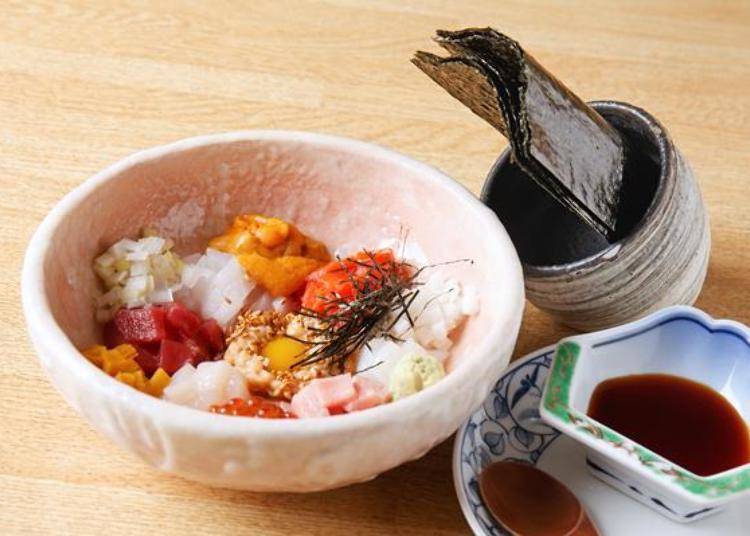 The name of this dish, bakudan, is inspired by the sight of exploding fireworks (1,580 yen)
This dish includes a variety of ingredients such as sea urchin, salmon roe, red tuna, octopus, and natto (fermented beans) mixed together and topped with wasabi soy sauce. You eat it by wrapping up a spoonful in the accompanying dried seaweed.

This style is called temaki sushi which literally means hand-wrapped sushi. Instead of placing the neta on balls of rice, they are all mixed together allowing the flavors to burst forth like delicious fireworks in your mouth. After having the nigiri we recommend sharing an order of this among two or three people.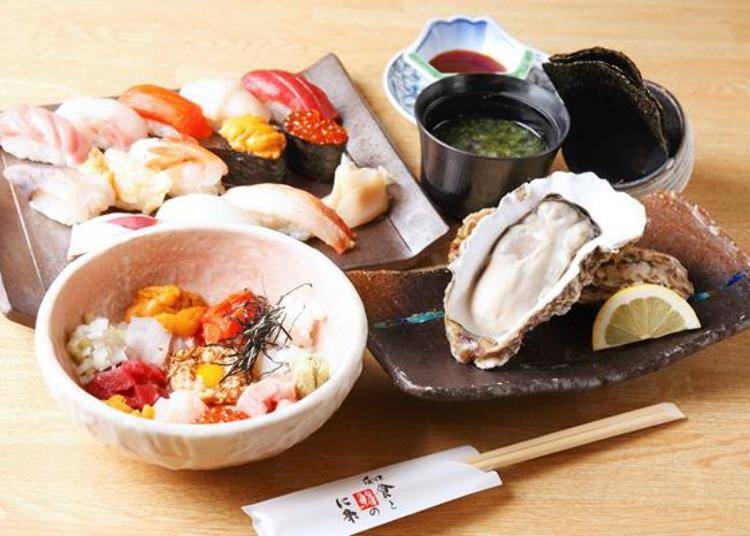 A bounty of seafood delights! All reasonably priced considering the large portions.
In addition to sushi and raw seafood dishes, grilled fish, tempura, fried and stewed dishes are also offered as well as meat and vegetables, so there is a broad selection to choose from on the menu.

Covid-19 Countermeasures
Sanitizer installed / Disinfected after each guest leaves / Ventilation measures in place / Coin trays used / Plastic partitions installed / Staff wear masks, gargle, wash hands regularly, and monitor body temperature / Limited capacity / Increased space between seats / Limited admissions, reservation system employed / Entry declined to anyone who is feeling unwell / Masks required / temperature check enforced
和食と鮨 に条

Address

Puresanto 1F, 2-6-1, Minami3-johigashi, Chuo-ku Sapporo-shi, Hokkaido, 060-0053, Japan

Phone Number

011-219-1346

Hours: 11:00 AM ~ 3:00 PM (last order: 2:30 PM); 5:00 PM ~ 10:00 PM (last order: 9:30 PM)
Closed: Wednesdays
3. Sushi Fuji: Skillfully prepared Sapporo sushi will please the eye as well as the palate
Next we introduce Sushi Fuji, a shop well-known among discriminating diners. It is located a short two to three-minute walk from the Susukino intersection.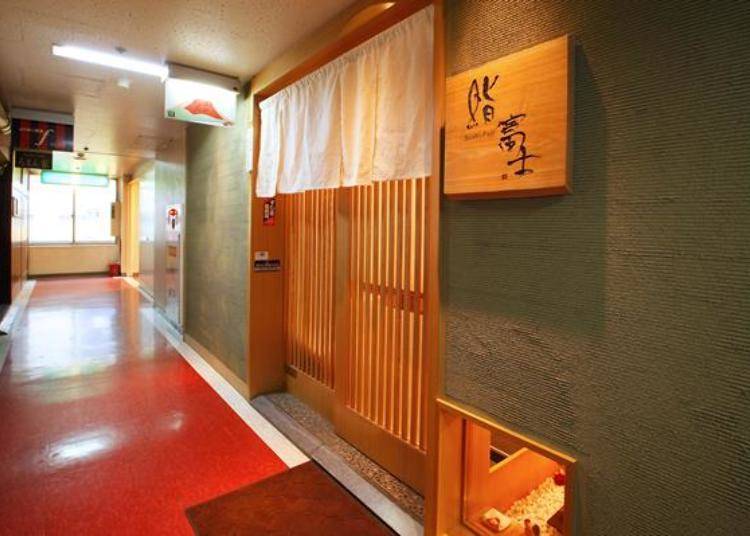 Quietly tucked away in a commercial building, a hideaway spot secretly frequented by a number of celebrities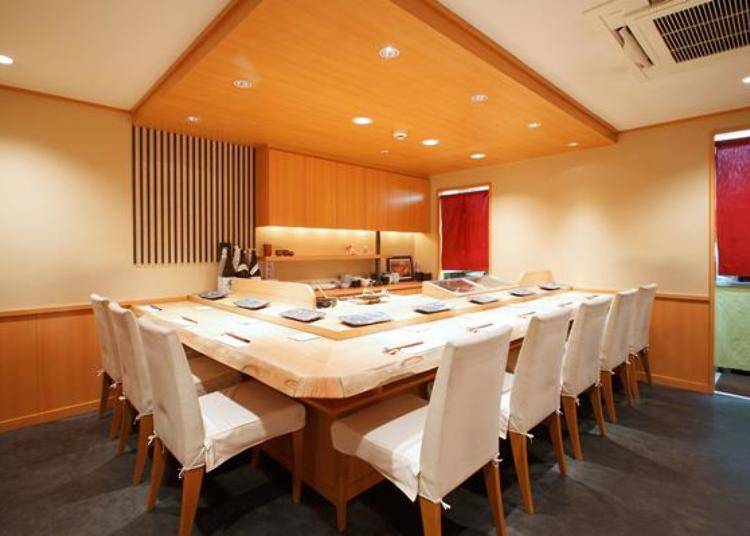 The counter, made from a single board of ash wood, seats 8; there is also one other table seating only
This cozy establishment is owned and operated by Mr. Shinya Kudo, the chef, and his wife, Kumiko.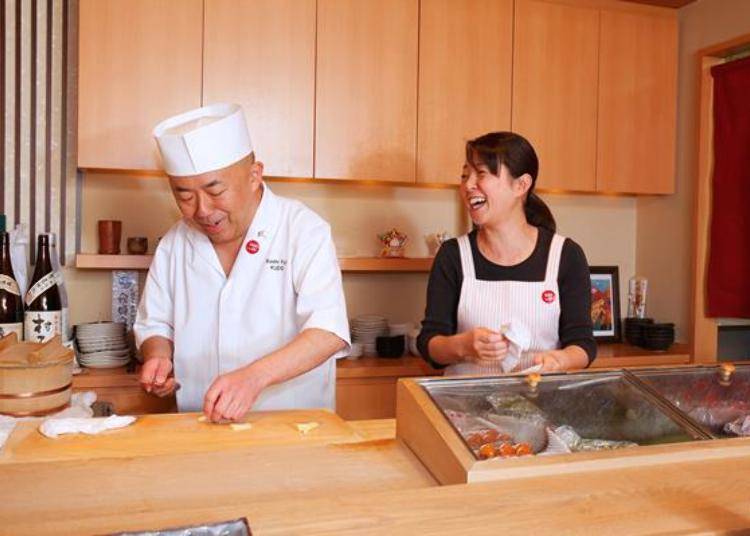 Patrons are attracted to the lively conversation of Mr. Kudo and his cheerful wife
After beginning his career and working 21 years at Sushi Zen, one of Sapporo's most famous sushi restaurants, he next spent six years polishing his skills at the famous Sushi Dokoro Jun in the Ginza district of Tokyo before returning to Sapporo, his birthplace, and opening Sushi Fuji in 2008.

Here it is possible to enjoy Edomae sushi, the style that originated in Edo, the old name of Tokyo. He prepares each serving using the freshest and finest seafood ingredients to be found in Hokkaido.
Try an unforgettable course prepared by a master itamae using the finest ingredients!

You may be anxious sitting in this exclusive restaurant that serves the finest of ingredients about what to order and what it will cost as you sit facing the master from across the counter.

But you need not worry! While you of course can order a la carte, for first-time visitors we recommend ordering a course from the menu, something many patrons prefer to do.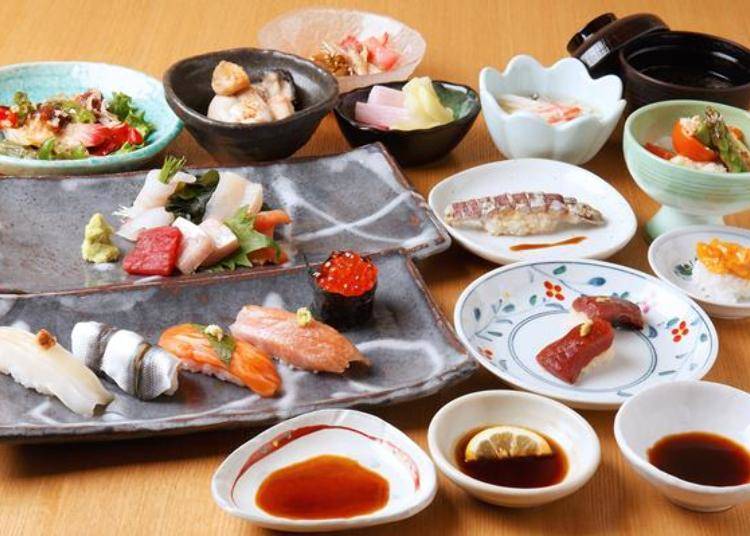 The Sushi Fuji Select Course is the most popular and consists of eight dishes at a cost of 10,800 yen
This menu includes otoshi (appetizer), odzukuri (sliced raw fish), two kobachi (small dishes), 8 kan of sushi, owan (bowl of soup), and konomono (pickles), served in that order (sometimes the contents and presentation may differ depending on availability of seafood on hand).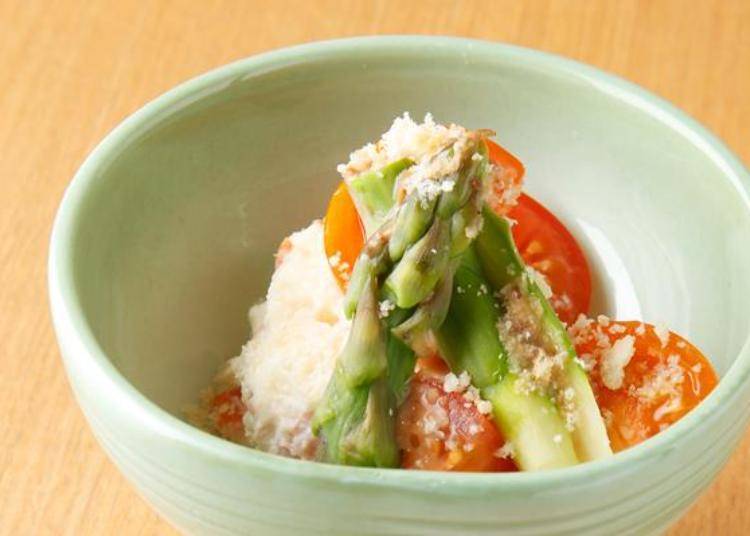 The otoshi comes first. Today it was an asparagus and tomato salad
After the otoshi came a dish especially recommended in addition to the set menu!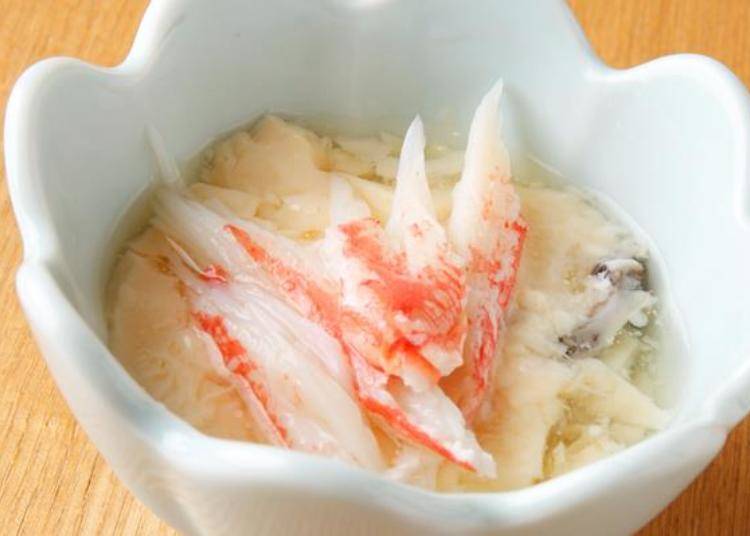 A bite-sized portion of chawanmushi (savory egg custard with crab meat). The skipjack tuna soup broth gives it added flavor!
Next comes the odukuri. This usually is made with something seasonal. This time everything but the akagai (ark shell clam) was from Hokkaido.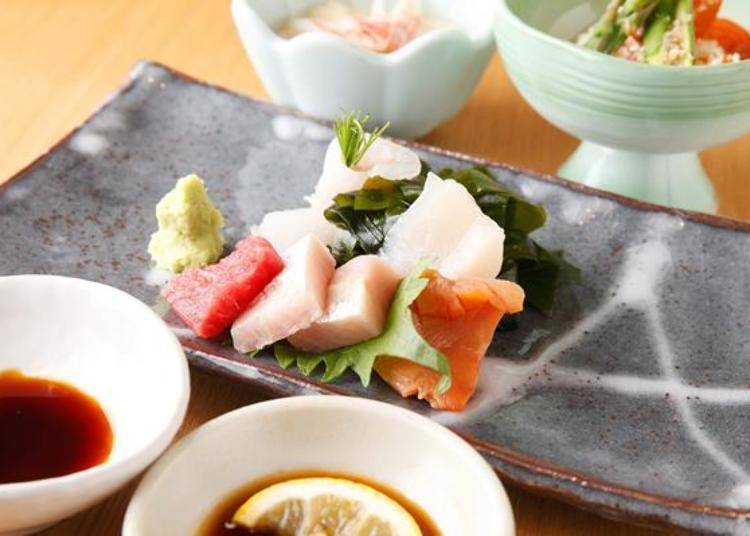 Good dipped either in soy sauce or ponzu (a sour orange-based sauce) with lemon
The master explains that the dishes are served in an order by which the lighter dishes are followed by those a bit heavier.

First we had Otaru flounder wrapped in green onion sprouts. After that came soi (fox jacopever) from Shakotan; akagai (ark shell clam) from Yuriage, Miyagi Prefecture; hotate (scallops) from Sarufutsu; maguro (tuna) from Toi in the Tsugaru Straits; burinose (the back slice of amberjack) from Yoichi; and after that a stomach cut of amberjack. I alternated dipping the slices in the wasabijoyu (wasabi-flavored soy sauce) and ponzu sauce made with freshly harvested Hokkaido seaweed.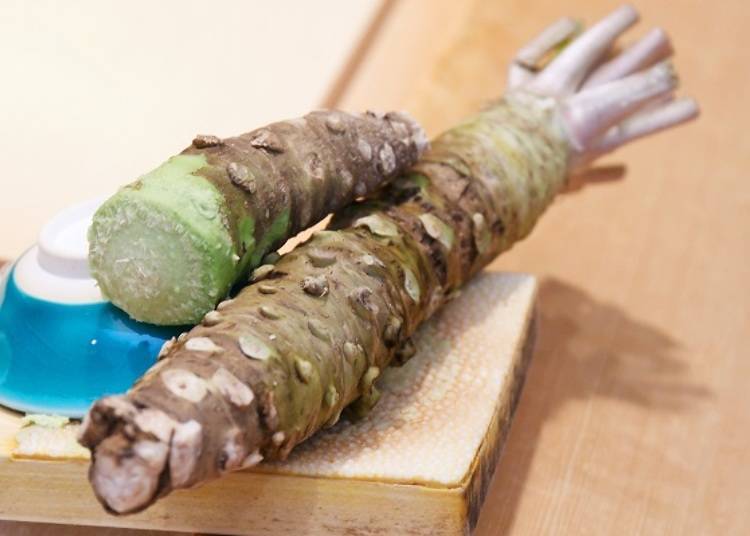 Wasabi (Japanese horseradish) is authentic wasabi produced in Shuzenji, Shizuoka Prefecture. Its distinct sharp, sweet flavor greatly enhances the flavor or sushi!
If the dishes are eaten in the order prescribed above, the flavor of each dish enhances that which follows; the odzukuri almost being an entire course in itself!

This was followed by two "small bowl" grilled dishes.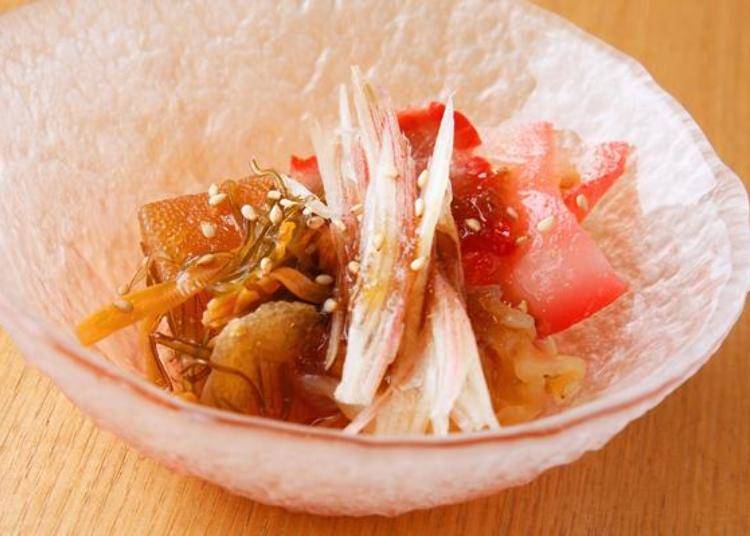 A small bowl dish of whale bacon and jellyfish garnished with herring roe in homemade matsumaezuke (a pickled dish of sliced surume (dried squid) and konbu (dried seaweed)). Goes especially well with Japanese sake!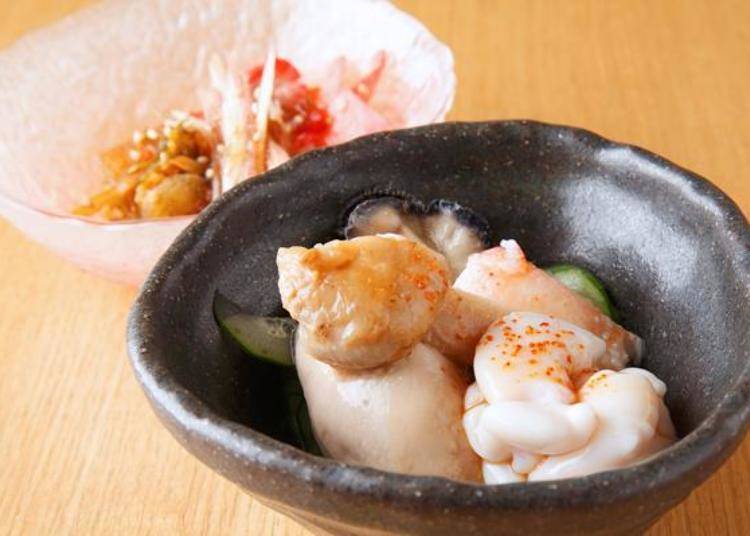 A stewed serving of snow crab claws, matsutake mushroom, oyster, and tachi (soft cod roe). The matsutake gives it a rich flavor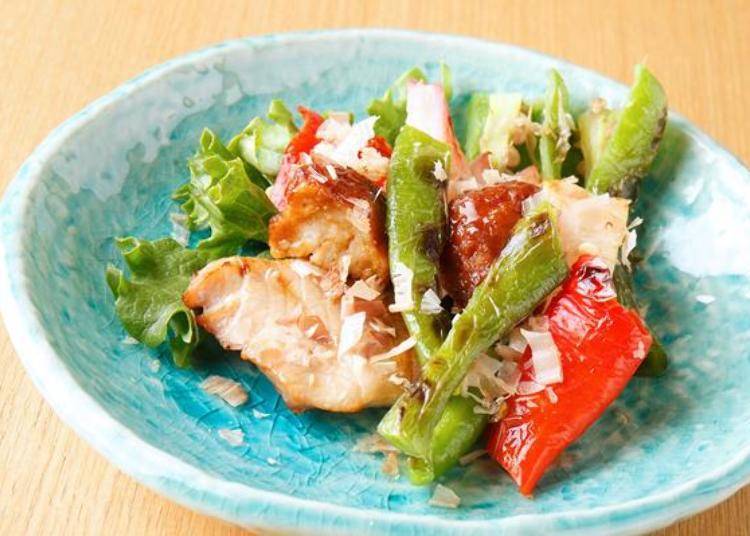 Amberjack grilled teriyaki-style and homemade meat dumplings, grilled hokki-gai (surf clam) and manganji togarashi (Manganji peppers) from Kyoto accented by the delicious flavor of bonito stewed in soy sauce.
This tantalizing dish is followed by the main nigiri course, each kan to be enjoyed in the order presented.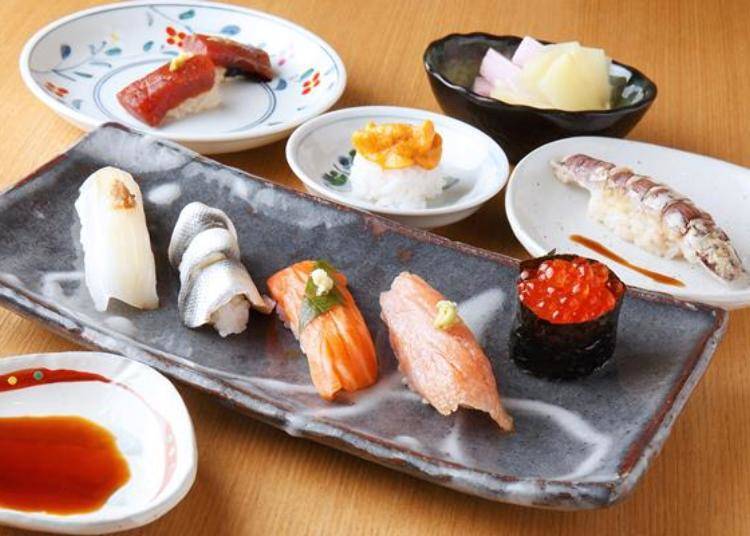 In clockwise order starting with the ikura (salmon roe), comes otoro (fatty tuna), sake (salmon), kohada (medium-sized gizzard shad), surume ika (squid), maguro no tsuke (pickled tuna), uni (sea urchin), and shako (mantis shrimp). In the upper right of the photo is a pickle garnish of fresh ginger, and yam pickled in shiso (beefsteak plant)
The master and his wife work in perfect harmony as though as one. As the master begins preparing the nigiri, at the perfect moment she sets out an oshibori (damp hand towel) for fingers and a soup bowl containing seaweed.

The soup is comprised of seven parts Shinshu miso and three parts red miso from Aichi Prefecture – the perfect blend to complement the flavor of the sushi. Pickles are also served for refreshing the palate.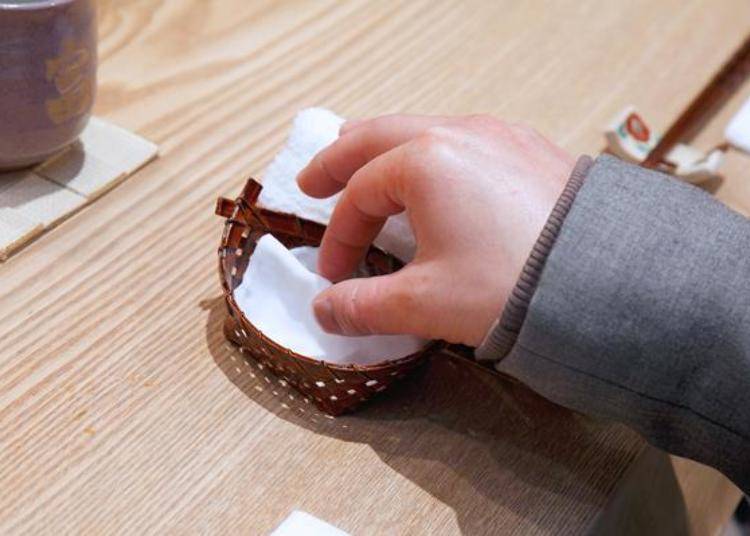 The oshibori is for wiping your fingers if you prefer to eat the sushi without chopsticks. Of course, you may use chopsticks, too.
Now let's try the nigiri!

First: surume ika (squid)
Served with mountain wasabi, not regular wasabi, and bonito, slathered with nikiri shoyu (soy sauce containing water, sake, mirin (sweet sake), and soup broth).

Second: kohada (medium-sized gizzard shad)
A smaller portion of shari (rice) topped with a large slice of fish! It has already been slathered with nikiri shoyu so eat it as it is!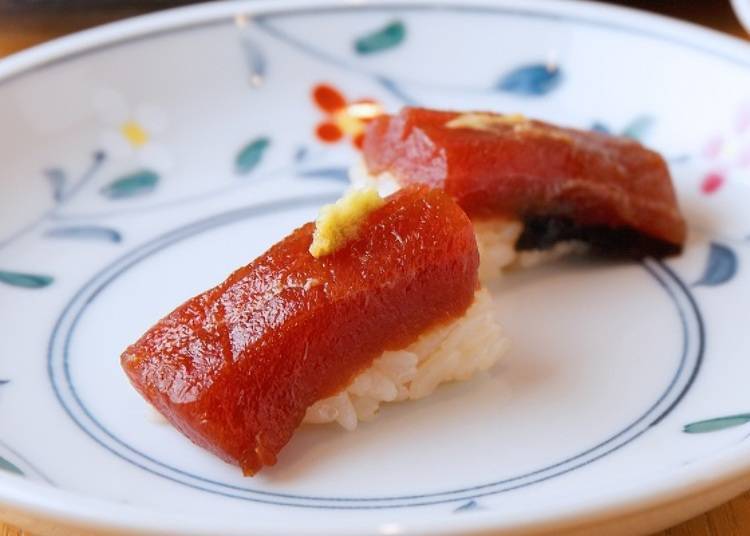 First dish containing two half-sized kan; the third dish is of pickled tuna
Third: maguro no tsuke (pickled tuna)
Wasabi is put on top of the neta in the first one, so the next one has seaweed between the shari and neta, then slathered with nikiri shoyu after which a dab of wagarashi (Japanese mustard) is applied. Wagarashi is spicy yet mellow!
The shari for the pickled tuna is different from regular shari; it uses red vinegar instead of normal vinegar which tightens the flavor.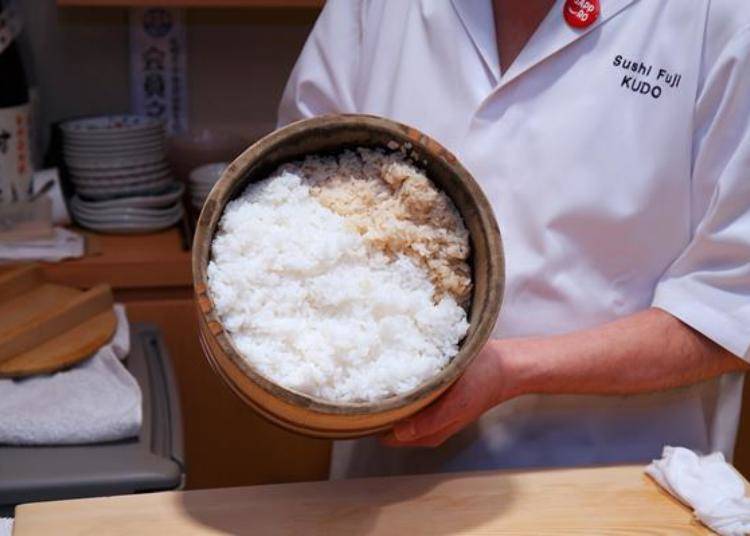 Two types of shari: the white being made with regular vinegar while the darker one is made with red vinegar and used for pickled tuna
Fourth: Hidaka-san sake no ginsei (wild chum salmon caught near Hidaka)
Ginsei is the name given to wild chum salmon caught only in the Hidaka region of Hokkaido. Also known as ginkezake, it is said to be the "king" due to its beautiful silver shape, rich texture, and taste. For this the slightly sharper mountain wasabi grown in Hokkaido is used instead of regular wasabi. The leaf of the beefsteak plant gives added accent.

Fifth: Toi-san maguro no otoro (fatty tuna from Toi)
Toi is part of Hakodate City and is on the other side of the Tsugaru Straits that separates it from Oma Town, Aomori Prefecture which is famous for its tuna. The fatty tuna is made from the head of tuna caught in that part of the sea. Abundant in fat content, the meat melts in your mouth it is so soft.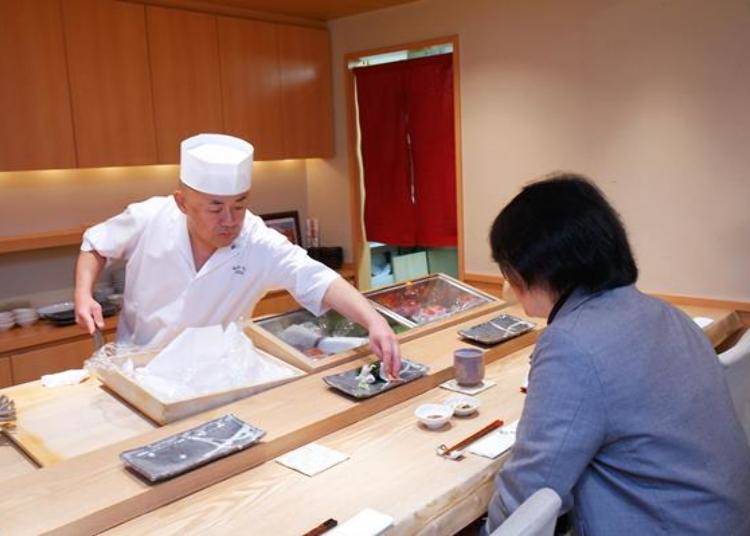 Enjoying sushi! Watching a master itamae prepare each serving before your very eyes makes the experience all the more memorable
Sixth: Hamanaka-san bafun uni (horse-dung sea urchin harvested at Hamanaka)
"Would you prefer rock salt or nikiri shoyu?"
After inquiring as to your preference, the master then makes the nigiri putting the condiment you requested on top of it. I ordered the rock salt as I think it gives it a uniquely different taste.
Each serving is about a single mouthful, but the flavor is so rich that it gives the sensation of having eaten dozens of them. Truly a sumptuous dish!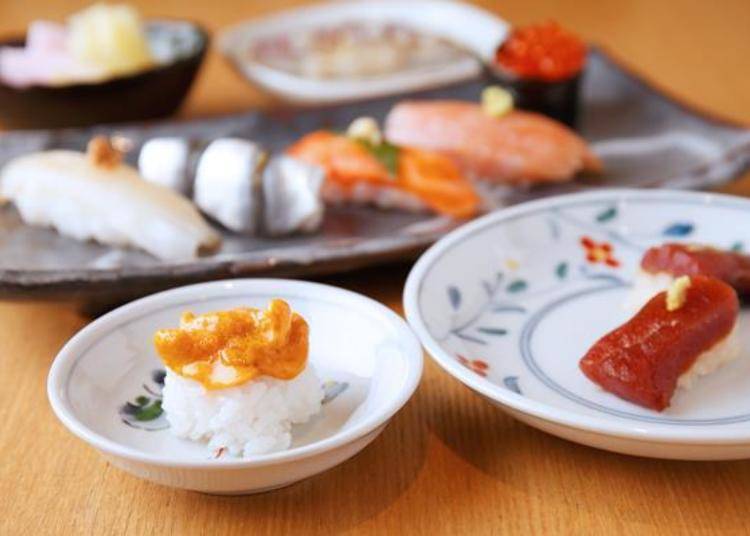 Sea urchin served on a bed of shari not wrapped in seaweed is Sushi Fuji style. This way the exquisitely tender flavor of the sea urchin can better be appreciated
Seventh: Jikasei ikura (homemade salmon roe)
As with the sea urchin, each serving is bite-sized on a round gunkan (shari wrapped with seaweed). Many of the patrons enjoy sake with their sushi, and it is for that reason the size of the servings are kept modest. The sensation of the roe bursting in your mouth and then melting away is exquisite!

Eighth: Otaru-san shako (mantis shrimp from Otaru)
Mantis shrimp is caught in spring and autumn and then boiled. After servings of rich and fatty neta, the mantis shrimp is the perfect follow-up for concluding the feast.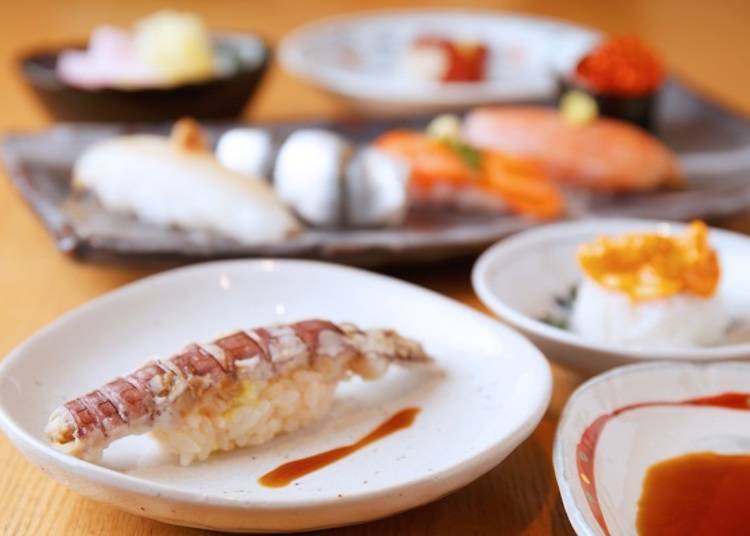 Mantis shrimp on top of red vinegar flavored rice. In some seasons spot prawn is used in place of the mantis shrimp
And that is the complete course!

Watching the skilled technique of a master sushi chef and enjoying the ambiance of warm conversation with the master and his wife, this is truly an unforgettably luxurious experience, one that can be enjoyed with eyes and ears, as well as the mouth. The chef is a master at striking the perfect balance with the finest ingredients available.

Covid-19 Countermeasures
Sanitizer installed / Disinfected after each guest leaves / Ventilation measures in place / Plastic partitions installed / Staff wear masks, gargle, wash hands regularly, and monitor body temperature / Limited capacity / increased space between seats /Limited admissions, reservation system employed / Entry declined to anyone who is feeling unwell / Masks required / temperature check enforced
鮨 富士

Address

Sanjo Utsukusimatsu Bld. 3F, 5-14, Minami3-jonishi, Chuo-ku Sapporo-shi, Hokkaido, 060-0063, Japan

Phone Number

011-219-7880

Hours: 5:30 PM ~ 11:00 PM (no entry after 10:30PM) *Guests with reservations are given priority
Holidays: unscheduled
4. Sushi Mikami: Fresh and Delicious Sushi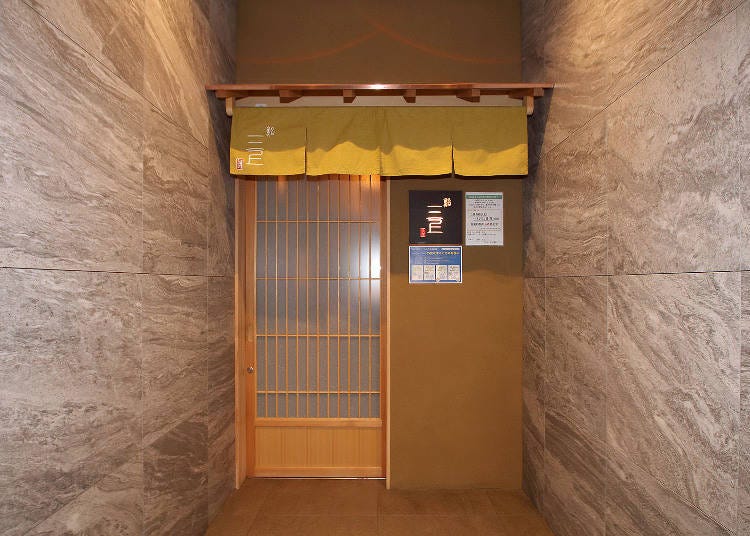 The shop is located in a secret, hidden space toward the back of the first floor.
Sushi Mikami is a Sapporo sushi shop located just a few minutes from the Susukino intersection. This Edomae sushi restaurant prides itself in its rice, vinegar, seaweed, and of course, fish.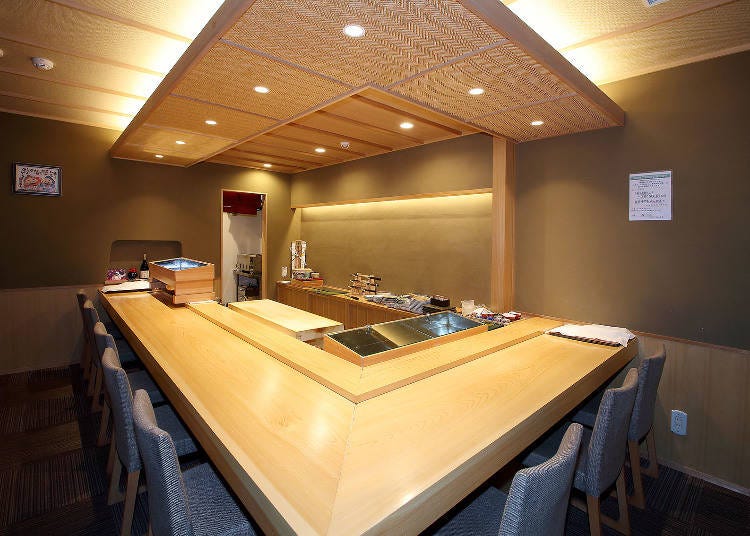 There are counter seats, as well as a private room that can accommodate up to 6 guests.
Sushi chef Mikami recommends sitting at the counter, where you can watch the food being freshly prepared by hand.

By taking the time to hand-roll the sushi carefully and trapping air between the grains of rice, the texture of the sushi changes.

The private room is right next to the counter seats, and they waste no time bringing your food to you. The chef's craftsmanship is clearly noticeable!
A private room is hidden behind this wall.
Sushi Mikami's standard menu item is the Taisho Omakase Course (starting at 13,000 yen, including tax). First, you are served 6 appetizers, including sashimi, and grilled and steamed foods. Following that are about 10 individual pieces of rolled sushi.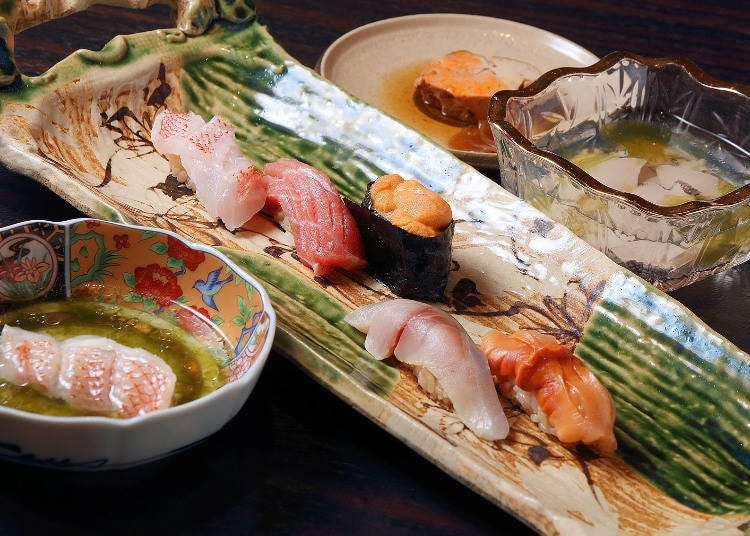 An example of the appetizer and sushi menu.
Mikami offers a mix of recommended standard items as well as daily specials made with seasonal ingredients, resulting in a menu whose contents and availability vary day by day. What surprises await your visit?

Mikami takes the time and effort to perfect the flavors of each ingredient.

Here are some of Sushi Mikami's standard dishes.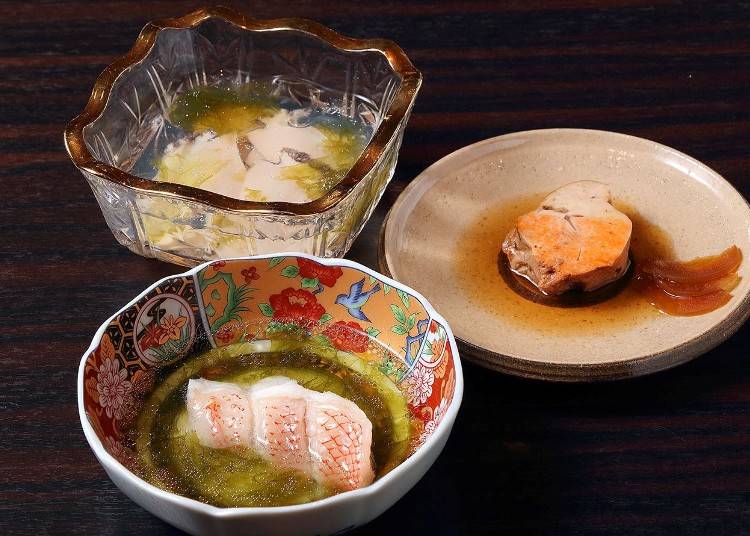 First, we have the sashimi. Their sashimi is more than a simple cut-and-served slice of raw fish. It is Mikami sashimi, prepared to Mikami perfection.

Their standard sashimi is mizugai, or abalone. When soaked in salt water, not only is the taste of the raw abalone enhanced, but the salt water itself takes on the flavor for a delicious abalone broth.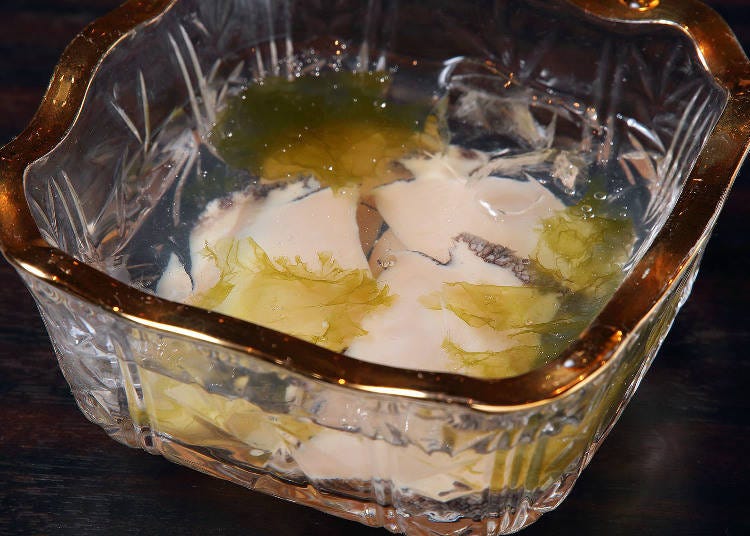 The abalone broth is not too salty, and many people drink it, too!
Next up is ankimo, steamed anglerfish liver from Yoichi, Hokkaido. This fatty fish is a classic winter staple, though they can sometimes be found in the middle of summer. Though anglerfish are landed only rarely in the summertime, it is said that summer catches are also fatty and delicious.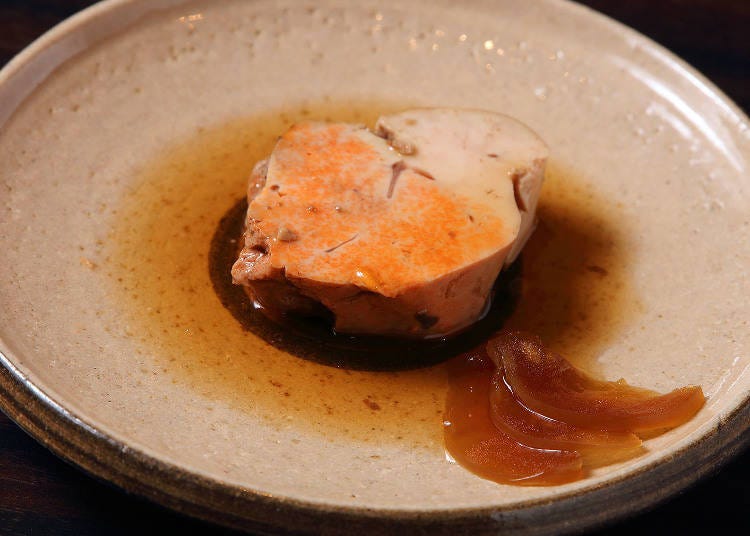 Ankimo is a winter staple, however if you happen to find some in the summer, consider yourself lucky!
Salted kinki (rockfish) is another delicious and fatty winter dish. Their kinki comes from Rausu, Hokkaido, and is boiled in salt and combined with a seaweed called sea lettuce. This dish is offered from November to the end of February.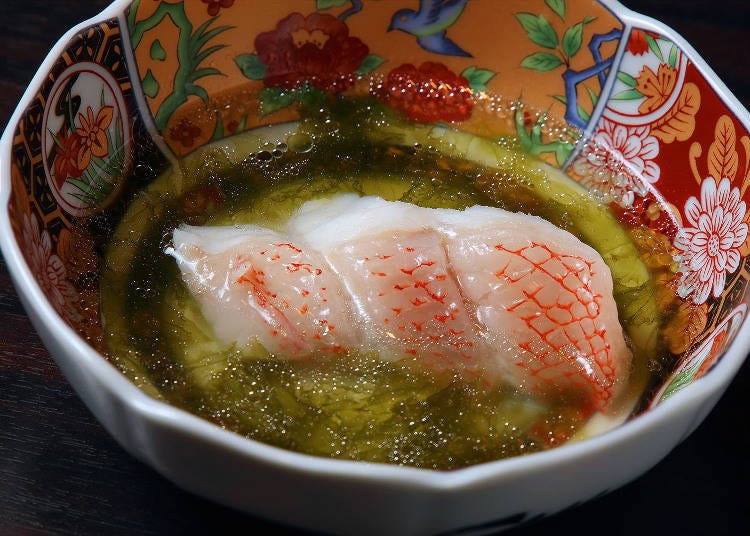 Now let's take a look at some of the main sushi rolls.

Shime Saba (cured mackerel) is an autumn and winter staple, when mackerel catches tend to be the fattiest. Mackerel, kohada, and tuna are said to become even more flavorful when left to sit for a few days.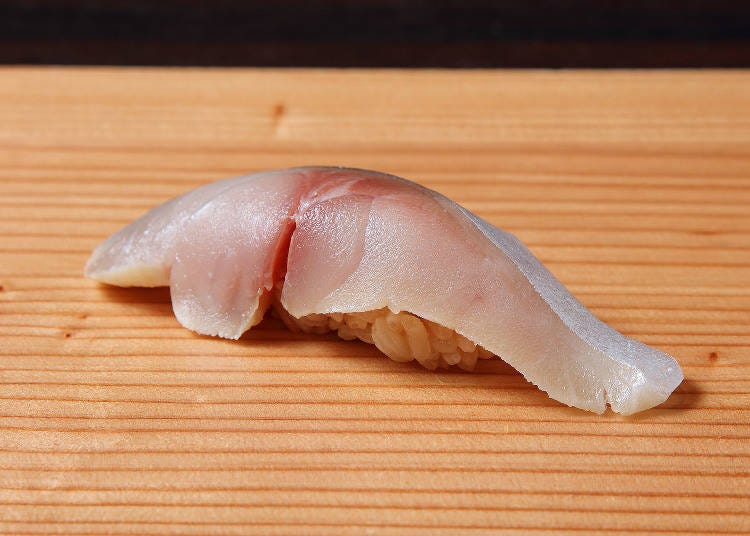 Sushi Mikami's mackerel is cured in vinegar and left to sit for five days before serving.
Uni (sea urchin) Gunkanmaki is a standard sushi item that combines the taste of the finest seaweed, fish, and rice. It is made with the best sea urchin and sushi rice in Hokkaido, and wrapped in a high-class seaweed from the Ariake Sea in Kyushu called Kontobinori.

The custom-made Nori Blend is rich in the delicious flavor of seaweed! It costs three times as much as ordinary seaweed.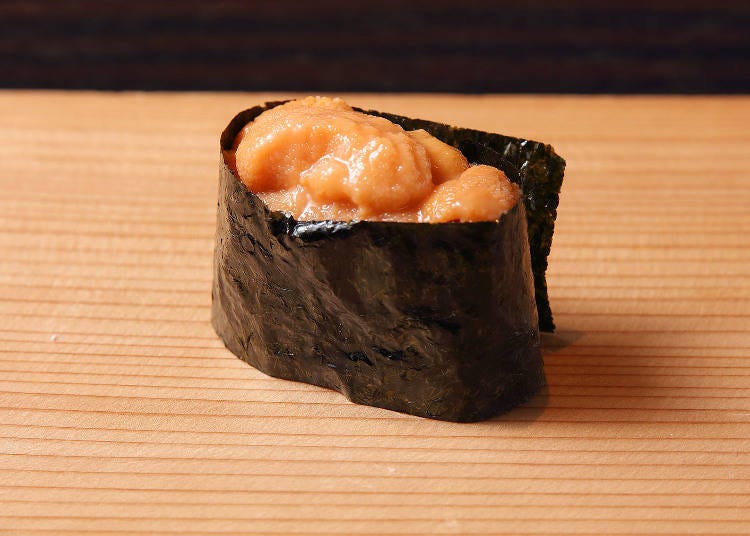 Enjoy the marriage of the sweet, rich uni and the strong taste of nori.
The shop is even more particular about their sushi rice!

According to Mr. Mikami, "All sushi restaurants should use high-quality ingredients. But even if everything else is good, without high-quality rice, the sushi will be ruined."

Their sushi rice is a blend of Hitomebore and Akitakomachi rice from Tome, Miyagi Prefecture. They don't use new rice. Their shop specially stocks and uses only rice that has been aged for one year, which is said to go well with the vinegar.

They use red vinegar for this rice, also aged 3 years. Aged vinegar has a stronger sweetness, which brings out the sweetness of the rice, resulting in a delicious sushi rice made without sugar.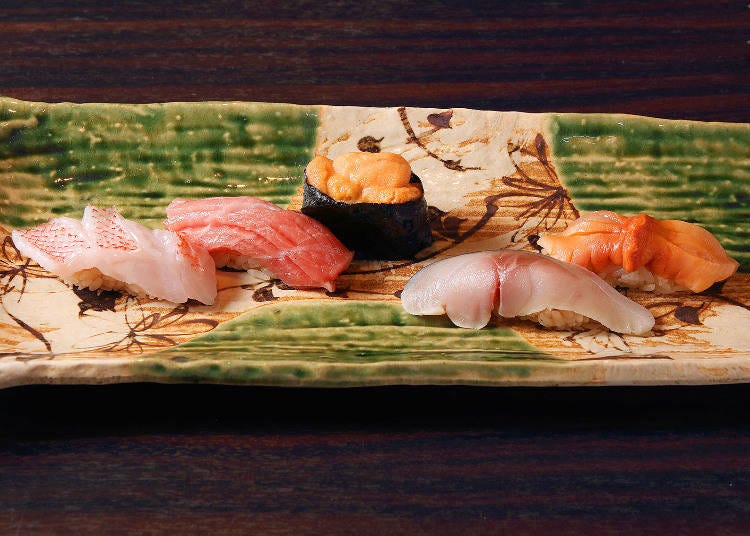 Their specialty rice, topped with the finest ingredients. From the left: Rockfish, Fatty Tuna, Sea Urchin, Cured Mackerel, Abalone
There are many other great specially-made dishes, including Steamed Abalone (which is steamed for 6 hours), and Boiled Octopus.

Although it takes some time to prepare the dishes, Sushi Mikami keeps their seasonings simple in order to not mask the flavor of the ingredients. Many items are only seasoned with a small amount of salt or soy sauce.

This place is popular not only with Japanese customers, but with foreigners as well. Some regular customers are tourists who stop by every year when visiting Hokkaido. Try ordering the Chef's Recommendation! Through simple communication in English, you can enjoy the finest Edomae sushi made with some of the finest ingredients!

Covid-19 Countermeasures
Sanitizer installed / Disinfected after each guest leaves / Ventilation measures in place / Coin trays used / Staff wear masks, gargle, wash hands regularly, and monitor body temperature / Limited capacity / increased space between seats / Limited admissions, reservation system employed / Entry declined to anyone who is feeling unwell
鮨 三上

Address

Dai21katsurawa Bld.1F, 4-5-10, Minami6-jonishi, Sapporo Shi Chuo Ku, Hokkaido
5. Sushi-dokoro Hyotan: Famous Star-Rated Restaurant Featuring Local Aizu Cuisine and Specially-selected Hokkaido Ingredients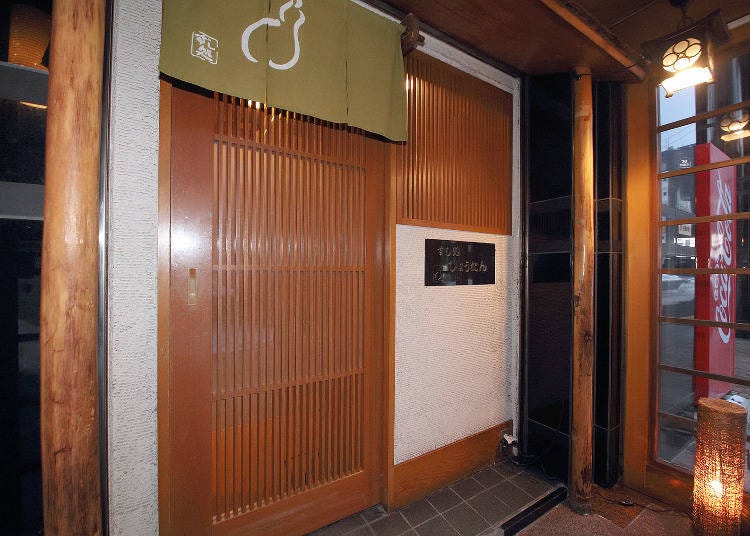 There are no curtains at the entrance, but there are curtains behind the double doors.
The next restaurant we will introduce is Sushi-dokoro Hyotan, a long-established sushi restaurant in Susukino with a 40-year history. This well-known shop has even won a 2-star rating in the Michelin Guide Hokkaido 2012 Special Edition. It is about 5 minutes on foot from the Susukino Intersection.

Since there are no curtains out front, you might not realize that it is a sushi restaurant at first. It appears more like a secret hideaway - a daring style choice!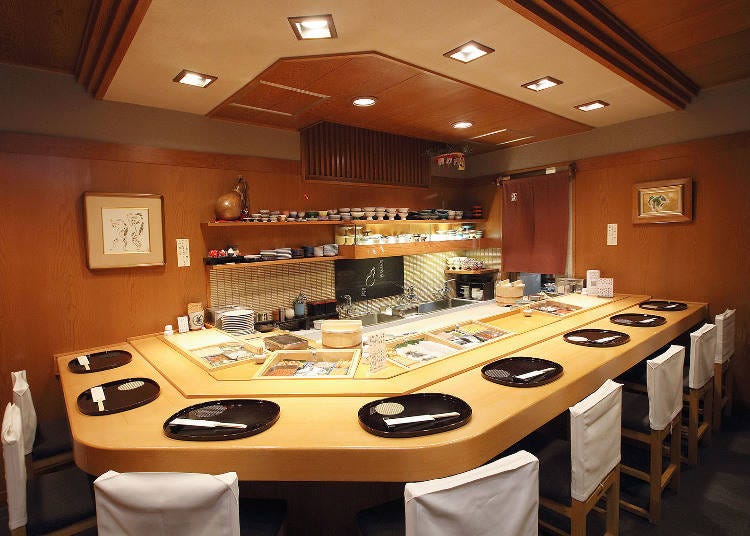 There are counter seats, as well as one private room.
The shop is run by head chef Masatoshi Watanabe, a sushi chef from Aizu, Fukushima Prefecture. After training at sushi restaurants in Aizu and Tokyo, he worked for about 10 years at Sapporo's famous sushi restaurant, Sushizen, before becoming independent. Since then, he has continued to hone his craft in the corner of this northern Susukino entertainment district for the last 40 years.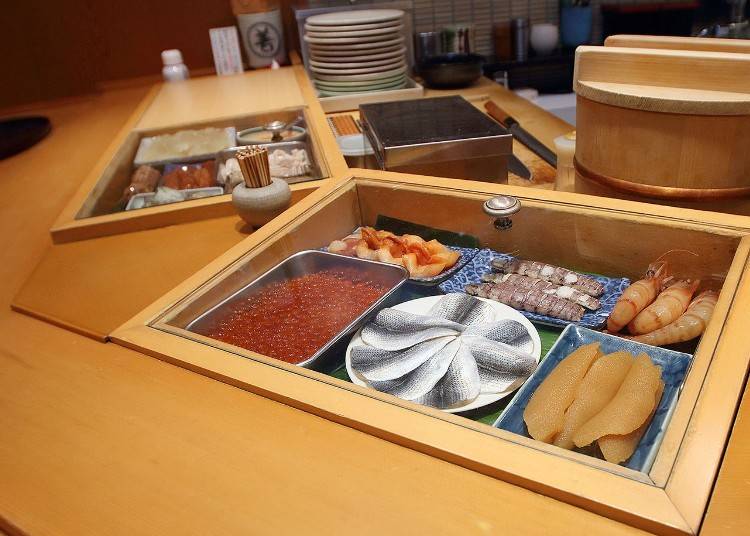 Coming from Aizu, one of the chef's specialties is a local Aizu cuisine called kozuyu. One of Aizu's long-standing customs is to serve a small soup together with alcohol at feasts. This helps prevent sickness from drinking on an empty stomach.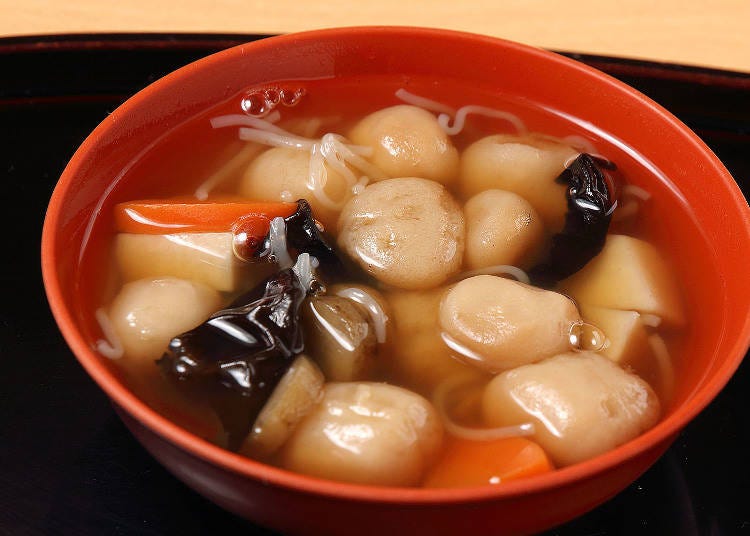 Kozuyu is a soup stock made from dried scallops with burdock, carrots, wood ear mushrooms, and shiratama (rice flour dumplings).
After filling your stomach with a bit of broth, it's time for some authentic Edomae sushi.

The menu starts you off with 4 individual dishes, followed by sashimi, and rounded off with 7 types of sushi. You will be asked your preferences first, so if there are any items on the menu that you do not like, you can swap them for something else. If you are still hungry after the meal, you can order some additional sushi.

This course is about 12,000 yen. Prices for liquor and additional sushi are separate.

Sushi-dokoro's Rare Sushi Dish
Next, we will introduce a dish that is considered a rare gem even in Hokkaido, which is known for its marine products. That dish is called "Ibaragani no Hogushimi no Uchiko-kake" (Shredded Thorn Crab topped with Roe).

Thorn crab is similar to king crab. However in recent years, fishing hauls have decreased sharply in Hokkaido, making it a valuable catch. The crab meat is served together with the egg roe on top.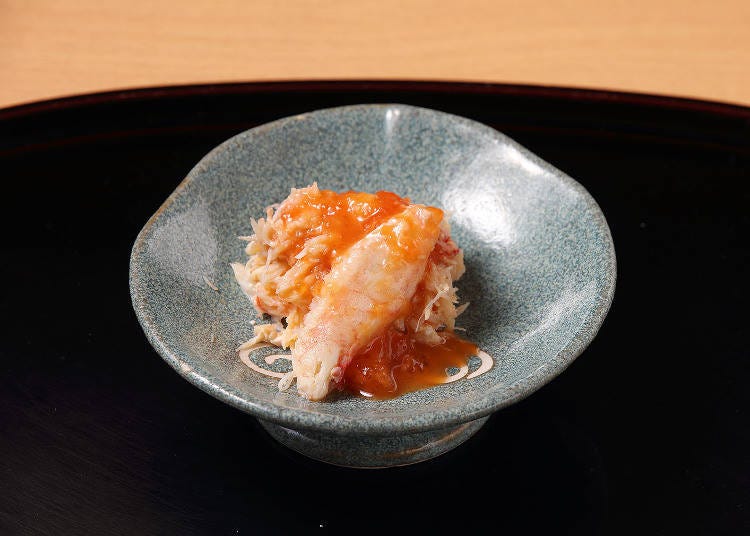 Mixing the roe with the minced crab meat blends a mild saltiness and a mellow, flavorful taste.
This exquisite crab dish is Crab Miso Tofu Chawan-mushi. In order to keep you from getting too full with just this dish, the only ingredient is the crab miso tofu, sprinkled with crab ankake (a thick sauce) and salmon roe. This dish is defined by its rich and delicious taste!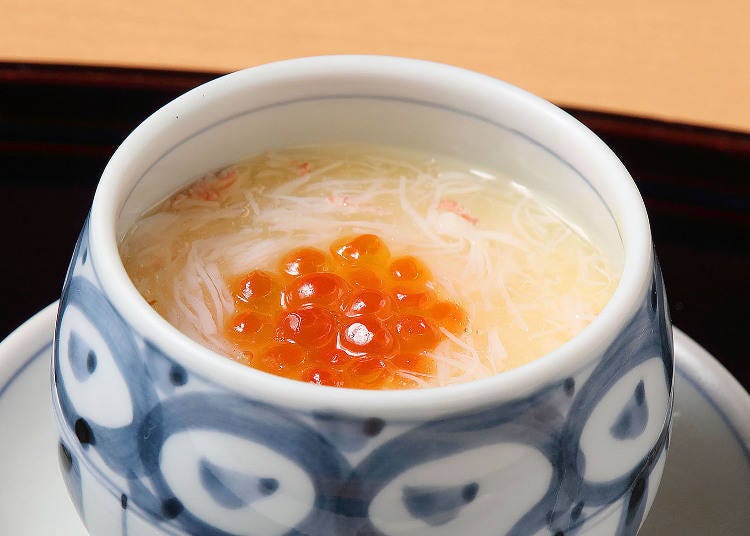 Each bite of Crab Miso Tofu is filled with the rich flavor of crab, accented by salty salmon roe.
You can also enjoy several other unique sashimi dishes, including aji (raw horse mackerel), carefully boiled to remove the smell and served in a special homemade sauce, as well as sashimi topped with bonito and chopped green onions roasted in wasabi soy sauce.
Many dishes pair well with drinks. Try the odorless aji (lower right), or the Tachipon (upper middle), a combination of cod milt and sticky gagome kelp.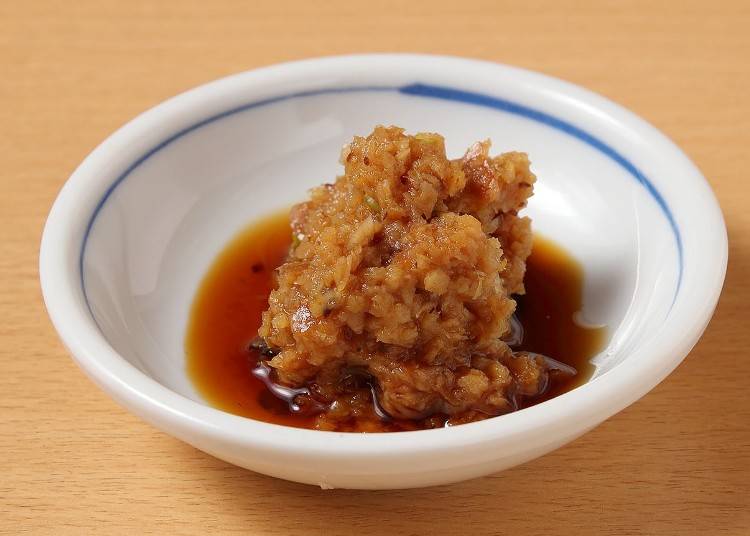 Homemade yama-wasabi pickled in soy sauce. Eat it with your sashimi, or enjoy it as a side dish with sake!
After the smaller dishes comes the sushi we've been waiting for!

There are three pieces: flounder with Gagome kelp from Minamikayabe in Southern Hokkaido, pickled tuna soaked in homemade sauce, and pressed mackerel with kelp. Each piece is mildly salty thanks to the soy sauce, and have a light elasticity. It's a delicious combination that goes perfectly with sake.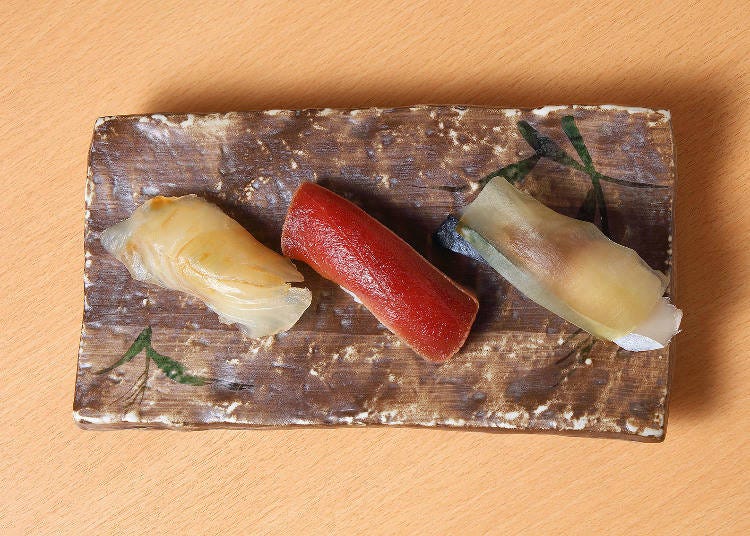 From the left: flounder with kelp, pickled tuna, and mackerel with kelp.
Each delicious piece is served one after another. One of the best dishes, and a personal favorite of the chef himself, is the uni (sea urchin). The sea urchin is purchased directly from the Hokkaido production center, and not through the market. Raw sea urchin has a mellow, natural taste. It is odorless, not bitter, and has no unpleasant aftertaste. Even in Hokkaido, which is famous for its abundance of marine products, raw uni is a delicacy!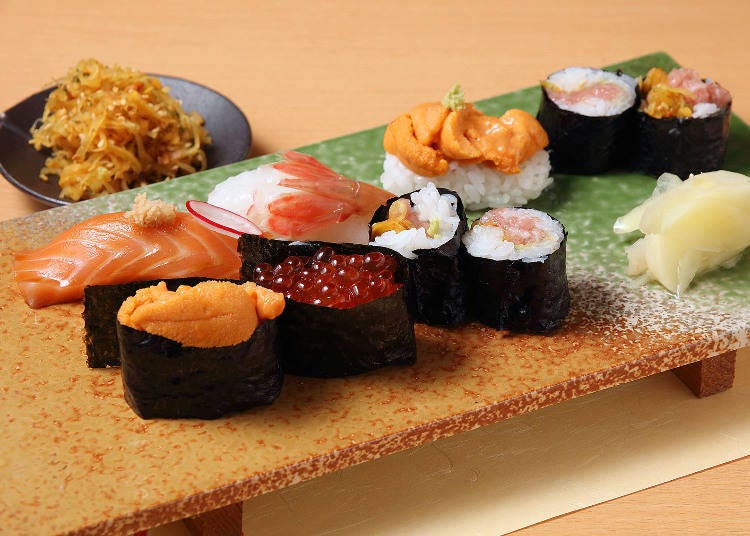 Front row, left to right: sea urchin gunkanmaki, salmon roe gunkanmaki, and torotaku (minced tuna and pickled radish roll). Middle row, left to right: salmon with yama-wasabi, botan shrimp, sea urchin with rock salt wasabi, and torotaku. The small plate on the upper left is torotaku-takuan (pickled torotaku).
The sea urchin is served as a gunkanmaki roll wrapped in seaweed and lightly sprinkled with soy sauce. You can order a second one without the seaweed wrapping, topped with rock salt and wasabi. The mellow sweetness of the raw Hokkaido uni stands out like a dessert after your meal. Both flavors are so delicious, it's hard to pick a favorite!

You will definitely want to order a second helping of this delicious uni. However, don't overlook one of Sushi-dokoro Hyotan's other popular items - the torotaku!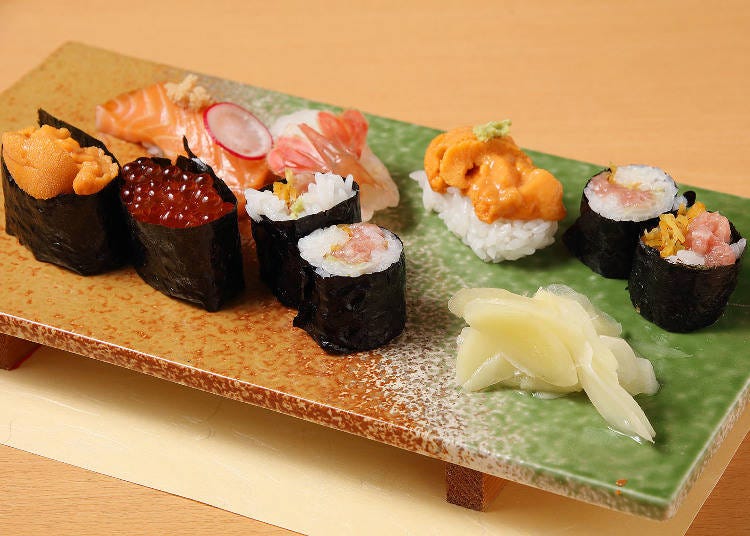 The four rounded seaweed rolls in the middle and on the right are torotaku. These rolls are made of fatty tuna and minced daikon radish, and wrapped in seaweed.
Though Torotaku originated in a sushi shop called Sushizen, Mr. Watanabe, who used to work for Sushizen, was acquainted with its creator. Torotaku was born in the late 1970s through trial and error while trying to create sushi that could compete with Negitoro.

The takuan is more than a simple minced dish. Time and effort are put into seasoning it with sesame seeds and shiso once it's drained. It is also the perfect accompaniment to a glass of sake. Why not order it as a side-dish?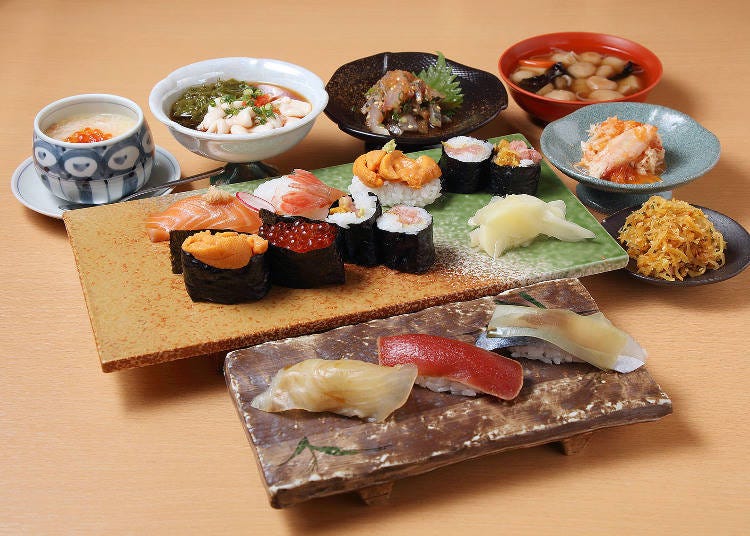 At Sushidokoro Hyotan, you can enjoy the finest sushi and local Aizu cuisine, made with ingredients considered delicacies, even in Hokkaido. There are no foreign language menus available, but that should be no problem if you order the chef's recommended seasonal dish of the day. Because this restaurant has been published in the Michelin Guide Hokkaido 2012 Special Edition, many tourists visit!

Make a reservation, and enjoy an exquisite sushi meal prepared by the friendly sushi chef.

Covid-19 Countermeasures
Sanitizer installed / Disinfected after each guest leaves / Ventilation measures in place / Limited capacity / increased space between seats / Limited admissions, reservation system employed / Entry declined to anyone who is feeling unwell
すし処 ひょうたん

Address

Gojo DEUX Building 1F, 7-4 Jonishi, Chuo, Sapporo City, Hokkaido

Phone Number

011-512-8052

Hours: 5:00PM-11:30PM
Hours during recommended business self-quarantine period: 5:00PM-10:00PM
Closed: Sundays and public holidays
6. Sushi Himeshara: Enjoy Sushi Culture at a Famous Two-Star Restaurant in a Residential Area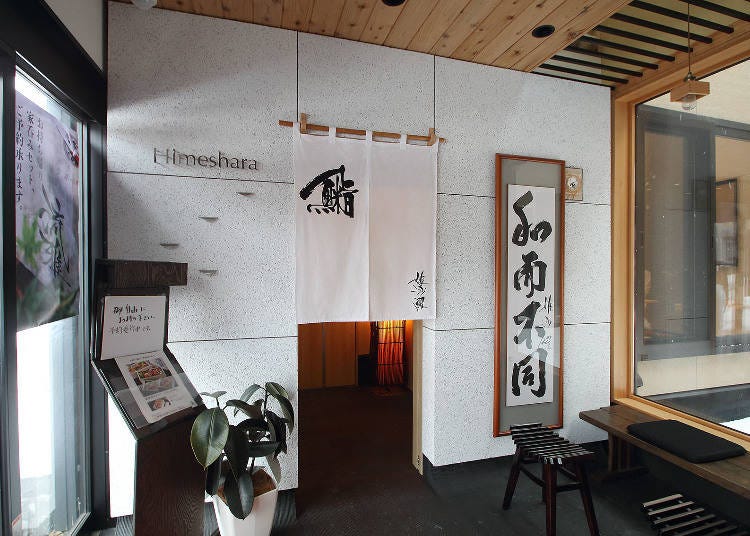 The shop is located in a residential area in the Maruyama District of Sapporo.
Lastly, we would like to introduce Sushi Himeshara, located about 10 minutes by car or taxi from central Sapporo and Susukino. This well-known restaurant received a two-star rating in the Michelin Guide Hokkaido 2012 Special Edition.

The shop owner, Akira Tanaka, trained at a sushi restaurant in Nagoya, and worked as a Japanese restaurant manager in Sapporo before going independent. After running a shop in Susukino for over 10 years, he moved to his current location in 2017.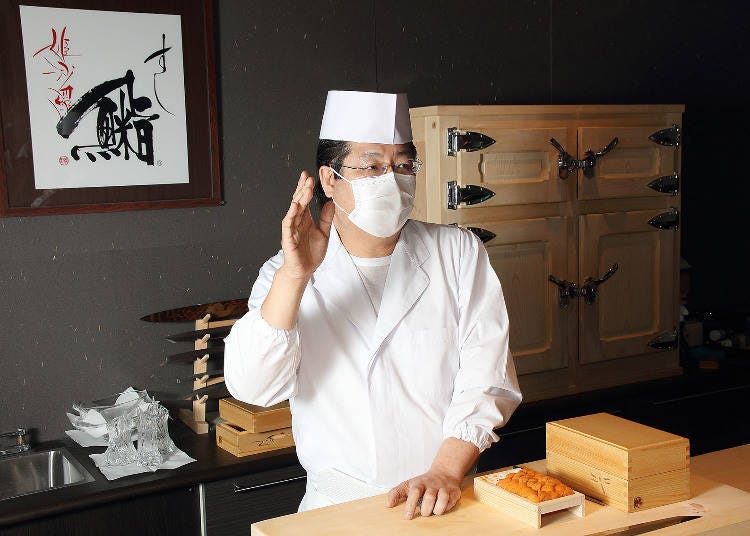 Talking to Mr. Tanaka with his custom-made ice box in the background
"Sushi and sake are Japanese treasures. There's more to sushi than the ingredients. Cooking skills and creativity, utensils, and vessels are all a part of sushi. And it's not just the fish that makes sushi delicious, but the rice. It is a representative part of Japan's food culture."

Mr. Tanaka shares his commitment. He enjoys traditional Japanese culture. Please note that because of the shop's delicate tastes and aroma, guests wearing strong perfume may be denied entry.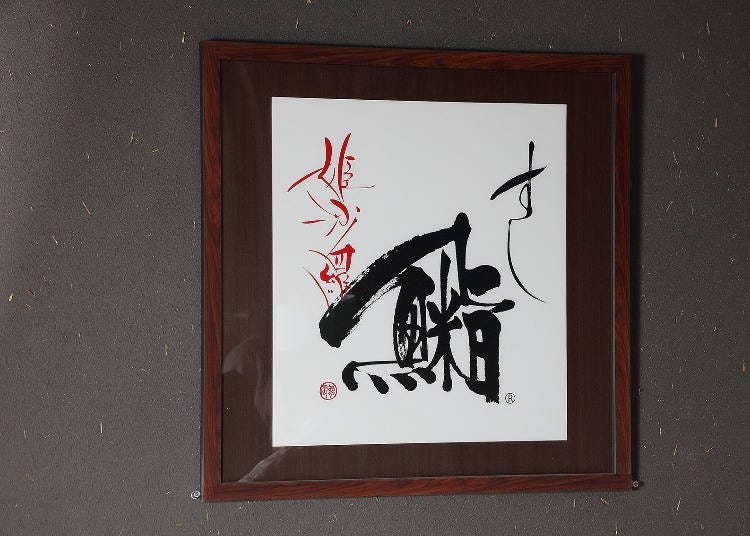 Rice is used in both sushi and sake. The kanji for sushi mixed with the kanji for rice symbolizes the sushi at this restaurant.
Rice is an important element of Japanese food culture. Sushi rice can be made with white or red vinegar, depending on the other sushi ingredients.

Rather than especially creative dishes and sushi, their focus is on making simple dishes attractive, and making even basic ingredients delicious with minimal effort. How you spend prep time is one of the secrets of sushi culture, and one of the things to enjoy about this restaurant.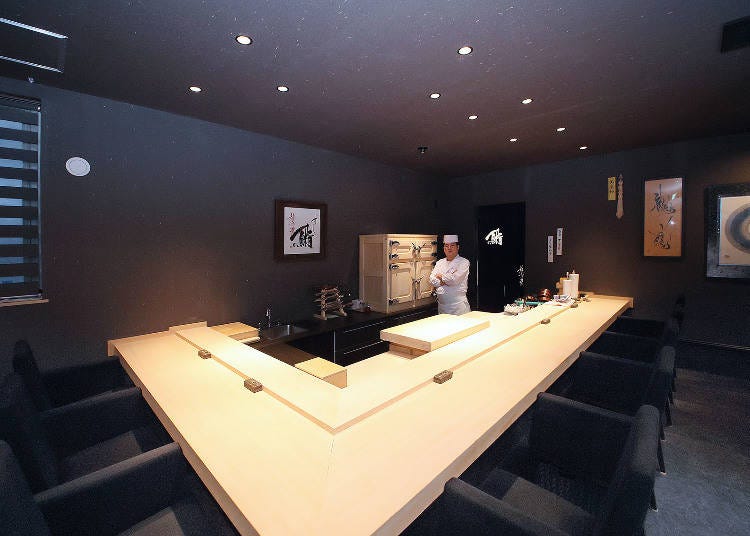 This counter was made from a cypress tree over 500 years old. There are no knots, and it is beautiful just to look at.
At Sushi Himeshara, it's all about delicious rice.

Their standard dish is the "Sushi and Sake Appetizer Himeshara Course" (25,410 yen, including tax), which includes the most delicious foods of the day, according to the owner. First you are served 4 pieces of sushi, followed by the "Nonbei Set," which includes small seasonal dishes that pair well with sake. The second half of the course continues with sushi.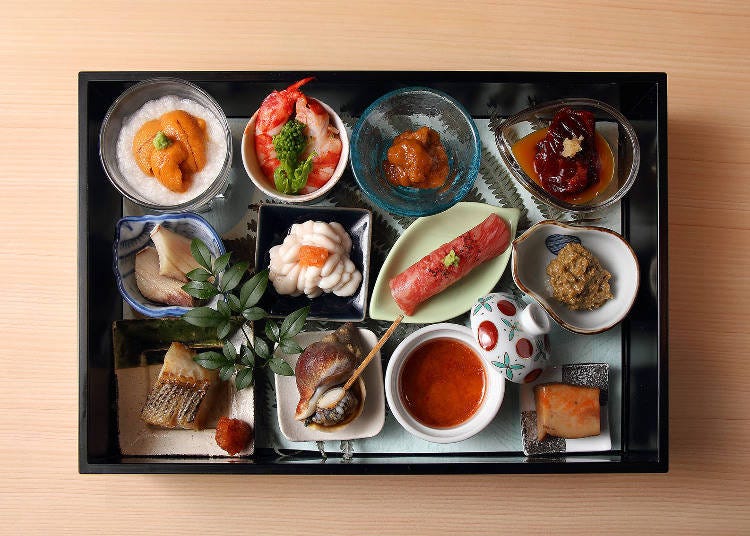 The Nonbei Set is served before the sushi and includes about 12 small dishes, such as roasted and steamed foods.
"When you come to a sushi restaurant, you want to eat sushi right away, and fill your stomach before you drink," says Mr. Tanaka.

Exquisite sushi dishes arrive one after another, preparing you for your sake. Not only are they delicious, but their presentation is beautiful, too.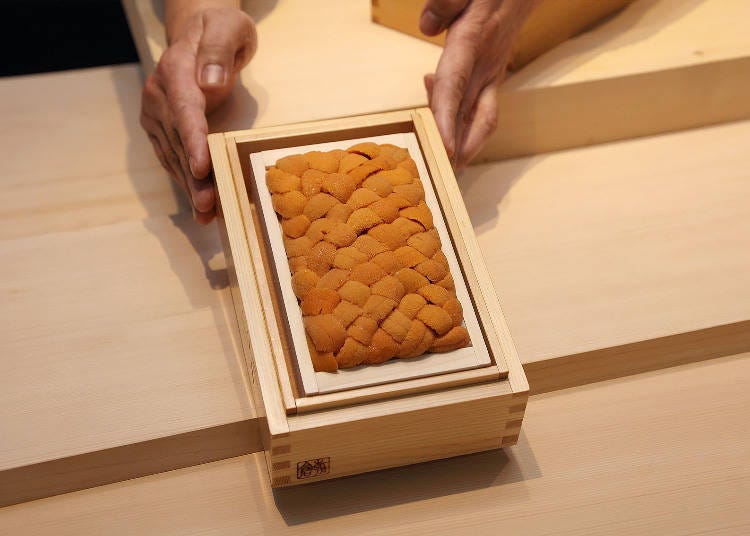 This folded sea urchin is freshly purchased from eastern Hokkaido. If you wait a while before serving it, the flavor becomes noticeably richer.
It's also exciting being able to watch the master's craftsmanship unfold right before your eyes!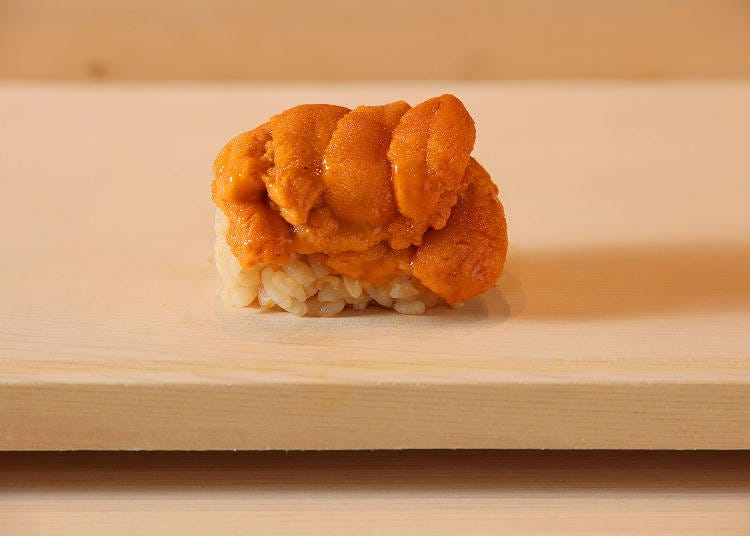 A beautifully arranged hand-roll stacked abundantly with sea urchin on top of rice. There seems to be even more uni than rice!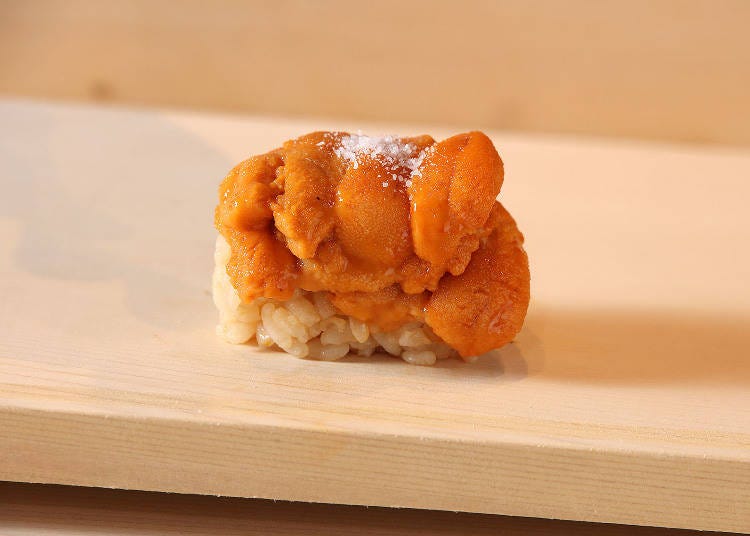 Sprinkle lightly with salt before enjoying!
In the style of Edomae sushi, one should eat the sushi as soon as it is served. Open wide and see if you can eat all the uni in a single bite!

The taste of the uni blending with the rice as you chew makes the rice 100 times more delicious. The united is so fluffy you can practically feel it in the back of your nose. This piece alone will have you hooked!

No matter which sushi you choose, each piece is irresistibly delicious, and perfectly complements the rice.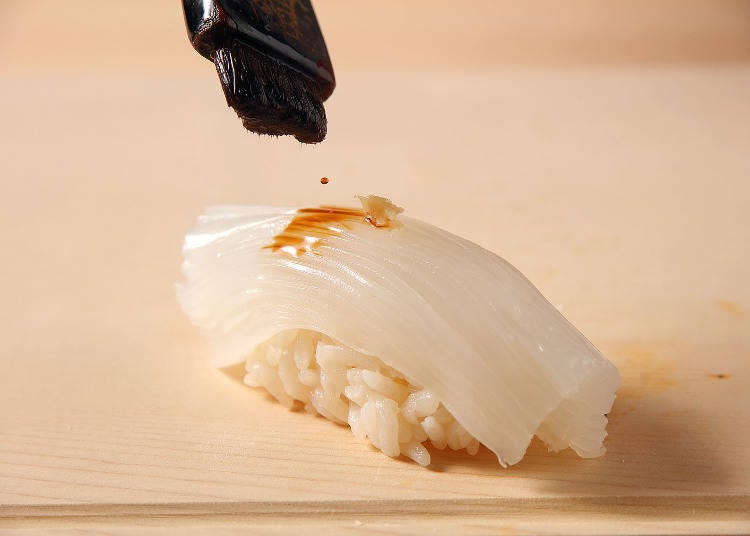 Wasabi is placed on top of finely-cut squid, and soy sauce is applied with a brush.
The sweet taste of the finely chopped squid and rice blend deliciously as you enjoy it. Leaving a few grains of rice in your mouth to soak up the lingering flavor is a delicious way to end your meal!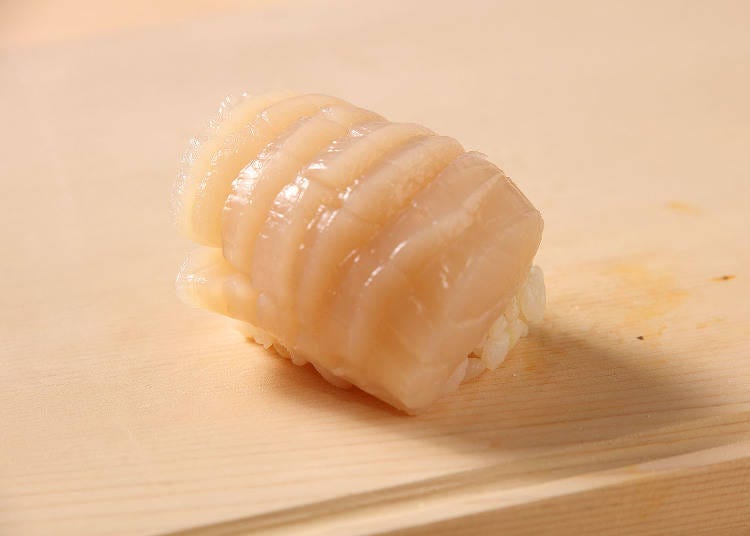 An original way to cut and serve scallops is used to make this Scallop Handroll.
The taste of the scallops mix well with the rice, enhancing the exquisite flavor even more!

The best piece is the botan shrimp hand roll that appears in the latter half of the course. The botan shrimp is wrapped on the top of the rice, with shrimp miso inside and topped with egg.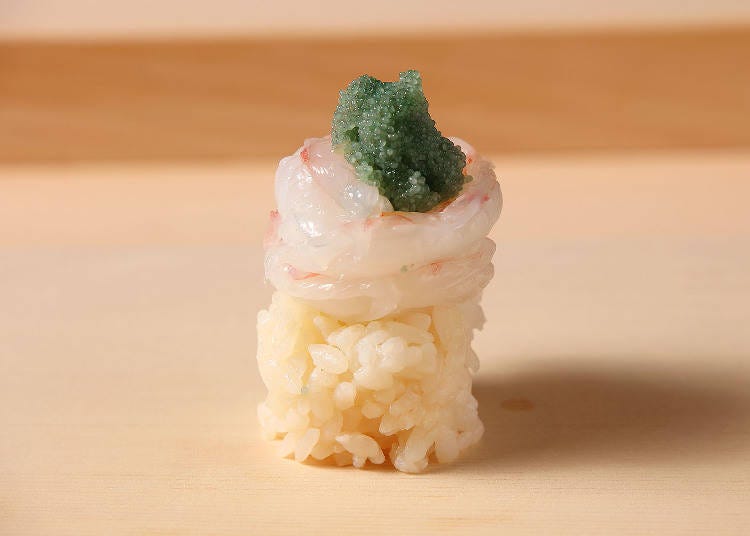 A very novel botan shrimp hand roll. They've even obtained a design registration for this shape of sushi!
The first thing you'll notice is its crispy texture, followed by the rich flavor of the shrimp miso. It's one of the finest flavors, bound to bring a smile to your face. Some people even visit just to try this shrimp! Why not you?

This famous Sapporo sushi shop does not offer a foreign language menu, however the master will gladly serve you the finest items one after another, so don't worry if you can't speak Japanese! Enjoy the traditional food culture of Japan with the rest of your five senses.

Covid-19 Countermeasures
Sanitizer installed / Disinfected after each guest leaves / Ventilation measures in place / Coin trays used / Staff wear masks, gargle, wash hands regularly, and monitor body temperature / Limited capacity / increased space between seats / Limited admissions, reservation system employed / Entry declined to anyone who is feeling unwell / Masks required / temperature check enforced
すし 姫沙羅

Address

20-1-2 Minami 8 West, Chuo-ku, Sapporo City, Hokkaido

Phone Number

090-6992-3247

Open for lunch on Saturdays, Sundays, and holidays only (no lunch hours during business self-quarantine period)
Closed: Wednesdays
Today we have introduced 5 specialty shops. Because there are so many sushi shops in Sapporo, it would be impossible to visit them all! But depending on your mood, time, and budget, you can pick the perfect sushi shop for you!

Text by: Nobuka Kawashima
*Information in this article is as of February 2021. Please see official websites for the latest updates.
*This information is from the time of this article's publication.
*Prices and options mentioned are subject to change.
*Unless stated otherwise, all prices include tax.