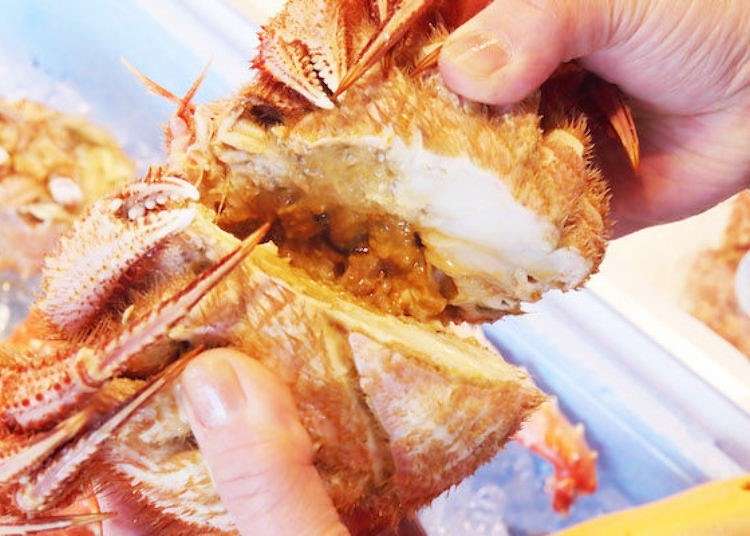 When you travel to Sapporo, you can't miss a visit to the Nijo Fish Market! Fresh kaisendon seafood bowls are one of the delicacies for which Sapporo is famous, and for a special early morning treat, a shop called Oiso has some of the best in town. Within walking distance of the city center, it offers about 30 types of seafood bowls!

Afterward, continue strolling through the Nijo Market to see and sample the many other types of delicious foods available there.
Oiso in Nijo Fish Market: The 3-ingredient seafood bowl consisting of sea urchin, salmon roe, and king crab!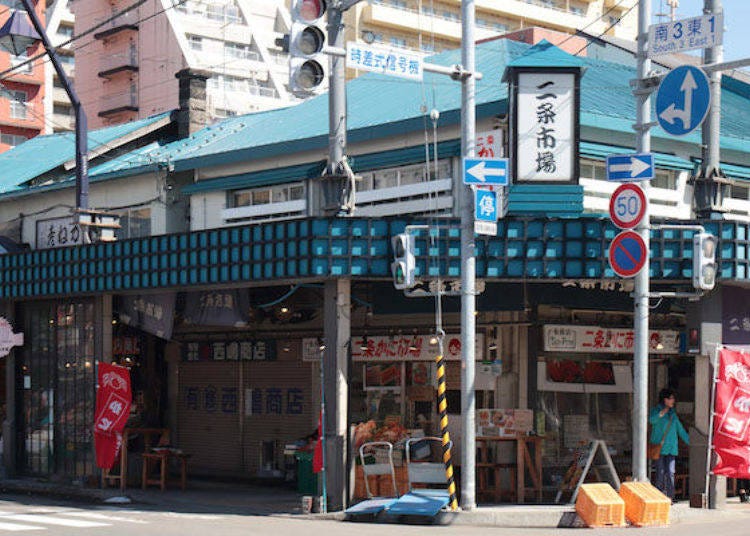 Cross over the Soseigawa River that flows through the center of Sapporo and you will see the Nijo Market located on a corner.
Five minutes on foot from the No. 34 exit of Odori Station serviced by the Namboku, Tosai, and Toho subway lines. Oiso at Nijo Market is a fresh seafood restaurant also easily accessible from the Sapporo TV Tower in central Sapporo and the Tanuki Koji shopping district - both other famous sightseeing venues.

It is open from 7 in the morning, which makes it convenient for early morning diners.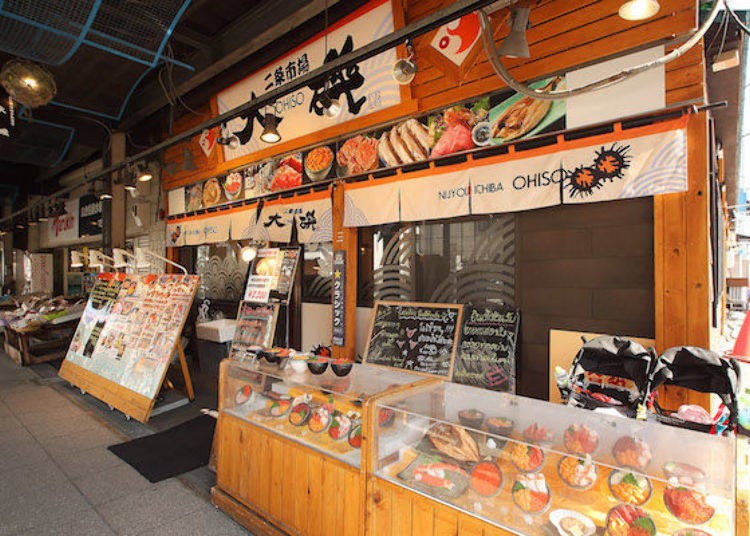 Realistic sample displays of delicious seafood bowls mark the entrance of Oiso in the market
I visited around three in the afternoon, hoping to find the place less crowded, but all the tables were full, and I ended up sitting at a horikotatsu - a table on a tatami mat with a recessed area under it for your legs.

The menu showed more than 30 types of bowl dishes that included hanasaki (blue king) crab and tuna!

Everything looked so delicious I had a hard time deciding what to choose, but I ended up selecting the highly popular sanshoku-don (literally "3-color bowl") that consists of three different ingredients. There also was a choice between ordering regular white rice or vinegared rice, such as that used in sushi.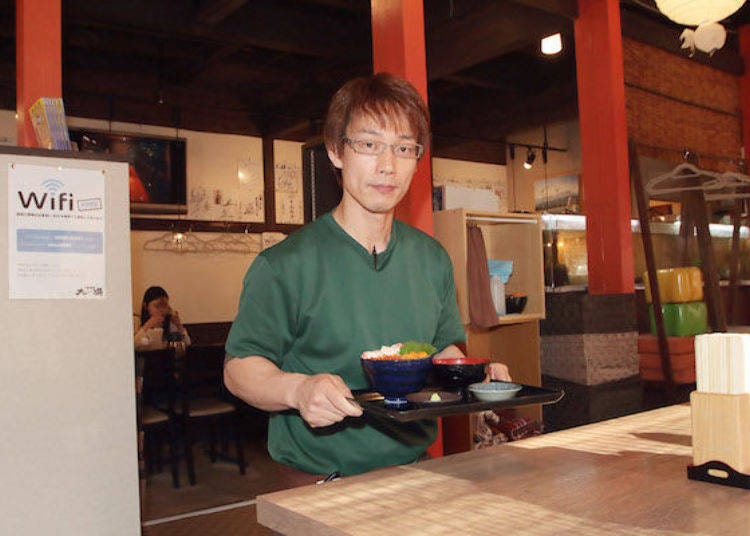 The tray with the sanshoku-don bowl of sea urchin, salmon roe, and king crab.
The sanshoku-don overflowing with delicious ingredients (comes with miso soup and Japanese pickles, 3,760 yen)
Actually, this shop is well-known for its sea urchin. It acquires them all year round; in spring from the Hidaka region, in winter from eastern Hokkaido.

The sea urchin from Rishiri and Shakotan are especially popular, and those taken from the Sea of Japan between June and August are particularly delicious.

Regular customers come every summer not only from Sapporo but all parts of the country to enjoy these specialties.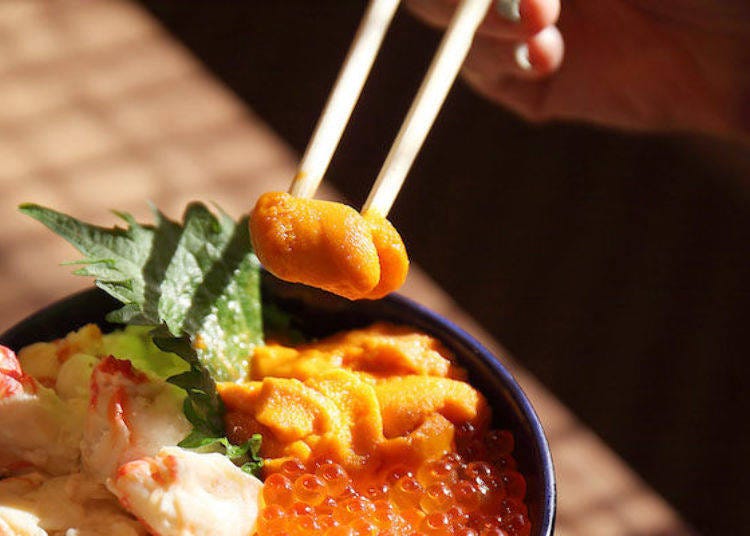 Most of the sea urchins are of the bafun uni variety. No preservatives are used, but instead, they are washed with seawater to enhance their natural flavor, which leads to them affectionately being called "saltwater sea urchins."

The meat is orange in color and has a soft, rich texture. After just one bite, you'll be glad that you tried it!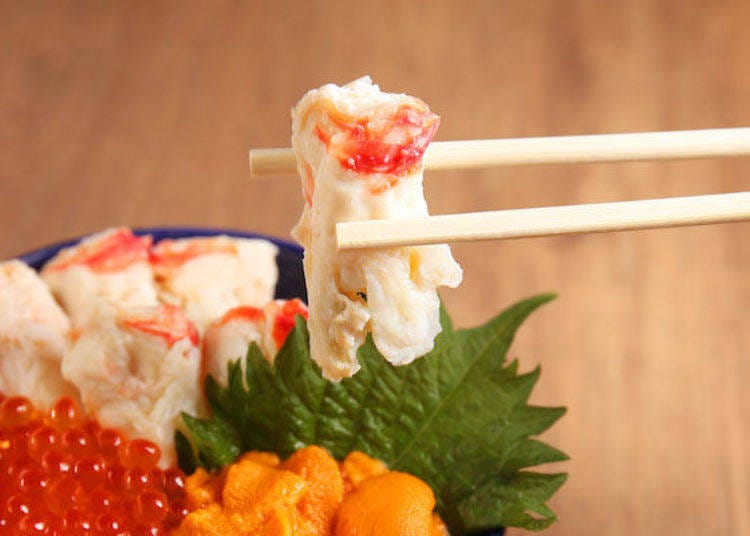 The part called dakimi (breast meat) is the part that connects the legs to the body of the king crab and, when boiled in salt water, is very delicious. This part moves a lot, so the meat is dense and has a soft, springy texture. The salmon roe is pickled in soy sauce that gives it a deliciously smooth texture.

First, savor the flavor of the sea urchin and king crab as they are for their natural salty taste, and after that, dip them in wasabi-flavored soy sauce - the typical way of eating it.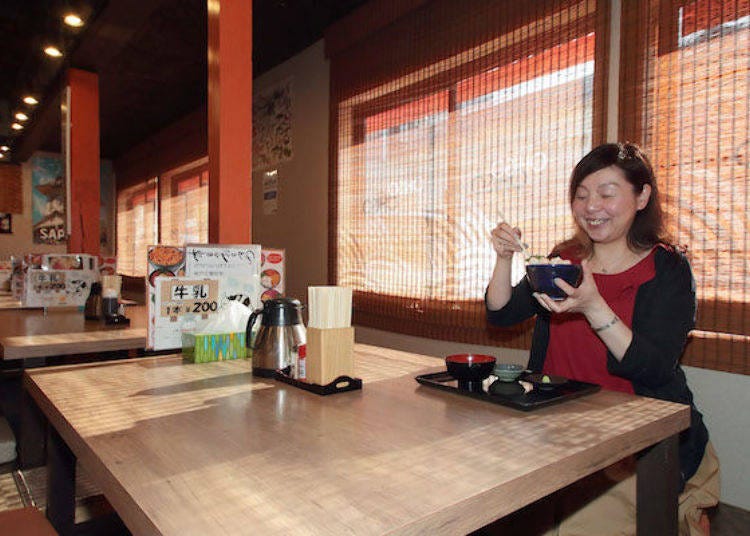 If you want to try something else, I recommend the fresh scallop that comes in its shell and fresh Sakhalin surf clam sashimi or grilled fish like Okhotsk Atka mackerel.
二条市場 大磯

Address

〒060-0053 北海道札幌市中央区南3条東2 二条市場2丁目入口/Nizyousizyou2tyoumeiriguchi, 2, Minami3-johigashi, Chuo-ku Sapporo-shi, Hokkaido, 060-0053, Japan

Phone Number

011-219-5252

Hours: 7:00 a.m. ~ 7:00 p.m.
Closed: Wednesdays and New Year's holidays
Nijo Fish Market: Selection of other delicious corner shops!
After a filling meal at Oiso, take a stroll through Nijo Fish Market. It extends along South Nijo Avenue from the Zentsu Kondo Shoji shop to the Butcha Tomare shop, a row of 22 shops in an L configuration.

It connects with two other shops, the Sakanaya no Daidokoro Nijo Market Store and the Sakanaya no Daidokoro Noren Yokocho Store, making 24 shops in total selling fish, vegetables, and other delicacies.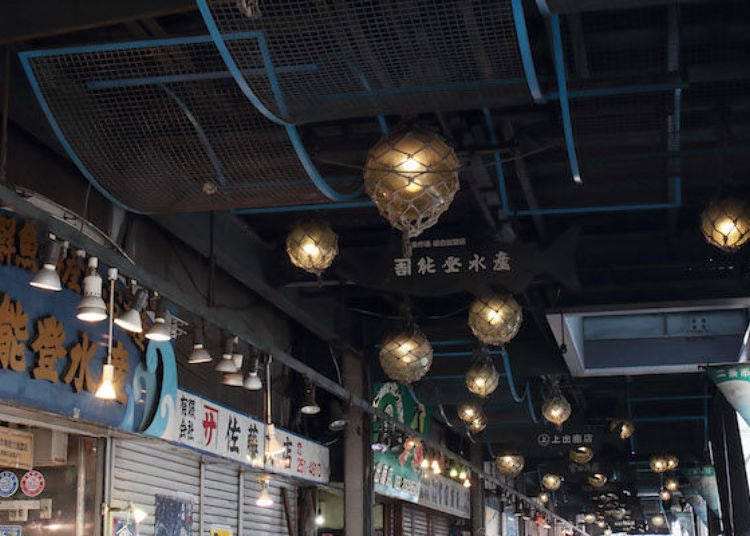 Incidentally, there are quite a few places to eat and drink along the narrow road along Noren Yokocho and Butcha Tomare. Most of these shops are only open at night.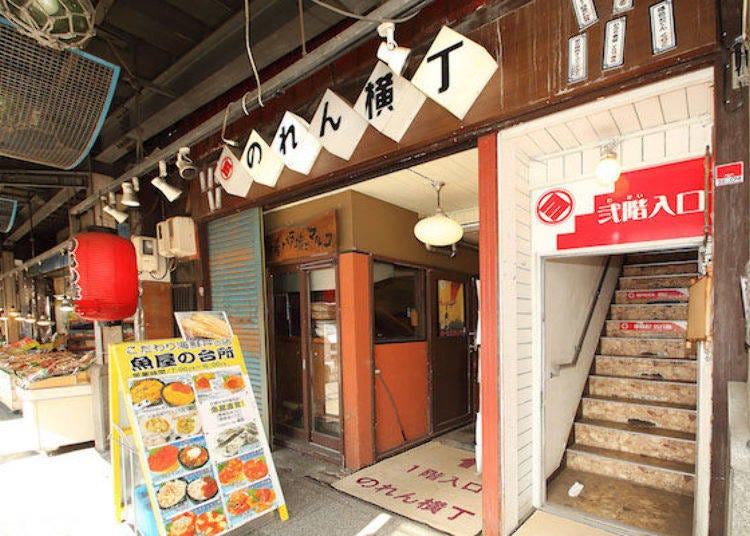 The entrance to Noren Yokocho
Nijo Fish Market got its start during the early Meiji period. Fishers began selling their catches taken around Ishikarihama here. Eventually, stores sprang up until they numbered 13, and this gave rise to the first name of Nijo Market, which was Association of 13.

In recent years it has become familiar to Sapporo residents as a "people's kitchen" offering high-quality products where the nearby bar and restaurant owners come to do their shopping.

Let's begin by taking a look at Zentsu Kondo Shoten. Crab and salmon roe are lined up at the front of the shop, and in the rear, there is the Keiran diner. If you ask, you can have the crab you purchased prepared and eat it there. This is a great experience you definitely should try!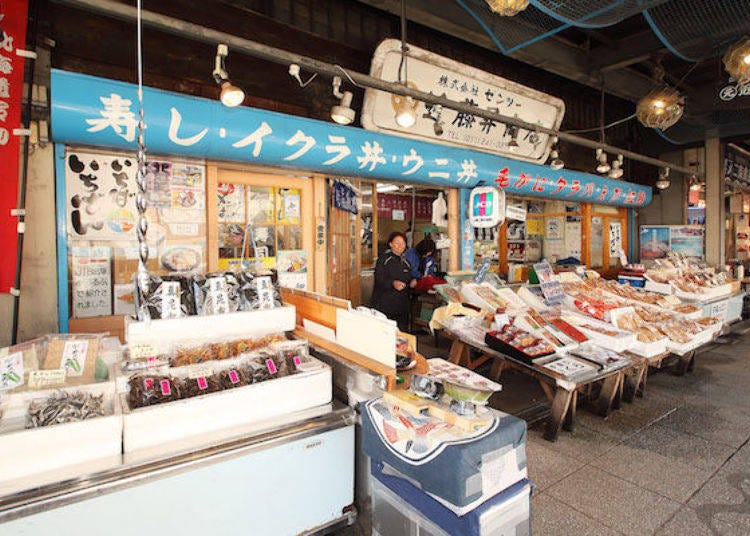 Zentsu Kondo Shoten at the edge of Nijo Market
Hasegawa Shoten with its rows of scallops.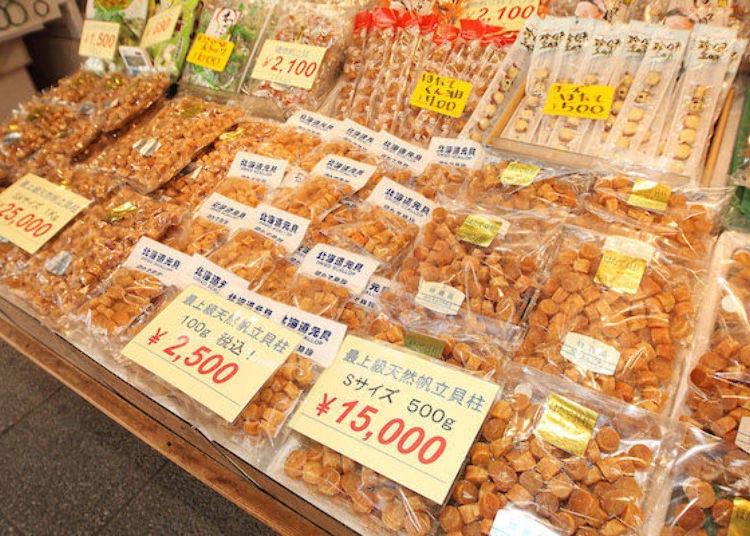 Scallops lined up in front of Hasegawa Shoten. The more you chew them, the greater the flavor. Very popular for being natural products.
Ikeda Shoten, located next door, has a wide selection of large cuts of tuna as well as various shellfish like scallops, whelk, and surf clams!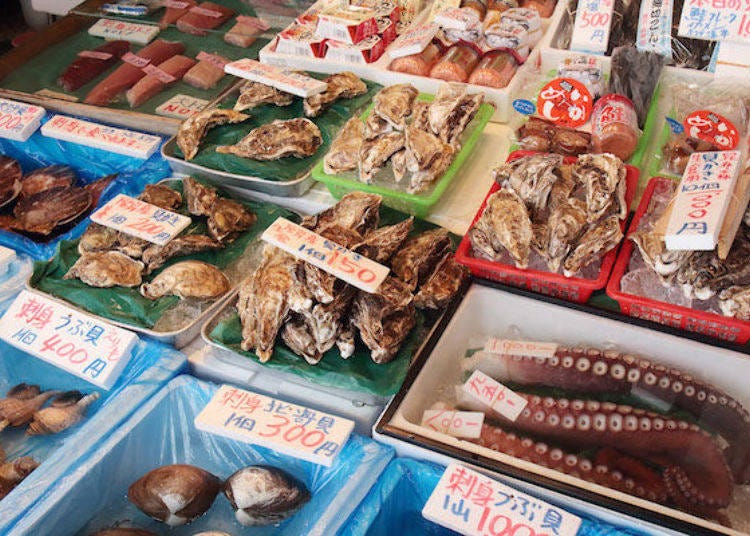 A delicious cornucopia of shellfish at Ikeda Shoten
The oysters are also delicious. Those offered this day were taken from Akkeshi, located in the eastern part of Hokkaido. They are delicious whether served raw, steamed, or grilled, which makes them perfect for barbecues, according to one of the clerks.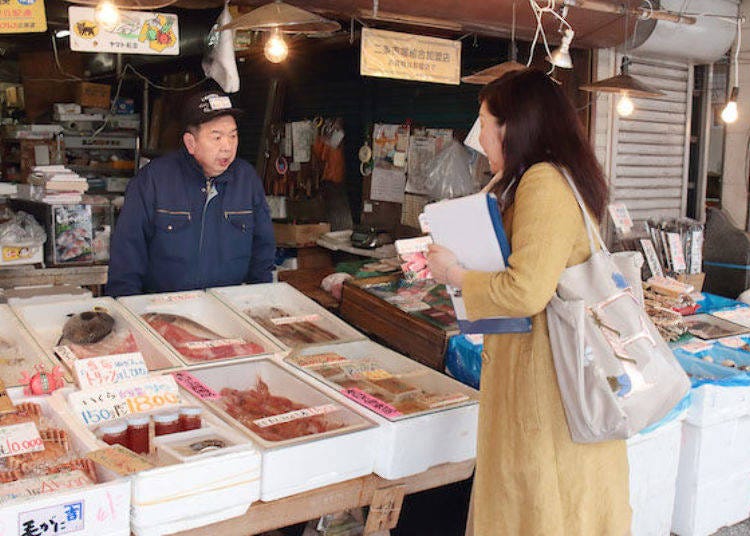 Kindly explaining how best to eat them
Honma Sengyo-ten (Honma Fresh Fish Store) is noted for its crab.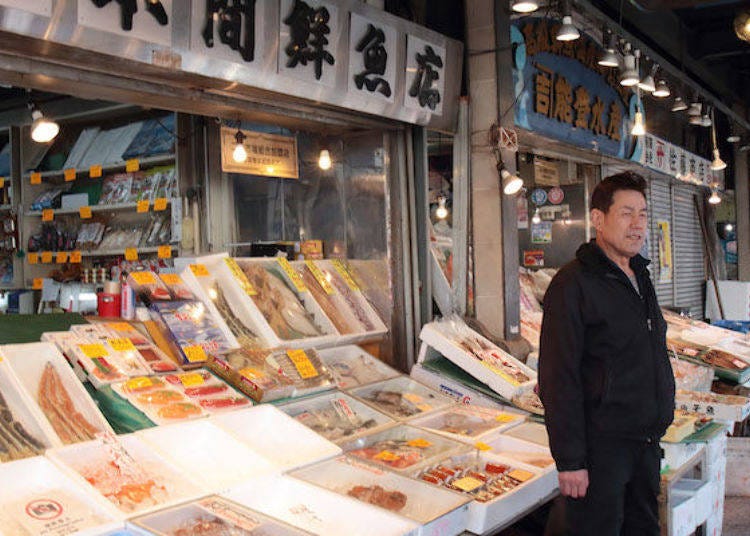 Honma Sengyo-ten primarily handles horse hair crab and king crab
A horsehair crab leg taken from Monbetsu in the eastern part of Hokkaido that had just arrived on the day we did this report and offered to us to sample taste.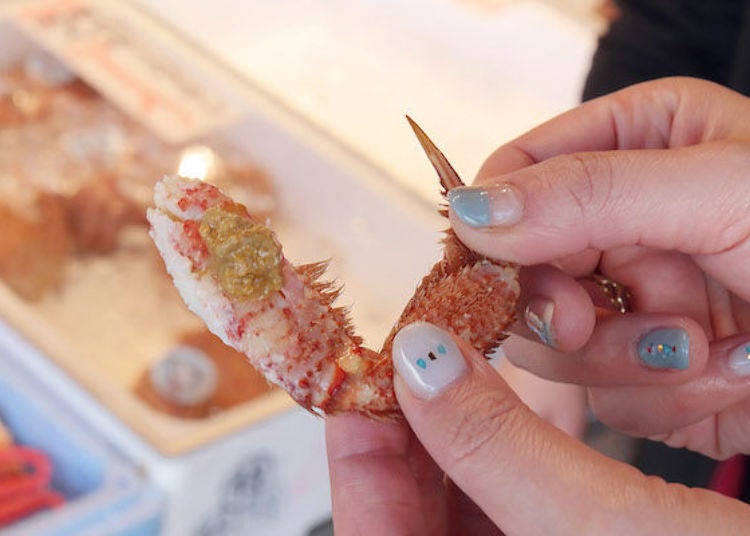 Sample size!?
The flavor explodes the moment you bite into it!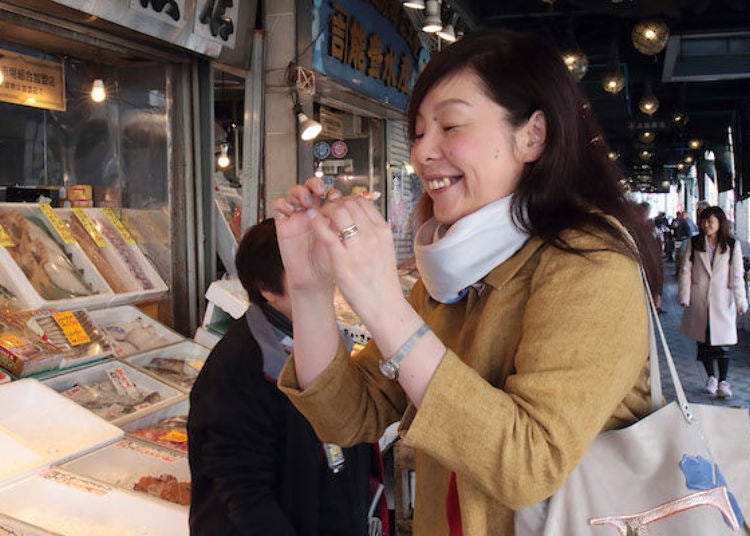 Without a doubt the crab in Hokkaido is the best!
One of the staff members told us, "We do our best not to handle frozen products, and because we stick to that policy, we can confidently make recommendations to customers!"

We were really amazed that we were given one whole crab leg to sample taste as that seemed rather extravagant for a taste sample! But we were told that "when customers actually see how delicious it is, they buy it!"
Horsehair crab packed full of meat
Prices depend on the going rate. For example, at the time of this report, horsehair crab was going for about 3,000 yen, but because the price for acquiring them depends on the quality of the crab and whether it is about to or has just shed its shell, it isn't easy to always offer them at the same price.

One more little-known popular product is the large butterfly-fileted Atka mackerel which is lovingly prepared one at a time and dried by the shop.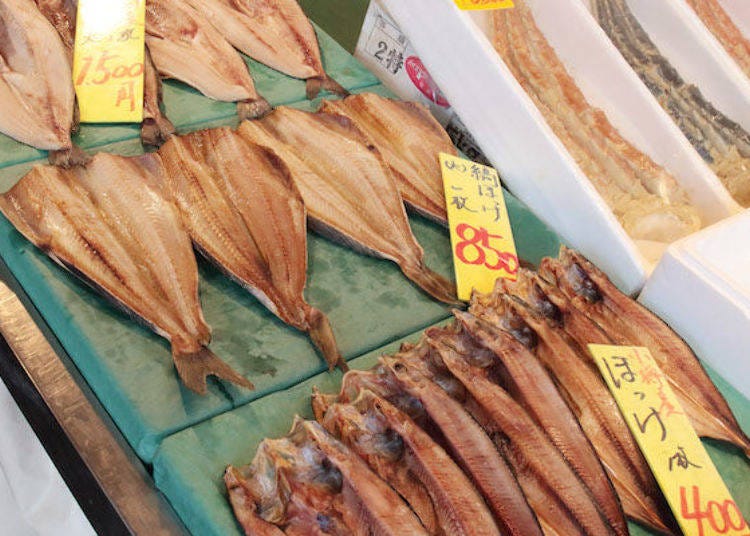 "True Atka mackerel" noted for its clean flavor and "striated Atka mackerel" noted for its thick meat. These are large ones 20 ~ 30 cm long!
They were kind enough to let us photograph them filleting the mackerel in the rear of the shop.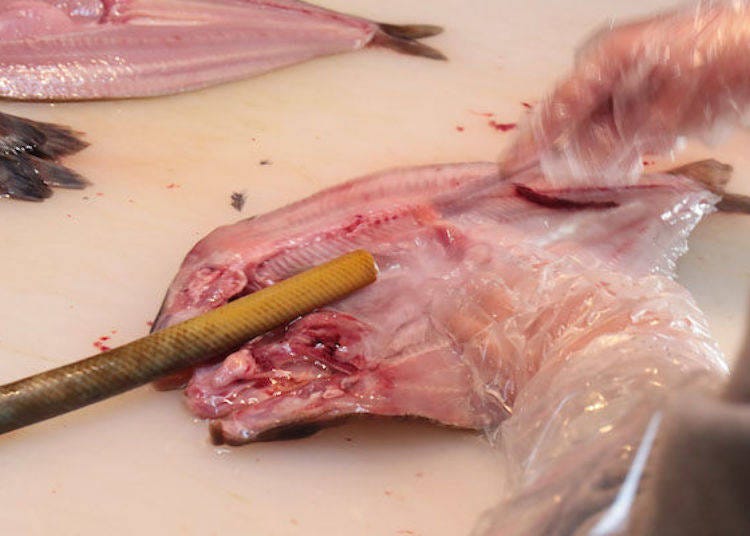 Carefully fileting and removing the bones. True pros!
We also found Hokkaido-grown asparagus and Yubari melons!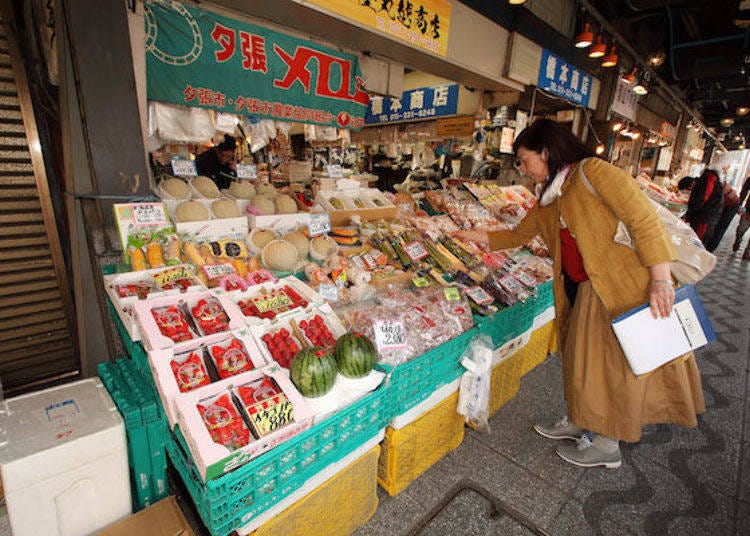 Fruit and vegetables displayed in front of the Kotobukiya Marukoshi Shoten
According to one of the clerks, "although the season is only from spring to early summer, we can get them up until October." He told us that while quickly packing potatoes into cardboard boxes being readied for shipment.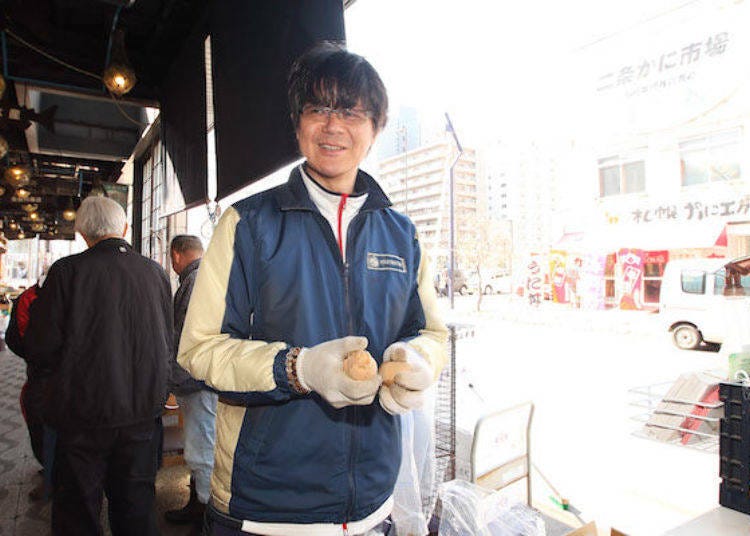 A clerk talking to us while packing potatoes for shipment
Yubari melons, which they normally get between May and December each year, are also sold in easy-to-eat slices.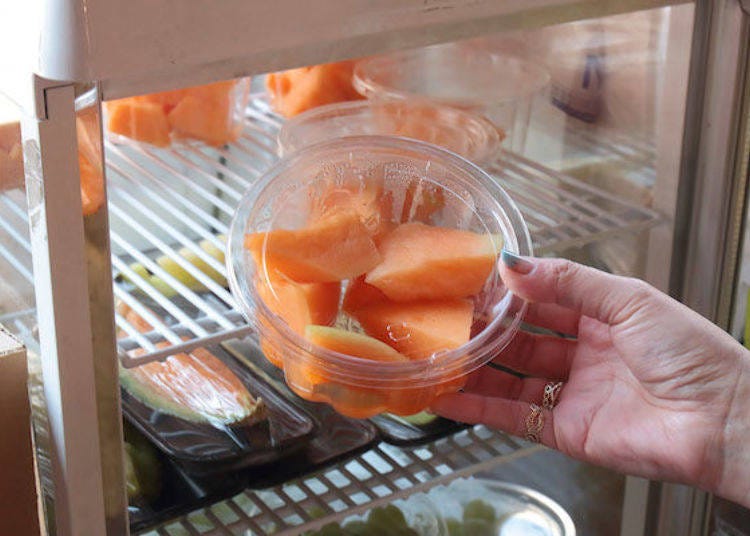 Sliced Yubari melon. Prices vary, but at the time of this report were about 700 yen
The Nijo Crab Market sells king crab this large! We were advised that, "if you want to get ones with a lot of meat, you best come in the morning or a little before noon."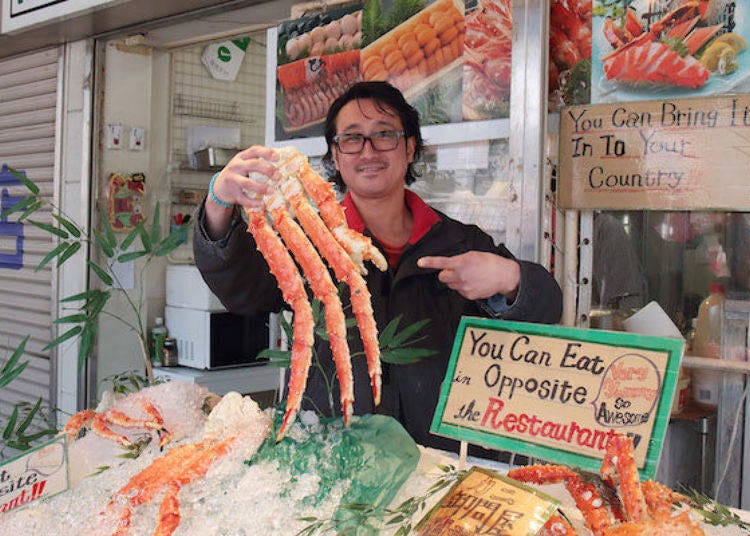 This clerk said that "usually they are even bigger than this one!"
The fresh seafood bowl shop Oguma Shoten that just opened in February 2018, a branch of the main shop located in Naganuma Town, Yubari County, sells the very popular Aisu no Ie soft ice cream cone. This makes a great dessert after a meal and you can savor it while ending up your stroll at the nearby Butcha Tomare.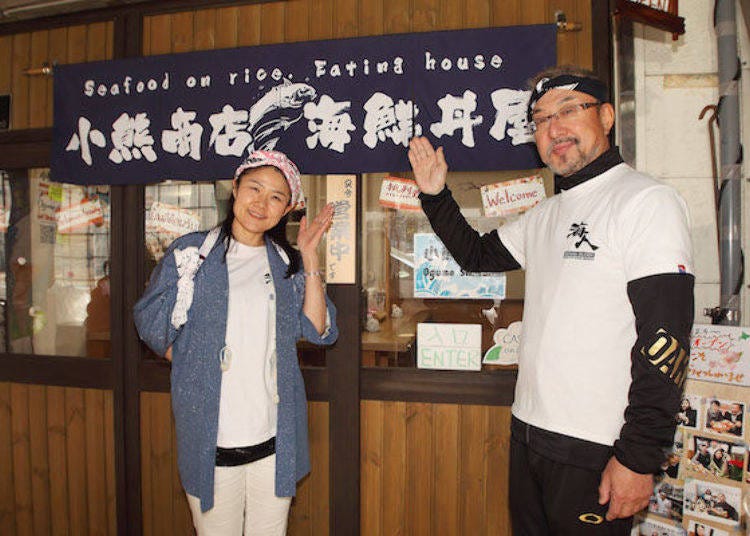 These Oguma Shoten employees told us that a popular seafood bowl is the one where you can load up the boat-shape bowl yourself with the sashimi of your choice.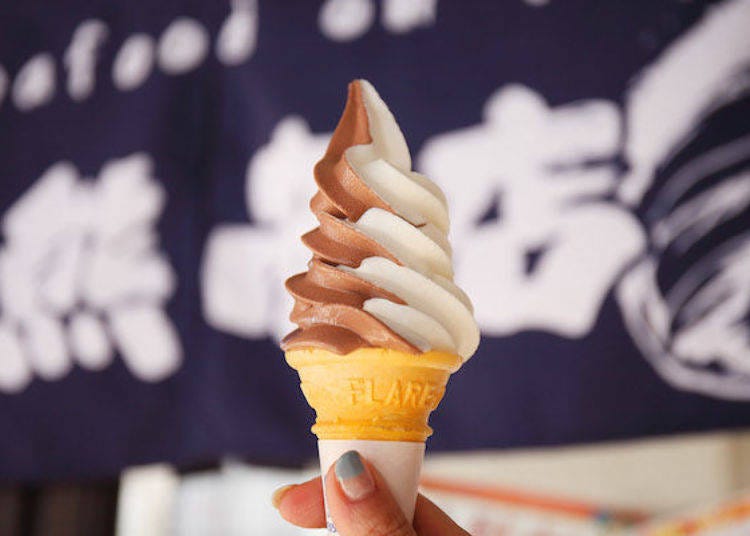 The rich, milk-flavored chocolate marbled Aisu no Ie soft ice cream (350 yen). In summer only they offer a yubari melon flavor instead of this!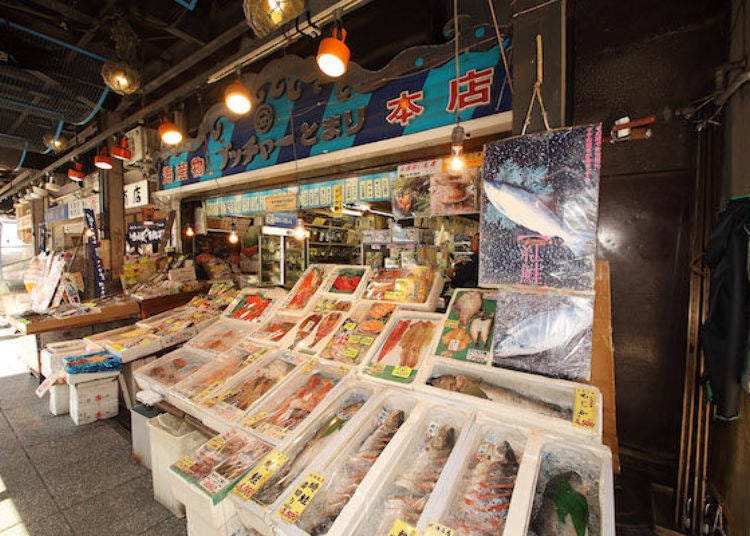 Butcha Tomare sells full-sized salmon
We had a most enjoyable time talking with all the friendly staff of these seafood and vegetable shops who told us about the many Hokkaido delicacies.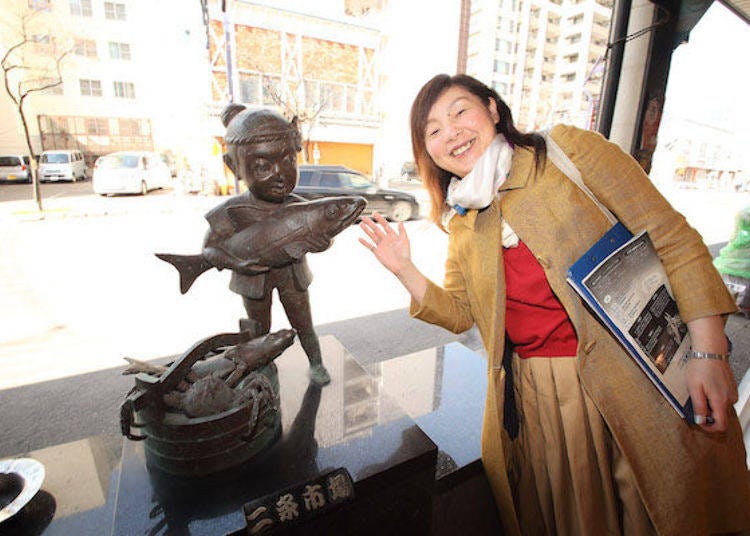 Occasionally we would see what appears to be a statue of a boy outside fish shops in Nijo Market
During our visit, we learned that many shops will filet and prepare crab and shellfish they sell and pack them in ice for you so that visitors can also have their purchases shipped or take them with them back to their hotel to enjoy. It makes traveling that much more enjoyable.

For a delicious visit to Sapporo, by all means, visit the Nijo Fish Market!
* All prices quoted in the article include tax

Written by: Fumi
*This information is from the time of this article's publication.
*Prices and options mentioned are subject to change.
*Unless stated otherwise, all prices include tax.
Limited time offer: 10% discount coupons available now!