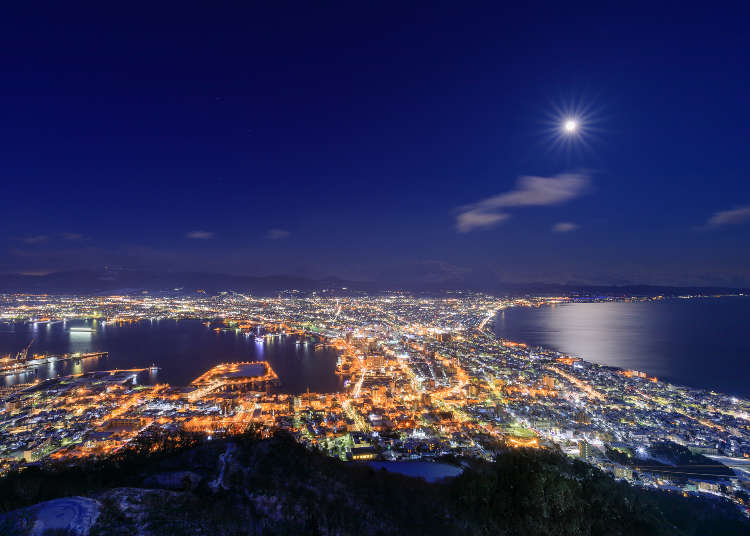 Hakodate is the most representative city of the Donan Region. Since opening in 1859, it has developed as Japan's first international trade port. Because it was directly influenced by European culture, it is speckled with buildings that retain the image of those old-fashioned roots.

It is also famous for its stunning night view from the top of Mount Hakodate and the delicious gourmet seafood of the Tsugaru Strait. Here we'll take a look at the best things to do in Hakodate!
Hakodate is a port city located on the peninsula which extends from the southern end of Hokkaido. It is also a key point of transport connecting Hokkaido and Honshu, and also where the Hokkaido Shinkansen debuted in 2016.

A tourist city next to Sapporo, many travelers visit from both Japan and abroad alike. There are many exciting things to do, including watching the night view from Mt. Hakodate (also published in "Michelin Green Guide Japan"), taking a walk in time through Motomachi's historical sites, and enjoying delicious seafood tastings at the Hakodate Asaichi Morning Market.

You will also want to make a stop at Matsumae, where the last remaining castle in Fukuuchi - the Fukuyama Castle - stands, enjoy the natural scenery of Onuma, or relax in the hot springs of Yunokawa Onsen.
What to See in Hakodate: Points of Interest
Because these tourist attractions are all nearby, it is possible to explore them all within a day. The tram provides convenient transportation from the JR Hakodate Station to areas such as Motomachi, the Bay Area, and more.

The recommended season to visit would be summertime, from July to September, however, you can also experience beautifully illuminated night tours in the wintertime, too.
1. Hakodate-yama Mountaintop Observation Deck
The Mt. Hakodate Observatory boasts an altitude of 334 m. From the observation deck, you can see a spectacular night view of Hakodate City, so it is recommended to visit this location around sunset. You can reach the observation deck via ropeway, bus, or taxi.
Here stands the first ever Western-style fortress built in Japan. This area became the stage of the Hakodate War between the new government forces and the former Shogunate Army (1868-1869), and still retains some of the fences and stone walls from that time. It is currently maintained as a park in which you can freely stroll, and is also well known as a cherry blossom spot.
3. Strolling Through Motomachi
Because Hakodate developed as an international trade port between Yokohama and Nagasaki, it shows incredible foreign culture influence. Particularly in Motomachi, the western part of Hakodate, many Western-style buildings such as churches can be found. You can even go inside some of them.
What to Eat in Hakodate: Food Guide
You can experience many favorite gourmet dishes of the locals. In addition to seafood such as the fresh squid dishes found at the Tsugaru Straight, Hakodate's Shio Ramen (Salt Ramen) is one of the top three ramen in Hokkaido. And in the Hakodate Morning Market you can have a taste of their delicious seafood bowls. There are many cafes and restaurants here which have been restored from old houses.
You will definitely want to try the seafood rice bowls in Hakodate. After all, it is known as one of the best ports in all of Hokkaido. The seasonal dishes all vary: you can enjoy squid from March to May, salmon from September to November, and scallops from November through March. There are many places to try this seafood rice bowl, including the Kikuyo Cafeteria.
Squid is one of Hakodate's best known seafoods, and can be enjoyed fresh at any time of the year. It is recommended to try the sashimi, which keeps the original sweetness and crispiness of the squid. In the Hakodate Morning Market there are both areas where you can fish the squid yourself, and areas where you can enjoy fresh squid cakes such as Kaisendokoro, a Japanese restaurant.
For local ramen of Hakodate, shio (salt) ramen, with its light salty taste, is one of the best. Toppings are mostly simple, with thin noodles, leeks, bamboo shoots, and pork, in a salty pork or chicken broth soup base. Ajisai Ramen is one of the most well-known shops.
The hamburger chain shop "Lucky Pierrot" is based in Hakodate, with a menu full of unique items, such as sweet & spicy fried chicken, pork cutlet, and fried scallop burgers. The limited "Futocho Burger" is a towering creation that sandwiches both your typical meat patty, and croquettes.
What to Buy in Hakodate: Souvenirs & More!
Common souvenirs include cheesecake made from the dairy products of Hokkaido, and seafood delicacies such as squid and kombu (kelp) is a standard. Hakodate-produced wine and shochu are also increasingly popular choices, as well as unique miscellaneous goods such as squid-designed mascot character items.
1. Pastry Snaffles' - Cheese Omelet
A popular Hakodate confectionary, with shops also in Sapporo. They sell sweets made from Hokkaido products, as well as their popular Cheese Omelet. A soufflé type cheesecake, the texture is mellow and delicious, just like an omelet.
The representative souvenir shop at the Hakodate Morning Market. In this popular Chinese snack, you can taste a variety of ingredients, including shredded snow crab, onion, and bamboo shoots. You can buy it fresh to enjoy as you walk around the market.
A hallmark product of the long established Japanese confectionary store in Esashi, a town nearby to Hakodate. Yokan, a jelly-like treat made from adzuki red bean paste, comes out from the bottom of a cylindrical container, which you can then cut to your liking. Enjoy the sweet and modest taste of red bean and sugar.
Hakodate Shopping District
This city boasts the third largest population of Hokkaido, with convenience stores and pharmacies spread all throughout the area. Especially in the JR Goryokaku and Hakodate Station areas, you will find department stores, shopping centers, and electronic mass retailers. The Kanemori Red Brick Warehouse also has a duty free shop, which is convenient for bulk buying.
1. Kanemori Red Brick Warehouse - Bay Area Hakodate Souvenir Shop
Facing out towards Hakodate Bay, it was the first shopping area in Hakodate. Now a souvenir shop, it was renovated from a refractory brick warehouse built in 1909. You can now enjoy shopping for Hokkaido souvenirs and gourmet food.
2. Hakodate Morning Market Souvenirs
This market was built after the war and moved to its present location in 1956. Over 250 shops stretch out over 7 acres of land, and include a variety of marine products, fruit & vegetable shops, and cafeterias. It is abundant in fresh fish such as crab and salmon, and delicacies such as salted salmon roe and salted squid.
3. Bulk Shopping in Laox Hakodate Red Brick Store
One corner of the Red Brick Warehouse features a duty free shop, in which you can receive tax exemption and multi-lingual customer service. There is also a wide range of items including home appliances, cameras and clocks, cosmetics, and folk crafts. You can also purchase goods to be shipped by international mail.
Laox Hakodate Red Brick Store

Laox 函館赤レンガ店

Address

〒040-0053 北海道函館市末広町13-9 金森洋物館K-20区画 1F / 1F, Kanamoriyoumonokan K-20 Kukaku, 13-9, Suehirocho, Hakodate-shi, Hokkaido, 040-0053, Japan
*This information is from the time of this article's publication.
*Prices and options mentioned are subject to change.
*Unless stated otherwise, all prices include tax.