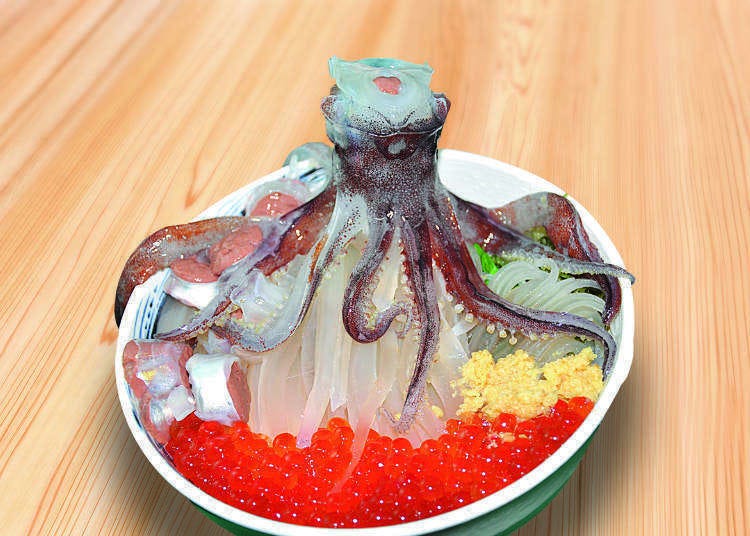 The Hakodate Morning Market's Donburi Yokocho, a 2-minute walk from JR Hakodate Station, is the best gourmet spot in the city. It started out as a market cafeteria in 1956 and has been providing hearty early morning meals for those working in the market since then.

It's a collection of 19 places to eat and shops selling marine products with most of them opening around 6:00 a.m., perfect for "morning activities", and is a spot where travelers are also welcome to get a satisfying meal.

Here are five places from among these popular shops we have selected that you really should try!
1. Asaichi Shokudo Mako-to-Yasube: Reasonably priced seafood bowls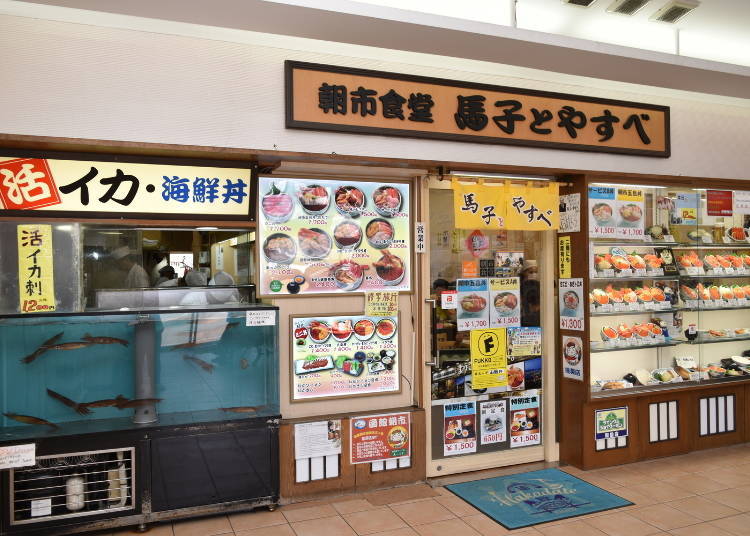 This shop, the name of which translates to Mako and Yasube Morning Market Cafeteria, is located close to the central entrance of the Donburi Yokocho.

Established in 1986, the unique store name is a combination of the names of stores individually operated by President Tajima and his younger brother. The live squid in the tank in front of the store testify to how fresh its ingredients are.

In addition to its location in the Hakodate Morning Market, the shop attracts tourists and locals alike with its excellent quality dishes prepared by highly skilled chefs.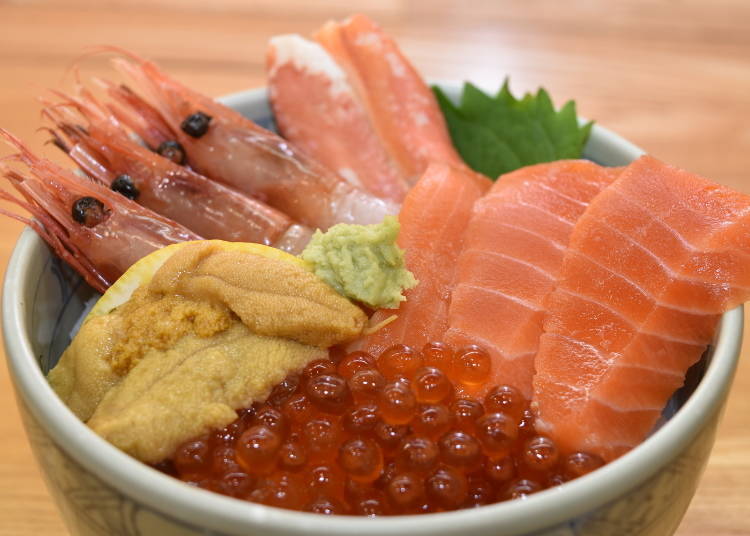 The most popular dish is a seafood bowl truly typical of Hakodate! In addition to salmon roe, salmon, shrimp, and sea urchin, you can also select one more ingredient, such as scallops or crab, for the popular Asaichi Goshoku-don [Morning Market 5-ingredients Bowl] (1,870 yen including tax).

Enjoy the plump texture of the salmon roe pickled in the shop and the sweetness of the sea urchin and shrimp in this extravaganza of flavor.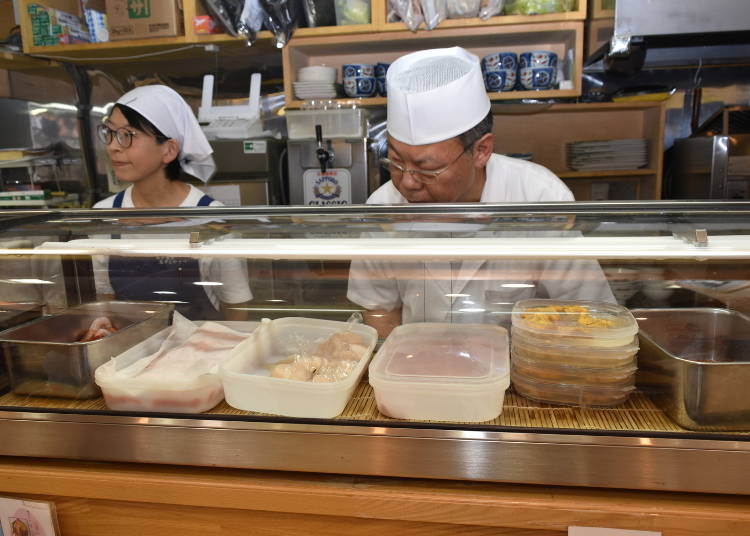 "The number of customers from foreign countries is also increasing because there are more direct flights from Taiwan to Hakodate and the number of cruise ships calling," President Tajima said.

One nice thing about this shop is that it offers a wide selection of ingredients that are also offered in smaller mini-bowls (starting at 1,320 yen including tax) which are perfect for breakfast and snacks.
Asaichi Shokudo Mako-to-Yasube

朝市食堂 馬子とやすべ

Address

9-15, Wakamatsu, Hakodate, Hokkaido 〒040-0063

Phone Number

0138-26-4404

Open: 6:00 a.m. ~ 3:00 p.m.
Closed: unscheduled
2. Asaichi-no-Ajidokoro Chamu: Transparent fresh squid sashimi!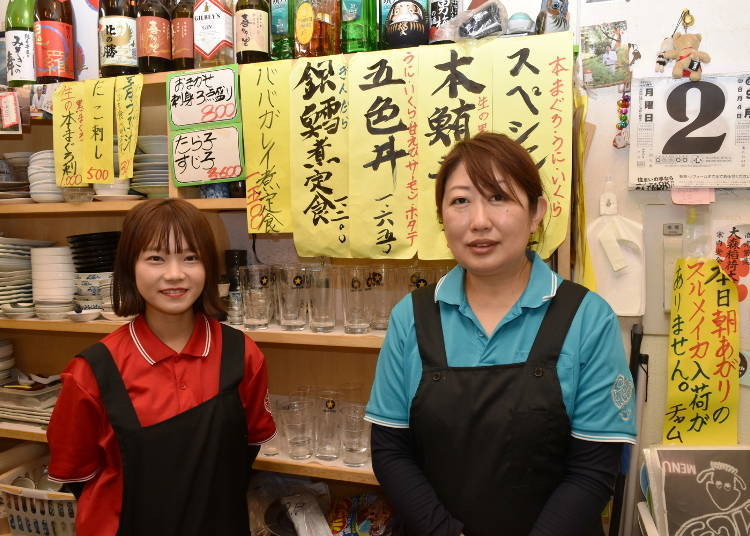 Hakodate is famous for squid! Even people in Hokkaido who are discerning when it comes to fresh seafood go to Hakodate for its fresh squid. The season for squid fishing, which has continued since the early Meiji era, opens on June 1 and reaches its peak between July and October.

"Asaichi no Ajidokoro Chamu", founded 45 years ago, is known as a place to get really fresh squid at a reasonable price. The owner of this market restaurant originally prepared Western cuisine.
At Chamu, fresh squid is purchased every day as long as there is fishing. The owner, raised in a fishing family, has a sharp eye for selecting fresh squid.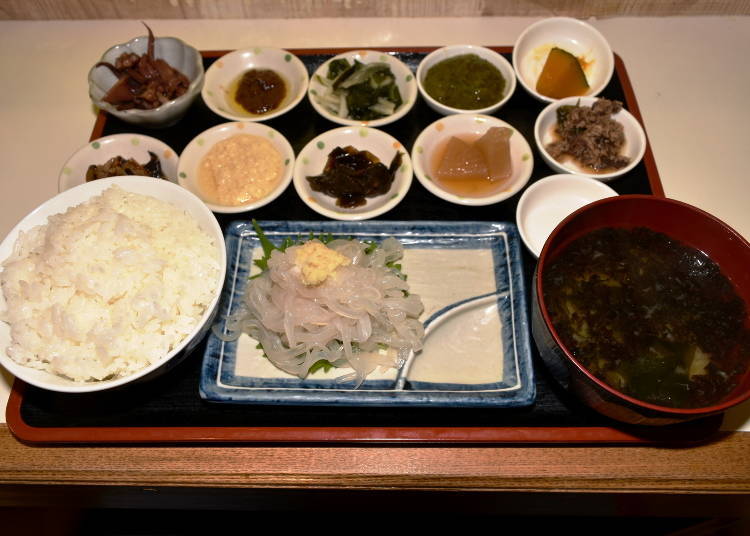 This small restaurant can only seat 15 people, yet it is always packed with both tourists and local customers. The secret to its success lies in the at-home atmosphere and excellent flavor, not to mention its surprising generosity.

The squid sashimi set meal (1,210 yen including tax) comes with 10 types of pickled and stewed small dishes on the side. Japanese white radish stewed in a soup made from tuna stock was among the many mouth-watering dishes served the day we visited. Even if it is crowded and you have to wait, it is well worth it.
Asaichi-no-Ajidokoro Chamu

朝市の味処 茶夢

Address

9-15, Wakamatsu, Hakodate, Hokkaido 〒040-0063

Phone Number

0138-27-1749

Hours: 7:00 a.m. ~ 3:00 p.m. (L.O. 2:30 p.m.
Closed: unscheduled
3. Ikkatei Tabiji: Delicious crab gratin at the Hakodate Morning Market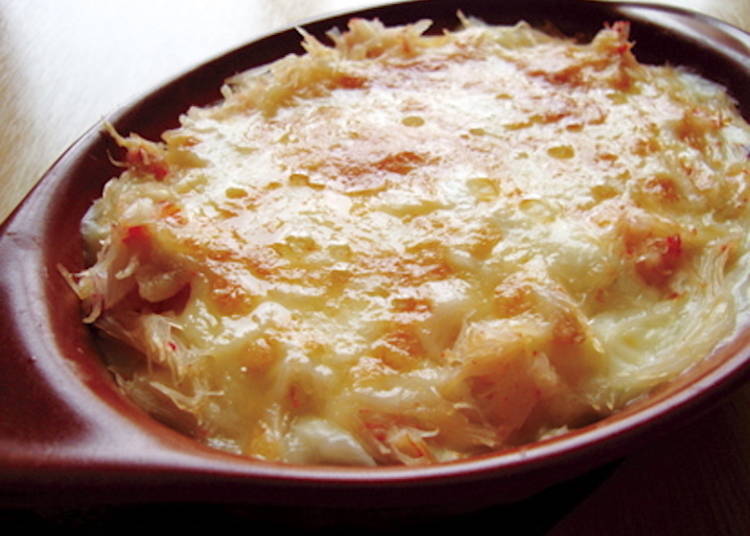 Photo provided by Ikkatei Tabiji
If you like fresh seafood but are not accustomed to eating it raw, then we recommend you visit Ikkatei Tabiji. Directly managed by a fishery, this Donburi Yokocho restaurant boasts a wide selection of various seafood dishes.

The homemade gratin loaded with crab (770 yen including tax) is popular. "In the past, there used to be huge catches of crab in the sea near Hakodate. The current menu was created to take advantage of that," Manager Sugawara explained.

This is a deluxe dish handmade using lots of fresh crab directly obtained from a sister store specializing in crab, but the number of servings is limited each day! Of the many dishes offered, the cream croquettes and thick egg rolls are also popular favorites.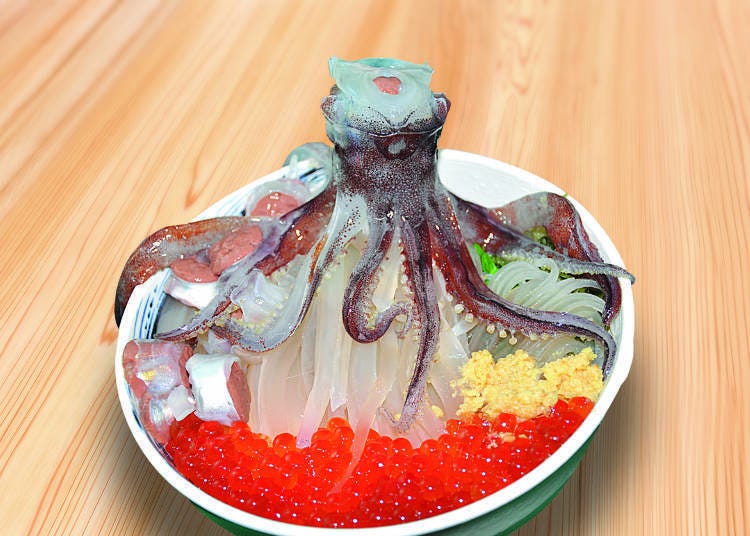 Photo provided by Ikkatei Tabiji
Of course, the menu also includes genuinely certified fresh raw seafood dishes, too, and the most famous of these is the Live Dancing Squid Bowl (2,079 yen including tax) that has shocked both domestic and foreign media. The bowl is topped with a fresh squid that still moves about. This is a dining experience you are not likely to forget!

There are 58 seats in the store, such as table seats, counters, and small raised areas, so in Donburi Yokocho, where there are many small shops, this is a good one for tourists who do not have lots of time.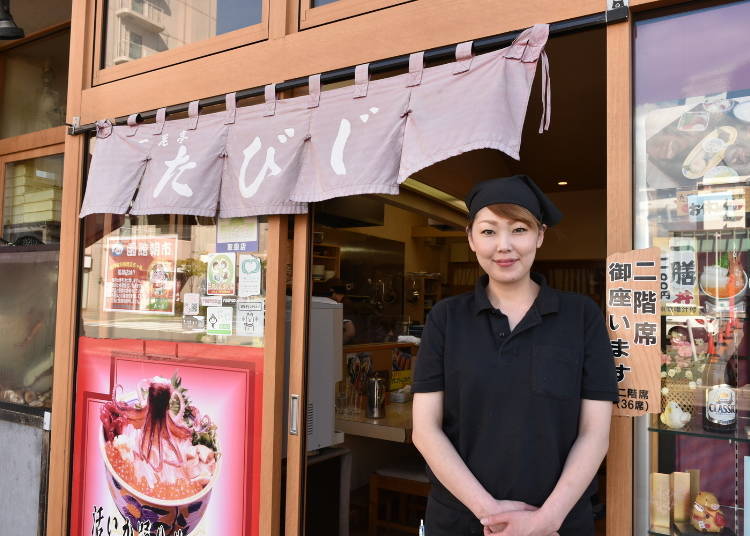 一花亭たびじ

Address

9-18, Wakamatsu, Hakodate, Hokkaido 〒040-0063

Phone Number

0138-27-6171

Open: 6:00 a.m. ~ 2:00 p.m.
Closed: unscheduled
4. Ikura-tei: Savor hot shrimp congee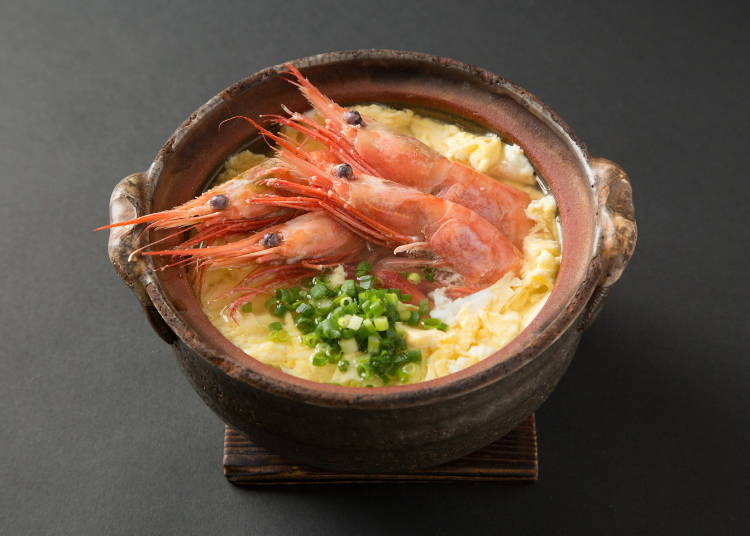 Photo provided by Ikura-tei
Ikura-tei is famous for a particular dish that is not highly advertised: its Ikura-tei congee! The shrimp congee is especially popular: unpeeled sweet shrimp, egg, and spring green onion shoots cooked with rice in a soup stock made from white fish, such as red snapper.

"A certain amount of skill is required to keep the ingredients and preparation simple," Assistant Manager Abe explained.

Other types of congee served throughout the year, except for the sea urchin version, are Rock Laver Congee (900 yen excluding tax), Crab Congee (1,400 yen excluding tax), Sea Urchin Congee, limited to fall and winter (1,780 yen excluding tax); all are perfect for cold winter days and when the weather is bad to warm you up.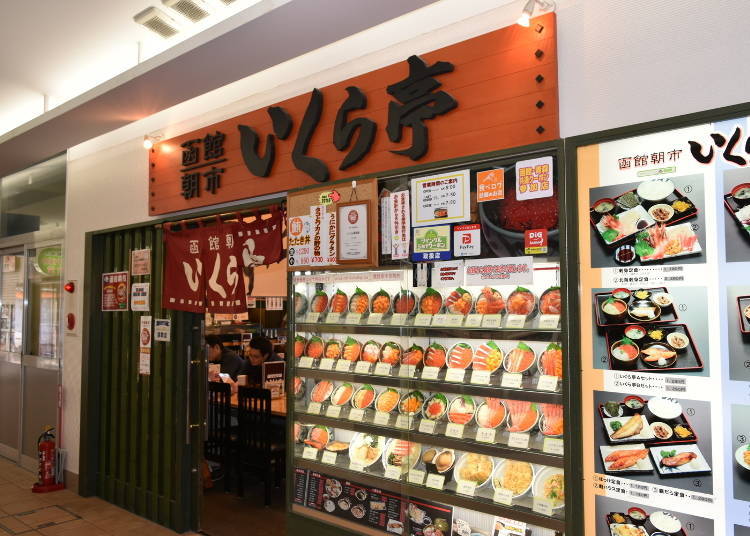 Naturally, Ikura-tei is proud of its salmon roe, from which the restaurant takes its name. "It's hard to bring out the unique character of a seafood restaurant, but one way this is done is in the way it seasons the salmon roe," Assistant Manager Abe explained. The large salmon roe eggs here are reputed to be "picture-perfect delicious", so be sure to give them a try.

Also, many of the shops in Donburi Yokocho close in the evening, so this restaurant stays open until 7:30 p.m. (5:00 p.m. in winter) in order to allow as many customers as possible to enjoy its dishes.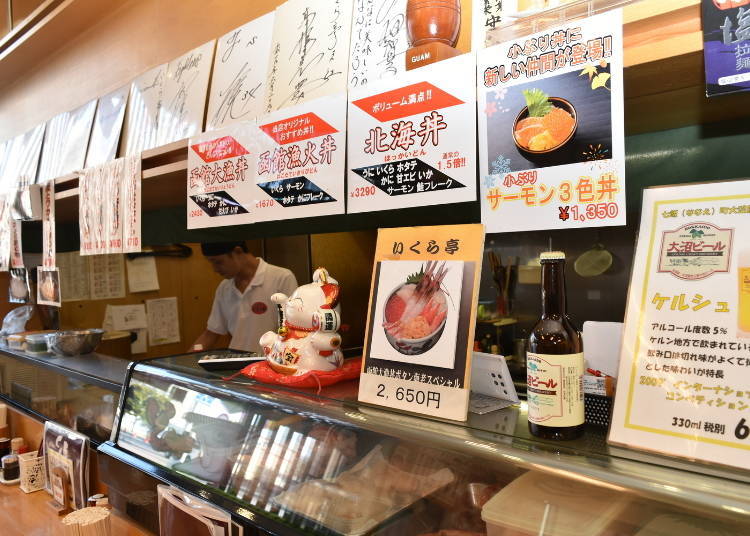 いくら亭

Address

9-18, Wakamatsu, Hakodate, Hokkaido 〒040-0063

Phone Number

0138-23-3422

Hours: 6:00 a.m. ~ 7:30 p.m. (May ~ October); 7:00 a.m. ~ 5:30 p.m. (November ~ April)
Closed: unscheduled
5. Akebono Shokudo: Savor local cuisine and Sanpeijiru Soup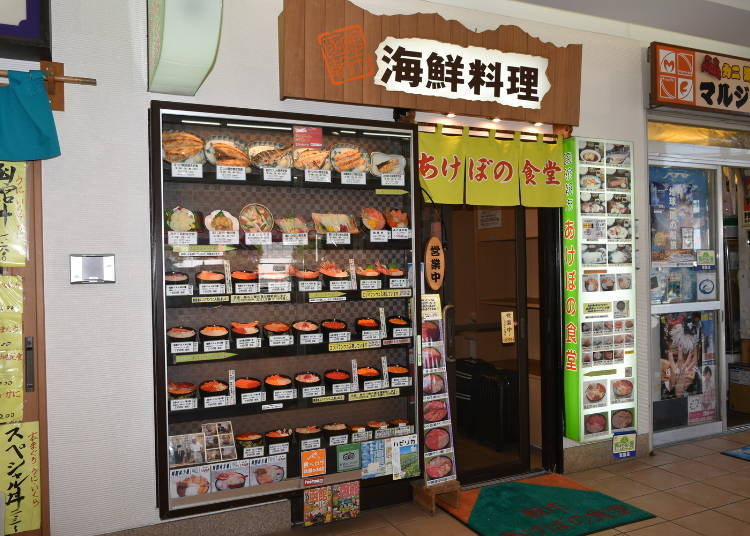 Lastly, there is the Akebono Shokudo where the owner who previously was the head chef in a Japanese-style restaurant carefully selects all the ingredients himself before using his master skills in the preparation of the dishes.

The menu offers a rich selection of bowl and grilled dishes, but one dish you really must try is a Hokkaido dish called Sanpeijiru (660 yen including tax).
Sanpeijiru is a soup made from fish and root vegetables that have been pickled in brine, and has a history of more than 200 years. Akebono Shokudo uses salmon caught in northern waters, daikon [Japanese white radish], carrots, and other root vegetables as well as potatoes which are all then stewed in a soup made with kelp stock to create a very elegant flavor.

Not heavy on salt, the delicate flavor is very much like that of Japanese traditional dishes noted for their delicate flavor.

The bowl dishes and set meals all come with miso soup, however, you can request Sanpeijiru or fresh horsehair crab miso soup (660 yen including tax) instead, in which case the price of the soup is reduced by 50 yen. These are dishes you really should try.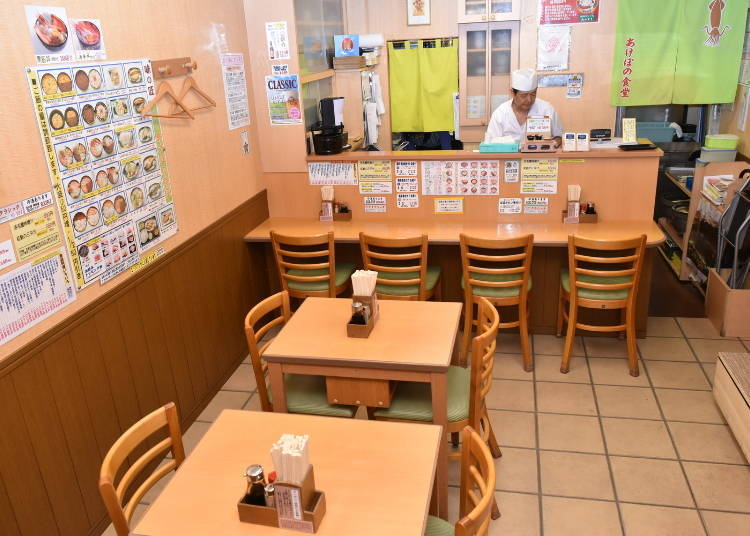 The shop can only seat 12 customers, so normally during breakfast and lunch it is packed. About half of the customers of this restaurant, which has deep roots in the community, are local residents, "Nevertheless, the percentage of tourists is increasing, and that's why we started serving seafood bowls," says the store owner. It's best to come at times other than when it is crowded.
あけぼの食堂

Address

9-15, Wakamatsu, Hakodate, Hokkaido 〒040-0063

Phone Number

0138-27-0502

Open: 7:00 a.m. ~ 2:50 p.m.
Closed: Wednesday
Hakodate Morning Market Donburi Yokocho Market

函館朝市どんぶり横丁市場

Address

9-15, Wakamatsu, Hakodate, Hokkaido 〒040-0063

Phone Number

0138-27-0502

営業時間:7:00~14:50
定休日:水曜日
Text by: Minna No Kotobasha
*This information is from the time of this article's publication.
*Prices and options mentioned are subject to change.
*Unless stated otherwise, all prices include tax.