Ever heard of Tokyo's SKY HOP BUS? It's a fun tourism-focused bus line operating in Tokyo and Kyoto that lets you hop on and off whenever you want. It's also a rising star among Japan's travel services thanks to its open top deck from which you can enjoy area sights, plus convenient routes that take you up close to popular sightseeing destinations.

And for a limited time this autumn, you can buy six-hour tickets for just 1000 yen!

We rode along with Timothy, one of LIVE JAPAN's editors who's familiar with Tokyo, to see just how many cool places we could visit in half a day. Let's hop into it!
SKY HOP BUS: Hop on and off at the destinations you choose - it's a cheap and great way to tour Tokyo!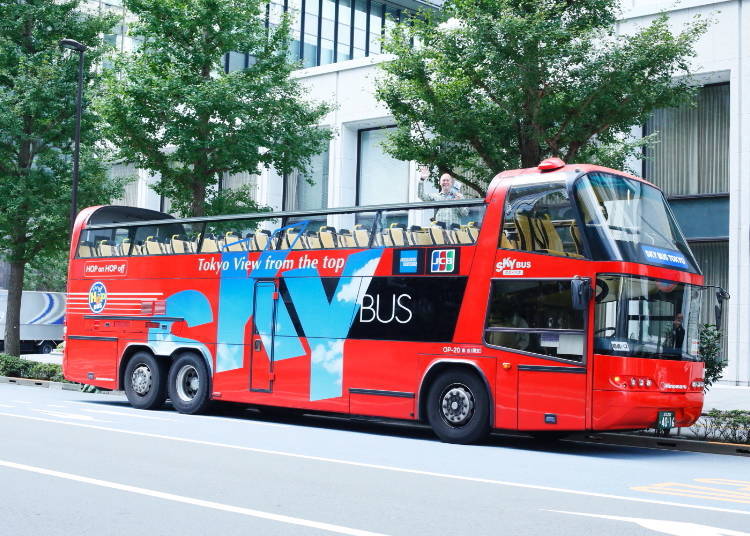 SKY HOP BUS runs along a course that's conveniently close to major sightseeing destinations. As you can hop off as you please, you can enjoy exploring an area that catches your eye. Given their flexibility, these buses have become quite popular with tourists from all over.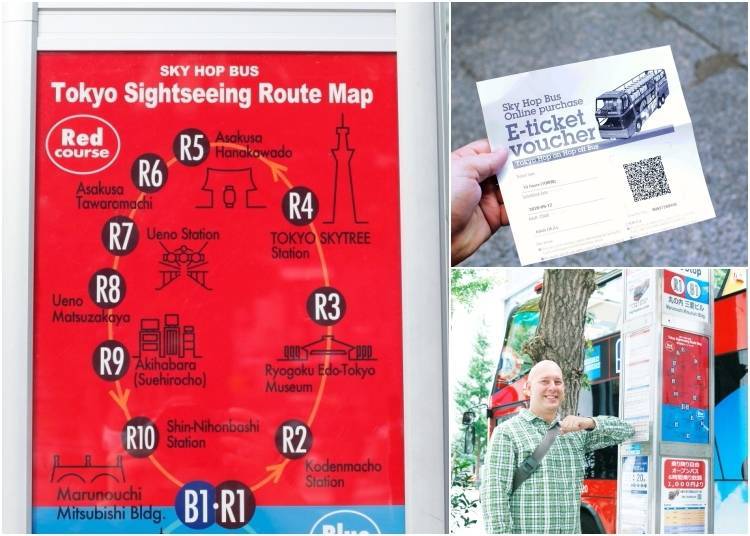 Tokyo's SKY HOP BUS has two routes. The Red Course runs through Ryogoku, Tokyo Skytree, Asakusa, Ueno, Akihabara, and Nihonbashi areas. The Blue Course visits Tokyo Tower, Tsukiji, Ginza, and Odaiba (three buses per day for Odaiba). For our run, we'll use the destination-dense Red Course!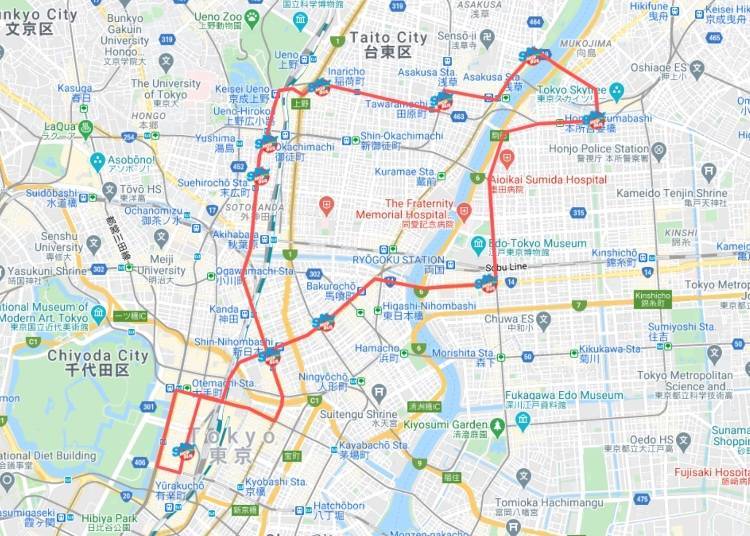 (c)google
Red Course stops and sightseeing points of interest
Ten bus stops in total, hop on or off at any time during your ticket hours
・Marunouchi Mitsubishi Building Stop: Tokyo Station, Imperial Palace
・Kodemmacho Station Stop: Amazake Yokocho
・Ryogoku/Edo-Tokyo Museum Stop: Ryogoku Kokugikan (Sumo Hall), Edo-Tokyo Museum
・Tokyo Skytree Station Stop: Tokyo Skytee, Tokyo Solamachi
・Asakusa Hanakawado Stop: Sensoji Temple, Nakamise Shopping Street
・Asakusa Tawaramachi Stop: Kappabashi Kitchenware Town
・Ueno Station Stop: Ueno Park, National Museum of Western Art
・Ueno Matsuzakaya Stop: Ameya-Yokocho
・Akihabara (Suehirocho) Stop: Electric Town, arcades
・Shin-Nihonbashi Stop: Nihonbashi Mitsubishi, COREDO Nihonbashi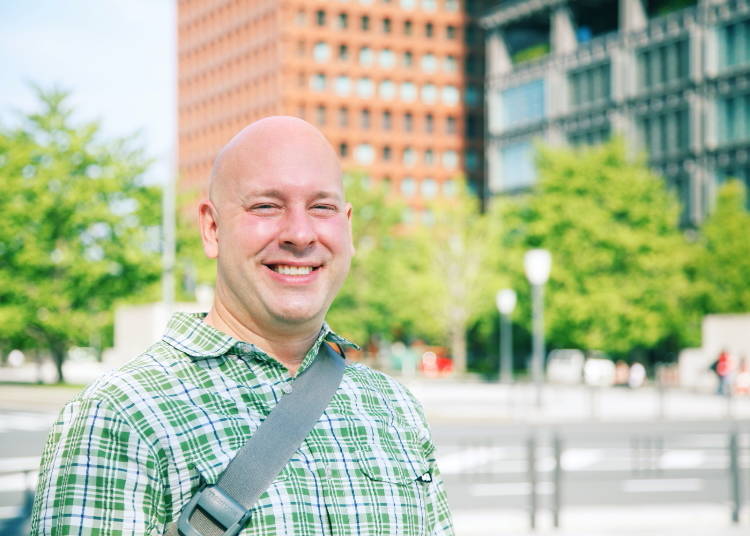 Here's our challenger, Timothy. He's lived in Japan for around 20 years and is more familiar with Tokyo's history and terrain than many Japanese natives. Timothy expressed some incredulity at first: "How many places could you really see in just six hours?" It's time to find out!
Hop aboard! Open-top buses, perfect for the age of Covid-19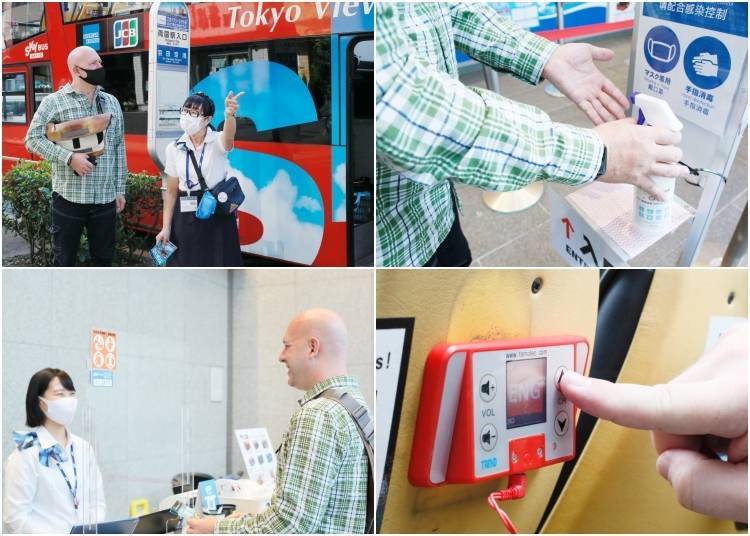 We meet up at 9:00 AM at the Marunouchi Mitsubishi Building near Tokyo Station. Before boarding, we sanitize our hands with alcohol and get our temperatures checked. There's multilingual guidance, onboard Wi-Fi, and other services tourists will enjoy. Riding the bus is a chance to both enjoy the sights and learn about Tokyo.
The bus seating is first-come, first-serve, and only on the second deck. If you want to sit in the popular front seats, make sure to board at the first stop! For social distancing, we sit with space between each other.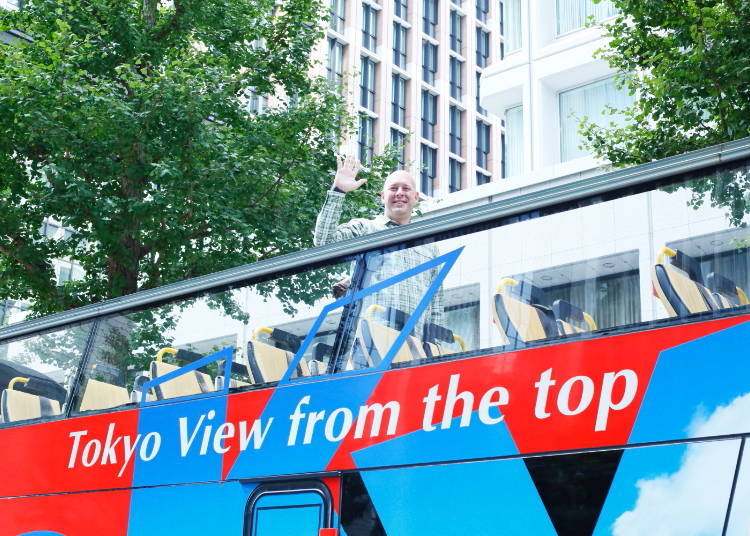 As an open-top bus, it's well ventilated, and you don't have to share the same air as other passengers, making it an excellent activity for the Covid-19 age.
9:15 An exciting dash through Marunouchi's buildings
Marunouchi is an office district packed with all sorts of great Japanese architecture. The bus takes you at a breezy pace through these high-rise structures. As Timothy excitedly noted, "Thanks to these open seats, you can feel the city's sounds and atmosphere – but from above. It's totally different from just walking through areas, and great for photos, too!"
09:30 More than just sumo! Ryogoku has a wealth of museums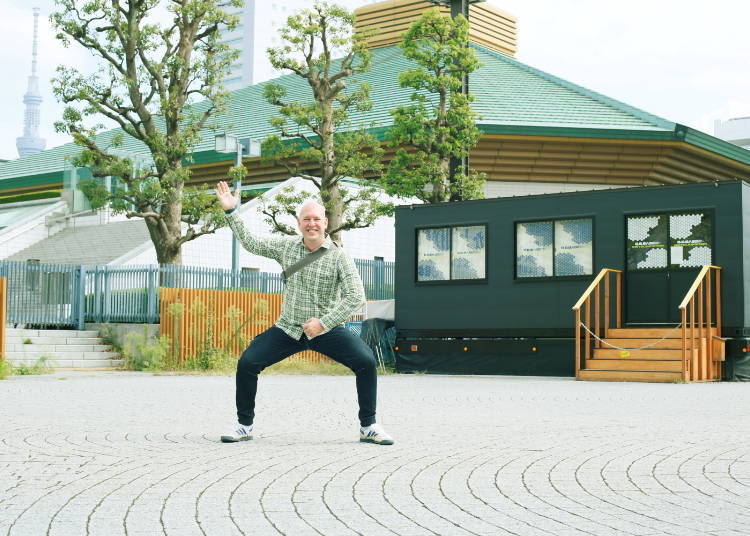 Ryogoku might be most famous for having the Ryogoku Kokugikan, the stadium where sumo matches are held. However, as Timothy reminds us, sumo is not the only thing that makes it special. "This area has lots of fun museums and gardens that I'd absolutely recommend to travelers. They're all in walking distance, as soon as you hop off, explore around and visit as many as you can before the next bus arrives!"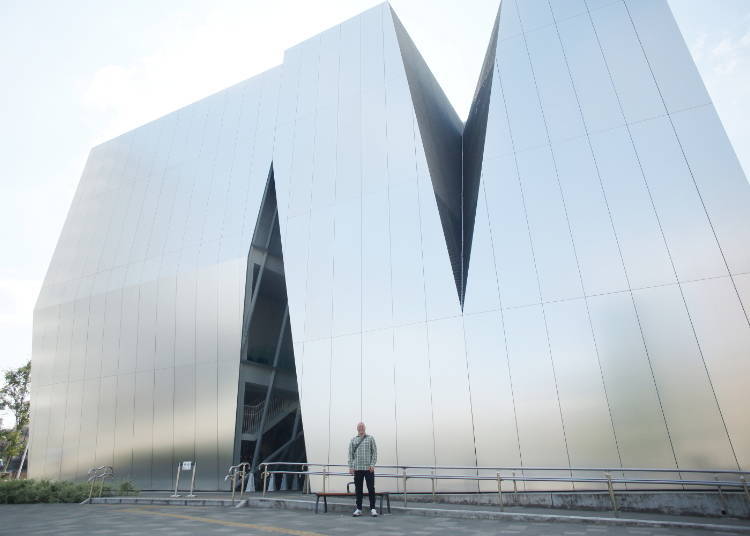 Our first stop here was the Sumida Hokusai Museum. This art museum features the artwork and history of Katsushika Hokusai, the famous ukio-e artist. Even if you don't buy a ticket to see the exhibits, you can enter the museum shop and find yourself a very Japan-esque souvenir.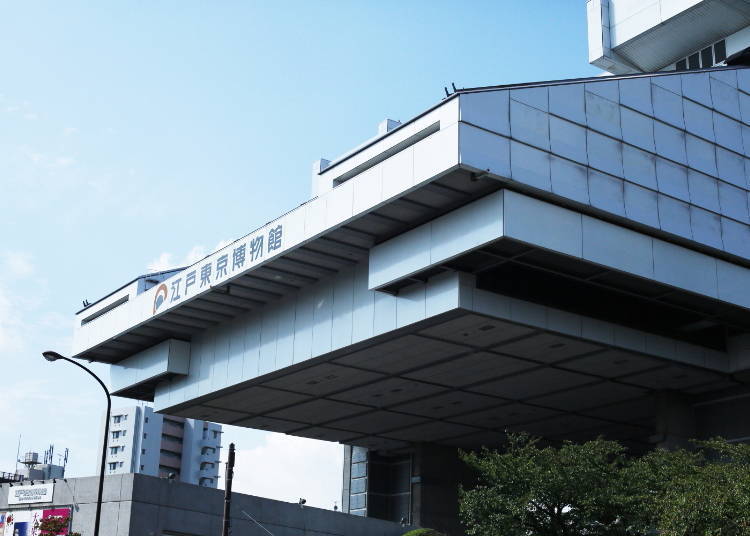 Nearby, the creatively designed Edo-Tokyo Museum lets you learn about Tokyo's fascinating history and heritage, covering from the days back to the Edo period between 1603 and 1868, until the modern megacity that we know today.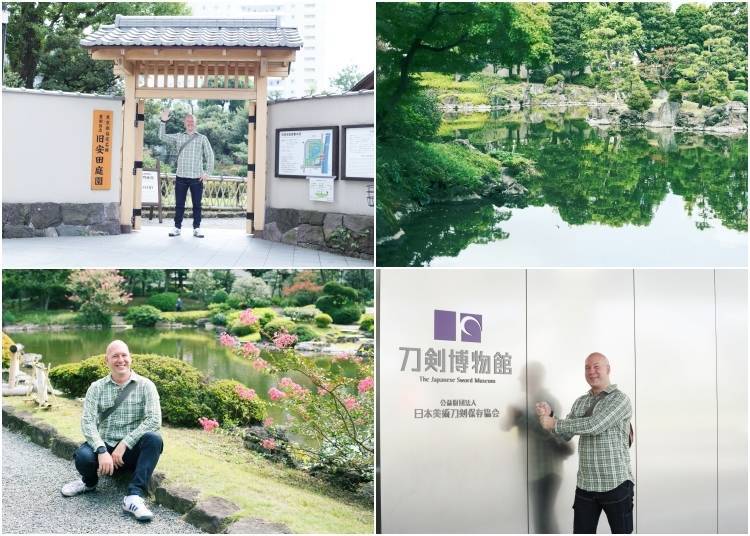 Timothy's other personal recommendations include the Former Yasuda Garden, and the Japanese Sword Museum adjacent to it. "Tokyo has so many scenic gardens, and the Former Yasuda Garden is absolutely free to enter. Be sure to visit it if you want to take in the atmosphere of a Japanese garden," recommends Timothy. The Japanese Sword Museum displays many Japanese swords, some of which are designated as national treasures. Samurai fans will love it.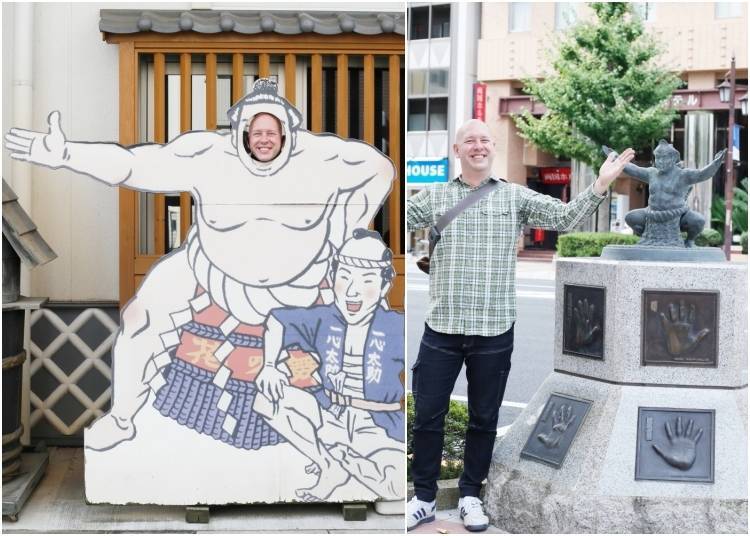 As the heart of sumo in Tokyo, you'll spot sumo-related statues and panels all around Ryogoku.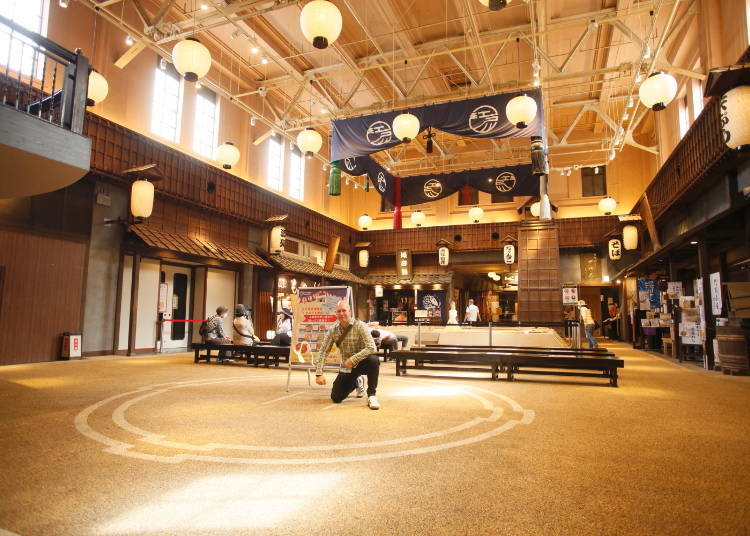 Once you've seen Ryogoku Kokugikan up close, visit the adjacent Ryogoku Station. It has an exhibit featuring a sumo wrestling ring you can see up close.
11:05 At the foot of Tokyo Skytree!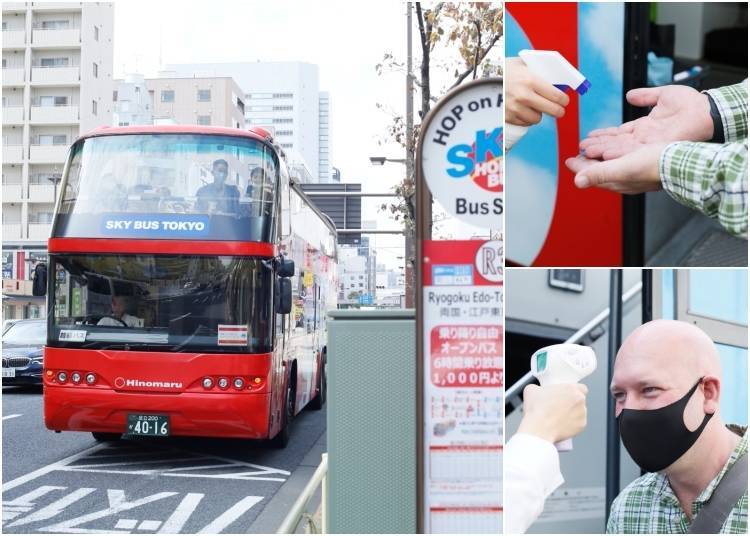 About an hour and a half after disembarking, the next bus arrives. As before, we must first sanitize our hands and have our temperatures checked before boarding; then we head for Tokyo Skytree!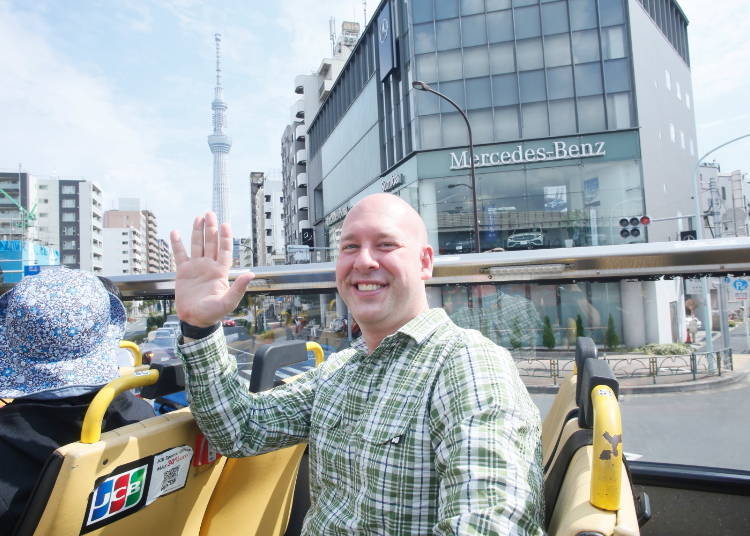 One moment you're racing through downtown, and the next, you're looking up at the massive Tokyo Skytree! Timothy also seemed giddy by its sudden appearance.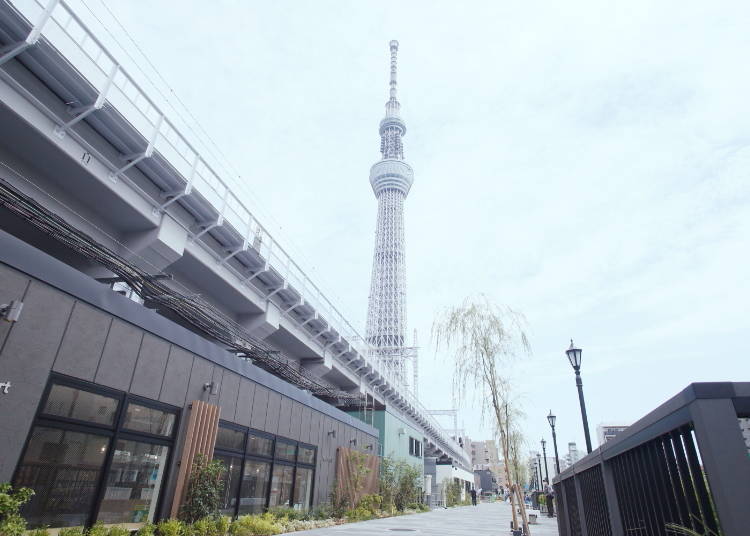 After around a fifteen-minute ride, we arrive at Tokyo Skytree Station. First, we drop by the new Tokyo Mizumachi, which opened in August 2020. It's located underneath the elevated Tobu Railway, and includes cafes, restaurants, assorted boutiques, a hostel, and fashionable shops.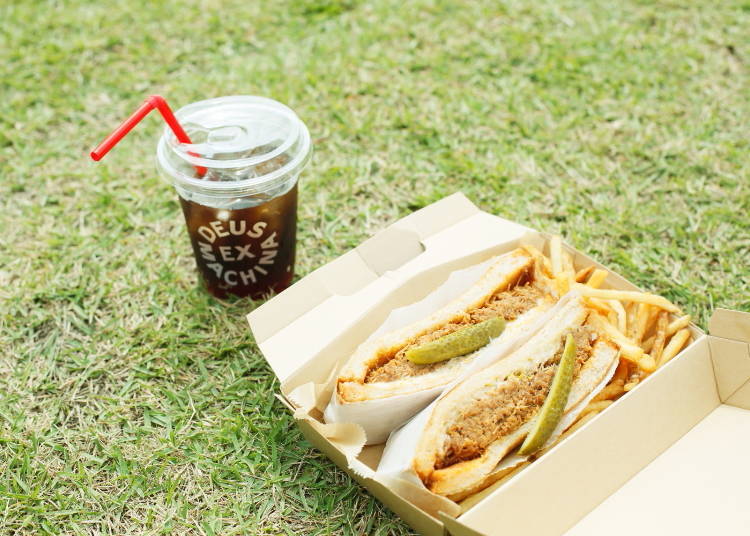 For today's lunch, we're going to Deus Ex Machina Asakusa. They have a "BBQ Pulled Pork Sandwich" (1300 yen) here, said to be Tokyo's next big wave of cuisine.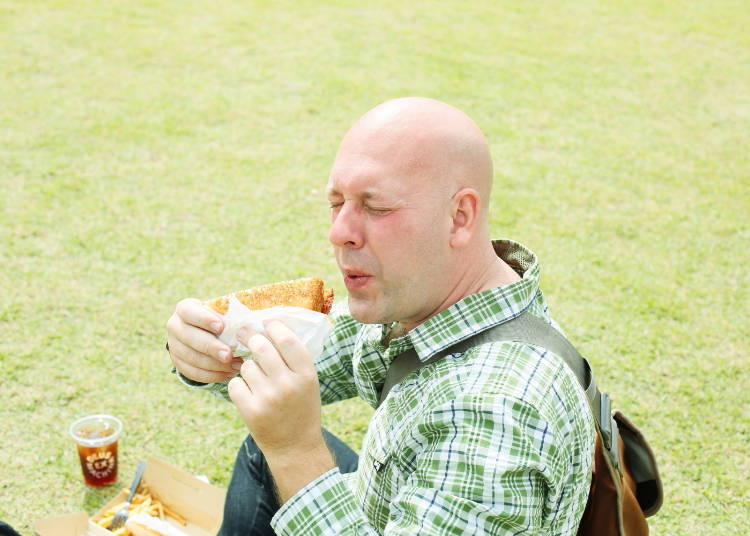 The soft and juicy, BBQ-flavored pork shoulder goes wonderfully with the soft and fluffy bread! The sandwich filling is so generous it nearly tumbles out. You can eat inside the restaurant, or bring your takeout to the nearby Sumida Park. Eat like a local! No doubt, it would make for a relaxing lunch time.
13:08 Parade through eastern Tokyo's most popular tourist spot: the Asakusa/Kappabashi area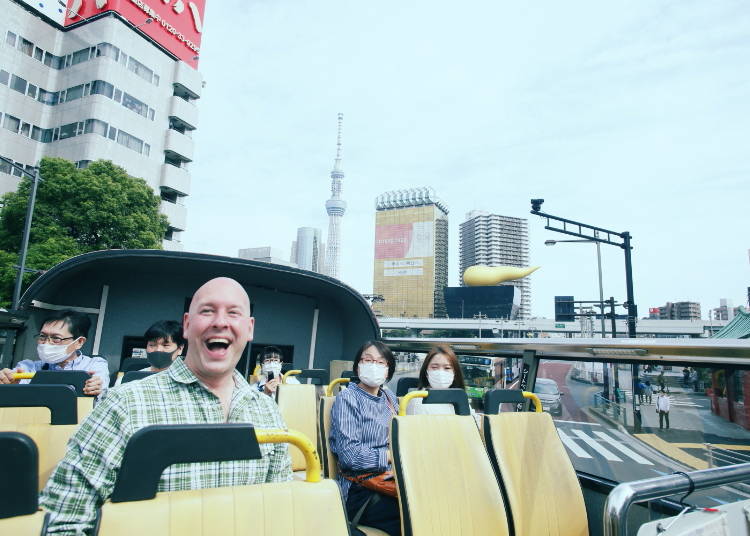 Our next stop is the Asakusa area. On the bus, we go right past Tokyo Skytree and Asahi Beer Headquarters! SKY HOP BUS just might be the best bus that lets you get this close.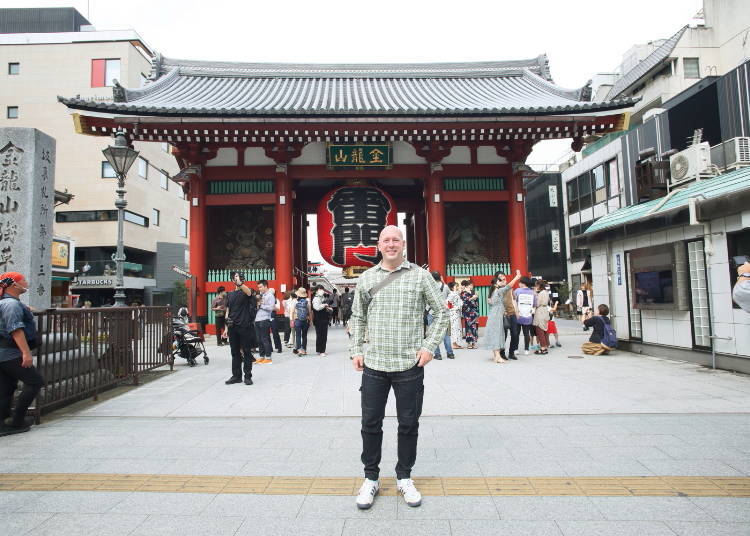 Now let's disembark at the Asakusa Tawaramachi stop, explore the Asakusa/Kappabashi area, and make our way to the Ueno Matsuzakaya stop! In addition to the popular Nakamise Shopping Street, you'll find all kinds of vintage establishments near Sensoji Temple.
Here we are at Asakusa's Hoppy Street, just west of Sensoji Temple. It has plenty of pubs open from mid-day, enjoyed by locals and tourists alike, with plenty of drink and conversation.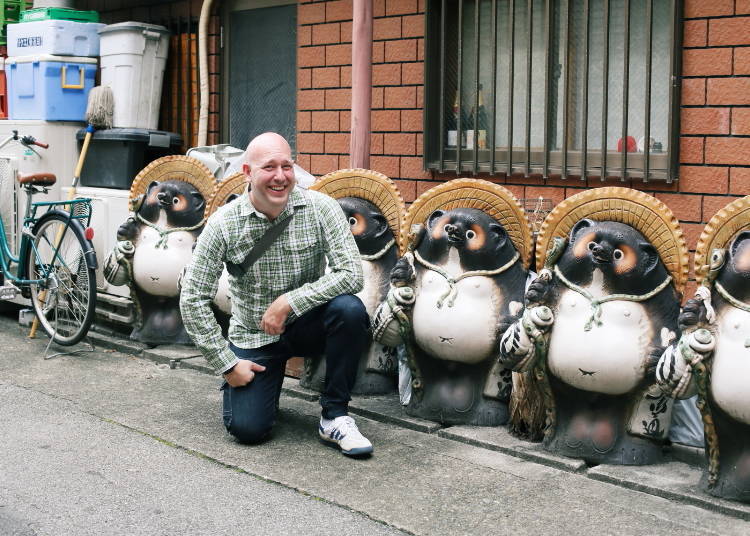 We found tanuki statues while walking! It makes sense for izakaya pubs to place them to draw in customers, but have you ever seen so many in one place?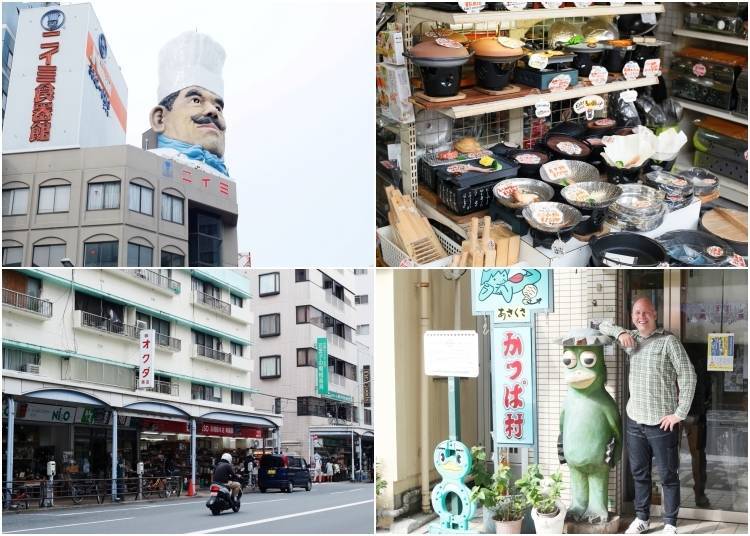 Kappabashi Kitchenware Town is a shopping district where you'll find professional-grade kitchenware and food samples. Many of these stores sell to regular buyers, so you'll want to visit if you want great prices on Japanese earthenware or cutlery.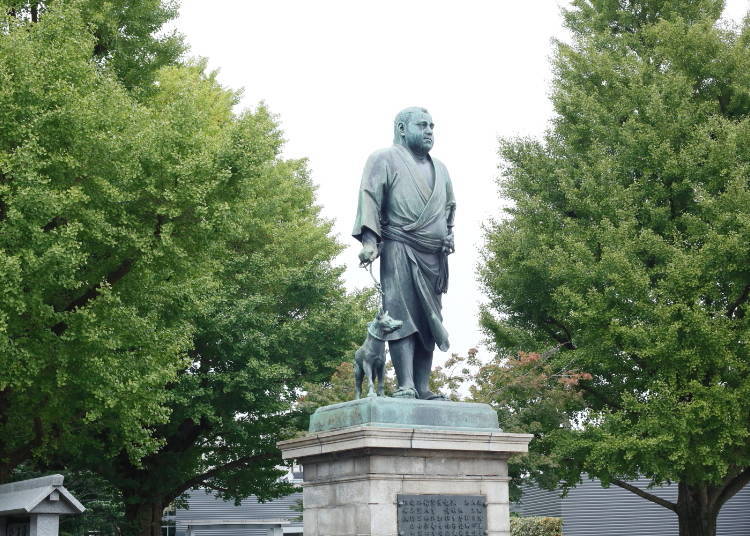 Moving through Kappabashi, we walked to Ueno Park. Its famous statue of Saigo Takamori, often dubbed the "last true samurai," greets us. The Ueno Park area has a lot to see, including the National Museum of Western Art, so let's try to maximize our time here.
Just beyond Ueno Park is the shopping street Ameya-Yokocho, or more commonly, "Ame-Yoko." As a location for inexpensive sweets, condiments, street foods and clothing, it's always crowded with customers. See if you can find a souvenir while on the way to Ueno Matsuzakaya.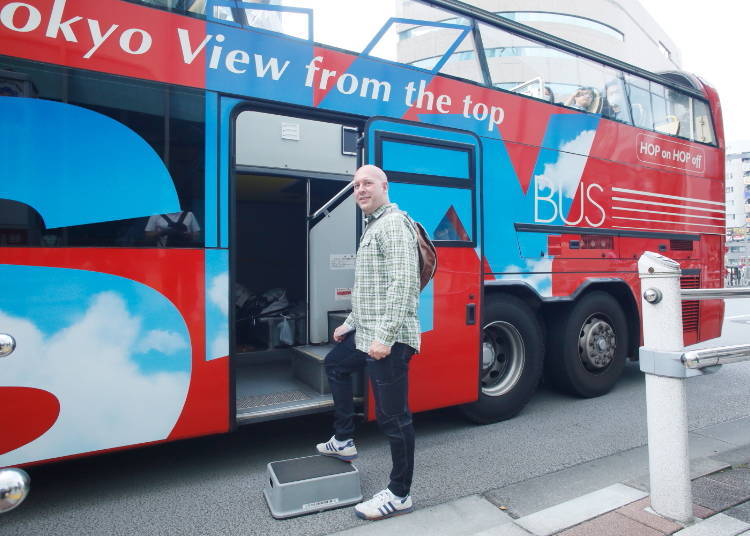 Leaving Ueno Matsuzakaya for Akihabara. It's our final bus of the day!
15:06 Depart Ueno Matsuzakaya for Akihabara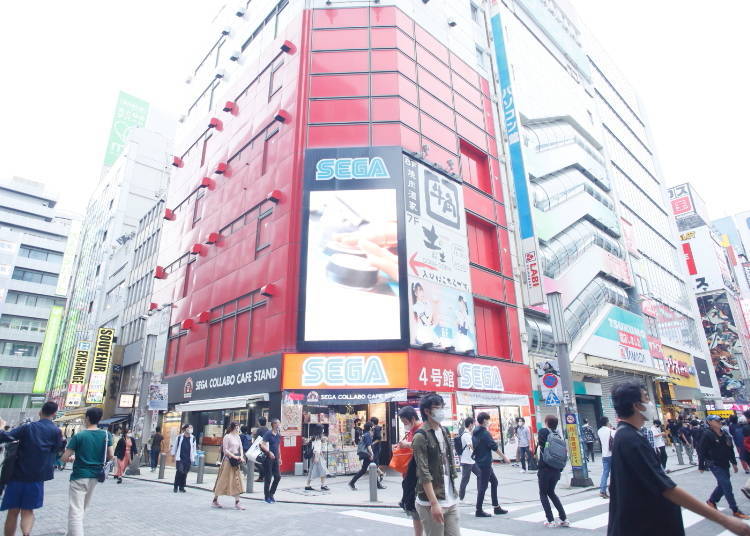 Akihabara is full of shops related to anime, games, and otaku culture. It's just as full of shops selling all kinds of cool electric gadgets.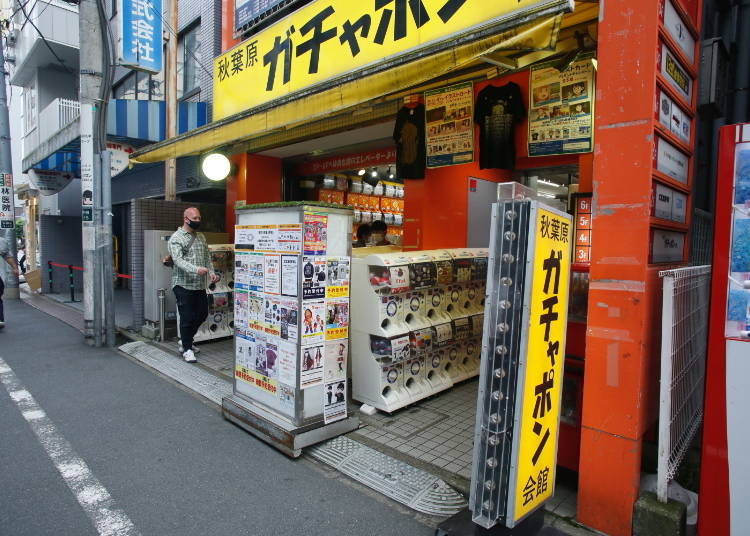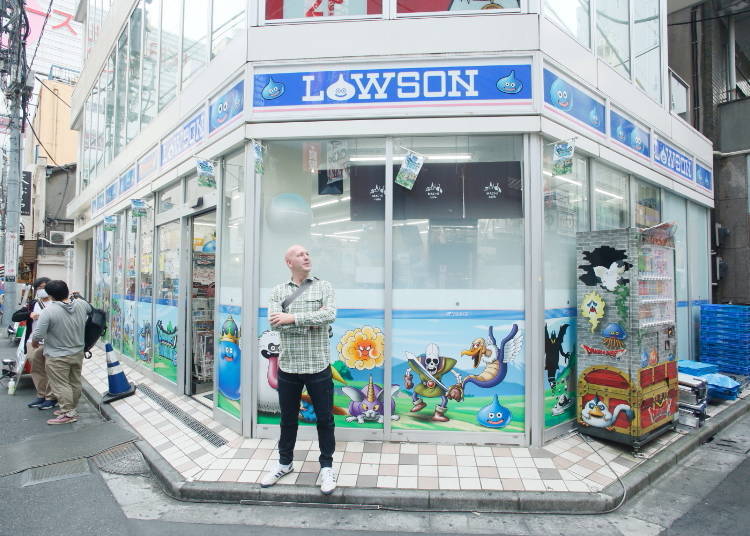 While en route to Akihabara Station, we found this unique convenience store! This Dragon Quest-themed Lawson is a unique shop found only here.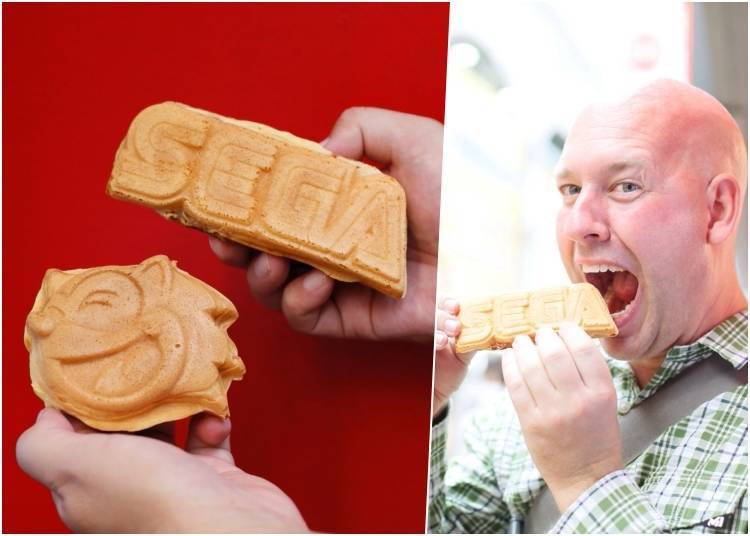 Having walked for some time, Timothy begins to feel peckish. Luckily enough, a "SEGA Taiyaki" shop was nearby. One variety of taiyaki available at this vendor are modeled after Sonic the Hedgehog, Sega's age-old mascot. The Sonic taiyaki are cream-filled, while the logo taiyaki come in multiple flavors. We'll try the pizza flavor. Timothy expressed his admiration: "This cheesy sauce is the real deal. I think visitors would enjoy the flavor as much as the selfie chance."
We saw 21 spots in six hours – and spent just 1000 yen! (A 10-hour ticket could let you see even more!)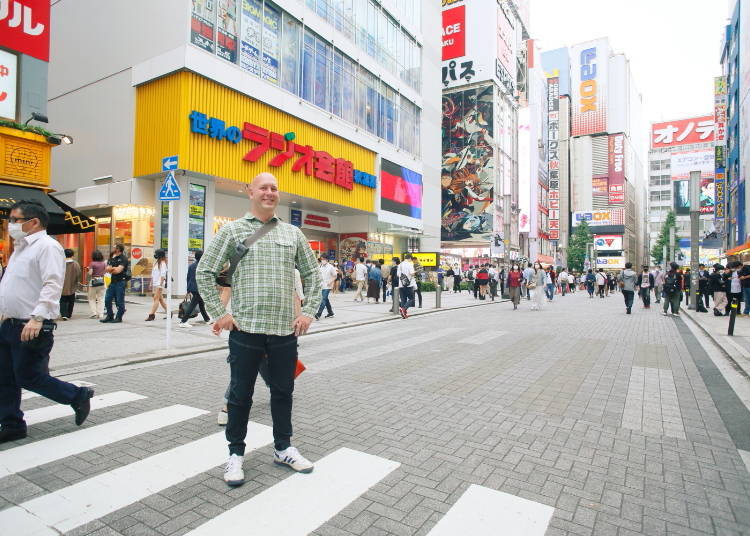 Finally, we arrive at our final destination for the day: Akihabara Station. Between spots we walked to and those we saw from the bus, we were able to view 21 tourist destinations! With the six-hour, 1000-yen course, we were able to take in a huge amount of sightseeing – the bus really helped with our range.
All the Spots We Saw and/or Visited
・Marunouchi Mitsubishi Building: Marunouchi office cluster
・Ryogoku / Edo-Tokyo Museum: Sumida Hokusai Museum, Edo-Tokyo Museum, Former Yasuda Garden, Japanese Sword Museum, Ryogoku Kokugikan, Ryogoku Station
・Tokyo Skytree Station: Tokyo Skytree, Tokyo Mizumachi, Sumida Park
・Asakusa Tawaramachi: Sensoji Temple, Nakamise Shopping Street, Hoppy Street, Kappabashi Kitchenware Town
・Ueno Station: Ueno Park, National Museum of Western Art
・Ueno Matsuzakaya: Ameya-Yokocho
・Akihabara: Gachapon Hall, Dragon Quest Lawson, SEGA Taiyaki, Akihabara Station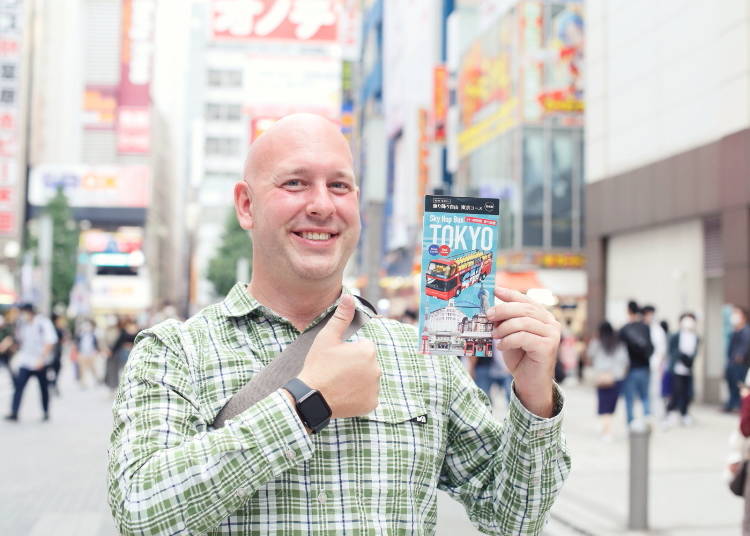 "This course covers exactly the kinds of spots that visitors to Tokyo would want to see. It's such a great deal!" Timothy also had this idea for first-time visitors: "You could take the first bus in the morning all around the city and mark out the areas that pique your interest. Then after, just hop on and off as you like. That should be enough to let you see everything that makes Tokyo great."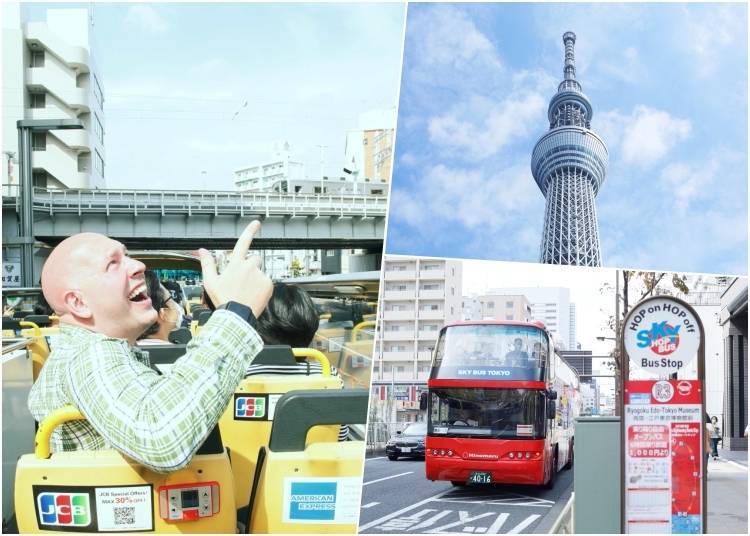 But if six hours aren't enough for you, there are also eight- and ten-hour courses. With the ten-hour course, one could also visit the shopping areas of Nihonbashi-Kodenmacho and Shin-Nihonbashi, which we ran out of time for. Take advantage of the morning-to-night SKY HOP BUS and have yourself a bargain tour of Tokyo!
Don't forget, SKY HOP BUS also runs through Kyoto!
SKY HOP BUS also runs courses in Kyoto. Kyoto's tourist destinations are scattered throughout the city, and some may find it difficult to use their transit system. But with SKY HOP BUS, you can hop on and off as you like for a flat rate, making touring Kyoto easy. Here, too, you can get a six-hour ticket for 1000 yen, for a limited time.
2020 Limited Time Special Plan
Six-Hour Ticket: 1000 yen for adults, 500 yen for children
Eight-Hour Ticket: 1500 yen for adults, 750 yen for children
Ten-Hour Ticket: 2000 yen for adults, 1000 yen for children
September 4 to November 29, 2020, weekends and holidays only
March 6 – 21, 2021, weekends and holidays only
March 22-31, 2021, operating every day
Schedules and prices from April 2021 onward have yet to be announced.
*This information is from the time of this article's publication.
*Prices and options mentioned are subject to change.
*Unless stated otherwise, all prices include tax.