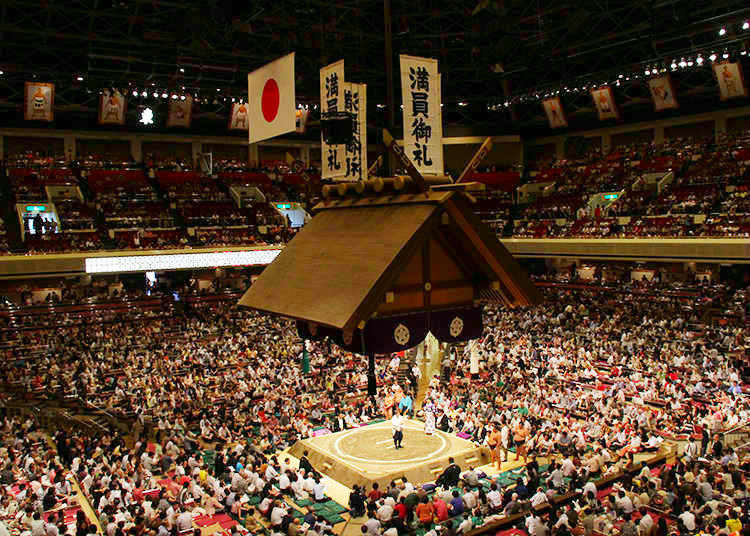 Sumo is an important part of traditional Japanese culture, boasting a history of over 1,500 years. Due to its deep roots and old traditions, there are many customs, rules, and rituals surrounding this national sport - having a basic knowledge of sumo will allow you to really be part of a match!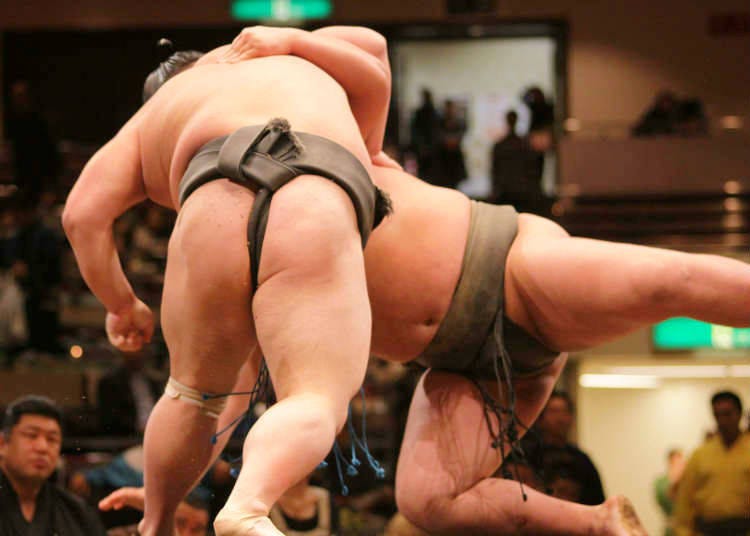 Mentioned in various myths and folk tales, it is said that sumo originated sometime around the year 712. Sumo was performed as an annual ritual when rice was planted, as a way to pray for a bountiful harvest. Over a long period of time, a fixed set of rules had established itself and sumo began taking on the form that we know today. As one of Japan's most famous national sports, sumo keeps on attracting not only Japanese people but visitors from all over the world.
Going to a Grand Sumo Tournament for the First Time
There are six grand sumo tournaments per year. In January, May, and September, grand sumo tournaments are held at Ryogoku Kokugikan. This place is considered as the sumo sanctuary and numerous great matches have been performed here.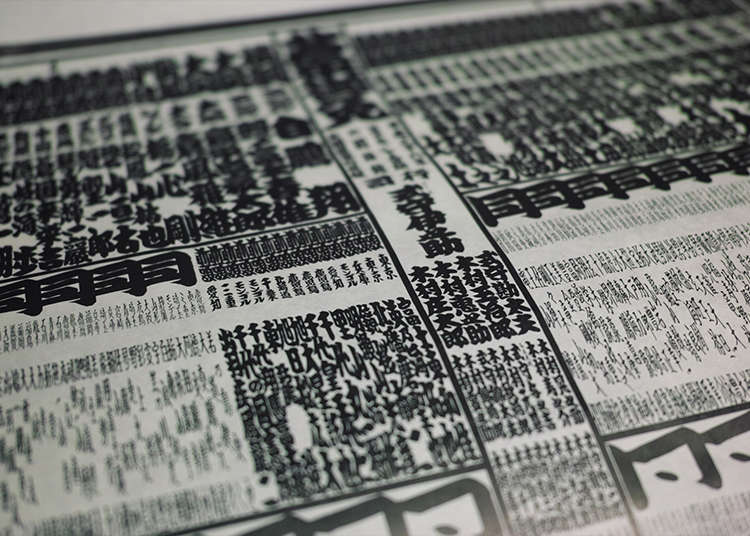 All sumo wrestlers are classified in a ranking hierarchy called banzuke, according to their performance. The top rank is called Yokozuna, the next lower rank is Ozeki, followed by Sekiwake, Komusubi and Maegashira. On the banzuke, wrestlers are divided into east and west sides. The allocation will be made based on their results of the previous tournament. If wrestlers are on the same rank, the wrestler of the east side is considered to be higher.
How to Watch a Grand Sumo Tournament
Just like many other things within Japanese culture, sumo puts a lot of emphasis on manners and rituals. Besides those of the actual competition, there are a variety of different rules to follow for the audience as well. Sumo has a lot to do with respect, between the competitors but also towards the sport itself. Let's take a look at the most important rules.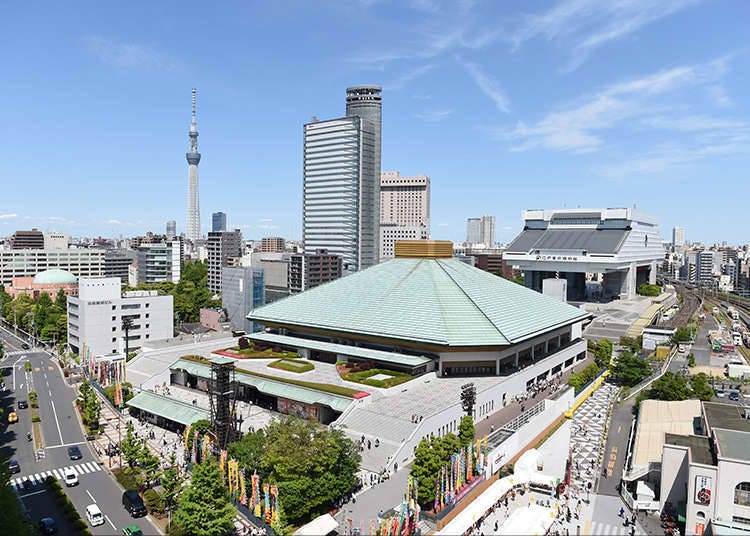 For grand sumo tournaments, two types of tickets are available: those sold in advance and those sold on the day of the match. You can book tickets both on the phone or online, or simply buy a ticket on the day of the match at the venue at which it is held. Naturally, these grand tournaments are very popular so if you're planning to buy a ticket at the venue itself, keep in mind that they might sell out really quickly.
There are three types of seats: Tamariseki, Masuseki, and the seats on the second floor.
Tamariseki are Situated Closest to the Ring
Tamariseki are the most prestigious seats. The seats are situated closest to the ring and are also called Sunakaburiseki (sand bathing seats). Those are generally reserved for officials but a few seats are always available to the general public. Due to their closeness to the ring, these seats allow you to get really close to the action - you even need to be aware of sumo wrestlers falling off the ring.
Masuseki are Ideal for Sumo Beginners
In contrast to the prestigious Tamariseki, snacks and lunch boxes can be enjoyed from the Masuseki, Japanese style box seats. It is called Masuseki because they look like a masu, a square measure cup for sake. Masuseki are furthermore classified into A, B, and C boxes, according to the distance from the ring. Those boxes are available either with one single seat, two seats, or four seats in one box. B and C boxes are only available as four seat types. Non-reserved places can be found on the second floor of the venue.
Manners During Sumo Wrestling Matches
The manners vary depending on your seat. In Tamariseki, eating and drinking, taking photos, and using a mobile phone is not allowed. Because of their closeness to the wrestler, Tamariseki are a lot more restricted than any kind of other seat. Masuseki, on the other hand, are seats that give you more freedom. You can enjoy a snack and a drink and take photos to your heart's content. The only rule in Masuseki is the same in every cinema or theater: enjoy yourself without bothering the other patrons, to allow everyone to have a great experience!
Yokozuna: the Ring Entering Ceremony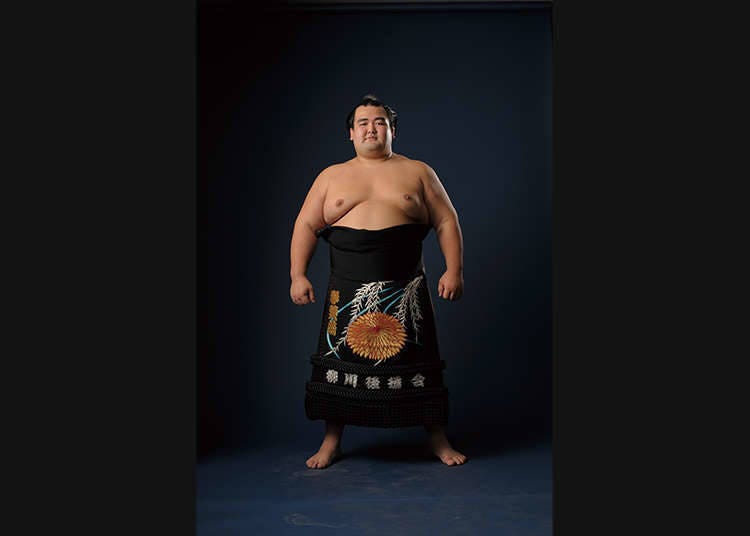 Not only are the matches themselves exciting but also the various customs surrounding them. One of them is the ring entering ceremony called yokozuna. Each sumo wrestler puts their own unique and colorful keshomawashi (ornamental apron) for the ceremony which makes for a very impressive spectacle. When they clap their hands and start to stomp ritually, do not forget to call out "Yoisho!" for them. Keeping a close watch on the wrestlers' movements during this ceremony as well as during the matches is what makes sumo so exciting.
Address

1-3-28, Yokoami, Sumida-ku, Tokyo, 130-0015
View Map

Nearest Station

Ryogoku Station (Toei Oedo Line / JR Sobu Line)
2 minutes on foot


Phone Number

03-3623-5111
Deepen Your Knowledge at the Sumo Museum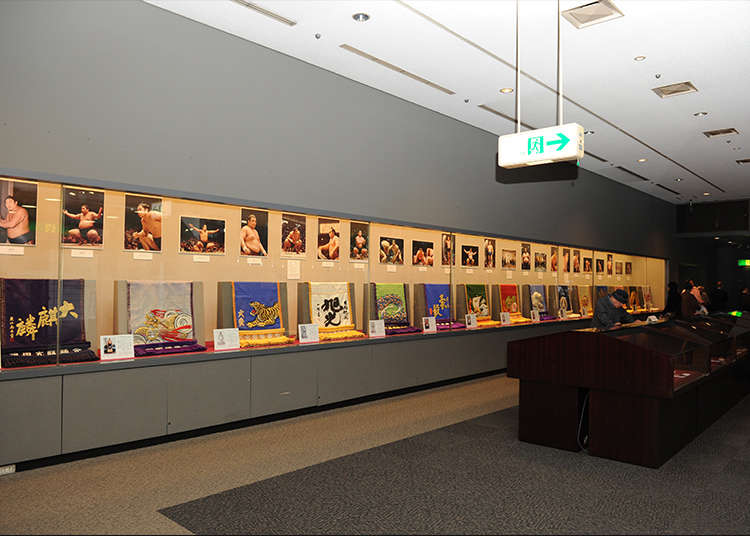 The Sumo Museum located on the 1st floor of Ryogoku Kokugikan is always open to the public even if there's no grand sumo tournament being held. The museum's most famous exhibits are the sumo nishiki-e, traditional colored woodblock prints, representing sumo wrestlers' unique faces and different postures. Other items related to sumo such as banzuke lists and keshomawashi are also displayed in the museum.
相撲博物館

Address

1-3-28 Yokoami, Sumida-ku, Tokyo 130-0015
*This information is from the time of this article's publication.
*Prices and options mentioned are subject to change.
*Unless stated otherwise, all prices include tax.