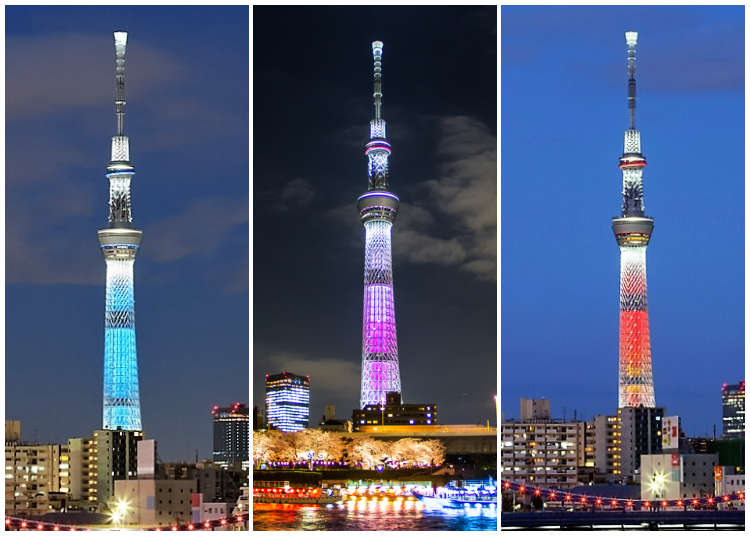 Opened in 2012, TOKYO SKYTREE® is one of Japan's newest landmarks. There are lots of fun things to do at the iconic tower other than just going up and enjoying the view, albeit the panorama from the observation deck is impressive! Let's take a closer look at Tokyo Skytree and its many unique things to experience and discover!
Tokyo Skytree: Uniting Radio Tower, Shopping Center, and Observation Deck
Most people associate Tokyo Skytree with its magnificent observation decks but first and foremost, it's Tokyo's radio tower. It has the important function of providing the Kanto area with stable radio waves, along with numerous TV and radio stations in Tokyo using the tower.

Because of its height, the tower also has a cloud and lightning observation function, collecting valuable research data.
Where Did the Name Come From?
The name of Tokyo Skytree came from the image of a massive tree that points towards the skies. It was decided by the public in 2008, alongside other prominent suggestions including Rising Tower, DreamTower and Edo Tower. One reason for the name of Skytree prevailing is the warm and hopeful image that it evokes.
TOKYO SKYTREE(R) was designed by the sculptor Mr. Kiichi Sumikawa. The tower was created with a very Japanese-like shape in mind, as it is inspired by the curve of a Japanese sword and the rise of the pillars typically found at shrines and temples.
What Does Tokyo Skytee's Nighly Light-Up and its Changing Colors Mean?
Generally speaking, the blue lights of Tokyo Skytree represent the chic and trendsetting spirit of Edo, the royal purple hints at Edo's elegance and grace, while the orange colors evoke the image of a special flag called "nobori." These are the three main color patterns, but during special periods such as Christmas and cherry blossom season, Tokyo Skytree also tends to shine in entirely different colors.
Why is Tokyo Skytree so High?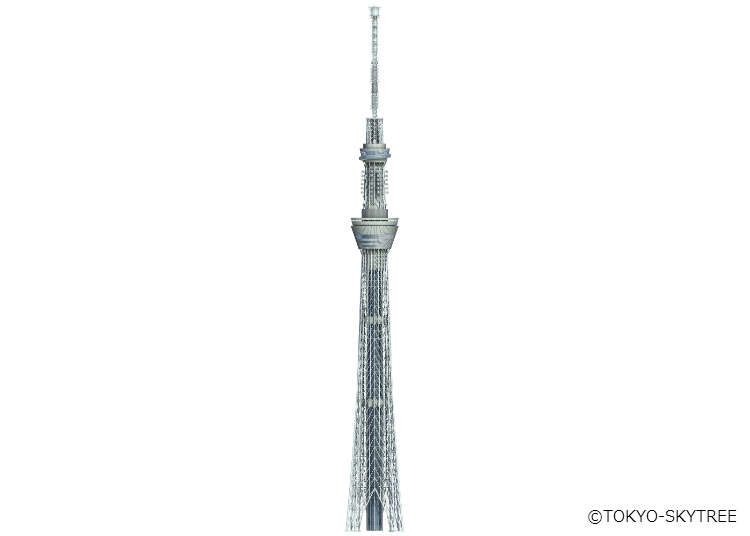 With a whopping height of 634 meters, Tokyo Skytree was recognized as the world's tallest tower by Guinness World Records on November 11, 2011. It took over the function of Tokyo's main radio tower, a position formerly held by Tokyo Tower since 1958. However, much has changed in the last 50 years and numerous buildings started to outshine Tokyo Tower in terms of height, having a negative impact on its performance. Thus, a new radio tower needed to be built.
Off to the Observation Platform! How to Buy Tickets
The observation deck is one of Tokyo Skytree's main highlights, so let's take a look at how to buy tickets for it. International tourists are well-catered for! Tickets for the observation deck are sold on the 4th floor and as a tourist, you get to enjoy the Fast Pass system. The price for the Fast Skytree Ticket is a bit higher than the regular ticket but is highly recommended on crowded days.

The elevator will then take you up to floor 350, where the observation deck is. As soon as you step out of it, the magnificent panorama of Tokyo Skytree spreads in front of your eyes!

Interesting fact: every elevator going to the observation deck is designed after a different theme. The ride is surprisingly short but use it to take in all the intricate, interesting details of the elevator!

Admission
Observation Deck (350F):
2,060 yen (18 and older) / 1,540 yen (12 – 17) / 930 yen (6 – 11) / 620 yen (4 – 5)
※People with disabilities pay half.
※Free admission for 3 years and younger.

Fast Skytree Ticket
Observation Deck (350F):
3,000 yen (12 and older) / 1,500 yen (4 – 11)
Combi-Ticket (observation deck and Tembo Galleria on 450F)
4,000 yen (12 and older) / 2,000 yen (4 – 11)
※There is no special ticket for people with disabilities.
※The combi tickets are only sold at the Fast Pass counter.
What Can You See from the Observation Deck?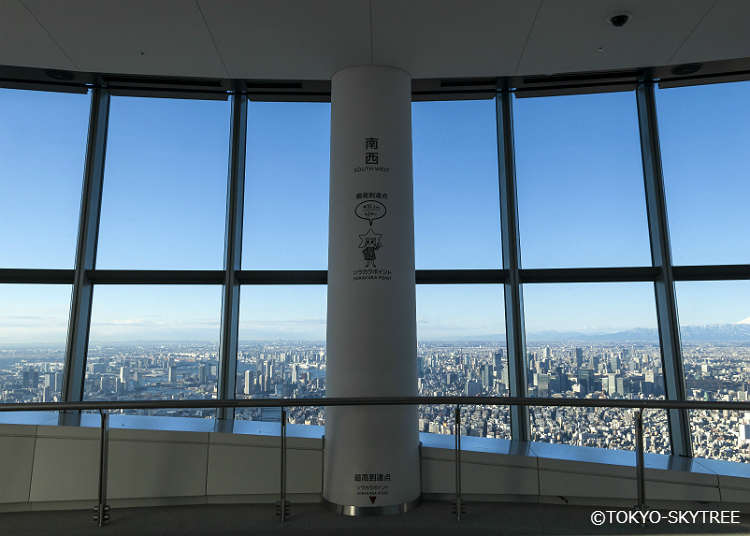 Tembo Deck has a height of 350 meters and the Tembo Galleria is at 450 meters. Depending on the weather, you can see as far as 75 kilometers from the Tembo Galleria and view the magnificent Mt. Fuji. In addition, we recommend gazing at the view of the Tokyo streets while dyed in red during the evening, as well as the shimmering night view.
The Tembo Galleria at 450 Meters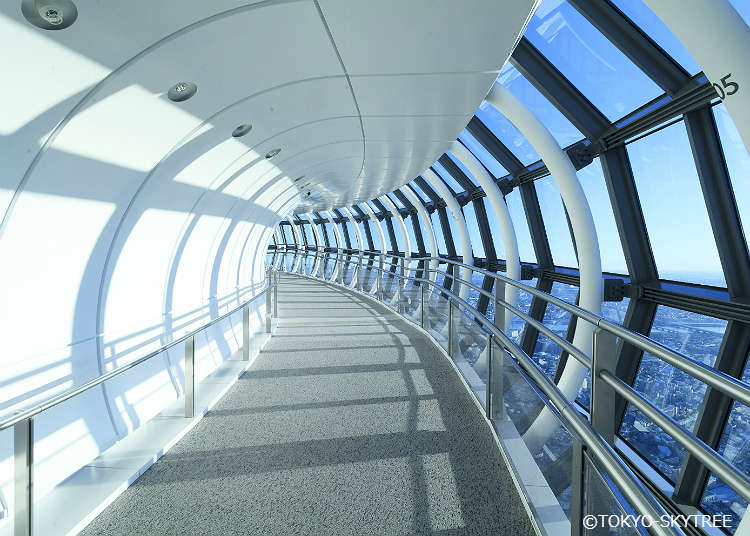 Tokyo Skytree's Tembo Galleria is a glass corridor and offers a view that is even more magnificent than the one on floor 350. It's one of Tokyo's most popular sightseeing spots and really lets you take in the mega-metropolis of Tokyo to the fullest. Shaped like a sloped spiral, the Tembo Galleria will make you feel like you're walking on air!
The View from Tembo Gallery
As the Tembo Galleria is 100 meters higher than the Observation Deck, you can see even further into the distance. It's an excellent photo spot that makes for great memories, so take your time and enjoy the stroll.
Please note that to go to Tembo Skydeck, you'll ride an elevator to floor 445, where another elevator will take you up to 450. To go back, you'll be taken to floor 345 where you can return to floor 350.

Admission
Tembo Galleria:
1,030 yen (18 and older) / 820 yen (12 – 17) / 520 yen (6 – 11) / 310 yen (4 – 5)
※The tickets can be bought on floor 350.
To the Highest Point: SORAKARA POINT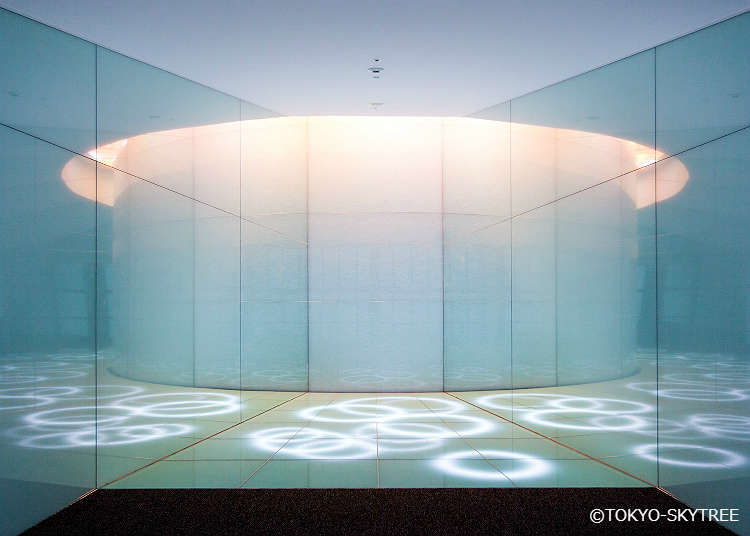 The highest accessible part of Tokyo Skytree is called Sorakara Point at 451.2 meters. It acts as a kind of stage that creates an enigmatic, wonderful atmosphere just with glass and light.
Looking Down: the Glass Floor at 340F!
To return to the ground, you'll have to go to floor 345 where you'll be taken down again. But before that, make sure to take another elevator to go to floor 340 – a real thrill awaits here! Look all the way to the ground through the glass floor to realize just how high up in the air you are!
Enjoy a Meal at Sky Restaurant 634
If the height doesn't make you queasy, why not enjoy a meal high up in the air? Sky Restaurant 634 can be found on Tembo Gallery's floor 345. Savor creative cuisine that merges the traditional tastes of Edo with contemporary French cuisine in an artistic attempt to capture the spirit of Edo!
Recommended Souvenir: Monaka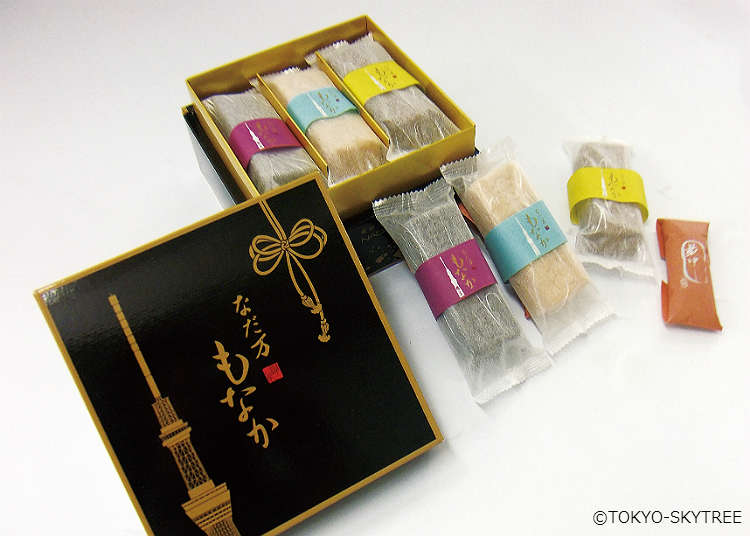 Head to the Tokyo Skytree Official Shop on floor 1 or 345 to buy a nice memento of your trip. A lot of original goods make for amazing presents and souvenirs, some quirky and some traditional. We especially recommend "monaka," a traditional Japanese sweet made up of thin wafers filled with sweet red bean paste. They offer a wonderfully authentic taste of Japan without being too overwhelming.
Recommended Souvenir: Long Roll
The Tokyo Skytree Long Roll has been one of the landmark's most popular souvenirs ever since its opening. The total length of the package is 63.4cm, one-thousandth of the actual Skytree! The soft, flavorful cake comes with plastic fork and knife shaped like the tree as well. It's a fun, tasty souvenir that'll bring a smile to everyone's face.
Tokyo Skytree: The "Modern" to Asakusa's "Traditional"
Tokyo Skytree is located in Oshiage, a neighborhood adjacent to the wonderfully traditional Asakusa and its Senso-ji Temple. Just one station or a scenic walk away, it is a great sightseeing spot especially after exploring Asakusa. Japan is known for its unique fusion between modern and old and nowhere is this so famously represented as at Asakusa and Tokyo Skytree.
Address

1-1-2, Oshiage, Sumida-ku, Tokyo, 131-0045
View Map

Nearest Station

Tokyo Skytree Station (Tobu Isesaki Line (Tobu Sky Tree Line))


Phone Number

0570-55-0634
Address

Tokyo Skytree town SORAMACHI 7F,1-1-2, Oshiage, Sumida-ku, Tokyo, 131-0045
View Map

Nearest Station

Tokyo Skytree Station (Tobu Isesaki Line (Tobu Sky Tree Line))


Phone Number

03-5610-2648
Address

Tokyo Skytree town Solamachi 3F, 1-1-2, Oshiage, Sumida-ku, Tokyo, 131-0045
View Map

Nearest Station

Tokyo Skytree Station (Tobu Isesaki Line (Tobu Sky Tree Line))
10 minutes on foot


Phone Number

03-5809-7150
Address

7F,1-1-2, Oshiage, Sumida-ku, Tokyo, 131-0045
View Map

Nearest Station

Tokyo Skytree Station (Tobu Isesaki Line (Tobu Sky Tree Line))


Phone Number

03-5610-3099
Address

Tokyo Skytree town SORA gusset 7F,1-1-2, Oshiage, Sumida-ku, Tokyo, 131-0045
View Map

Nearest Station

Tokyo Skytree Station (Tobu Isesaki Line (Tobu Sky Tree Line))


Phone Number

03-5610-3067
Address

Tokyo Sky Tree Town SOLAMACHI 7F,1-1-2, Oshiage, Sumida-ku, Tokyo, 131-0045
View Map

Nearest Station

Oshiage Station (Tokyo Metro Hanzomon Line / Toei Asakusa Line / Keisei Oshiage Line)


Phone Number

03-5610-2872
*This information is from the time of this article's publication.
*Prices and options mentioned are subject to change.
*Unless stated otherwise, all prices include tax.