Located on Tokyo's east side in Taito Ward, Ueno Park is a historical location that was designated as Japan's first park in 1873. Filled with greenery, this beautiful natural environment is called Ueno Forest at times. Ueno Park has a total area about 5.3 hectares (13.1 acres).
On the large premises it has a variety of cultural facilities, including the Tokyo National Museum, Tokyo Metropolitan Art Museum, National Museum of Western Art, and also Ueno Zoo – which is famous for its pandas. Also Tokyo's Ueno Park is known as a site for sakura cherry blossoms since the Edo period, and in spring it is packed with people enjoying ohanami (flower viewing).

Ueno Park also has different charms in spring, summer, autumn, and winter. In this article we will share how Ueno Park changes throughout each of the four seasons.
Spring Flowers in Tokyo's Ueno Park: 1,200 Cherry Trees in Full Bloom!
Ueno Park is known for its cherry blossoms in spring. In the park, 1,200 cherry trees go in full bloom and every year from late March to early April the Ueno Cherry Blossom Festival is held.

During the festival there are many vendors that sell beer, yakisoba (Japanese fried noodles), oden (Japanese pot dish with multiple ingredients) and okonomiyaki (Japanese flour-based dish with a variety of ingredients that resembles a pancake).

The main spot to see sakura in Ueno Park would be the Sakura-dori, the central path of the park with a row of cherry trees is famous. The 400 meter tunnel created by sakura trees is the perfect place to feel Japanese spring.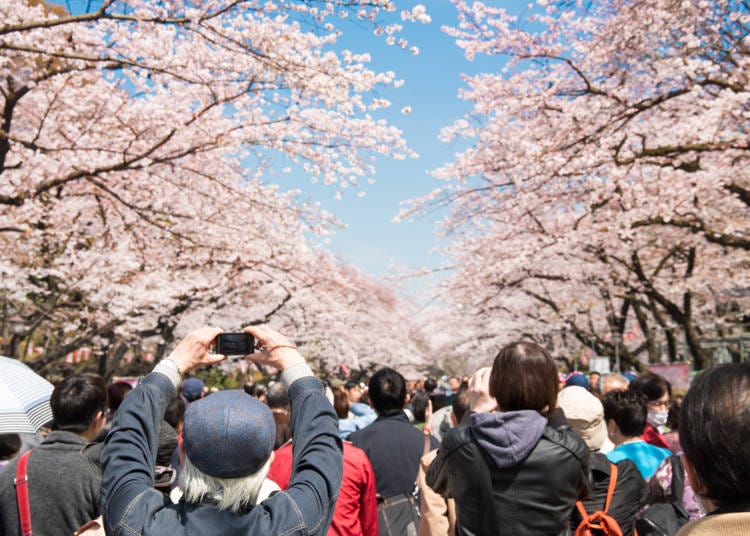 mapman / Shutterstock.com
This road, Sakura-dori, is considered the holy land for flower viewing. In spring, it is filled with people drinking and having fun. If you prefer to enjoy the sakura without a party, we recommend going towards Shinobazu Pond. Around the pond there are many benches where you can sit down and enjoy the view; here you can also rent a foot paddle boat and enjoy the view from pond.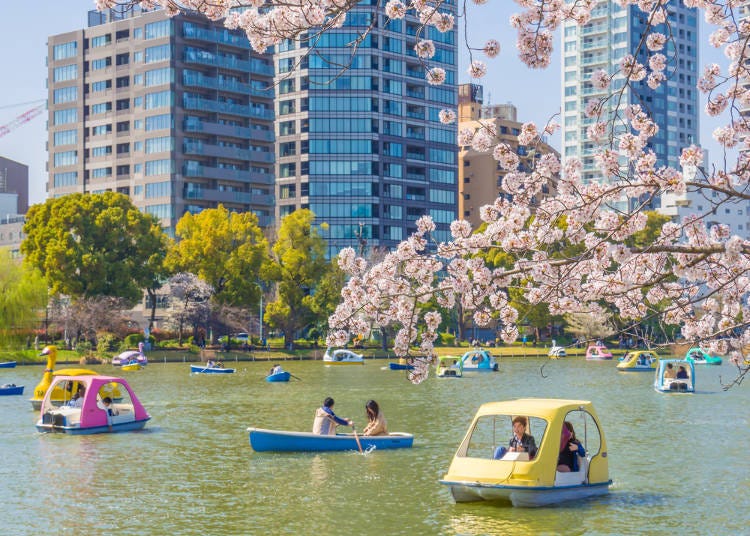 Takashi Images / Shutterstock.com
Also, viewing Ueno Park's cherry blossoms at night is something you don't want to miss: 1,000 paper lanterns are lit on either side of the main path, and the sakura themselves are lit from underneath. This scene alone draws crowds! Keep in mind that the lanterns are lit until 8:00 PM.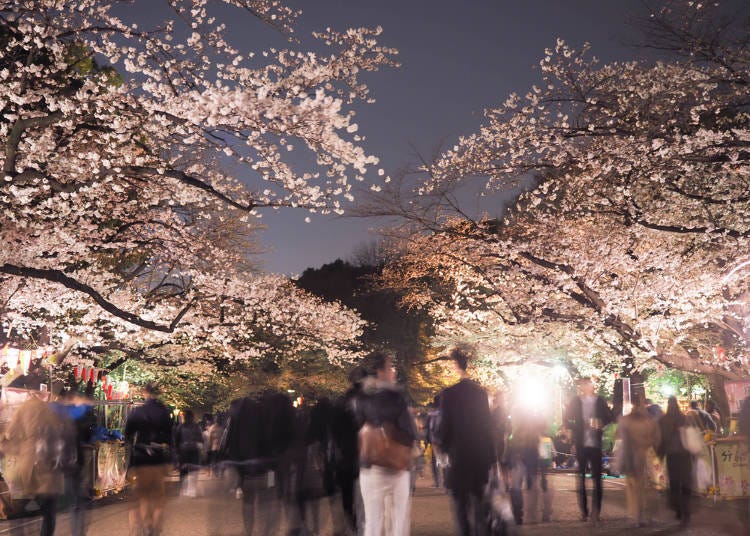 Orawan Pattarawimonchai / Shutterstock.com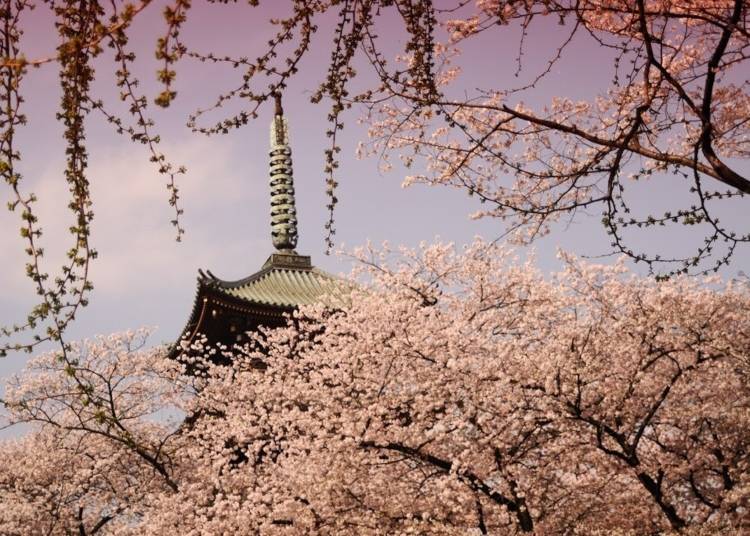 Image courtesy of @thetimsullivan on Instagram
And of course, for the ultimate sakura fantasy, don't miss out on the cherry blossoms with a pagoda in the background at Toshogu Shrine, right near the zoo!
Summer Flowers in Tokyo's Ueno Park: Colorful Hydrangea and Lotus
From early May every year, around Ueno Park hydrangea start to bloom and you can enjoy colorful flowers until early July. You can also walk around Shinobazu-dori Ave., which is lined by beautiful hydrangea. From mid-July to mid-August, Shinobazu Pond is filled with lotus flowers, which has become a standard sight in summer.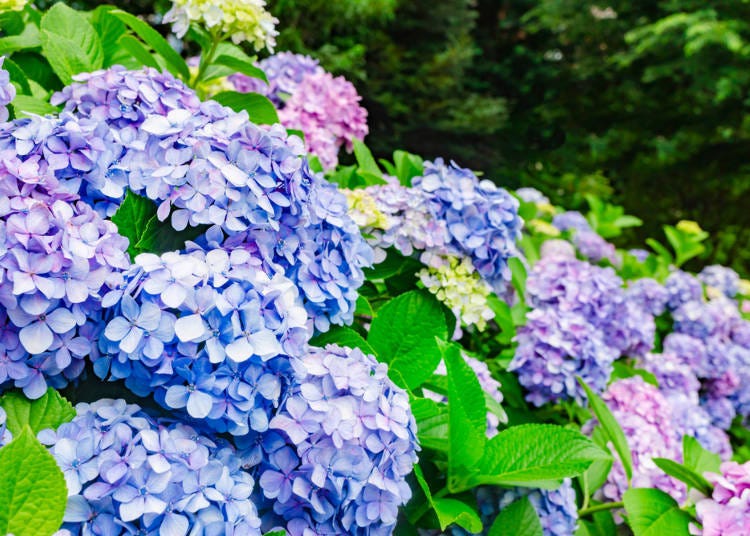 At the lotus observation deck that was completed in 2014, there are many people with cameras, as you can get a close look at the lotus.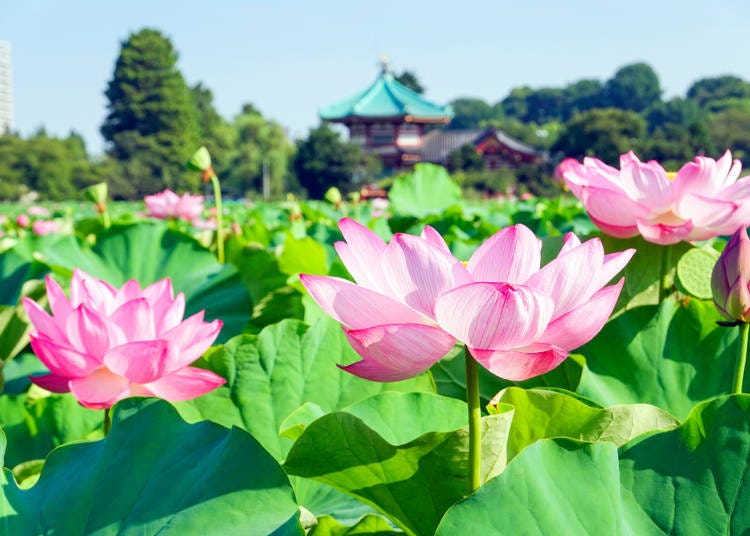 As a side note, lotus flowers open early in the morning and close by mid-day, so be sure you plan with that in mind.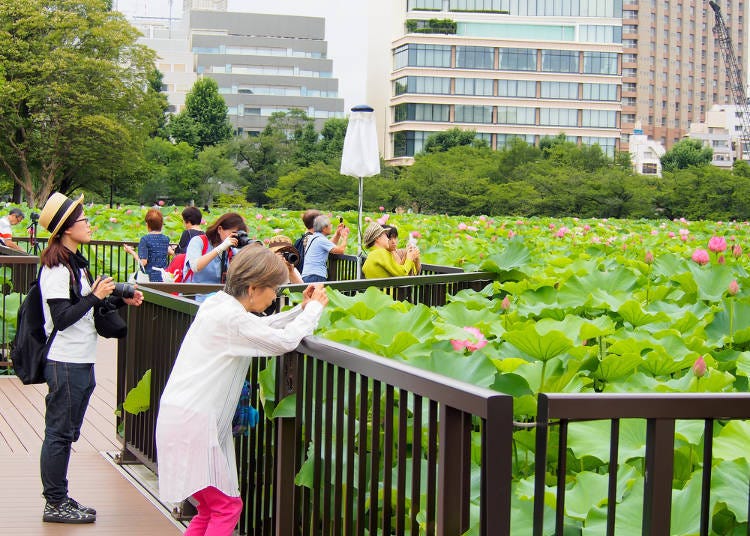 nui7711 / Shutterstock.com
Around Shinobazu Pond, when the lotus bloom in summer, the Edo Shumi Noryo Taikai - also known as the Ueno Summer Festival - is held from mid-July to early August.

They have many events such as music performances and plays at the outdoor stage Suijo Ongakudo, parades, bon dance, flea markets, and toro nagashi – a ceremony where paper lanterns are floated on the pond.

We recommend experiencing the Japanese summer festival after viewing Ueno Park's famous lotus flowers.
Autumn in Tokyo's Ueno Park: Perfect Place to Enjoy Artistic Fall Foliage
The autumn foliage in Ueno Park is also charming. From late November to early December, leaves on gingko, Japanese zelkova, maple, and cherry trees start to color and bring excitement to visitors.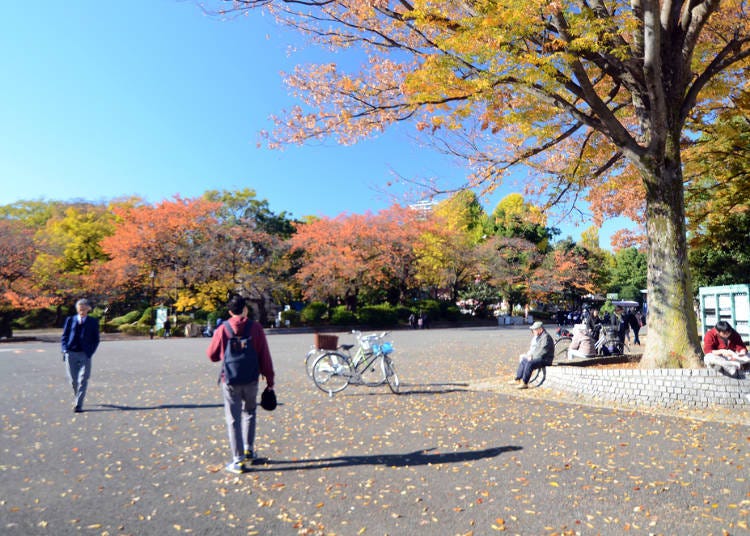 Sira Anamwong / Shutterstock.com
There is a large gingko tree behind the statue of Saigo Takamori at Sanoudai-hiroba, which gives the statue a very noble look standing in front of a yellow background. This is exactly the kind of scenery that you'll want to snap photos of!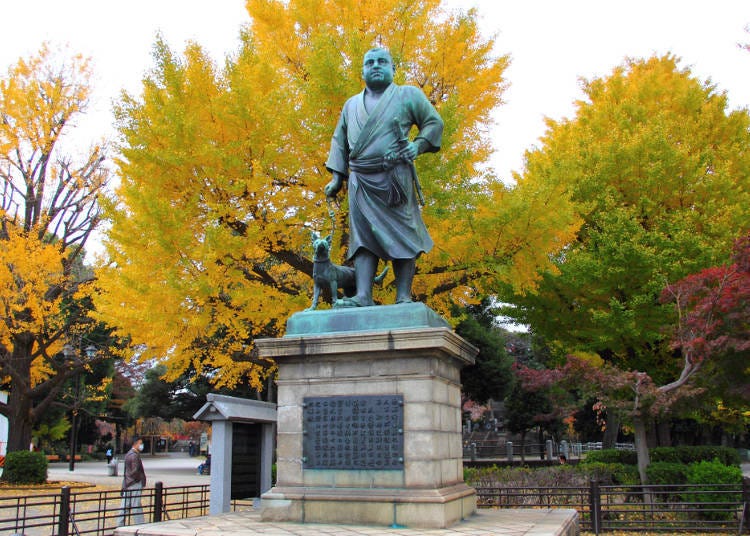 KungChuyada / Shutterstock.com
Also at the Kiyomizudo Hall grounds you can see bright red maple trees.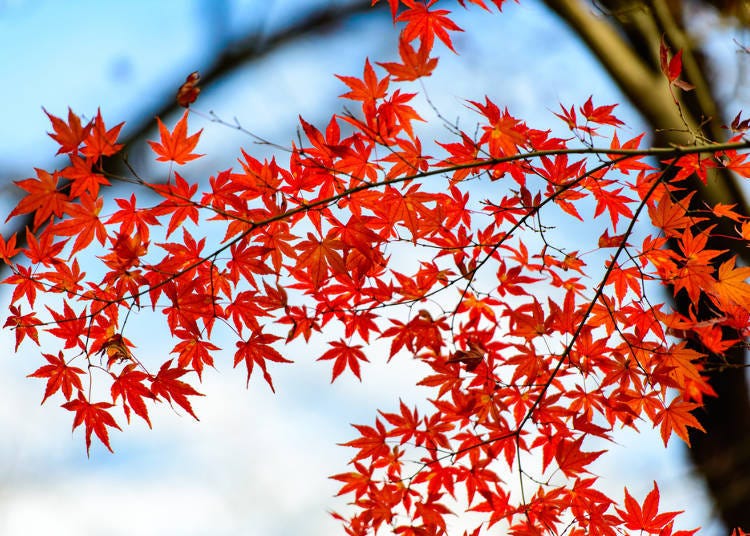 There are other spots to see such as the path lined with ginko trees leading to the Tokyo National Museum, and the golden tulip tree in front of the museum's main hall.

The contrast between Japan's important cultural property, Hyokeikan - with the blue dome shaped roof, and the autumn leaves, can only be seen during autumn.

To the north side of the main hall of the museum, there is a garden that is only open to the public during spring and autumn. The garden is available to people who enter the museum.
Winter in Tokyo's Ueno Park: Peonies in Bloom and Wild Birds
Each February at Ueno Toshogu Shrine, a Peony Flower Festival is held. Here, around 40 types of 200 winter peony bloom. These cute flowers are wrapped in a straw protection layer called warabocchi for frost protection. If you stand still in the late winter's air, you can enjoy the pleasant aroma of Japanese allspice and early blooming plum trees.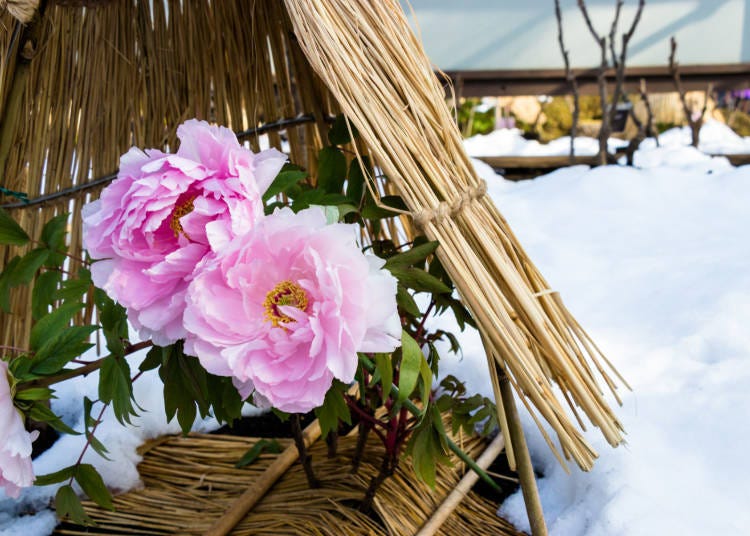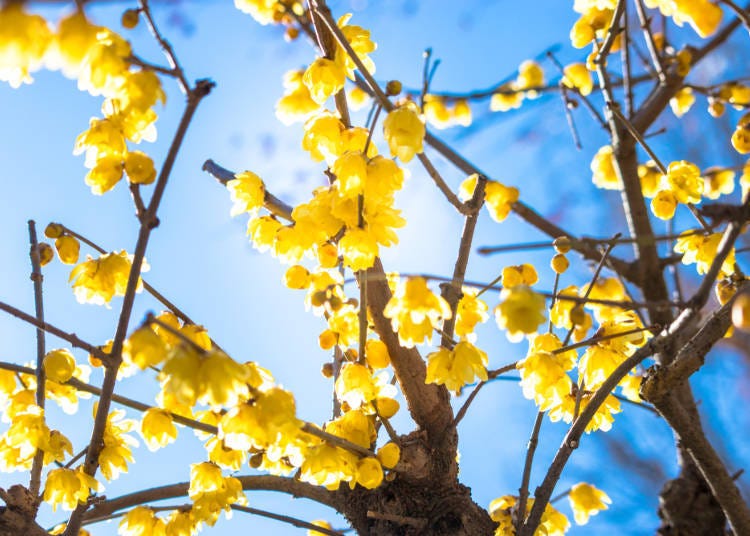 Bird watching is another activity you can enjoy at Ueno Park. During this period there are many wild birds at Shinobazu Pond such as ducks, black-headed gulls, herons, and common moorhens.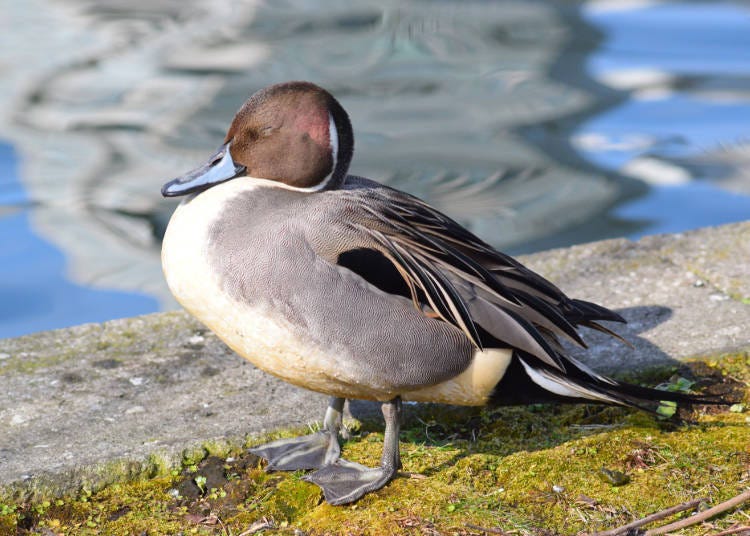 Depending on the season you visit, there are many ways to enjoy Tokyo's Ueno Park. Each season offers unique flowers and events. While exploring Ueno Park you will find scenery that will make you forget that you are in the giant city of Tokyo.
Address

Uenokouen, Taitou-ku, Tokyo, 110-0007
View Map

Nearest Station

Ueno Station (Hokkaido Shinkansen Line / Tohoku Shinkansen Line / Akita Shinkansen Line / Yamagata Shinkansen Line / Joetsu Shinkansen Line / Hokuriku Shinkansen Line / JR Keihin-Tohoku Line / JR Yamanote Line / JR Tohoku Main Line / JR Utsunomiya Line / JR Takasaki Line / JR Joban Line / JR Ueno Tokyo Line / Tokyo Metro Ginza Line / Tokyo Metro Hibiya Line)
1 minute on foot


Phone Number

03-3828-5644
*This information is from the time of this article's publication.
*Prices and options mentioned are subject to change.
*Unless stated otherwise, all prices include tax.