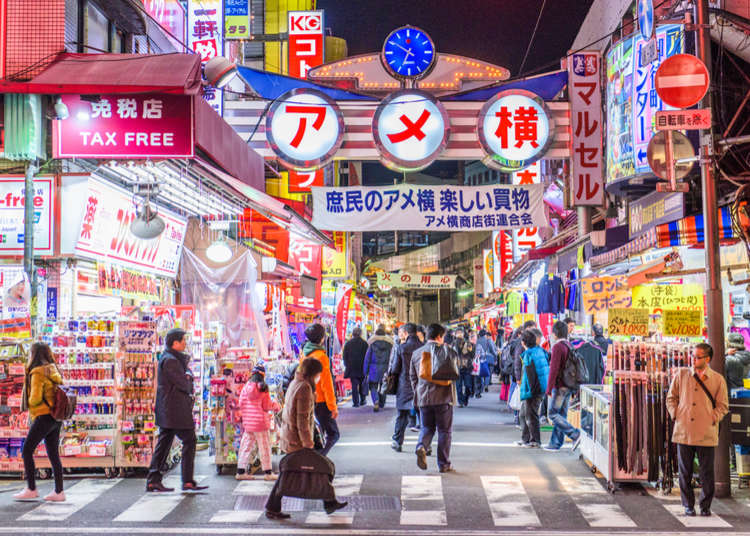 One of the favorite pastimes of many a visitor to Japan is going on a souvenir shopping spree, hauling in as many amazing goods and deals as possible. In Ginza, people shop for high-end and trendy fashion in its many department stores and high-class duty free shops, while Shinjuku is known for its abundance of massive electronics retailers – Tokyo offers many a shopping spree hot spot.

One of them is Ameyoko in Ueno, an atmospheric open-air market that offers various stores selling a massive selection of fashion, cosmetics, medicines, and even fresh food at almost ridiculously cheap prices.

Additionally, Ameyoko Market is close to both Koreatown and Asakusa, famous for its many sightseeing spots, and since the atmospheric open-air market has always been very popular among international visitors, Ameyoko Market is known as extremely welcoming and tourist-friendly since many years. Let's take a stroll through this wonderfully busy and bustling shopping area and take a look at some of its most popular shops, stores, and stalls!
Matsumoto Kiyoshi – The Specialty Drugstore Giant for International Customers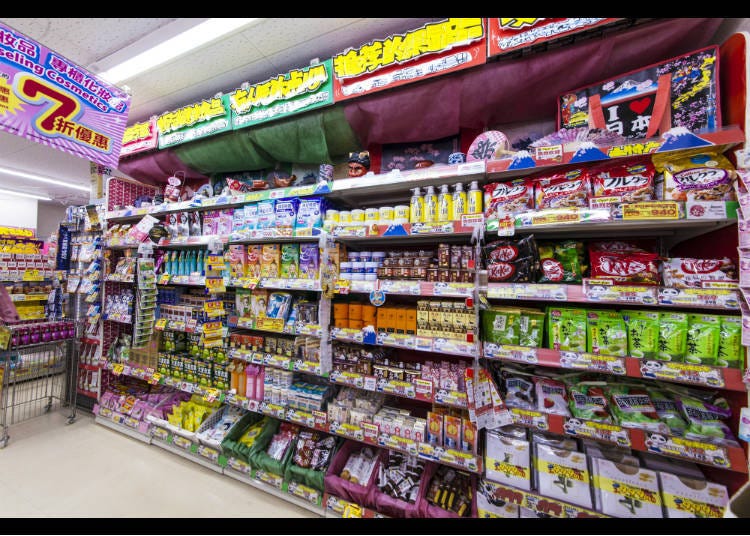 Japan's drugstores are especially popular among visitors from other parts of Asia, and Ameyoko features a surprisingly large amount of such drugstores and pharmacies, all bustling with curious customers. In June of 2015, a specialty store part of Japan's biggest drugstore chain Matsumoto Kiyoshi opened on the battlefield of Ameyoko, one that specializes on international shoppers. The two-story shop is located right at the intersection of Ameyoko's two main streets, offering regular medicine, health foods, and all kinds of day to day necessities on the first floor, while the second floor is all about cosmetics. The shelves near the entrance are entirely dedicated to the needs of international tourists and visitors, featuring unique product lineups that you won't be able to find at any other drugstore.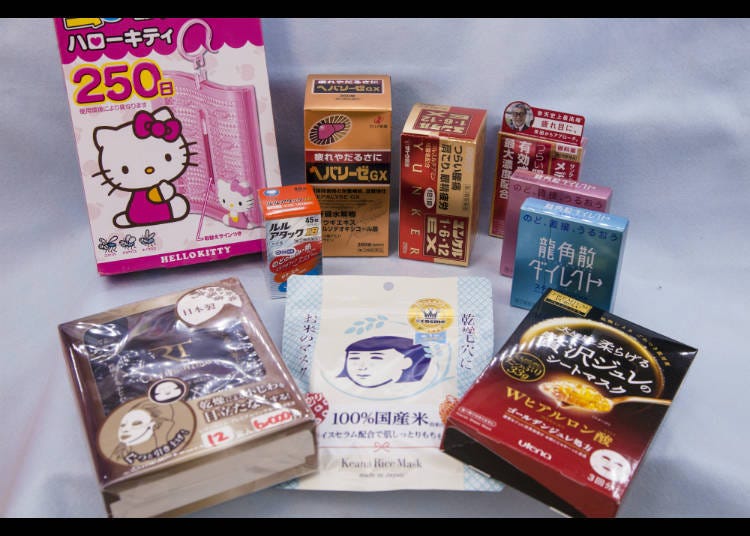 Matsumoto Kiyoshi has made payment with Union Pay, a massive financial service from China, possible since 2007, collecting and analyzing the data of Chinese shoppers to decide what should be sold next.
In the cold season, for example, Matsumoyo Kiyoshi's shelves dedicated to international customers don't have the usual heating pads and so forth, but instead offer insect repellants and pest control goods, very useful and attractive for shoppers from Taiwan and other people from countries where the climate is a lot milder. Next to Union Pay and WeChat Payments having been implemented, Chinese speaking staff is constantly available, and the store is designed in a way that allows shoppers to freely move about the aisles even when carrying shopping baskets or large bags. Matsumoyo Kiyoshi is constantly trying to improve its stores to offer international customers the best experience possible.

Hours: 10:00 a.m. – 10:00 p.m.
Closed: always open
Access: right in front of Ueno-Hirokoji Station on the Tokyo Metro Ginza Line.
Matsumoto Kiyoshi Ueno-Hirokoji

薬 マツモトキヨシ 上野広小路店

Address

4-4-1 Ueno, Taito-ku, Tokyo-to 110-0005
Kokumin Drug – Amazing Accessibility and Customer Service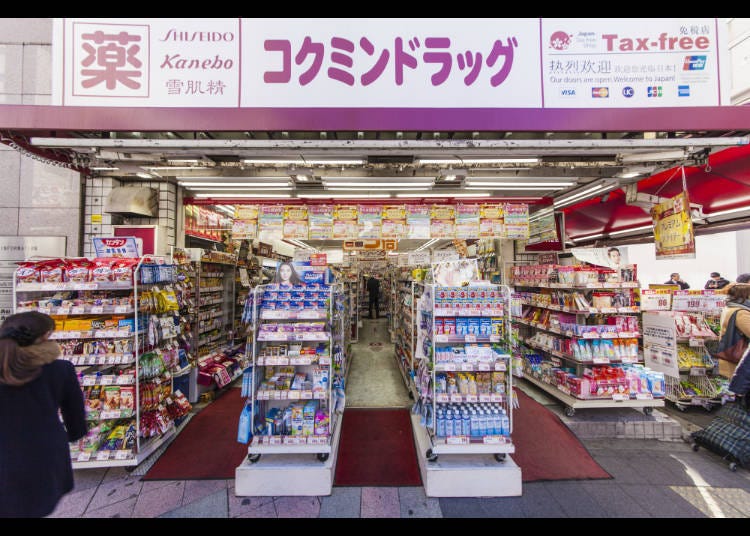 The drugstore that is closest to Ameyoko is called Kokumin Drug and is located to the right hand side of JR Okachimachi Station's north entrance. With a convenient location just outside the ticket gates and right in front of the shopping street, it serves as a casual shopping stop for both commuters and sightseers alike. The very first stall outside of Kokumin Drug that'll catch your eye is filled with little snacks and goods such as candy and chocolate, evoking the image of a station kiosk. One of the major characteristics of Kokumin Drug is the attentive customer service towards both locals and tourists alike. An example of this service can be experienced when the store doesn't have the product you desire, the shop promises to restock it before you fly back!

Hours: 8:30 a.m. – 9:00 p.m. (9:30 a.m. – 8:30 p.m. on Saturdays, Sundays, and national holidays)
Kokumin Drug Okachi-Kitaguchi

コクミンドラッグ御徒北口店

Address

5-26-10 Ueno, Taito-ku, Tokyo-to 110-0005
Niki no Kashi – A Sweets Specialty Discount Store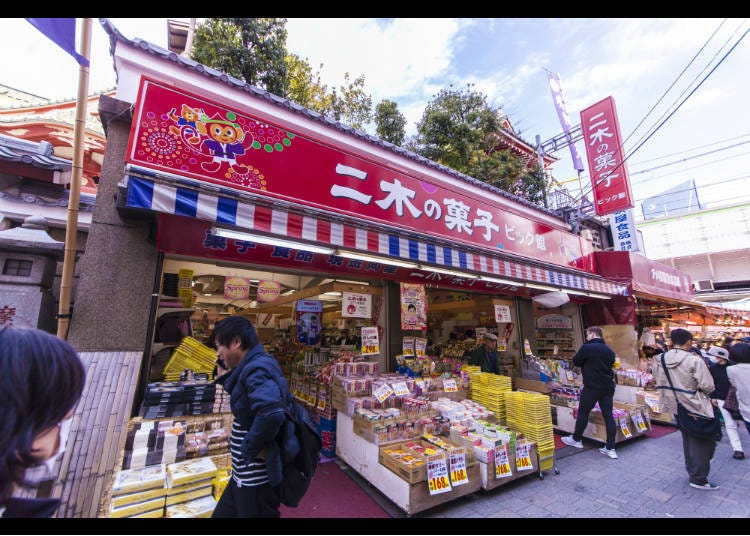 Speaking of the stores and shops that are the most popular among international tourists and shoppers, one that absolutely needs to be mentioned is a sweets specialty discount store called Niki no Kashi. Established over 70 years ago, the shop is well-beloved among Tokyoites – everyone remembers their catchphrase "Niki, Niki, Niki, Niki, Niki no Kashi!" from TV and radio ads!
In the middle of Ameyoko, you'll find Niki no Kashi Big Kan, the tax-free store that offers about 10,000 different kinds of sweets, such as candy, bean paste, rice confectionery, delicacies, chocolate, and import goods. This massive selection of goods that is sure to satisfy any kind of taste is so popular, Niki no Kashi has even become a tour bus stop for many a sightseeing tour.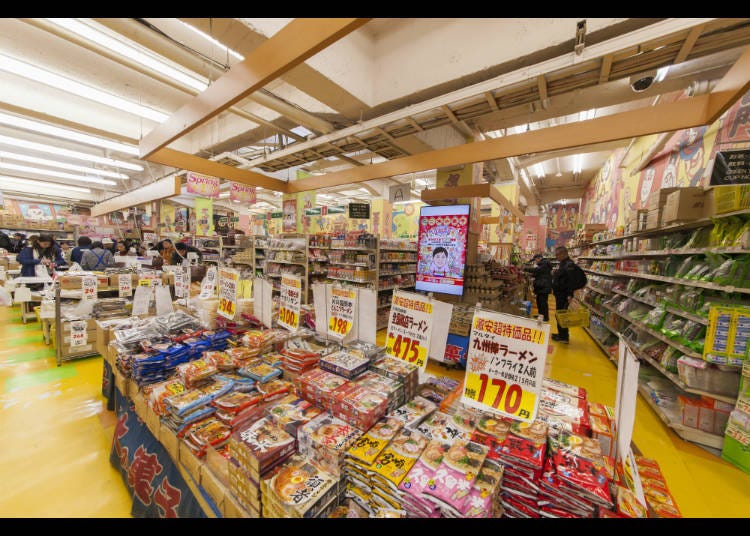 The secret to Niki no Kashi's popularity is undoubtedly its unreasonably cheap prices. Many goods are sold at a fixed price of between 20% and 50% off of the regular retail price, and popular delicacies such as Glico's Rich Matcha Pocky (one box of two bags for 149 yen, tax included) or Calbee's Jagariko Salad potato sticks (60g for 113 yen, tax included) can be had at much lower prices than in the supermarket. Other popular snack recommendations include the KitKat Otona no Amasa Matcha flavor (a box of 12 for 253 yen, tax included), as well as the Sennarido Wasabi Pistachios (250g for 1,026 yen, tax included). With offers like that, Nikki no Kashi is an extremely popular and highly recommended stop just before your flight back home, making for a great place to shop for some last-minute souvenirs for friends and family! Multilingual staff is also employed, and Nikki no Kashi irregularly holds coupon campaigns specifically for tourists from overseas.

Hours: 10:00 a.m. – 8:00 p.m.
Closed: always open
Access: one-minute walk from JR Okachimachi Station
二木の菓子 ビック館

Address

4-6-1 Ueno, Taito-ku, Tokyo-to 110-0005
Takeya – Ameyoko's Pioneer Store when it comes to Discount Shopping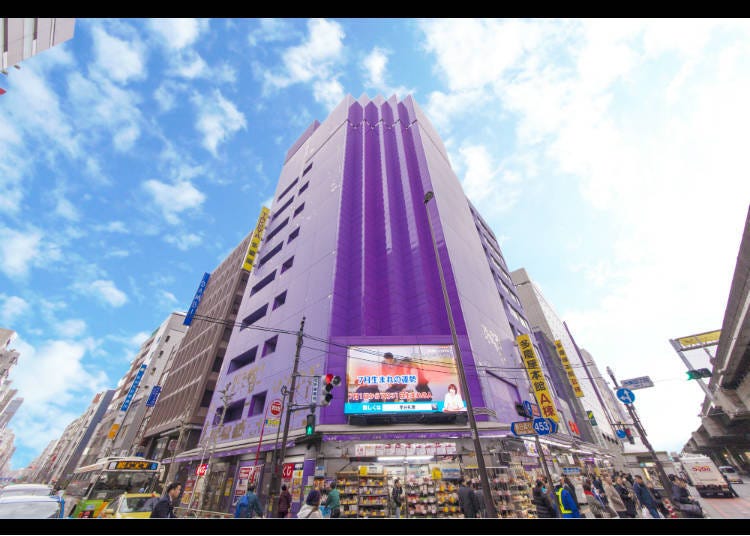 Let's take a look at the largest discount store in all of Tokyo – Takeya. First opened in 1947, it's a long-established store that, with its characteristic purple color, has become a landmark of the Ameyoko and Ueno neighborhood. Takeya can be found on the east side of Okachimachi Station, not far from Ueno Station, and features nine unique locations in total, including Main Building A Wing, Main Building B Wing, the Furniture Store, or the Interior and Miscellaneous Goods Store. Especially the Main Building A Wing is a beloved destination of international tourists, located at the intersection of two major streets. On the first floor, you'll find the food aisles, filled with sweets and the likes. The second floor is centered on health and medicine, the third and fourth floor offers high-quality watches, and the 7th floor is all about beauty products. The entire store is structured to accommodate to the needs and interests of travelers from abroad.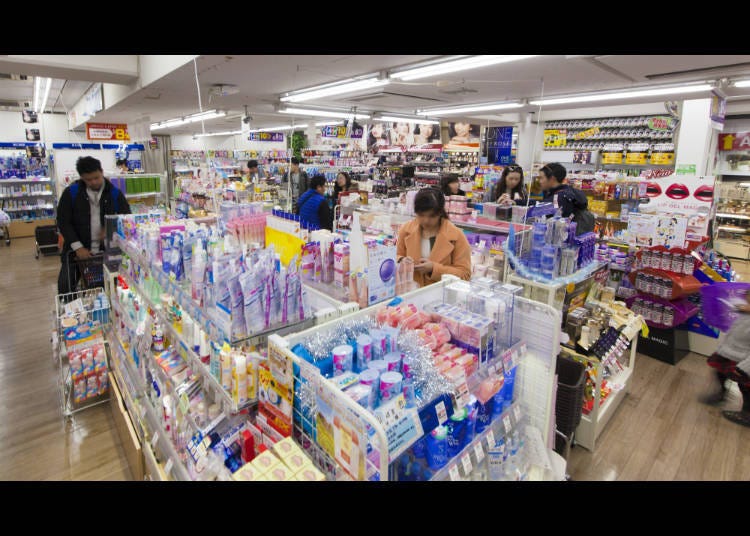 "From rice crackers to art pieces" is a saying that you will often hear when asking what Takeya actually sells. According to the store itself, it offers around 200,000 unique items and goods while doing its best to accommodate to international customers. In fact, Takeya has provided support and specialized services for visitors from overseas from early on. For example, Union Pay card started to be accepted in 2008 and in 2015, Takeya became the very first retailer to offer Alipay. A year later, WeChat Payment was added.
Furthermore, Takeya offers a way to shop from overseas, having partnered up with the proxy shopping service Buyee. To make navigating the many buildings and floors as easy as possible, Takeya also features multilingual floor guides in each shop, as well as multilingual staff. Because of this welcoming, accommodation atmosphere, it comes as no surprise that every year, about half a million international travelers visit Takeya, one of Ueno's most famous shopping landmarks.

Hours: 10:00 a.m. – 8:00 p.m. (differs by location)
Closed: always open
Access: a short walk away from Tokyo Metro Hibiya Line's Okachimachi Station
Address

4-33-2, Taitou, Taitou-ku, Tokyo, 110-0016
View Map

Nearest Station

Naka-Okachimachi Station (Tokyo Metro Hibiya Line)
1 minute on foot


Phone Number

03-3835-7777
*This information is from the time of this article's publication.
*Prices and options mentioned are subject to change.
*Unless stated otherwise, all prices include tax.