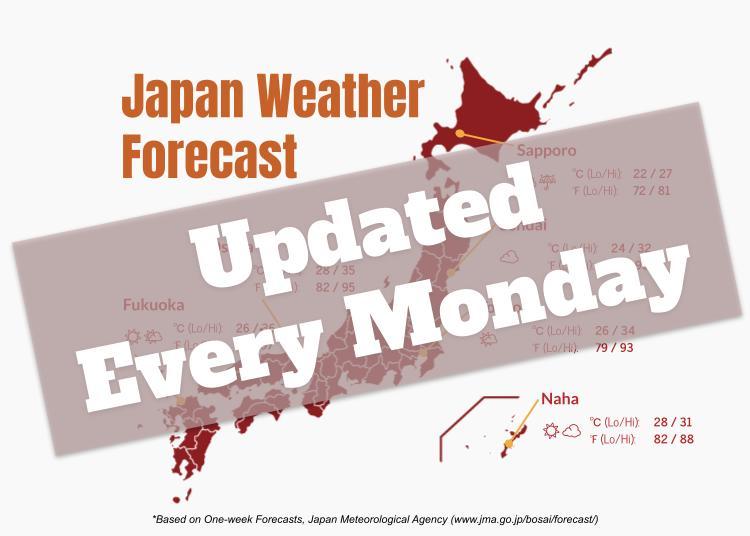 Tokyo has some very summery weather in store this week! Spring has fully bloomed in the greater Tokyo area, welcoming in flowers in the city's many gardens and parks. Despite the somewhat chillier temperatures over the weekend, crowds of people filled the major tourist areas in Tokyo, with many sporting short-sleeved shirts and lightweight spring clothes.
Everyone seems to be enjoying springtime in Tokyo! Tulips are currently in bloom in Hibiya Park.
Looking at the week ahead, the warm weather for Monday is expected to give way to slightly chillier weather on Tuesday and Wednesday, when the forecast also calls for occasional showers. From Thursday onward, daytime highs are expected to stay on the rise, staying in the upper 20s (upper 70s/low 80s).

On Monday, the majority of people around town seem to be still dressing in layers, with short-sleeved shirts and a light jacket or long-sleeved shirt tied around the waist. Increasing numbers of people are starting to wear sunglasses and use parasols while outdoors, and while hayfever season is generally waning, people wearing masks can still be seen around town. During the lunchtime hour, many office workers can be seen having lunch in or strolling about the parks and other greenspaces around Tokyo.
Special report: Enjoying Spring in Enoshima!
Clockwise from top left: Overlooking the calm waters of Sagami Bay; the dragon at Enoshima Shrine; Yaezakura with Enoshima Sea Candle in the background; the pedestrian bridge out to Enoshima Island.
This past week, some of the Live Japan team went to Enoshima, a small island immediately west of historical Kamakura City, to see the latest on how the sakura wave is proceeding. While the pale-pink Somei Yoshino cherry blossoms are all but gone in most parts of the greater Tokyo area, Yaezakura (which are multi-layered cherry blossoms) are heading toward peak bloom. Although Yaezakura typically do not have as much of a presence as their 5-petaled kin, they tend to bloom slightly later in the season, lasting in some areas up until late April.

The gorgeous (if somewhat breezy) weather made for a very enjoyable hike around the island, and the team was thrilled to see several Yaezakura trees in bloom, along with tulips, pansies, and several other floral varieties around the island alight in color. In spring and summer, Mt. Fuji is often known a "shy mountain," owing to the cloud cover which builds as humidity levels rise, hiding the familiar figure from view. Although the mountain can still be spotted peeking out from the clouds early in the morning and around sunset – when it looks particularly spectacular as seen from Enoshima - unfortunately the Live Japan team wasn't lucky this go around. If you've seen this majestic mountain up close, please share your experience in the Facebook comments!
Address

1-6, Hibiyakouen, Chiyoda-ku, Tokyo, 100-0012
View Map

Nearest Station

Hibiya Station (Tokyo Metro Hibiya Line / Tokyo Metro Chiyoda Line / Toei Mita Line)
3 minutes on foot


Phone Number

03-3501-6428
Address

Enoshima 2-3, Fujisawa-shi, Kanagawa, 251-0036
View Map

Nearest Station

Enoshima Station (Enoshima Electric Railway Line)
25 minutes on foot


Phone Number

0466-23-2444
This week's weather forecast for Tokyo, Japan
* Source: Japan Meteorological Agency website
*This information is from the time of this article's publication.