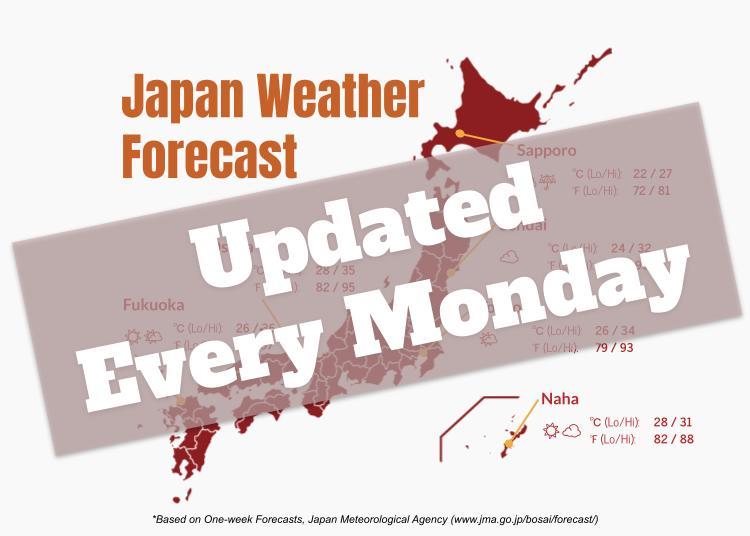 Tokyo is still a bit chilly, with daily highs hovering around 10°C (50°F) and dipping down to around 3°C (37°F) in the evenings. People seem to hurry along a little more quickly in the cold early mornings and nights. Looking at what people are wearing in Tokyo, thicker winter coats, boots, scarves and gloves are still a daily necessity. However, when walking along Tokyo's sidewalks, there are small signs of the coming of spring! We'll dive into this week's weather and "Tokyo now" below!
Still Chilly Out – Thick Jackets & Gloves Needed!
Still Chilly Out – Thick Jackets & Gloves Needed!
Looking around town, you'll see everyone still wearing heavier winter clothes and hurrying about at a good clip. And more and more people are wearing masks. The reason: the flu has been making the rounds in Tokyo, too – and hay fever season has begun as well. For the next few months, as the pollen count rises, more and more people will begin wearing masks.
Seeing Small Signs of Spring!
One of Live Japan's editors lives in a Tokyo suburbs where signs of spring are slowly appearing. In their neighborhood, they found plum flowers beginning to bloom. Very beautiful indeed!
Sweets for Spring: People Queuing Up for "Strawberry Daifuku" and "Sakura Mochi"!
Shops selling Japanese sweets like strawberry daifuku and sakura mocha have begun seeing people lining up for a taste of the springtime treats. 1 piece is sold for around 200 yen.
Hanami Goods and Sakura Sweets Available at 100 Yen Shop Daiso!
At 100 yen shop Daiso and other sundry shops, a variety of products and snacks with a sakura motif are now on sale! It would seem that many Japanese people are getting into the sakura spirit and waiting for the cherry blossoms to bloom.
Artificial cherry blossoms at the shop front look so incredibly real!
Lineup of sakura pink-colored items
So many sakura sweets and foodstuffs for sale!
If you're planning a trip to Japan soon, bear in mind that Tokyo is still quite chilly so be sure to bring cold-weather essentials. However you will also be able to see some of the first exciting hints of spring in the area as well!
* Source: Japan Meteorological Agency website
*This information is from the time of this article's publication.