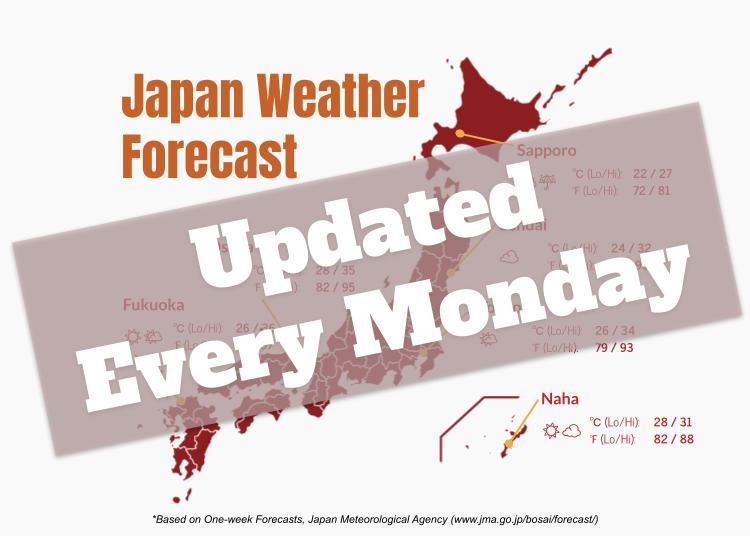 Tokyo experienced very pleasant – if breezy - weather over the past weekend, with the city luckily dodging the daytime showers that had been predicted. Looking at the week ahead, some rain is in the forecast for Wednesday and Thursday, with daytime highs in the low to mid 20s Celsius (low to upper 70s Fahrenheit). Other days are expected to see a mixture of sun and clouds, with warmer days (upper 20s/70s) toward the end of the week. Although today (Monday, May 21) is somewhat cooler and breezier outside, generally people in town are wearing jeans and either t-shirts or thinner long-sleeved shirts – probably the ideal outfit for the remainder of the week as well.
This week in Tokyo: short-sleeved shirts and jeans are common
Jeans and t-shirts or thinner long-sleeved shirts and comfortable long dresses are still the outfits of choice as early summer breaks in Tokyo. Sunglasses and sunscreen might also help make strolling around town more comfortable. Daytime highs are still expected to be in the mid to upper 20s (upper 70s/lower 80s), while evenings will be cooler (mid teens/low to mid 60s), so bringing a flannel or spring jacket is advised if you'll be out at night. With showers expected mid-week, don't forget to pack a portable umbrella as well!
This Week's Selected Sights
Special report: Sanja Matsuri comes to Tokyo!
Held annually during the first full week of May, the Sanja Matsuri is one of Tokyo's largest festivals. Taking place in Asakusa, one of Tokyo's older and traditional neighborhoods, the festival attracts over a million visitors from Japan and abroad over a 3-day period to see the scores of mikoshi (portable shrines) parade around Asakusa's neighborhoods before convening around Sensoji Temple. This energetic and fun-filled fest is seen by many locals as a way to kick off the early summer months – a time where there's a festival somewhere in the greater Tokyo area practically every weekend!

For more information on upcoming festivals, check out the link below!
This week's weather forecast for Tokyo, Japan
* Source: Japan Meteorological Agency website
*This information is from the time of this article's publication.