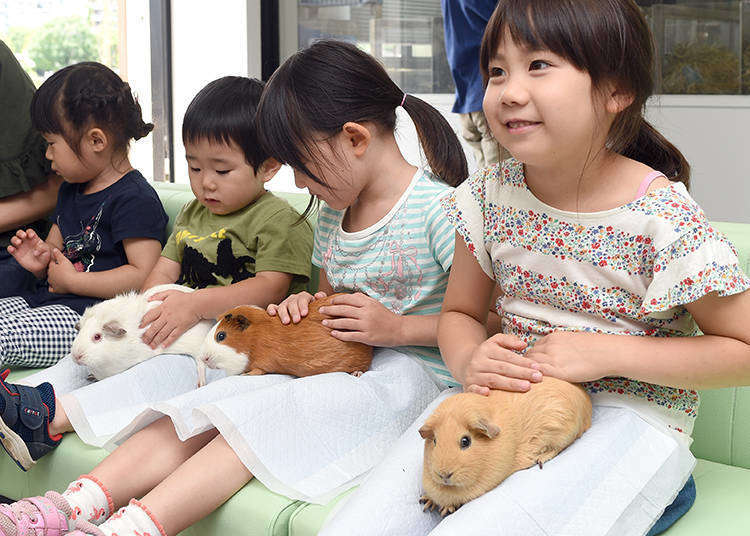 Ueno Zoo is Japan's most famous zoo. Located inside Ueno Onshi Park (or Ueno Park for short) there is no place quite like here for seeing different kinds of wildlife up close.

As much as 2,500 animals of approximately 350 different species inhabit this zoo, including three of the world's rarest animals, such as the Giant Panda, Okapi, and the Pygmy Hippo. I will now show you the best way to navigate the zoo, from the top highlights to the smallest details.
What To Do In Ueno Zoo: From A to Z
There are many train lines that lead to the Ueno Station, including JR Lines, Tokyo Metro, and the Keisei Line. Without further ado, let's continue on to Ueno Zoo.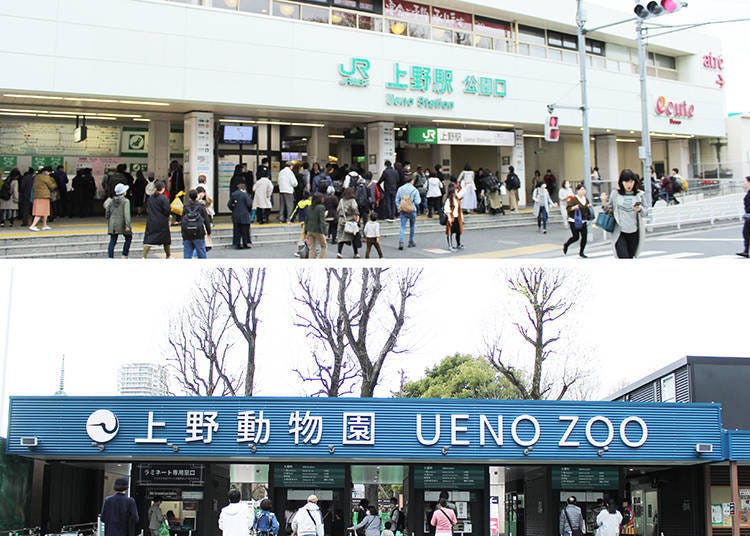 The Ueno Zoo Main Gate is a 5 minute walk from the JR Ueno Station Park Entrance (as seen in the photo on the left). To avoid the crowds, it is recommended to exit from the Shinobazu-guchi and walk to the Benten Gate of the zoo, about 5 minutes away on foot.
The Ueno Zoo is open from 9:30AM to 5:00PM (with entry until 4:00 PM). Please note that the park is closed on Monday. Admission is 600 yen (tax included).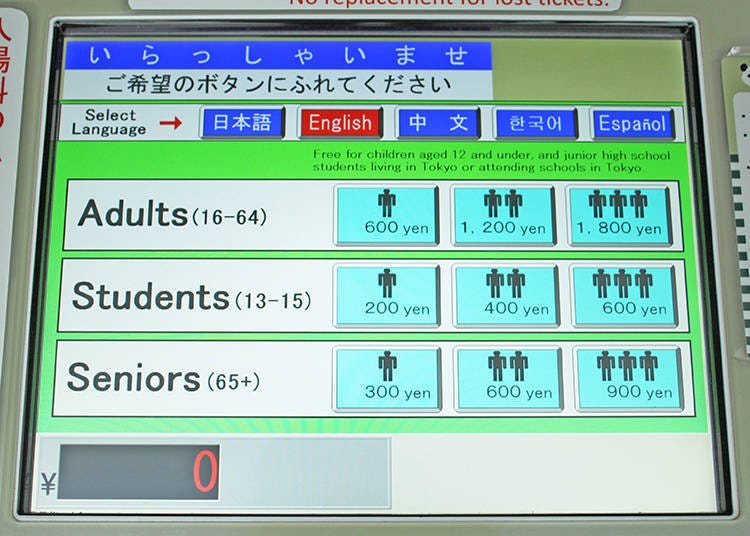 Entry tickets can be purchased through the ticket machines. The machines are available in 4 different languages.
Into the Zoo! Walking from the East Garden
Once you go through the Main Gate, you will find plenty of information about the park. Grab a park map and check the locations of the animals you want to visit!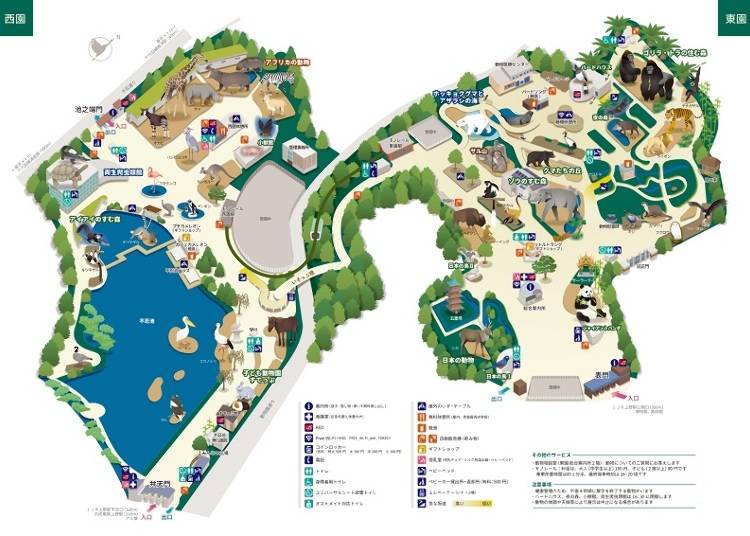 The East Garden is usually crowded throughout the day, however the West Garden is relatively empty on weekday mornings. It's a good idea to arrive early and begin from the West side.
Near the gate are two types of Park Maps, one in Japanese and the other in English, Chinese, and Korean.

The feeding times and location for the Pallas's Cat and Meerkats are also listed on the map: Small Mammal House (from 2:30PM~3:30PM) and the Aye-aye House (at 3:30PM). The feeding times for the other animals are not publicly listed, so if you are able to catch any one of those in progress, consider yourself lucky!
Walking to the East Garden!
Located in the hilly area of Ueno Park with its enormous trees is the East Garden, where you will find the Giant Pandas, Gorilla Woods and Tiger Forest, Elephant Forest, and Bear Hill. The Polar Bear and Seal Ocean is also located here.

●Giant Panda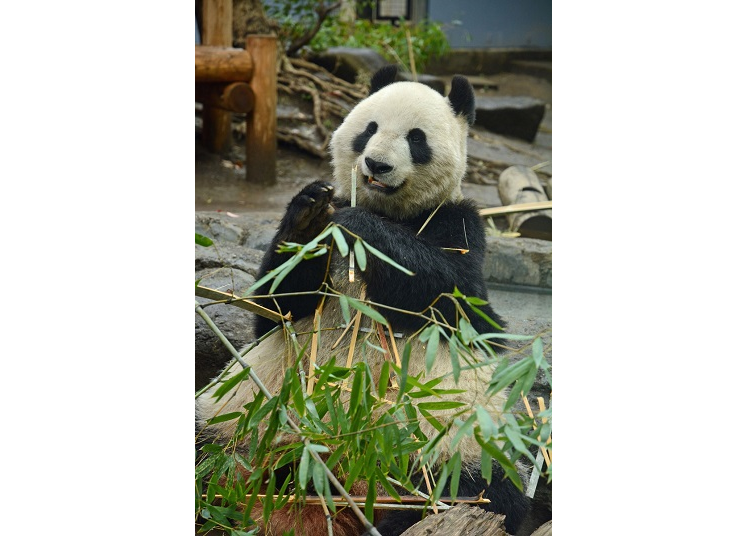 The idol of Ueno Zoo, Shin Shin (pictured above). You can see Xiang Xiang who was just born in 2017. (Please note certain exhibitions may be closed depending on the condition of the animals).
●Tiger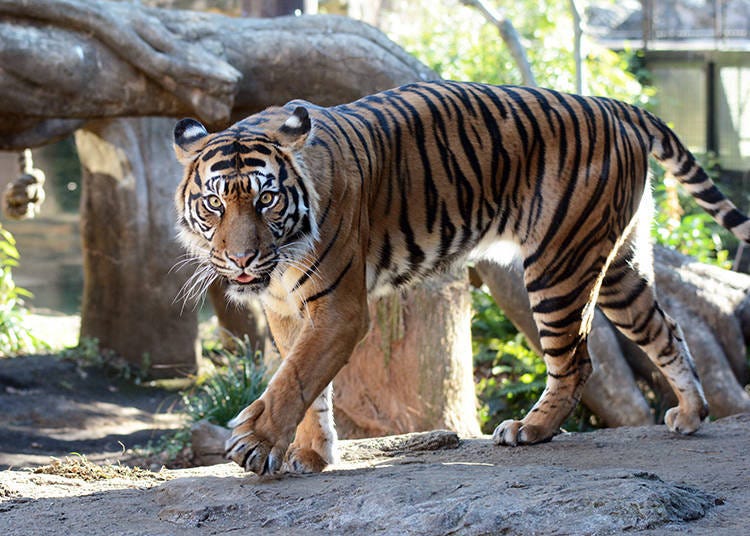 With its round, tufted face and beautiful fur stripes, the tiger draws in adults and kids alike.
●Gorilla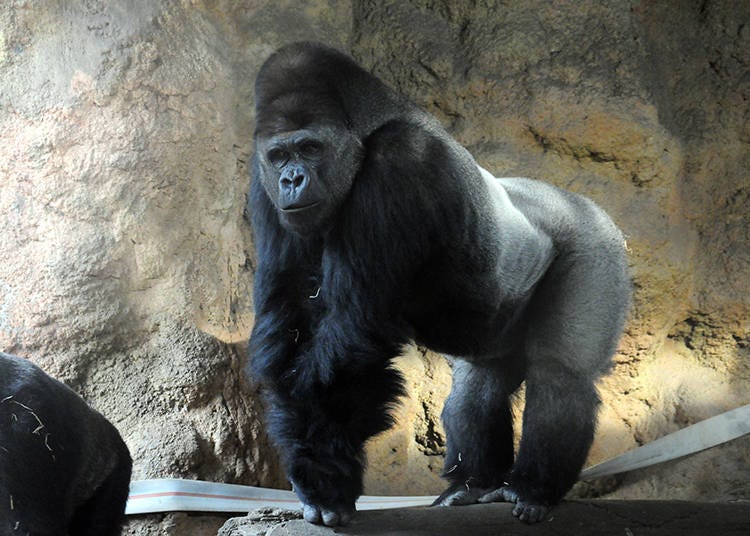 The powerful gorilla as seen up close! The gorilla is popular all around the world!
●Red-Crowned Crane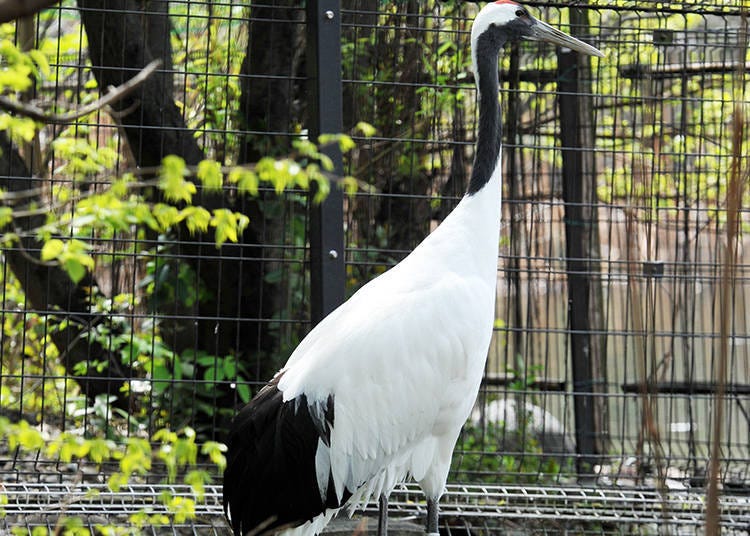 This graceful bird has reigned as a symbol of Japan since ancient times. Today we also find the bird strutting around as it boasts its exotic appearance.
Walking Around the West Garden!
The West Garden is a scenic area on the shores of Shinobazu Pond which grows thick with lotus plants. Here you will find many animals of African origin, such as giraffes, hippos, and the shoebill. There is also a Children's Zoo where you can touch and interact with some of the animals!

●Aye-aye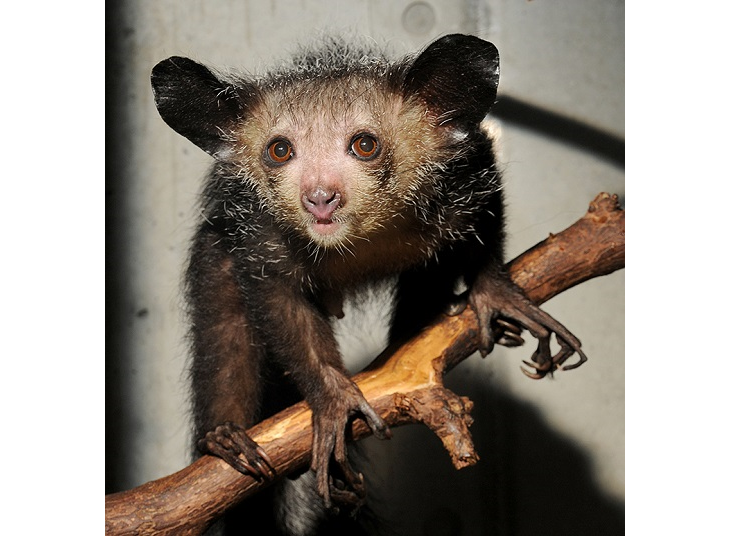 This is the only Aye-aye exhibit in all of Asia. The Aye-aye is an adorable lemur that cannot be easily spotted anywhere else.
●Shoebill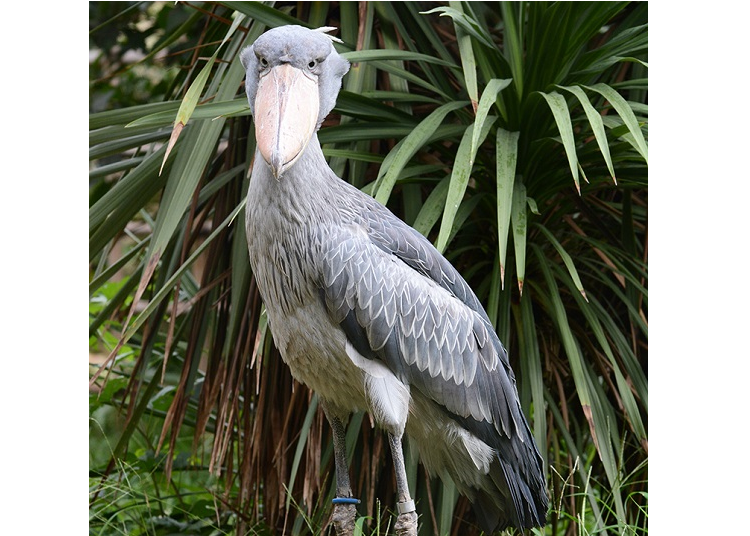 With its statuesque figure and cute yet humorous face, the shoebill is adored by local and overseas visitors alike.
If you want to learn even more about the animals, I recommend taking the 45 minute guided tour. A Zoo Educator will guide you through the park introducing various themes, such as the eating habits of the animals, and how they go about their daily lives.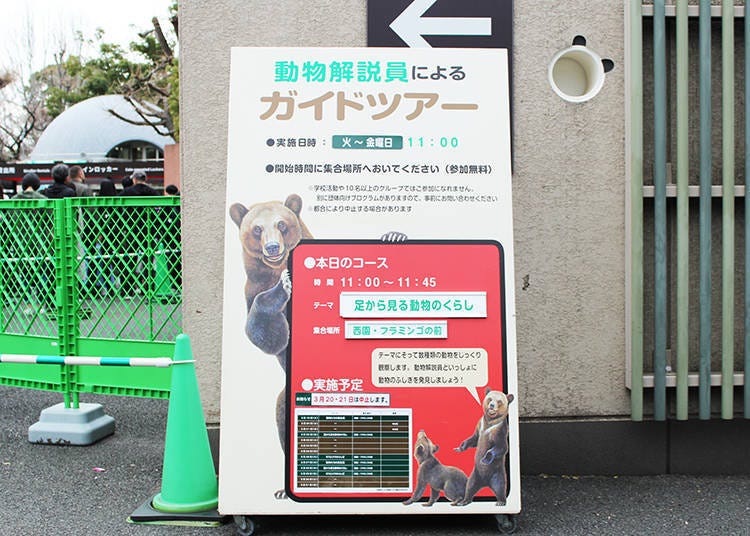 The guided tours are free and held on Tuesdays, Wednesdays, Thursdays, and Fridays from 11:00AM. Tours are available in Japanese only.
Ride the Monorail Connecting East and West Gardens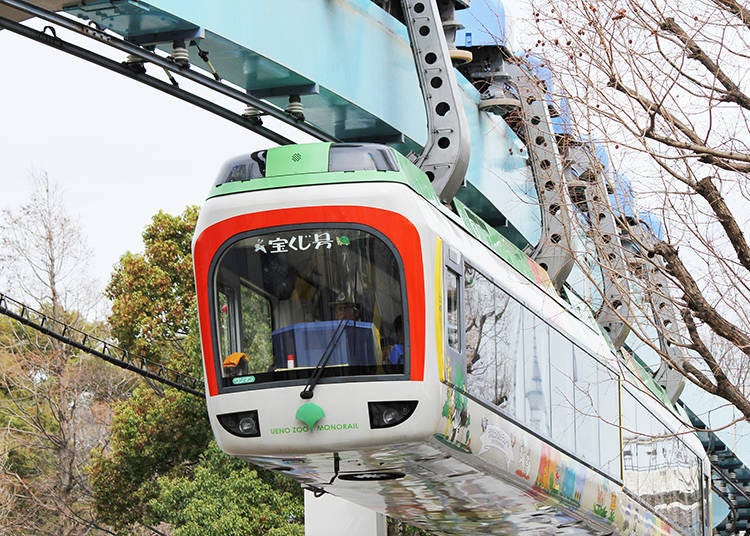 Fares: Adult (junior high and older), 150 yen; children (2 and up), 80 yen
The East and West Gardens are connected by Aesop Bridge, which takes about 10 minutes to cross on foot. But if you wish, you can ride the monorail which only takes 90 seconds! However, this monorail is scheduled to close by the end of the year. If you want to ride this first monorail built in Japan, please make sure to do so before it's gone!
Lunch and Souvenirs: The Park Shops Have it All!
If you start feeling hungry, head to the shops! All around the East and West Gardens are shops that sell foods such as fried chicken, drinks, and ice cream.

I recommend the self-serve food shop in the West Garden, opposite the Small Mammal House: the cafeteria. If you sit near the windows or on the terrace, you can even watch the hippos, rhinoceros, and zebras as you eat.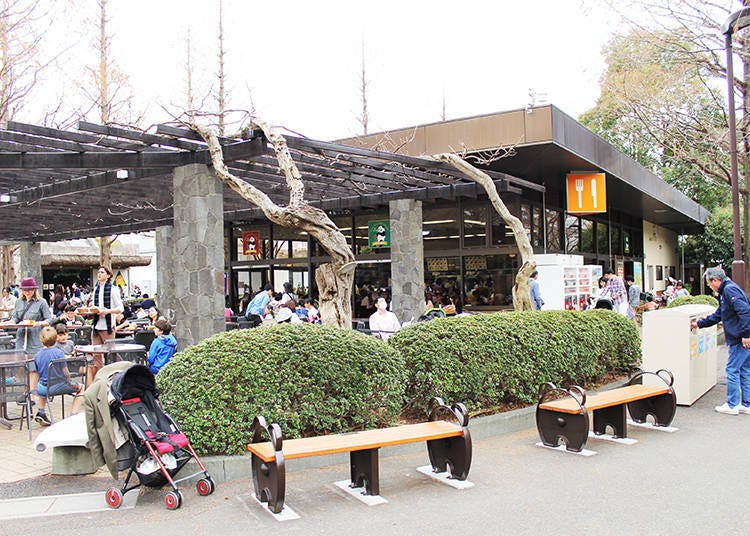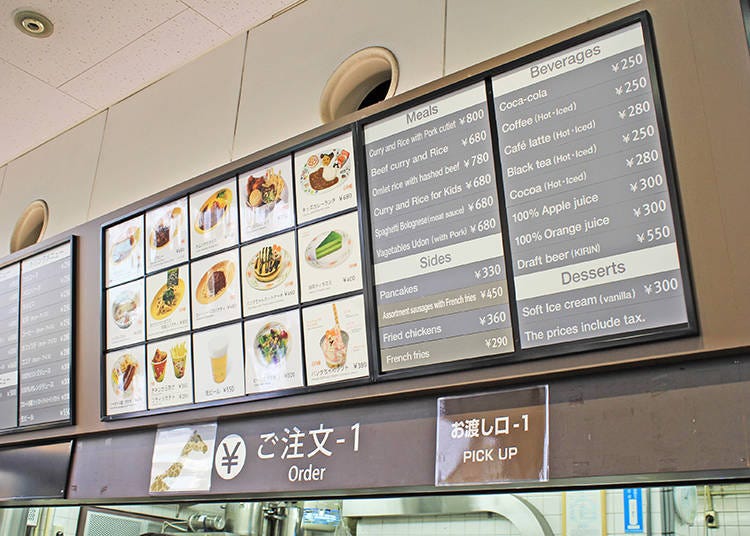 The cafeteria has a bathroom, a baby changing room, and even a Wi-Fi hotspot. There are English menus available at the order counter, and you can even bring your own lunch.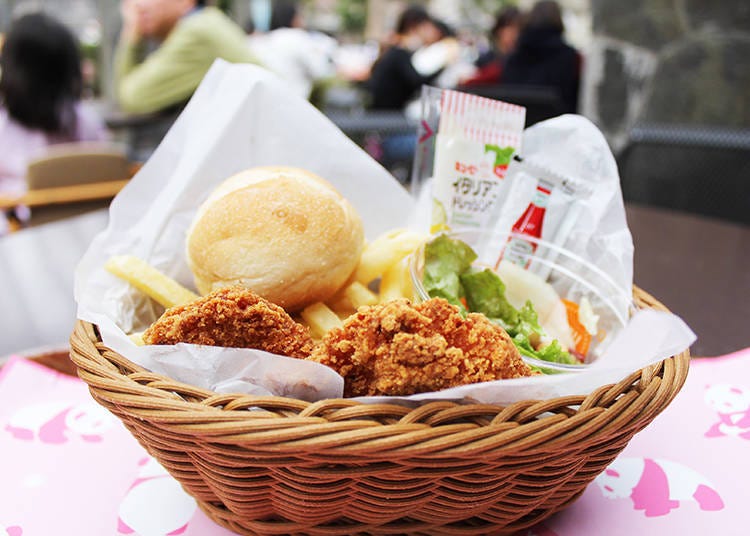 At the snack stands, a popular menu item, the Chicken Basket (750 yen, tax included)
There is also a popular snack stand on the banks of the West Garden's Shinobazu Pond, "Cafe Chameleon," which has food and drink such as hot dogs and "Panda Bento."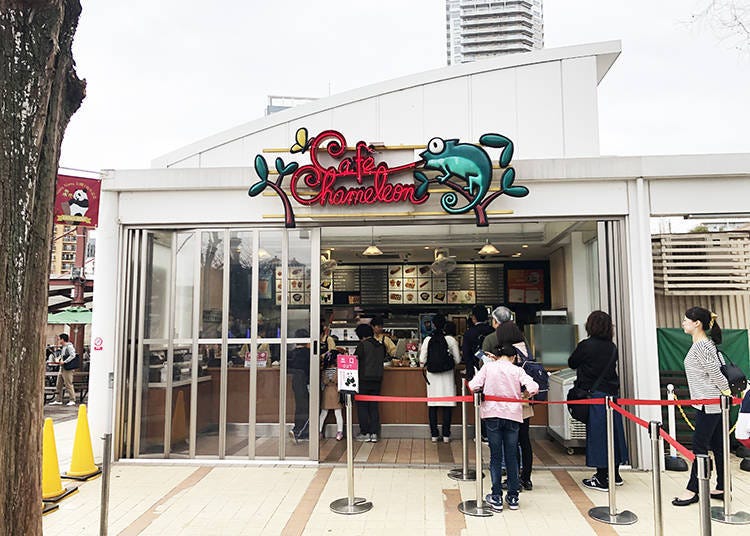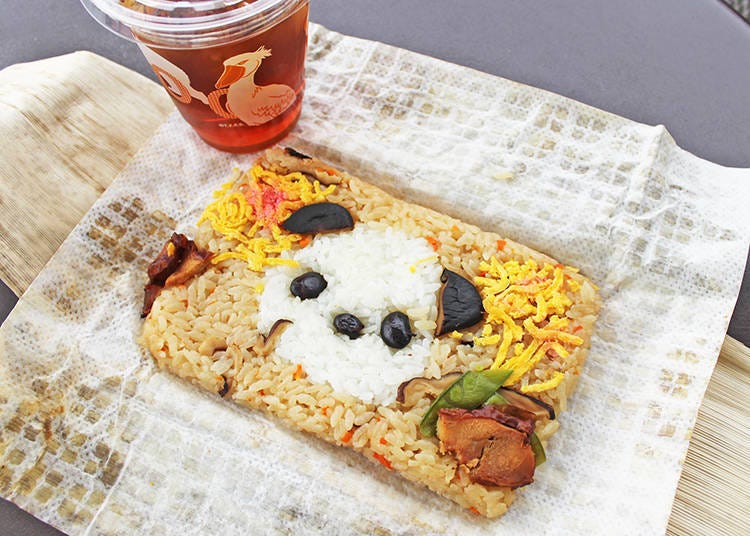 The "Panda Bento" is wrapped in husk of bamboo shoots and has a cute panda face drawn with the rice (580 yen, tax included)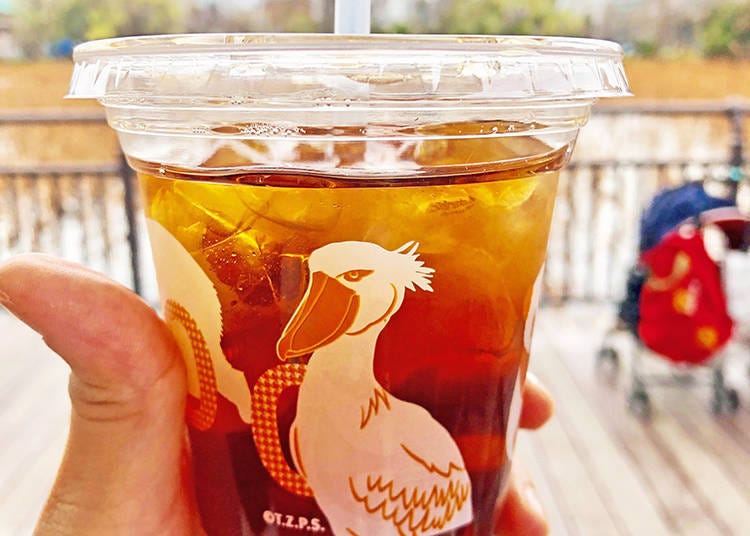 Iced Tea, served in a Shoebill and Panda decorated cup (250 yen, tax included)
There are also gift shops, one in each of the East and West Gardens, which sell original animal-themed goodies such as plushies, souvenirs, and sweets. Today the park was crowded with tons of people carrying goods from the shop.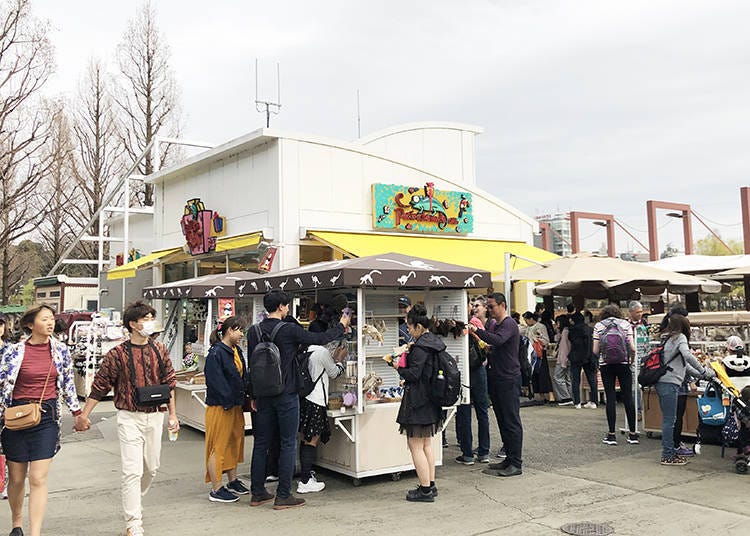 Gift Shop "Petit Chameleon", West Garden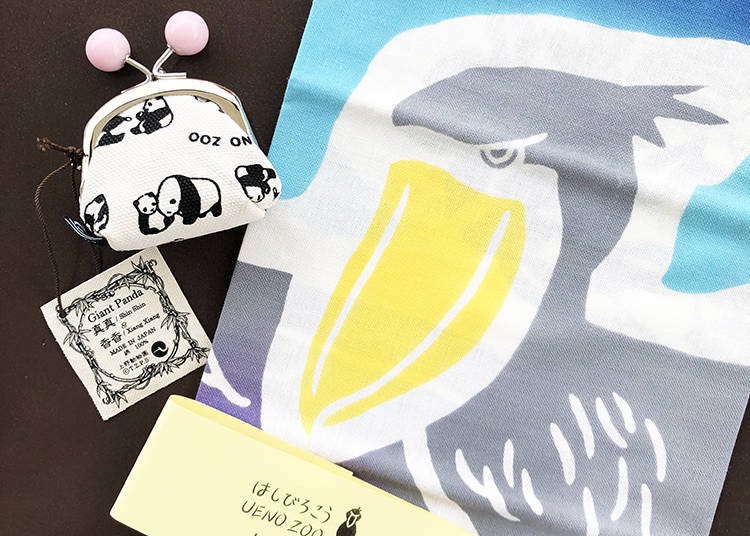 Especially popular with customers from overseas are the Mini Coin Purse (design: Mom & Baby Panda) (left, 1080 yen, tax included), and the Shoebill Painting Hand Towel (right, 1404 yen, tax included).
You can also buy necessities such as diapers, batteries, SD cards, and umbrellas, perfect for times when your camera runs out of space, or when it starts raining out of the blue!
Fun for Kids! Touch the Animals at the Children's Zoo
At Ueno Zoo, there are a number of free exhibits and hands-on activities specially tailored to kids of all ages at the Children's Zoo STEP.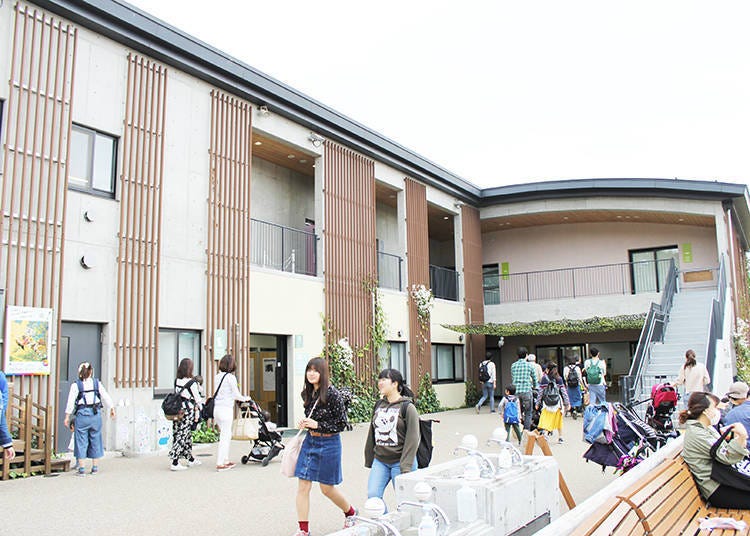 Located at Children' Zoo STEP in the Main Building.
Some example programs and activities are "Hands-On Mouse Class", where children can observe and pet cute house mice, and the "Hands-On Guinea Pig Class," where they can touch these small animals while watching a picture-story show. You will need a free ticket for this activity, which you can get at the ticket counter near the Benten Gate, West Garden. Tickets are available from 9:30AM until they run out.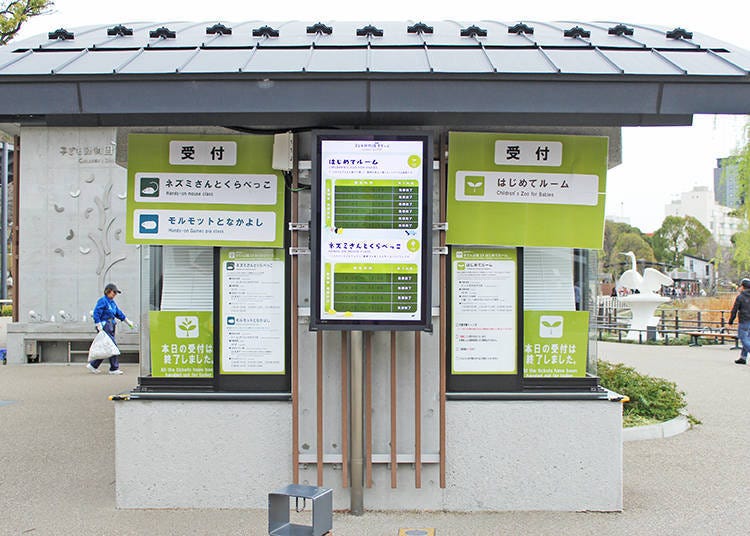 All of these programs are super popular! Tickets are limited and distribution usually ends around noon, so it's best to try to grab yours early morning.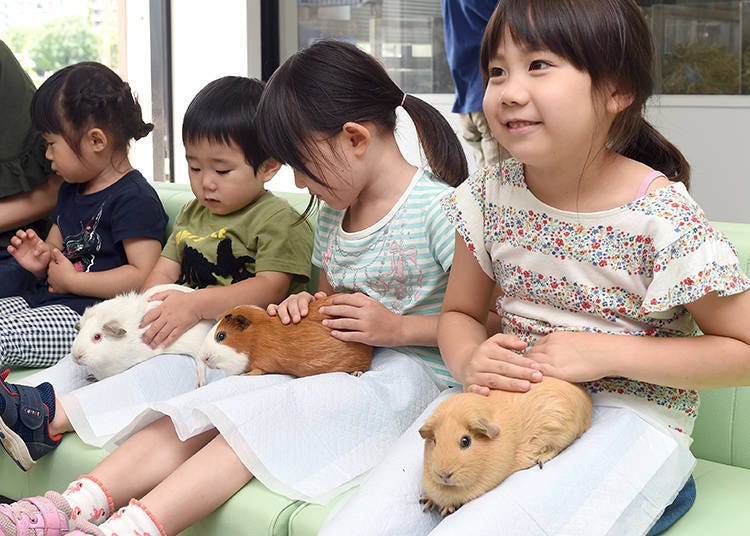 The "Hands-On Guinea Pig Class" is aimed at children ages 3-12 and their parents.
There is also an activity called "Touch me!?" in which you can dare to touch animals such as snakes and lizards and take photos with them. It is held every Sunday from 1:20PM to 1:40PM in the Reptile and Amphibian House. (Not held in rain).
Other Services Available at Ueno Zoo
The General Information Center provides help for issues such as lost items and missing children. There are also coin lockers, stroller rentals, and a nursing space for your convenience.

●General Information Center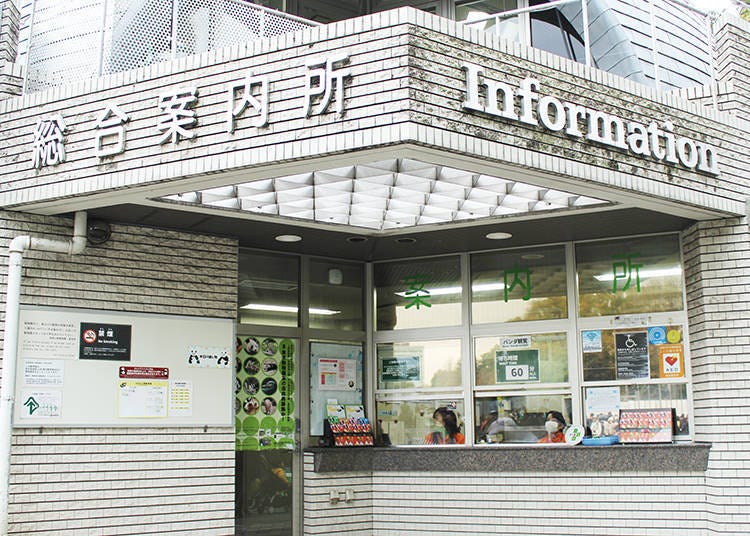 There is an information center located at the East Garden and the Panda exhibition. It is also a free Wi-Fi hotspot where you can connect to "FREE Wi-Fi & TOKYO."
●Coin Lockers (available from small, from 100 yen)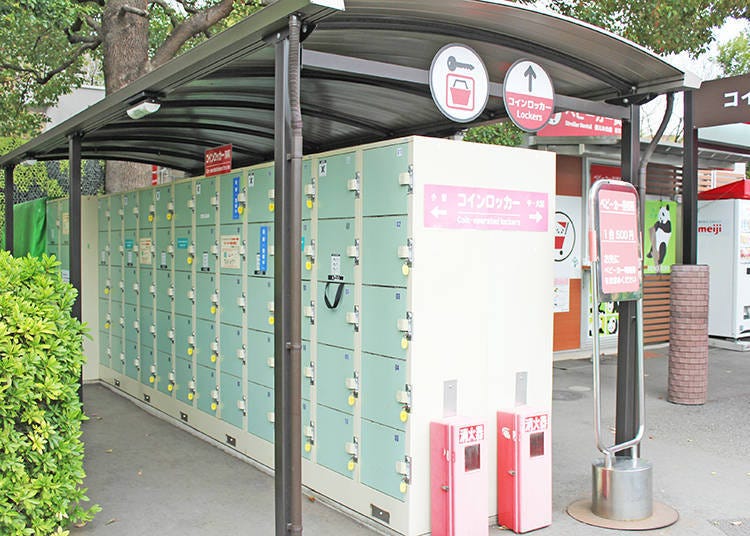 There are two coin locker areas, one in front of the East Garden Panda exhibition and another in front of the West Garden Benten Gate Entrance. There are various sizes available from small (100 yen) to extra large (500 yen).
●Nursing Area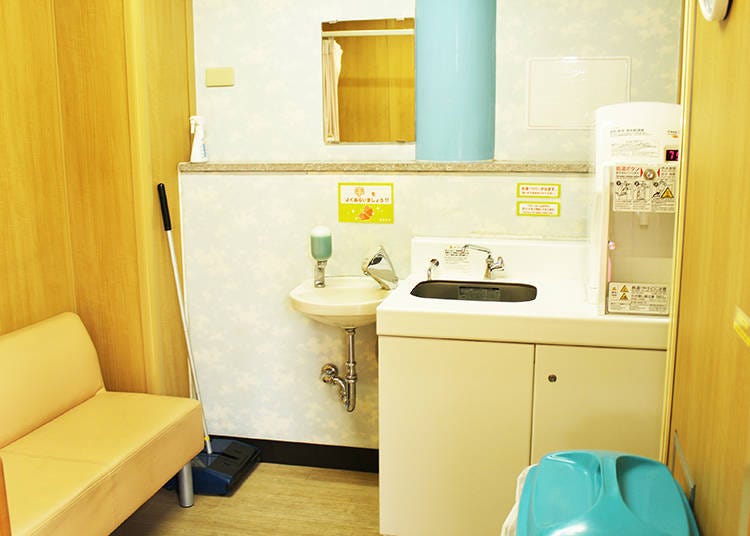 There is one nursing area in the East Garden and three in the West Garden. They are complete with nursing chairs, hot water for milk, and baby beds.
●Stroller Rental Service (500 yen each)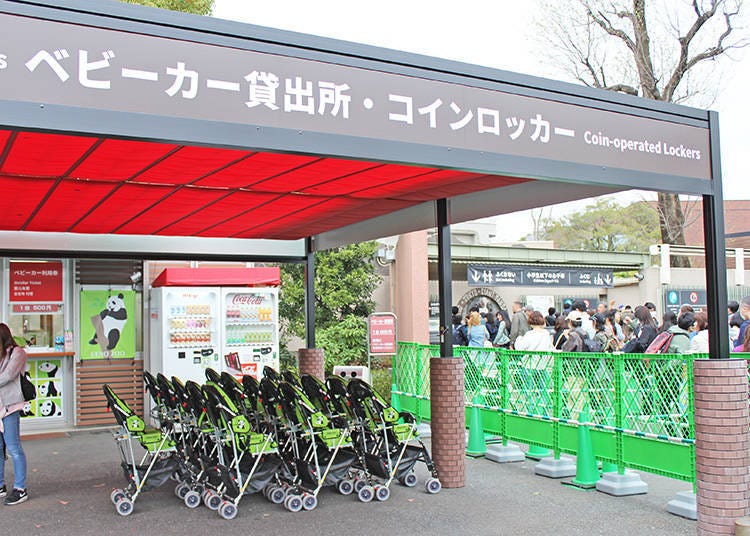 There are three stroller rental areas in the East Garden Panda exhibition and at the Benten Gate and Ikenohata Gate Entrances of the West Garden. They are available for children from 7 months to 4 years (up to 18kg).
●Restrooms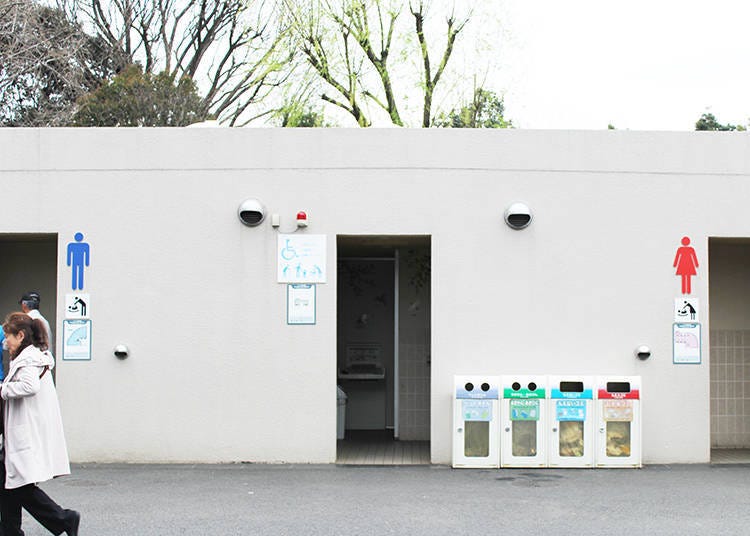 Ueno Zoo has many restrooms. There are a total of 10, with five restrooms each in the East and West Garden.
●Great Value! "Free Entry Days"
There are three days that you can enter Ueno Zoo for free: March 20 (opening day), May 4 (Midori no Hi, or "Greenery Day"), and October 1 (Tomin no Hi, or "Tokyo Citizen's Day").

●Navigate the Zoo with the Smartphone App
There is also a local park-walking app for your smartphone, "Tokyo Parks Navi," available in English, Chinese, Korean, and Japanese, which provides information on the ecology and animals of the park.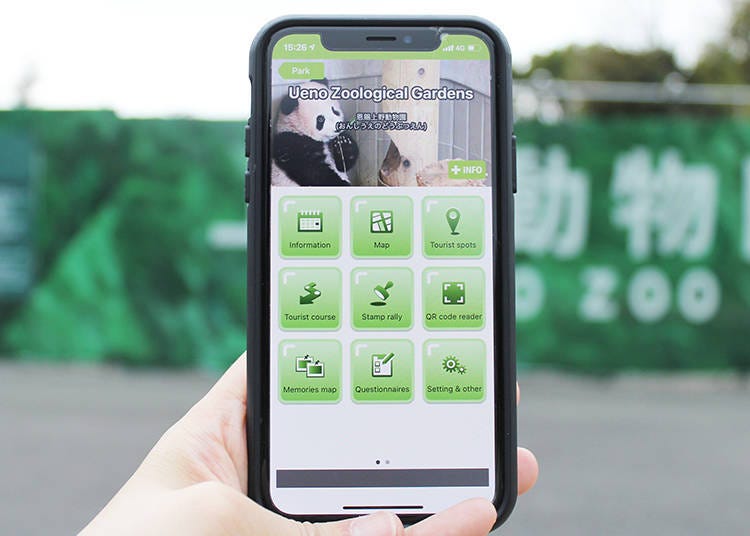 The screen shows content such as the latest park information, event information, and stamp rallies.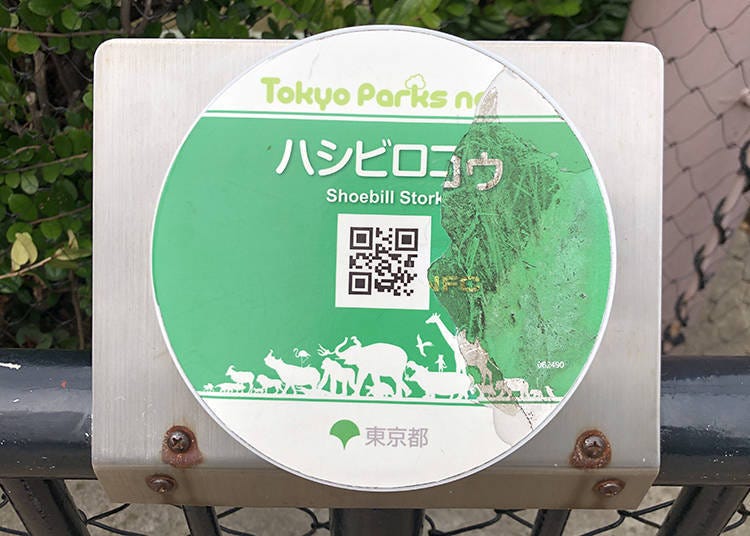 You can scan the QR code located in the corners of the animal exhibitions for more detailed information on the animals.
Of course, you can also visit the Ueno Zoo website, available in English, Chinese, and Korean. Please make sure to take a look before your trip!
Address

9-83, Uenokouen, Taitou-ku, Tokyo, 110-8711
View Map

Nearest Station

Ueno Station (Hokkaido Shinkansen Line / Tohoku Shinkansen Line / Akita Shinkansen Line / Yamagata Shinkansen Line / Joetsu Shinkansen Line / Hokuriku Shinkansen Line / JR Keihin-Tohoku Line / JR Yamanote Line / JR Tohoku Main Line / JR Utsunomiya Line / JR Takasaki Line / JR Joban Line / JR Ueno Tokyo Line / Tokyo Metro Ginza Line / Tokyo Metro Hibiya Line)
5 minutes on foot


Phone Number

03-3828-5171
*This information is from the time of this article's publication.
*Prices and options mentioned are subject to change.
*Unless stated otherwise, all prices include tax.
Limited time offer: 10% discount coupons available now!