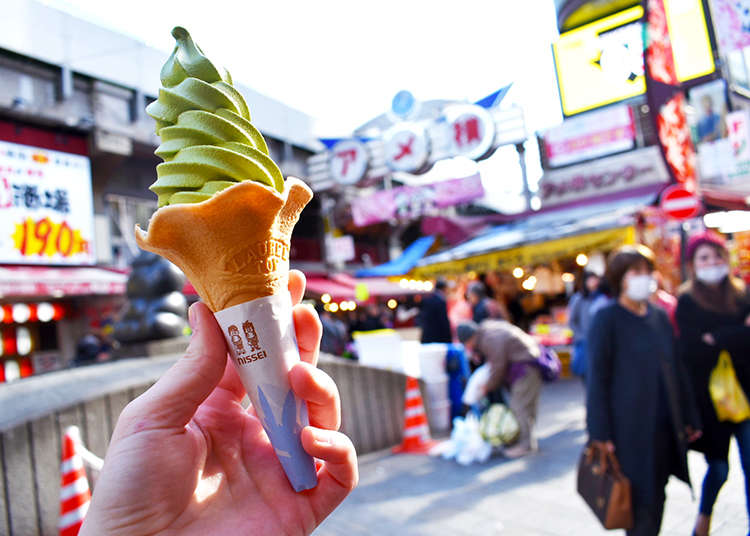 Ameya Yokocho, almost always referred to simply as "Ameyoko", is found in one of the most popular tourist destinations in Tokyo - Ueno!

While Ueno may be best known for its famous Ueno Cultural Park and incredible museums, Ueno has its very own renowned market street as well. It's an area full of many different kinds of shops and spans 400 meters from Ueno station to Okachimachi station, which happens to be a neighboring station on the Yamanote Line.

Although only a short 400 meters long, Ameyoko boasts around 400 shops! This concentration of shops in one area also brings a massive crowd of roughly 500,000 people preparing for New Year's during the last days of the year (from December 29th to 31st).

Ameyoko is full of great places to shop, fun things to look at, and the best part—amazing foods! This open-air market is known by many Japanese people as an excellent place to not only shop for inexpensive things but also to "tabearuki," or eat around. This means that many will go to Ameyoko just to taste several different food items!

With many shops selling smaller portions of different foods, it's possible to try countless different treats while you're there! Here, we'll introduce you to some of the best places to go for eating your way around Ameyoko like a local.
1. Minatoya (Seafood bowls, Takoyaki)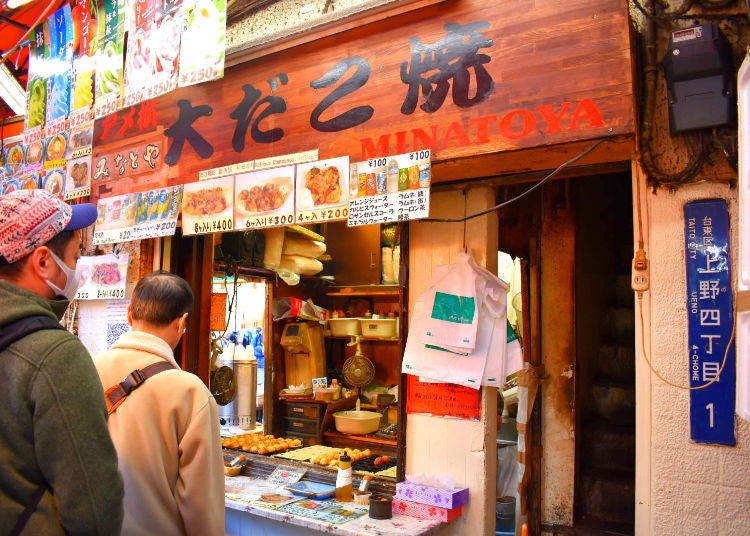 Seafood is definitely a must when it comes to Japanese cuisine, and Minatoya is here to serve you some great food using only the freshest!

Located on the side of Ameyoko closer to Okachimachi Station, Minatoya is the place to go for some good, cheap seafood bowls (kaisen-don) and some delicious gooey takoyaki, which are doughy ball-shaped snacks with octopus inside!

Minatoya gets its seafood straight from the famous Toyosu Market itself, so you know you're in for some good food. There are dozens of items on their menu and extra toppings for you to add to make your ideal seafood bowl! For those that aren't very sure about raw fish, there are also some bowls that are served cooked. Many of their items can also be served as a half-sized dish if you want to continue to eat on!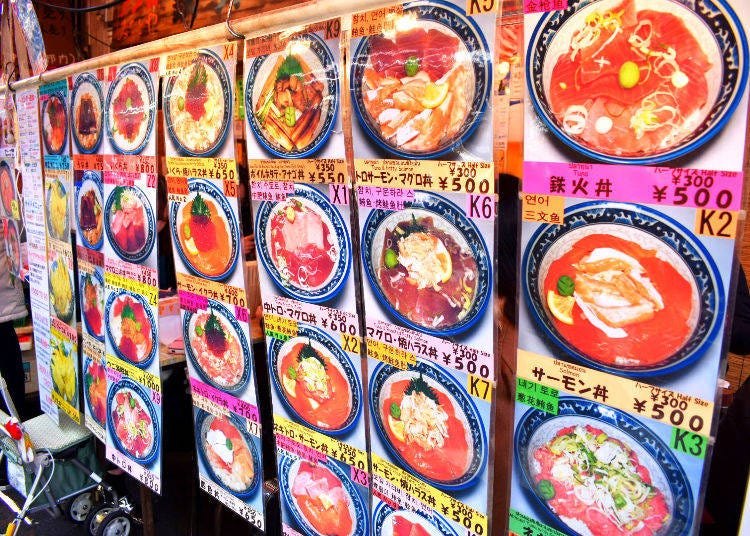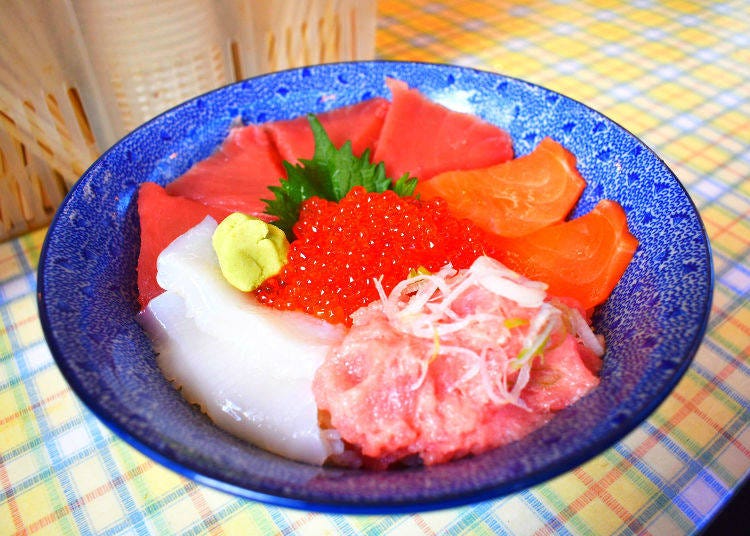 We tried their most famous dish, the Tokumori-don. This bowl has tuna, salmon, negitoro, squid, and salmon roe on top of white rice for just 750 yen (with the half-size being 450 yen)! These raw seafood bowls are some of the best bargains we've found in Japan, with quality just as good as the others—right in the heart of Ameyoko!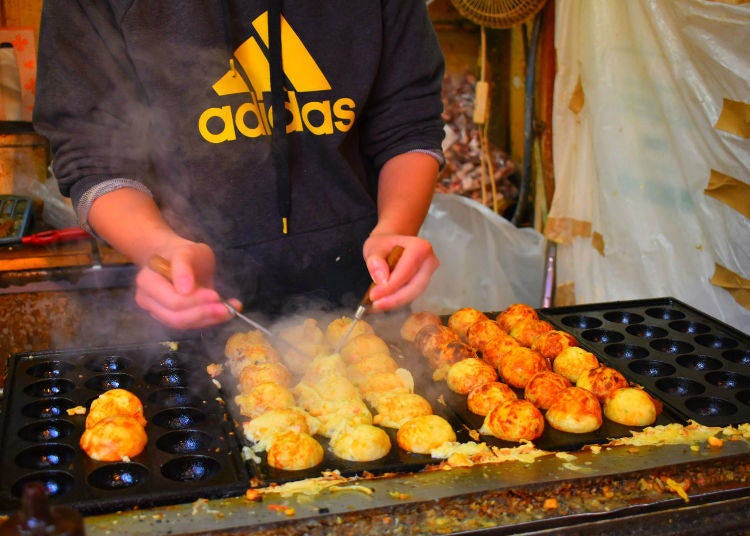 Next, we lined up to try Minatoya's takoyaki. Takoyaki is commonly described in English simply as octopus balls. Takoyaki is definitely one of the staple street foods of Japan, and a must-try item while you're here! These takoyaki are made of a liquid-like dough which is cooked in a ball-shape with some octopus in the middle. Minatoya's takoyaki is sold in four, six, or eight pieces.

Just like their fresh fish bowls, Minatoya's takoyaki is also sold at extremely reasonable prices, with the four-piece we got being just 200 yen, six pieces being sold for 300 yen, and eight for 400 yen.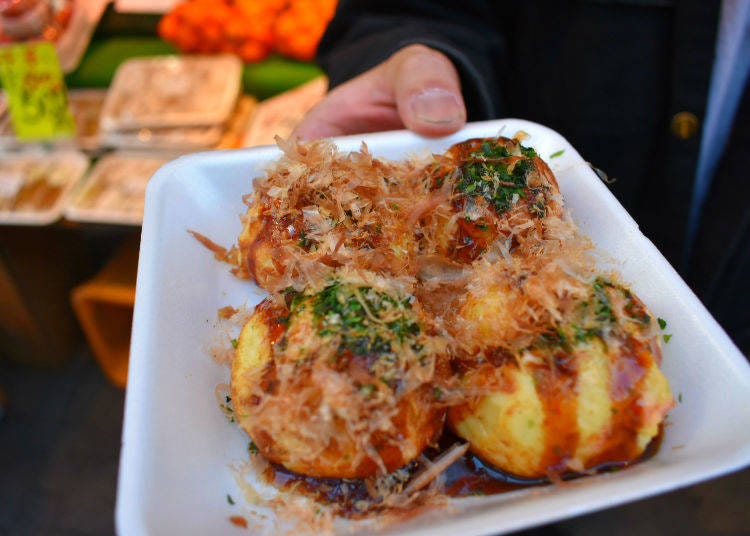 The takoyaki at Minatoya is served with none of the usual sauce, katsuo bonito flakes, seaweed, or mayonnaise on it. Instead, it's all self-serve here, so put what you'd like on top and bon appétit! Oh, and be sure to wait a few minutes before eating, as these are fresh and extra hot in the middle!

With the crowd that's always around it, you know you're going to be making a great decision visiting Minatoya on your trip to Ameyoko!
みなとや食品

Address

4-1-9 Ueno, Taito-ku, Tokyo 1100005, Japan

Phone Number

03-3831-4350

Hours:
11:00 - 19:00
Closed:
January 1st & 2nd
2. Hyakkaen New Fruit (Fresh fruit, Fresh juice)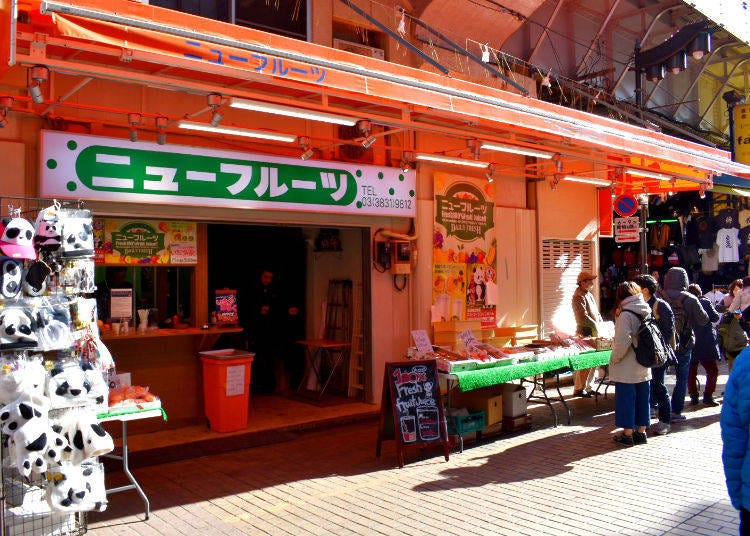 While Japan is known for its expensive fruit, Hyakkaen New Fruit is a shop focused on providing you with the best fresh fruit products at a more reasonable price!

Hyakkaen New Fruit is located near the famous "Ameyoko" sign closer to Ueno station. It's hard to miss with their tables full of fruit in front of the shop!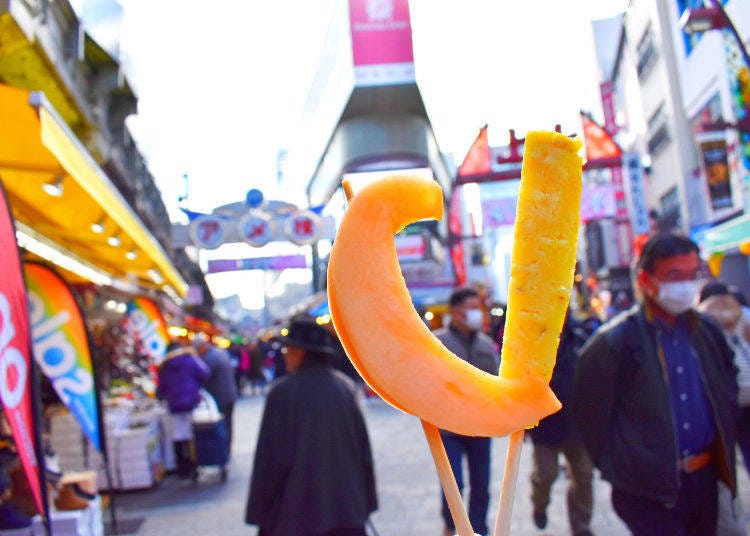 Sticks of fruit are usually only 100 or 200 yen and absolutely delicious! The fresh cantaloupe we got was 200 yen and the pineapple just 100 yen, and just the perfect size for a small sweet snack to keep you going while exploring the streets of Ueno and Ameyoko!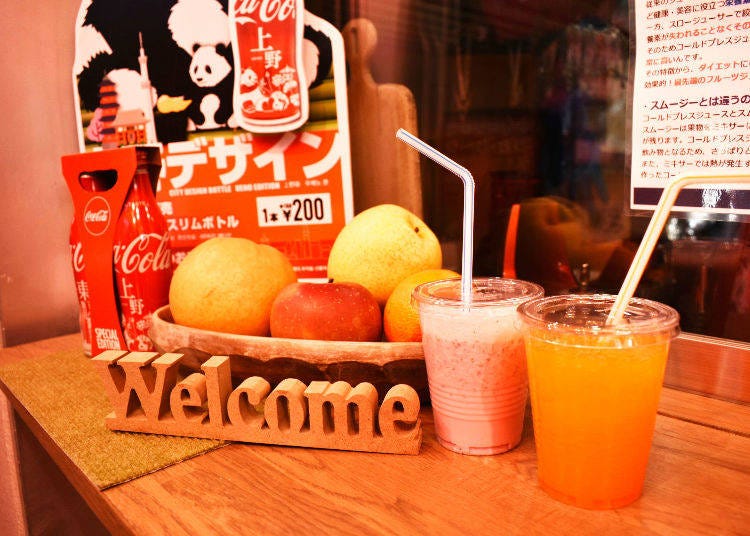 We also couldn't resist having some of their freshly made juice, each made-to-order. We tried their strawberry milk and mikan (mandarin orange) juice!

Depending on the drink, the way they make it can vary, but they all use whole fruit and blend or squeeze them when ordered. They told us that something they have that none of the stores in the area does is a slow juicer, which makes their juice simply better than the rest!

A slow juicer allows the fruit to be juiced, as the name may suggest, slowly. This allows very little friction so the fruit will stay cold and keep its original vitamins and enzymes, making it better for you than other juices that are made normally.

The effort and care that is used by Hyakkaen New Fruit really stood out, not only in how delicious their fruits and juice were but also in how enthusiastic the employees were!
百果園 ニューフルーツ

Address

6-11-2 Ueno, Taito-ku, Tokyo 1100015, Japan

Phone Number

03-3831-9812

Hours:
10:00-20:30
Closed:
Wednesday
3. Tentenraku (Chinese Street Food)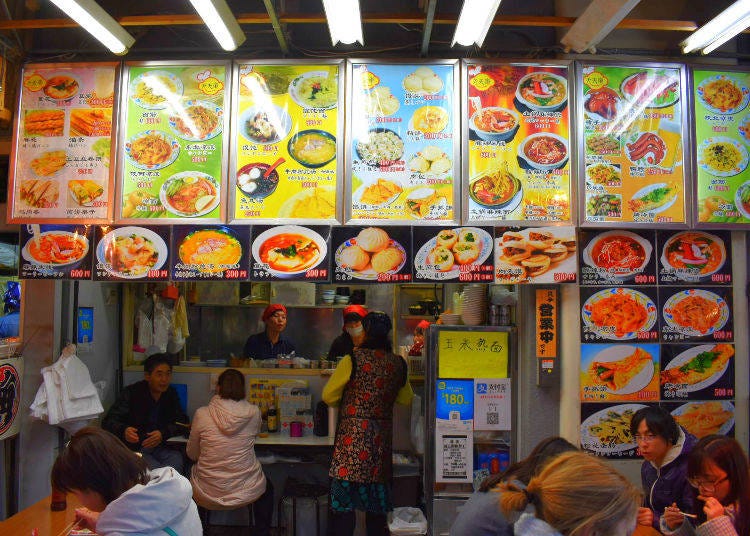 This shop's staff is very lively and ready to serve you with some incredible Chinese street food! The atmosphere at Tentenraku is definitely different than the others featured in this article, as it really felt like we were in China at one of their markets!

Here we tried one of their spicy mala hot pots, some fried dumplings, and a Chinese meat pie. They all tasted amazing and were just the perfect thing to warm up on a winter day!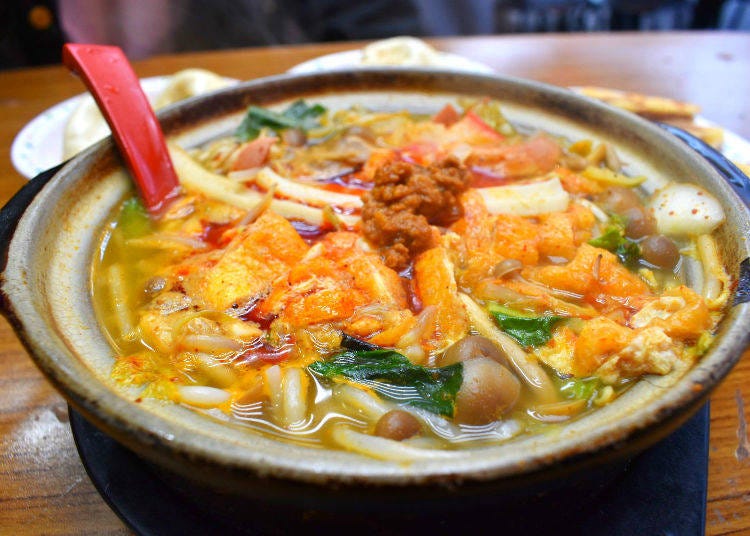 Mala hot pot (600 yen)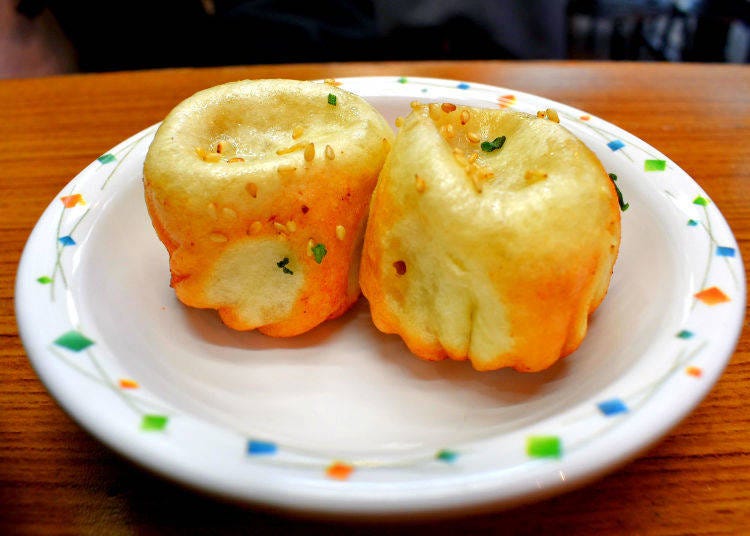 Fried dumplings (4 pieces for 400 yen)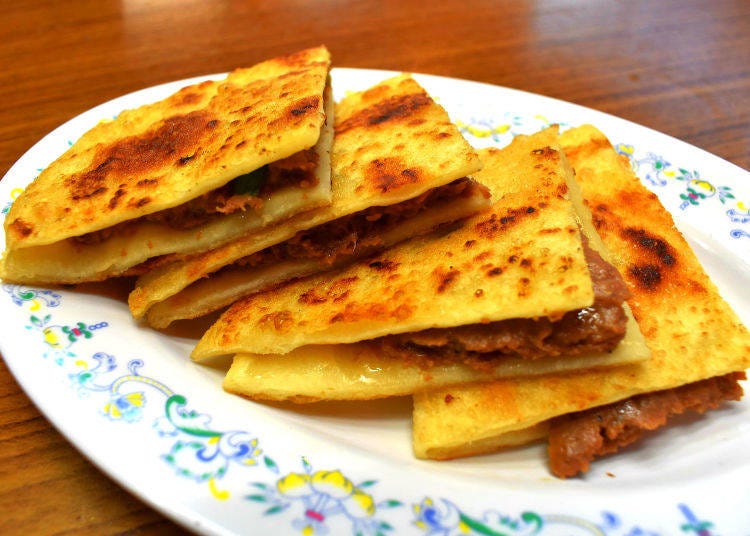 Chinese meat pie (200 yen)
The staff of Tentenraku were very outgoing and were happy to recommend which dishes to try! Their mala hot pot was chock-full of delicious meat, veggies, and noodles and is definitely a must for those visiting on a colder day or those who love spicy foods! Not only is it filling, but also cheap at only 600 yen!

Everything we tried was so tasty, we're sure this place is a good stop for anyone wanting some great Chinese food at unbeatable prices.
天天楽

Address

4-7-8 Ueno, Taito-ku, Tokyo 1100015, Japan

Phone Number

080-4797-5211

Hours:
9:00 - 21:00
Closed:
None
4. Uncle Joe (Korean Street Food)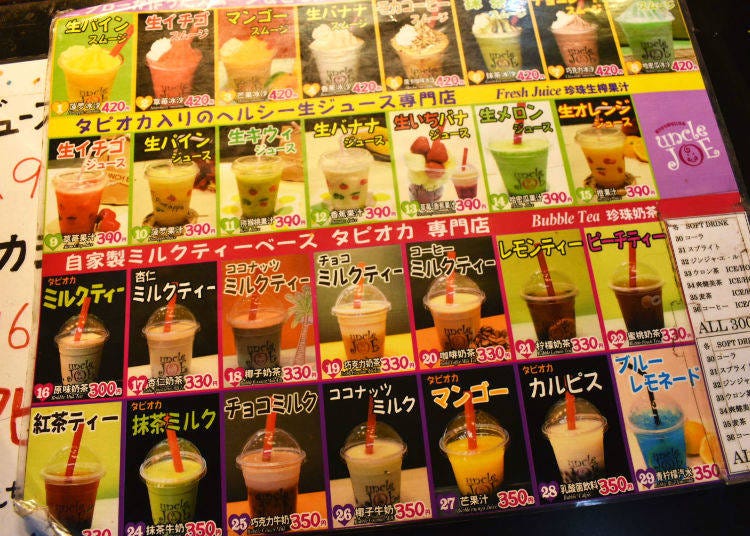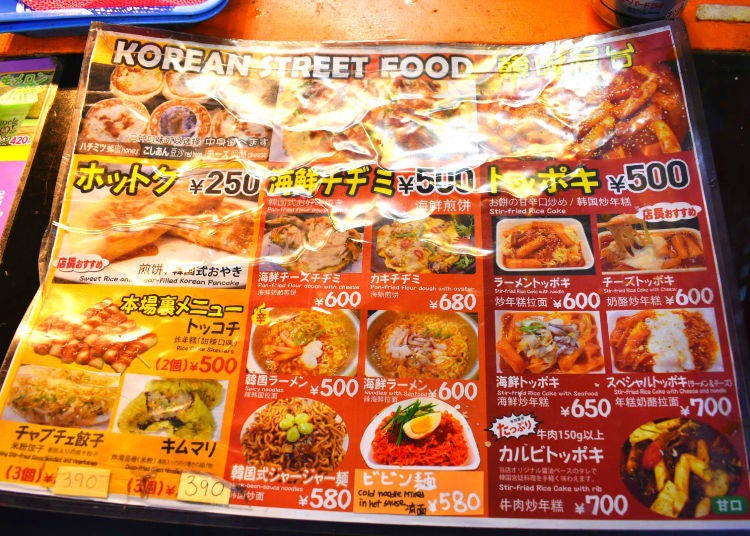 Uncle Joe is another good place to try to satisfy your food cravings and keep you going while eating your way through Ameyoko. The menu at Uncle Joe features classic Korean street foods as well as bubble tea, fresh smoothies, and juice!

We saw the menu and knew immediately what we wanted to try: the cheese tteokbokki (spicy rice cakes) and honey-filled hotteok (Korean pancake)! We also knew we just had to get a smoothie, and after taking some time to decide, we chose pineapple.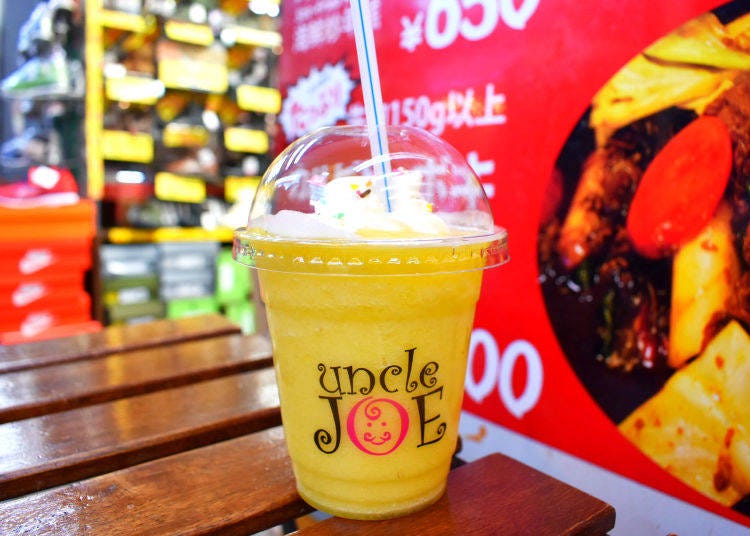 Smoothie (420 yen)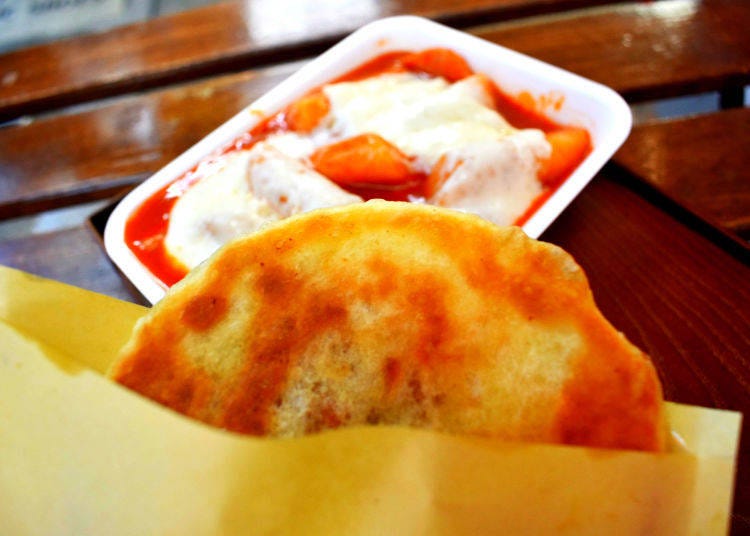 hotteok (Korean pancake, 250 yen)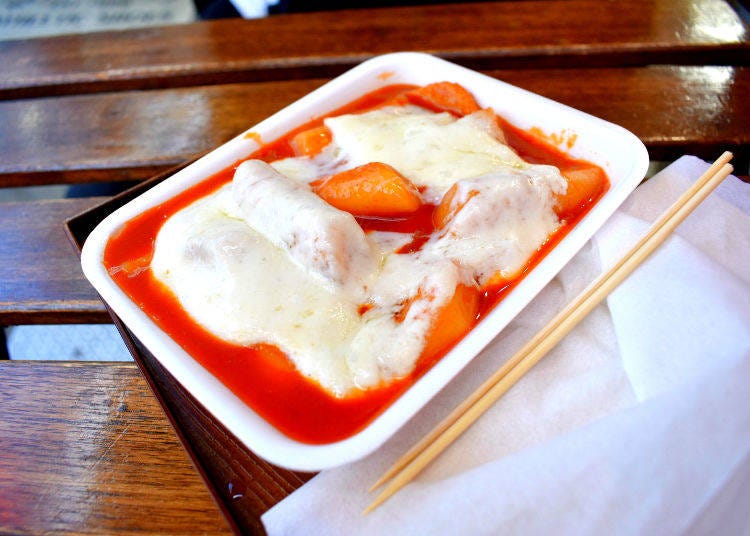 tteokbokki (spicy rice cakes, 600 yen)
While it may not be the most Korean dish you can think of, the smoothie was delectable and definitely made with fresh pineapple—we could tell! The hotteok and tteokbokki were also delicious, fresh and piping hot! Who knew you could try some of these Korean street food favorites outside of Korea or Koreatown?!
アンクルジョー

Address

6-10-7 Ueno, Taito-ku, Tokyo 1100015, Japan

Phone Number

03-3834-8285

Hours:
10:30 - 18:00
Closed:
Third Wednesday
5. Niku no Ohyama (Ground meat cutlet, Croquette, and more!)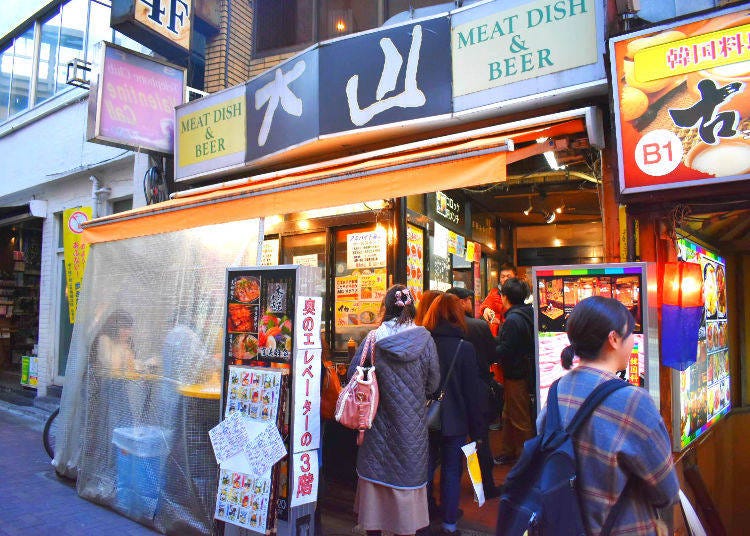 Niku no Ohyama's menu is full of a variety of meaty goodies for you to try! This is one of Ueno's more well-known shops and it's likely you'll encounter a line here, especially on the 29th of each month when they serve some of their dishes like curry or Hamburg steak for just 290 yen! However, even on normal days, it's best to expect a small wait due to its popularity.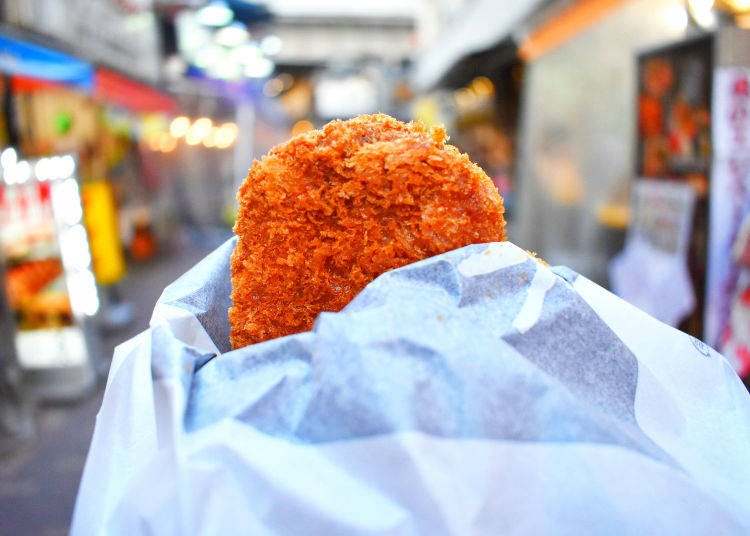 Menchikatsu (Ground meat cutlet, 200 yen)
While Niku no Ohyama has a restaurant inside, we opted to try the to-go food at the front of their shop. We tried their Ohyama Tokusei (deluxe) Menchi, which is a handmade breaded and fried ball of juicy ground meat and onion. And the best part? It's only 200 yen and is one of their most popular items!
肉の大山

Address

6-13-2 Ueno, Taito-ku, Tokyo 1100005, Japan

Phone Number

03-3831-9007

Hours:
11:00 - 23:00 (L.O.22:00) from Monday through Saturday, 11:00 - 22:00 (L.O.21:00) on Sunday and National Holidays
Closed:
None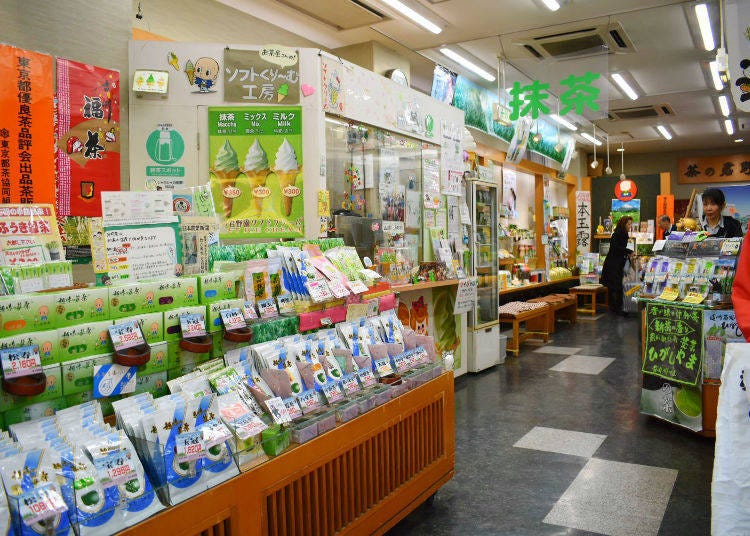 Everyone knows that tea is a must-try in Asia, and that matcha is a must-try while in Japan! Chano Kiminoen is here for you to do both of those things!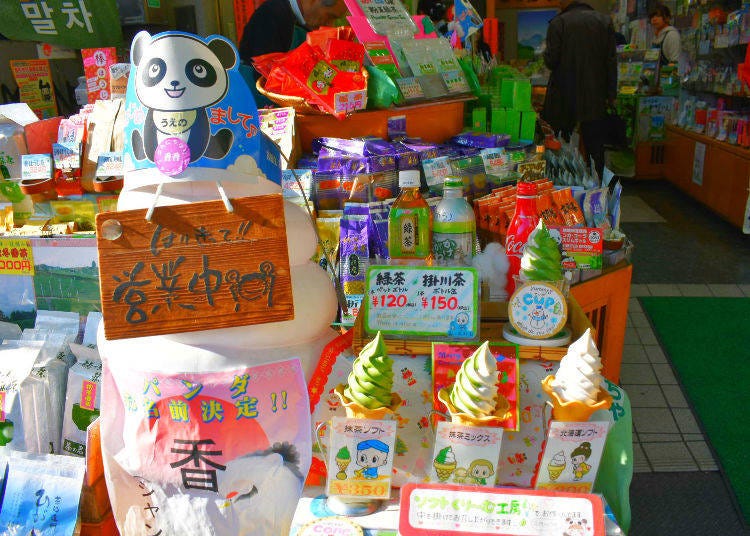 Chano Kiminoen has many different Japanese teas for you to buy as well as matcha ice cream that you can have right there! For just 300 yen, you can get a matcha ice cream cone that will be the perfect dessert after enjoying all these foods in Ameyoko!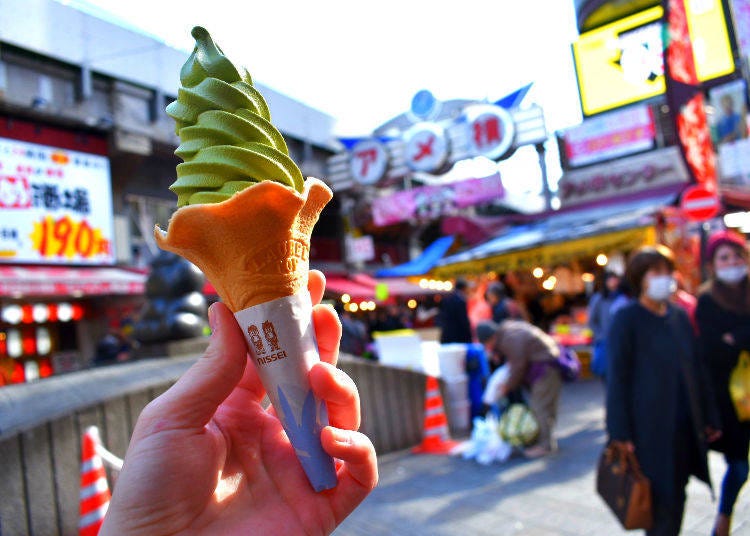 Chano Kiminoen doesn't stop at just tea either—they also sell teacups, teapots, as well as containers to hold your tea. Tea and other items specially made to be given as gifts are available for purchase at Chano Kiminoen. It's a great place to relax and explore their shop while you're in Ameyoko!
茶の君野園

Address

4-9-13 Ueno, Taito-ku, Tokyo, 1100005, Japan

Phone Number

03-3831-7706

Hours:
10:00 - 20:00
Closed:
Every third Tuesday (Except December)
Ameyoko is definitely full of things to discover, and you can see a lot even in a short visit here! With many bargains and great food, you're sure to leave charmed—and hopefully very full—by this unique market in the middle of Tokyo!

Written by Lindsey Schultz
Top image credit: f11photo / Shutterstock.com
*This information is from the time of this article's publication.
*Prices and options mentioned are subject to change.
*Unless stated otherwise, all prices include tax.
Limited time offer: 10% discount coupons available now!